A Beginners' Guide to Marketing Strategy
June 4, 2022 ・ 8 min read
You've made it! You set up your company, invented a great product or developed a service that will facilitate everyday life or solve a specific problem. Now you have to develop a top-notch marketing strategy.
It's hard to believe but many business owners still think that an effective marketing campaign is either too time-consuming to implement or not important at all. They couldn't be more wrong. Marketers are looking for new methods to reach and engage new customers, and you definitely shouldn't neglect the opportunities a sound marketing campaign could provide to your business.
Marketing can determine the make-it-or-break-it moment of your product or service. This article list successful marketing strategy essentials that will definitely help you launch your business.
Still not convinced? Take a look at Dropbox. Dropbox was one of many SaaS companies offering cloud storage at the time it launched. The firm implemented a growth hack that helped them get ahead of their competition, and grow from 100,000 users to over 4,000,000 in a little over a year. Of course, they offer an outstanding service but that's the whole point. There are multiple companies providing excellent services. A marketing strategy is your way to stand out in the crowd.
What Is It?
A marketing strategy is a set of techniques that will help you achieve your business goals. It's a plan of action designed to help you sell or promote your product or service. Ideally, you should include your marketing strategy in your business plan.
A part of an effective strategy is a system to measure your goals. Remember that your targets should be SMART, which means:
Specific – defining the specific area you're targeting
Measurable – with a clear metrics for measuring progress
Assignable – specify who is responsible for delivering the results
Realistic – think what you can actually achieve given the available resources
Time-related – establish when you're going to achieve the results
Take a look at our tool. We could just state we want to develop state-of-the-art media monitoring software but we wouldn't be able to track our progress. Instead, we set up measurable goals (number of trials per month, number of sales etc.) and we monitor them on a regular basis. If we see an undesirable drop in the numbers, we can immediately investigate and carry out an improvement plan.  
Statistics might sound boring, but they will point you in the right direction and help stay on track.
Enjoy Your Marketing Campaign Pie
Imagine your marketing strategy is a pie you serve after the main course, which is product development. To make a damn good pie you need a set of ingredients.
Online presence
Can you imagine a company without a website? There probably are some businesses neglecting online presence, but the first reaction to an absence in Google search results is disbelief.
The first element that will be associated with your brand, is your company logo. It will become part of your brand identity. When you think about Nike you immediately see their famous swoosh. Wouldn't it be great if your brand was so easily identifiable?
Furthermore, develop an aesthetically pleasing and bug-free website. I'm a fan of minimalistic sites, where you can easily find everything. But maybe your target markets will respond better to colourful ones with lots of graphics. A website dedicated to photography will require a completely different design than the one focusing on the Scandinavian interior.
Whichever option you choose, it's vital that your copy clearly states who you are and what you do.
It's also the time to select your colour theme and font you'll use on every communication channel. If you stick to a set of colours and fonts, your brand will be easily recognisable across different channels.
Customer relationship management
Clients are the core of your business, therefore, you should put extra effort in maintaining excellent relationships with them. You have to know where your customers are, how to reach them and what precisely their needs and wants are.
Where can you find insights about your current and potential customers? The whole trick is that they are already giving it to you. Your customers talk, share their experiences and exchange opinions online. It's up to you to find these conversations and learn from them. Of course, you can search for all the mentions manually, but let's face it, who has time and energy to do that?
That's a perfect task for media monitoring tool. When you set up a project in Brand24, we will gather all the mentions with your chosen keywords. Just remember that media monitoring doesn't provide historical data.
You can see who is talking about your brand and where they are doing it. If your clients are active on one social media platform, come to them. There's no point in wasting resources on channels where no one is interested in what you have to offer.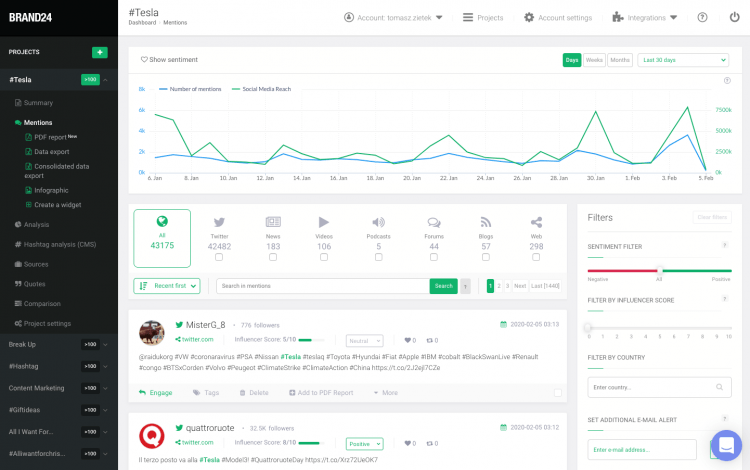 Brand24 is also a great tool to discover new customers. Monitor the context of a discussion around your business. That way, you can reach potential clients way before they find your company. One of our purchasers, a smartphone repair shop called Mobidoktor, increased their conversion rates by 212%.


Social Media
It's 2018, and yet social media presence is by many still considered unnecessary nuances. I agree, it's time and resource consuming task, but the advantages cannot be underestimated. If you don't have a clue how you can use social media channels, I have few ideas.
Let's start with building a community around your brand. It sounds like a huge undertaking, but according to my colleague Gloria, it can bring substantial awards. She started answering questions on Quora in December of 2015, and by constantly providing high-quality content she managed to get 762 signups in April 2016.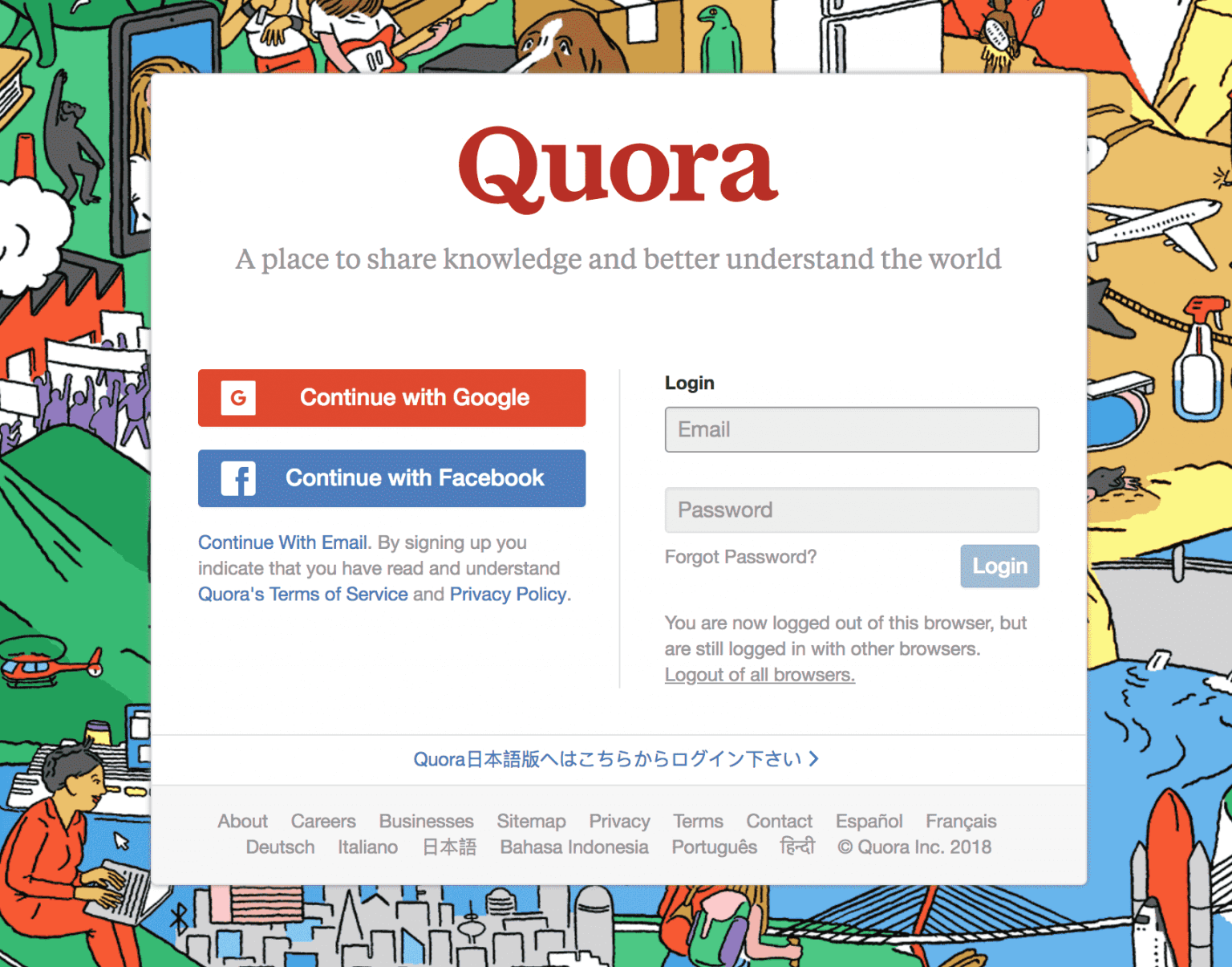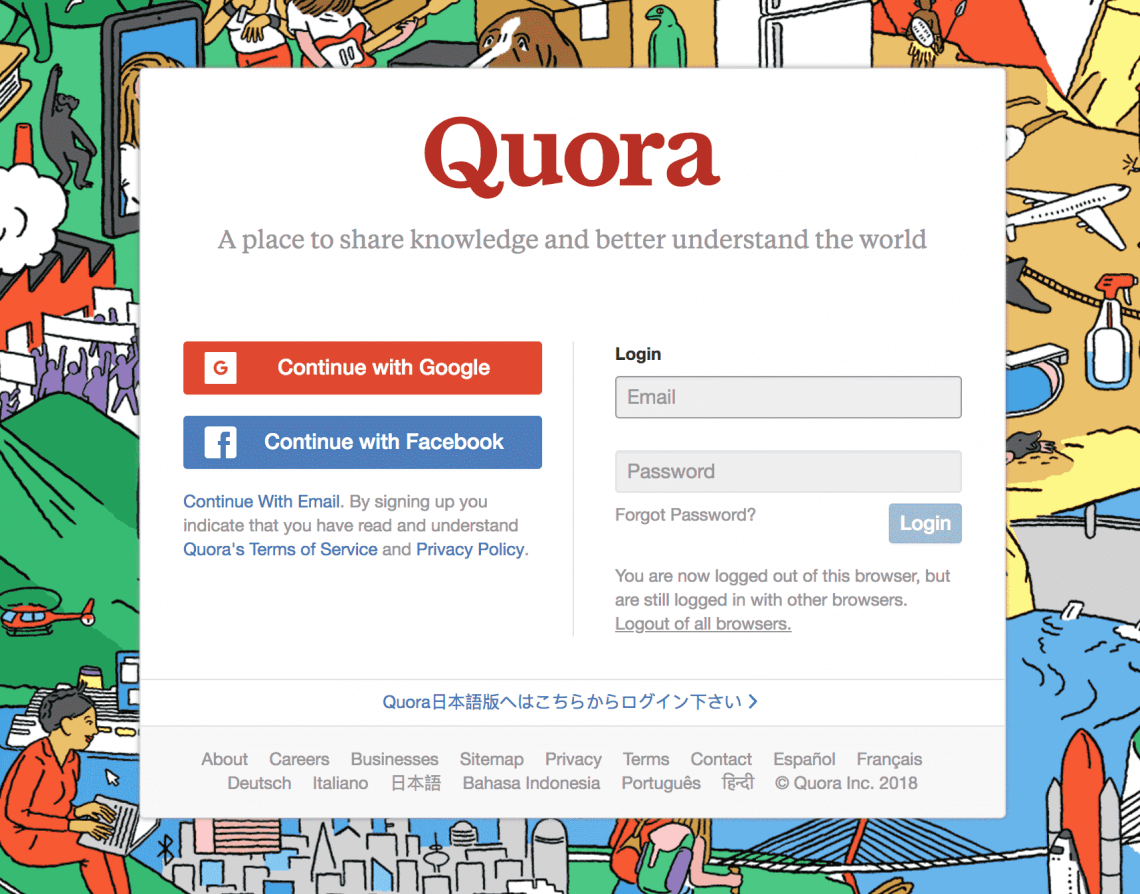 The number of people using different social media channels has been growing. And that means the number of complaints and questions posted on various channels is growing as well. Lack of answers to those queries reflects poorly on your business.
A project in Brand24 will help you manage an increasing number of posts. The tool gathers all the mentions with given keyword – when you log into the dashboard you'll be able to filter the mentions according to the source. That way you'll never miss an opportunity to talk to your customers.
Last but not least, vibrant social media channels are indicators of life in your business. If you want to attract new clients and new employees, show what it looks like inside of your company. You can share posts about new products, articles from your blog or industry trends. Create a forum where people can exchange ideas or find solutions to their problems. That's how you build a community around your brand.
Content creation
The old marketing saying states that content is the king. It sounds like a cliche, but it's true.
There's much more to content than only written blog posts. When it comes to our marketing strategy, films proved to be very successful. We even collected all the lesson from our video marketing efforts in one blog posts that should answer all your questions.
Another interesting form of content creation is an infographic. Visual content is more appealing and can be a nice addition to more traditional blog posts.
Content marketing has many advantages and became a must-have for many businesses. It improves brand awareness as customers spend more time on your website and get to know your brand better. It helps you develop longlasting, personal relationships with your audience, especially if you use personal brands of individuals to write on your blog. And it's incredibly cost-effective, as the only resource you have to put in is your time.
This video shares some great tips on content marketing — make sure you keep them in mind before, during and after any content marketing campaign!
Influencer and affiliate marketing
Do you know which form of marketing is the most sought after? Word-of-mouth. People are more likely to buy a product when it's recommended by their friends or family.
The trick of successful influencer and affiliate marketing strategy is choosing the right people to work with. Imagine giving away part of the control of your brand and ending up involved in a scandal that is completely not your fault. Yikes!
You can reach some of this information via dashboard in Brand24. You can monitor all the mentions about given person and, therefore, establish their credibility. You can analyse all the comments and buzz about an influencer or affiliate, and decide whether it's the right person to cooperate with.
Social media monitoring tool, like Brand24, also gives you an opportunity to identify the right influencers for your product. When you set up an account with all the relevant keywords, the tool will identify the most important data, for example, the most interactive mentions, the most popular authors, mentions by categories or the influence of social media authors.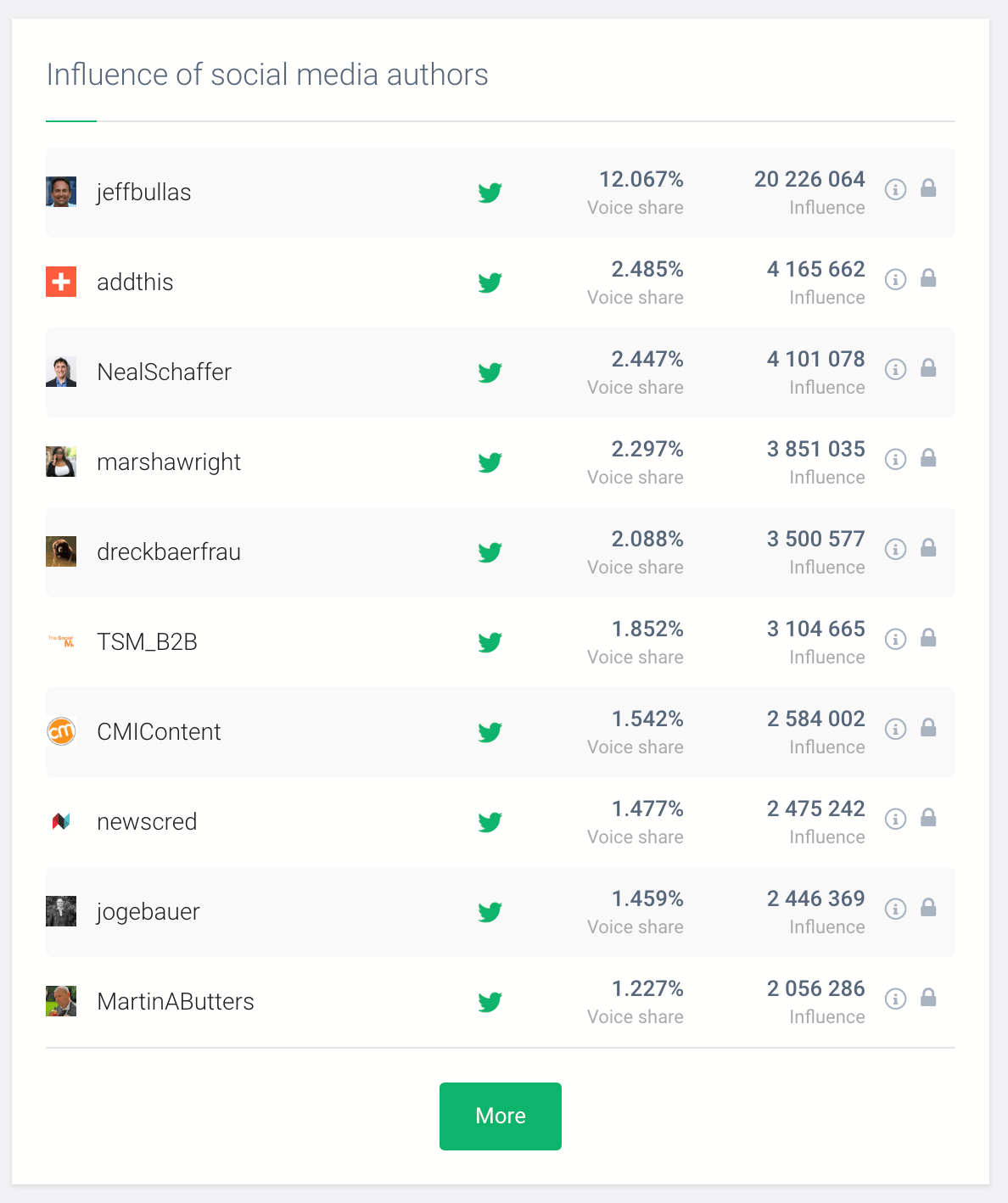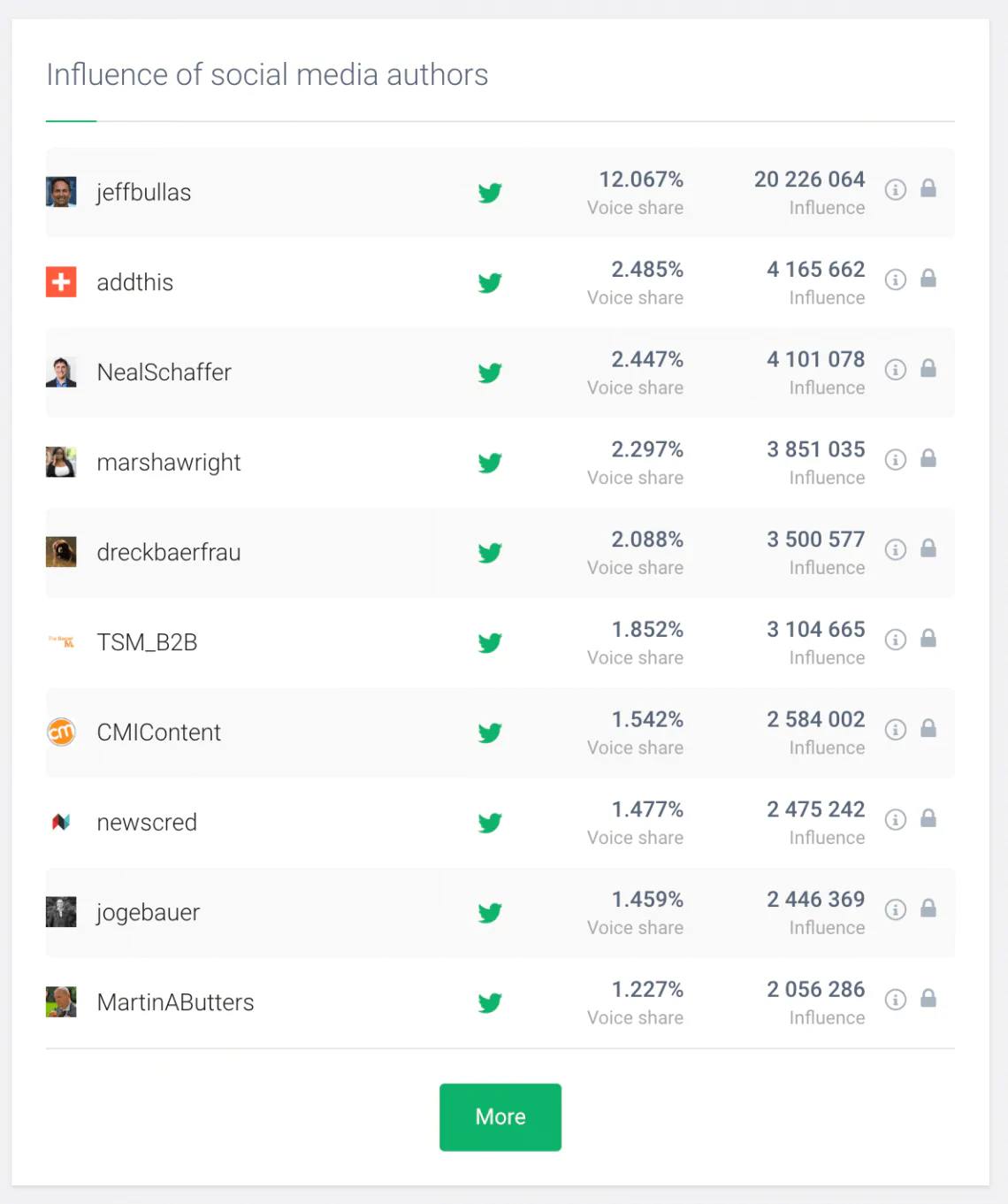 You can also sort the mentions according to the influence of social media authors. It provides a clear overview of people who might become your business micro-influencers.
Networking
Finally, networking. I'm an introvert, so from time to time, I need some quality time on my own. I even made a rule – my only activities for Saturday or Sunday are those which not involve other people.
But this approach doesn't work in business. You have to put yourself out there and get to know other entrepreneurs. Never underestimate the power of learning, and you can gain a tremendous amount of knowledge from other people. That's what makes working environment of Silicon Valley so unique – the companies, at least in the beginning, were small and had to cooperate to finish up all the projects.
If you share your knowledge, you will help other companies grow. But you may also get amazing ideas from them, that will help you expand your business. Or, they will help you avoid mistakes, they've already made. Either way, it's a proven way to grow. Silicon Valley titans backup this thesis.
Key Take Away
A sound marketing strategy could help enormously with establishing your position on the market. Checking all the boxes mentioned above won't guarantee a success but will certainly get you closer to your goals. Don't neglect marketing strategy, because it, most certainly, will backfire.
HANDPICKED RELATED READ
Why You Need to Implement a Real-time Marketing Strategy
Reddit Marketing: How to Create a Strategy That Will Get Results [2022]