Looking for an in-depth SEO tutorial that explains in simple terms what it takes to rank on Google?
Look no further. This is the one.
This post aims to debunk the search engine optimization realm for the ones who are still trying to wrap their minds around what it takes to rank on Google.
If this sounds a lot like you, team Linkody is here to spread the SEO wisdom in one easy to understand SEO tutorial.

1.0. Benefits of knowing the basics of SEO
SEO nowadays is a multi-billion dollar industry and organic traffic ain't free – it costs time and human resources.
This video does a good job of going over the basic how-to's of optimizing your site for Google — and unlike everything else related to SEO, it's free.
Obviously, you can outsource your SEO needs to an agency, but that often turns into quite a price-y investment. Usually, it is for one simple reason — agencies charge for "tailored" SEO packages and sell more than an average company needs.
Not knowing how one of the most important traffic sources functions often adds a zero or two to the price tag.
This post is here to help – this is your ultimate SEO tutorial to learn why Google ranks other websites higher than yours. A couple of minutes spent reading this post may save you
A couple of minutes spent reading this post may save you a considerable amount of money later on.
2.0. What this SEO tutorial will teach you
This SEO tutorial will explain the following:
How to do a proper keyword research.
How & where to implement these keywords.

Your on-page content should follow certain rules that are easy to implement and will improve your ranking.

How to do link building that creates results.

Link building is what matters the most (but you should never start with it).
Let's dig in!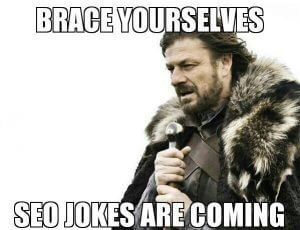 3.0. Proper keyword research creates the foundation!
Keyword research is the key to understanding how people would search for the solution you provide!
If you have your assumptions with no data – you might have a problem!
You must test your money maker phrase and have the data that supports your assumptions.
Here's how!
Step 1: Focus on long tail keywords
You should focus on long tail keywords (especially when you are just starting the biz.), let me explain why.
SEO nowadays is an extremely competitive field. If you run a quick search on Google, you will find 880 million mentions of "Nike" and 70 million mentions of "Buy black Nike shoes".
People who want to buy black Nike shoes have 12 times higher chances to find you. It's simple math!
Moreover, the second query has a clear purpose – to buy a specific product.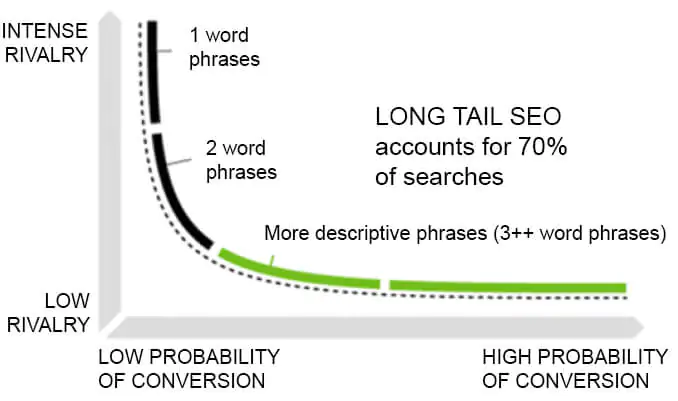 To sum up, long tail keywords are better for 3 reasons:
You have bigger chances to find your money maker keyword (high search volume & low competition);
Long tail keywords convert better – when people search for something specific it's easier to match the "why" search was made;
3 and more words in a single query are used 70% of the time.
In addition, there are several phrases that can help you to achieve a specific goal:
Phrases like "buy", "get", "free deal", "gifts", etc. – are used to focus on generating revenue;
Keywords like "how-to", "ultimate guide", "learn", etc. are focused on traffic acquisition.
This is an old but quite forgotten tip – choose the right goal, before you start your keyword research.
Step 2: Know the search volume & difficulty to rank
Knowing the search volume is a must and that's where the keyword research should begin. When you do it properly you will be able to track two important things:
The number of people who would search for your solution.
How difficult it would be to rank for this keyword.
Google AdWords Keyword planner offers a free tool to get the necessary data.
Now, let's imagine you are starting a wine e-commerce website.
Sounds like a good idea, right? Let's see!
First, search for the potential keywords that would generate revenue (2), then adjust the targeting (3) and the date range (4):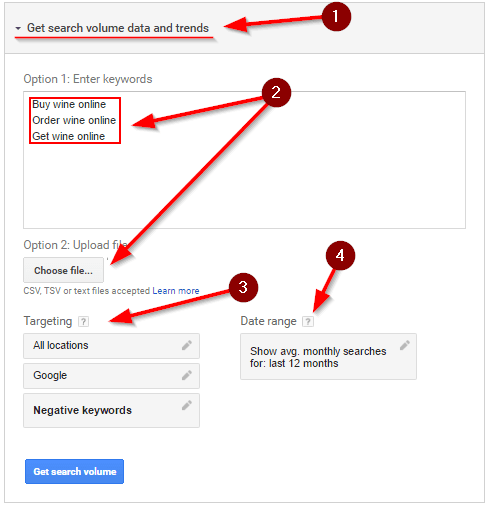 After you hit the blue button (get search volume), you will be able to see all the necessary metrics related to the focus phrases.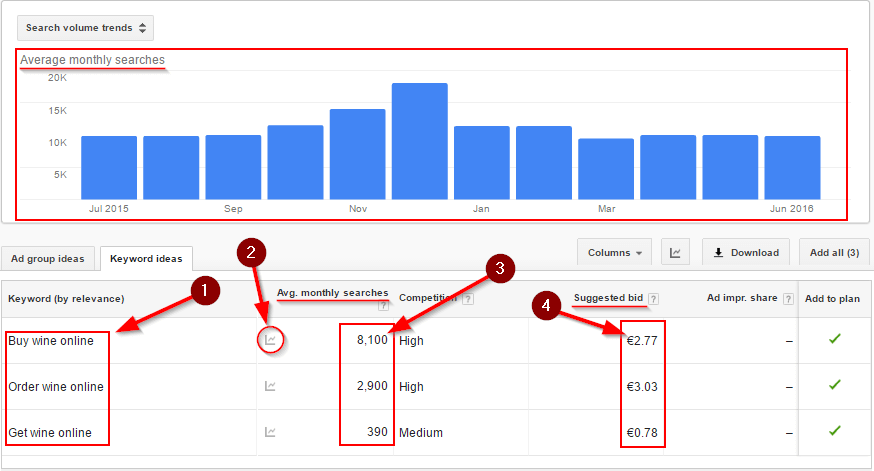 As you can see, by a large margin "buy wine online" is the most popular phrase (3).
Among the other metrics, the table shows you the graph of the search volume (in the specific region & time frame) (2) and the suggested bid (4).
Suggest bid, even if not reliable, it is an OK indicator to see how competitive the keyword might be.
Step 4: Use keyword synonyms cause that's where the money is
Finding a query with high search volume but low keyword difficulty score is an art.
The best free tool to do this is the KWFinder.

Insert the query (1) > select the location (2) and your language (3) – then hit analyze (4).
Here comes the best part. This tool will give your keywords SEO difficulty score (1) and the list of the synonyms as well as their difficulty score.

So what does possible SEO difficulty means?
1-10 SEO difficulty: 1-10 backlinks
11-20 SEO difficulty: 11-20 backlinks
21-30 SEO difficulty: 21-33 backlinks
>31 SEO difficulty: 50++ (if you don't have mad link building skills – it won't be possible)
If you select "wine case deals" as your focus query and sell wine in bulk you can lower the backlinks you would need from ~50+ to ~25 to get some organic traffic.
Pretty neat, huh?
Note: KWfinder lets you run 3 free searches in 24 hours. Use them wisely.
3.1. Quick wrap-up
As keyword research creates the foundation for your SEO, some experts say that it should take at least couple of days. You must repeat this process until you have a list of 5-10 money-maker phrases:
One long-tail keyword, which is a clear alfa-phrase (high volume and low keyword difficulty) and achieves your specific goal (sales or traffic).
4-9 word phrases for content marketing to generate traffic for your blog or about us & other pages.
4.0. On-page SEO
Now we know that "wine case deals" would be an awesome focus keyword that would bring organic traffic to our landing page. Moreover, this query is all about addressing sales intent.
Note: If you would want to go for this niche all you should do is get some long tail keywords that can generate traffic and educate your customers.
But now, it's the time to learn where to put these words.
The next step in every SEO tutorial should be an on-page content optimization – it's like having a business card with all the right info on it.
Step 1: Implement your focus keyword
SEO tutorial without on-page checklist ain't no tutorial.
We took one of our blog posts from the blog.Linkody and here you can see a perfectly optimized article.
The same guide can be used to optimize landing pages.
So here it goes 9 steps to have a perfectly optimized article (in this case the focus keyword was "niche website examples"):
1. The headline should start with the focus keyword (headline should be under 70 characters). You can check all website headlines using the Website SEO Checker by Sitechecker tool.

2. Add click-bite KW to your Headline – best, epic, awesome, deal of the year/month, etc. (depending on your goal).

3. Make sure there is an image in your article with the focus keyword as the alt-tag.

4. Add your focus KW in the first paragraph.

5. Add 3-4 similar LSI keywords in the content – similar queries that answer the same searchers intent.
Sprinkle them in the post. The words can be found at the end of each Google search.
6. Make sure your focus keywords density is from 0.5% to 2% from the total content.

7. Add KW at the beginning of the URL. Important: If you edit the URL, make sure to create the redirect.

8. Add Meta-description that includes your focus keyword.

9. Use sub-headings with your focus keyword.

& you are done!
Now you have SEO perfect page/s.
5.0. Link building
Every SEO tutorial should stress the importance of link building and this is not an exception.
80% of your time should be spent link building.
Nevertheless, link building is useless unless you have mastered the previous two steps.
Note: According to several studies, URLs pointing to your website is the most important ranking factor.
Team Linkody eats, sleeps and talks backlinks – some might say, we are pretty darn good at it.
Bellow, you will find our top 3 link building strategies.
Enjoy.
5.1. Take your competitors' backlinks fast
This technique has the best balance between time spent and results produced. It's because it can be automated to such extent you will be surprised.
Your competitors have spent months and sometimes years finding the websites where to place their backlinks.
Now, thanks to Linkody, you can automate finding all these websites and have all the metrics available within seconds.
Step 1: Signup to Linkody


Signup, insert your URL and add all your competitors. In this case Step 1 and 4 are optional.
Step 2: Export Competitors' backlinks


Then head over to the competitor section (1) and export the list of their backlinks as a CSV file (3).
Note: It's a good idea to filter the blogs, resource pages, etc. separately (2). This helps to automate the outreach by personalizing the email templates. Blogs, resource pages, testimonial pages, etc., each must be pitched differently.
Step 3: Email the websites
Now it's time to email the exported list of websites (we advise to contact the websites with domain authority above 20).
There are a couple of tools that can help to automate the outreach but our favorite definitely is Ninjaoutreach.com.



Copy all the URLs (cell C2:Cxxx) from the CSV file and simply plug them in the Ninja tool.
Then go to "outreach mode" section and start the emailing.
Note: personalizing the emails increases the response rate by at least 50%.
Within 30 minutes you can find a couple of hundred backlinks, group them, personalize the emails and contact the website's owner.
5.2. Collaborate for creating one of a kind post
Creating one of a kind content is incredibly time-consuming, but if you do it right it is extremely rewarding.
When I say "one of a kind" I mean long posts that include everything on a specific subject.
Step 1: Do the topic research
Start with finding a topic that hasn't been covered in-depth and dig in deep:
Quora.com might be a good way where to start the topic research.
Check on LinkedIn groups where people tend to ask for advice.
Hubspot can generate blog topics for you.
Step 3: Find the expert in this field
Found something that could be turned into in-depth research? Great, now find an expert in the field to collaborate with you.
After backlinko.com published their research of 1 million search results they found out that 600 other domains linked to them.
By publishing one of a kind content, co-produced with their data partners, they were able to generate more backlinks than some websites in their lifetime.
A chance to delegate the work obviously will help you to produce better content and deliver maximum value to your readers.
5.3. Do guest blogging
As you might have noticed – this is a guest post.
Purpose?
To get a backlink.
So yeah, as you can see I spent quite a few hours writing this piece of art just to get a backlink to the Linkody page.
Guest blogging is tough and you must always put in the work.
Step 1: Find guest blogging opportunities
Finding guest blogging gigs ain't actually hard, write in the Google: "KEYWORD" + write-for-us.
For the ones who need an example – "Marketing" + write-for-us.
This is how you will find 100++ blogs that accept guest post.
Step 2: Reach out
This is where the value-adding already starts. It's important that you spend your time going through their blog and researching the topic.
Find what this blog is missing and pitch the topic.
Blog.linkody (the backlink monitoring software) has received guest posts about health, tourism, and countless other BS topics.
Do your research and gigs will come.
5.4. Quick wrap-up
These three link building techniques have everything you might need:
One is fast and effective.
The other requires hard work and can produce tremendous results if executed properly.
But the third, it's something that always works.
6.0. To sum up
This SEO tutorial provides you with a gradual process that must be repeated every once in a while.
Note: to track your results you might want to use these tools:
Linkody.com allows you to see all your backlinks (+metrics) and sends you an email when the backlinks are implemented.
Google analytics tracks the traffic and shows which sources are bringing the most.
I hope this SEO tutorial will help you to save your resources when it comes to outsourcing an agency or at least gives you the inspiration to boost your SEO efforts on your own.
No matter what, let me know:
How do you deal with search engine optimization at the moment?
Was this SEO tutorial any helpful?
Happy SEO y'all.
Author bio:
Helvijs Smoteks does SEO and content marketing. Some might say he's damn good at that.