SEO Software For Agencies: 23 Free & Paid Tools!
December 29, 2022 ・ 20 min read
As an agency, staying ahead of the tech curve is far from easy. It's always a changing, ever-updating, and potentially incredibly laborious prospect if you don't want to get left behind.
Thankfully, we've created a curated list of 23 free and paid SEO tools that will help you keep up with modern market trends. Here's to a more informed approach that stands by in times of tech trouble!
Table of contents:
All-in-one SEO Tools
There are three big names on the market – Ahrefs, Semrush, and SE Ranking.
While each has different characteristics and excels at different things, you can't go wrong with either of those.
If you want an all-around SEO powerhouse, look no further than these three:
Ahrefs
2010 saw the birth of a new star for SEO – Ahrefs. This all-in-one SEO software suite covers every aspect of SEO, from link building to competitor analysis and rank tracking, and you'll be glad you have it in your toolbox!
Ahrefs can quickly give you insights into what keywords you should target for maximum impact and how contender websites utilize keywords to dominate your niche.
Site audits provide the assurance that everything on your website is running optimally, so you can focus on other aspects of your business while still receiving top search engine results. With so many capabilities packed into one amazing tool, Ahrefs is making SEO a breeze!
Favorite feature: Content Gap
Content Gap is a great way to give yourself an edge in content marketing without having to be an Excel expert.
All you have to do is find out what your competitors are ranking for, subtract the keywords you already rank for, and voila! You have a list of topics you can use as starting points.
Content Gap makes it easy to stay one step ahead; it's like having your own secret spy scouting out your competition!
You can export the results to the CSV format. What you're left with is a great starting point for any content strategy.
Pricing
Semrush
If you're looking for the ultimate online visibility helper or a tool suite for discovering marketing insights, then you certainly need to try Semrush.
Established in 2008, Semrush is a comprehensive platform with varied functions – from SEO and PPC to SMM and keyword research, as well as several others.
With Semrush, marketers can also take advantage of features such as:
Staying ahead of their competitors with competitive research,
Keeping their PR campaigns running smoothly,
Coming up with content marketing ideas backed by reliable insight data,
Launching well-managed campaigns.
Essentially Semrush has everything necessary to succeed in this crowded marketplace!
While Ahrefs tends to be more accurate in its organic traffic, I found that Semrush is quite a bit faster at times.
Favorite feature: Site Audit
While no tool can replace a proper site audit, Semrush's feature does point you in the right direction.
Semrush's Site Audit is an all-encompassing tool to help you analyze your website from top to bottom.
This tool runs over 140 automated checks to identify surface-level issues such as duplicate content, broken links, and much more.
Additionally, it allows you to generate flexible crawls with settings like domain, subdomain, or subfolder crawling, so you can customize every audit according to your needs.
And here's the best part: Semrush's high-speed crawler zooms through all your pages in no time!
On top of that, you can use this powerful tool repeatedly with on-demand crawling as well as schedule recrawls according to your needs. With such comprehensive results provided in a great UI with clear reports AND tons of data points — Semrush's Site Audit may just be the perfect solution for your website audit needs!
Pricing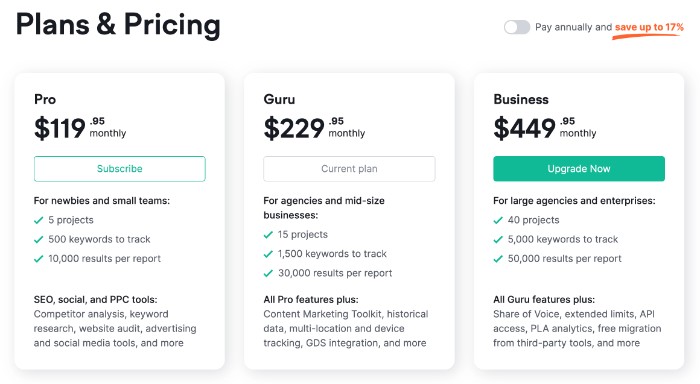 SE Ranking
SE Ranking is the perfect tool for anyone looking to get the upper hand in their search engine optimization (SEO) game.
Not only does it provide users with easy-to-use keyword position tracking and keyword research, but a full suite of features that are sure to give them the advantage they need:
Website audit,
Competitor analysis,
Keyword suggestion and grouping,
Backlink monitoring,
Automated professional reporting
Some bonus features that will really take their digital services to the next level.
Favorite feature: Marketing Plan
SE Ranking's Marketing Plan feature is a great way to reach success with your SEO plan.
It incorporates a comprehensive action system, leaving you feeling organized and prepared for the coming month. After you've completed all of your tasks, SE Ranking even helps you find and submit your business to trusted directories and catalogs – so it's almost like a one-stop shop for successful SEO.
Pricing
What I love about SE Ranking the most is the fact that their pricing is incredibly competitive. If you're looking for value for money, it's a great choice. It has almost all the features of the previous two tools, except it's two or three times cheaper.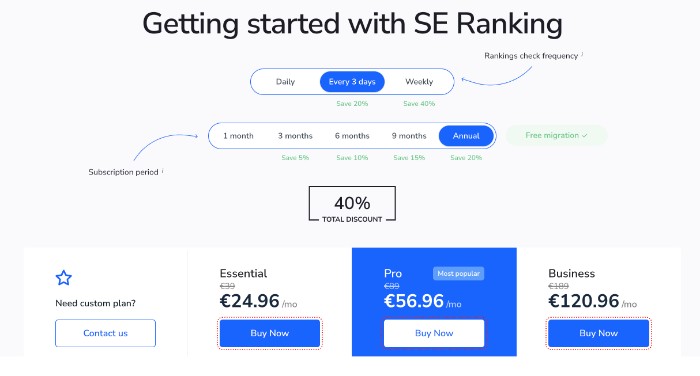 Link Building Tools
Link building can be done with multiple very different tools. I decided to go for the three ones I find the most useful:
Brand24
Brand24 is a strategic platform designed to help companies monitor online conversations related to their brand or product.
It allows users to track comments, reviews, posts, and other interactions involving their brand.
This real-time visibility enables businesses to react quickly and develop insights into the sentiment of an audience.
Media monitoring can improve your link-building efforts. Read how Semcore agency acquired +$660K in annual revenue thanks to using Brand24.
Favorite feature: Finding unlinked brand mentions
So why the link building kit?
The tool will help you find unlinked brand mentions and turn them into backlinks. All you have to do is to filter news and blogs mentions and reach those sources asking for a backlink. As they already know your brand, making a deal should be much easier.
Brand24 has some of the best alerts out there. Since we're doing plenty of digital PR, we have to monitor our clients. Brand24 is perfect for just that.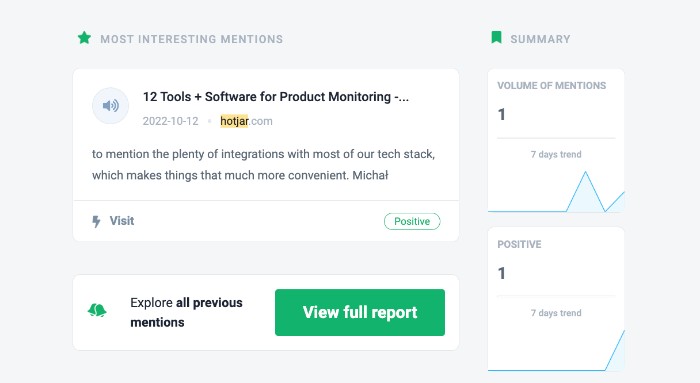 Pricing
The pricing is quite flexible. You can choose a plan that is perfect for your needs.

Brand24 is a tool that finds unlinked mentions. You can turn them into backlinks!
Hunter.io
Hunter.io is a useful platform that gives businesses of all sizes the necessary tools to find professional email addresses quickly and easily.
It allows users to search an extensive database for emails belonging to companies and domains, meaning that users are not only able to find more relevant contacts, but also connect with them at the touch of a button.
Users are able to launch searches with just a domain or company name, making it one of the most user-friendly solutions out there.
I put it in the link building toolkit as it makes the outreach process much faster.
Favorite feature: Email Finder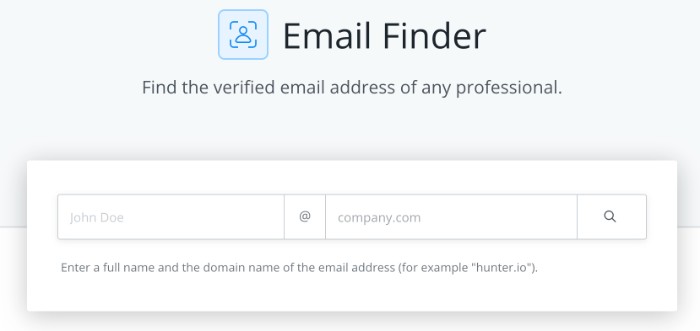 Out of all the similar tools I've used, Hunter is by far the quickest and most reliable.
While its verification is not 100% accurate, the finder does a terrific job. Hunter's browser extension also makes it a breeze to use.
Simply enter a domain, click the icon, and boom – you've got yourself a list of email addresses from that domain.
Pricing

Terkel
Terkel is similar to HARO, or Help A Reporter Out. It is a useful source of content for business owners who want to build their brand online.
By providing access to insights from industry experts in all fields, it allows its users to quickly gain valuable knowledge and wisdom from thought leaders within the community.
Terkel is different since it's paid, and the quality of the queries is better. It's not as saturated as HARO, too.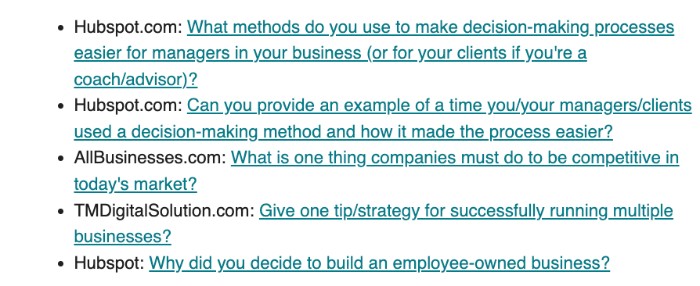 As you can see, there are some big names in there. Terkel has a minimum DR and traffic requirement as well.
Favorite feature: Metrics
Terkel displays the link attribute you can count on as well as the DR of the website. With HARO, you have to use different software and check the metrics. This is a much-needed improvement as compared to HARO.
Pricing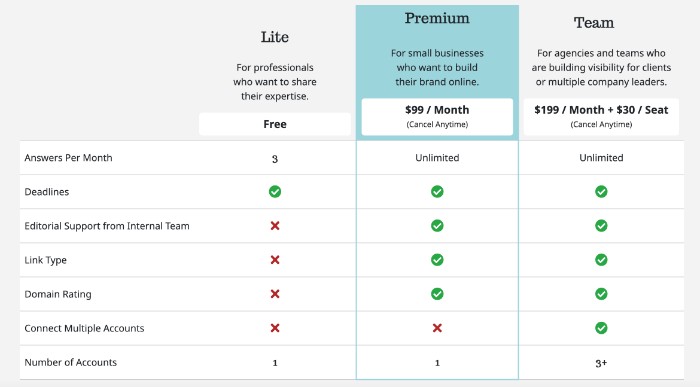 Read more:
Content Optimization Tools
Content optimization, as it relates to SEO, is a hot topic of conversation these days. It refers to the practice of creating digital content like website pages, articles, and blog posts that are tailored to get maximum attention from search engines.
The goal is to make sure your content has enough targeted keywords and phrases to draw in web visitors who want what you have.
All of those tools work in a similar fashion – they try to reverse-engineer Google's algorithm.
There are three major players on the market:
Surfer
Surfer was founded by Michal Suski, Tomasz Niezgoda, and Slawek Czajkowski in 2017 as an all-in-one platform for keyword research, content creation, optimization, and SEO growth management.
Put simply, Surfer makes SEO accessible to everybody from small businesses to large companies — no ninja skills are required.
It enables users to rank higher and faster than ever before with its automated SEO workflow, so there's no need to settle for low search engine rankings anymore! With just a few clicks of the mouse, you can make your content shine bright like a diamond (or at least sparkle nicely).
Okay, I may be a bit biased (hint: see my name), but I think Surfer is the best on the market at the moment.
Favorite feature: Content Editor
Content Editor is quite literally a lifesaver for those who are looking to get their content out there, ranking highly in Google searches.
With the help of top-ranking pages and Surfer's ground-breaking algorithms, Content Editor helps you identify exactly what words and phrases you should include so that your post resonates with search engines.
In other words, by harnessing the power of this clever tool, it finally won't take years for your post to show up on the first page of results!
Pricing

Brand24 is a tool that monitors online mentions about your company.
Outranking
Outranking helps businesses step into the arena of targeted and optimized online content.
It is powered by AI, which connects plans, creation, and optimization of SEO-friendly content. With this powerful platform, companies can maximize their reach and gain valuable insights from real-time data analytics.
This easily puts them far ahead of the competition! Outranking enables businesses to monetize their digital presence through specialized report generation and precision content alignment with industry best practices.
Favorite feature: Concepts
Outranking's Concepts feature is a valuable tool for content marketers and search engine optimization experts. It helps extract facts from search engine ranking pages with a single click, customize fact collections using templates and collect custom content quickly with the content utility feature.
Content creators simply need to select multiple concepts from their research and can automatically craft informative paragraphs – all within one quick motion!
Pricing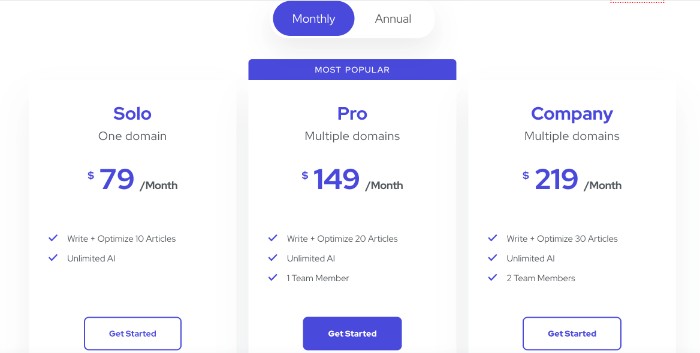 Frase
Frase is an all-in-one content optimization platform that makes the arduous process of writing SEO content a breeze.
It helps users to curate well-researched content briefs in no time, while enabling them to generate quality and highly converting copy with just one click. With Frase's competitive analysis feature, users can effortlessly compare their content with that of their top search competitors.
Additionally, the platform offers great content analytics features which help users to uncover new opportunities and avoid content decay.
Favorite feature: AI Writing Assistant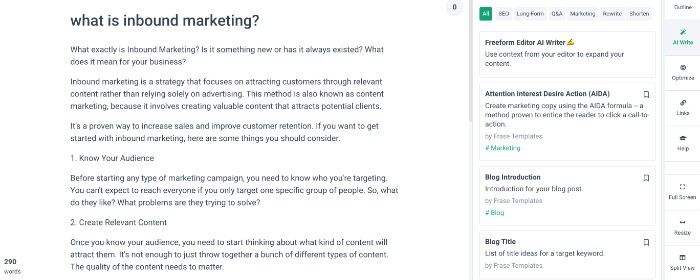 Frase writing assistant is an AI-powered tool that helps anyone to write better.
It has multiple features to reduce time and effort in creating content such as SEO, long-form articles, rewriting, shortening, Q&A, and more.
With the SEO feature of Frase, users can automatically generate keyword-rich content to improve traffic from search engines.
This feature also suggests images, titles, URLs, and metadata. Long-form also provides features like listicles, how-tos plus a complete content draft based on the outline provided by the user.
On top of that, the marketing feature allows product reviews which include the pros and cons of the product available in an easily understandable manner.
Keyword Research Tools
The keyword research market is quite saturated. Agencies mostly use Semrush and Ahrefs' robust platforms to perform it.
However, there are some tools dedicated to just keyword research. And they're pretty good at it:
KWFinder
KWFinder from Mangools is an incredibly valuable keyword research tool for digital marketers.
It allows users to easily identify keyword opportunities and understand how competitive those keyword ideas may be from both the SEO and PPC perspectives.
This can help marketers better understand the most effective keywords to prioritize for a website, as well as gain helpful insights into competitors' tactics for their own campaigns.
KWFinder also tracks each keyword through its proprietary index value, further helping marketers make wise decisions throughout the process.
Favorite feature: Data Aggregation
KWFinder Data Aggregation provides keyword research and competition analysis with the most comprehensive link data on the internet. Its extensive database collects information from hundreds of sources, including social media, search engines, and high-authority websites.
The powerful report builder can quickly give you an overview of your current keyword performance, allowing you to precisely optimize your content for better page rankings.
KWFinder goes beyond typical website metrics to analyze both organic and paid search visibility as well as observe backlinks to your site plus competitor's sites. It even provides SERP (search engine results page) position tracking that shows how you are performing over time.
Ultimately, it enables users to make various strategies based on insights about their niche or industry for maximum efficiency in digital marketing.
AnswerThePublic
AnswerThePublic is an innovative tool to help you stay on top of trends in search engine results.
It merges data together from various sources and provides a comprehensive look at the questions most being asked around any given keyword.
This insight can be used to tailor digital PR and content strategies, inform pitches and proposals, or even uncover new and unexpected opportunities.
Whether you're looking to create a more powerful organic search presence or find untapped areas of demand, AnswerThePublic provides innovation that can give your content an edge over the competition.
Favorite feature: Visualization
At the top is the wheel of questions divided into who, which, will, when, how, where, why, what, can, and are.
Next up, we have the wheel with prepositions.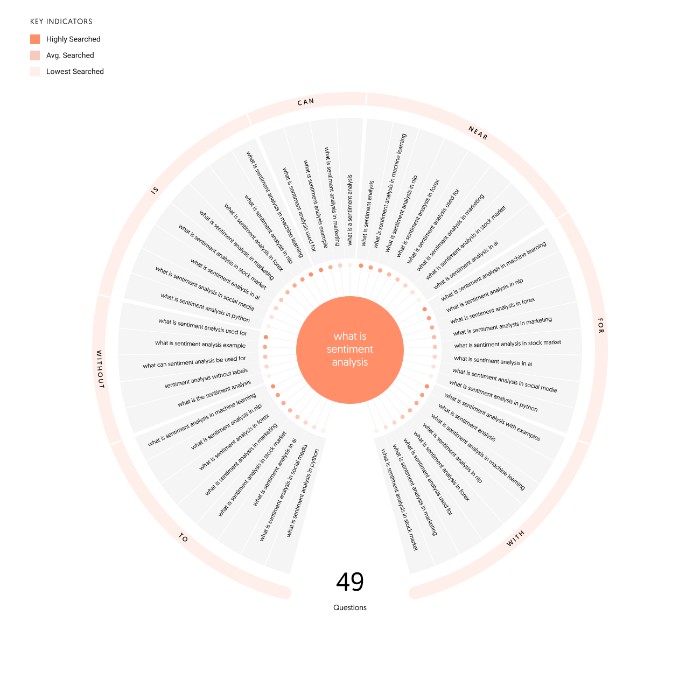 Look at how much data there is. Further down, we get to the nitty gritty – the search volume.
While AnswerThePublic doesn't tell us the numerical value, these keywords can be exported to CSV and plugged into a different tool.
Then, there's the alphabetical order of keywords found by the tool.

Finally, there are the related questions: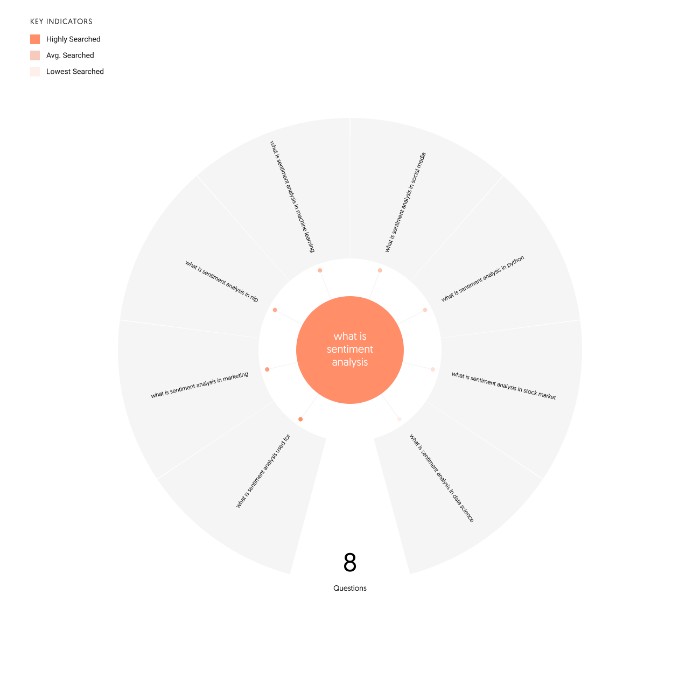 Pricing
AnswerThePublic is a nifty little tool, especially for its price. If you're not an enterprise, they provide you with a totally reasonable 500,000 searches per month for free.
After buying any of the packages, you get unlimited searches, more user seats, more listening alerts, CSV export, high-resolution images, and more features.
Keyword Cupid
Keyword Cupid is an ingenious clustering tool that helps to identify patterns in how keywords should be grouped.
Through this innovative approach, an ensemble of unsupervised machine learning algorithms is used to examine the data from the Google page and to construct a topical model without any bias.
This model is then examined from a human perspective to ensure that the clusters formed to make sense logically. Thus, Keyword Cupid's efficacious clustering technology can provide users with the insights needed for accurate keyword grouping.
Favorite feature: Interactive Mindmap
There's nothing nicer than a good visualization.
Keyword Cupid's Interactive Mindmap is an innovative tool that leverages the power of artificial intelligence to provide users with a detailed overview of all related topics and ideas.
It works some magic by transforming a search input into a user-friendly interactable network that features nodes, each representing individual identifiers and ideas. With it, one can easily explore semantic relationships between different concepts and observe as well as identify patterns in their data.
This makes the Interactive Mindmap an invaluable resource for anyone looking to understand how multiple facets of any given topic interrelate.
On top of that, it comes with various capabilities such as drag-and-drop editing, marking items in the map as favorites, quickly finding related terms, and much more, ultimately making this interactive experience both manageable and enjoyable.
Read more: Keyword Monitoring Tools
Content Marketing Tools
Content marketing takes many different shapes and forms. It is a powerful way to reach out to customers, build relationships, and increase brand loyalty, as well as drive sales.
I'll focus on three aspects – analytics, email marketing, and content production.
Google Analytics
Google Analytics is an analytics platform that provides valuable insights into website data.
It's used to track user activity on web pages, as well as measure the success of marketing campaigns and optimize digital experiences.
SEO agencies can leverage Google Analytics to analyze how people are finding their clients' websites, what content performs best across devices, and which pages make visitors leave quickly.
From these insights, they can adjust their strategies accordingly and recommend improvement plans for their clients to achieve those desired outcomes.
Favorite feature: Funnel Analysis
Funnel Analysis is an invaluable tool within Google Analytics that can assist in generating more conversions on websites and apps.
To improve various processes on the website, you can track the steps users take when completing a goal, like making a purchase or completing a tutorial.
With this data gathered from funnel analysis, businesses have the capability to identify where most users drop off and make changes to increase conversions.
Mailchimp
Mailchimp is a popular email marketing platform that helps agencies manage everything from campaign execution to reporting and analytics.
With automation tools, agencies can design, send and track emails that engage their customers and maximize their reach.
Agencies can use Mailchimp to create newsletters or new product announcements, manage social media promotions, develop custom email campaigns, and segment contacts based on customer preferences.
Additionally, Mailchimp provides detailed reports that enable agencies to measure campaign success and make adjustments accordingly.
Favorite feature: Templates
MailChimp's Template feature is a great way for business owners to quickly create and send marketing campaigns. It allows users to pick from a wide range of ready-made templates, modify their color schemes and customize all parts of the template with simple drag-and-drop functions.
Moreover, Mailchimp's comes with built-in tools e.g. for resizing and editing your campaign photos, making it easy to achieve a professional-looking design without any hassle.
Pricing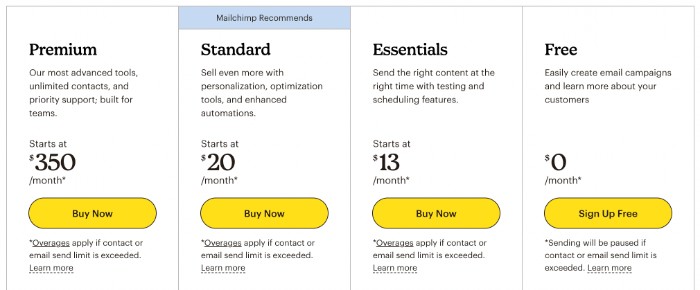 OpenAI
OpenAI has developed AI solutions to help agencies automate content creation and management processes quickly, accurately, and with maximum quality. The tool can help content writers save time, avoid errors, and produce more polished content that meets the needs of their clients or brands.
OpenAI's solutions also help agencies create unique content faster than ever, empowering them to create content faster without sacrificing quality or message integrity.
Favorite feature: ChatGPT
The latest and greatest thing, ChatGPT produces content of the best quality at the moment.
ChatGPT is a model that can engage in conversation with people in a human-like fashion. It has been trained to understand the context of conversations, allowing it to ask follow-up questions, recognize when it makes a mistake, defend against incorrect assumptions, and decline inappropriate requests.
Read more: How to Make a Strong Content Marketing Campaign?
Technical SEO Tools
Technical SEO is a huge part of the overall SEO strategy. Without a proper foundation, websites can barely function. Some tools are especially helpful with technicalities, even more so than Ahrefs or Semrush.
Screaming Frog
Screaming Frog is a web crawler that helps agencies identify and diagnose technical SEO problems with website performance. It identifies broken links, analyzes page titles and meta descriptions, finds duplicate content or thin pages, generates XML sitemaps, and much more.
For those looking to ensure their site is well optimized for search engine optimization (SEO) indexing and ranking, Screaming Frog provides comprehensive analysis to test various technical elements such as page speed, redirects, meta robots tags, canonical URLs, and more.
Its ability to quickly generate data from a website allows agencies to find technical issues with their clients' websites in a timely manner so they can be fixed for maximum search engine performance.
Favorite feature: Crawl new URLs from Google Search Console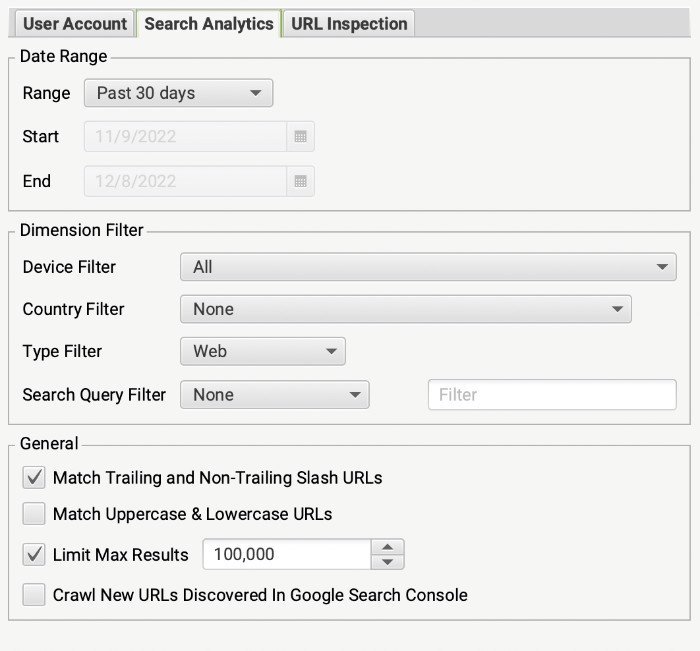 Enabling the 'Crawl New URLs Discovered in Google Analytics/Search Console' setting adds new URLs discovered via an API connection to Screaming Frog.
This links data from Google Analytics or Search Console with Screaming Frog's crawling capabilities, generating a report to identify orphan pages for further review.
With this enabled, any URLs discovered in either platform are added to the queue and crawled by Screaming Frog, giving users more control over their online presence.
Pricing
Screaming Frog has a fixed price of $209 per year per license. However, they do have some discounts when you buy licenses in bulk.

Google Search Console
Google Search Console is a web service that provides businesses and agencies with powerful tools for managing their presence on Google Search.
With it, agencies can monitor the performance of their website, receive detailed reports on how their content is performing in organic search results, analyze technical issues associated with their site's indexing, identify and address security concerns related to their site, submit sitemaps and realize other SEO (Search Engine Optimization) objectives.
Using this data, agencies can better understand how consumers interact with their digital properties and make strategic decisions to improve visibility, drive more qualified traffic and increase conversions.
Favorite feature: Search Results Report

Google Search Console's Search Results Report provides valuable insights for optimizing website search visibility. It reports on how well any given website is performing in terms of overall impressions, clicks, and CTRs within Google search engine results.
Additionally, this report provides data on queries made by the user, country-level information, and the average positions of the website visited by its users.
The most comprehensive report you can get if you know how to get around.
Sitebulb
Sitebulb is a website auditing tool for SEO professionals and agencies. It provides detailed reporting on various factors that can affect website performance and visibility, with the aim of helping you to identify potential issues that could be sabotaging your client's chances of appearing in search engine rankings.
With Sitebulb, you can produce efficient and successful audit reports. This user-friendly software takes a comprehensive look at websites, so you can confidently make necessary adjustments to ensure optimum performance.
Favorite feature: Prioritized Hints
Prioritized Hints are optimization checks presented by Sitebulb after a website audit is completed.
They provide users with context-specific insights that are otherwise difficult to obtain without extensive manual work.
Time-consuming and complex tasks can be saved hours of effort thanks to Prioritized Hints, as they allow Sitebulb to take care of the heavy lifting. This allows users to generate comprehensive audits quickly and efficiently.
Pricing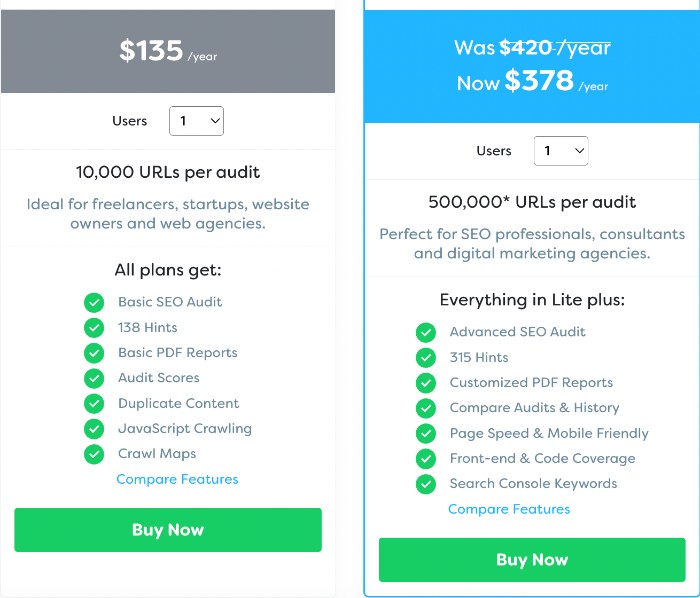 Free SEO Software Tools
While the SEO agency toolset can get quite pricey, there are also some free options. Of course, these tools are seen as small workflow improvements rather than a complete platform.
Keywords Everywhere
Keywords Everywhere is a handy tool that can help with the task of keyword research.
This free-to-use browser extension allows the user to quickly access and analyze crucial search information, including monthly search volume, cost-per-click amounts, competition levels, and twelve-month trends across multiple websites.
It also offers additional valuable information such as traffic metrics, backlink data, and link metrics.
Google Trends
Google Trends is an incredibly powerful resource for digital PR agencies, providing detailed insights into consumer behavior and interests. It provides marketers with vital real-time information on how topics, products, and services are being searched for around the globe.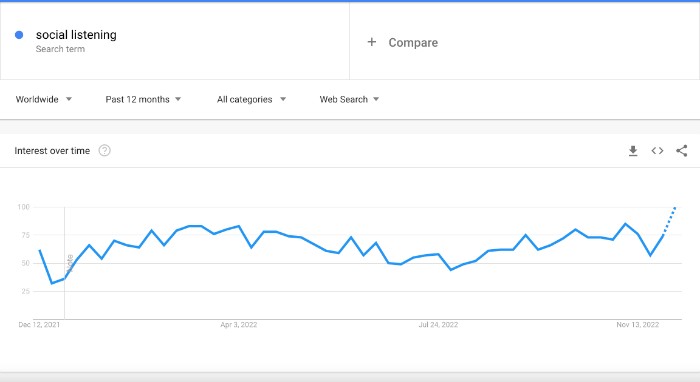 By using Google Trends and the accompanying data visualization product, digital PR teams can quickly identify what people are interested in, but also detect emerging trends over time that could provide powerful fuel for highly successful campaigns.
FreeSEOTools
FreeSEOTools offers an extensive suite of free SEO and content tools.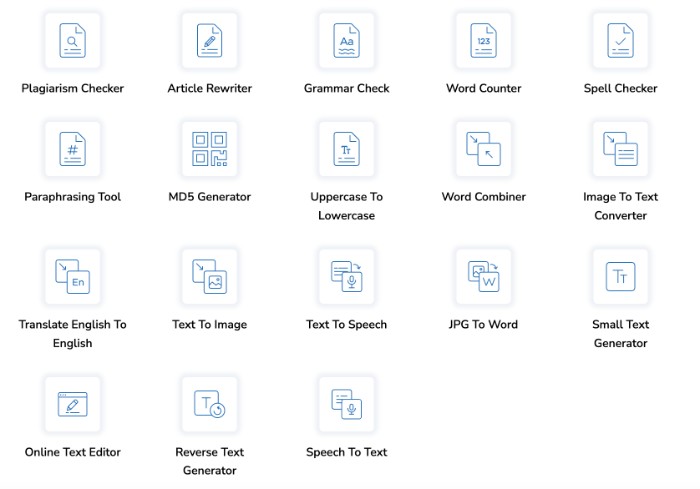 It has become the leading online hub for search engine optimization and related services over the years. From its humble beginnings with just a few SEO tools, it now consists of dozens of excellent technologies from multiple categories.
AlsoAsked
AlsoAsked.com is an integral SEO tool for understanding the needs and search intentions of a website's users.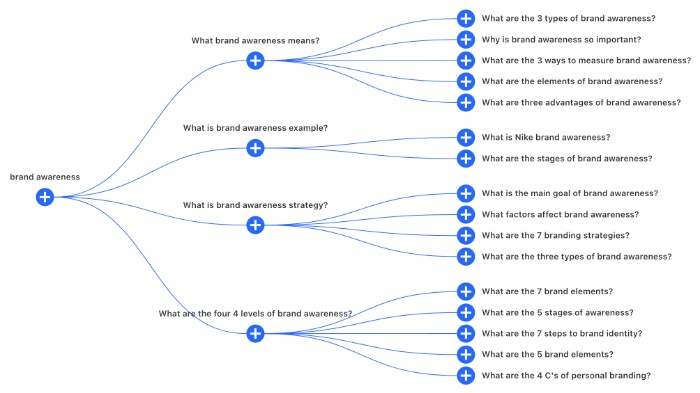 By providing free keyword research, AlsoAsked has enabled content teams to easily answer their visitors' potential queries with high accuracy.
Similarly to AnswerThePublic, this platform can help you recognize which search terms are most relevant for your target audience.
Simply put, it transforms the SERP into an easy tree of questions to answer.
RankMath
Rank Math is one of the best SEO software programs available for WordPress users.
It allows users to easily optimize their content in accordance with best practices, providing built-in suggestions that can effectively raise search engine rankings. Rank Math provides an efficient and cost-effective way of optimizing any website.
Brand24 is a tool that monitors online mentions about your company.
Wrap-up
With so many different SEO tools available, it can be difficult to decide which suits your needs and budget best.
The 23 tools highlighted in this article offer a range of great solutions for both free and paid options, so there is sure to be something that fits perfectly with both your needs and budget.
Ultimately, it comes down to the needs of your particular project, but these 23 SEO tools can help ensure that you've got a good foundation to work on.