Twitch: A sea of marketing opportunities
December 19, 2019 ・ 7 min read
Watched more than Netflix, HBO Go, Hulu and ESPN altogether, Twitch is the Internet's hugest live streaming platform. At the same time, Twitch is becoming a growing market and a rising industry of advertising opportunities for gaming brands, but not only. Let's now have a look at Twitch from the marketing perspective.
The advertising potential of Twitch is still mostly unnoticed. It's a vast and unknown territory that awaits exploration. Let's see what Twitch is all about and what advertising opportunities it gives.
Gaming industry
To talk about Twitch without talking about the market it's a part of would be wrong.
According to Statista, in 2019, there are 2.6 billion gamers world wide. In other words, it means that one-third of all people on Earth play video games. Gaming is an established mean of mainstream entertainment across generations.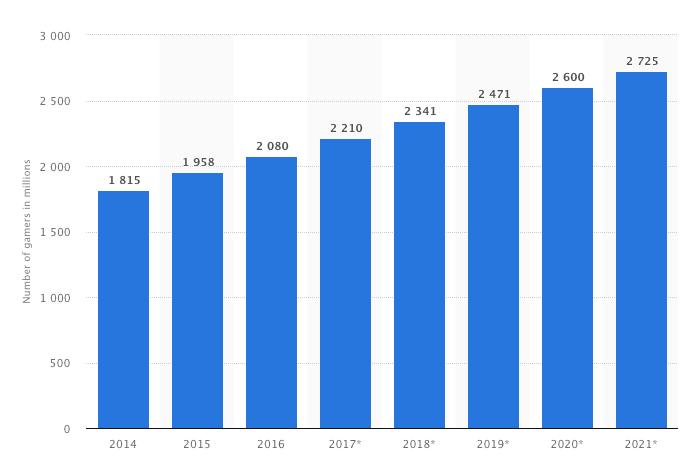 What's more, gaming industry is experiencing a continuous growth almost in every area for a number of reasons.
Growing number of people with access to the Internet across emerging markets
Growth of video game live streaming – according to GlobalWebIndex, over 1 billion people streams games
Another 1 billion people watch livestreams
Increasing number of investments into esports betting
Emerging market of multi-functional gaming console
Developing digital distribution
Increasing number of in-app purchases and subscription services
Those and other changes in the market simultaneously fuel the popularity of video-game live streaming with Twitch at its forefront. According to Zion Market's research, the market is expected to grow between 2018 and 2026 from $800 million in annual sales to more than $6.9 billion.
Strangely, despite its world-wide popularity and lightning-fast growth, gaming isn't receiving the same level of attention as other forms of entertainment, such as football.
Consequently, hardly anyone sees the huge opportunity to connect with the large numbers of consumers who spend more and more time on gaming. Gaming industry continues to be under-utilised in reaching potential consumers.
What is Twitch?
Amazon's Twitch is a streaming platform that mostly airs video game live streaming and eSports competitions. Apart from gaming, Twitch broadcasts music, creative, and real-life content. It's video games, however, that account for the vast majority of views and hours users spend on Twitch.
Here's a few stats:
Twitch has over 15 milion daily active users
Twitch has between 2.2 and 3.2 million monthly broadcasters
Over 1 million people watched a single event – ELEAGUE's Counter-Strike: Global Offensive Major Grand Final
Twitch users spend on average 44 billion minutes per month watching streams
In 2018, there have been 9,006,466 channels on Twitch
Among all live-streaming platforms, Twitch leads the way as it accounts for 72.2% of all hours watched live on the Internet.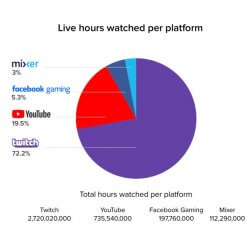 Gamers use Twitch to live record their gameplays, broadcast tournaments and engage with the audience via chat. Spectators interact with each other and broadcasters as well.
The cultural phenomenon of video game live streaming is so appealing because it's a kind of a return to social experiences of arcade games. The only difference is that on Twitch the interaction takes place virtually.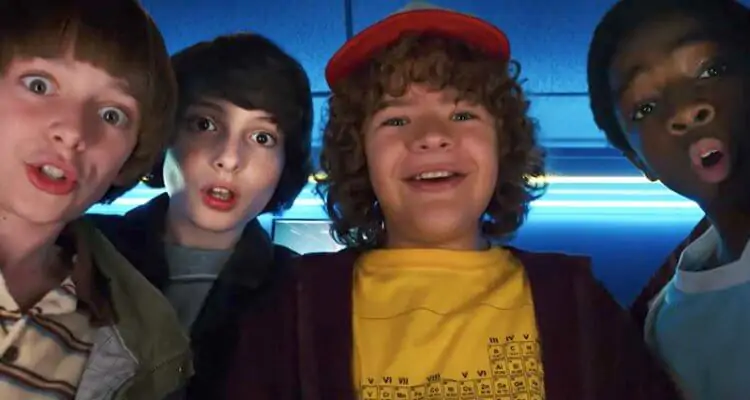 A stream consists of the main video, a webcam video, a chat, and information about the stream, including user name, watching now, and view count.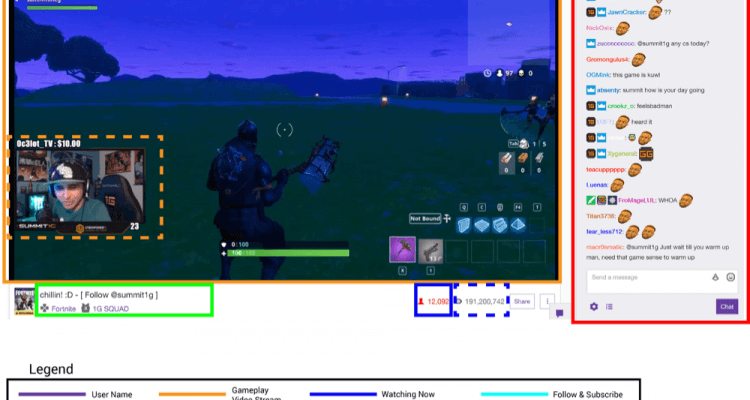 Even though the majority of content on Twitch is related to video games, it's important to remember that Twitch is more than that. There's also a good deal of non-gaming streams, for example: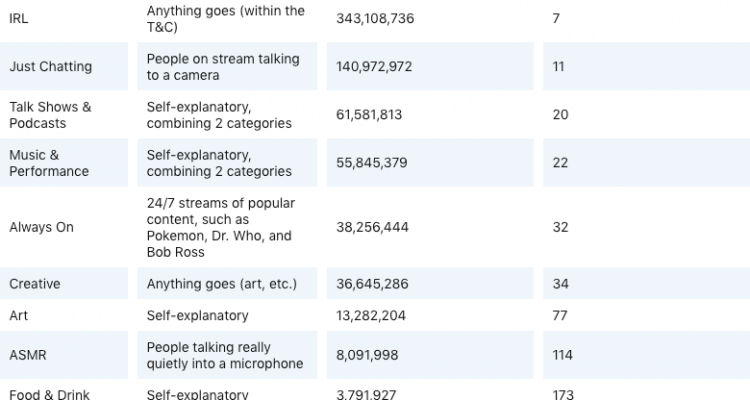 Audience on Twitch
A lot of today's gamers are millennials who hardly represent stereotypical gamers. Gaming has become just another mean of entertainment, a social activity, and a part of the millennial media diet with two-thirds of U.S. millennials playing every month.
Millennial gamers have settled well in the adulthood.
54% have full-time employment
43% have a university degree
Their average household income is around $58,000
46% have children
76% subscribe to a movie streaming service
36% subscribe to a music streaming service
Of this group, 71% of gamers watch GVC (gaming video content), including Twitch.
Twitch is home to millennials who are the largest target audience out there. What's important, it's millennials who have the biggest impact on the market of all age groups.
Twitch audience is socially conscious and passionate about important causes. They're all for advertising on the platform to support their favourite broadcasters and charity initiatives.
82% of Twitch users believe that sponsorships are good for the gaming
80% of Twitch users are open to brands sponsoring gamers and teams
Since gamers aren't really exposed to any advertising, they're more open to such activities than other niches. It's a fertile ground and a sea of opportunities for brands who want to enter a niche full of passionate and driven consumers.
Twitch marketing: Traditional advertising
One of ways to advertise on Twitch is to use traditional advertising. Twitch offers a few advertising opportunities, such as videos and banners in various places.
Homepage Headliner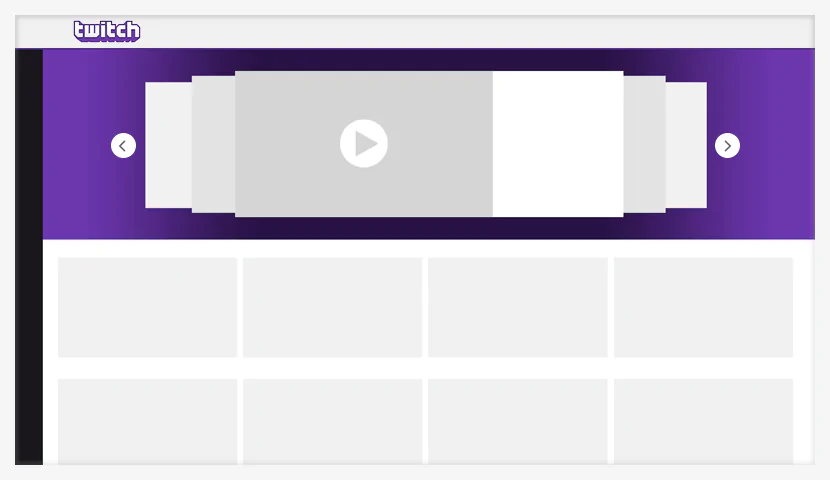 It's the first place where users can stumble upon an advertising content when they go to twitch.tv.
Super Leaderboard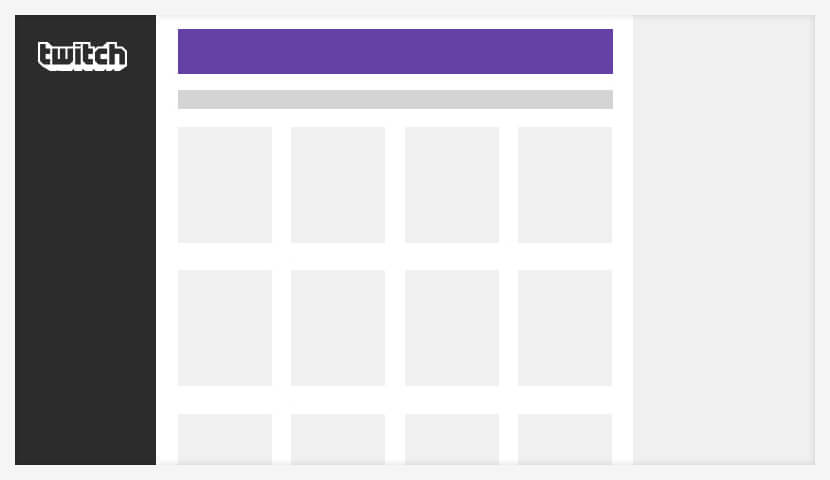 This is where users search for content.
Medium rectangle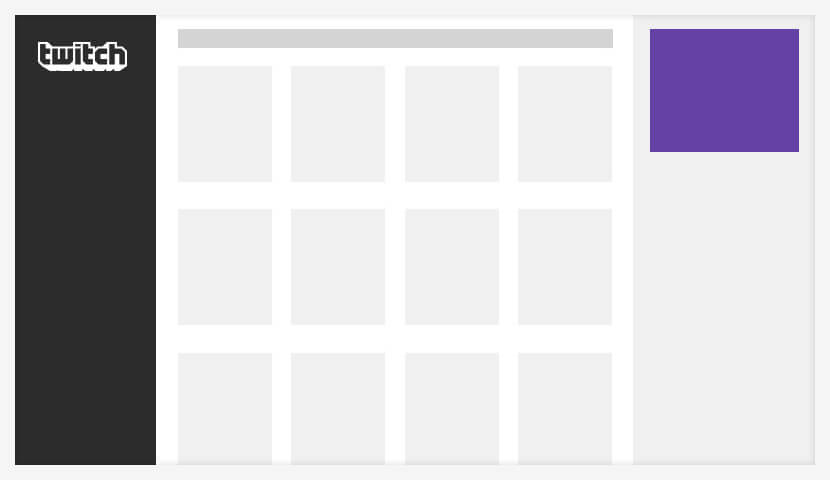 This format shows up when users search for content and scroll.
Synced Units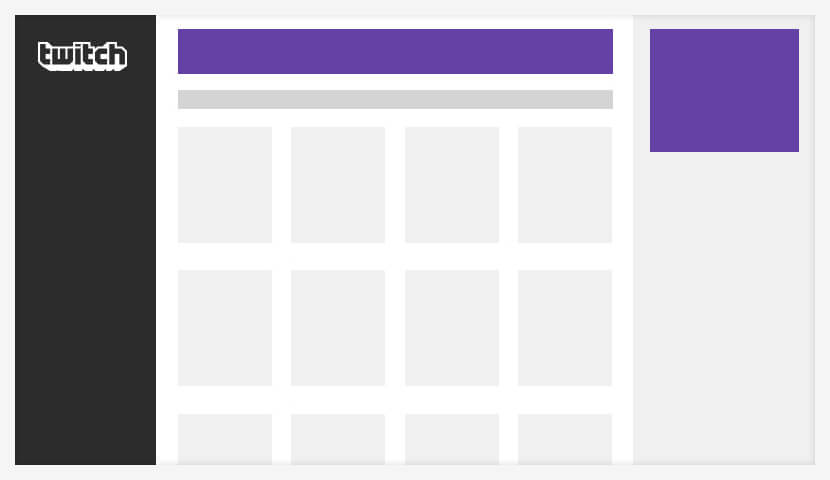 This one combines both ads to boot advertising potential.
Homepage Carousel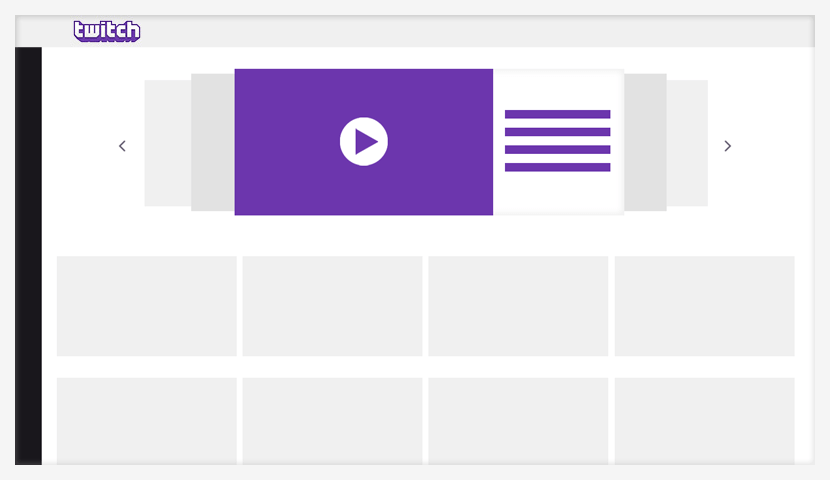 It's a rotating carousel with a thumbnail for your brand on the homepage.
Twitch influencer marketing
With 68% of gamers open to brands supporting their favourite streamers, influencer marketing in gaming industry has a massive potential.
There's many ways for brands to cooperate with streamers.
A streamer might include a brand in the title of a stream, or on their channel page.
Also, a streamer can place a brand directly on a video stream, talk about a brand, or engage somehow with a product.
The possibilities are numerous and only creativity is the limit.
Here's an example of Mike "Shroud" Grzesiek who cooperates with Cougar Gaming. In his stream, Mike talks about buying a case from Cougar Gaming. The site was instantly overflowed with traffic so that it crashed. You can hear him saying this at the end of the video.
When a brand is mentioned on stream, spectators react right away.
It often happens that viewers ask streamers about brands they're sponsored by. For example, Jaryd "Summit1G" Lazar is sponsored by Monster Energy Drinks and, during streams, keeps his Monster mini fridge behind him so that viewers can see it. He often gets questions about his favourite flavour and newly-released flavours.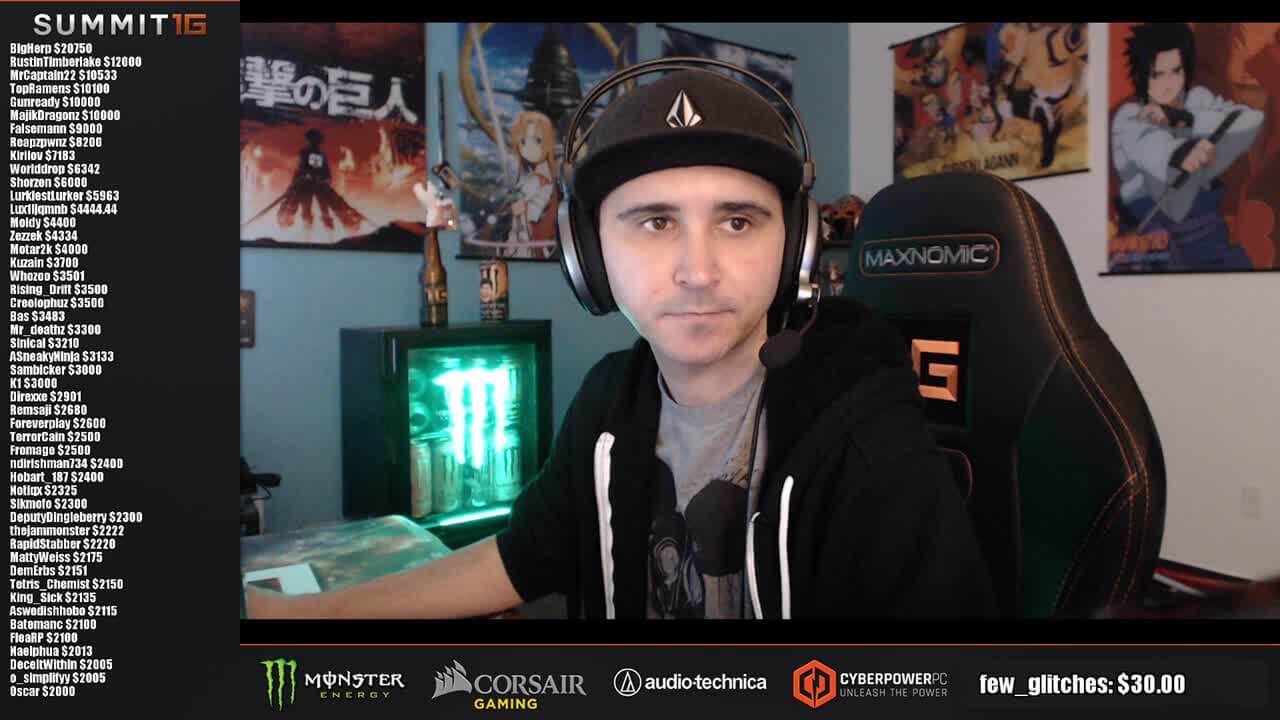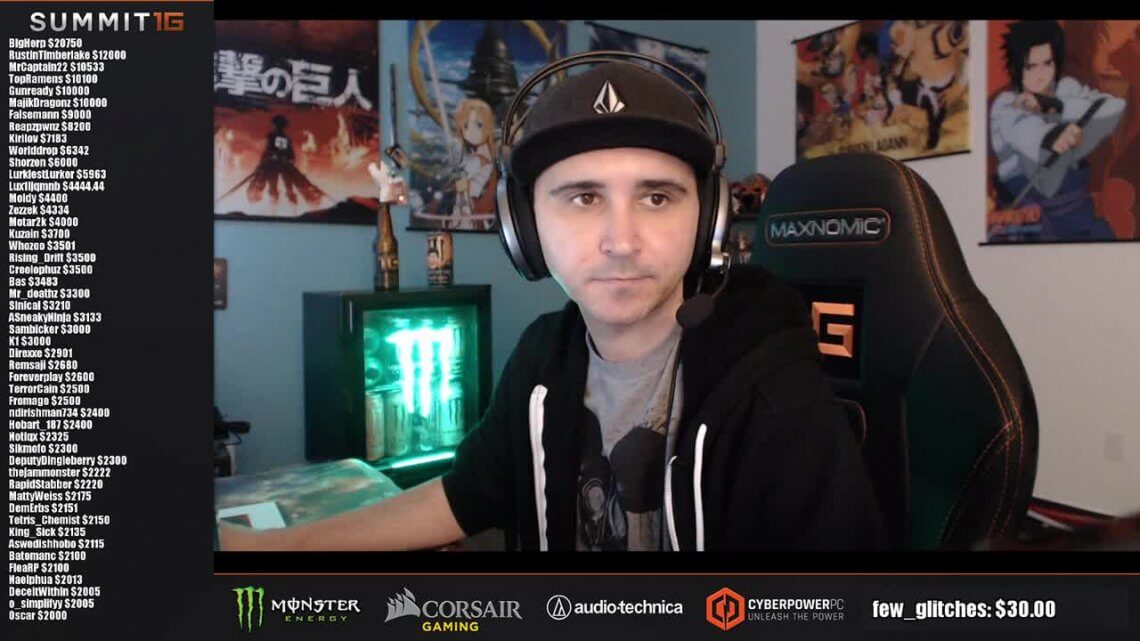 Twitch marketing: Finding Twitch influencers
There's more than 2 million content creators on Twitch of which 10% account for 95% of views. If you feel like Twitch is your way to go, tracking Twitch influencers can help you:
Identify the right influencers for your brand
Spot emerging trends
Build relationships
Monitor opinions about a game
Analyze competitors
Data about influencers can be officially acquired via Twitch API. Some of the data points about influencers one can extract from Twitch include:
Viewers
Followers
Popularity of streams
Broadcasts of the most popular games
Another way to find Twitch influencers is to use a media monitoring tool such as Brand24. The tool monitors the web in the search of mentions of keywords you provide.
On Twitch, Brand24 is able to monitor keywords in titles and descriptions of streams.
Twitch marketing: Branded content
If neither Twitch influencer marketing nor traditional advertising speak to you, you can always create your original content.
One the best examples of branded content on Twitch is Old Spice. In 2015, Old Spice launched a stream called "Old Spice Nature Adventure" in which they live-streamed the adventures of a man in the woods. Viewers could influence the decisions of a man via chat.
There have been more than 2.6 million views of which 1.4 milion viewers engaged in the chat. Th exclusive Old Spice chat emotes were used more than 105,0000 times. The campaign was hugely successful.
Conclusion
Gamers are a huge and highly segmented group – the advertising potential is vast. By entering Twitch and gaming industry, brands can reach a large audience and numerous personas. There's a lot of money on the table.