X (Twitter) Alternatives: Top 8 Platforms You Should Try Out
March 3, 2023 ・ 12 min read
I bet most of you have heard about the recent controversial changes on Twitter. That's why more and more Twitter users search for social media alternatives to the platform. Are you one of them? Let's see what you can choose from and if you haven't heard about the Twitter controversy yet, you'll also find an explanation below.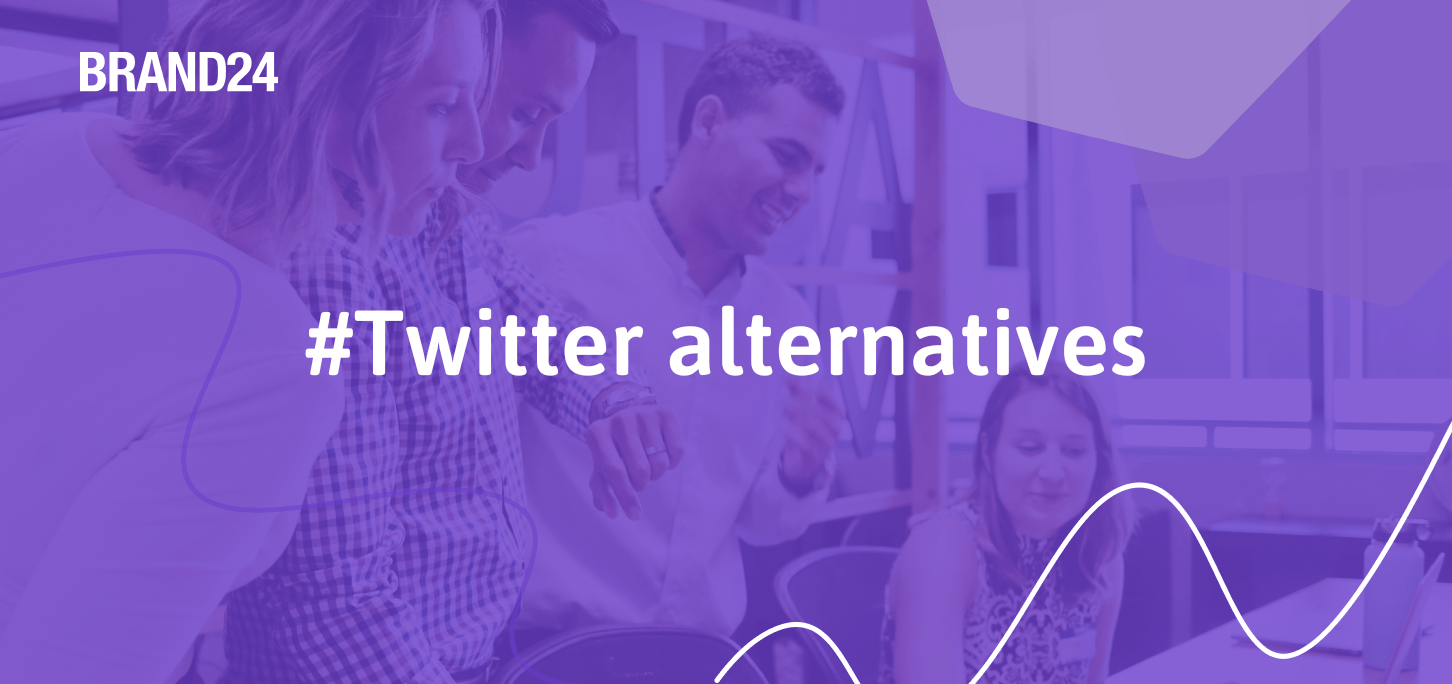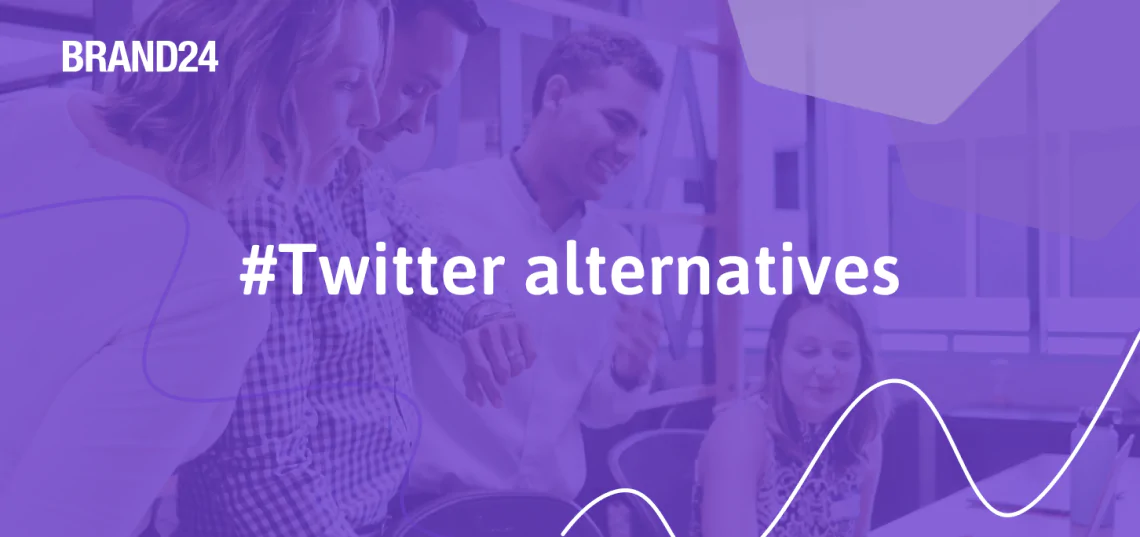 Twitter is one of the most used social media platforms nowadays.
Did you know that there are around 217 million Twitter users?
However, due to the latest situation, many people deleted their Twitter account and are looking for a suitable alternative.
Some of you may already know that the changes are correlated to Elon Musk's acquisition of Twitter.
If you are interested in more details of the situation, you are in the right place, read further.
Rank of the best 8 alternatives to Twitter
01 Bluesky
Bluesky is a new social media app and has the potential to be one of the best Twitter alternatives. It originated as a side project from Twitter in 2019, with the goal of creating a decentralized framework for social media. In 2022, it became independent from Twitter, and the beta version of the app was launched in February 2023.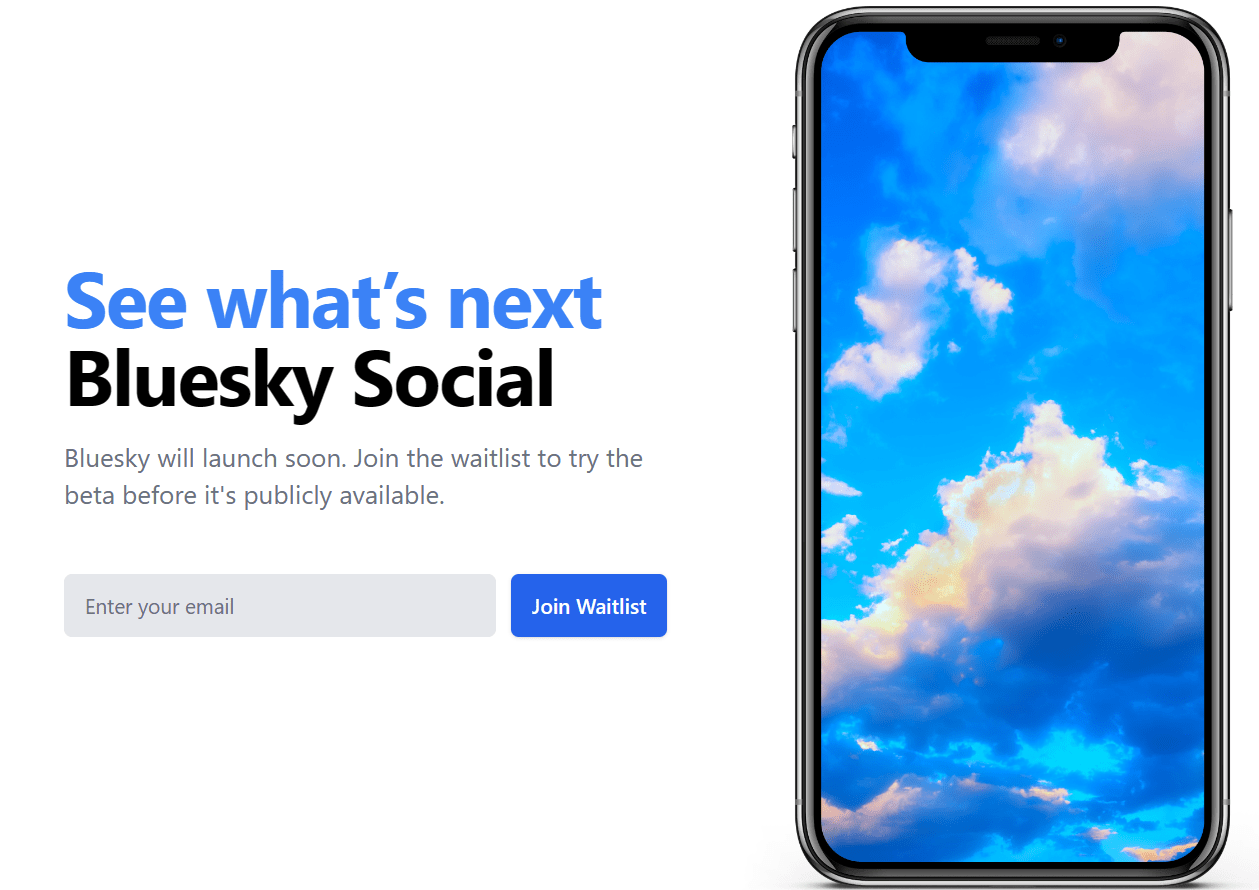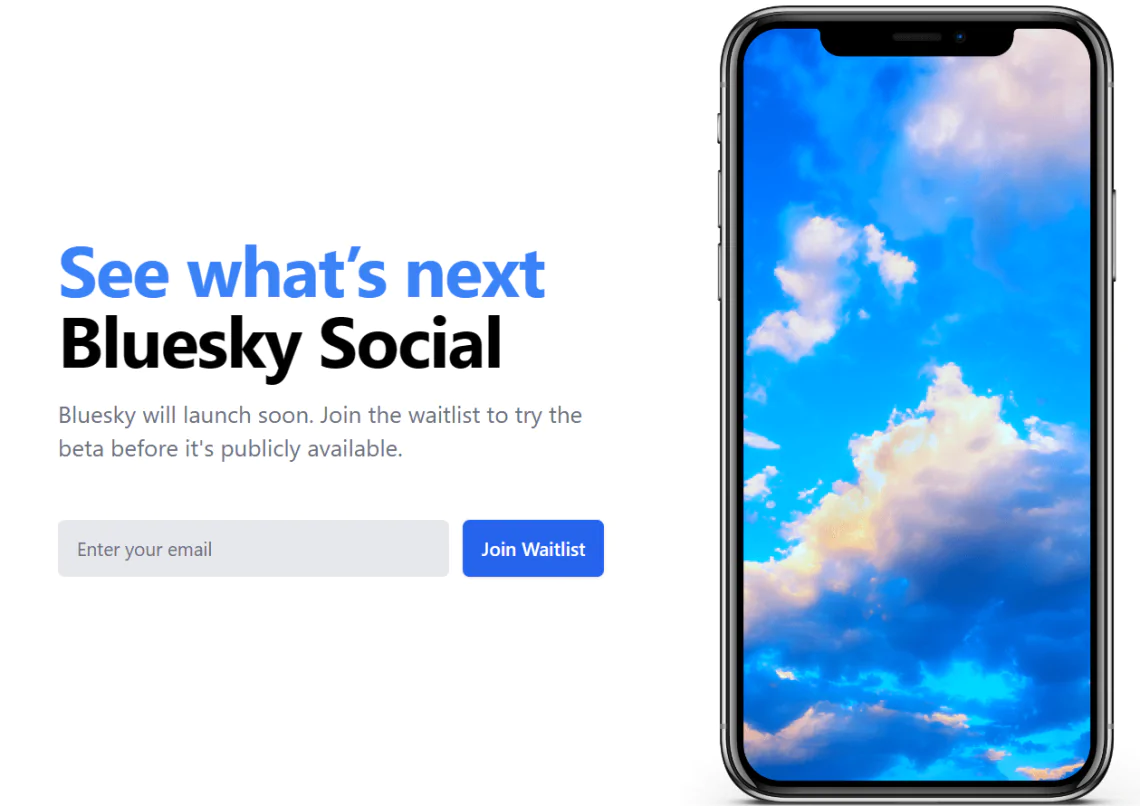 The app is backed by Twitter's co-founder, Jack Dorsey. It is currently in its early stages and is only available on an invite-only basis. Nonetheless, it already seems to have a lot of potential.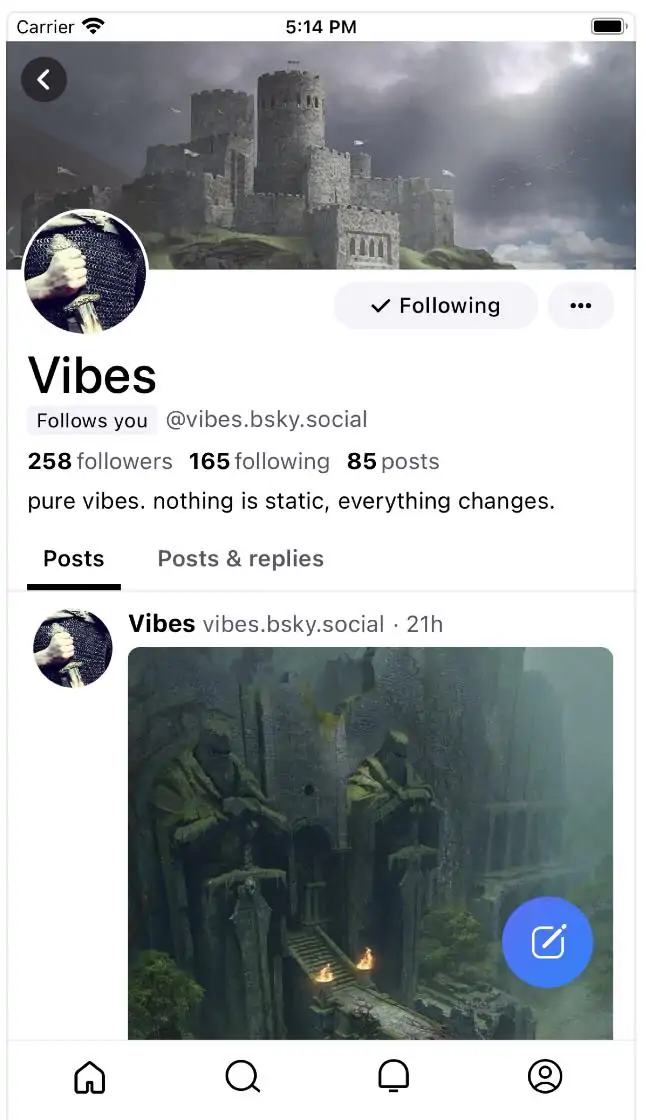 Although similar in appearance to Twitter, Bluesky is different from a technical standpoint, built on decentralized AT protocol infrastructure. The app aims to create a trustworthy, scalable, and portable platform that can revitalize social media as a trusted public square. It offers algorithm and moderation transparency, as well as the ability to customize the moderation and algorithms used on personal profile feeds.
02 Mastodon
Mastodon can be a great alternative to Twitter. It has a similar system where you can post updates, called "toots," which are visible to anyone following you.
On the plus side, Mastodon is not limited to just 140 characters like Twitter- instead, each toot can be up to 500 characters long.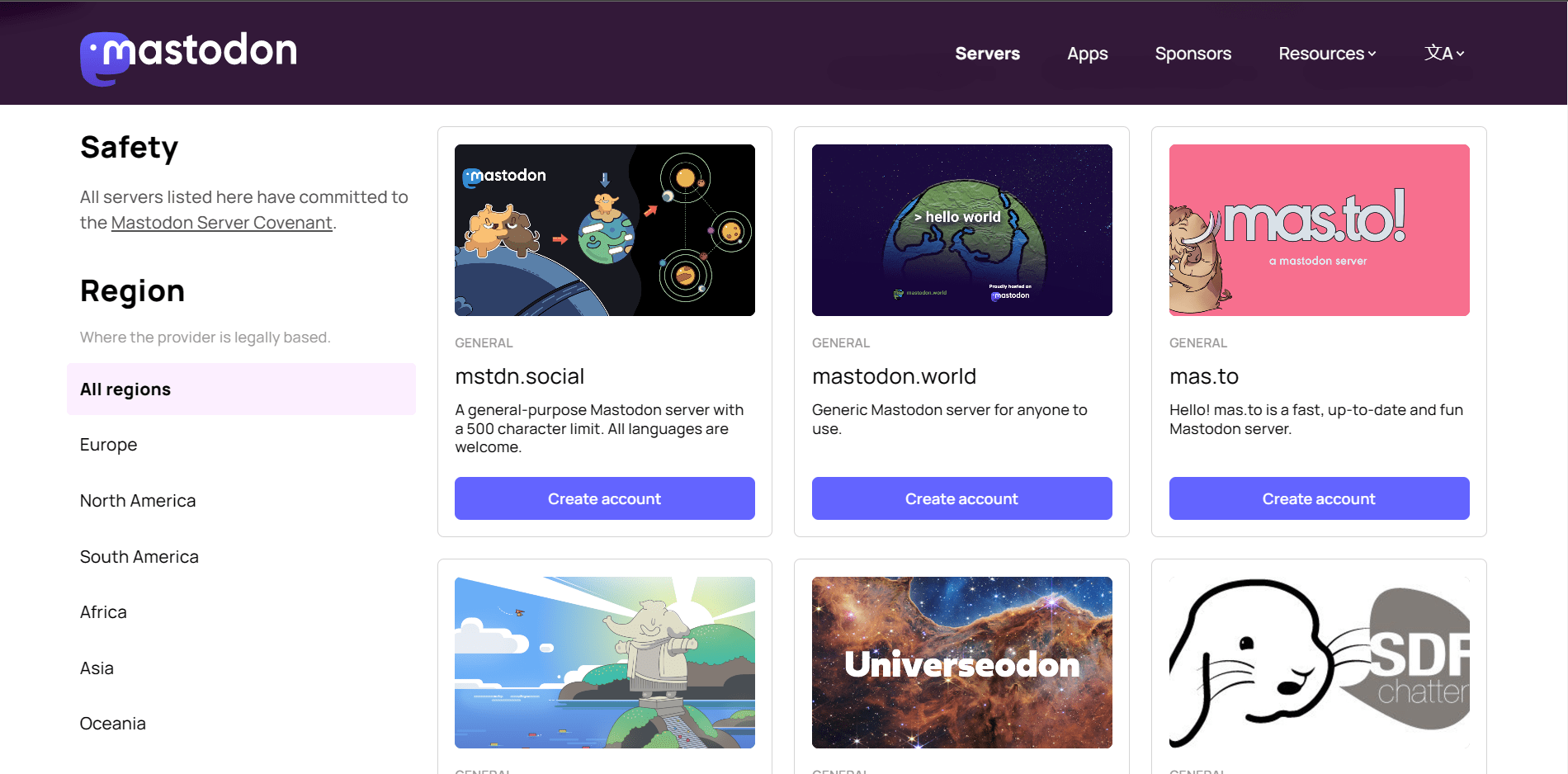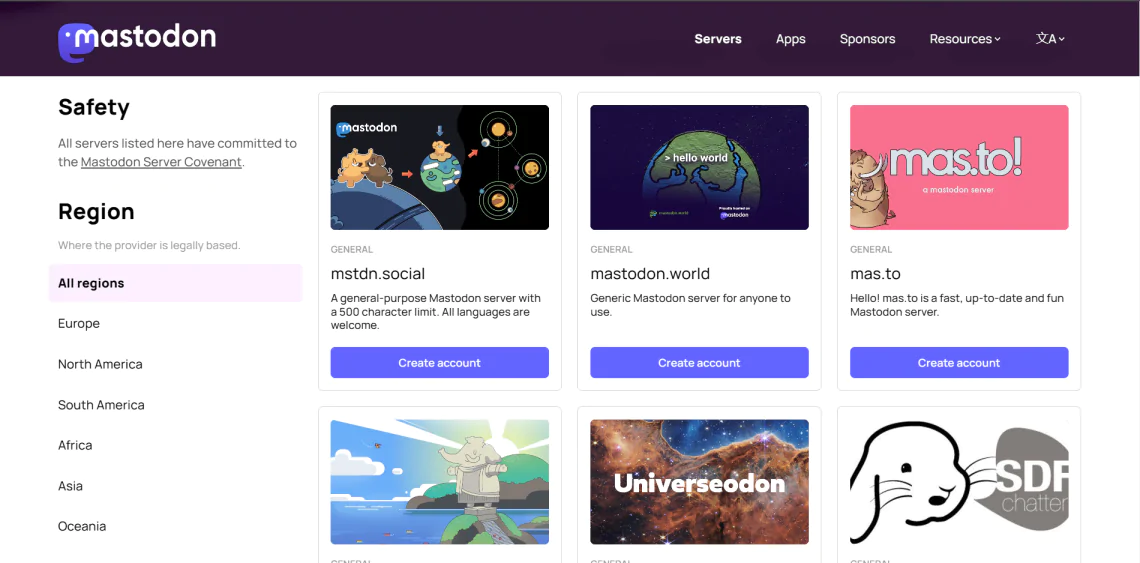 It has a few other key differences. For one, it is decentralized, meaning that there is no one company or entity in control of the entire platform.
Instead, it is run by a network of independently-operated servers, each with its own rules and community guidelines. This makes Mastodon more resistant to censorship and government shutdowns.
Another key difference is that Mastodon is open-source software, which means that anyone can view and contribute to the code. This makes it more transparent and accountable than proprietary platforms like Twitter.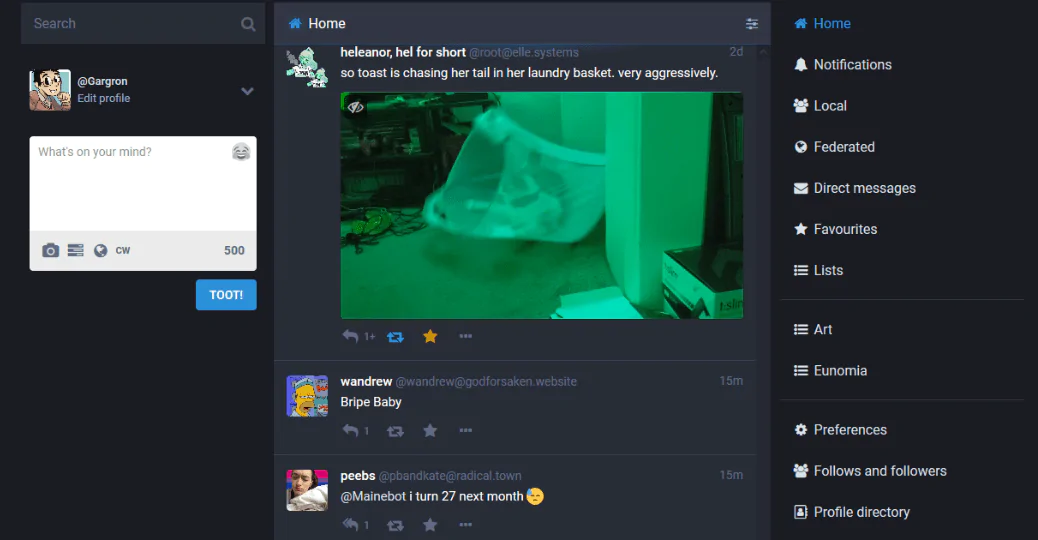 The advantages of Mastodon in a nutshell:
Decentralized management
Possibility to set up your own Mastodon server
Different communities you can join (based on location or interests)
Ad free
Direct messages
However, not everybody is so optimistic about Mastodon. Here is a negative mention of Mastodon I found using the Brand24 tool.

Are you interested in finding all the online chats about your brand?
03 Similar Worlds
As the name indicates, Similar Worlds is a platform where you can connect with users you have something in common with.
To find people you share interests with, you just need to choose a topic from the list. Within the platform, you can post your thoughts and stories, read others' content, and respond to it in the comment section.
Similar Worlds also has the option to share your thoughts anonymously.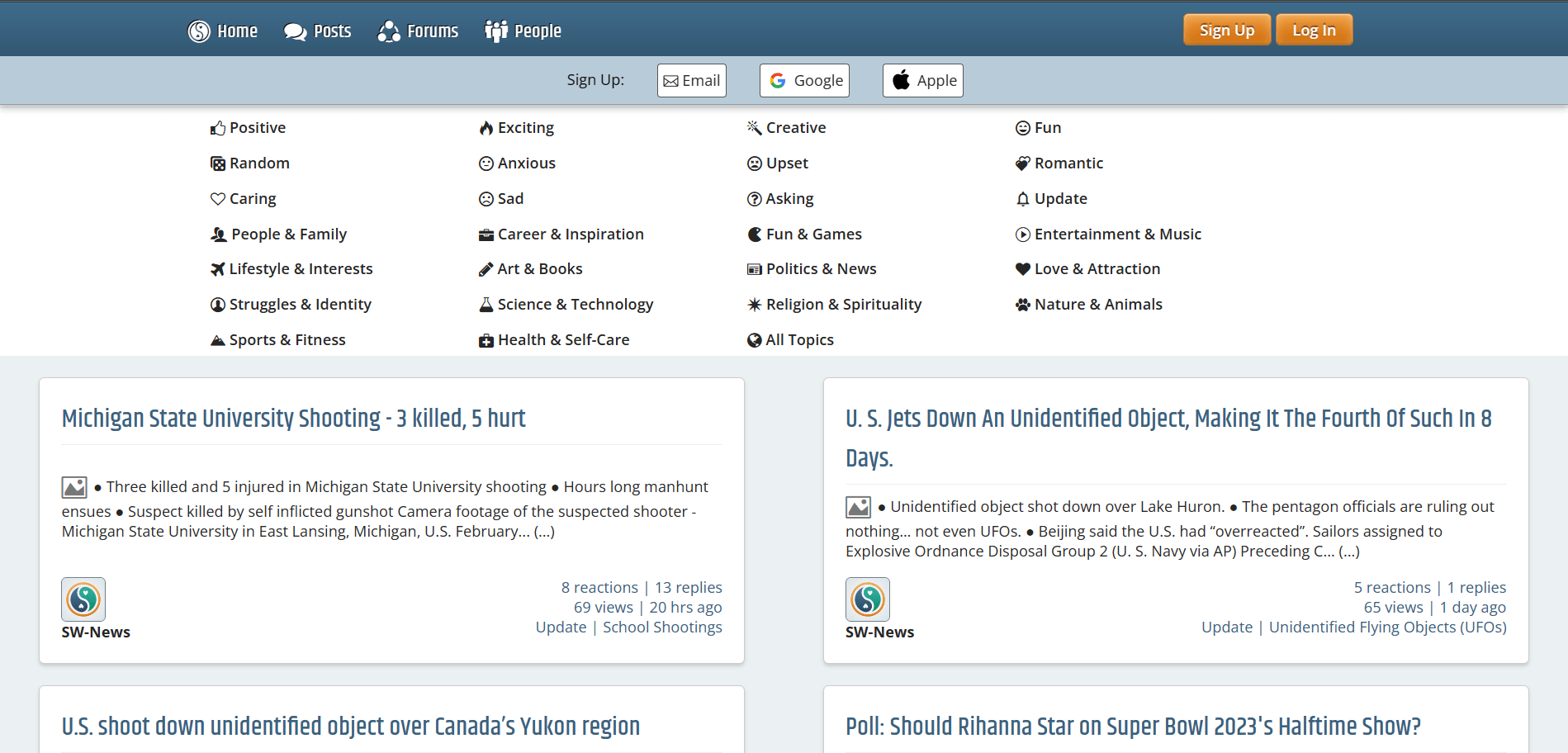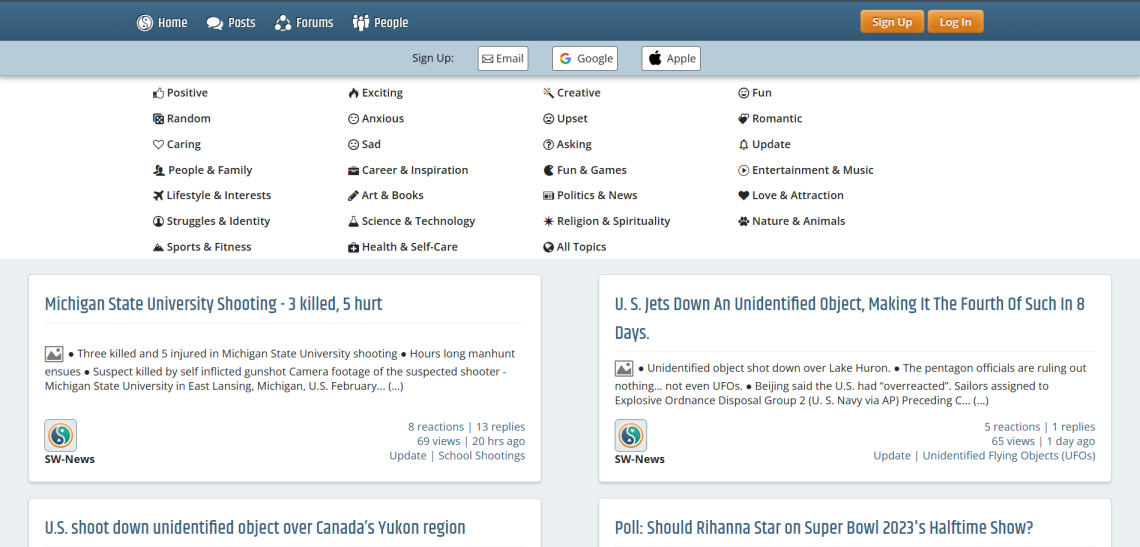 Here are the most significant pros of Similar Worlds:
Clear division into topic categories
Wide range of forums you can join
Customizable feed
VIP status
Site and e-mail notifications
04 Reddit
There is no need to have many words as Reddit is already a popular social network. What's new is that it has recently emerged as an alternative to Twitter.
Reddit is a site where you can post different types of content, including text, images, links, and other multimedia items.
Users can comment on and vote up or down others' posts. Reddit is organized into subreddits which are specialized topic-based communities with their own unique culture, rules, and set of users.
Thanks to this division, everybody can join online communities that match their needs and interests best.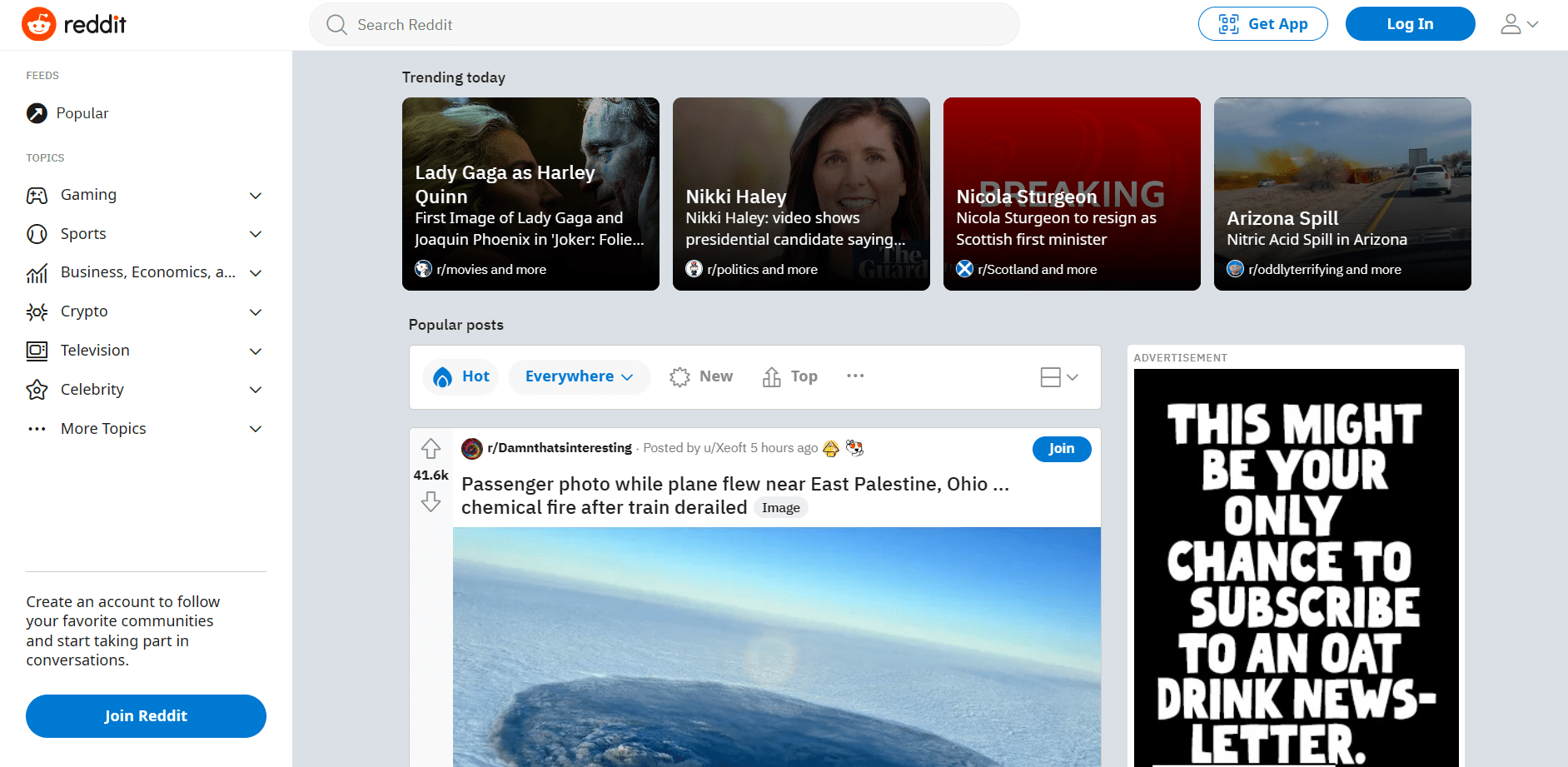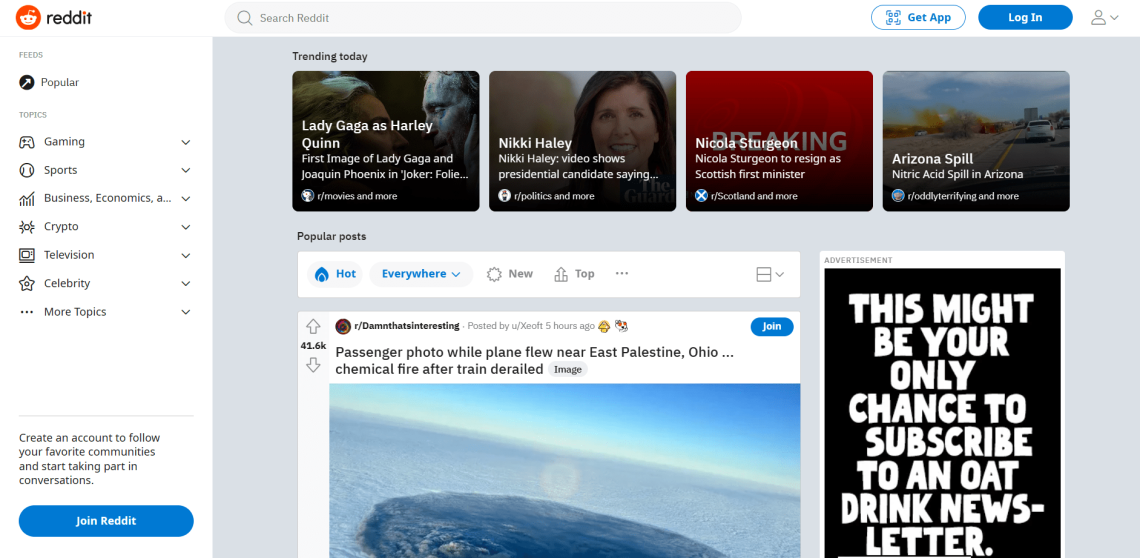 That's what you will find on Reddit:
Integration with third-party apps like Spotify and Soundcloud for sharing music between users
Content evaluation with upvotes and downvotes
A few language versions
Over 50M daily active users
Business version
Check what people are saying about your brand online.
05 Counter Social
Counter Social is a social media platform that can serve as an alternative to Twitter, with a focus on providing users with a safer and more private experience.
One of the platform's key features is its commitment to anti-child abuse mechanisms and deep fake detection functionalities.
Counter Social also features an outbound link sanitizer, which means that it does not allow third parties to track users. All outbound links are automatically sanitized to remove any embedded tracking parameters, adding an extra layer of privacy and security for users.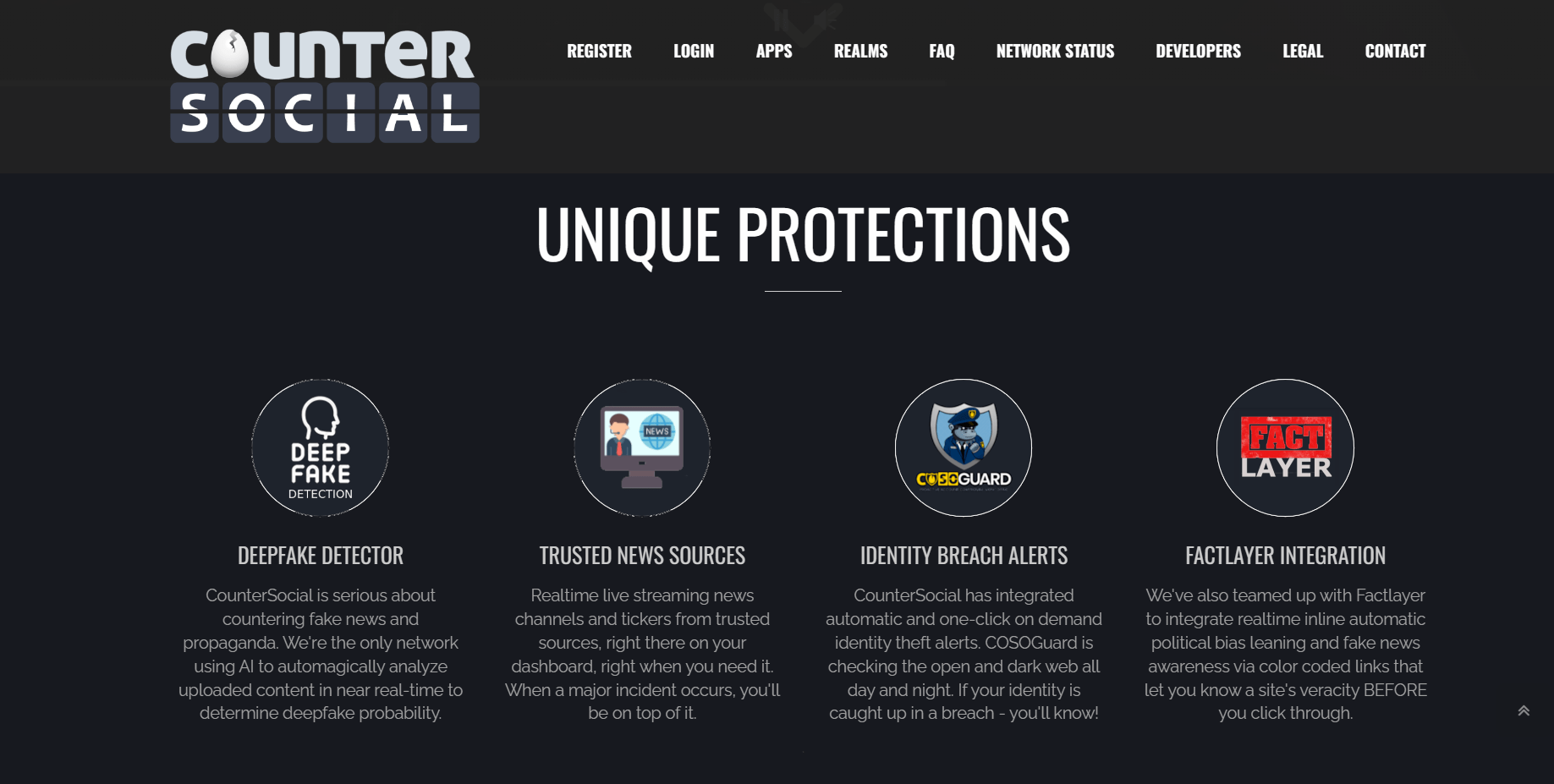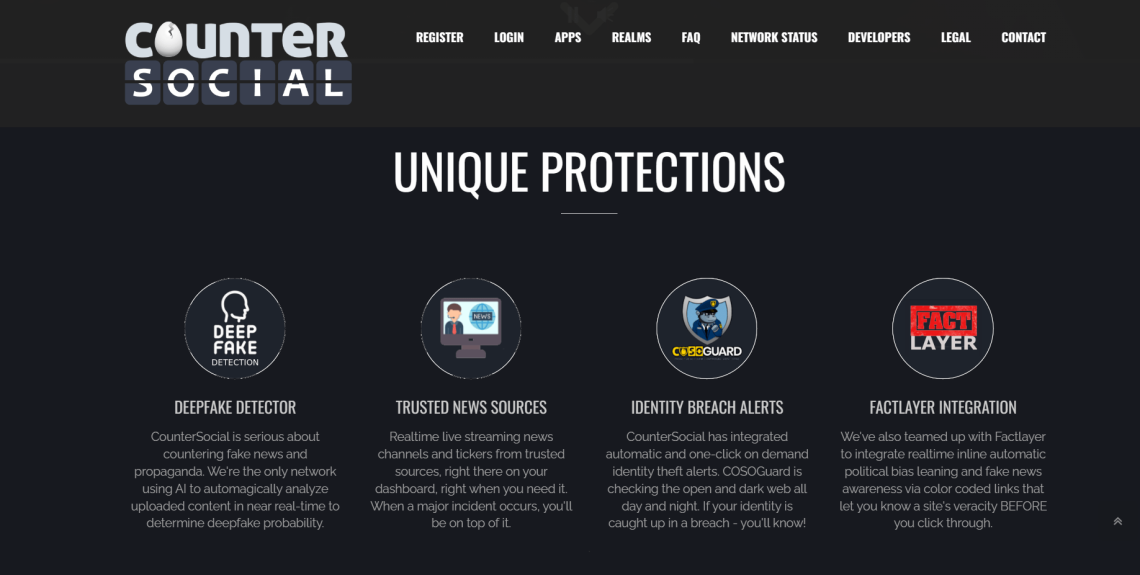 The platform is 100% crowd-powered and does not rely on ads or targeted promoted content, so they do not need to collect identifying information about users. This zero-tracking policy ensures that users' privacy is respected and protected.
For me, the amount of safety features you'll find on Counter Social makes it an outstanding social network that is worth checking out.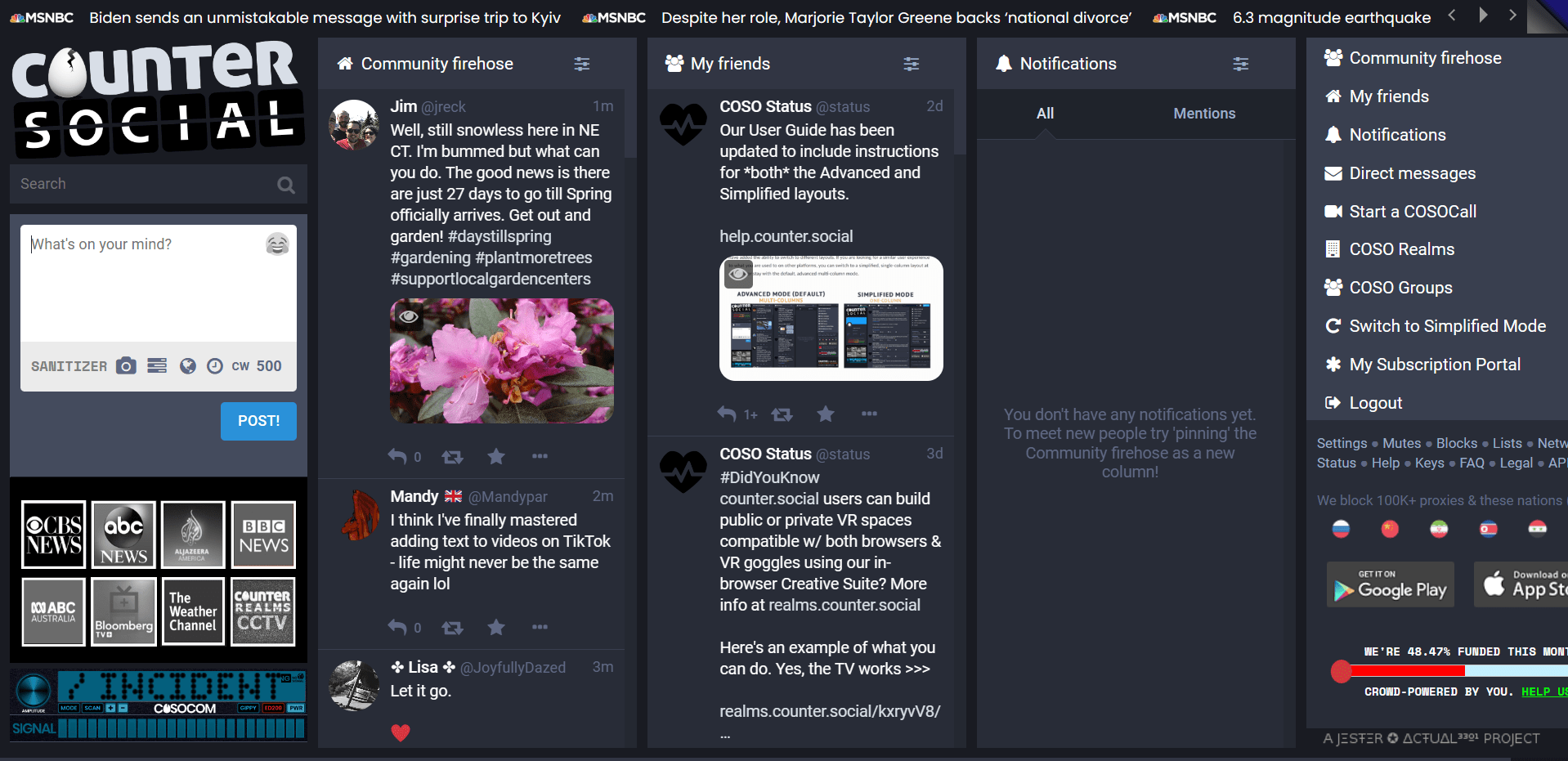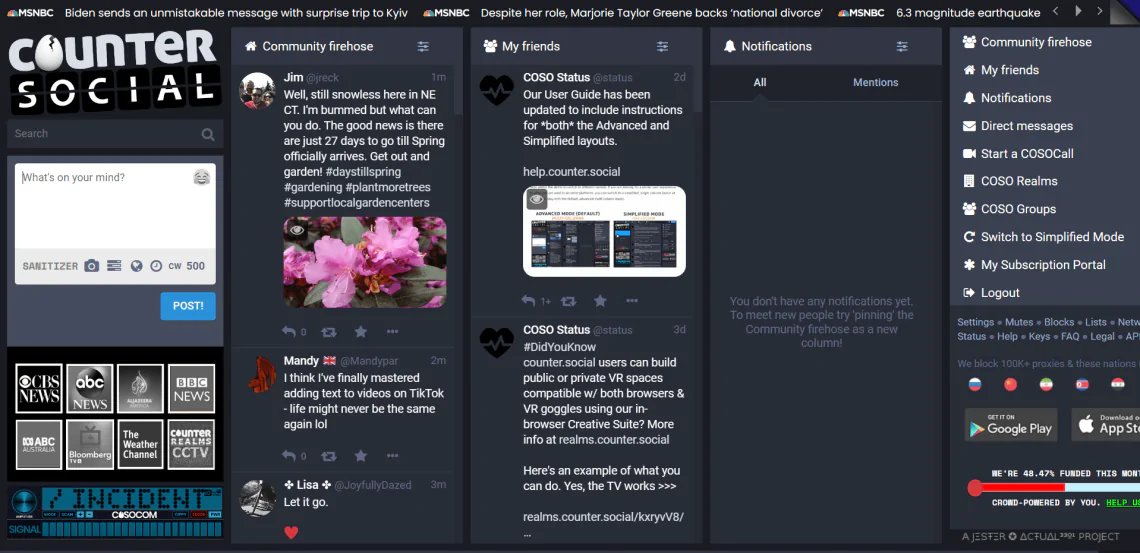 Users can upgrade to a PRO account for verification and premium features, but the core functionality is free for anyone to use.
Here's a wrap-up of what you'll find in Counter Social:
Anti-child abuse mechanisms
Outbound link sanitizer
Zero tracking policy
100% crowd-powered
PRO account for verification and premium features
06 Hive Social
Hive Social is sometimes called a Twitter clone, as the similarity of functioning is quite visible.
You can follow users and like, comment, and repost their content. It aims to be a user-friendly social network with a chronological content feed and a personalizable dashboard.
Hive Social network wants to enable people to converse freely and get the respect they deserve. You can choose your pronouns, zodiac sign, color theme, and even profile music to express yourself.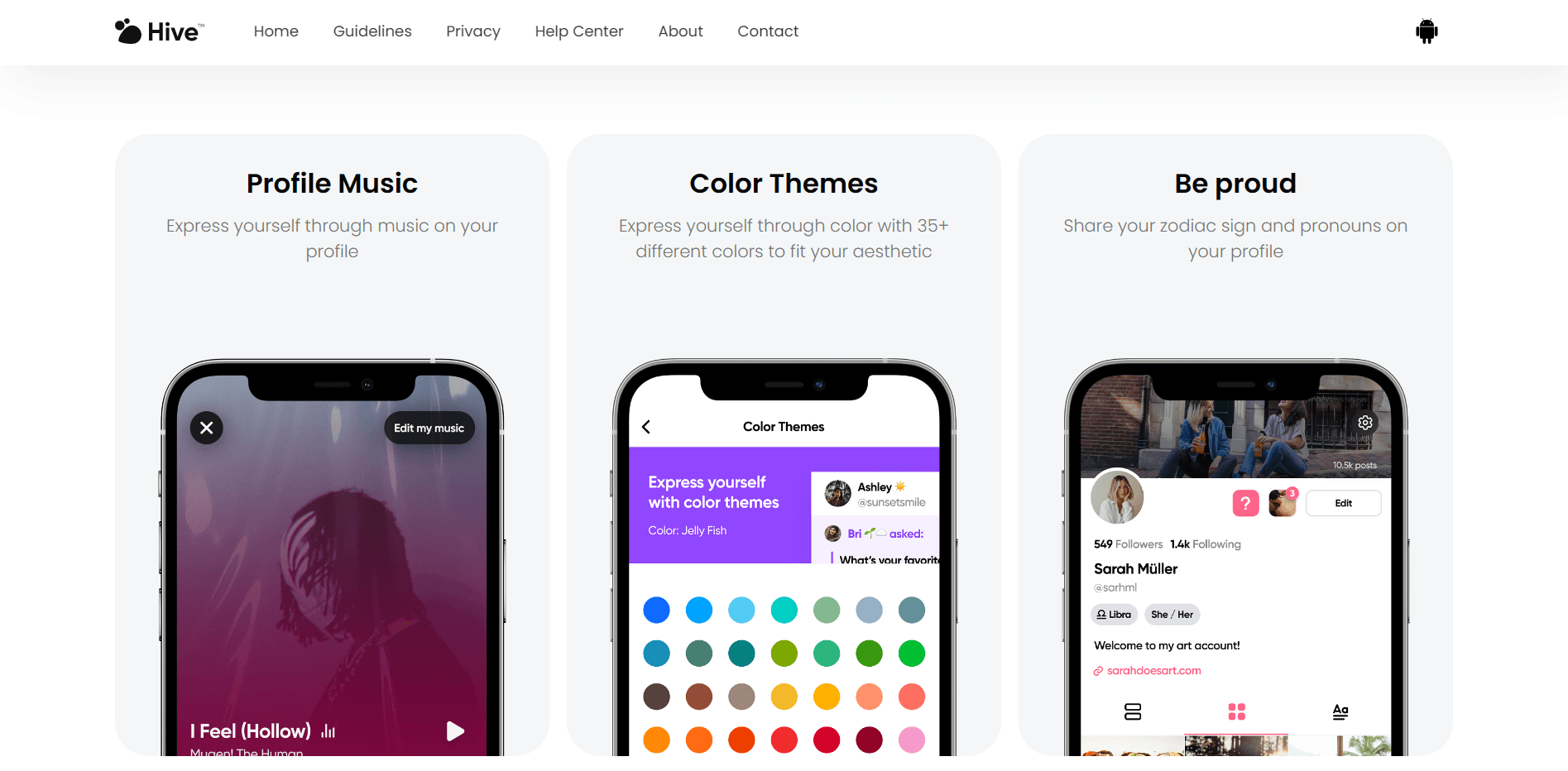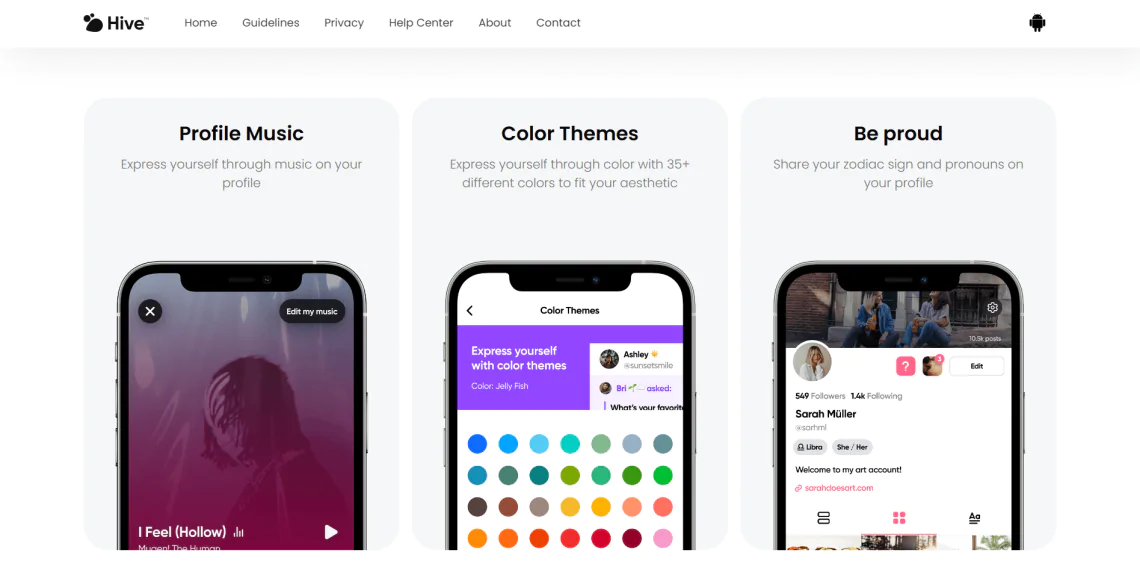 There's only one considerable downside: the lack of Hive Social site. If you want to join the network, you need to download the app.
This is a con as, leaving Twitter, you will probably be interested in checking out various social networks, and downloading new software on your phone is a pain, especially if you don't know yet if you'll like it after you sign up.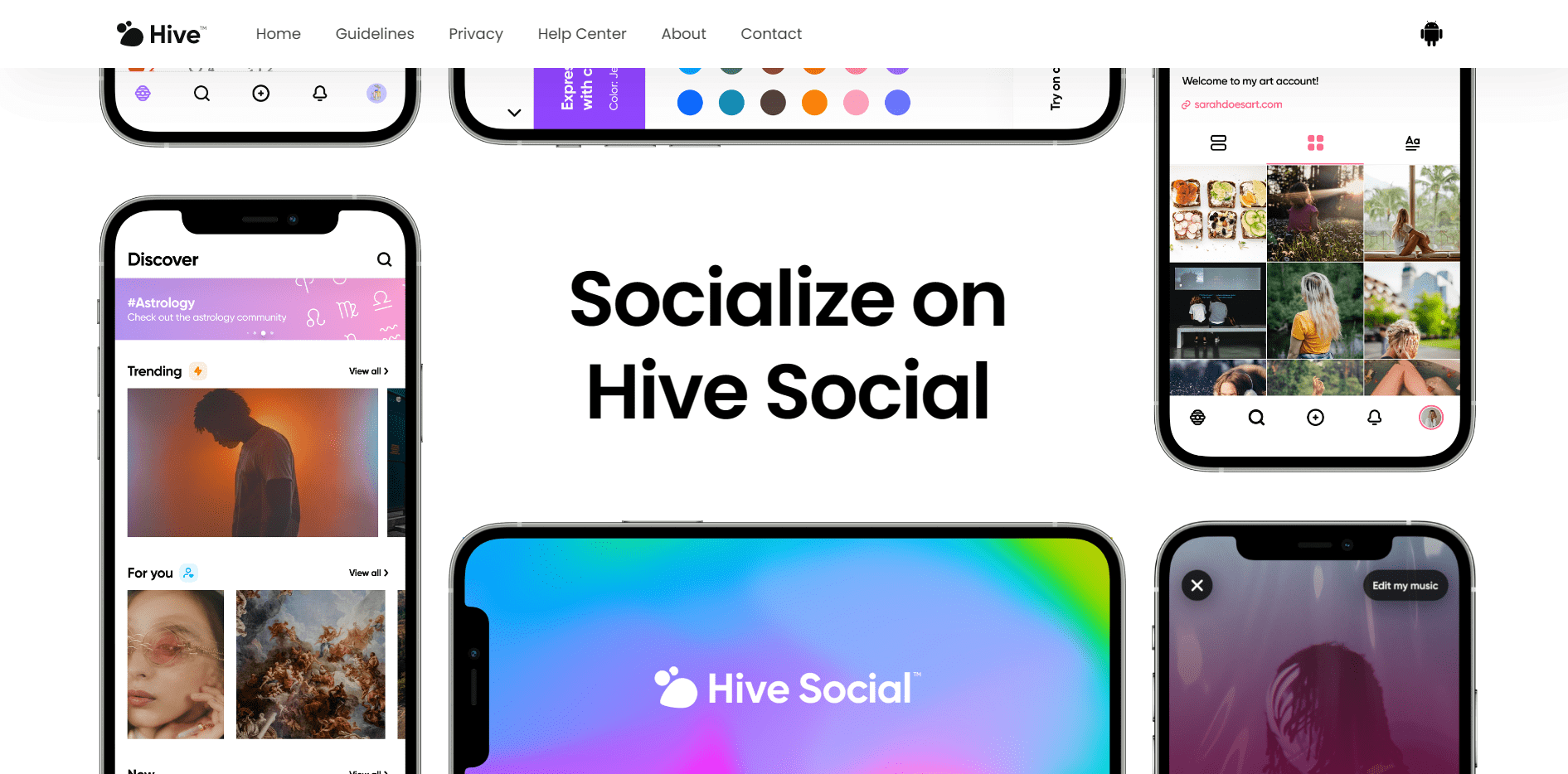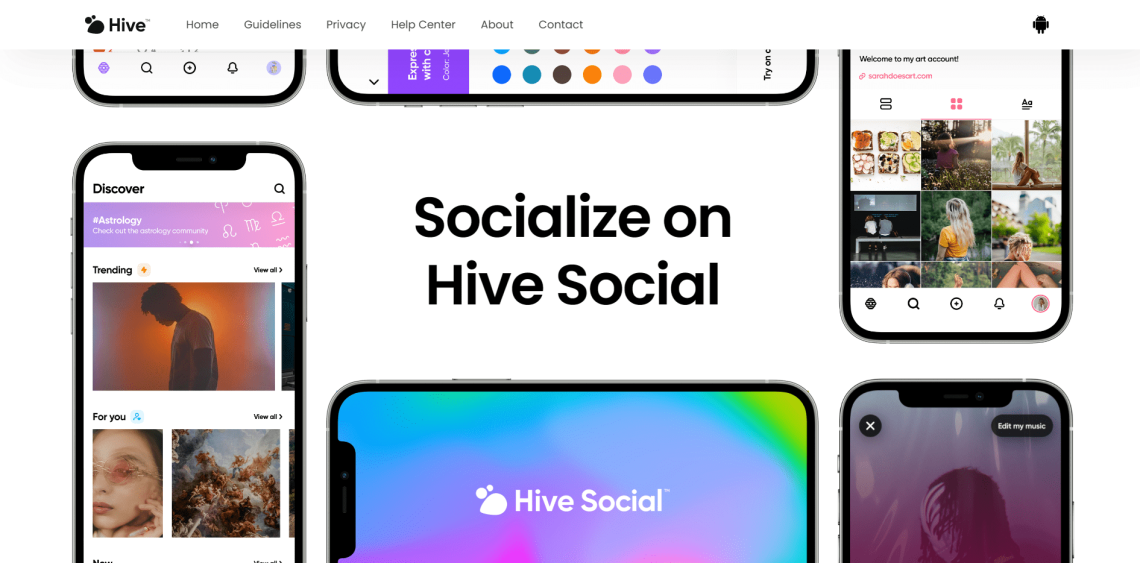 Briefly, here's what Hive Social offers:
Mobile app both for IOS and Android
Profound respect for individuality and diversity
Nice "Discover" section
Comprehensive dashboard, similar to Instagram
07 Parler
Parler is another site that offers an alternative to Twitter, focusing on privacy, freedom of speech, and ethical corporate policies.
The platform strives to create a more "social" experience on social media. It is built upon a foundation of respect for personal data, free markets, and individuality.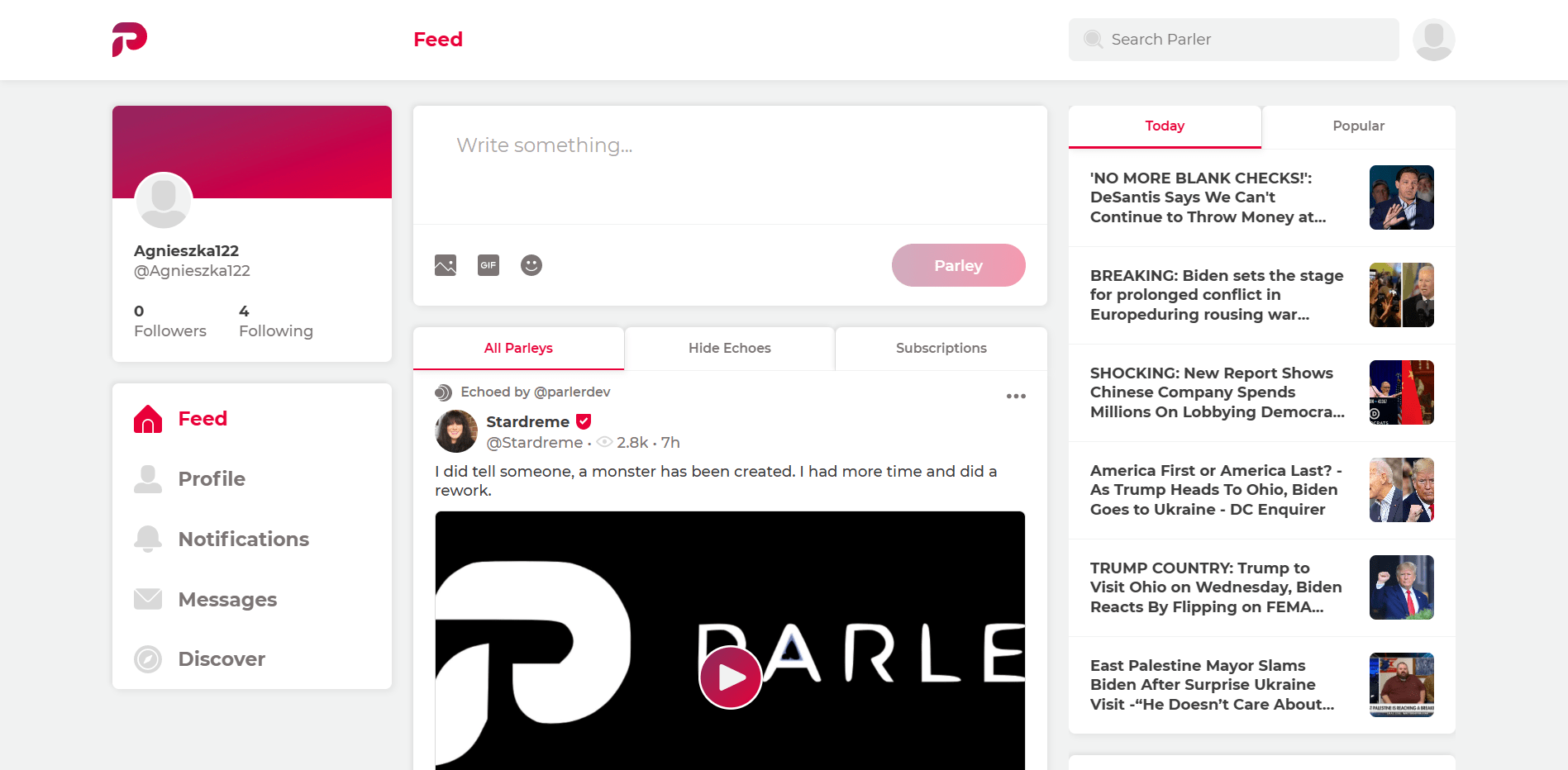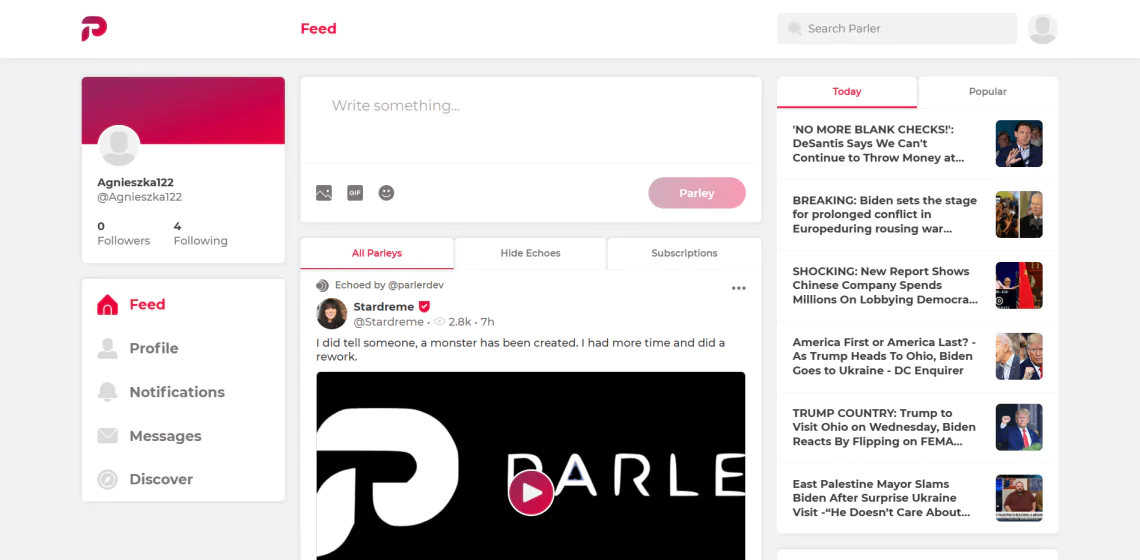 Parler provides a compelling alternative to traditional social media platforms. Its commitment to transparency and ethical policies makes it an appealing choice for those looking to connect with others more authentically and meaningfully.
What may be good to know is that Parler is reported to have a conservative-leaning user base.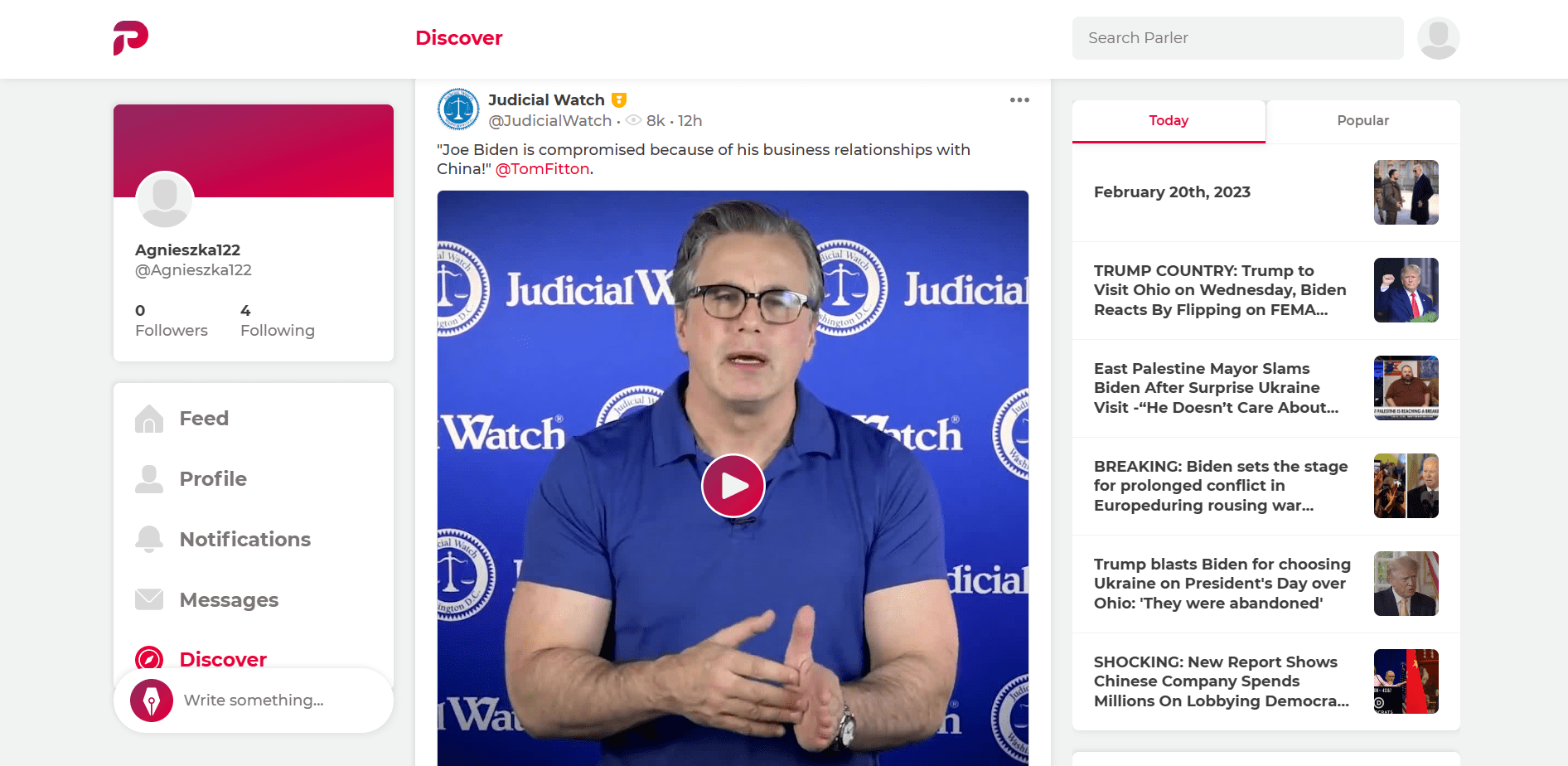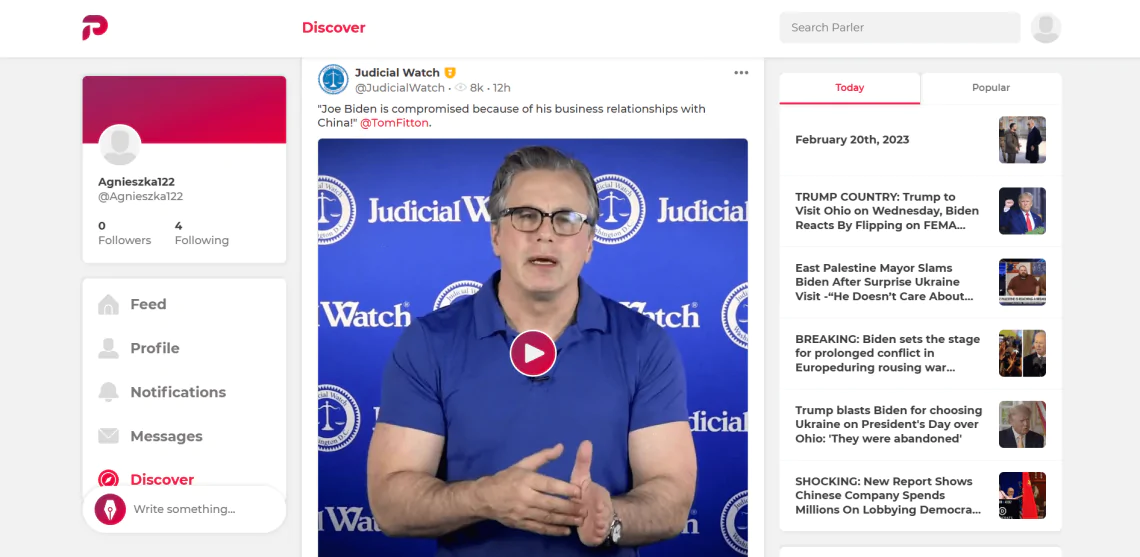 Long story short, here's what you'll find on Parler:
Photos, gifs, and text posting
Daily news bar
Conservative user base
Respect for free markets and speech
Privacy focused management
Personal approach
Check sentiment of any brand online.
08 Plurk
Plurk is another Twitter-like social network where you can post your thoughts and follow others.
One of its key features is an innovative chronological feed designed to be more user-friendly and engaging than the traditional social media news feed. Instead of showing posts in real time, Plurk displays them in a timeline, allowing users to easily see and interact with the latest updates from their friends and followers.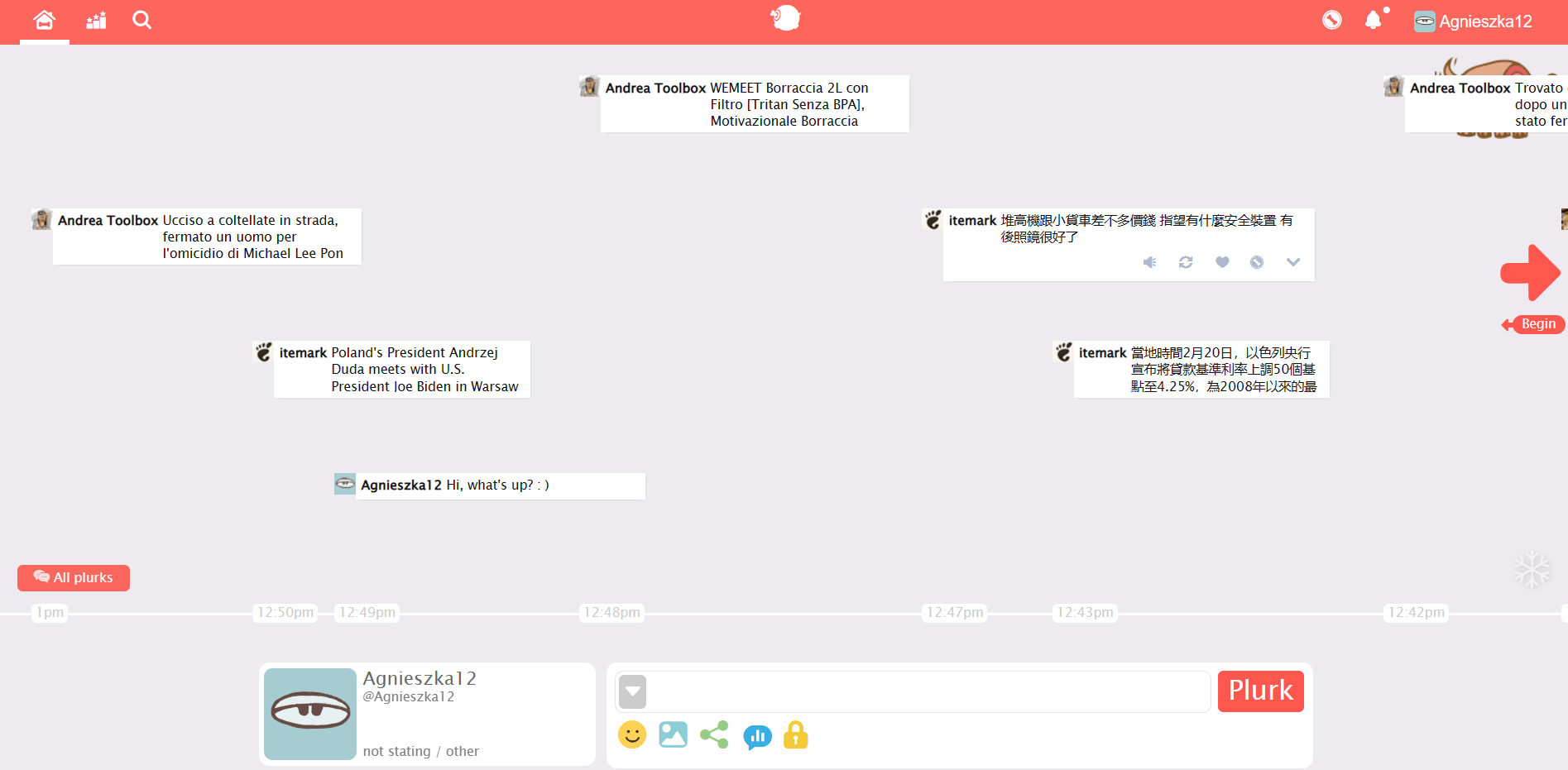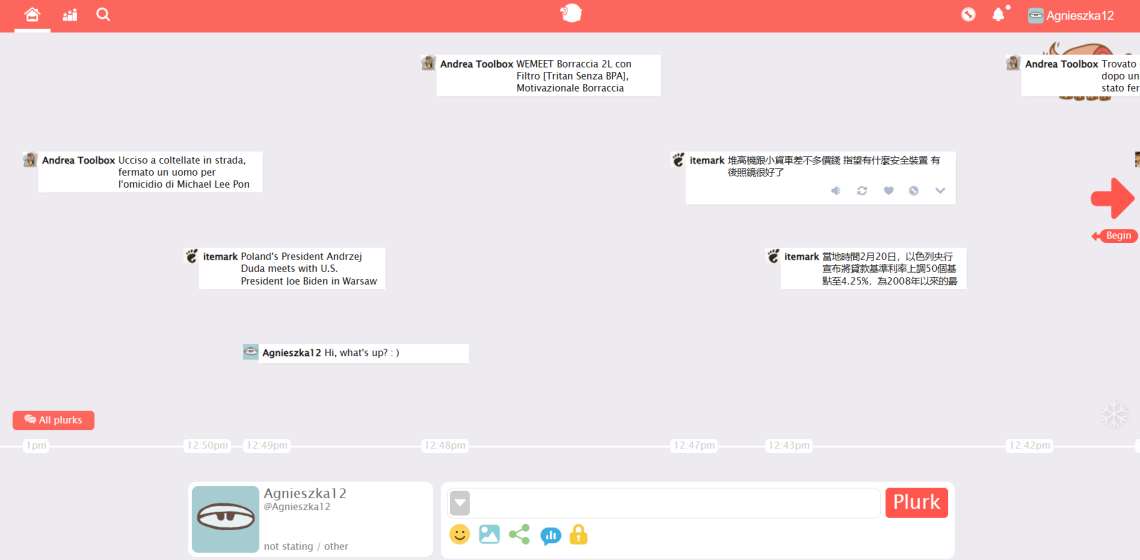 On Plurk, the posts are called "plurks," and the users are called "plurkers". Users can easily share text updates, images, and links on their timeline and interact with other users' posts through comments, likes, and "replurks" (similar to Twitter's retweets).
The platform also offers a range of customization options, allowing users to personalize their profiles and timelines to suit their preferences.
Plurk is an excellent option for those looking for a fresh and innovative approach to social media.


Unfortunately, Plurk has one considerable downside. Content moderation is inefficient, exposing you to many inappropriate pictures and posts. Thus, I wouldn't recommend the platform to underage and sensitive people.
Here's what you'll find on Plurk:
Innovative chronological feed
Personalizable profiles and timelines
Inappropriate content
Paid version available
Why may you be interested in Twitter alternative social networks?
It all started some time ago when Elon Musk criticized the Twitter policy, saying it restrains the right to free speech. He pointed out that many users are blocked permanently from the platform and saw it as unfair.
Musk aspired to acquire Twitter which finally happened in October 2022.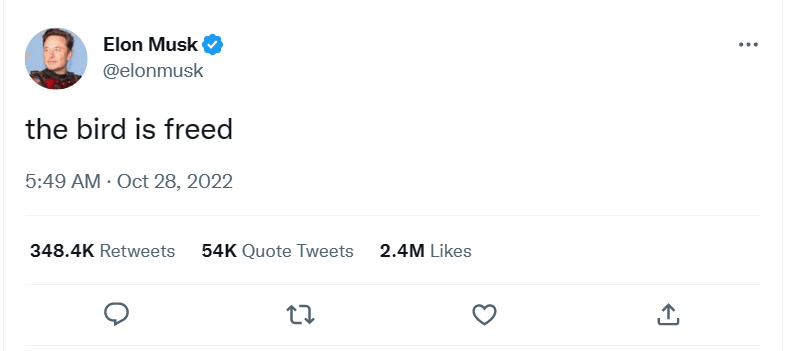 What happened then surprised many Twitter users and not only them.
Musk fired a bunch of high-ups on Twitter. These were, among others, the CEO, CFO, and general counsel Vijaya Gadde.
To be clear, Gadde is thought to be the one who suspended Donald Trump, the former US president, from Twitter.
After that, Elon Musk reversed some of the Twitter bans and declared that he wanted Twitter to be a 'common digital town square' with the right to free speech. He announced profound changes in content moderation.
Another controversial change was introducing new rules for getting the verification badge. From now on, you can pay to get the Twitter blue verification tick.
Many people see the two above-mentioned changes as a huge threat. They claim that the introduced changes will empower the spread of fake news and inappropriate content.
But that's not the end of the case.
Some Twitter users are frustrated with how Elon Musk handles the platform, and they speak about it openly on the Internet.
I used the Brand24 media monitoring tool to get some valuable insights, and here's what I found: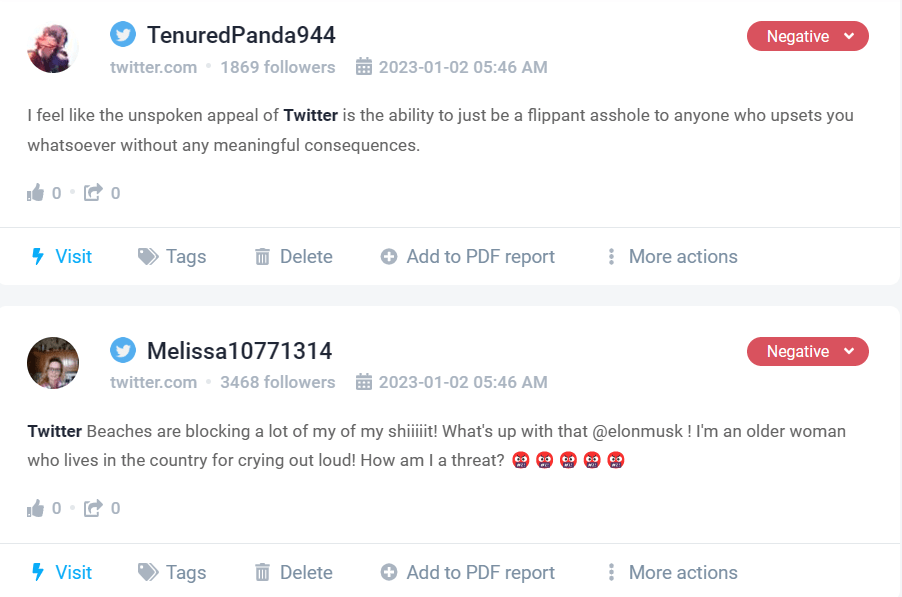 There are also people mentioning the need to find a good Twitter alternative:


Let me help you with finding the best alternatives to Twitter!
Do you want to track social mentions and online news with Brand24?
How to choose a better social media platform?
As you already know why you might consider alternatives to Twitter, you may be wondering how to choose a better platform.
If you want a complete picture of a website, you can use the Brand24 tool and get all the publicly available insights about a particular social network.
You just need to set up a media monitoring project and choose a keyword you are interested in.
For instance, to the needs of this article, I set up a media monitoring project for Twitter. The keywords I track are Twitter and tweet but also Elon Musk. A broad selection of keywords allows you to get more insight.
Here is the dashboard, where you'll find all the most important information: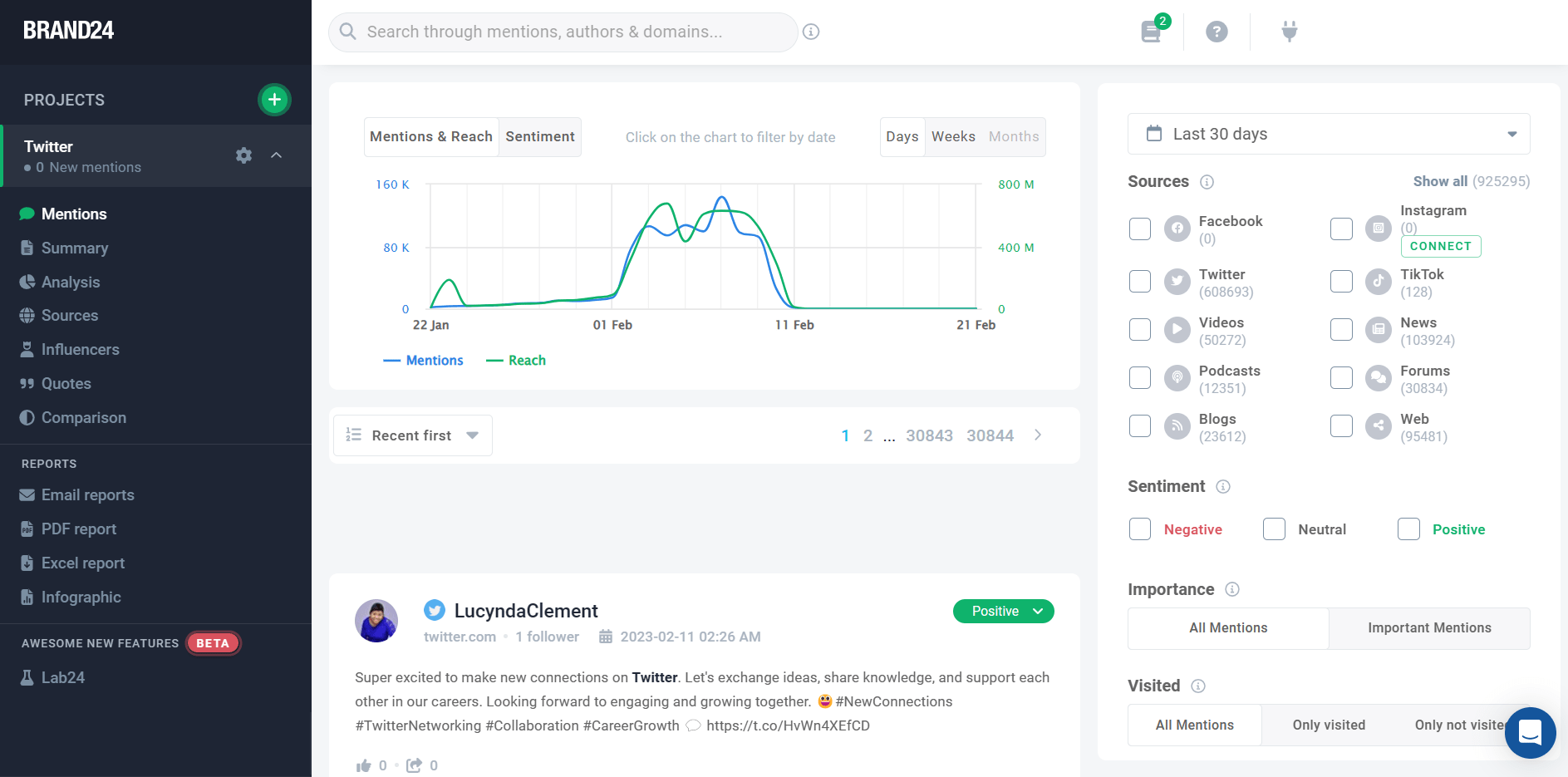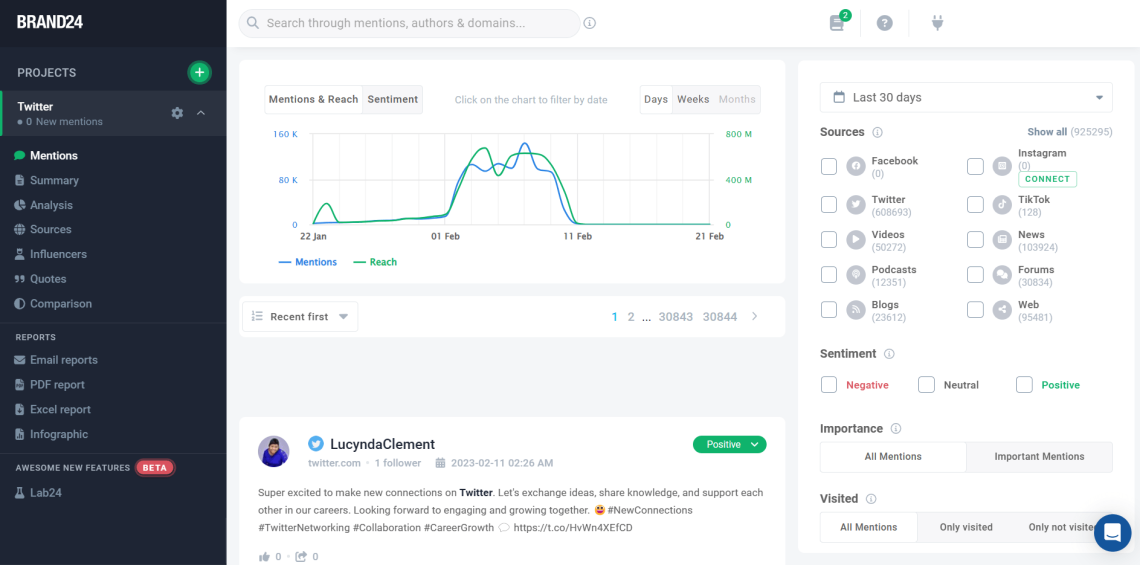 What's more, you can compare two or more projects to see which platform evokes better sentiment. Here's a comparison of Twitter and Reddit:




As you see, Twitter got way more mentions than Reddit, but Reddit has more positive sentiment.
Looks like a thing for you? Brand24 offers a 14-day free trial, so get started immediately.
Brand24 offers a broad range of metrics you can monitor and compare. To learn what else you can track, see this blog post: Social Media Monitoring – Best Tools & Proven Tactics | Brand24
Check what users say about different social media platforms now!
As you see, every platform has its own rules and community around it.
It is hard to tell which of the mentioned platforms is the best Twitter alternative, as everybody looks for different functionalities and settings in social network platforms.
I see a lot of potential in Plurk, as it represents an entirely new social media concept. However, for now, the platform still needs better content moderation and some further improvements.
That's why, if I were to choose, I think I would try Hive Social and Counter Social. The former convinces me with its respect for diversity and user-friendly dashboard. In the latter, I appreciate the care for privacy and safety on the Internet.
But the choice is up to you!
If you decide to leave Twitter definitely, I recommend you try various options and see what works best for you. Just choose the best Twitter alternative for yourself!
Are you still undecided?
Check out the Brand24 media monitoring tool for more insights about every platform.
Good luck!