Social mentions are all online pieces of content which mention monitored keywords.
They can be monitored using social media monitoring and social listening tools. One of them is Brand24. The mechanism standing behind web monitoring tools is simple yet ingenious: they browse the Web in search for any words of your choice. It's also ingenious what you can do with social mentions.
Social mentions are completely worthless without the right context and purpose. In digital marketing, social mentions can be used in a number of ways to improve your business.
They come particularly useful in digital marketing. If you're out there marketing your business, you should consider tracking social mentions.
Why Should You Track Social Mentions
There's plenty of reasons to track social mentions connected to your online activity.
Never in the entire course of our history have we ever had better access to such a massive amount (billions) of candid customer insights, such as product reviews or brand mentions, and it's all available across the web and in social.
With the help of social media monitoring tools like Brand24, you can make use of this data and boost your business.
Here you can find 11 reasons why tracking social mentions could be of interest to you.
1. Customer insights.
In other words, get to know your customers.
People like to share in social media.
After surveying thousands of Americans, Pew Research Center found out that
There have been a shedload of studies on why people are so eager to share in social media. Here are the most common reasons:
To bring value to others.
To define ourselves to others.
To grow and nourish relationships.
For self-fulfillment.
To support causes that matter.
People share also their experiences connected to products and companies. They are happy to recommend good products and feel much obliged to warn their social networks about all sorts of negative experiences.
You can track social mentions of your company or product to see if and in what context people mention them online. This way, you can learn about a number of things:
Who are your customers.
How they use your product.
Are they happy with it.
Would they improve something.
Where does your target audience hang out online.
2. Customer service.
If you track social mentions about your company, such as company or product name, you can spot your customers seeking assistance.
The good thing about social media monitoring tools is that they identify social mentions in real time. It means that you get to see them the moment they appear online.
I've just had a reasonably large poo and there is no toilet roll left on the @virgintrains 19.30 train from Euston to Glasgow pls send help.

— Adam (@AdamYT) December 2, 2014
These days, consumers expect companies to react immediately. If you're keen on providing a lightning-fast customer service, there are ways to receive notifications the second a social mention appear online.
For example, you can receive real-time notifications in Brand24 via email notifications or push notifications in the mobile app.
3. Finding customers.
Tracking relevant social mentions allows finding customers.
It's called social selling. And it's killing it.
78% of sales people using social media perform better than their peers.
64% of sales teams that use inbound social selling reach their quotas.
90% of top sales people use social selling tools.
It's a sales technique that involves identifying potential customers in social media and reaching out to them on a more personal level. It's all about closer proximity and building more personalized relationships with potential customers.
If you'd like to find customers this way, you need to track social mentions connected to your area of business. If, for example, you run a digital agency, you should monitor can anybody recommend a digital agency phrase.
This way, you can find people looking for the kind of service you provide.
Then, you need to approach your potential customer and talk business. Just like Pixel PR digital agency does.
4. Monitoring the performance of your hashtags.
First of all, it's good to have hashtags.
Not only they support your market image, look cool and boost brand awareness, but also allow a couple of things:
Measuring brand awareness.
Measuring how often people mention your hashtag.
Measuring the social media reach of these mentions.
Identifying the advocates of your product or business.
Measuring the effects of your hashtag marketing campaigns.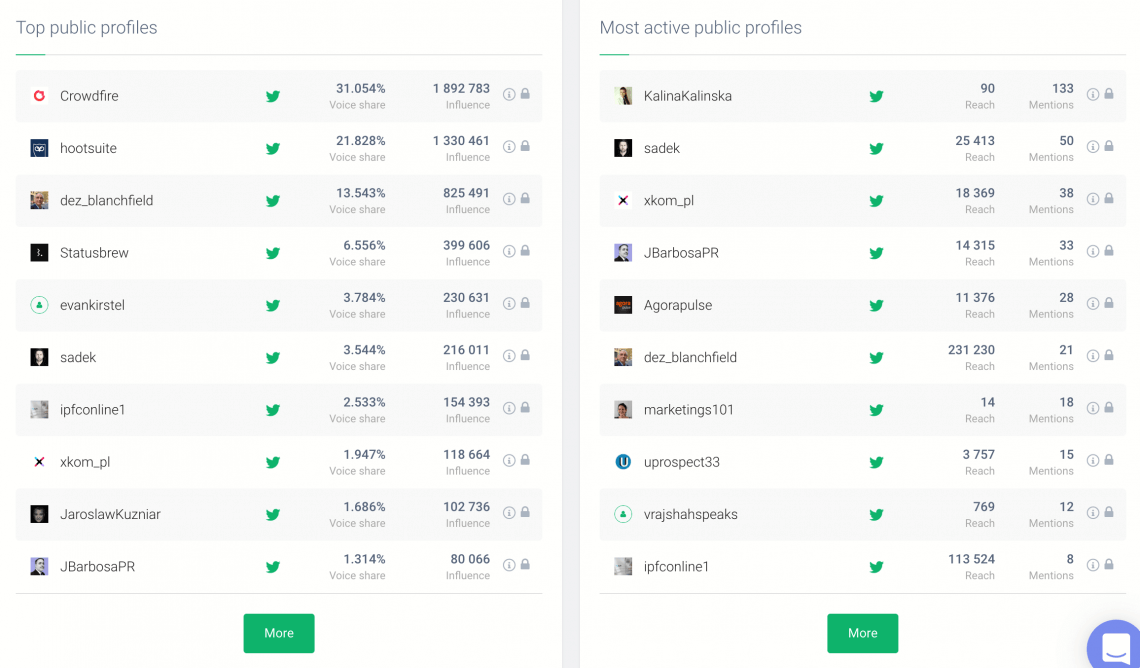 To put it shortly, hashtags let you analyze how your business is doing online.
Make sure you check these posts about hashtags:
5. Competition tracking.
It's always good to be aware of what your competitors do. By tracking social mentions about your competition you can learn a bunch of valuable insights:
New product or feature releases.
Performance of their marketing efforts.
Number of conversations and their social media reach.
Pain points.
Customer complaints.
+ more!
How to Track Social Mentions?
If you're interested in tracking any of these things, you can try out Brand24 for free.
If you already have your account, here's how to track your social mentions.
Create your company project.
You want to track social mentions connected to your business, so it's good to monitor a couple of keywords:
The name of your company.
The name of your product / service.
Twitter / Instagram handle of your company profile.
A type of product / service you offer.
Company / product names of your competition.
Company hashtag.
Here's what an idea of the keywords we, at Brand24, track: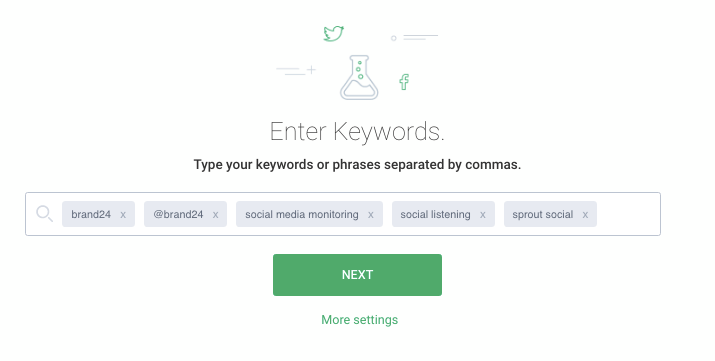 All mentions arrive in the dashboard: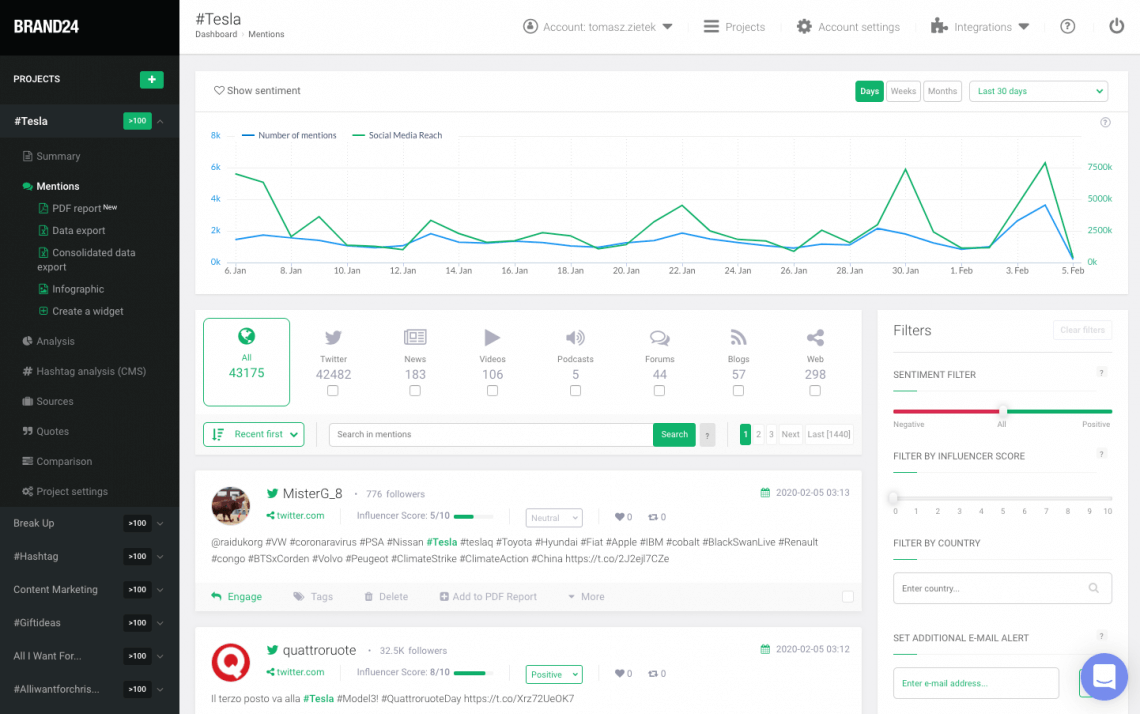 In the inbox: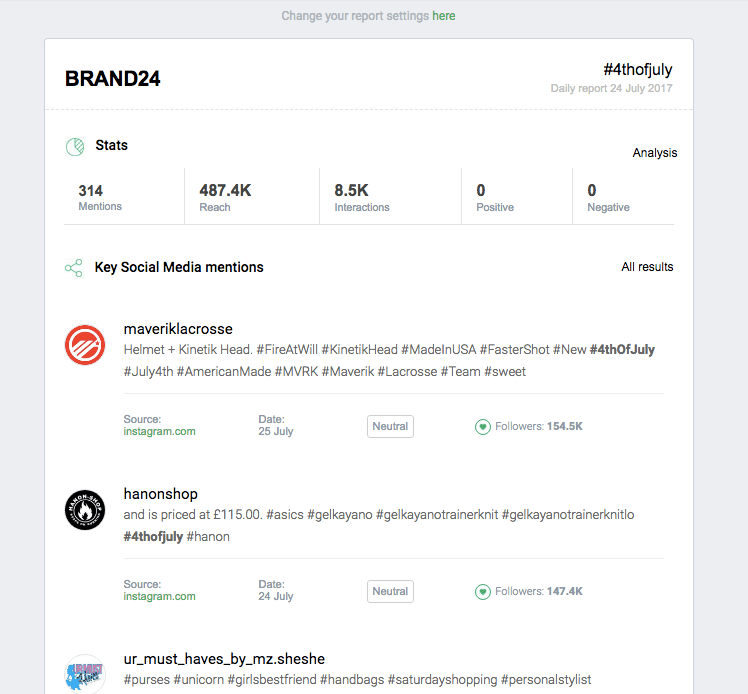 ---
---