Social mention: Tool, why and how to track them in 2021 – Guide
July 26, 2017 ・ 7 min read
Whether you're a small business that gets little to zero social media interactions, or a brand investing thousands of dollars into its social media presence, you're most likely talked about by other people online. Every time you appear in other people's tweets, Facebook updates, or Instagram comments, it counts as a social mention.
Social mention is the reason you are building a robust social media presence.
The more people talk about your company online, the bigger brand awareness you have. And brand awareness translates directly to increased sales and your overall position on the market.
Here is everything you wanted to know about it:
What is a social mention?
Social mention is an online piece of content that mentions particular keyword or keywords in social media and beyond. They can be connected to your business and brand, but not only.
Social mentions can be tracked using media monitoring tools, for example Brand24.
Such a media monitoring tool, apart from social mention tracking, offers a deeper insight into a mention in the shape of quantitive and qualitative data, such as:
Volume of mentions
Social and non-social reach
Sentiment
Influential authors of mentions
Most popular mentions
… and more!
Social mentions are important to brands on many different levels and we'll outline some of the crucial use cases down below.
Social mention in reputation management
As I mentioned above, some businesses are talked about more than the others. It doesn't change the fact that all of them should keep track of their social mentions.
Building online reputation as a business takes years of dedication and hard work. You need to put a strategy in place to thoughtfully create your brand identity and personality and yet it all can go to waste with one bad move.
That's because people won't take a step back when they want to attack you on social media. It's not that bad when they're just trying to troll you, but it could do much harm if there's a genuine reason for them to trash talk you on social.
In such situations, timing is of the essence. If you don't monitor your social mentions closely, one negative comment can quickly escalate to a PR crisis that's going to hit you hard.
On the other hand, these are not just bad people out there only waiting for a chance to put you in a bad light. Unless there's some major fuck-up on your side, a majority of social mentions of your brand are probably going to be positive.
Social mention in competitor monitoring
If there are people talking about your business, they are also talking about your competitors.
They might say good things and that's totally fine, you're not going to engage such social mentions.
But some social media users are going to say negative things about them. Or ask them for support only to receive no reply in return. That's when you should come on stage.
Don't get me wrong – you're not going to join people attacking your competitors, but if you see your business rivals ignoring people dissatisfied with their service, that's where you step in. Let them acknowledge you're there for them and will happily help them out with their problem, as long as you're capable of doing it, of course.
Not to leave with too many doubts, here's how I handled a similar case quite a while ago: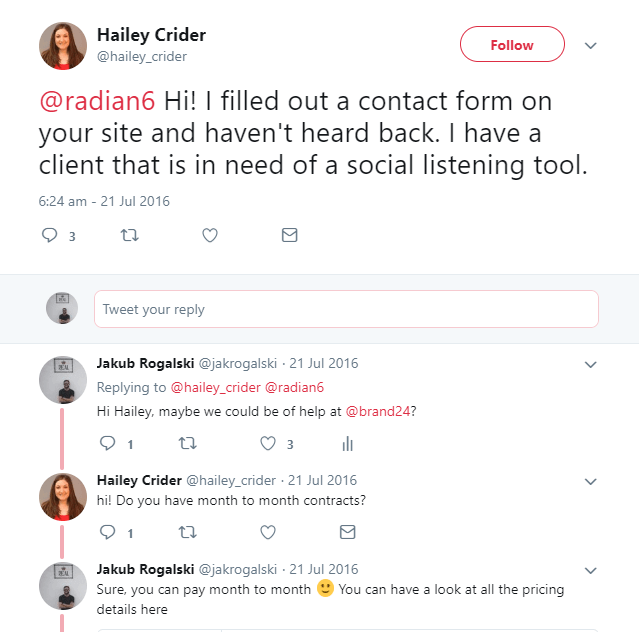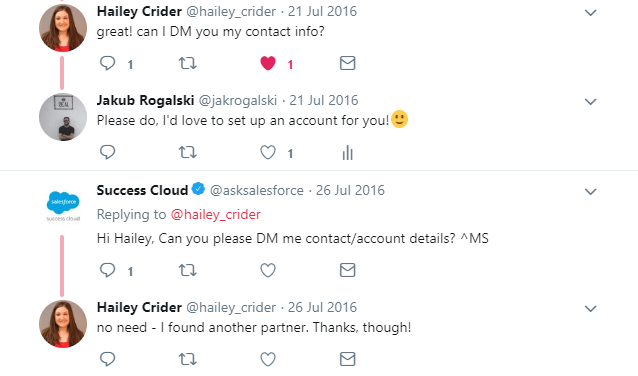 As you can see, it took five days for our competitor to get back to Hailey, and that was way too long. You can't leave a customer waiting so long these days. And we couldn't be happier about the outcome of this situation: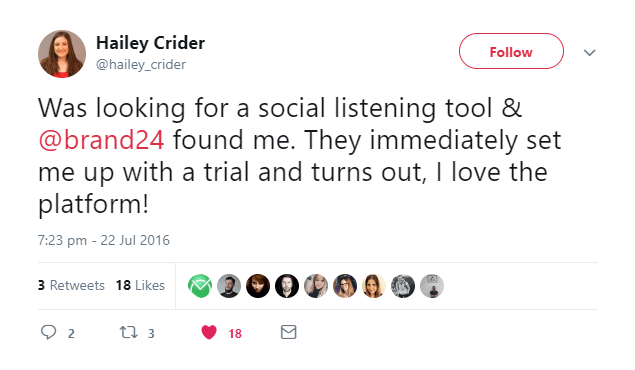 This was all down to monitoring social mentions of our competitors and a prompt reply, obviously, which leads us nicely to customer service.
Apart from this, it's always good to be aware of what your competitors do. By tracking social mentions about your competitors, you can discover valuable information:
New product or feature releases
Performance of their marketing efforts
Number of conversations and their social media reach
Pain points
Customer complaints
… and more!
Social mention in social media customer service
It's another area where social mention is of essence.
32% of users who contact a brand expect a social media customer service response within 30 minutes, and 42% expect a reply within 60 minutes.
You'll be able to google hundreds or maybe thousands of articles on why social media customer service is so important these days and there's a reason for it.
Remember how you'd file a complaint a decade or so ago that hardly anyone but you and the company involved would know about? Well, it's been a different ball game for at least a few years now.
Been to a restaurant and were unsatisfied with the service, food, whatever?
Unfortunately for brands, many people wouldn't hesitate to post lengthy descriptions of their experiences on social. If businesses fail to pick up on such social mentions, they are exposed to things we've already discussed above, like serious damage to their reputation, or a competitor taking advantage of their mishap.
Consumers' behaviour changed drastically over the years and they tend to make their choices based on opinions they find on social media. Many people assume businesses are online at all time and expect replies almost right away.
It's no wonder customer satisfaction rises when a brand responds to people on social media. A consumer survey conducted for Sprout Social indicates that when this happens:
70% of people are more likely to use a brand's product or service
65% of people have more brand loyalty
25% of people are less likely to go to a competitor
25% of people are less likely to post negative things about the brand, product or service
75% of people are likely to share a good experience on their own profile
Those stats should be shown to any business that is not taking care of their social media customer service. Ignoring consumers will eventually affect the bottom line of such businesses, and that's something none of the business owners wants.
If you track social mentions about your company, such as company or product name, you can spot your customers seeking assistance.
The good thing about social media monitoring tools is that they identify social mentions in real time. It means that you get to see them the moment they appear online.
These days, consumers expect companies to react immediately. If you're keen on providing a lightning-fast customer service, there are ways to receive notifications the second a social mention appear online. For example, you can receive real-time notifications in Brand24 via email notifications or push notifications in the mobile app.
Social mention in public relations
Spotting and responding to social mention in public relations is crucial for your brand reputation.
Reacting swiftly to a negative mention can prevent a PR crisis from escalating. All you have to do is regularly track social mentions and keep tabs on the sentiment of your brand.
By tracking social mentions you can also track your PR and all online publications mentioning your business, brand, product, or service.
Social mention for customer insights
Get to know your customers.
There have been a shedload of studies on why people are so eager to share in social media. Here are the most common reasons:
To bring value to others
To define ourselves to others
To grow and nourish relationships
For self-fulfilment
To support causes that matter
People share also their experiences connected to products and companies. They are happy to recommend good products and feel much obliged to warn their social networks about all sorts of negative experiences.
You can track social mentions connected to your business and products to see if and how people talk about them them online. This way, you can learn about a number of things:
Who are your customers
How they use your product
Are they happy with it
Would they improve something
Where does your target audience hang out online
… and even more
Social mention for tracking hashtag performance
It's good to have your own branded hashtags.
Not only they support your brand image, look cool and boost brand awareness, but also help you measure a few important things:
Brand awareness
How often people mention your hashtag
Social media reach of these mentions
Effects of your hashtag marketing campaigns
Identify advocates of your product or business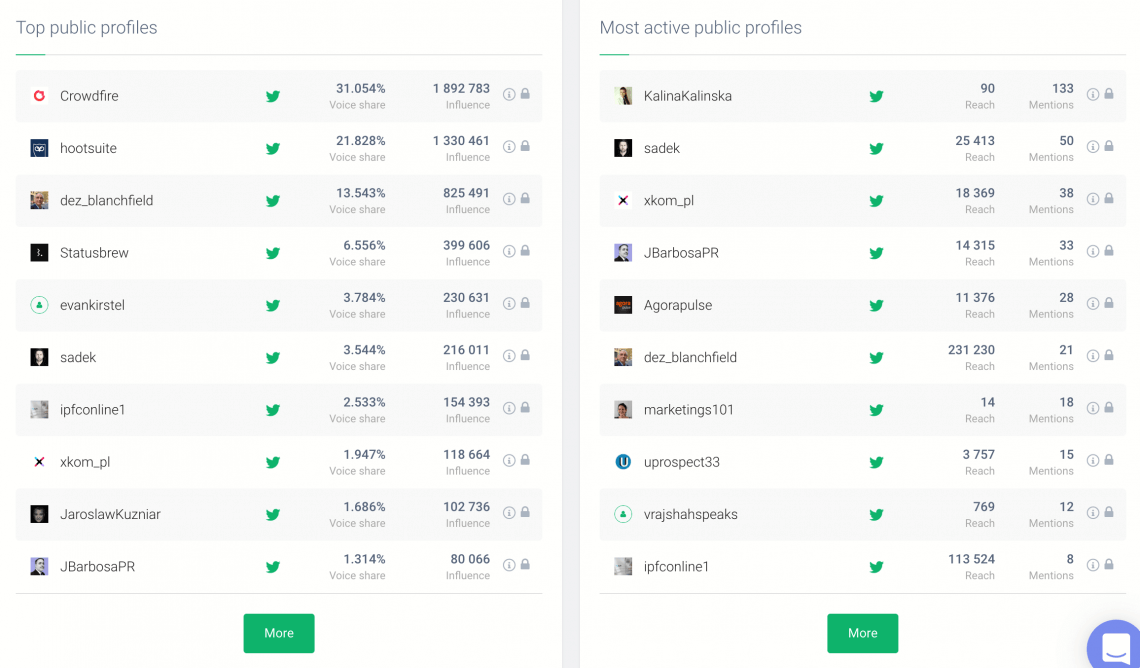 To put it shortly, hashtags let you analyze how your business is doing online.
How to track social mentions?
If you're interested in tracking any of these things, you can try out Brand24 for free.
If you already have your account, here's how to track your social mentions.
Set up a project
You want to track social mentions connected to your business, so it's good to monitor a couple of keywords:
The name of your company
Names of your products or services service
Your branded hashtags
Social media handles of your business profiles
A type of product / service you offer
Company names of your competitors and their products
Here's what an idea of the keywords we, at Brand24, track: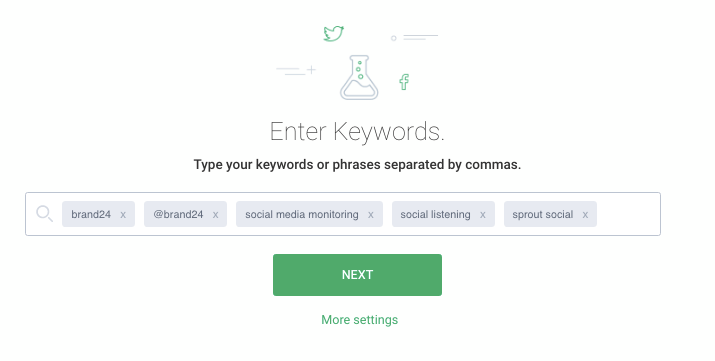 Once you click save, the tool starts collecting social mentions for you and loads them into your dashboard. You'll be able to see how many mentions of a given keyword appeared across various sources:

And browse mentions individually:

Apart from mentions themselves, what probably matters, even more, is the graph displaying the engagement and sentiment of your social mentions over time:

A number of mentions, social media reach, interactions, such as likes, shares and comments, as well as positive and negative sentiment, it's all there for you, reflecting how all those things change in relation to your social mentions.
You can find a round-up of the most active locations inside the Summary and Analysis tabs of your dashboard: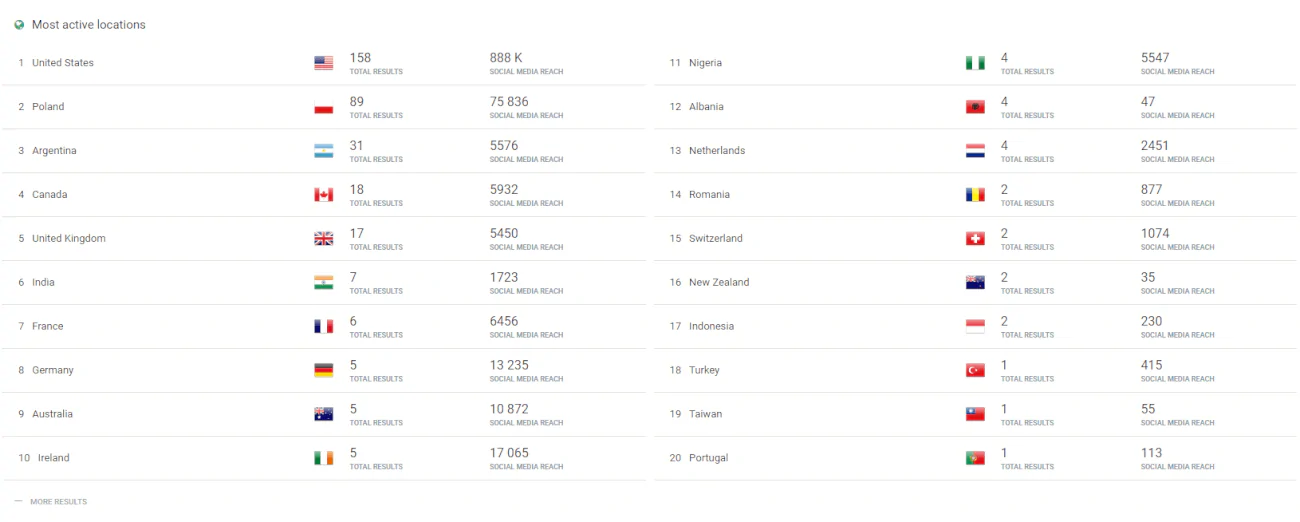 On top of it all, Brand24 helps you find influencers and much, much more!