I believe Facebook Messenger marketing with chatbots is the new frontier in digital marketing.
Messenger marketing is the single most effective marketing channel that we've seen in more than a decade, and its potential remains untapped.
If you know me, you know I'm all about finding marketing unicorns. And Facebook Messenger marketing with chatbots is the freaking unicorn.
Here's what you'll get from reading this article.
Why Facebook Messenger marketing is the rule-all marketing tactic for the next 5-10 years

How to achieve 80% open rates with Facebook Messenger chatbots.

How to build your own custom chatbot in five minutes with no coding.
Hold on to your brain, because we're covering a lot of ground fast.
What is Facebook Messenger marketing anyway?
Let's start from ground zero, just so we're all on the same page.
Facebook Messenger marketing is using Facebook Messenger as a communication channel with prospective customers.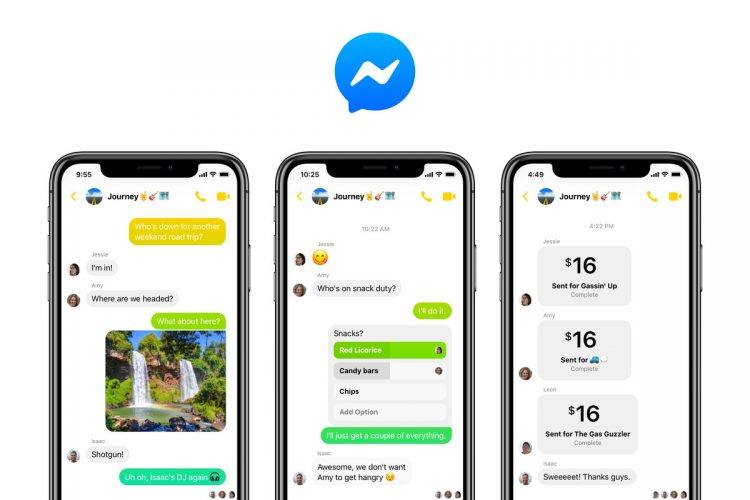 You can think of Messenger marketing as similar to email marketing.
As a marketing channel, email has been in use for nearly 40 years. (Feel old yet?) But email is kind of worn out.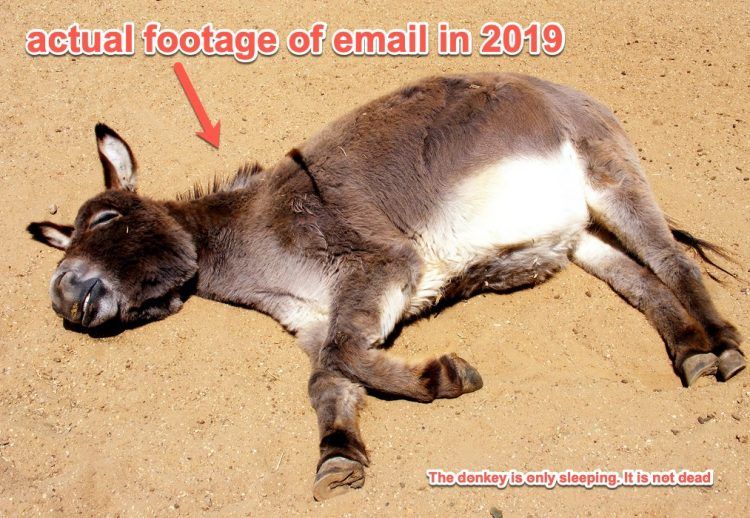 You can do a lot of the same things with Facebook Messenger that you can do with email marketing — build a list, send drip campaigns, etc. But with Facebook Messenger, you can do more, do faster, and do it with far higher engagement rates.
Taken alone, Messenger is great. The real power comes when you use Messenger chatbots. With chatbots, you can program Messenger to do almost anything. And, you can do it at scale. Check also what Brand24 does in Messenger.
Chatbots are software that automates messaging and messaging platform functionality. In other words, a chatbot facilitates a one-on-one dialogue, but it does so at scale.
One bot communicating with, oh, say 35,500 individuals saves humans a lot of time and fried brains. During this week, my MobileMonkey Facebook page had nearly 43,000 sessions.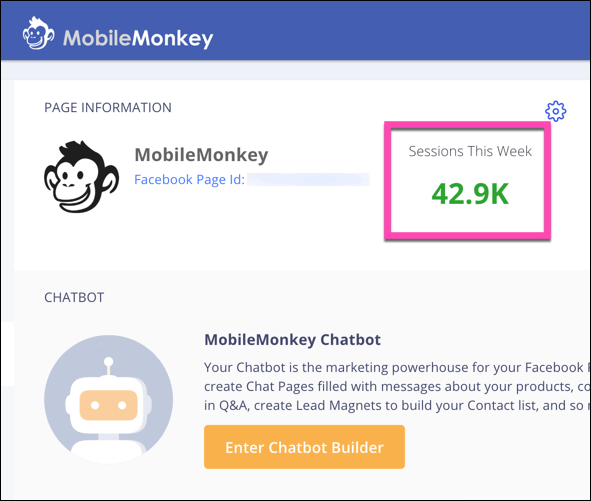 The sheer amount of marketing hours represented by that number boggles the mind.
What do Facebook Messenger chatbots do?
Facebook Messenger chatbots allow you to create content for users to browse/interact with via chat (like a website, via messaging) and also automate your most frequently asked business questions.
Chatbots have tons of functionality — schedule your dinner reservation, provide shipping updates on the new shirt you ordered, and even connect you with the love of your life. (Not even joking.)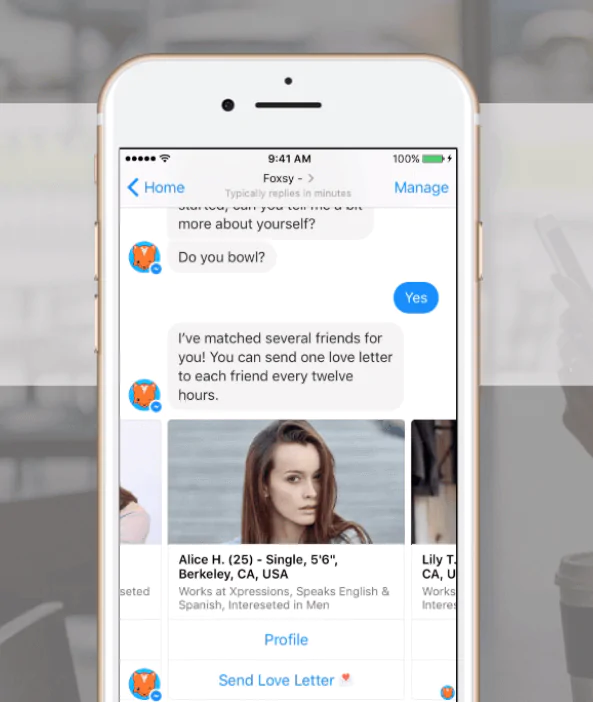 What else can you do with a Facebook Messenger chatbot?
Here's just a taste:
Build a contact list

Nurture leads

Send drip campaigns

Segment your audience

Schedule appointments

Transition to a live operator on demand

Remarket to contacts

Perform ecommerce transactions

Send Message blasts to huge (or segmented) groups of contacts
Imagine harnessing the marketing power of your website, social media, instant messaging, and email, and packaging it into a bot that you can simply switch on.
That's Facebook Messenger marketing with chatbots.
Facebook Messenger marketing is huge.
You already know that social media is a very big deal. If you're a Brand24 user, you've seen what kind of power you can harness just by analyzing the intel on your social media channels.
Now get this. Just like social media is huge, social media messaging is even bigger.
The biggest example of this is Facebook Messenger. It's basically taking over the world.
Hyperbole, yes, but I say this with some data provided by Facebook to back it up.
Globally, more than 2.7 billion people are using Facebook, WhatsApp, Instagram, or Messenger each month.
Across 8 markets surveyed globally, 51% of people say messaging has replaced other forms of communication.

Across 8 markets surveyed globally, 67% of people say their messaging has increased over the past two years.
Those are a lot of abstract numbers, but those "abstract numbers" highlight an important truth about Facebook Messenger and the potential to supercharge your marketing.
That important truth is this: Facebook Messenger offers a vast reach. Facebook Messenger marketing using chatbots offer enormous potential.
Let me show you that potential, once again, backed by data.
According to Facebook's data, there are more than 80 million Facebook Business Pages on Facebook. Also, according to Facebook, there are 300,000 bots in use by these businesses.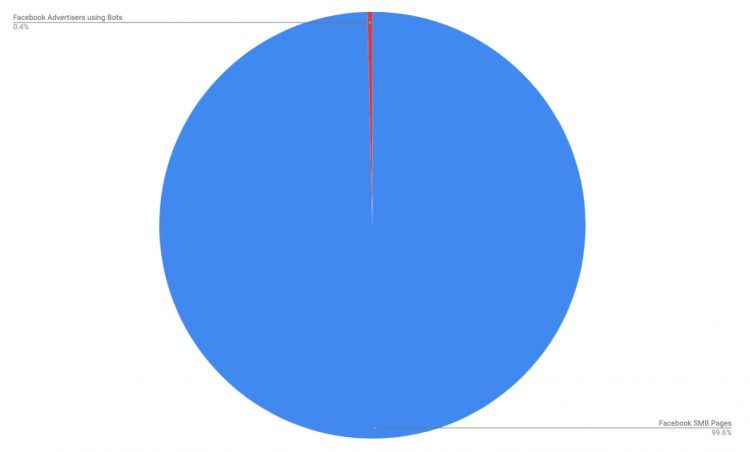 Messenger bots are highly underutilized by advertisers.
Based on what you now know regarding the huge potential of Facebook Messenger chatbots, it seems insane that only a handful of businesses would be tapping into this (free and easy) pipeline.
Facebook Messenger chatbots are powerful.
Beyond the raw functionality of Facebook Messenger chatbots, the kind of marketing results they deliver will shock you.
Let me throw some numbers at you.
The average clickthrough rate for display ads or even marketing emails is abysmal for the best of marketers in the most favorable of conditions and with huge budgets.
But a rookie marketer with limited resources and nascent skills using Facebook Messenger marketing can outball those metrics like you would not believe.
Check it out.

Frankly, there's hardly any competition between email marketing and Facebook Messenger marketing if you're comparing critical KPIs like open and response rates.
And the Facebook News Feed? It's dead. Don't expect any results there.
Let me share with you actual results from a campaign that I sent out (called a chat blast) a few weeks ago.
I sent a small blast to a segmented group of users. The read rate was right at 70%, and the response rate was nearly 10%.


These results are typical, not exceptional.
If you use a quality chatbot builder, you'll be able to do more than score jaw-dropping CTRs. You'll also be able to do snazzy marketing moves like hypersegmentation of your audience.
The great thing about this segmentation is that users can segment themselves by answering a series of questions or responding to various queries.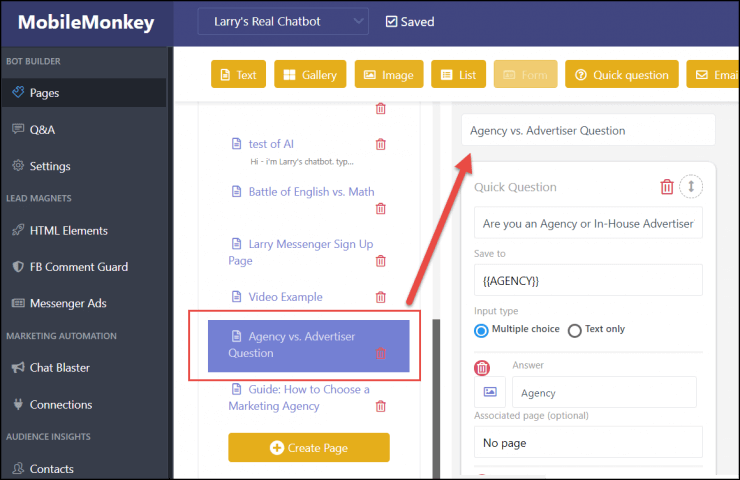 The questions that I can ask users range from the mundane — what type of marketer are you — to the super detailed.
For example, let's say I want to get a contact's email address. Easy.
All I have to do is create my chatbot dialogue to include a request for email. And all the user has to do is click or tap to hand it over.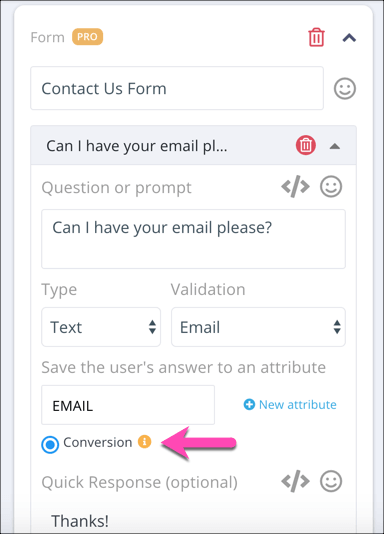 What I'm trying to do here is simply suggest the potential of Facebook Messenger chatbots.
If you're tracking with this article, however, you may have some questions. You're skeptical. You think you have to know how to code and/or spend 15 years of your life programming a chatbot.
Okay, about that. Let me tell you the truth.
Facebook Messenger chatbots are
ridiculously
easy to make.
The fact is, creating a chatbot is both simple and easy. (And fun.)
Here's an overview of the process:
Select a chatbot builder like MobileMonkey or an alternative.

Connect your chatbot builder to your Facebook Business page.

Open the chatbot builder and click the Dialogue option.

Customize the dialogue, and you're done.
MobileMonkey provides a lot of free Facebook Messenger chatbot templates that make the creation process both simple and bug-free.
When I create Messenger chatbots or run marketing campaigns, I find myself reaching for three tools over and over again. These are the chatbots that get me 80%+ open rates and massive response rates.
Once you start using Messenger chatbots, you'll want to try these out.
The first is a called the comment guard, also known as a private auto-responder.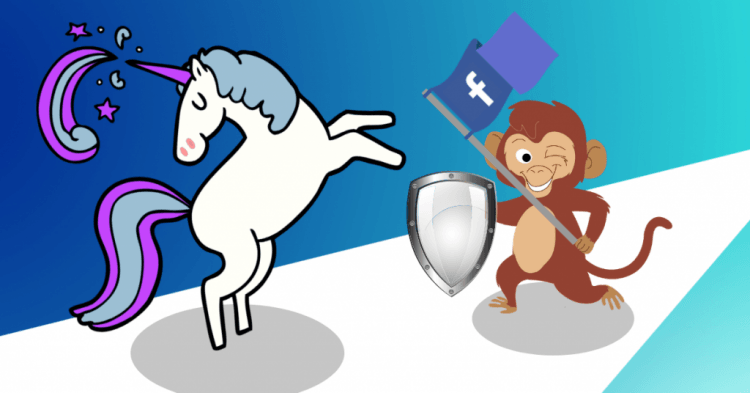 When you add a comment guard chatbot to an organic Facebook post, anyone who comments on that post gets added to your Messenger chatbot list.
To visualize this in Facebook, look at what I did here.
Action 1: I commented on an organic Facebook post, and…
Action 2: Received a Messenger opt-in to be MobileMonkey's Messenger contact list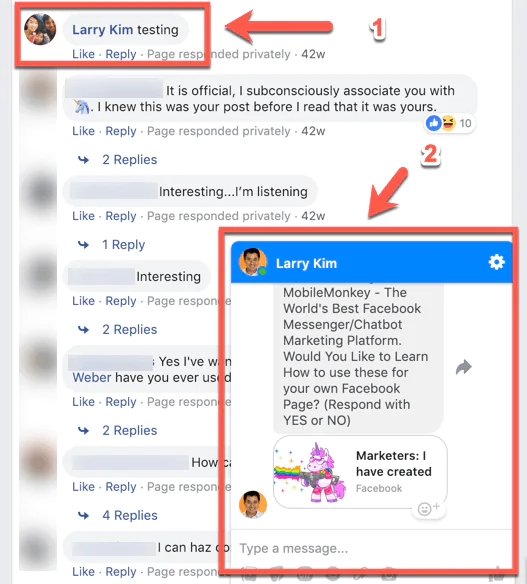 Comment guards are free to use, and they help to rapidly build your Messenger contact list. When you start using comment guard, you'll want to get some inspiration from these comment guard examples.
Second, chat blasting (messenger broadcasting) is another amazing chatbot tool.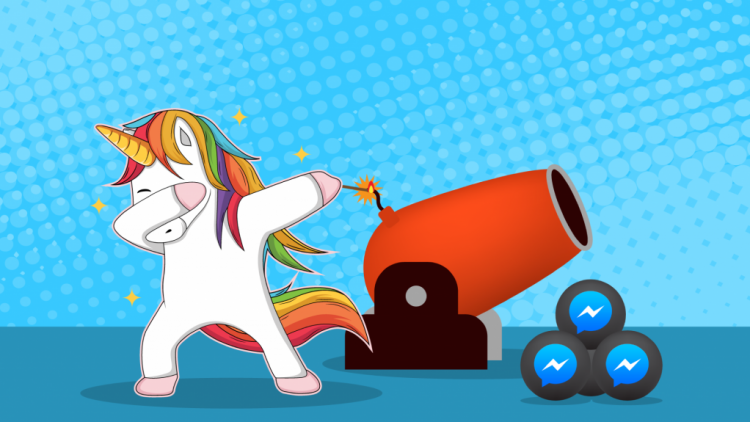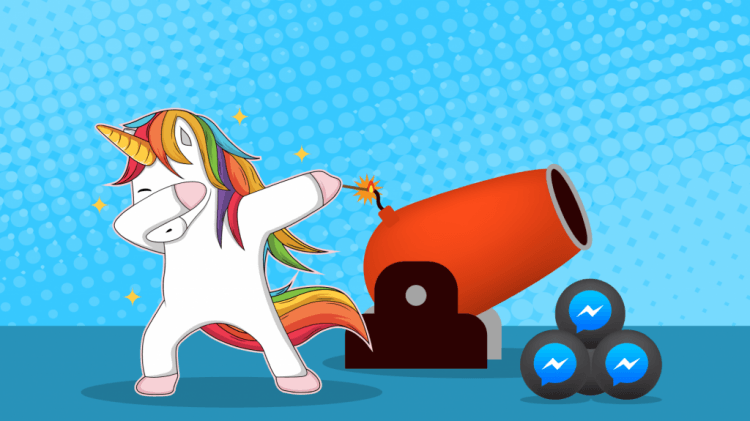 I mentioned chat blasting above. You basically send a message to everyone on your list or just a few select people such as a targeted segment.
When you send messages like this, you keep your list hot and engaged.
Facebook prohibits you from sending promotional messages, but you are permitted to add value with information, tips, insights, and news.
Third, install a chatbot WordPress plugin. This one is basically free money.
When you install a chat widget to your website, you can turn visitors into Messenger leads. We have a chat widget on nearly every page of our website, and it delivers buckets of piping hot leads every single week.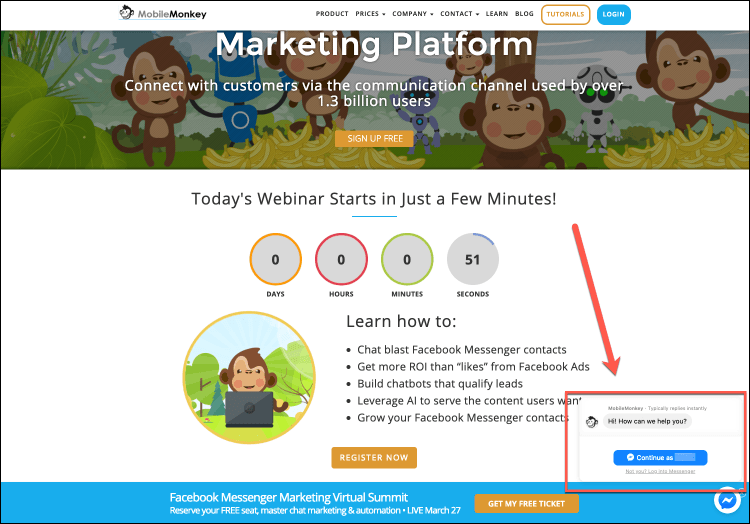 Next step: Get started with Facebook Messenger marketing.
Facebook Messenger marketing with chatbots is simple — you select a chatbot builder, create a chatbot, and start marketing like a unicorn.
And, by "unicorn," I mean 80% open rates, 20% clickthrough rates, plus one-on-one audience interaction at scale.
You can do all of this with zero code and just a few minutes of time.
With the massive opportunity that chatbots offer to marketers, now is the time to get started.
About the author:
Larry Kim is the founder and CEO of MobileMonkey, a chatbot building platform for marketers. MobileMonkey helps marketers create Facebook Messenger chatbots to improve marketing. He's also the founder of WordStream, the world's top PPC marketing software company which was acquired by Gannett for $150M in 2018. Subscribe to get growth tips from MobileMonkey or connect on LinkedIn, Twitter and Facebook.