How to Find Trending Hashtags on Facebook in 2023?
January 15, 2023 ・ 8 min read
When was the last time you added a hashtag to your Facebook post? From a private profile, probably never or a long time ago. But what about the company's account? Public hashtags are searchable. I know that Marketers have no clear answer whether it is worth using them in Facebook marketing campaigns. So, should brands use Facebook hashtags? It's worth trying, especially when you're using trending hashtags.
We can use hashtags on almost every major social network, including Twitter, Facebook, and Instagram. Not with the same effect, though. Facebook hashtag system is not so powerful as Twitter's or Instagram's one.
That's the reason why so many brands neglect them. I see hashtags on Facebook as a chance to exist in a field not so explored by other companies.
I know that many people say Facebook is dying but is it true? According to Napoleoncat stats, there were almost 276 million Facebook users in the USA in January 2022, which accounted for 82% of its entire population. In contrast, Instagram users were only 166 million.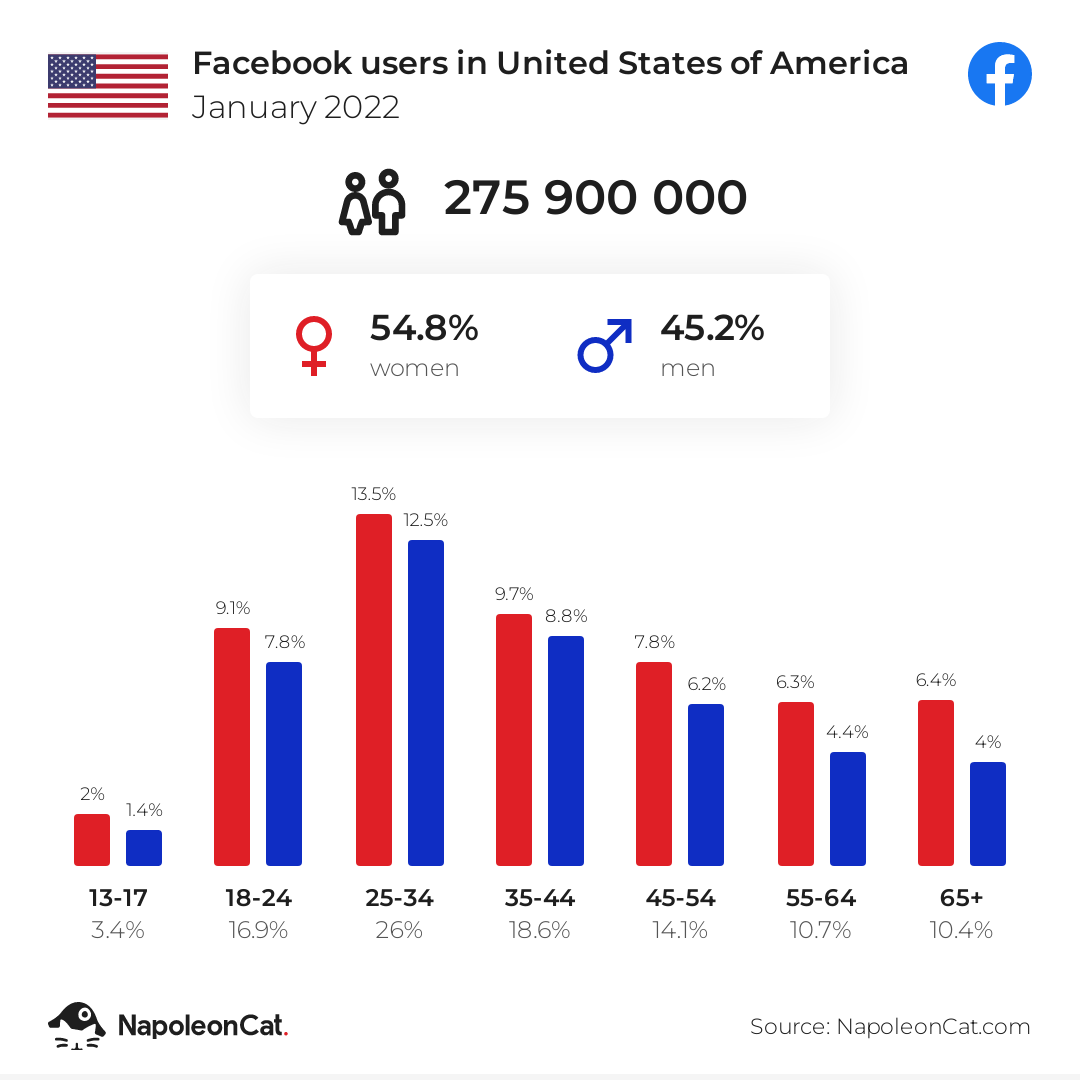 So maybe it is worth reaching those people by hashtags?
My big advice for you is to use relevant and popular hashtags. It's not so easy to find them as the Facebook platform does not pay much attention to the hashtag system. Yet, I have a few powerful tips on how to discover them.
Table of contents:
Do hashtags work on Facebook?
Yes, hashtags are working on Facebook. Although they are not so popular as on other social media platforms, you can add them to your posts.
Facebook hashtags work the same as hashtags on other social platforms. Basically, they tie up multiple public online conversations into one stream.
In 2022, the stream includes:
Post with hashtags from public accounts
Post with hashtags published on public groups
At the very top of the stream, we see the posts with the most reactions and comments. We can filter them by the type of content such as posts, people, photos, videos, pages, places, groups, and events (available when using from a browser on a mobile device).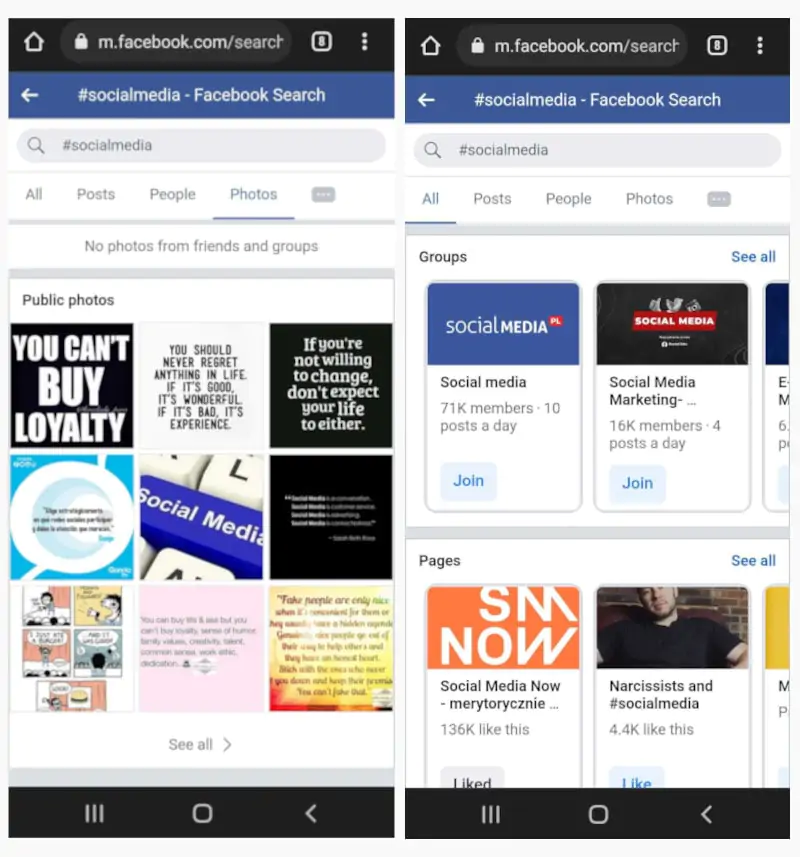 It looks pretty good. People can then filter a particular hashtag to find more relevant discussions. Brands can increase their content visibility and engagement.
Unfortunately, we can not follow hashtags on Facebook, like for example, on Instagram. Also, we can not add them to Stories.
On another difference to Twitter or Instagram, where many users have public accounts, most people on Facebook have private profiles, and their posts, by default, are seen only by their friends.
How does it translate into business? Private hashtags are not searchable.
Sure, you can still use them, but unless you make your post with a hashtag public, only your Facebook friends will be able to find it. Consequently, when you search for a particular hashtag on Facebook, chances are your results will be generated mainly through public organizations, brands, and influencers rather than a random Mr. Smith.
Brand24 is a tool that finds trending hashtags for your business niche. Use them on your FB page!
How to create a hashtag on Facebook?
To create a hashtag on Facebook, simply type the # symbol followed by a relevant keyword or phrase in your post. For example, if you're posting about your favorite recipe, you could add "#yum" to the end of your post.
This will make it easier for others who are interested in food to find your post. Just be sure to avoid using too many hashtags or irrelevant ones, as it can come off as spammy. Happy hashtagging!
How to find trending hashtags on Facebook?
Using hashtags seems to be simple. You create content for the social media posts, add words with #, and that's it! The hashtags are ready. But whether those are relevant hashtags for your business and niche? Here's how you can check it.
01 Try the hashtag autocomplete feature
While using a mobile app, you can benefit from autocomplete feature available in the search engine. All you have to do is to start typing the keyword. The search engine will show similar, popular hashtags.
To see how many people post about this hashtag, you need to click on it. This option will give you quite an accurate number of users. However, as you need to click manually on each hashtag, it is time-consuming to discover the popular one.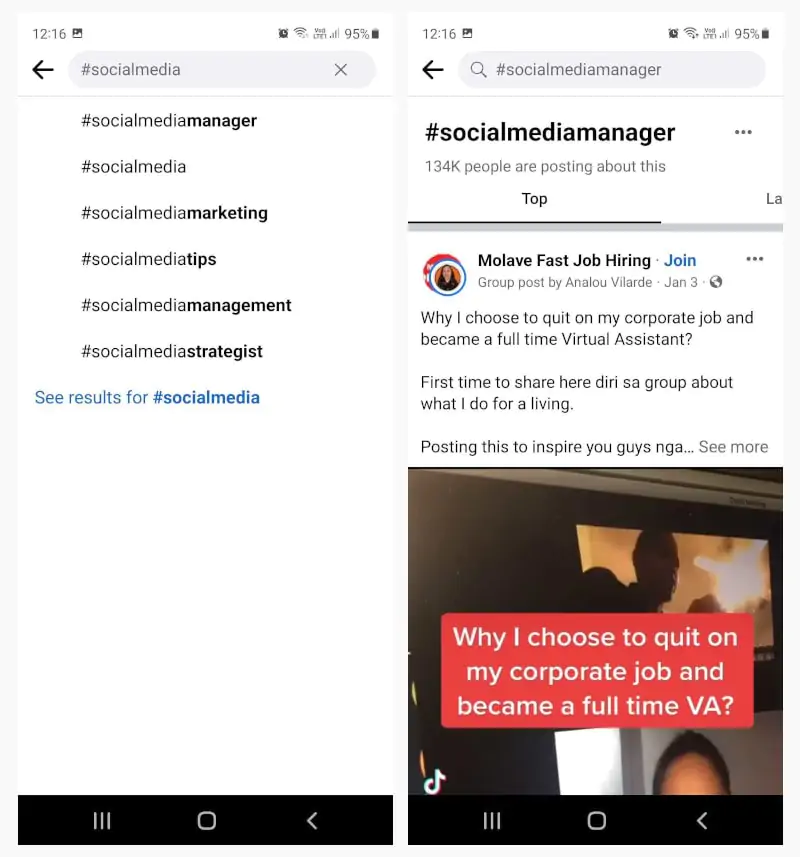 02 Use a social listening tool
To find general trending hashtags, you can use the social listening tool. How does it work? It's simple.
First, you need to set up a project and add keywords (related to your business) you want to monitor. The tool will analyze mentions across the Internet and collect the trending hashtags related to your niche.
Then you can try to add them to your FB posts and check the result.
What is important, those hashtags work well with your niche, but they are not dedicated to the Facebook platform. None of the social listening tools will present you with hashtags dedicated to Fb because the platform prohibits such access.
Also, keep in mind that hashtags that work well on Twitter or Instagram might not be proper for Facebook. It's all about testing.
Here's how it looks: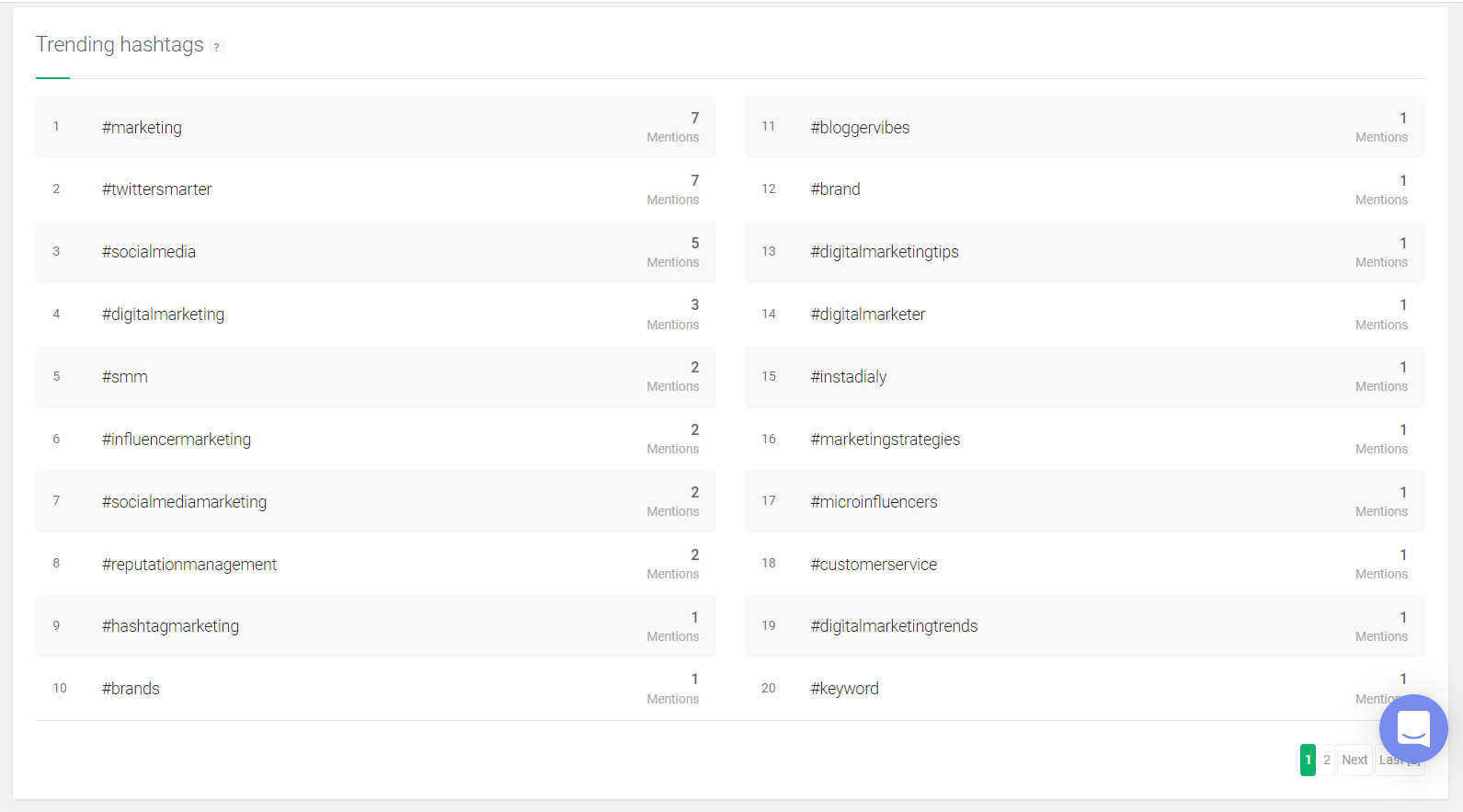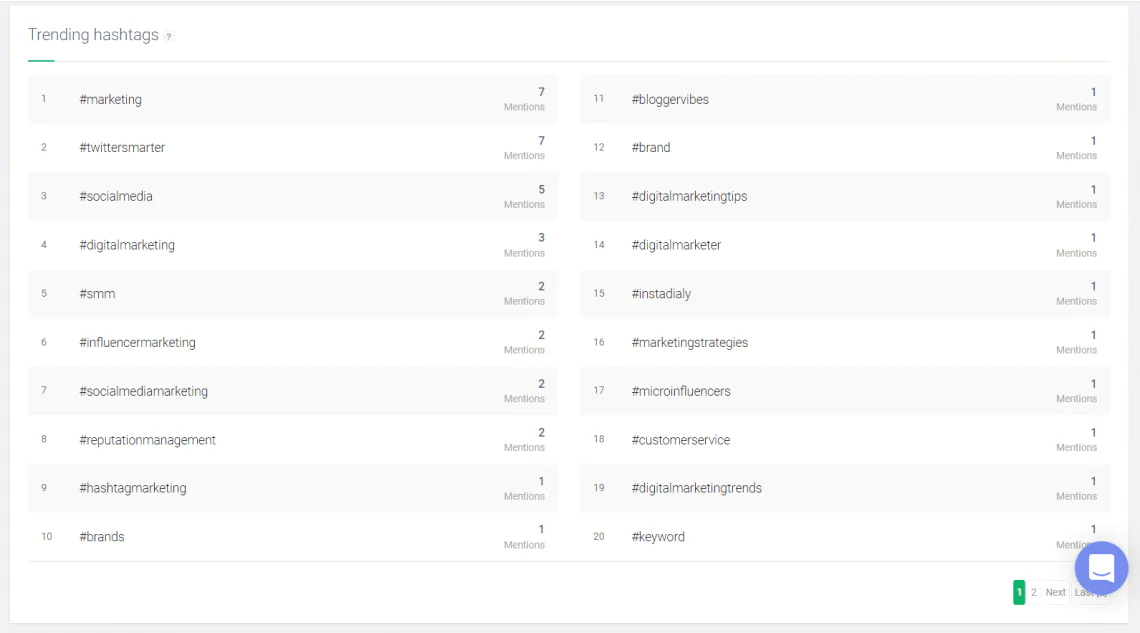 Moreover, Brand24 updates those hashtags data once per hour. So, if a new popular hashtag appears, the tool will detect it for you immediately. It's a great time saver.
That's not everything. There is one more place you can find popular hashtags. The context of the discussion section in the Brand24 tool presents a list of phrases your target audience use according to your predefined keyword.
This section is an excellent area of inspiration to create Facebook hashtags. Also, it shows the trending topics that are thriving at the moment.


Use Brand24 to generate a list of trending hashtags dedicated to your business!
Read: Social Media Monitoring Step by Step
03 Check websites with hashtags lists
I think we all know those websites that present top hashtags, ready to copy and paste into Facebook's posts. They're pretty popular. Here are some interesting websites:
As you probably noticed, those lists mainly contain general tags sorted by popularity. Adding highly popular (and general) hashtags like #love, #food, #business #fashion, #happy is not a good idea. Well, they might get you a few likes. But I don't think those hashtags will help you grow your Facebook page.
Millions of users follow those kinds of tags and generate thousands of posts each day. The chances of your content getting lost in the crowd are high.
If you aim to gain more social media reach and engagement, you need to use relevant dedicated to your niche, products, and services. That's why tags presented by websites with hashtags lists are not always suitable and worth using.
04 Use mobile apps
We can use mobile apps available in the App Stores to discover new hashtags. Usually, those kinds of apps rely on the same features. We can explore hashtags by categories or generate them by typing niche keywords. We can also filter generated tags by the number of uses.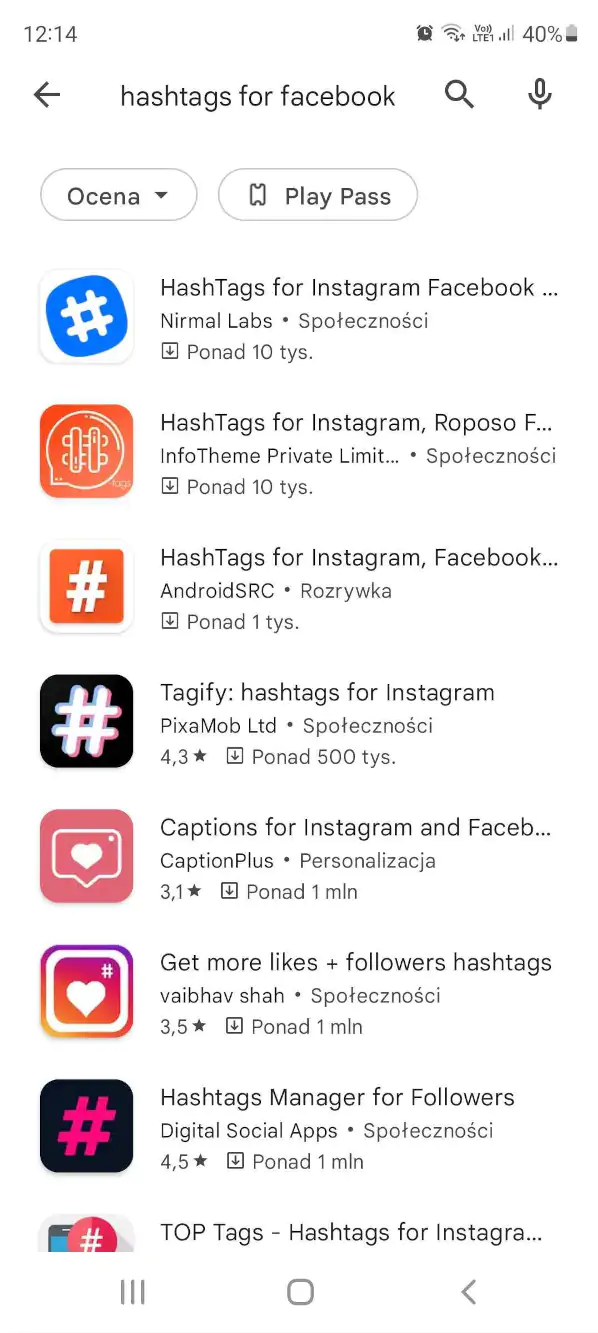 I tested a few mobile apps. They work pretty well when you want to discover hashtag popularity. Yep, those apps work well when looking for popular or the most popular hashtags. But as we discussed above, super-popular hashtags are not always the best hashtags to use.
Can we use mobile apps to discover trending, viral or niched hashtags that gain users' attention?
I don't think so. Apps analyze the usage of tags and list them when they're already quite popular.
05 Use hashtag generator
Online hashtag generators like All hashtag or Inflact work similarly to mobile apps I described above. They will help us discover popular hashtags. Of course, we can also use it for other social media platforms.
Inflact generator seems to be an interesting one. We need to type a keyword, add a photo, or paste a URL to discover popular hashtags. The generator will present frequent, average, rare hashtags that contain a similar keyword.
The generated list is quite extended, so you will need to pick the right hashtags that match your needs.
How to track Facebook hashtags? Check: What is the Best Hashtag Tracker? 10 Great Tools
Use Brand24 to generate a list of hashtags trending in your industry.
Conclusion
Is it worth adding hashtags to Facebook posts? You'll have to find it out for yourself. Remember that on Facebook, hashtags work for public posts only.
What is for sure, social media posts with tags gain more engagement. Furthermore are searchable, interactive, and more readable.
Unfortunately, I couldn't find any reliable data confirming Facebook hashtags' effectiveness in 2022.
Repeating after an industry expert Andrea Vahl, all you need is… to test it. Experiment and put a few relevant hashtags into your posts during a week. It's worth applying niche keywords.
Check your reach and interactions. You can also dig deeper, collect all the mentions with the particular hashtags using an Internet monitoring tool and analyze which worked better.
It will help you plan, create campaigns and hashtags strategies for the future. Then have the same number of similar posts next week but without hashtags. Compare your reach and interactions to the results from the previous week. Voilà!
Want to discover top trending hashtags for your business? Try the Brand24 tool for free!