How to Find Trending Hashtags on Instagram
June 11, 2019 ・ 5 min read
Before explaining how to see trending hashtags on Instagram, let me celebrate hashtag's 10th birthday.
Hashtag has been with us for a decade now. That's right – in 2017, we celebrated its 10th hashtagivarsary! Since its invention in 2007, it has come a long way from grouping discussions in first IRC chats, revolutionizing social media to commemorating historical events and raising awareness about social issues. Hashtags #FTW!
And this is how it all started:
how do you feel about using # (pound) for groups. As in #barcamp [msg]?

— ?ChrisMessina (@chrismessina) August 23, 2007
Even though hashtags have been implemented all across social media including Facebook, Twitter, LinkedIn, or YouTube, the biggest impact they actually have is on Instagram.
Here's the plan for this post:
How Instagram hashtags work?

Instagram search engine
Following Instagram hashtags
Explore page

Trending hashtags for business
How to find trending hashtags on Instagram
Hashtags on Instagram: Best practices in 2018
Let's begin.
---
How Instagram hashtags work
On Instagram, hashtags are a matter of your "to be, or not to be" – they make your content discoverable, increase the social media reach of your posts. They categorize content and make your content visible to wider audience.
Therefore, hashtags are one of the best ways to grow your Instagram profile.
Instagram search engine
Instagram has a search engine users use to browse hashtags related to their interest.
Needles to say, in order make Instagram content searchable and discoverable, the author has to use hashtags. The search engine shows also other popular hashtags.
Personally, I use this search engine to finally make my mind whether my next road bike should be a Cannondale, a Specialized, or maybe a Pinarello – from time to time I just enter #cannondale, #imspecialized, or #pinarello and just look.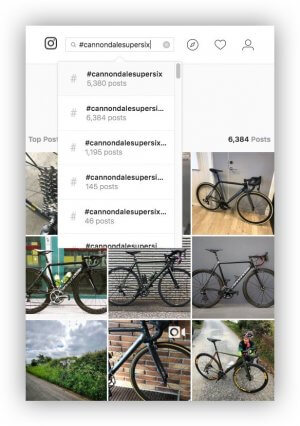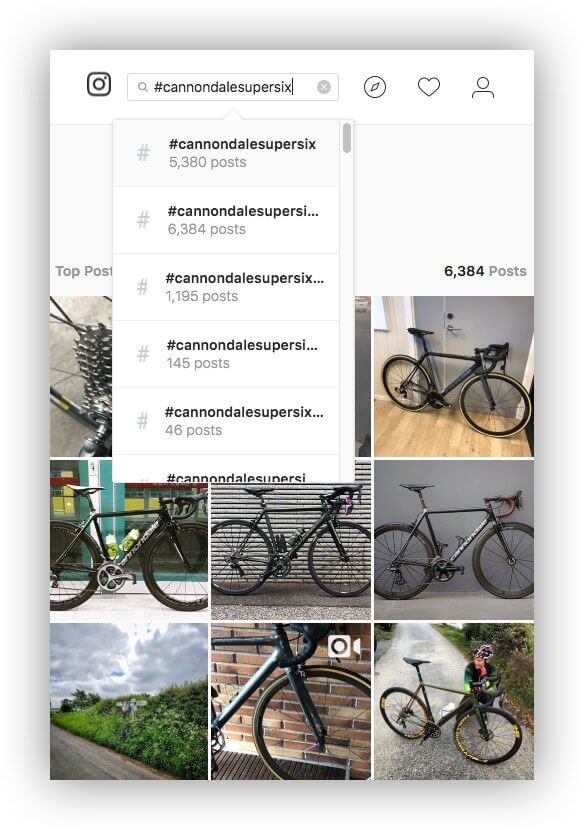 Following Instagram hashtags
Apart from that, as a cyclist I just love looking at road bikes and in this case Instagram is to me the biggest source of pleasure at a hand's reach. Thanks God we can follow hashtags since December 2017.
Explore page
If talking about trending hashtags on Instagram, I need to mention the Explore page.
What is the Explore page on Instagram?
It's a recommendation engine that shows you trending content in Instagram. It's an algorithm based on your Instagram history, the type of content you follow and watch there.
When I go there, all I see are road bikes, travel, and guitars.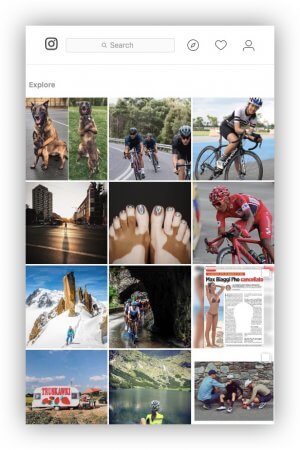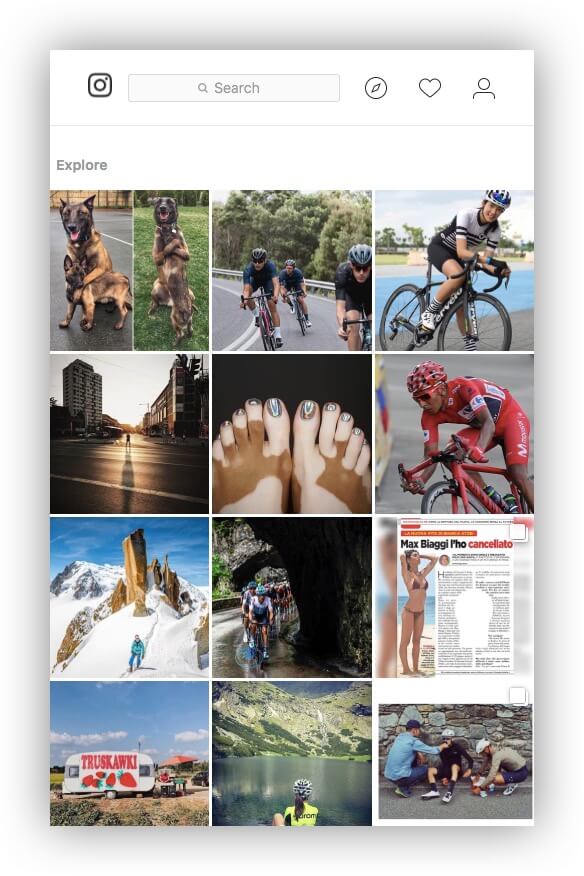 The thing about the Explore page is that getting there is a huge, huge, huge booster in reaching wider audience. It can be achieved by understanding and responding to the Instagram algorithm. There's a couple of factors that decide if your content gets to the Explore page and one of them are trending Instagram hashtags.
Trending Instagram hashtags are super important in digital marketing – for businesses, personal brands and marketers getting the up there means reaching wider audience and, more importantly, potential customers.
Trending hashtags for business
Apart from being a photo-sharing social media platform, Instagram is also an effective marketing tool – companies use it to increase their social media reach, influence purchasing decisions and, ultimately, or acquire more customers.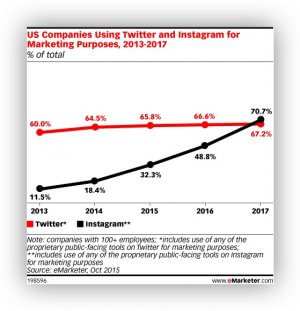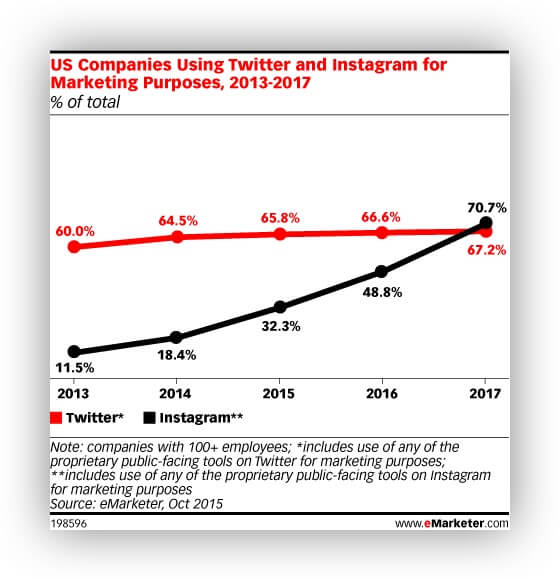 Trending Instagram hashtags are key to expanding audience and succeeding in Instagram marketing.
Whether you what to boost your Instagram marketing, or simply get more followers and likes of your cycling adventures, top trending hashtags on Instagram are something you need to have under control.
This video has some good tips on how to find trending hashtags on Instagram and what they're all about:
---
How to find trending hashtags on Instagram?
You can do it using Brand24 – one of Buffer's top media monitoring tool.
Start using Brand24 now for free!
Apart from tens of features, the app can now find trending hashtags on Instagram. Here's how it works.
In general, Brand24 is a media monitoring tool – it collects in real time online pieces of content mentioning predefined keywords from all over the web. Since recently, the tool finds trending hashtags on instagram for any, I repeat, any monitored keyword, or hashtags.
You can monitor literally any keyword, for example, oatmeal – I had oatmeal for breakfast today before my workout.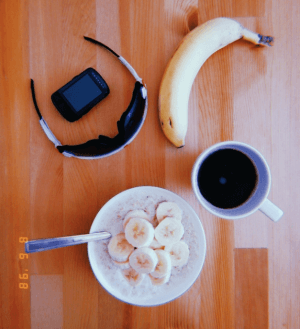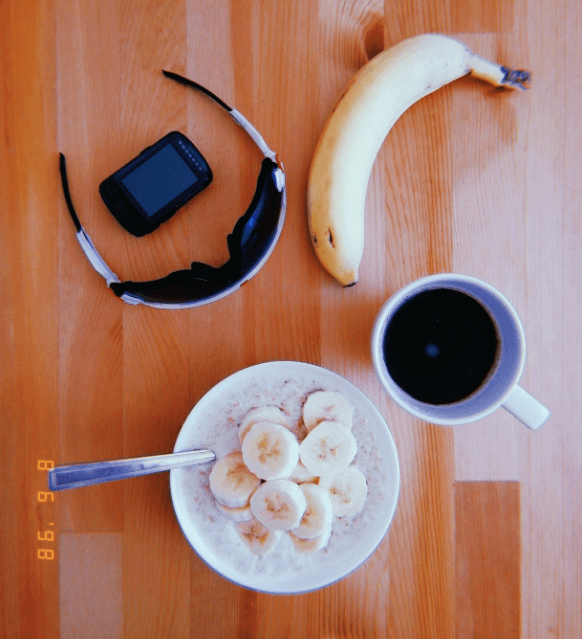 I just check it and voilá – the tool returned 5 pages of trending hashtags on Instagram connected to oatmeal.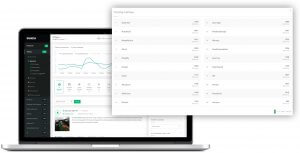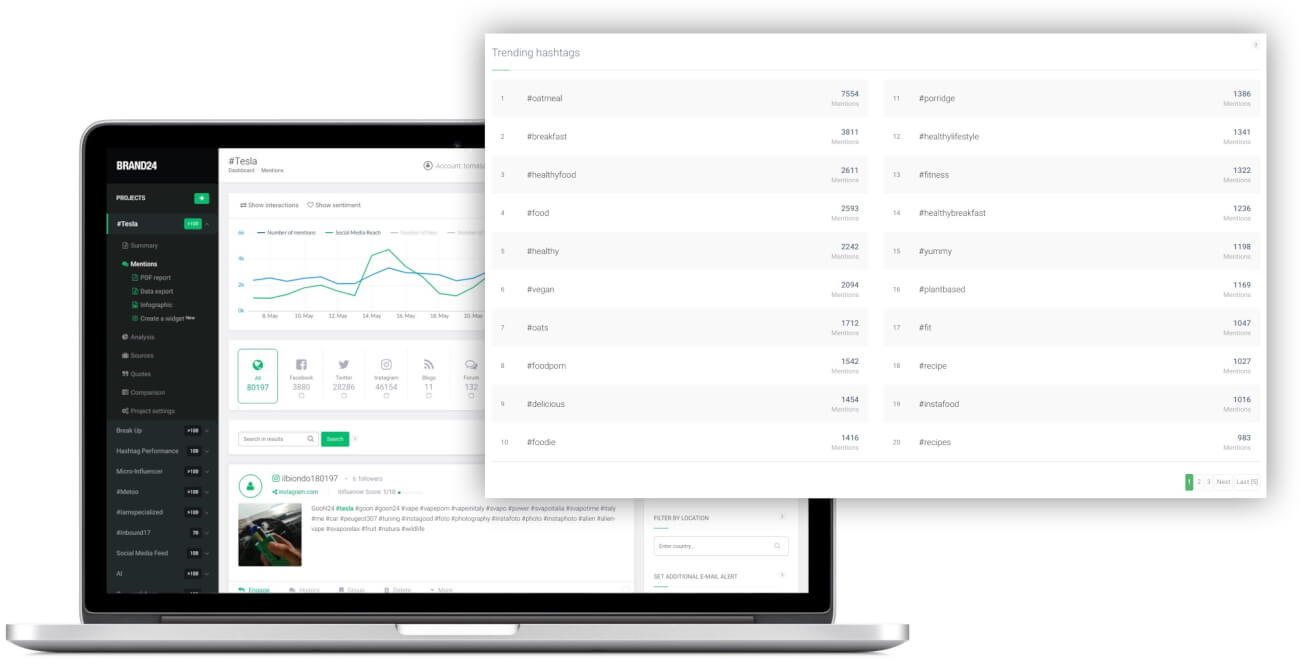 What's your thing? Trending hashtags for photography, fashion, marketing, food, travel, or fitness? Let's find your trending hashtags on Instagram.
Keep up with trending hashtags on Instagram!
---
Hashtags on Instagram: Best practices in 2020
Finding trending hashtags is just a half the story – another important part is how to use them properly.
How many is too many?
There are different theories about the number of hashtags an Instagram post should contain.
TrackMaven did research on 1 000+ Instagrammers and what they found out was that posts with 11 hashtags received an average of 77.66 interactions.
On the other hand, Klear recommends using 2 hashtags…
The truth is, Instagram's algorithm constantly changes. There's no straight answer how many hashtags you should use on Instagram – you need to experiment on a living organizm and see what works for you. Give it some time, optimize, give it some time, optimize and after some time you'll find the golden mean.
Keep them relevant
Using super trending hashtags is tempting but if irrelevant to your photo, they might do more bad than good. Instagram's algorithm treats irrelevant hashtags as spam which may result in shadowban.
Use niche hashtags
Using niche hashtags will bring a highly targeted audience – they will drive quality engagement on your profile.
Try the best Instagram hashtags tracking tool!
Don't overuse your hashtags
If you post often, make sure you change hashtags but always keep them relevant and as trending as possible. Yes, it might be hard. Otherwise, Instagram's algorithm will recognize you as a spammer.
Create hashtag lists
Make your life easier with a few hashtag lists you will only copy and paste into your instagram post. Remember to keep the lists fresh and avoid overusing them.
---
Conclusion
Now you know how to find trending hashtags on Instagram. If you're interested in the topic more, check other, relevant reads: