What's Going On With The Costa Coffee Crisis And Is There One To Begin With?
March 31, 2016 ・ 3 min read
During the weekend, something magical has happened. One Paul Hopkinson, a British builder, shared a video on Costa coffee's Facebook page. The video appears to show a little-to-no difference between the amount of liquid between the large and a regular sized latte.
The clip was watched over 11,000,000 times by now, gathering over 100K reactions and more than 200K shares with 20K comments overall. And here's the catch.
The Costa Coffee crisis is not a crisis. At all
Firstly, there is an actual size difference between the liquid volume in a large and a regular coffee. The large one holds 16oz. The regular – 12oz. There's a 4 (imperial) fluid ounces difference. What's more, the large one holds an extra shot of espresso. That's the official explanation which Costa posted in response to Paul Hopkinson's video.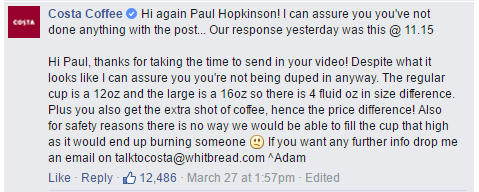 Guess what. It's factually correct.
4oz is about 113,65 ml, and 113,65 ml gets you about 33 percent more coffee (provided you go with the large coffee). And since I'm just a writer, you don't have to believe me. Believe the engineers (screenshot via Mashable)!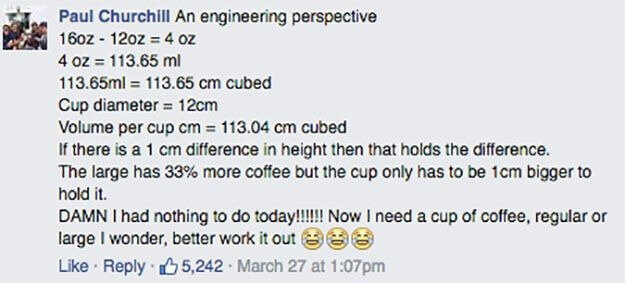 Yesterday, we decided to do a little social media listening of our own. Below, you'll find the most interesting posts and answers we came across.
Most of the people came to Costa's defence. One of the fans posted this:

Some even tried to recruit Costa's fanpage administrator, Adam: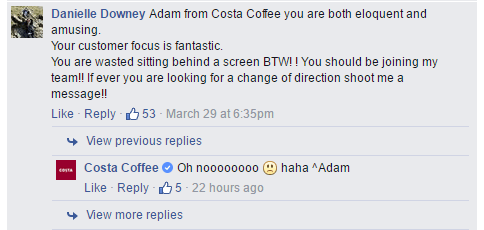 And Gemma Allen might have read our article about using trending topics for self-promotion. But again – both she and Costa are showing class and respect for each other. If only all the discussions looked like this!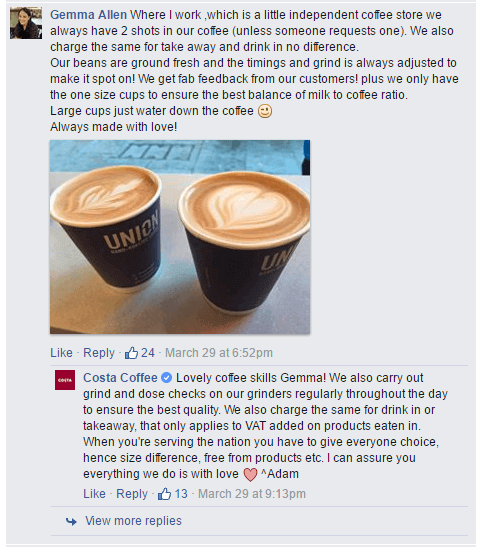 And then there's this: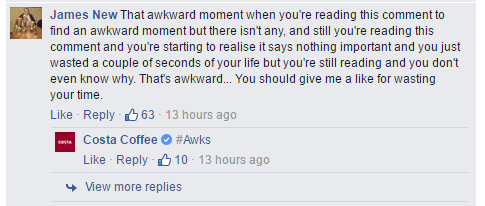 As it turns out, Facebook was not the only platform on which the discussion took place. Mark Clews recorded a simple video showing precise differences between the liquid volume in the two cups. He even singled out prices per milliliter that go with each option. And yes, we did find the video using Brand24 monitoring capabilities.
The only mistake Costa did was a linguistic one
Well. In all fairness, Costa did make a mistake. In their original response, the one where they explain the size difference, they also talk about "not filling the cup too high, as it would end up burning someone".
And you can't burn someone with something wet. You can scald someone with something wet, such as hot water or steam.
But that's about it. Costa – our deepest congratulations on handling the situation properly, with the right amount of class. The customer service level was off the charts on this one!

Now – let us get back to social media listening. If you'd like, you can do it too!
Related read: