How Nano Influencers Help Your Business Grow and How to Find Them?
November 16, 2021 ・ 10 min read
Smaller social media influencers usually stay in very specific niches that may be relevant to your company. With the right tools and proper approach, they can become your brand ambassadors and bring you a steady flow of traffic. Read more to discover how to find nano influencers and what your partnership could look like.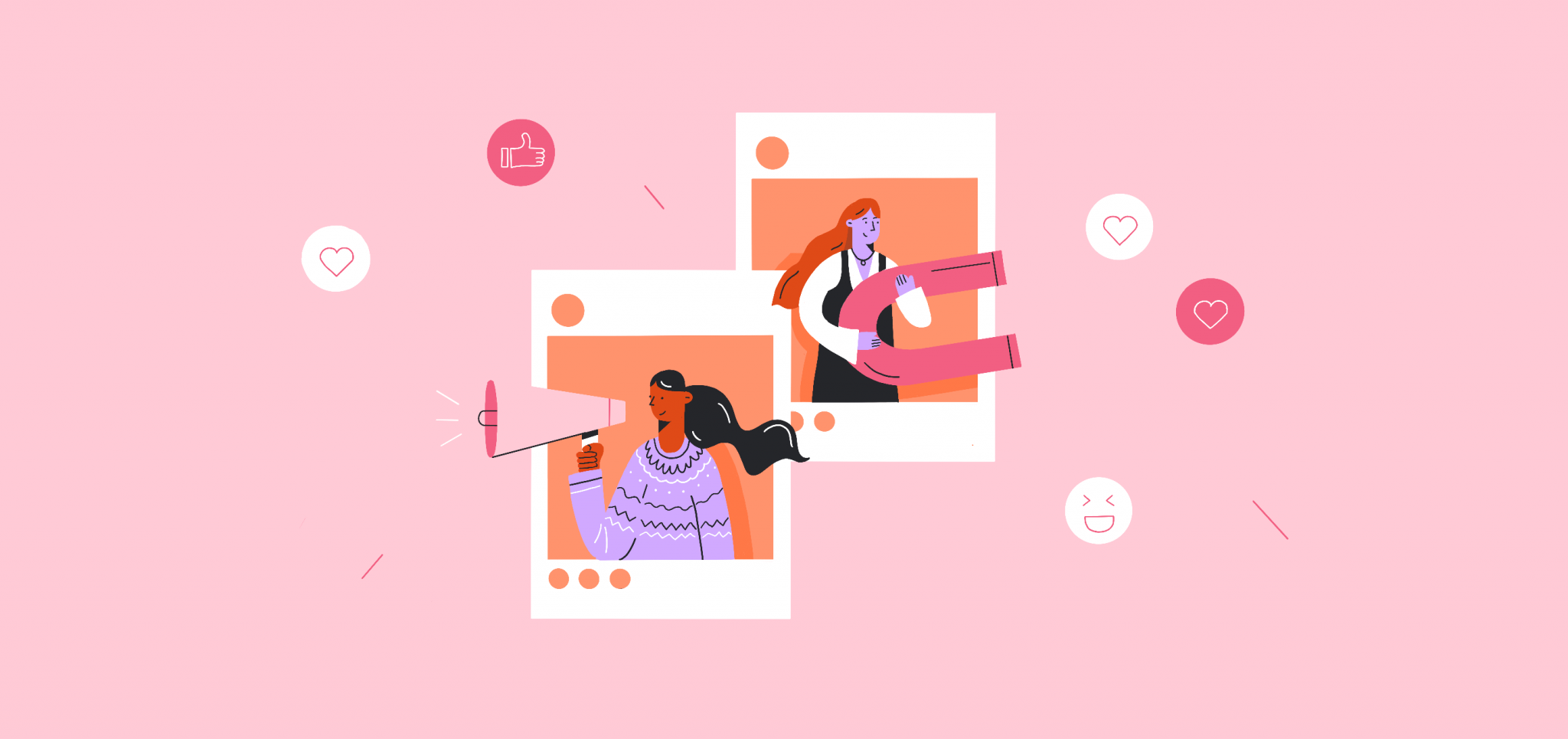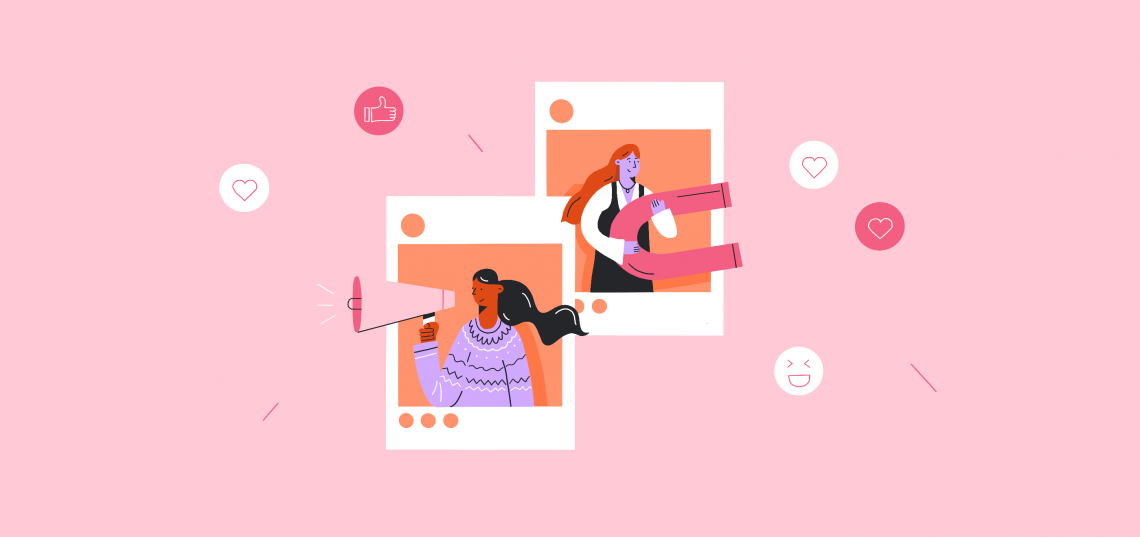 Before you read: perhaps you will be interested in our report on Top 100 Marketing Influencers.
What are nano influencers?
The influencer marketing industry is big. Bigger than you might think. Every day hundreds of thousands of people on social media are exposed to branded content advertised by big names. Followers on Instagram listen daily to beauty influencers talking on Instagram stories about their "favorite" products.
Most of that content is not sincere and the influencer's followers already know everything they need to know about sponsored posts. But among the big names, business profiles, and celebrities making extra money on fake partnerships there is hidden high-quality content produced by small-scale influencers.
And we want to tell you more about who they are and how your sponsored content might get a little bit more genuine thanks to them.
Nano influencer – definition
So who exactly are these so-called nano influencers? Generally speaking, they are social media personas with lower reach, usually working locally (limited to one city / country) or in a very specific niche.
These people have less than 10,000 followers on Instagram, which is the most common place to find influencers.
Nano (or sometimes also called "micro", more on that later) influencers work in niches. That means they are more focused on their local market – for example, foodies, who review restaurants in their region; or explore a specific niche – for example, fashionistas interested in sustainable clothes.
Micro influencers vs nano influencers
The difference is somewhat flexible and relies on the number of followers. Generally speaking, nano influencers have less than 10,000 followers on Instagram, whereas a micro influencer oscillates between 10,000 and 50,000.
There are also macro influencers and mega influencers. It all boils down to the number of followers they have.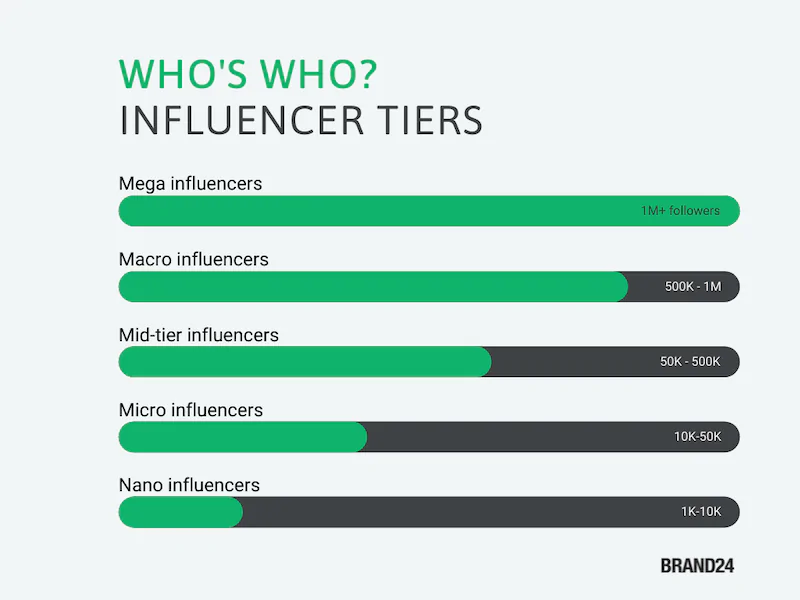 Why nano influencers matter?
Some companies tend to deliberately or unintentionally avoid lesser-known social media profiles because they see no profit in working with such a small audience size. This approach is unjustified! A carefully planned nano influencer marketing strategy can benefit both the brands and the influencers, who can later become brand ambassadors.
In the next parts of this article, we will cover how to find smaller-scale influencers using available tools and how to establish a partnership satisfying both parties.
Perks of nano influencer marketing
Nano and micro influencers are considered more genuine. They do have a smaller fanbase but on the other hand, are more approachable and sincere.
Who would you rather listen to? A celeb who has a new paid partnership every day and lives in a celebrity bubble, or a person that talks mostly about things relevant to your lifestyle and who lives in the same city as you?
What's good about the nanos is, unlike larger influencers, they can keep making branded content long after you complete your contract. Sending some free products might work as a strategy and just a few mentions in posts can boost positively purchase decisions for their small followings.
Moreover, these accounts might tend to treat their micro influencer marketing work more seriously than bigger names. This is their chance to shine and show they can influence a purchase decision same as a person with a million followers.
Possible cons
As much as we endorse working with nano influencers, you should be aware of several factors that might be considered a downside.
Small-scale influencers might be industry experts but are not always considered as such by a broader audience. Combine that with sponsored content and they can easily lose trust. Be cautious about that.
Most nano influencers gather a rather engaged audience, but it's still a small-scale operation. You won't get as huge Instagram users flow to your site from a nano influencer as you would get from a mega influencer or macro influencer.
Smaller engagement. But at least it might be more conscious.
Less professional work environment. While working with people with an established reputation and a wide portfolio of collaborations you can predict professionalism and specific expectations, nano influencers might not be used to cooperation.
That being said, it's still worth at least considering nano influencer campaigns. Especially if you are struggling with coming up with new brand awareness strategies.
How to find nano influencers?
Here are some examples of how to find nano influencers:
Check social media platforms regularly
Search relevant hashtags
Use an influencer marketing platform
Reach out to customers/followers
Attend industry events
Look for local bloggers
Monitor brand conversations & UGC.
If you want to find your local nano influencer but don't know anything about social media, worry not. Countless tools will help you to get in touch with influencers.
First and foremost, ask your coworkers – there's a possibility that someone already follows an account that fits our description of a nano influencer.
Secondly, browse the brand mentions and hashtags on Instagram and Twitter. Sorting by recent will definitely help you discover lesser-known profiles. If you don't have time for that, below are some tools that can help you.
Tools to find related accounts
Instagram
First and foremost, start with the good old Instagram. It's free and the chances are you probably have an account there anyway (or your company). Find hashtags relevant to your brand and check the latest posts.
Visit other brands in your industry. See who tagged them in posts.
This way is certainly very time-consuming, but you can find a lot of accounts that might get omitted in other tools mentioned later. From there you can send a direct message to get in touch.
Additionally, you can use tools like All Hashtag or Hashtagify to find related hashtags, which may help you find more nano influencers.
Brand24
One of the features of Brand24 that will help you to establish partnerships with nano influencers is the social media monitoring tool. Analyse the influencer score within social media mentions to find nanos that will reflect what your brand is all about.
Brand24's sentiment analysis will help you find people with a positive attitude towards your brand or related keywords. The influencer score will help you distinguish personal profiles from celebs, but additionally, the tool will show you the number of followers.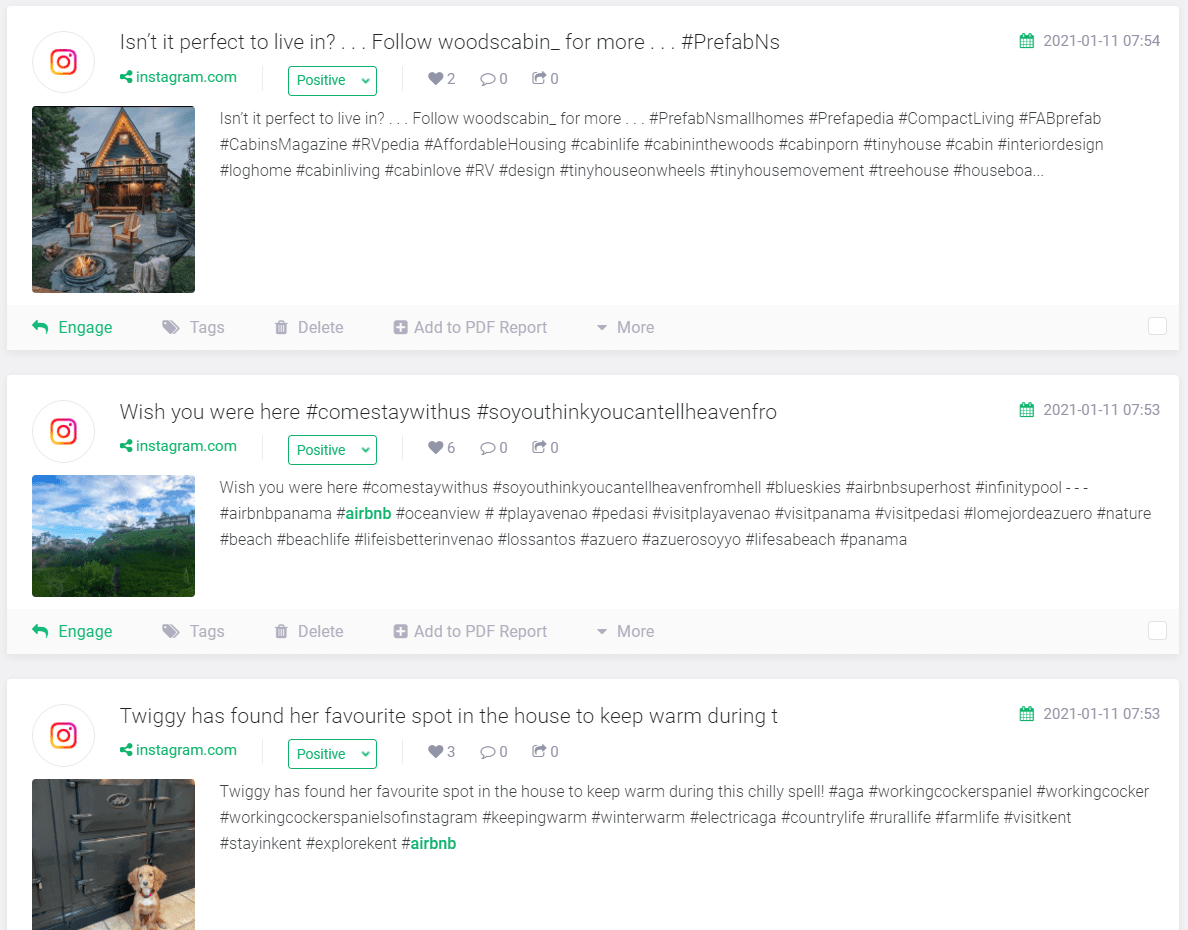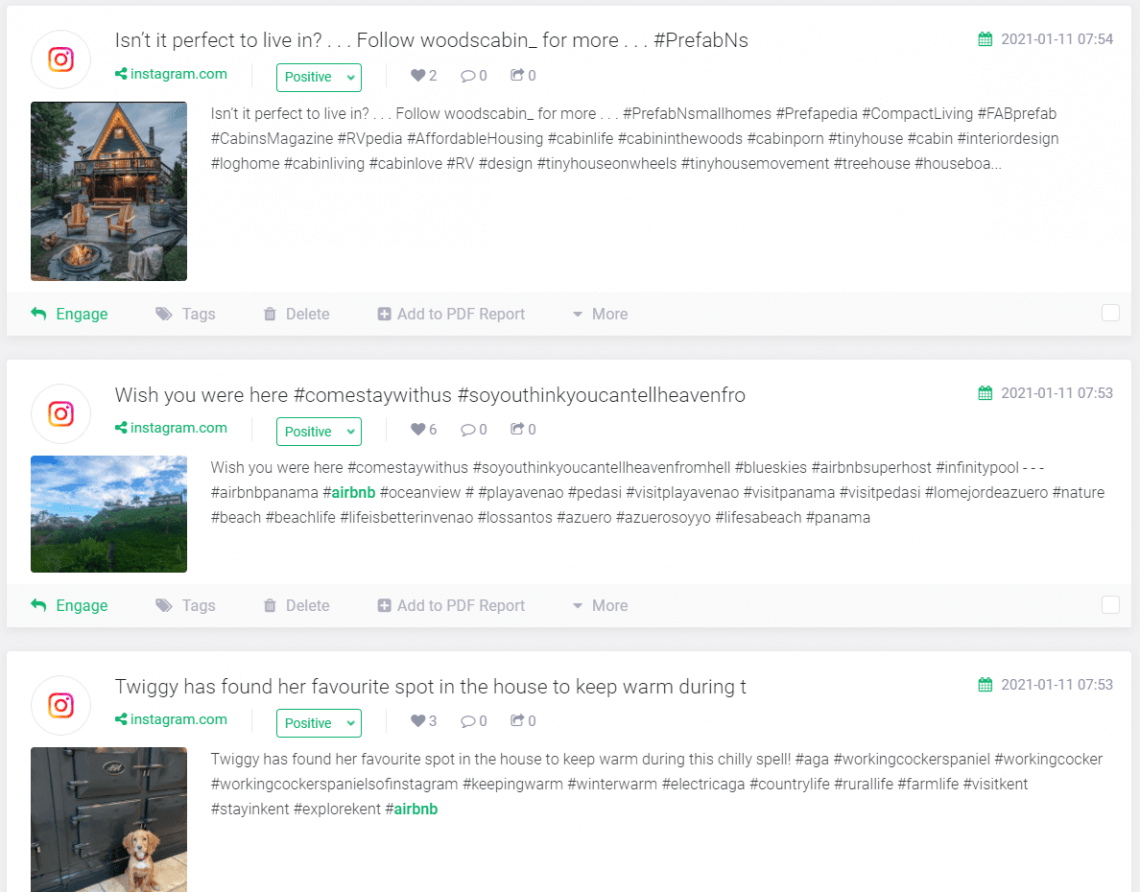 Brand24 is a tool that monitors online mentions about your company and related keywords. Find people talking positively about your niche.
Our tool will help you monitor your influencer marketing campaign. Not only will you see the latest mentions, but also you can set an alert when there's a spike in internet buzz around your related keywords and brand mentions.
Brandwatch
Brandwatch is another social media monitoring tool that might help you get in touch with nano influencers.
Similar to Brand24, you can monitor your brand mentions and related keywords. Various reports will help you audit the influencer marketing campaigns.
This tool is rather expensive, though, and designed rather for bigger enterprises. So unless your company already uses Brandwatch, other, cheaper marketing tools may be a more cost-effective solution.
Brandambassador
This tool works a little bit differently. In Brandambassador, the influencers find you, not the other way around. You can post tasks to complete, and various Instagrammers will sign up to deliver results.
This is a good approach if you don't have much time for research and outreach, but the downside is that these ambassadors might not always represent your values well, and have probably dozens of new partnerships each week, so they are not that focused on your niche.
Upfluence
Another internet tool that will help you to connect with the right influencers. Upfluence acts as a middleman between the brand and the Instagrammer. It also has built-in payment management and reporting system.
Again, this might not be the best way to find nano and micro influencers. Upfluence has similar downsides as Brandambassador.
Influencer marketing agencies
An influencer marketing agency usually deals with more prominent influencers, but they might have some lesser known-people in their portfolio, too.
Finding nano influencers might be time-consuming, but is certainly rewarding.
Read more: Top 7 Influencer Marketing Tools in 2021
How to establish a partnership with an Instagrammer?
Once you identify the micro influencers in your industry, it's time to prepare a strategy and reach out. Introduce yourself and your company, and present them with your offer.
Usually, the nanos are not "spoiled" with big brands yet, so it is your chance to establish a long-lasting partnership that will give you both satisfaction, and bring a continuous flow of users to your site.
When you start a conversation about the nano influencer campaign with the person of interest and they agree to become your brand ambassador, it's time to work on what content you want to promote.
Don't be afraid to use the creative team in your company to brainstorm ideas for an Instagram post and pitch it to the influencer. You might also want to help them financially with publishing a sponsored post to make the micro influencer reach a wider audience.
How much money do nanos make?
This is a question you will probably ask yourself after reading this article and deciding to work with a social media influencer. There are various ways you can pay the person and no definite and universal answer.
That being said, nano influencers are generally more cost-effective than top media personalities. Most partnerships can even be worked without money transfers – instead you can offer free goods in exchange for reviews. Try not to be too greedy, though. A happy partner means they are more likely to recommend your brand. Pay them too little and they won't be interested in working with you more than once.
Unfortunately, there's no definite answer on how much you should pay nano influencers. It all depends on the market you're operating on.
Examples of nano influencers
You can find nano influencers on all social media platforms, but we will focus on smaller-scale influencers of Instagram and how they approach brand endorsements.
Krzysztof Basel (@baselinbreslau)
Based in Wrocław, Poland, baselinbreslau is a photographer and a member of a few photography-related media. His Instagram account is devoted to beautiful pictures around the world. He can be considered a nano influencer, because thanks to his work he has almost unlimited access to photography-related equipment, and therefore can share it with followers.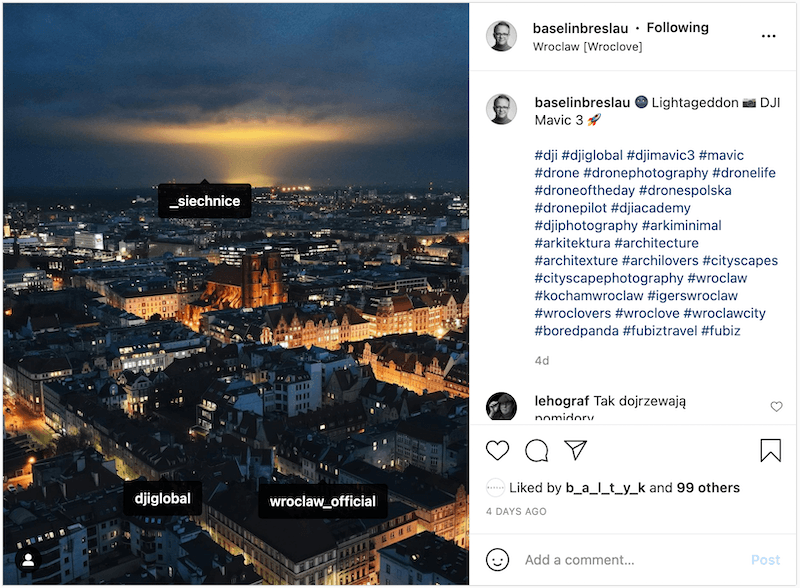 Fotis Mint (@fotismint)
Although Fotis is mainly active on Twitter, he also has a great social media presence and a solid Instagram audience. He is a digital sculptor and 3D printing enthusiast. On Instagram, he posts his creations that can be bought on other sites. This way he can promote various 3D printers and influence everyday people on which brands to consider.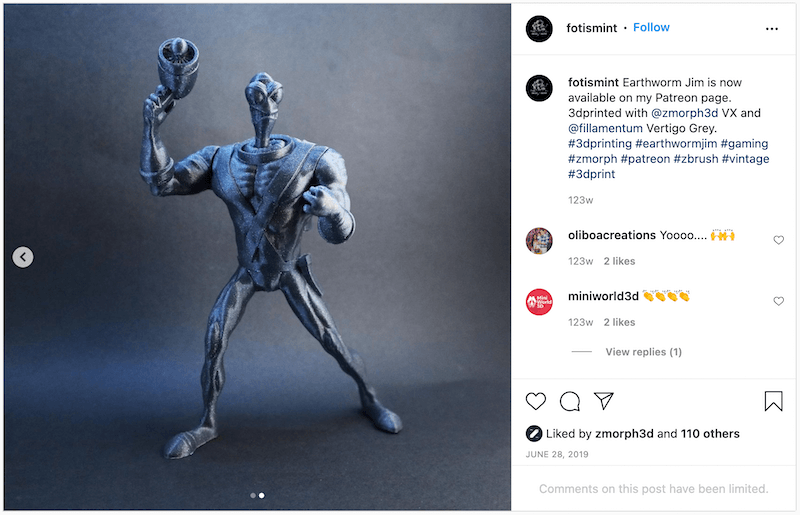 Check also: Twitter Influencers: How to Find Them + benchmarks
Dominika Muszyńska (@ninika.muszynka)
Polish Instagrammer talking about slow life and home furnishing. She's also based in the Wrocław area and works for a local clothing store. She's got an audience with a high engagement rate and occasionally she shares some collaborations with beauty products or lifestyle brands.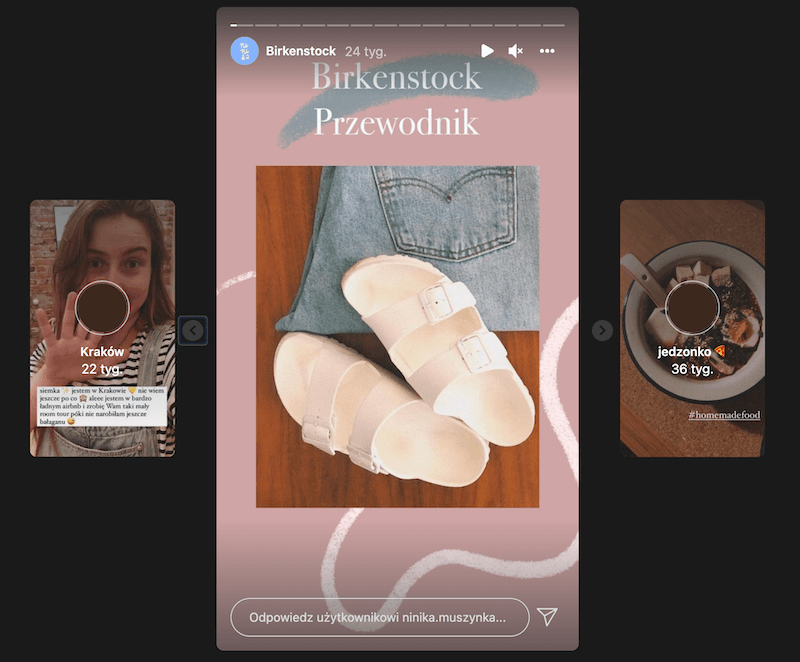 Other examples of brands working with nano influencers
The fashion brand Pleasures cooperates with nano influencers to show off how everyday people wear their clothes. Here's an example of an Instagram post featuring @cristina.lafornara, who has less than 10k followers at the time of writing this article.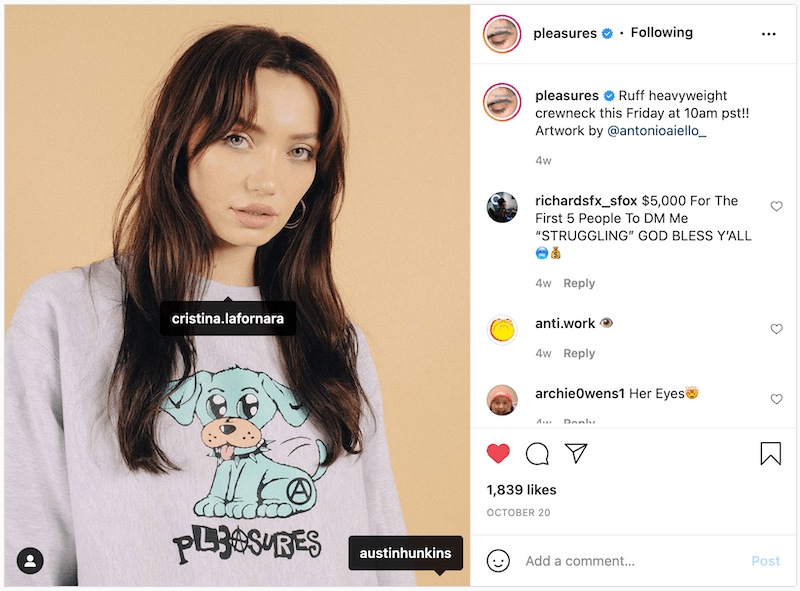 Key points to consider
Here's what you need to remember from this article about working with nano influencers:
Nano influencers are people with less than 10,000 followers on Instagram. They are focused on the local market or specific niche content.
Find the right tool to do social media research that will help you find the right people to connect with.
Remember to prepare an offer that will be attractive to both sides. Nanos want to earn money too.
Use any tool to monitor your influencer campaign. Some of the tools mentioned in this will help you generate reports and discover what people think about your brand.
You don't need hundreds of thousands of followers to become an influencer. Even a thousand followers can create a nice buzz around your brand.
Nano influencers tend to be more genuine and sincere than celebrities. Use that to your advantage.
See also other tips on how to find influencers.