Social listening is the process of actively looking for social mentions concerning your brand and thoroughly analysing the online chatter. Social media is the place where you can find customer insights, build your brand awareness, or run a successful campaign. To analyse all the data, you need a social listening tool.
Social media is a goldmine of customer insights that will give you a competitive advantage over your rivals.
There are, however, a few problems with retrieving the information you need from social listening.
First of all, you have to monitor all relevant social media platforms. That was a relatively easy task to do back in the day. Nowadays, more social media platforms emerge, and keeping track of all the mentions manually is a daunting task.
Secondly, you need to be able to analyse the results and draw actionable conclusions. A seasoned social media analyst can do it, given the time and resources. But most people, myself included, need some help with social media analysis.
That's where social listening tools come to the rescue!
We've selected the top 10 social listening tools to give you a choice of selecting a tool that suits your needs. Whether you're looking for a robust and affordable social listening tool or a solution for enterprises, we got you covered!
Here they are! The top 10 social listening tools:
Brand24
I bet you didn't expect that, did you?
Brand24 is one of the most strong social listening tools on the market.
The tool covers a wide variety of sources, including all major social media platforms.
Moreover, you will get social analytics such as:
estimated social media reach — to tell you how many people could have come in contact with your social media posts
sentiment analysis – to see how your brand, product, or campaign is perceived on social media
monitor the performance of your hashtags to help you assess the results of your marketing campaigns
the total number of social media likes, shares, and comments
the most popular mentions
top public profiles talking about your brand
Social media sentiment analysis is powered by machine learning algorithms, making it capable of delivering accurate results.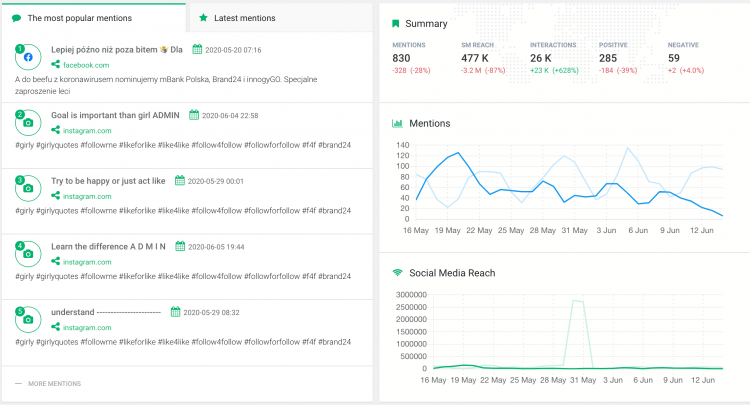 Another strong suit of Brand24 is the notification system. Every time there is a new mention in the dashboard, you can receive an in-app notification, a mail, or integrate your account with a dedicated Slack channel.
Brand24 collects publicly available mentions from Facebook, Instagram, Twitter, YouTube, TikTok, and Twitch.
Price: Brand24 offers a 14-day free trial. The price starts at $49 a month.
Brandwatch
Brandwatch is an enterprise-level social listening tool. It offers a wide range of functionalities, but the tool is quite expensive.
Brandwatch offers features such as:
geolocation
image recognition
powerful demographic data
API access
industry trends
Besides that, Brandwatch also offers a data visualisation platform called Vizia. Vizia helps you visualise the real-time data, and turn complex information into easily understandable insights.
But for all the insights and knowledge, you have to pay. Brandwatch doesn't offer a free trial period, and the monthly subscription starts at $800.
Tweetdeck
Tweetdeck is a social listening tool dedicated solely to Twitter.
Tweetdeck helps you manage your Twitter online presence, especially if you have to manage many different social media profiles.
Tweetdeck shows you all the tweets and Twitter feed aggregated in one dashboard. You can get an instant overview of your news feed, private messages, and trending topics.
Tweetdeck is a great tool, but it doesn't offer any advanced analytics, for example, social media reach or Twitter sentiment analysis. And this tool only works on Twitter.
Tweetdeck is a free social listening tool.
Tweetreach
Tweetreach is another social listening tool that will help you manage your Twitter presence and answer one very important question — how far did your tweets travel?
This social listening tool will help you discover important data about your social media account:
what is the best time to tweet?
what type of content gets the most engagement?
which hashtags should you be using?
who are your industry influencers?
Twitter assistant will also help you identify ways to improve your Twitter presence.
Unfortunately, Tweetreach only works on Twitter.
Tweetreach is a free social listening tool.
Buffer
No social listening tools listicle will be complete without Buffer!
Buffer will help you manage your social media presence across different platforms.
Buffer is a social media management platform. With the help of the tool, you can easily schedule social media posts and engage with your audience. It also offers one inbox for all your social media messages.
Buffer works with major social media networks, such as Facebook, Instagram, or Twitter. It also offers an audience behaviour unit that will help you create better targeted social media campaigns.
Price: Buffer starts of $35 per month
Sprout Social
Sprout Social is another social media management tool with a social listening twist. It offers social media automation that will help you manage your online presence and get the social listening insights you need to boost your business.
Sprout Social helps you manage your presence on Facebook, Twitter, Instagram, LinkedIn, and Pinterest.
Besides social listening, Sprout Social also offers social media management and publishing services.
Price: The social listening tool starts at $99 per month.
Keyhole
Keyhole is another social listening tool that offers both social listening features and social media management.
Keyhole lets you track the performance of your accounts through various social media channels and provides the data necessary for making informed decisions.
The social listening tool also offers social media analytics, letting you take a closer look at sentiment analysis, keyword clouds, and geographical data of your mentions.
One of the strong features of Keyhole is hashtag tracking. You can track the performance of your hashtags across different social media channels. The data can be used to measure the results of your social media campaigns.
Price: Keyhole's social listening plan starts at $199 a month.
Hootsuite
Hootsuite advertises as a social media monitoring tool and it lets you zero in on trends, topics, and social media profiles. That way, you can easily see what is going when it comes to your industry niche.
Hootsuite cooperates with another social listening tool — Brandwatch. Once you subscribe to Hootsuite, you'll be able to access audience insights that will help you make more informed decisions.
Hootsuite audience insights platform allows you to:
use a powerful set of filters (date, demographics, location)
identify industry leaders
discover how your brand is perceived online
get instant notifications once a keyword is used online
Price Hootsuite starts at $19 per month
BuzzSumo
BuzzSumo is a tool dedicated to improving your social media content. The tool will discover top-performing content, find influencers to promote your social media channels and monitor your predefined keywords.
We're interested in the last component.
You can create alerts and get notifications once a keyword that matters is used online.
But BuzzSumo is mainly a social media intelligence app. One of its strongest features is the assessment of shared content. That way, you can see what type of content performs best.
Price: BuzzSumo starts at $99 per month.
HubSpot
HubSpot is a go-to platform when it comes to social media management. The main aim of the HubSpot interface is to find the optimal way to grow your business using social media.
Part of the growth hacking is social listening.
HubSpot lets you write and share new posts, respond to comments straight from the social listening tool. One of the strongest features of HubSpot is the ability to nurture leads. If your main aim is to grow your client base through social media, HubSpot offers some interesting solutions.
Price: The social listening tool starts at $50 per month.
How do social listening tools work?
You have a selection of the finest social listening tools. But how do the tools work in the first place?
Let me explain!
This example is based on Brand24, a top social listening tool. Many social listening tools work on the same principle, so this social listening guide is universal.
Start your free trial here (no credit card required).
First, you need to choose the keywords you want to track. You probably want to monitor keywords such as:
the name of your company
the name of your product or service
your branded hashtags
your campaign hashtags
Once you set up a project, a social listening tool starts collecting all publicly available mentions.
From that moment on, you can delve into social listening analytics.
For day-to-day activities, check out the Mentions tab. The tab will give you a general overview of what is happening around your brand, for example, the volume of mentions, sentiment analysis, and a range of filters.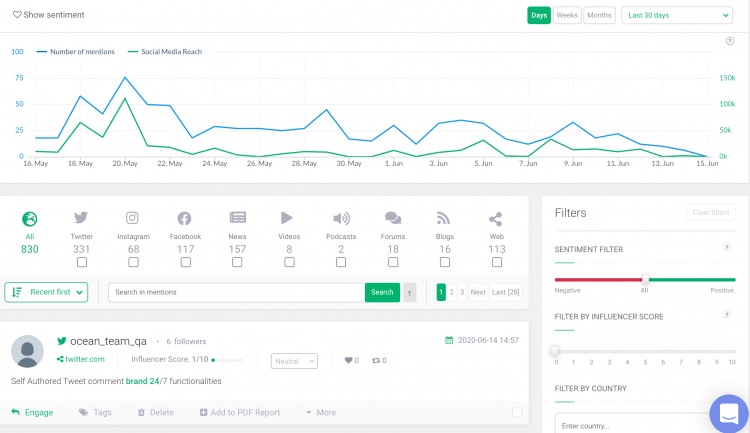 If you want some in-depth analytics, take a look at the Analysis tab. You will find the most popular mentions, mentions by category, trending hashtags, top public profiles, and keyword cloud.

If you need to compare two time periods, for example, to see the results of a social media marketing campaign, take a look at the Summary tab.
How to choose a social listening tool?
Before you choose a social listening tool that meets your needs, you should answer one question — what do you need?
There are social listening tools that will track multiple social media platforms, offer insightful analytics, and robust social media sentiment analysis.
There are also social listening tools that will offer many social media management features and a bonus in the form of social listening. The analytics of social listening might be a bit less actionable than in other tools, but you will be able to schedule social media posts right from the tool.
HANDPICKED RELATED CONTENT
What is media monitoring and analysis?
How to increase your reach on Instagram?
Top 10 brand monitoring tools
---
---