5 Social Media Reach Tools You Should Try
May 28, 2019 ・ 5 min read
Social media reach tools help you determine the results of your marketing campaigns. Measuring the results of social media activities allows you to adjust your social media messaging. The process of improvement helps you achieve your marketing goals faster and more efficiently. That's why you should put some thought into choosing the right social media reach tool.
Tracking the results of your social media activities will give you the right set of data that will help you develop your marketing strategy.
A data-based strategy is the best kind of strategy you could follow. It allows you to twitch your marketing tactics so that accomplishing your goals is almost a piece of cake.
Remember to measure social media reach not only of your own social media campaigns, but to also track your competitors marketing activities.
This will give you a general idea of who is potentially engaging your audience and what type of messaging could benefit your own social media presence.
So, here's the creme de la creme of social media reach tools.
1. Brand24
Surprised to see our own tool in the mix? Of course, in our humble opinion, it's one of the best social media reach tools on the market, but we're not alone! According to Buffer, Brand24 is one of the most robust tools on the market.
What makes the social media reach tool stand out from its competition? I could think about at least two aspects.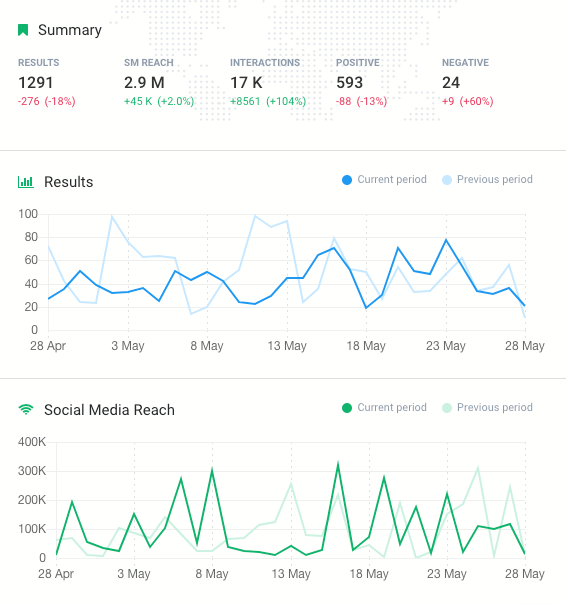 First of all, there is the quality of data. Brand24 gathers online mentions from different online sources, including Twitter, YouTube, and TikTok. You can not only see the social media reach of your hashtag or any other keyword you want to track on social media, but you can also analyse:
the volume of mentions;
sentiment around the posts;
type and number of interactions;
the share of voice of your account;
Slack integration, which means you will get instant notification
The amount and variety of data combined with advanced filters guarantee that you will get the actionable insights not some worthless noise.
The second aspect that might interest you is the price. Brand24 starts at $79 which makes it one of the most affordable social media reach tools on the market. Brand24 offers a 14-day free trial, no credit card required. 
Ready to give it a try? Set up your project!
2. Brandwatch
If you're looking for even more features and more in-depth analytics, take a closer look at Brandwatch.
Brandwatch is a social media listening tool that can also measure the social media reach of your posts.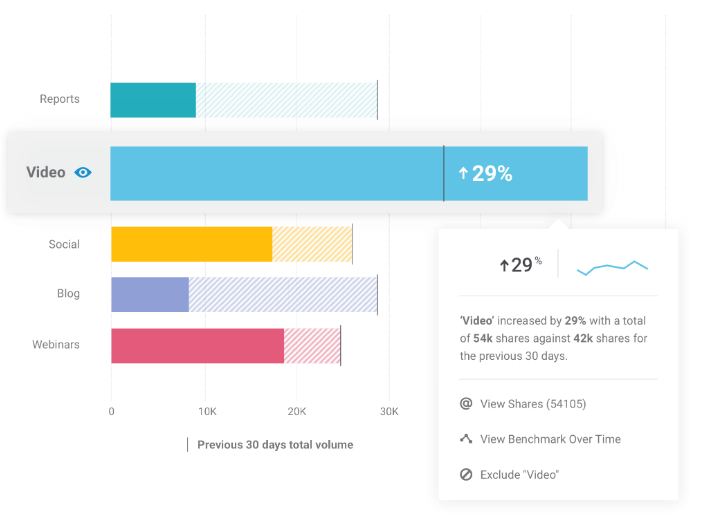 Brandwatch will not only collect all the data you need for measuring social media reach, it will also help you
avoid social media crises;
track brand health;
analyse trends around key topics in your industry niche;
collect insights on your audience and deliver more personalise message;
measure you share of voice.
What makes Brandwatch stand out from the competition is its analytics platform called Vizia. The platform visualises your marketing and analytics data, including social media reach.
Brandwatch releases its price upon request, you can schedule a demo here.
3. Hootsuite
No list of social media reach tools would be complete without Hootsuite! Hootsuite is a social media management platform with robust analytics.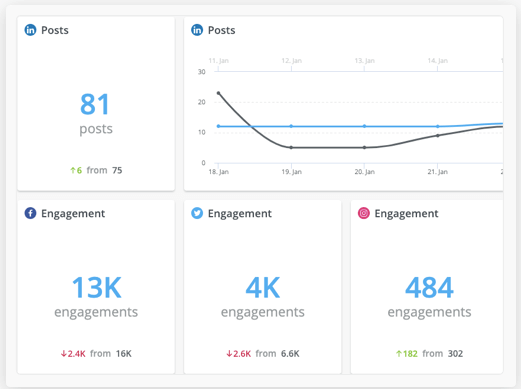 Hootsuite will measure the social media reach of your social media content. Moreover, you can:
prove your social media ROI with highly customisable reports;
measure how fast your team can deal with online comments;
integrate your Hootsuite account with other tools, including Brandwatch, KAWO for WeChat and Weibo, or Unimetric.
Price: Hootsuite starts at $19 per month for 1 user and 10 social media profiles.
4. Keyhole
If you want to focus only on social media analytics and, more importantly, social media reach, take a look at Keyhole.
Keyhole will help you monitor your hashtags across different social media platforms and monitor how people are using your hashtagged content.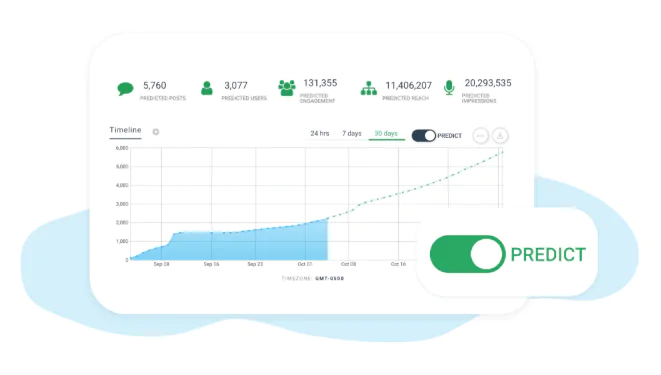 The tool will take a look at different social media analytics aspects, including monitoring your online campaign, monitoring your event, spotting the most suitable influencer to work with, and perform market research.
What's worth mentioning, is that Keyhole will give you access to historical data, so if you want to take a closer look at your previous social media efforts, set up a trial at Keyhole.
Price: To monitor 1 brand you have to pay $26.
5. TweetReach
You don't have to be present on every social media platform imaginable. Sometimes, it's better to become a master of one social media channel than to put your energy and time into broadcasting into the void. From many different Twitter analytics tools I recommend TweetReach.
If your audience is active mainly on Twitter, you can measure your social media reach only on that one platform. In this case, TweetReach should be your social media reach tool of choice.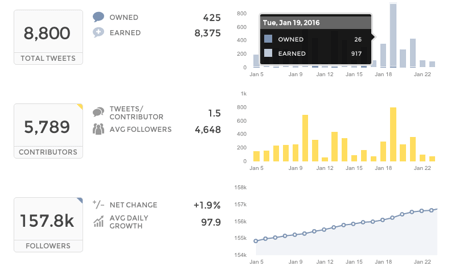 TweetReach, powered by Union Metrics, will collect mentions from Twitter and analyse them.
The social media reach tool offers many different features, including:
real-time monitoring;
full data coverage;
customisable reports;
tips and tricks for content optimization;
contributors analysis (where you can see who has been talking about your brand)
If you like the data and analytics provided by TweetReach you could always expand the application of the tool and track your social media reach not only on Twitter, but on other social media channels as well.
Price: TweetReach is free if you want to analyse Twitter, for additional coverage you have to pay $49 a month.
Why do you need social media reach tools?
I can't stress enough how important it is to measure the results of your social media activities. Once you know how your audience reacts to your content, you could undertake actions to either improve your social media reach or boost it.
But the improvement process has to start with a set of reliable data. That's why choosing the right tool is essential for your social media success.
HANDPICKED RELATED CONTENT
How to Measure Social Media Reach
5 Social Media Stats that Matter