6 Social Media Marketing Tips for Small Business
April 15, 2019 ・ 9 min read
Social media marketing can be a powerful tool for a small business, but you need to know how to use it. It can help you to increase brand awareness, get new clients and, finally, earn more money but also can consume huge amounts of time and money without any return when used improperly. Read about six social media tips for small business and improve the efficiency of your marketing campaigns.
Here are social media tips for small business I'd like to tell you about:
---
Remember about choosing the right Social Media platforms for your business
One of the biggest and, unfortunately, popular mistakes I recognized that small businesses do, is using social media marketing without any research. You need to know that every social media platform is characterized by a specific type of content, a frequency of publicizing posts, length of posts, etc.
Also, not every platform will be suitable for your business and, having in mind that you don't want to throw the money down the drain, you don't have to be on every social platform that exists.
What's more, you shouldn't be everywhere. Just focus on a few platforms where your business is actually being talked about, where your potential customers may look for your products / services.
Which social media platforms are right for your business?
You can easily check it by using our tool which is free for the first 14 days as a trial version. Here you can create your free account.
Next, type keywords related to your business. I'll suggest:
your brand name
your product name
and your branch name.
Having these keywords, our tool will show you all the mentions containing your keywords. To check what social media platforms are right for your brand, go to the "Analysis" section and then have a look at "Mentions by category" and "Most active sites". Here you have listed platforms with the biggest amount of mentions related to your keywords.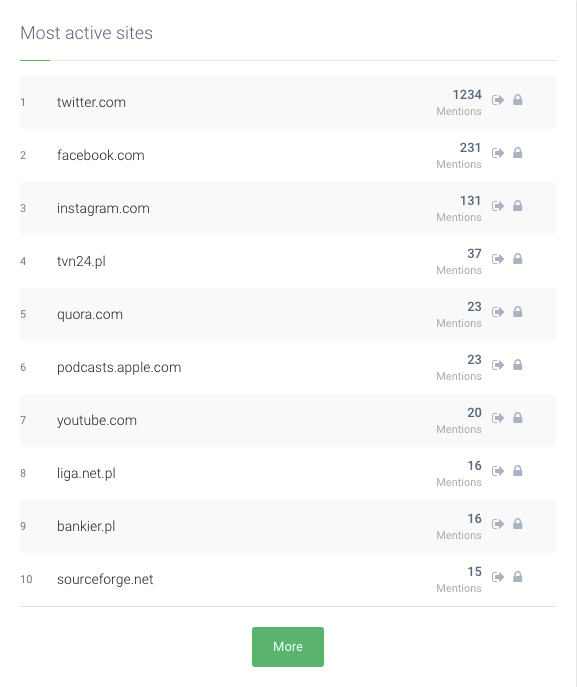 Tip: Try to be specific and avoid general phrases. For example, if you are managing a project for an Italian restaurant, don't use phrases like "Italy" or "cuisine" because you'll get flooded with unnecessary mentions unrelated to your business.
Another way to avoid unnecessary mentions is the possibility to set required and excluded keywords. Out tool will collect mentions only with required keywords and delete keywords including excluded keywords. You can set those keywords in the "Project Settings" tab.

With this data, you know on which platform your business is popular and where your potential clients may look for info about your products/services so reaching them will be much easier.
---
Focus on building relationships
Research conducted by Sprout Social showed that 76% of responders were more likely to buy from a brand they felt connected to on social media than a competitor. What is more, according to The Social Habit, 32% of customers expect a response to their question within 30 minutes online.
This data shows us how important in building relationships with clients is talking with them. Nowadays your brand can be closer to the customers than ever was – make use of it.
If somebody asks you anything in a comment or sends you a direct message – you are obligated to answer. In most cases, it won't take a lot of time but the outcome can exceed your expectations.
Another important factor in building relationships with clients is showing your human side, especially when your business is small and quite young. When people will see that there is a real person on the other side they'll be more likely to trust that you are a legit company.
Feel free to:
Introduce your team
Use a friendly tone while communicating with customers
Use your follower's name while answering their comments
Emoji are also welcome when it fits your business.
Avoid being just another faceless company, especially while conducting social media marketing for small businesses. If there is a special day like, for example, International Women's Day, post a funny video with wishes or photos with flowers brought to your office by a male part of the staff.
Show people that your company is a living structure, not a soulless machine.
---
Learn how to show appreciation
It is connected to building relationships with your customers. Again, it doesn't cost you much but can give you much more than you predict.
When somebody is using your product, your service and is talking about it on social media – react!
It doesn't have to be something big, just say "Thank you", reshare the post. It won't take you a lot of time and effort but you'll show your customers that they are important for you, that you care about what they say about you.
How can I know that somebody is talking about me?
With the help of media monitoring tools, it's a child's play. Just open your dashboard and go to "Mentions" section. Here you have listed mentions and can easily go to their source to answer them.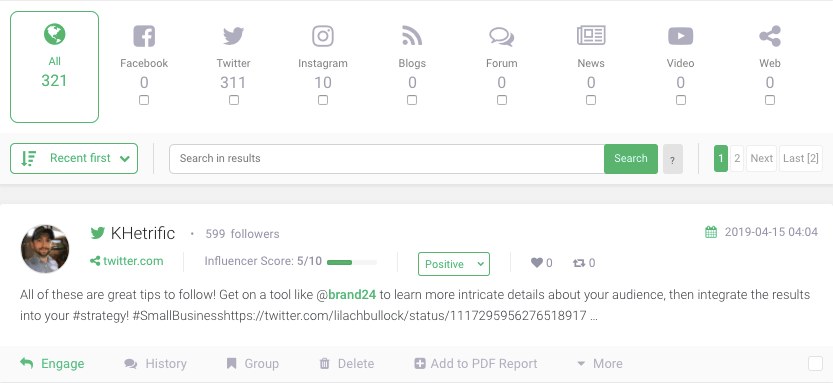 ---
Do not forget about measuring the effectiveness of your marketing
It should be obvious for you and you should treat this as a verification of your activities and indicator in which direction you should go.
Without measuring your campaigns you can lose the money spent on it and your effort will be in vain. I can bet that this point appears on most of the blogs with social media tips for small businesses.
But first, think about what your goals are, what do you want to achieve by running social media promotion activities.
It can be:
Increasing your brand awareness by expanding your reach on social media
Reaching new fans / followers
Providing customer service
Selling your product by social media.
etc.
Of course, you don't have to choose only one goal. You may assign different objectives to different platforms.
For example:
If you are a hotel manager, you can reach new followers by showing nice pictures of your hotel and the surrounding area on Instagram and use Twitter to answer your customer's questions.
Tip: Remember about setting SMART goals – specific, measurable, attainable, relevant, and timely.
With specific goals, you can measure them. You can do it by using our app. In "Mentions" tab, you can see a chart showing changes in the number of mentions, social media reach, likes and shares of posts containing your keywords.



In the "Analysis" section you can see metrics like:
Results – total number of mentions in a selected period of time
Estimated Social Media Reach
Social Media Interactions
Social Media Shares
Social Media Likes
Social Media Comments
Positive Mentions
Negative Mentions.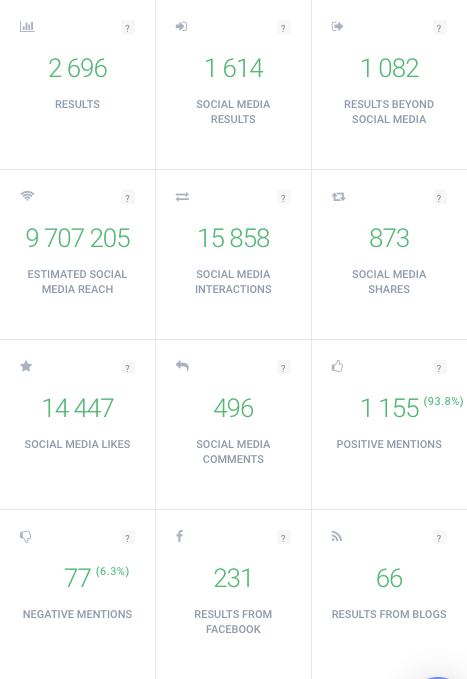 ---
Learn how to manage a Social Media crisis
Although it may not happen to you, it's the knowledge that you definitely should accrue. It's one of the most important social media tips for small business.
Social media crisis management is something that distinguishes a good social media manager from a bad one. It's easy to write a post, create a fanpage but knowing how to deal with social media crises can be priceless. And sometimes may save your business from collapse.
What is a social media crisis?
It can take very different forms but I'd like to focus on the most important one – an unhappy client complaining about your product / service online.
How do you catch a client like this coming in?
Just observe mentions about you and pay attention to Sentiment. It examines the mention and tells you if it's positive or negative. Also, if there is a huge intensity of mentions in a short time you'll get a Storm Alert on your mail. Just like on the screen below:


Learn more: Read this article to get to know how to set up notifications like Storm Alert.
Here is the first lesson – an unhappy client is your fault. Period.
Even if the complaint may be exaggerated to you, you can't leave your unhappy client alone. You are obliged to react, same as I told you when we were talking about happy clients.
It's a part of building relationships, and it should be one of your priorities if you are managing social media marketing for small business.
Just assume that if anybody is complaining about you, your company, your product it's because of your oversight. You are only human and making mistakes is a human thing.
Of course, it may be exaggerated but then just admit that the client is right, apologize, offer something in compensation.
For example, if you are a hotel manager and somebody will write a comment on your Facebook page that she or he got a smaller room than expected just apologize, admit your mistake and offer free weekend or something like this. With a proper room of course.
Just treat it like a part of your job, that unhappy client may appear and be ready for it.
The second lesson – you are not allowed to argue with a customer. Never.
As I said before, you are only human and you have a right to make mistakes. Admitting it shows other followers and clients that you are a serious businessman and you can take responsibility for your mistakes and you can save your face.
When you start to argue, the unhappy client may feel under attack and other followers may start to defend him and then you have an army against you. In the worst cases, they may do screenshots of your impolite answers and you'll end up as a bad case practice for the rest of the industry.
Believe me, you don't want that 🙂
And last but not least…
---
Be patient
Yes, patience is one of the most important factors in social media marketing for small business. Be prepared that you won't get tons of followers, likes, comments, shares, etc overnight.
What's more, building a strong and trustworthy social media presence may take years but it's worth waiting. Just be patient and trust your journey, take care of your clients and followers, give them valuable content they are looking for, put into practice these social media tips for a small business I've described to you and enjoy your journey.
Then, little by little, you'll get more and more unique followers, your profile will be more and more popular and more and more potential customers will choose you beyond the competition.
Tip: Every time you buy fake followers, likes or comments, a panda bear dies somewhere in the world. Don't do that, please.
HANDPICKED RELATED CONTENT
How to Track Social Media Mentions
Bulletproof Marketing Tips for Small Business