5 Social Media Stats That Matter
May 20, 2022 ・ 9 min read
"Figures don't lie" the old saying claims. Analytics and social media stats are often overlooked by social media marketers, as you need a certain set of skills to understand stats and draw actionable conclusions.
To achieve your social media goals, you have to analyse the social media stats regularly.
If social media stats are a must-have when it comes to marketing activities, why so many marketers neglect social media stats?
There is an abundance of choice when it comes to social media statistics – some of them are useful and informative while others will only cause an unnecessary distraction or could even provide false information.
Where do you start when it comes to social media stats? What's important and what's not? Hopefully, this blog posts will help you to distinguish the actionable insights from the Internet noise that will hinder your marketing activities.
Take a look at what's inside:
Social media marketing stats
The term social media marketing stats can have a different definition for different people.
For some, social media stats will be only about the hard numbers concerning different social media platforms. Just like these:
Facebook adds over 500,000 new users per day.
Over 300 hours of footage are added to YouTube every minute.
About 270 million profiles on Facebook are fake profiles.
There are more than 5 million active advertisers on Facebook.
Twitter has 1.3 billion accounts, with 330 million monthly active users.
Twitter users send 500 million Tweets each day.
An average YouTube user watches 40 minutes of YouTube content a day.
More than 95 million photos are uploaded every day to Instagram.
The list can go on and on!
These social media stats might seem like a nuance at first, but they do provide you with valuable pieces of information.
The digitalisation of almost all every day activities means that the channels marketers use for communication change and we have to be prepare to react quickly.
A new social media channel will pull some of the users from existing ones. If you see a drop in the number of monthly active users or an average time spend on social media platform, you should investigate the matter further.
Examining the changes in social media stats shows the need to change your social media strategy.
Social media business stats
Other type of social media stats are called social media business stats. Those numbers are strictly related to your social media presence.
Social media business stats provide many actionable insights, including:
which social media platforms should you be using
what type of content is the most popular among your audience?
who is sharing your content?
how do people feel about your messaging and your brand?
Following your social media stats will also help to determine the outcomes of your social media campaigns. That will help you establish which social media tactics effectively help you reach your goals and which you can scrap all together.
As you can see, there is a lot of actionable insights available, all you have to do is dig them up.
Take a look at 5 social media stats you should analyse regularly that will give you all the insights you need to improve your social media presence.
All of the results are based on Brand24, a top social media listening tool.
You can start your free trial here, no credit card required.
Brand24 analyses data from social media platforms such as Twitter, YouTube, or TikTok.
Of course, you can take a look only at separate social media stats, but examining all of them will provide a more holistic view.
1. Number of mentions
That's the first and basic social media stat you should take a look at.
Volume of mentions shows how many times the name of your brand, hashtag, or any other keyword you're monitoring has been used on the Internet.
Volume of mentions can be examined within specified time frames. The stat will fluctuate, as it depends whether you're running a social media campaign, are experiencing a social media crisis or just conducting regular social media activities.


A sudden spike in the number of mentions could be caused both by positive and negative factors.
It might be a result of a well-executed social media campaign with clearly defined social media goals.
But a rise in the number of mentions could also indicate a social media crisis in the making.
That's why, besides the number of mentions, you should take a look at another social media stat.
2. Sentiment
Sentiment analysis tells you how people feel about your brand. The tool recognises words with positive and negative meaning and categorises the mentions accordingly.
Sentiment and volume of mentions goes together like peanut butter and jelly.
A high volume of mentions and negative sentiment is an indication of a social media crisis you should take care of before it escalates.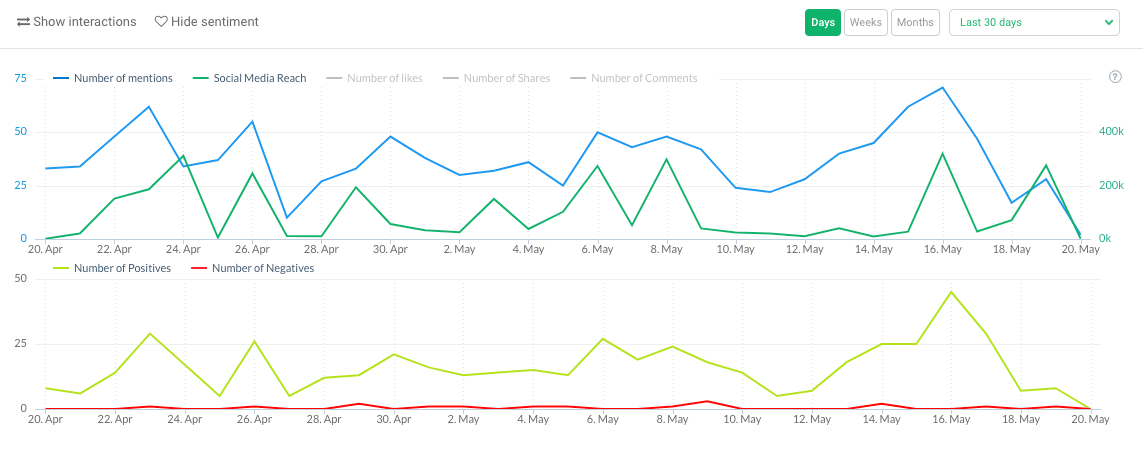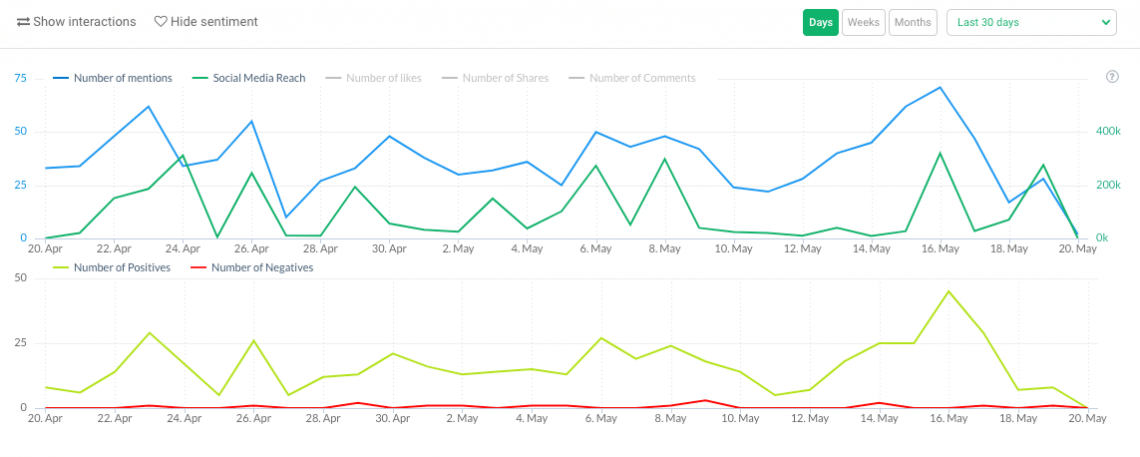 A positive sentiment and low volume of mentions means you should try to raise your brand awareness and increase your social media reach. 
Moreover, you can always react to negative mention and contain the crisis. Keeping your finger on the pulse will save you from a lot of troubles and will help you establish your brand reputation.
Engaging with users who speak highly of your company will also have a positive impact on your company. It will help you build loyalty among your existing customers and could turn them into brand ambassadors.
3. Social media reach
Once you figure out the volume of mentions of your posts and the sentiment, it's time to analyse who is able to see your content. To do this, take a look at the social media reach metric.
Social media reach determines how many people could have seen your content. The social media listening tool takes into account the number of shares and followers a social media account has.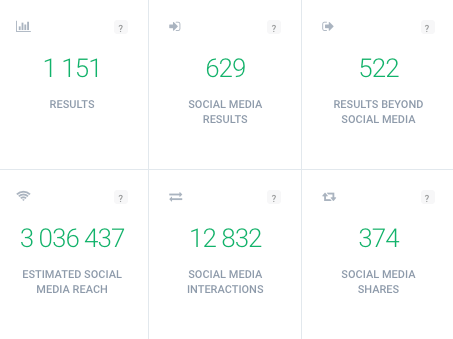 The more people share your content, the higher the social media reach, that's quite obvious.
More popular content will build your brand awareness and establish your company position as an industry leader.
Building brand awareness will translate directly into more sales opportunities. When your potential customers identify your brand with service or product they want to purchase, they are more likely to choose you over your competitors.
4. Social media interactions
Social media interactions are combined number of likes, comments, and shares under your social media posts.
This social media stat is a great help when it comes to getting some help with social media algorithms.
The order of social media posts on your wall is carefully curated by social media algorithms.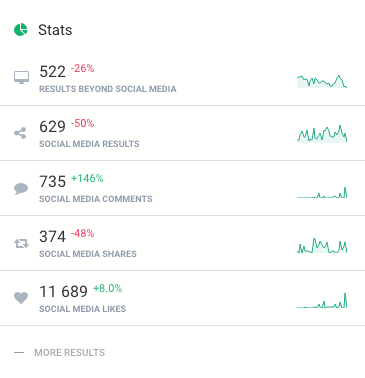 How the algorithms operate is a carefully guarded secret but one of the factors you should take into account is how people react to your content.
Are they willing to leave a comment or share the post with their family and friends? The more social media interactions your posts have, the higher they will rank on your followers feeds.
The number of interactions is closely correlated to the social media reach. Counting likes and comments under your post is not only an exercise in vanity, it has some use when it comes to your social media goals.
5. The share of voice
Last social media stat you should follow is the share of voice. It's one of the most important social media stat, yet it is often overlooked by social media managers.
The share of voice indicates what percentage of the online chatter is generated by your social media presence, compared to your competitors.
You can calculate the share of voice easily. All you have to do, is divide the total number of interactions of your project by the total number of interactions for your market niche.
The share of voice will help you determine your position on the market. The social media share of voice will give you a big picture of the market you operate in.
The share of voice is also an important metric when it comes to determining the outcomes of your social media campaign, especially if the goal is to raise brand awareness.
The insights from your SOV analysis will give you additional data you could use to improve your future marketing campaigns.
How to compare social media stats?
There are three ways you can compare social media stats, and thanks to social media monitoring tool, all of them are equally easy.
Comparing different time frames within the same project
You can compare different time ranges within the same project. All you have to do, is go to the Summary tab. The difference is visible under the current metrics, so you can't miss it.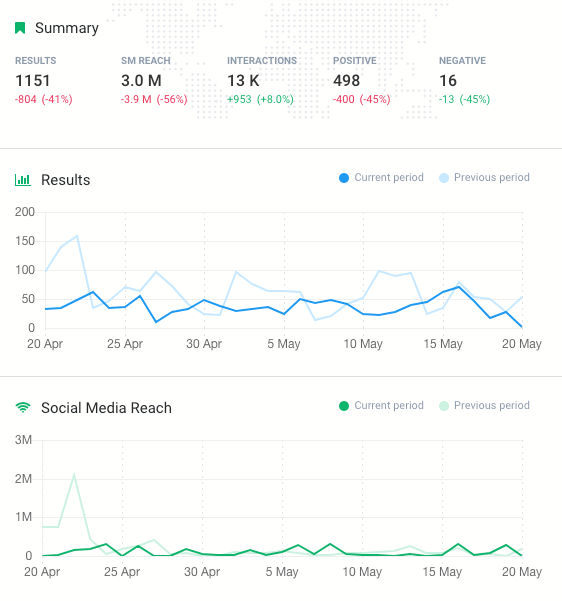 It will always be compared to the time period you currently analyse, e.g., if you want to analyse the last three months, the tool will also generate social media stats of the previous three months.
This approach will be great if you want to examine the changes you implemented in your social media policies or compare a period when you run social media campaign to one with your normal social media activities.
Comparing different projects
You might want to compare two different projects. This feature is useful if you have two separate marketing campaigns and want to know which one was more successful.
You could compare two campaigns run on different social media platforms, with different hashtags, and different content.
That way you'll have an idea what works and what doesn't for your brand.
All you have to do is set up two separate project and compare the results once the campaigns ended.
Comparing your results with your competitors
The beauty of social media monitoring and social media stats is that Brand24 gathers publicly available mentions for any keyword you choose.
Which means you can easily compare your marketing efforts to your competitors. And that's a goldmine of knowledge!
Analysing the results of your competitors campaigns can save you a lot of money. You could see what type of content works within your industry and what doesn't.
How to report social media stats?
Now that you have all the data you need, it's time to present them in a comprehensible way. Sharing the data with your team or showing the results to your C-suite is a necessary step to a successful social media campaign.
That's why we developed an option to generate a PDF report.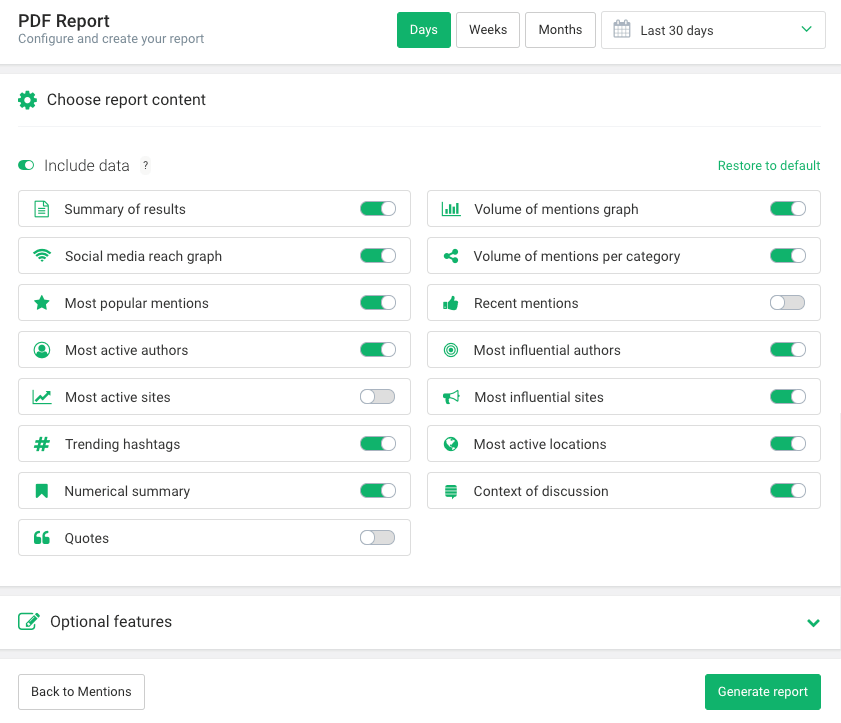 The reports are customisable in almost every way possible, which means you can not only choose the stats you want to show, but also add your logo or company colours.
Check: How to Create a High-Quality Social Media Report?
Why do businesses need to use social media stats?
You can improve your results only if you measure them. That's why you should check on your social media stats regularly.
We live in a constantly changing world and keeping up-to-date proves more and more problematic. One of the ways to stay ahead of your competitors is to analyse the numbers in-depth and act quickly whenever something out of the ordinary happens.
HANDPICKED RELATED CONTENT
How to Measure Social Media ROI?