Welcome to our another case study – this time we describe how web and social media monitoring helps in the hotel industry.
Founded in 1997, Satoria Group uses web monitoring to manage their hotels and provide customer service and experience of exceptional quality. Some of the hotels they manage include: Best Western Hotel Felix, Start Hotel Atos, Promenada Centre, or Augustów Medical SPA Resort.
According to Trip Advisor, 98% of hotel guests make their decision on the basis of online reviews. Having this in mind, Satoria Group monitors online news and reviews of the group and particular hotels they manage. What's more, according to Cornell University and ReviewPro, better reviews translate into the increase in the numbers of reservations and RevPAR (revenue per available room).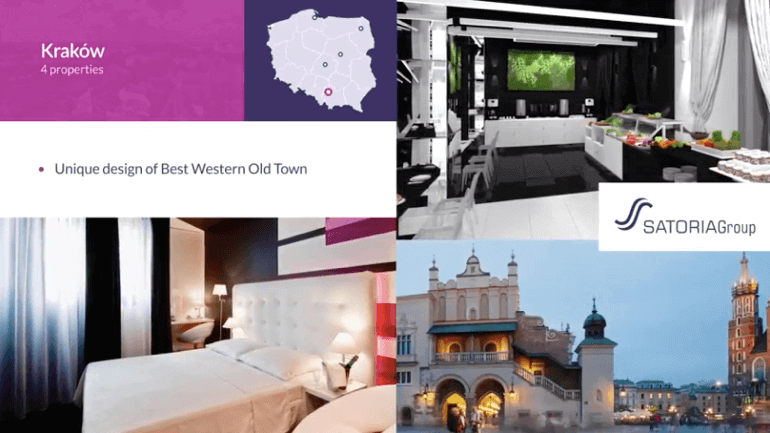 Brand24 collects hotel mentions from booking sites, discussion boards, blogs and social media – by monitoring them, Satoria Group knows what their customers talk about hotels online.
To have an easy and effective insight into mentions and statistics, Satoria Group divided each hotel into a separate project to monitor. It ensures that notifications for each hotel arrive separately.
Managing Hotels and Social Media Marketing using Brand24
Satoria Group knows the value of customer feedback for business development.
That's why they monitor customer feedback and are aware of all online conversations, discussions and sources mentioning one of their hotels. This way, they can manage their online reputation, monitor their competitors, acquire customers or identify brand ambassadors.
Patryk Ciszewski E-commerce Specialist, Satoria Group SA
We realized that Brand24 is a perfect solution for us yet during our trial period.

During the second day of the use, with the help of Brand24 we learned about a pricing mistake on one booking site. Thanks to Brand24 collecting all mentions in real time, we quickly spotted the mistake and corrected it.
Satoria Group uses tools that aggregate content from booking and review sites. These tools work well, however, they don't provide a full spectrum as they don't monitor discussion boards, news sites, or social media. This is where Brand24 comes useful. It allows not only to manage reputation but also reach out to potential customers.
They also use social media monitoring to identify customer leads. To do so, they look for events taking place in cities where they hotels are located. Then, they get in touch with event organizers, offer discounts for participants in return for placing their reservation widget on the organizer's site.
"Good research and finding many events that we can contact is crucial. We do this using Brand24."
ROI from Social Media Monitoring
10 cooperations with events
~ 100 valuable insights from customers
Social media monitoring helps Satoria Group to identify brand ambassadors.
It's awesome that you can have Brand24 without any long-term contract. Monthly subscription is a great solution that works for us well. What's more, customer support is quick, helpful and proactive.
You can try Brand24 out for free. No credit card required.