How to discover consumer insights using media monitoring?
October 6, 2020 ・ 8 min read
Businesses of all kinds do everything in their power to satisfy consumers. They are in constant search of new ways to improve their products or services. What makes achieving this goal a lot easier are consumer insights. Discovering and drawing conclusions from them makes meeting customers' expectations a lot more successful.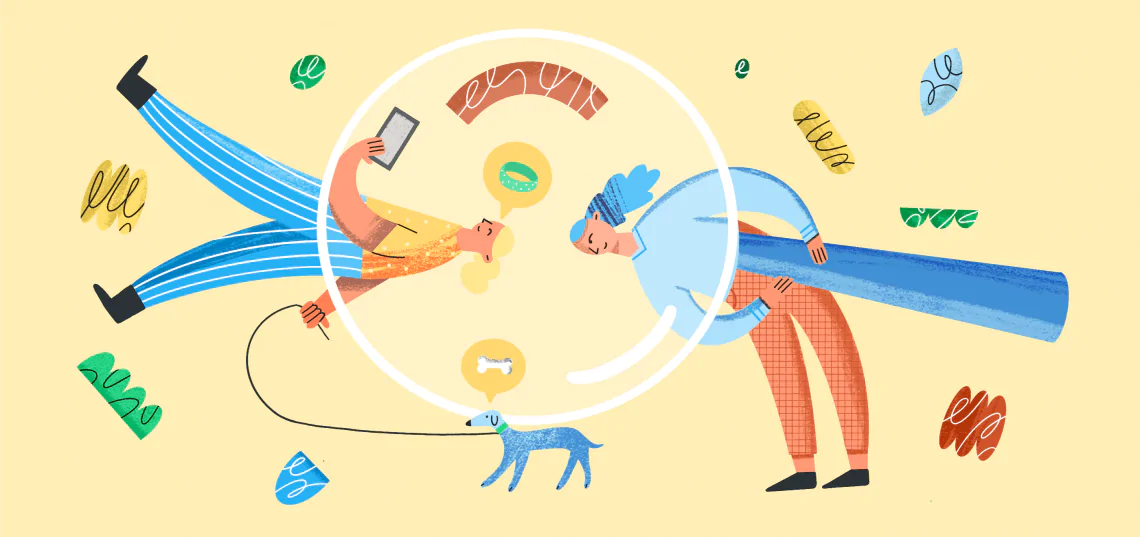 If you own a brand and wonder how to read your customers' minds in order to satisfy them, you need to master discovering consumer insights. In this article, I will do my best to show you:
What are consumer insights?
Consumer insights reflect valuable information about your target audience – their characteristics, preferences, behaviors. They help you identify customers' needs and wants as well as get a better understanding of their pain points. Knowing consumer insights creates an opportunity for you to learn more about your current and potential clients.
Analyzing those insights and drawing conclusions from them allows you to develop your products and services, offer desired features, and improve any inadequacies in order to satisfy your consumers and meet their needs.
To put it more simply – the more you know about your target audience and the more you try to understand their motivations, the easier it gets to create a solution that will be the answer to their issues.
The same goes for campaigns. The deeper you dig into your audience's expectations, the easier it will be to create an advertisement that reaches them.
Examples of great consumer insights
One of my favorite campaigns, that have been created based on a great consumer insights (please don't judge me, I am a woman) is the one started by Dove in 2004.
What was the insight?
An indication that only 2% of women consider themselves beautiful.
What was the aim of the campaign?
To make women feel comfortable in the skin they are in, to create a world where beauty is a source of confidence and not anxiety.
The For Real Beauty campaign started already back in 2004 as a series of billboards and it turned out to be a huge success.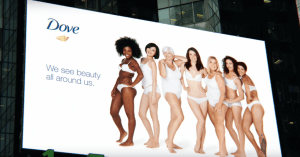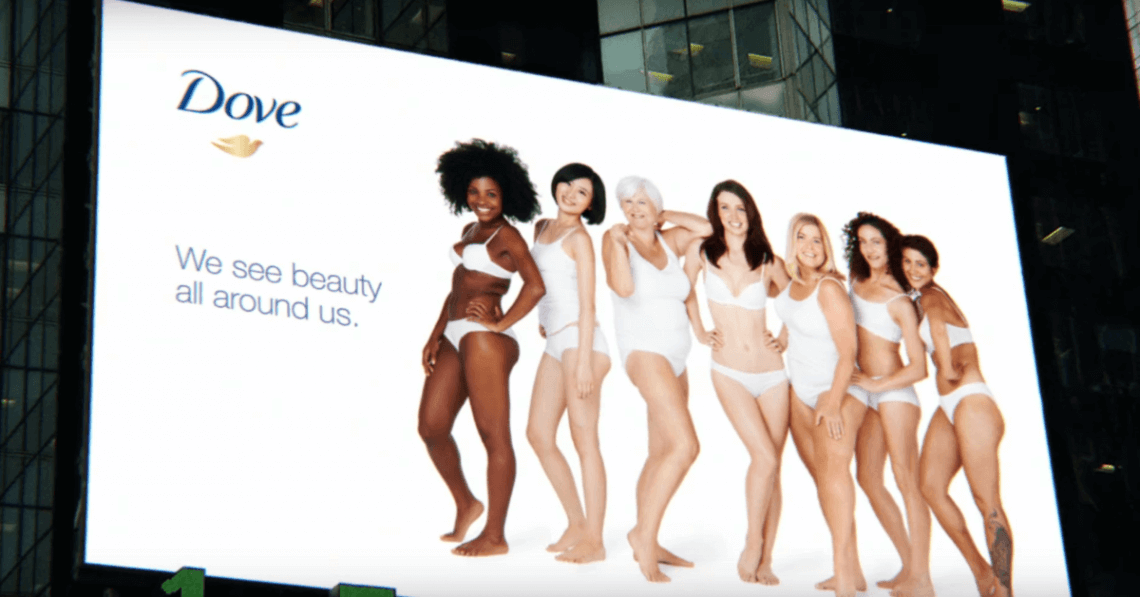 Next, as a result, the campaign expanded into a series of television spots and viral videos. One of the most known videos of the campaign is Real Beauty Sketches, as it came across incredibly positive reactions among the public (especially women) and media.
Let's have a look at a couple of example consumer insights that I found online. The following posts refer to popular companies. They could easily consider these opinions while developing their products or services. These kinds of suggestions are the consumer insights we are looking for!






As you can see, all of these tweets are posted by Uber Eats and Apple's target audiences. They contain amazing consumer insights but because the clients didn't tag the brand, it would be difficult for them to find these suggestions.
That's why I thought I would give you a couple of tips on how to discover consumer insights.
How to collect consumer insights?
There are multiple ways of finding consumer insights. Most of the techniques are based on research and data analysis.
Methods like:
surveying,
focus group interviews,
observations,
are widely known and used by companies while looking for consumer insights. They give an opportunity to ask a target audience specific questions, which can become a source of valuable information. These forms of research enable one to acknowledge people's thoughts, feelings, perceptions, and opinions in order to understand their needs.
These methods are not suitable or easy for every type of brand though. Especially not for small businesses, or the ones that are just now starting in the industry. They often do not have enough resources or budget to spend on discovering consumer insights.
Also, not all customers are likely to share their thoughts and feedback in confrontation with the brand. That's why it's important to use other forms of finding consumer insights as well.
Nowadays the Internet is a place where people mostly speak their minds – they share their thoughts, opinions, feedback, and suggestions. They often do it on social media or other websites.
It is good to keep up with what's being said by your target audience about certain types of products, brands, or industries on different platforms, other than social media as well – on blogs, forums, reviews sites, or in podcasts.
Your target audience's public posts and comments posted online are full of insights, believe me. Analyzing and drawing conclusions from them can be really effective, as it allows you to get to know your clients a little bit more personal. It allows you to find out about their needs and pain points, that you would never think about.
How to discover consumer insights (using media monitoring)?
Media monitoring works wonders when it comes to discovering and collecting consumer insights. Solutions like Brand24 make the process of finding online opinions, suggestions, and feedback a lot cheaper, easier, and less time-consuming. It browses the Internet for you and allows you to reach public posts, comments, conversations that you probably wouldn't have found manually.
How to start?
Create an account, start your first monitoring project, and enter keywords of your choice.
Discover consumer insights with media monitoring.
Think about keywords that you think your customers are using while mentioning your brand or specific products.
You can create a separate monitoring project to track your competitors or your industry in general. These mentions may give you valuable information about your target audience as well.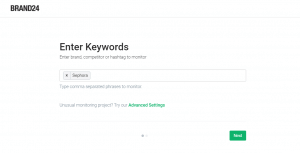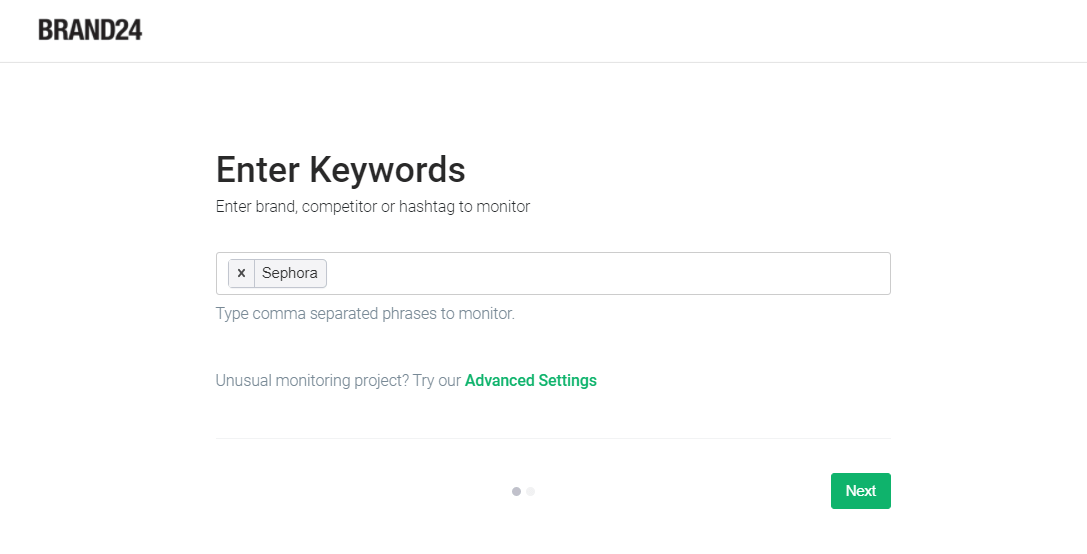 Brand24 will collect mentions connected to entered keywords from now on. Moving on, you will see the dashboard.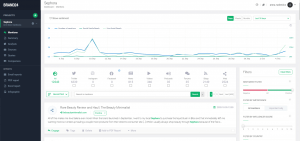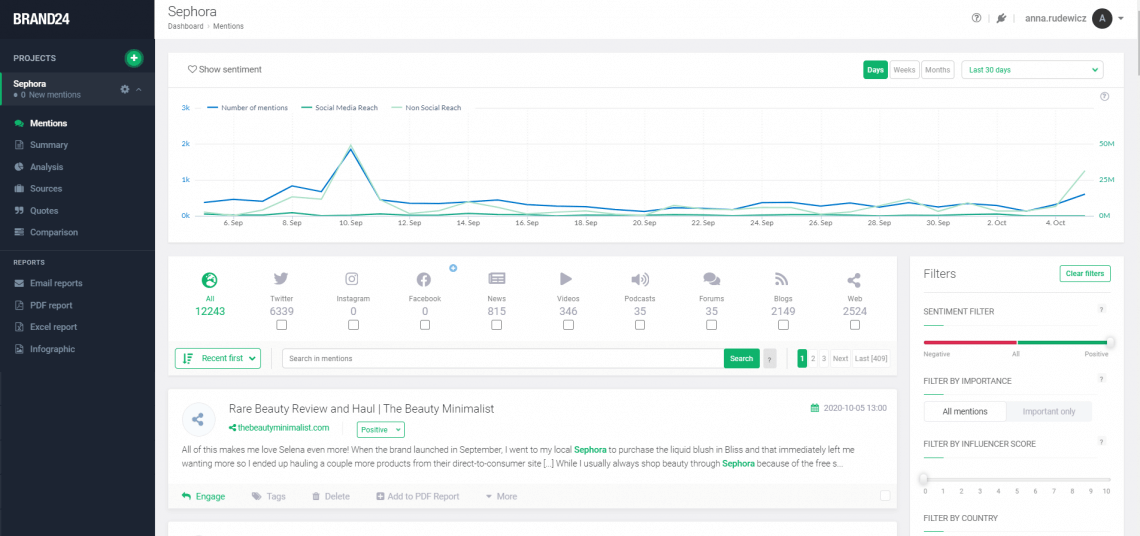 The Mentions tab will pop up first. It will probably be one of the most important tabs for you if you want to focus on discovering consumer insights.
All the collected mentions will be visible there. You can browse through them, analyze them carefully, and search for insights by reading them.
Here are a couple of examples of other consumer insights. I found them while monitoring mentions of Sephora (beauty store):








Brand24 offers a lot of analytics as well. They can be useful when it comes to researching as well, as they can be a source of even more information. Metrics like sentiment analysis is undeniably helpful when it comes to discovering insights. The tool automatically classifies mentions as positive, negative, and neutral.
Inside this video, you can find out more about how sentiment analysis can help you discover consumer insights.
Moreover, Brand24 might also send you e-mail reports that include the newest mentions from your monitoring project. Because of this feature, you can discover new insights without even logging into the tool.
One of my favorite features though, that especially helps with collecting insights, is the one that allows you to tag individual mentions and group them in terms of their topic. For example, depending if the particular insight refers to the product, campaign or customer experience.




Check out Brand24 and start your 14-day free trial now!
What is the purpose of consumer insights in marketing
Keeping up with consumer insights is incredibly important, especially when it comes to marketing. Knowing how your customers feel, as far as your products or campaigns are concerned, is very beneficial.
Consumer insights help to understand who your customers are, what are their needs, pain points, and preferences. This information may come in handy while developing your products.
Consumer insights give you information about their buying behaviors – why they buy your products, how your solution makes their lives easier, as well as how and where they buy it. This information can help you map the customer journey, and learn how to reach your clients in the future, or what kind of campaigns you should target to them.
Consumer insights help youn get to know your target audience in order to successfully communicate with them. It will allow you to build strong relationships with them, gain their trust and loyalty.
Consumer insights help you out with market research and competitor analysis. Knowing people's feedback, and keeping in mind every suggestion allows you to grow, and stay ahead of your rivals.
Consumer insights enable you to improve your customer service. Knowing your clients can help boost your communication with them, and most likely, provide them with better help. It will also allow you to improve the customer experience.
Consumer insights tools
There are a couple of techniques and tools that help to discover consumer insights. All in all, analysis is what actually brings them together.
You can do demographic and psychographic analytics of your target audience, measure their characteristics, age, gender, education level, ethnic background as well as preferences, habits, factors impacting their general or shopping decision making, values, personality, lifestyle, and favorite social media platforms.
The analysis results will help you build a strategy, create a product basing on clients' needs, learn where to target your campaigns, how to communicate, and which social media can be effective for you.
You can discover consumer insights in many different ways. It can be done by social listening and analyzing what people are saying about your company online, checking sentiment analysis, creating surveys and feedback polls, analyzing your social media performance.
There are different tools that offer these kinds of features and make the process of discovering consumer insights easier.
Google Analytics
Some of these tools are free, offer a free trial or are affordable to make discovering consumer insights accessible.