The 14 Best Customer Feedback Tools to Try in 2023
May 23, 2023 ・ 17 min read
We aim to ensure that customers are happy with our products or services. But how to know what customers want or need? That's where customer feedback comes in!
It's important to listen to customers and understand what they're saying. It will help you to improve your products or services and build a loyal customer base.
In this article, I'll show you the best customer feedback tools.
Let's dive in!
The best customer feedback tools:
01 Brand24
Free 14-day trial. Individual plan for $79.
Brand24 is a social listening tool that gathers customers' mentions and detects whether they are positive, negative, or neutral. With the help of this tool, you can gather customer feedback without surveys or feedback widgets.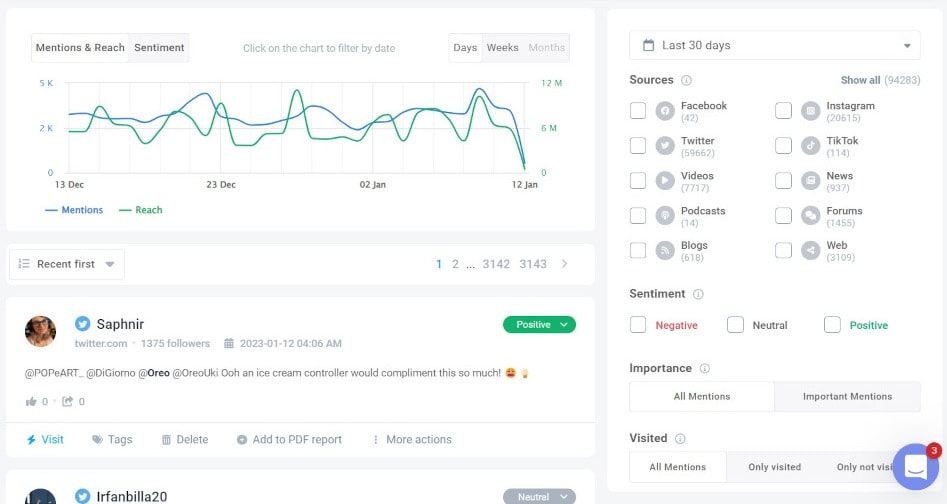 Monitor online mentions and track customer feedback!
How does it work? The tool collects public mentions from many sources, such as social media platforms, news, blogs, forums, podcasts, newsletters, and reviews.
All you have to do is choose the keywords to track and set up the monitoring project. Then you will gain access to mentions.
The Brand24 tool will help you:
Monitor brand mentions: You will track and monitor mentions of the brand, product, or service across the Internet. This can provide real-time insights into what customers are saying about the business, which can inform product development and marketing teams.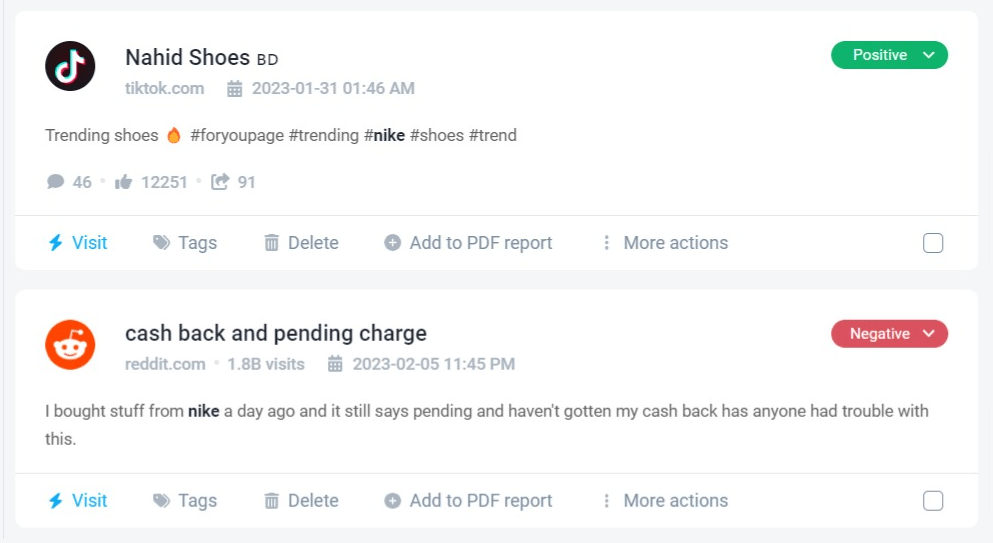 Identifying customer pain points: Brand24 will help you identify customers' most commonly mentioned issues and complaints with a business. You can use it to improve customer service, products, and services to meet customer needs and expectations.
Thanks to the Topic Modeling feature, you can detect areas that interest your audience.
For example, lately, Beyonce ended her partnership with Adidas. The tool spotted that fact and detected sentiment around it:
Sentiment analysis: The tool evaluates brand mentions' sentiment, such as whether customers are expressing positive or negative feedback. Sentiment analysis can help you measure customer satisfaction levels and identify areas for improvement.

Detect the context of a discussion: The tool allows you to track what most popular words that appear in customer conversations. Based on that data, you can detect which topics are positive, negative, or neutral for your brand.

The main advantage of using a social listening tool to collect feedback is the reliability of data. As you don't ask for feedback in person, the customers reveal their true views.
Monitor online mentions and track customer feedback!
"Thanks to Brand24, we could see which websites mentioned the reports and which information they found the most relevant. We treated it as a form of feedback – it inspired us to write more about topics that our readers found relevant.
For example, after noticing the popularity of our analysis about prices on Allegro and Amazon in Poland, we have decided to prepare a similar report – a comparison between prices and competition on Google Shopping and Ceneo."
Fragment of case study: How does Dealavo use Brand24
02 Woorise
The basic plan costs $29 per month.
Woorise is a comprehensive lead generation and marketing platform that provides a variety of interactive campaigns, such as landing pages, forms, surveys, quizzes, and viral giveaways, enabling you to collect leads and engage your audience.
One of the standout features of Woorise is its modern landing page and form builder, which comes with over 100 interactive templates and more than 40 fields, as well as thousands of social actions to choose from.
With Woorise's conditional logic feature, you can build smart online forms that adapt to users' inputs, collecting the necessary customer feedback without compromising the user experience.
Key features:
Survey templates
Customizable survey design
Real-time feedback tracking
Multilingual surveys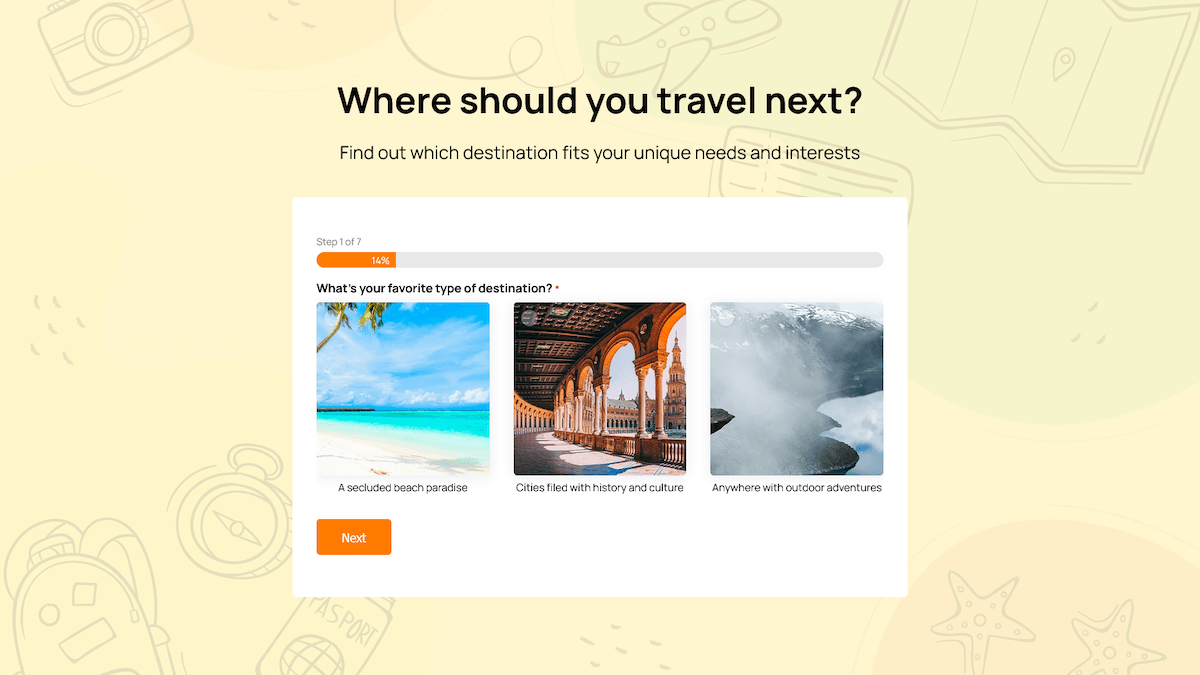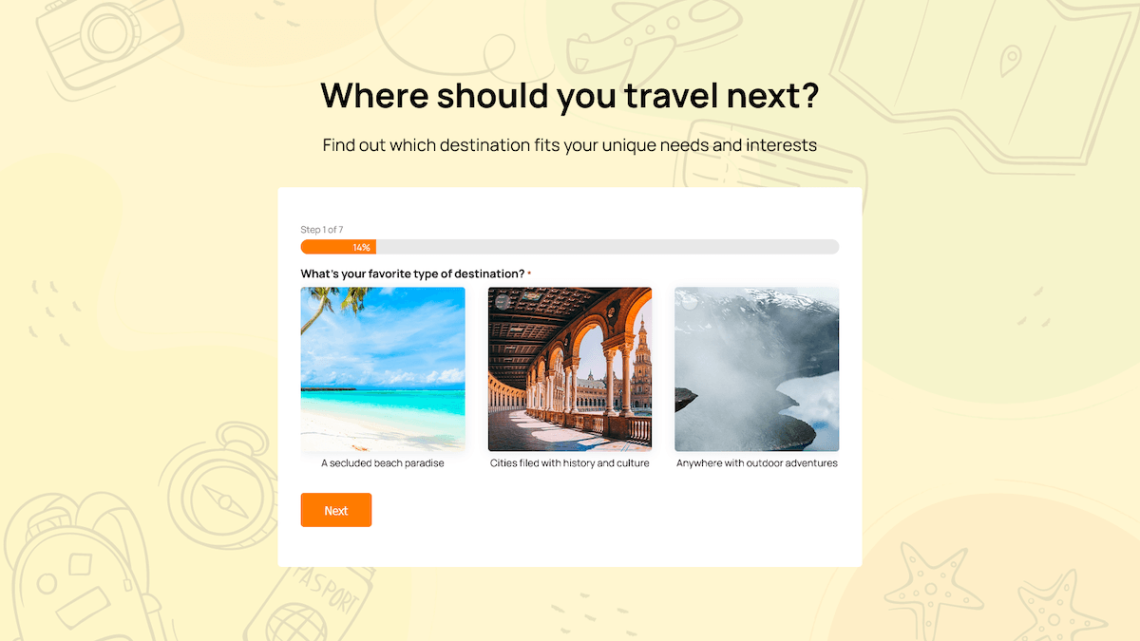 03 SurveyMonkey
The team advantage plan costs $49 per user/month.
Customer surveys are a popular way of gathering customer feedback. SurveyMonkey is one of the best tools to do that.
The tool will allow you to create customized surveys with a variety of question types, including multiple-choice, rating scales, and open-ended questions.
With SurveyMonkey, you can reach a large number of customers via email, social media, or embedded on a website.
Key features:
Multilingual surveys
Click map data visualization
Quizzes with custom feedback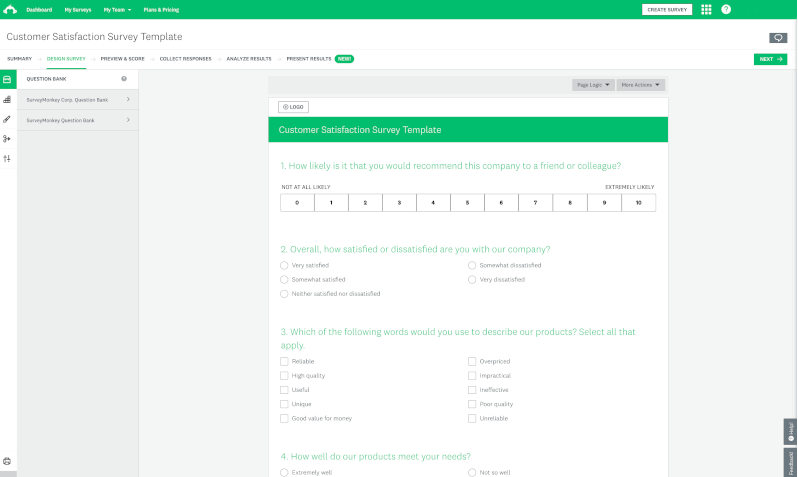 Remember that customer surveys might give you inaccurate feedback. This can happen if the survey questions are biased or customers feel pressured to give socially acceptable answers.
04 Hotjar
Free to use. Starts from $32 per month.
Hotjar is a great tool for collecting feedback. It offers various features such as heatmaps, recordings, surveys, and polls to get insights into customer behaviors and preferences.
No doubt, the most important and famous feature of Hotjar is a heatmap. They show where customers click, scroll, and interact with a website. So it's a great tool for improving product development.
Hotjar also provides detailed analytics to help identify areas for improvement. Additionally, it has an easy-to-use interface and integrates with popular tools such as Google Analytics and HubSpot.
Key features:
Heatmaps
Recordings
Surveys
Interviews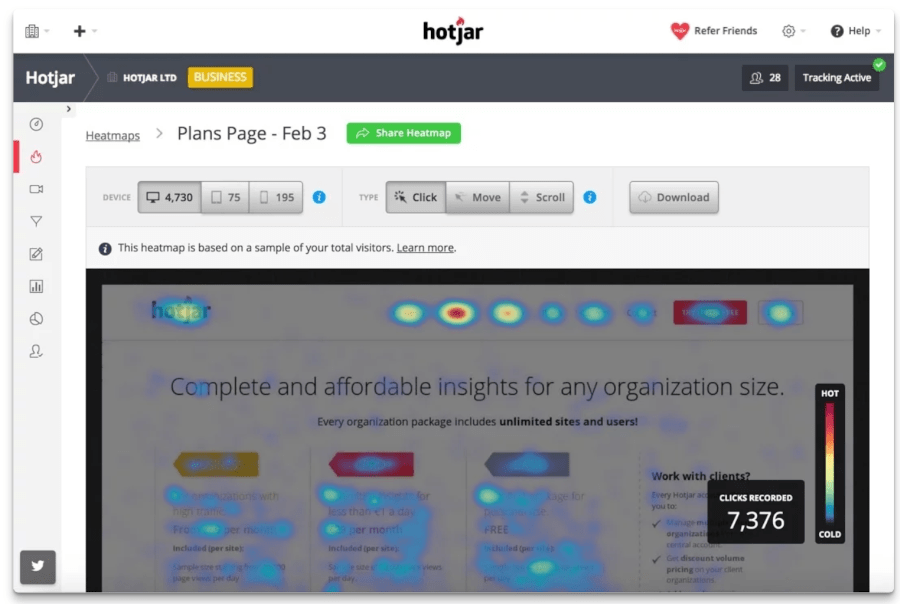 How do you gather feedback from users, and how does that feedback influence product development?
"We have multiple sources of feedback – customer success team, direct interviews, and indirect data from various monitoring and analytical tools. We combine those three and build business hypotheses based on that, which are being verified via various tests later one. The ones that turn out to be the best are being added to the product."
Karol Kłaczyński, Product Owner at Brand24
Try the customer feedback tool!
05 Google Forms
Free to use.
Google Forms is one of the most popular customer feedback tools. It's a great way to gather customer insights. The tool offers a range of customization options, making it easy to design and deploy surveys quickly.
With Google Forms, you can create surveys with various question types, including multiple-choice, checkboxes, shore answers, and dropdowns.
Thanks to real-time tracking of survey responses, you can monitor feedback as it comes in. Also, you can easily share your forms via email, social media, or embedded on a website.
Key features:
Customizable survey questions
Branding and customization
Real-time response tracking
Integration with Google Sheets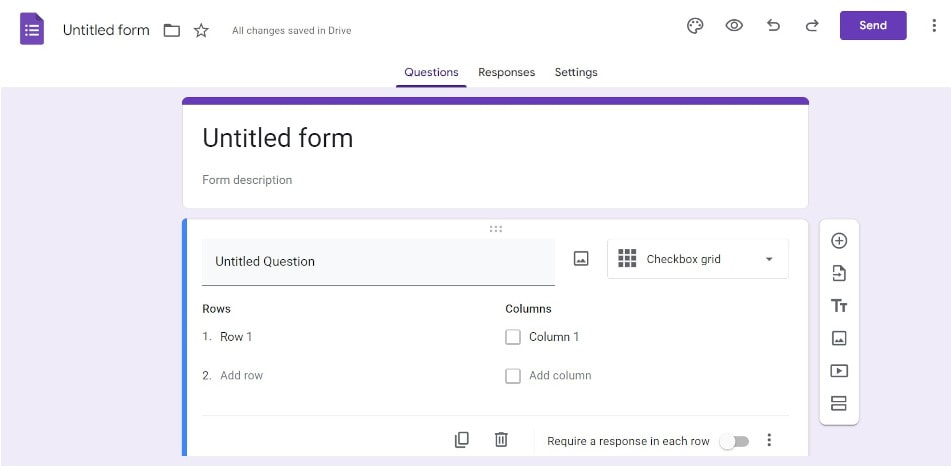 06 AskNicely
Detailed pricing is available upon request.
AskNicely is an interesting customer feedback software. The tool specializes in Net Promoter Score (NPS) surveys measuring customer loyalty and satisfaction.
With this tool, you can send automated feedback requests to customers via email or SMS. So it's easy to collect feedback without manual effort. It also provides real-time feedback data and insights.
AskNicely integrates with other customer engagement tools like Salesforce, Slack, and Hubspot.
Key features:
Customizable surveys
Automated feedback requests
Real-time feedback
Integration with other platforms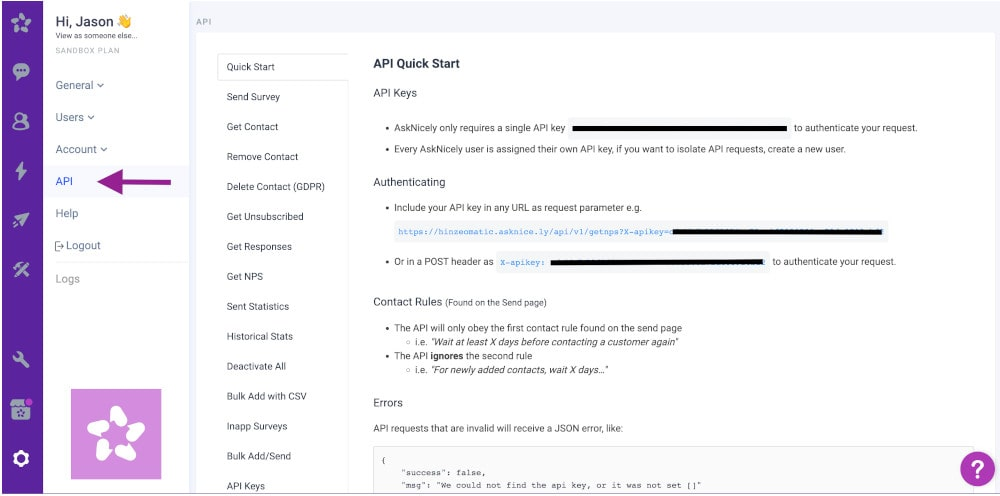 07 Qualtrics
Detailed pricing is available upon request.
Qualtrics is a customer feedback and experience management tool for measuring, analyzing, and understanding customers.
The tool collects feedback from multiple channels, including web, email, mobile, and social media. The big advantage of Qualtrics is advanced analytics and reporting.
The tool offers a comprehensive set of features, such as:
Collecting customer feedback in real-time
Advanced analytics
Surveys and polls
Automatic reports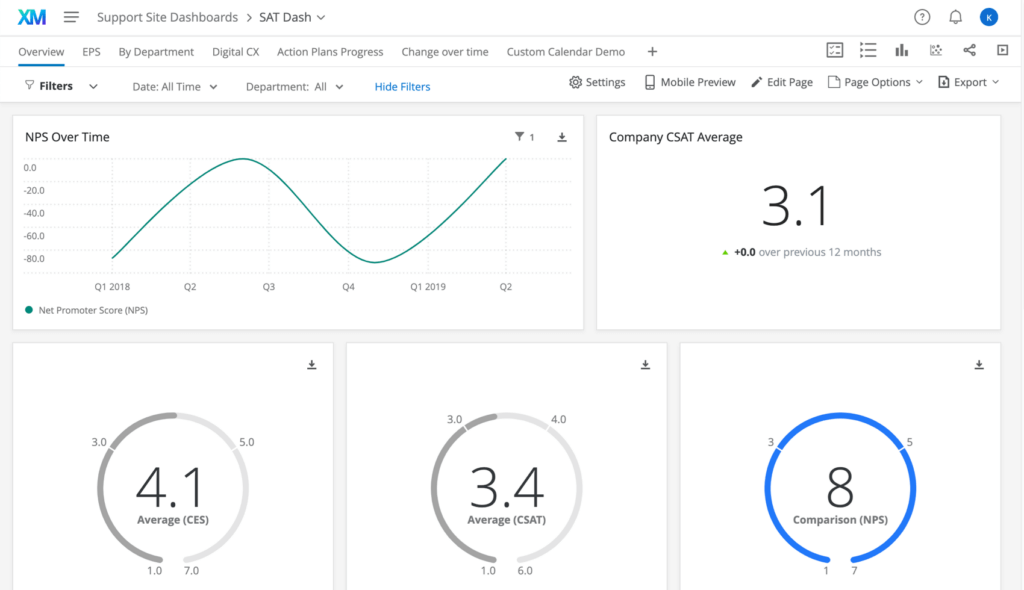 08 Typeform
The basic plan costs 21€ per user/month.
Typeform is a customer feedback survey tool. With this tool, you can build interactive, well-designed forms, surveys, and quizzes.
Typeform makes it easy to collect data and measure customer experiences.
It will allow you to create interactive forms with drag-and-drop templates and customizations, including audio and video elements, calculations, images, and more.
Key features:
Customizable survey design
Multi-channel feedback collection
Real-time feedback tracking
Integration with other platforms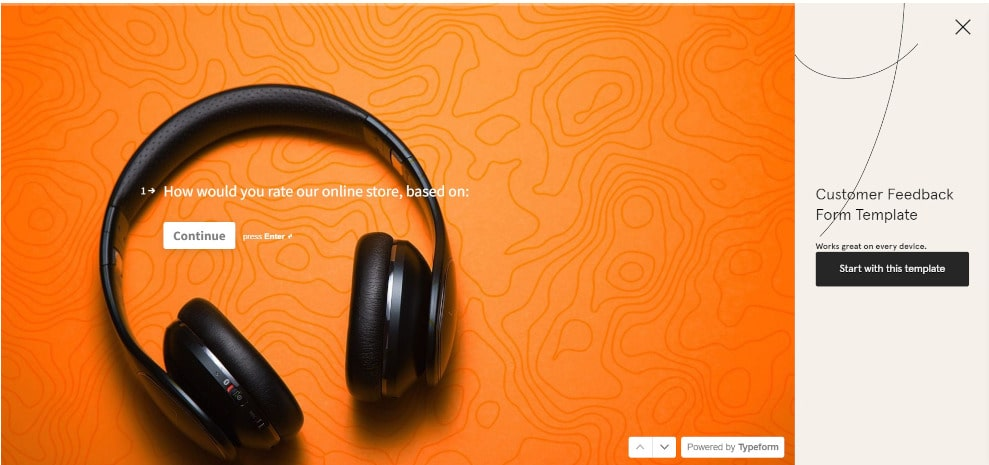 Discover what customers are saying about your brand!
09 Retently
The basic plan costs $25 per user/month.
Retently is a customer experience and feedback analytics tool designed to help you understand and improve the customer journey.
This tool gathers valuable insights through reviews, surveys, NPS, and CSAT ratings. Then helps to analyze those data points to identify improvement areas.
Retently provides various features such as automated surveys and reviews, powerful analytics, insights, and notifications.
Furthermore, Retently can be integrated with other tools like Salesforce, Google Sheets, Slack, etc.
Key features:
Feedback analytics
Custom reports
Real-time feedback tracking
Integration with other platforms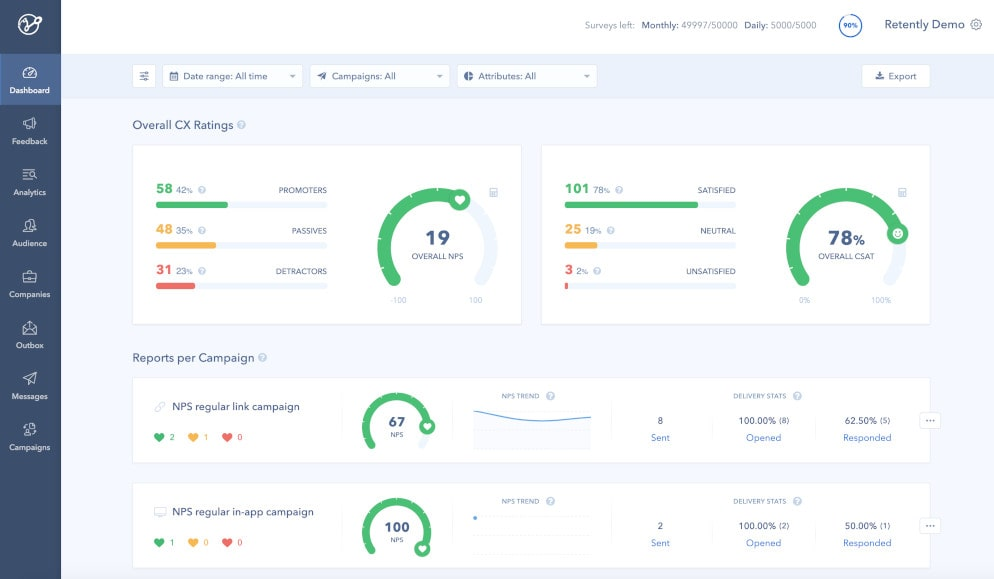 Discover what customers are saying about your brand!
10 Refiner
The essentials plan costs $79 per user/month.
Refiner is a customer feedback and survey tool for Saas and product development.
Refiner offers various methods for collecting feedback, including in-app feedback widgets, email surveys, and popup forms.
Those features allow you to collect customer feedback at various touchpoints throughout the customer journey, including while they are using the product.
What's great, you can embed Refiner's feedback widgets in the product. So customers don't have to leave the product to provide feedback.
Also, the tool allows segmenting the customers based on their feedback and engagement levels.
Key features:
Survey templates
In-product survey
User segmentation
Reporting dashboard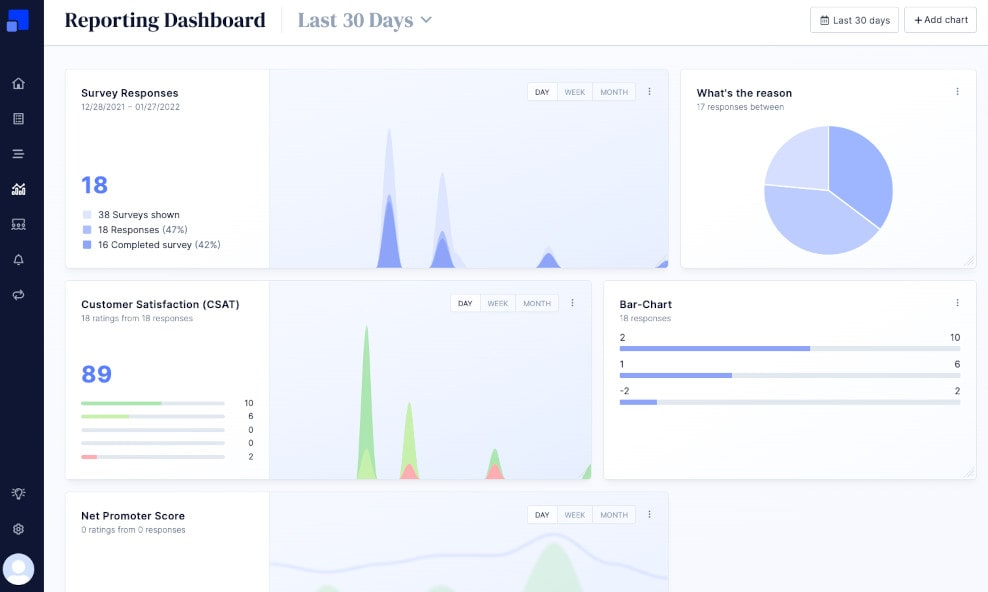 11 Usersnap
The startup plan costs $69 per user/month.
Usersnap is a bug-tracking and feedback tool that helps teams track workflow issues, tasks, and feature requests.
Usersnap's in-app feedback widgets allow you to collect customer feedback directly within the website or web application.
What's interesting is that Usersnap allows customers to take a screenshot and screen recording of the issue they are experiencing and annotate it with comments or feedback.
It also provides detailed reports on user activity, helping teams prioritize their workflows and quickly resolve client issues.
Furthermore, it integrates with other project management platforms like Jira, Slack, and Asana. So teams can manage their workflows more efficiently.
Key features:
Screen captures
In-app surveys
Bug tracking
feature validation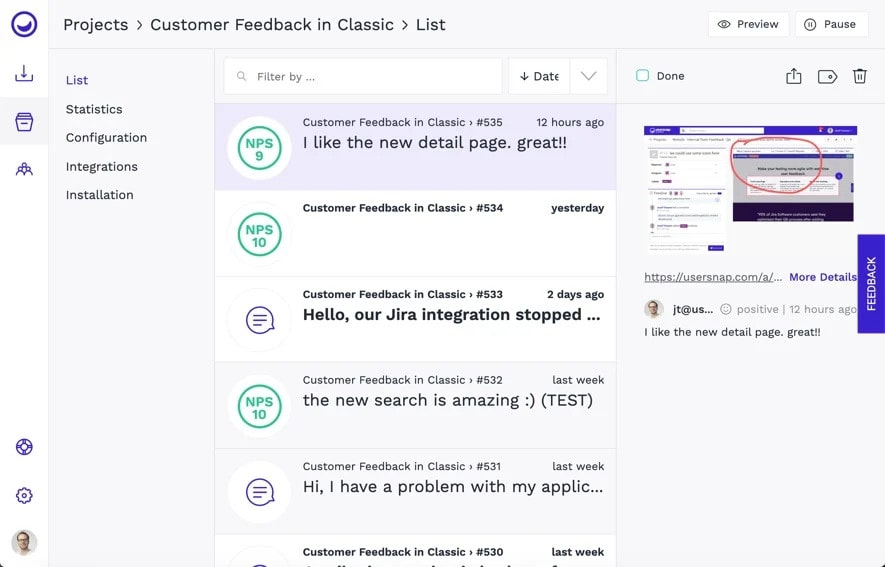 12 InMoment
Detailed pricing is available upon request.
InMoment is a customer feedback management platform enabling you to measure and improve customer experience.
InMoment measures customer satisfaction through a variety of methods, including Net Promoter Score (NPS) surveys and in-app feedback.
The tool integrates with many other tools and platforms, including Zendesk, Salesforce, and HubSpot. So incorporating customer feedback into existing workflows is easy.
Keay features:
Net Promoter Score (NPS) surveys
Customer Effort Score
In-app feedback
Real-time experience analytics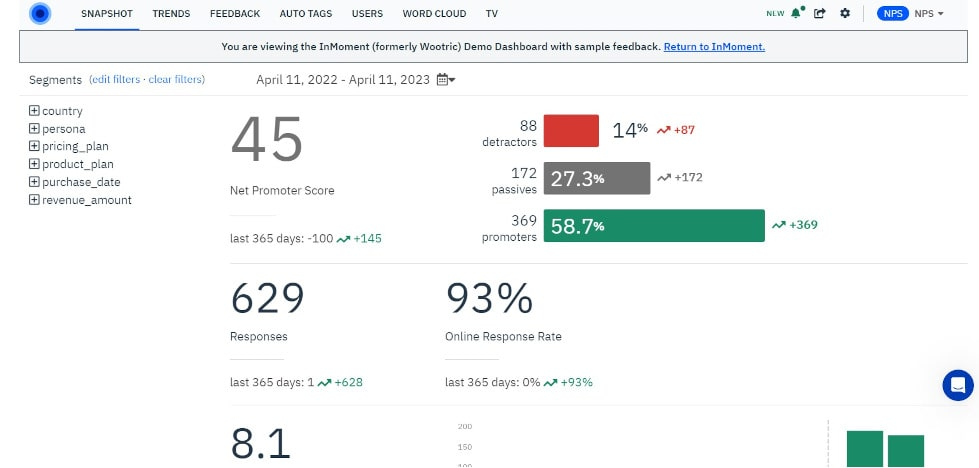 13 UserTesting
Detailed pricing is available upon request.
UserTesting is a user research and testing platform designed to gather customer feedback through live user testing, AB testing, and surveys.
With UserTesting, you can observe and analyze how users interact with their website, app, or product in real time. The tool identifies usability issues. So you can improve the user experience and increases customer satisfaction.
One of the key features of UserTesting is its live video conversations, which allow you to watch and listen as users interact with their website or app. It's a great way to gather qualitative feedback on the user experience, including pain points, confusion, and areas for improvement.
Key features:
Customer journey mapping
Customer segmentation
Feedback management
Surveys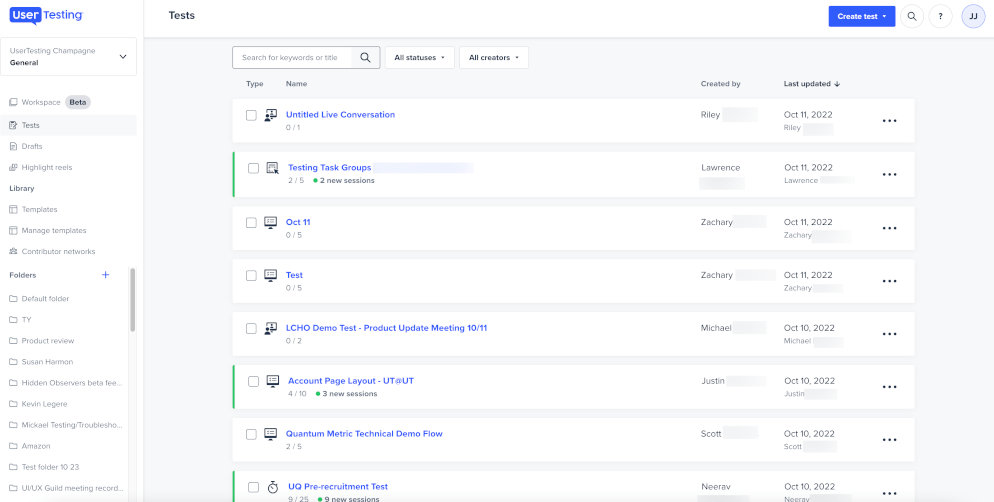 14 Zonka Feedback
Free plan available. The starter plan costs $49 per month. Zonka Feedback is a powerful customer feedback tool that lets you collect and distribute surveys across multiple channels. You can capture feedback through the website, in-product/in-app, emails, SMS, kiosks, survey links, QR codes, and more.
This feedback and experience management tool lets you measure and manage feedback through different CX metrics like CSAT, NPS, and CES. Its advanced reporting and analytics capabilities enable businesses to make data-driven decisions.
You can create engaging surveys using its WYSIWYG survey builder, add customizations to white-label the surveys, make them smart using survey skip and hide logic, and more.
Key Features:
100+ survey templates
Complete customization & white-labeling
In-depth analytics and real-time reports
Multi-channel feedback collection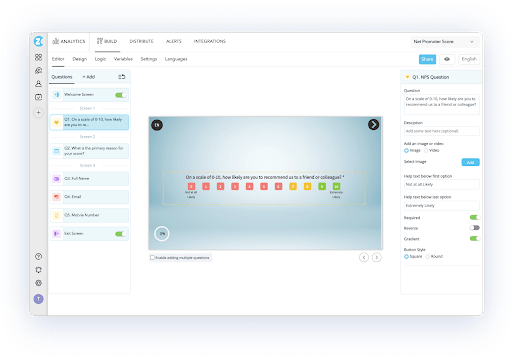 What tools do you use to gather customer feedback to improve product development?
"Under "tools," I understand not only the technical means or software but also various techniques we can use. There are two basic types of tools we use: qualitative and quantitative.
The first group consists of things like direct interviews with our customers, recordings of user sessions, in-app surveys, and customer feedback obtained by our Customer Success Team, which works with our customers on a daily basis. That gives us valuable insights that are a starting point for quantitative checks we perform all the time.
For that purpose, we use analytics tools such as Heap, Hotjar, and many more that provide the data we can use later on with visualization tools to verify our hypotheses. It is also important to simply test the solutions by showing them live to our users in the form of AB tests. That is not direct, conscious feedback, but that is exactly what we need – the more conscious the feedback, the more biased it can be."
Karol Kłaczyński, Product Owner at Brand24
Discover what customers are saying about your brand!
Why should you use customer feedback tools?
Tools make it easier to collect, manage, and analyze customer feedback. Automating data collection also saves time, money, and effort.
They will help you learn more about your customers, make sure they're happy, and decide what to do next.
What's important, tools can conduct sentiment analysis. It will explain how customers feel about your products or services.
Here are some main benefits:
With a customer feedback tool, you will collect feedback more efficiently and at scale.
Tools will help you stay organized as all customer comments and issues are collected in one place.
Customer feedback tools often come with built-in analytics and reporting features. So it will be much easier for you to make data-driven decisions.
Using customer feedback software is especially important for SaaS and product development. Feedback can inform the development team of what features customers need. Actually, this is how we develop Brand24.
Overall, feedback tools can have a great impact on improving customer satisfaction.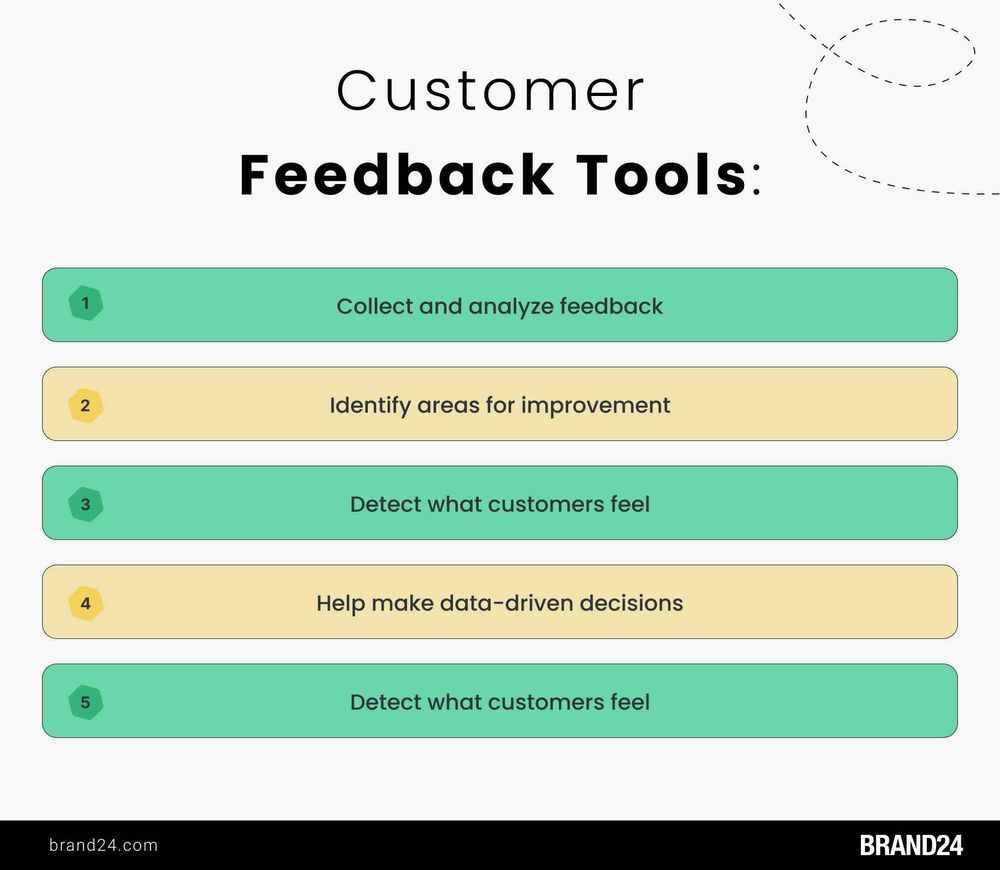 Discover what customers are saying about your brand!
How to use customer feedback software?
Here are 4 tips on how you can effectively use customer feedback tools to gather valuable insights:
Organize the data
Start by categorizing feedback into themes, such as product quality, customer service, or pricing. This will help you identify trends and patterns more easily.
Conduct sentiment analysis
Analyze the feedback data to determine how customers feel about our products or services.
The best customer feedback tools use natural language processing techniques to evaluate if the feedback is positive, negative, or neutral. This analysis shows how satisfied customers are.
Detect insights
Extracting insights from customer feedback data is a crucial step in the analysis process.
This includes identifying valuable findings and patterns that provide helpful insights for improving decision-making and customer experiences with products and services.
Look for recurring topics or themes in the feedback data. This could include specific product features, customer service experiences, pricing concerns, or usability issues.
Group similar feedback to gain a holistic view of customer sentiments and priorities.
Assign categories or tags to feedback entries to streamline the analysis process.
Determine which feedback most significantly impacts customer satisfaction and business goals.
Use rating scales, satisfaction scores, or sentiment analysis techniques to quantify feedback data.
Identify the root causes of common issues or recurring themes to address them effectively.
To gain better insights, combine customer feedback data with other related data sources such as sales data, website analytics, and customer demographic information.
Make sure to present the insights you've extracted in a way that is clear, concise, and easily understood by your team.
Continue monitoring
It's important to collect feedback on a regular basis to ensure that the changes made are effective.
Setting up alerts or notifications within your feedback management tool to flag urgent or critical feedback is a good idea. Additionally, it's essential to update your analysis techniques to keep up with evolving customer needs and preferences.
Also, compare your feedback data over time to assess progress and measure the impact of changes made.
What do customers say about the iPhone 14?
Curious about the buzz surrounding the highly anticipated iPhone 14? Look no further!
To find out what Apple customers say about iPhone 14, I set up a monitoring project using the Bran24 tool. Now it's time to analyze customer feedback.
Over the past 30 days, there have been more than 3k mentions daily, with the majority of them being positive.


As a result, the sentiment around iPhone 14 is positive.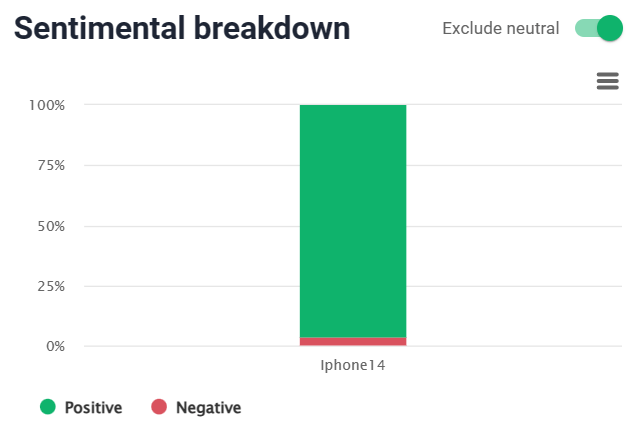 Instagram is the main source of mentions. But lots of mentions come from Twitter and Videos.
Thanks to the most popular mentions feature, I discovered this tweet: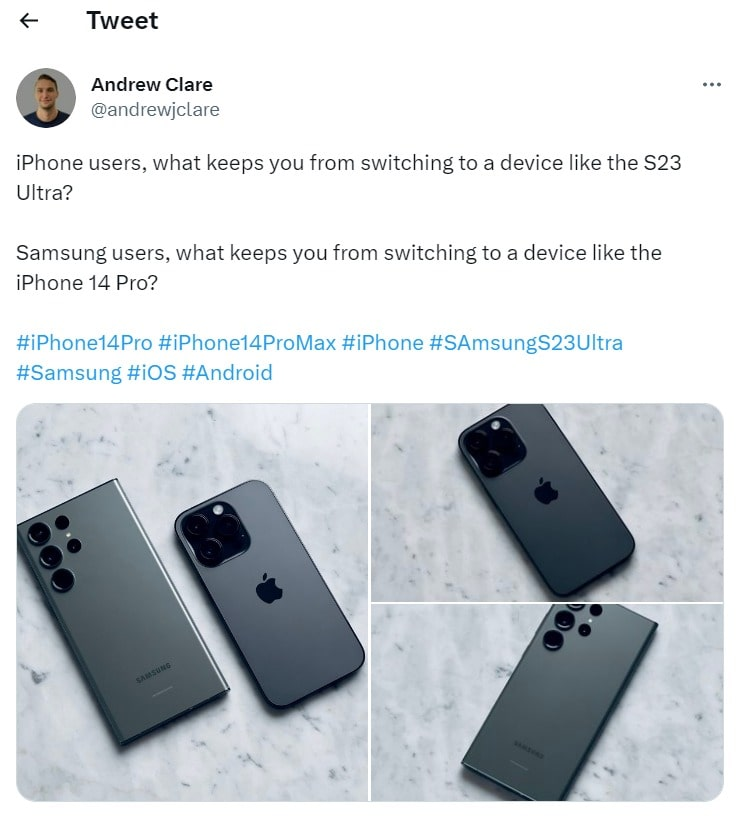 The replies provide valuable feedback:



As you can see, lots of comments praise the Apple ecosystem.
Now, let's examine the reasons behind the complaints of iPhone users.
In the Quotes tab, I selected negative sentiment. Surprisingly, many mentions say the iPhone 14 is the worst Apple smartphone.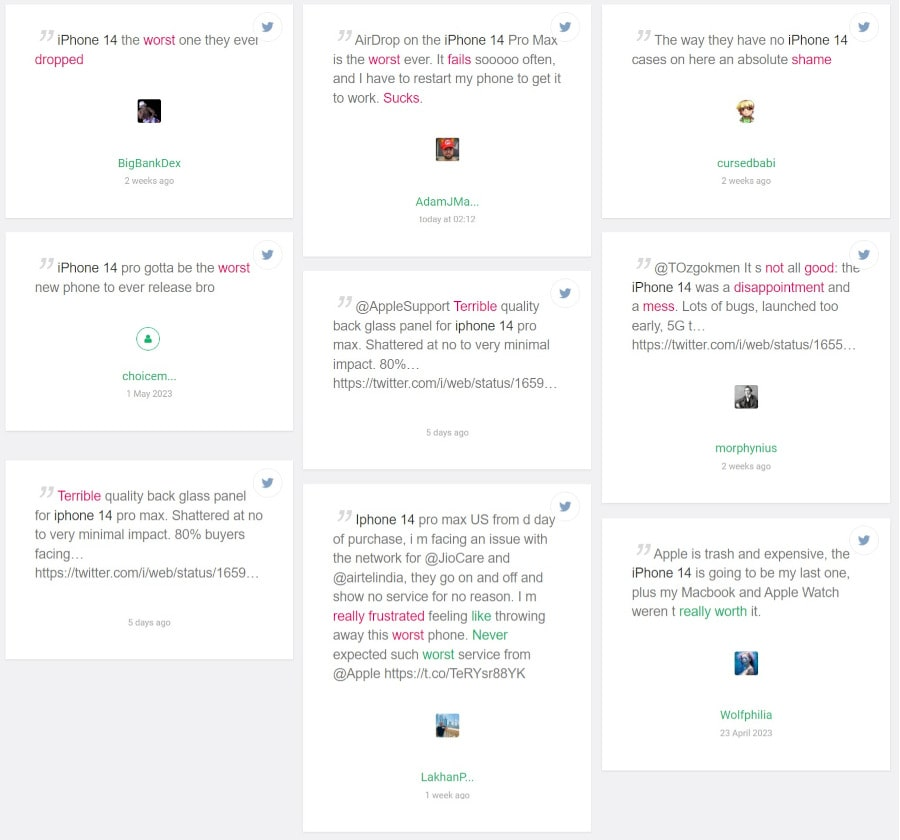 But overall, the Reputation Score of the iPhone 14 is not bad.

What is the right customer feedback tool for you? Conclusion
Customer feedback tools are necessary for any business seeking valuable insights into their customers' experiences and journeys.
But which one to choose?
I recommend you test those 3 types of tools:
Social listening tools, like Brand24, will help you listen to what customers say about your company and products online. The big advantage of using those tools is unforced and truthful feedback. There is no risk that answers will be skewed. You don't ask questions. You monitor online mentions and track what customers are talking about you. That's the point. The second interesting feature is sentiment analysis. Tools can measure whether sentiment around your brand and products is negative, positive, or neutral. That's a great way to detect the actual level of customer satisfaction.
Survey tools like SurveyMonkey and Google Forms will help you ask direct questions to your customers. Those tools are easy to use and cost-effective. If you construct the questionnaire correctly, you can discover valuable insights. But unfortunately, this method of feedback can be unreliable. Survey respondents may not always provide honest feedback, leading to response bias. The respondents' sample may not represent the entire customer base. This can lead to skewing the results.
In-app feedback tools, like Usersnap, will help you detect the weak points of your product. Those tools are necessary for each SaaS company. Overall, we build products to meet customer needs, don't we? Your customers are a source of information. They can direct you on how to develop the product. Most of those tools collect feedback from users in real time. So you can react quickly if any bug appears.
Ready to start collecting valuable feedback? Monitor mentions and listen to what your customers say about you!