How to Find the Most Popular Hashtags for Getting Bigger Exposure?
September 23, 2016 ・ 7 min read
Updated on 07.01.2020
Hashtags are a powerful tool for social media and users love them. They tie conversations about one topic into one stream and sort information by relevancy. They give higher exposure and increase the chance of others finding your content. Marketers can use them in marketing campaigns, during a TweetChat or during events. If used properly, they can help you reach users beyond your followers. How to use hashtags wisely?
Table of contents:
---
Hashtags are popular on all social media platforms, but they work differently on each of them.
This video does a good job explaining how hashtags work differently across social media platforms like Twitter, Instagram and Facebook:
The last thing you want is to use hashtags in the wrong way. Hashtags are supposed to make things easier to find and engage with. Therefore, too complicated, too long ones might have the opposite effect and discourage users from interacting.
You should be specific as too general hashtags might reach a bigger audience, but they will not be significant to them. On the other hand, very detailed hashtags are more accurate in reaching out to niche audience, but some users might not even find them.
The bottom line is to strike a happy medium between a #Hashtag and a #VeryDetailedHashtagThatPerectlySuitsYourAudienceButWillNotBeFoundByAnyone.
On top of that, studies show that too many hashtags under one post decrease exposure, so don't overuse them. You do not want your message to sound like an obscure nonsense.

In this blog post, I'll talk about hashtags on Twitter, Facebook and Instagram. Also, I'll show you how to find the most popular hashtags on these social media platforms.
---
Hashtags on Twitter
Twitter is where the hashtags originated from.
Dedicated hashtags enable you to boost messages to reach people beyond your followers. The most popular ones change quite dynamically on Twitter and also vary in different countries.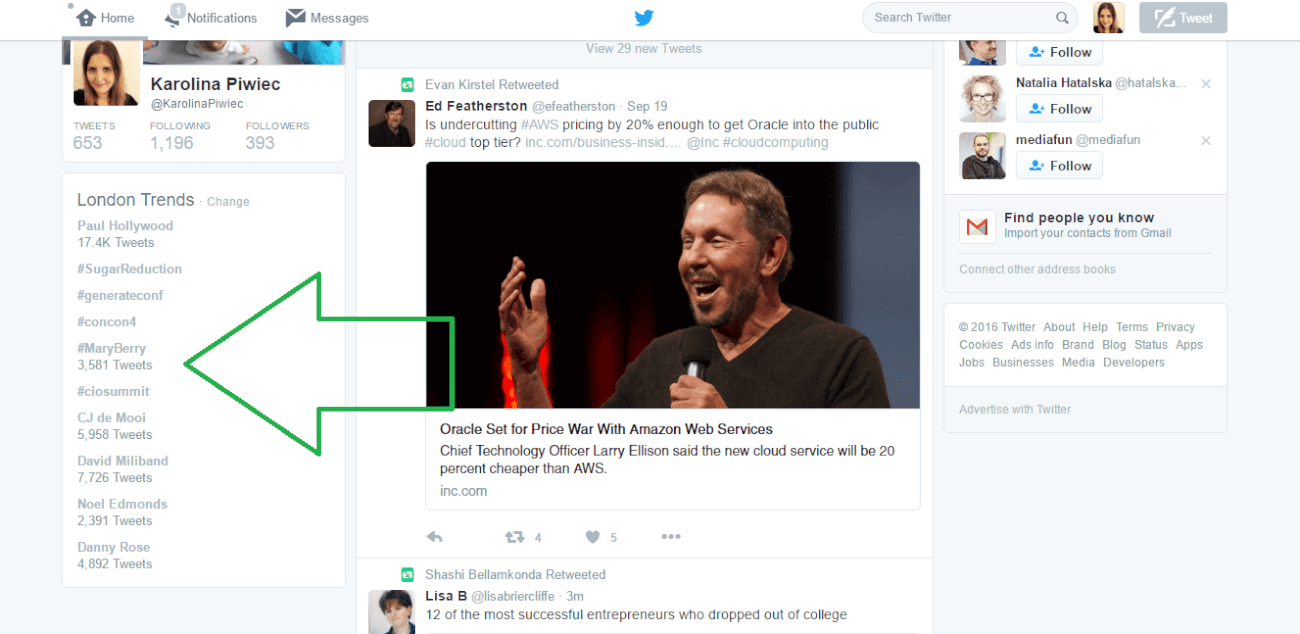 On the left side of your Twitter dashboard, you can see the most popular hashtags that are tailored to a particular user – they're based on where they are and who they follow. You can change the location to address the audience you want to engage.
Sadly, this box is limited only to 10 most used hashtags on Twitter. For more results, you can use third-party apps, like Tagboard, Trendsmap, or Brand24.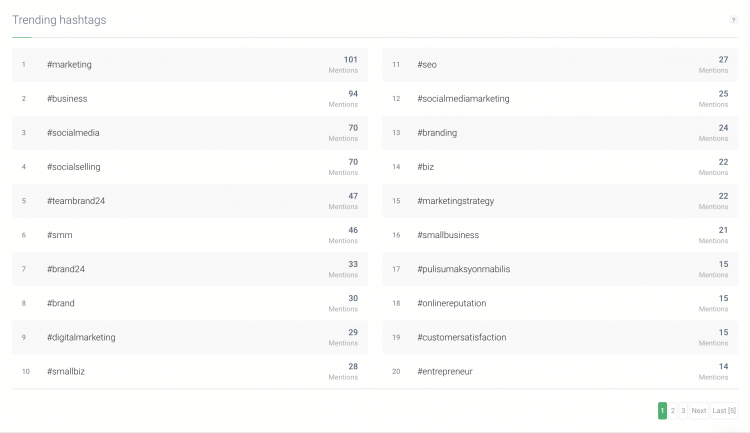 ---
► Take a look at Twitter trending hashtags and analytics! Create free account here (no credit card required)
---
Many marketers find real-time marketing very effective in their strategy, especially on Twitter, so consider how you can relate to trending topics to create relevant and smart messages that will go viral and get you bigger exposure.
Hashtags on Facebook
Unlike on Twitter or Instagram, on Facebook, most people's posts are private, so you won't be able to find hashtags used by them.
In simple words – the hashtag system on this platform is not as powerful as on other sites.
They work, however, in the case of business fan pages which are publicly available. Hashtags there can be used in coordination with marketing campaigns also across different platforms. On top of that, you can use hashtags that relate to current news and events.
Here's how you can find content containing the hashtag you're looking for:

You get posts from your friends, groups you're in, and public posts, plus a side menu you can use to narrow down your search: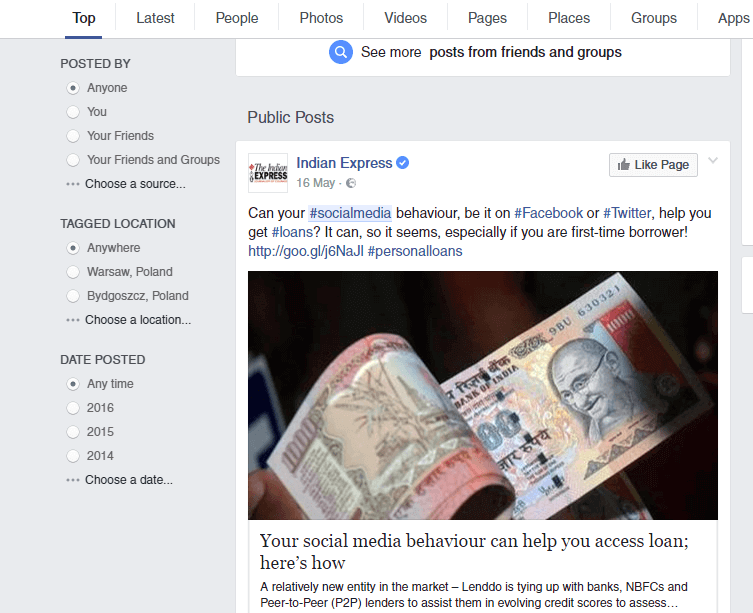 Hashtags on Instagram
Instagram puts photos with hashtags ahead. However, similarly to other platforms it doesn't favor overusing them under a single picture. Thanks to hashtags, your photos can show up in the Explore tab – this is where users with similar interest can find you.
First thing you should do is find out which hashtags are the hottest.
Your hashtags should reflect what a post is about. Pick a maximum of two or three from that list and make sure they are naturally incorporated into your photos.
Companies that succeed on Instagram don't blindly use the most popular hashtags that are not really related to their business. Instead, they apply niche keywords that put images right in front of their target audience.
The hashtag autocomplete feature in the Instagram's search engine is a very effective strategy to get inspiration for new hashtags.

There's another good way to find trending hashtags on Instagram I'll discuss in a moment.
And this video also has some good tips on how to find the best hashtags on Instagram to grow your Instagram account:
---
How to find popular hashtags on Twitter and Instagram?
You can search for popular hashtags for any topic using Brand24.
It's a social media monitoring tool that collects all online mentions of predefined keywords and provides social media analytics.
First, set up your free account.
---
► Create your free account and test Brand24. No credit card required.
---
Brand24 will take you to the project creation wizard – here you need to keywords you want to discover trending hashtags for. It can be any word or a hashtag, for example your company, product, niche, industry competitor name or any other word that exists in a language.
Wondering how it works?
Brand24 analyzes millions of social media mentions to find these containing your keywords. Then, the tool analyzes these mentions to find top 100 most popular hashtags.
Then, choose the language filter and proceed. Brand24 will take you to the Mentions tab – this is where all mentions arrive in real time.
To get to your trending hashtags, have a look on the panel at the left hand side and click the Analysis tab.
Scroll down to see your most popular hashtags for different social media platforms, including Facebook, Instagram, Twitter, YouTube, and TikTok.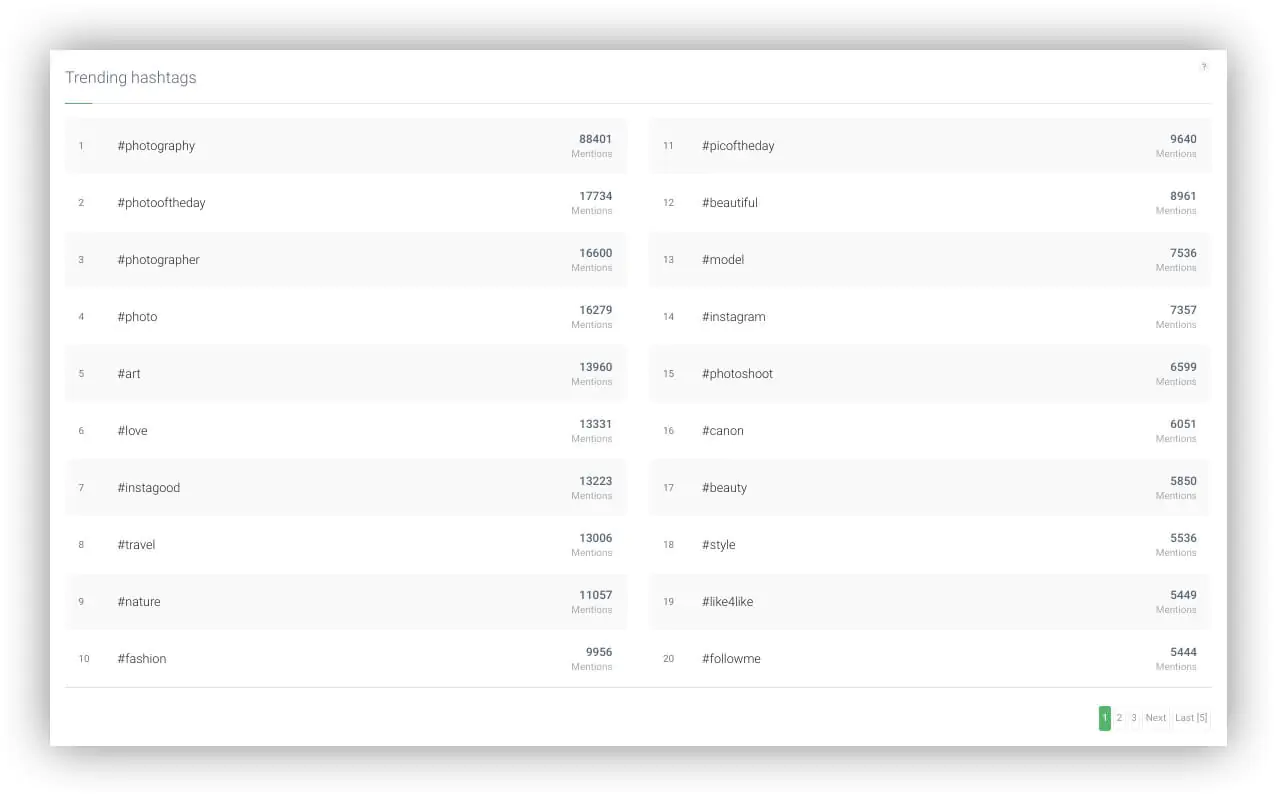 ---
Daily hashtag inspiration
Each day of the week has a few popular hashtags that somehow relate to this particular day. It is worth using them with other hashtags.
Daily hashtags work best on Instagram, but you can freely use them on Twitter and Facebook as well. Here are a few options you can leverage to get bigger exposure:
#mondaymotivation if you want to inspire your audience at the beginning of the week,
#mondayblues or #mondaymorning to complain about Monday struggle,
#traveltuesday to share a travelling post,
#wellnesswednesday to present health lifestyle,
#wednesdaywisdom to share a quote or an interesting fact,
#throwbackthursday and #tbt is one of top 10 most popular hashtags and used to share old photos or to relive a fond memory,
#flashbackfriday or #fbf is an analogous hashtag to #throwbackthursday,
#fridaynight, #fridaynights and #fridayvibes to show how to spend good time on the first night of the weekend,
#saturdaymornings to relate to a mellow morning,
#caturday to simply show cat photos,
#sundayfunday is used as a regular tag for the day,
#selfiesunday and #sundayselfie is a good keyword to present your staff, clients, or partners,
#sundaybrunch if you want to share mouthwatering meals with all the foodies.
Naturally, not all the hashtags mentioned above will suit your brand image or a certain post, but you get the feeling how they all work.
There are obviously many more keywords that relate to days of the week and you can discover more using a platform's search engine.
Inappropriate ones might cause social media outrage and even a huge company crisis. The same thing applies to spelling. Sometimes two combined words can have different meaning when you put the words together. Be careful with that.
Remember that using hashtags can boost social media posts, but if you use them indiscriminately, they might give you a reverse result. Hashtags should be relevant, related to the content you publish and what's most important, hashtags shouldn't be used excessively.
#HaveFunWithHashtags
Do you want to implement hashtags into your marketing activities? Take a look at Brand24 and all it has to offer! Start a 14-day free trial here (no credit card required).
Are you interested in media monitoring and online reputation management? Take a look at our free crash course in media monitoring!
---
HANDPICKED RELATED CONTENT
A comprehensive guide to social media analysis
How to See How Many Times a Hashtag Was Used on Twitter