What's New in Brand24? October Changes
November 7, 2023 ・ 4 min read
In the fast-changing tech world, we've upgraded AI Reports to AI Insights, and there are more exciting changes. We've integrated YouTube and Semrush, and the Geolocation filter will give you a whole new tool experience. Exciting times ahead!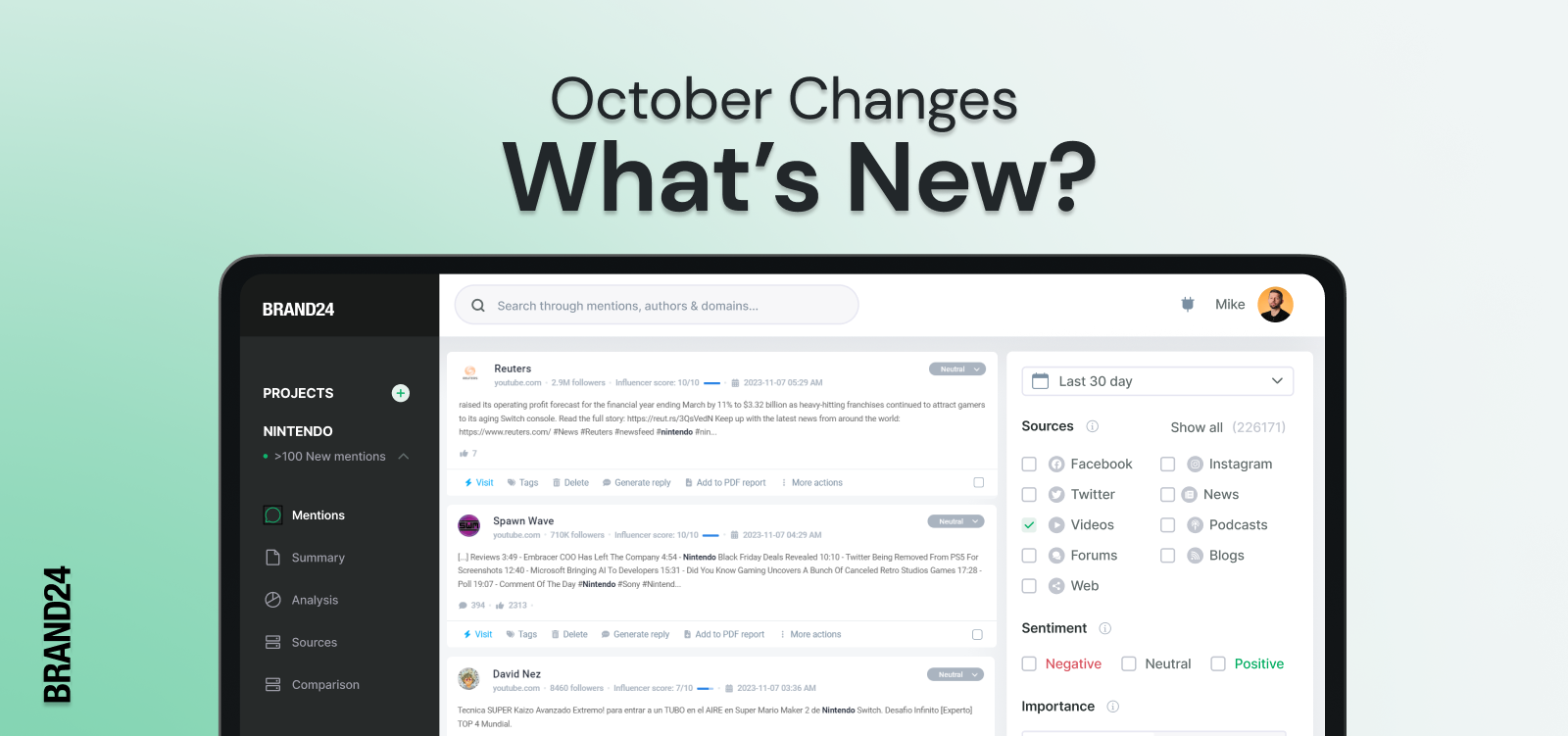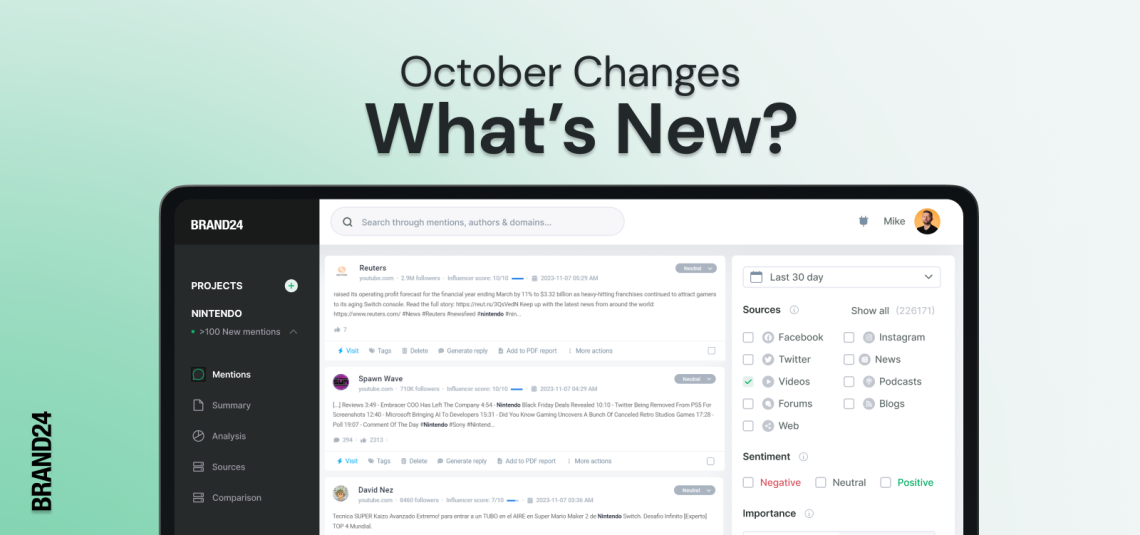 Here's our itinerary for today:
Rebranding & more: AI Insights in your panel
You may have already spotted this in your inbox, previously known as AI Reports. However, there have been two significant enhancements that warrant your attention. First and foremost, we've revamped its name to AI Insights, offering the same robust functionality but with a fresh moniker. Secondly, we're delighted to announce that your AI Reports are now readily accessible from your panel!
Read more about AI Insights on our blog!
Here's what awaits you inside: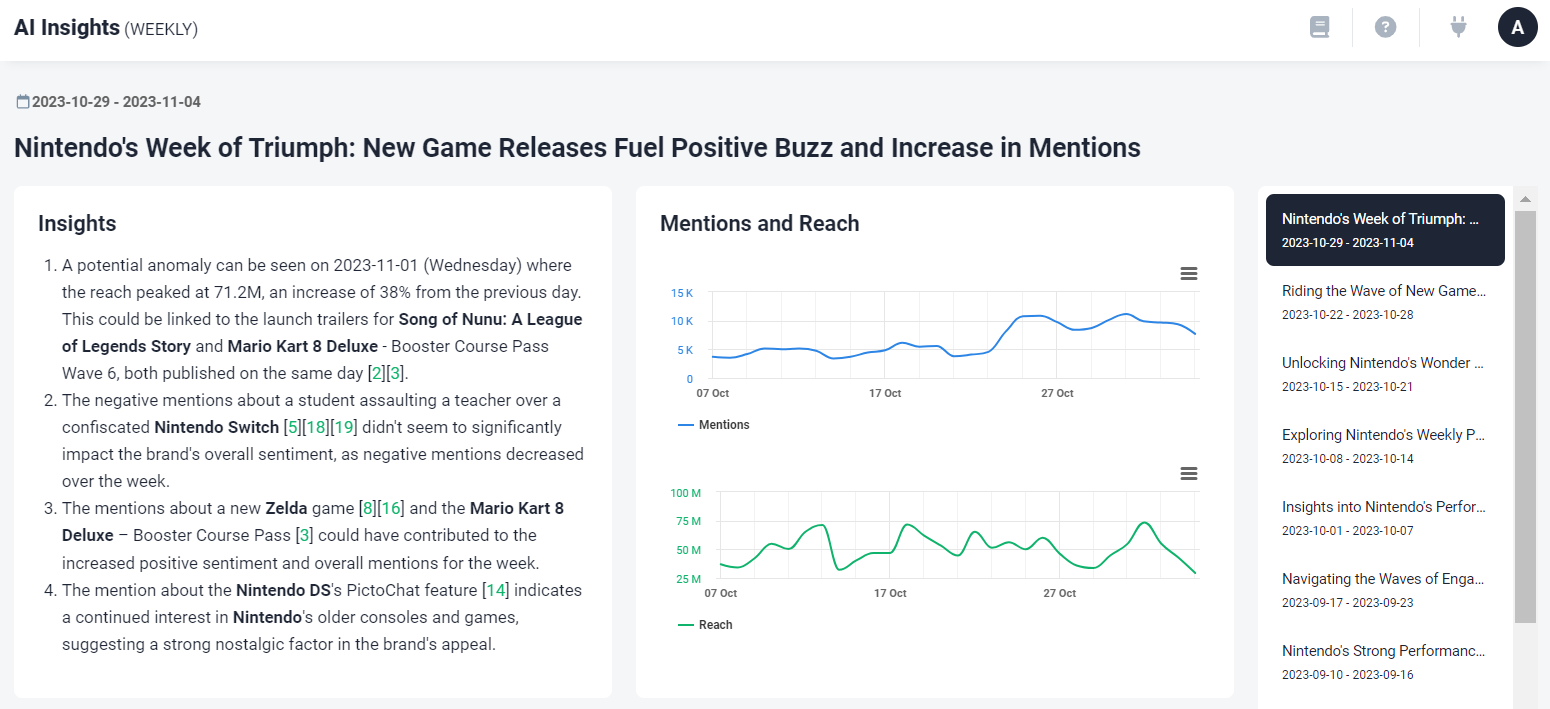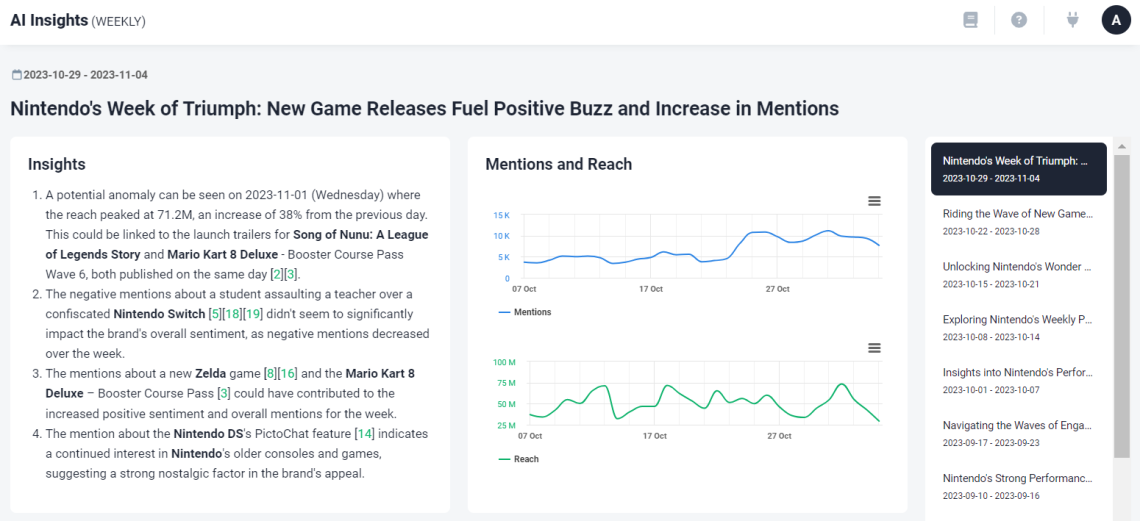 Comprehensive Weekly Reports: An archive of each automatically generated weekly report tailored to your project.
Eye-Opening Insights: Uncover profound insights that bring an added layer of value to these reports. Our AI algorithms meticulously analyze data, revealing patterns and correlations that can shed light on evolving customer preferences and untapped opportunities.
Trendspotting: Leveraging AI's prowess in recognizing patterns and correlations within extensive datasets, we uncover developing trends that might elude human perception.
Tailored Recommendations: AI Reports offer a catalyst for innovation. With machine learning algorithms, you'll receive personalized suggestions to enhance your products, fine-tune marketing campaigns, or streamline your operations by capitalizing on identified patterns and predictions.
Additional Metrics: We've included key performance indicators (KPIs) such as the number of mentions, their reach, and sentiment. These metrics offer valuable context, enhancing your understanding of the insights presented in AI Reports.
Note! This feature is available for our Pro and Enterprise users! Do you want to test it out?
Geolocation filter
If you're actively involved in global projects and have a keen interest in delving deeper into the performance of your brand or keywords across various locations, this filter is tailor-made for you! Now, it's a breeze to select a specific country and gain insights into the conversations surrounding your brand.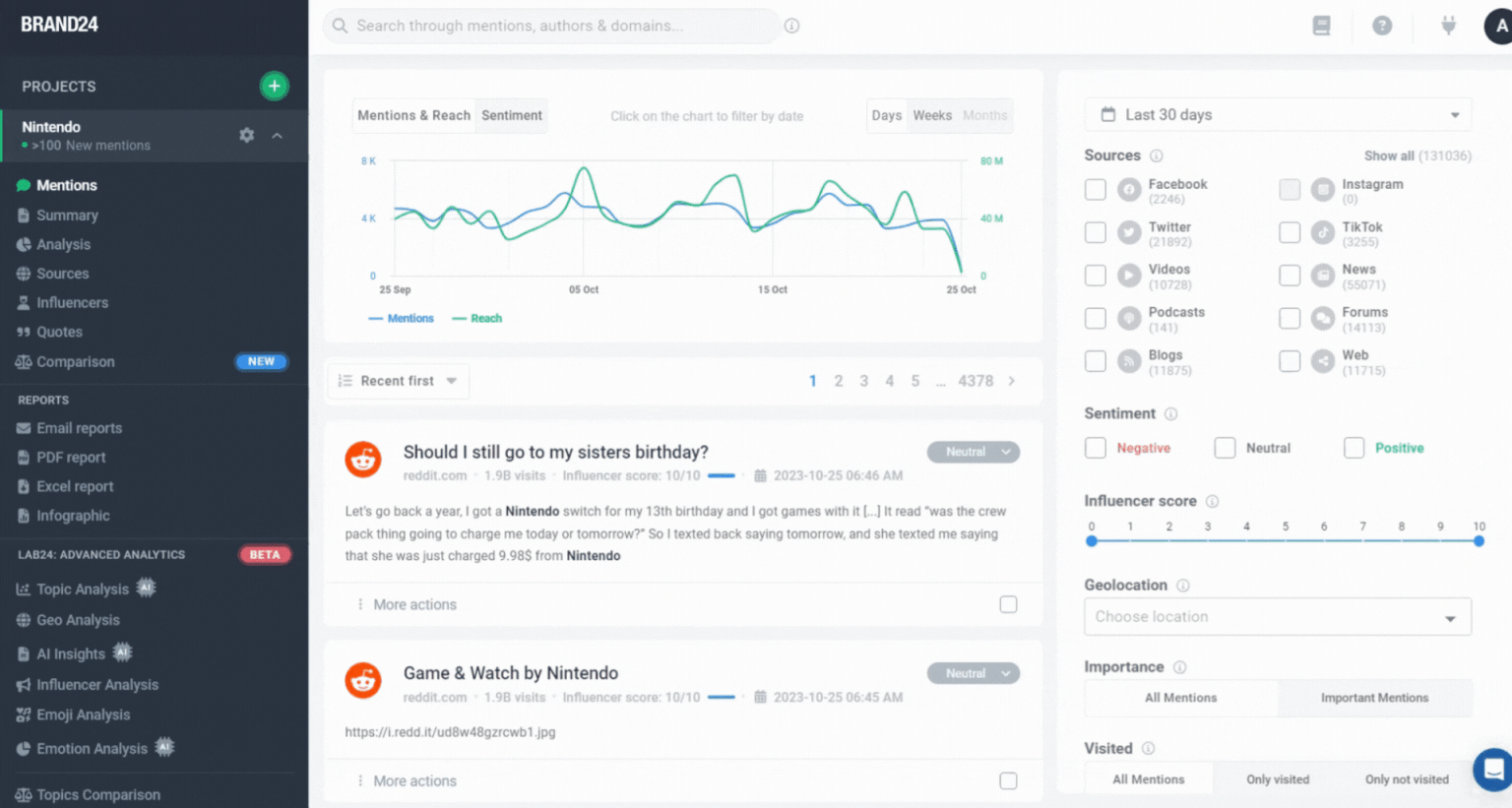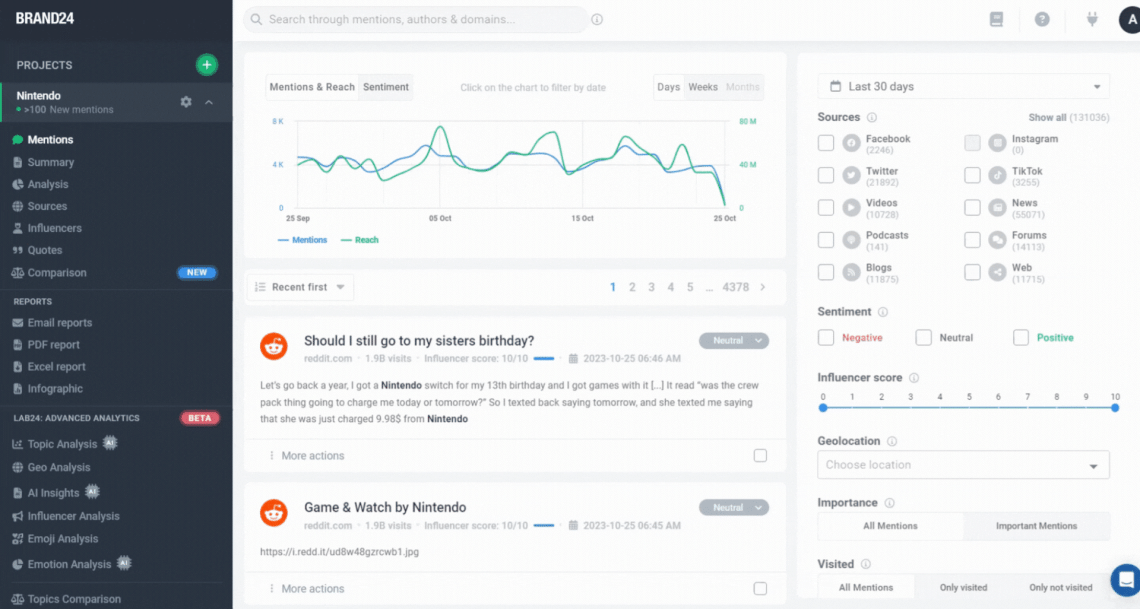 Have you ever wondered how frequently your brand is being discussed within that region?
Curious to gauge the prevailing sentiment – is it predominantly positive or somewhat less so?
Interested in pinpointing the trending social media platforms in that country for discussions?
The Geolocation Filter is your go-to source for all the answers!
Get ready to explore valuable insights into your brand, monitor your competitors' actions, and stay up-to-date with the most recent market trends.
Better Youtube results
In a rapidly changing landscape, we're focusing on improving features that are already well-known. In this month's updates, we've enhanced our YouTube source functionality.

Here's what's new:
Enhanced Keyword Search for YouTube Content: We've significantly excited the precision and efficiency of our keyword search within YouTube content. This means you'll receive more relevant and accurate results, making it easier to discover the content that matters most.
Comprehensive Author Information: To provide a richer experience, we've incorporated more detailed author profiles, including their avatars. This offers a more insightful glimpse into the creators behind the content, fostering a deeper connection with the content you engage with.
Improved Influencer Score and Reach Calculation: We've fine-tuned the algorithms that determine influencer scores and reach, ensuring a more accurate and holistic assessment of content creators. This enables you to identify and engage with influencers more effectively, harnessing their impact on your objectives.
Refined Video Interaction Collection: The gathering of video interactions has been elevated to a new level of precision. This means you'll receive a comprehensive understanding of how audiences engage with YouTube videos, empowering you with invaluable insights for your strategies and campaigns.
Check how those improvements influence your project!
Brand24 integration for Semrush
It's likely that you or your colleagues rely on Semrush for monitoring and improving your SEO performance. What you find particularly intriguing is the integration of Brand24 within the Semrush platform. This integration goes beyond merely tracking mentions; it introduces a powerful feature – including detailed reports that offer a comprehensive summary of your performance metrics.
In essence, this means that while using Semrush, you can seamlessly incorporate Brand24 to not only capture mentions but also benefit from structured and insightful reports that bring your data into a coherent and easily digestible format.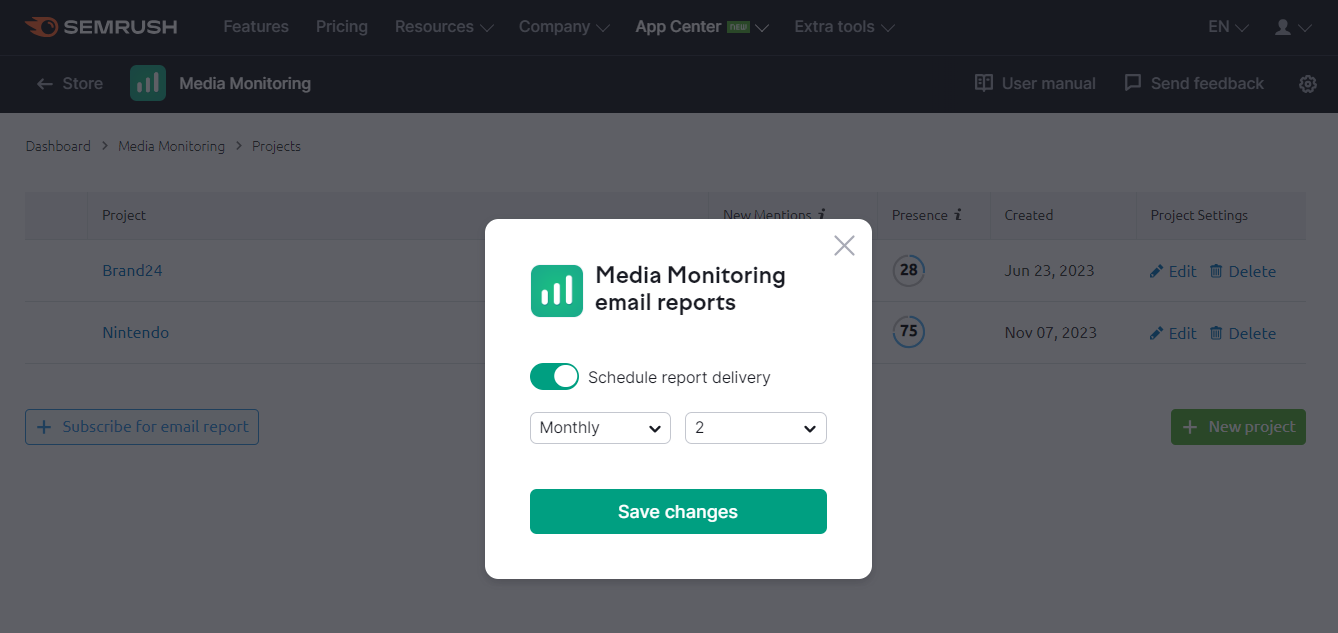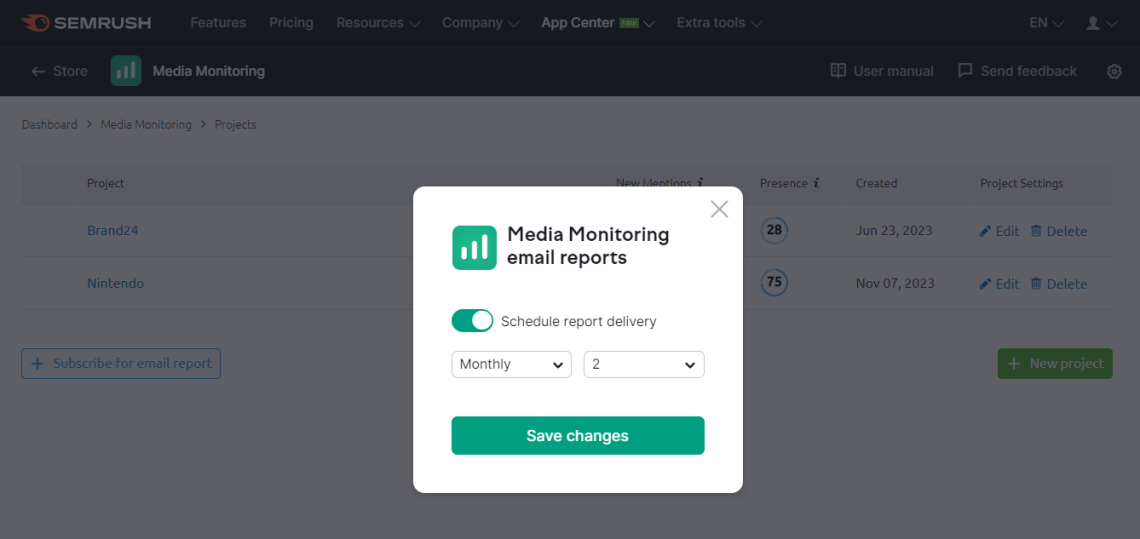 That's all for now! Be sure to stay tuned for our future posts, where we'll keep you updated on any fantastic new features.