5 Social Selling Tips You Can Implement Right Away
September 18, 2018 ・ 10 min read
Social selling works! The popularity of different social media platforms made them the perfect spot to market your product or service. The question remains – how should you implement it into your selling strategy? These 5 social selling tips will get you started!
Social selling techniques tips will help you find and convert new leads, as well as, nurture your relationships with existing customers.
This blog post provides you with bulletproof social selling tips you can implement right away and boost your sales.
Here's what's ahead of us today:
What is social selling?
Let's make sure we're all on the same page when it comes to social selling. How to define these sales efforts?
According to Hubspot:
social selling is when salespeople use social media to interact directly with their prospects. Salespeople will provide value by answering prospect questions and offering thoughtful content until the prospect is ready to buy.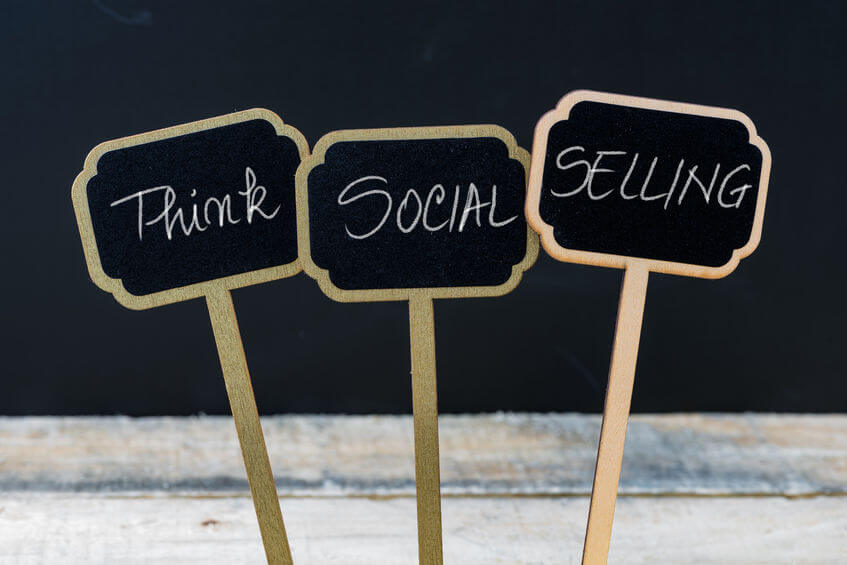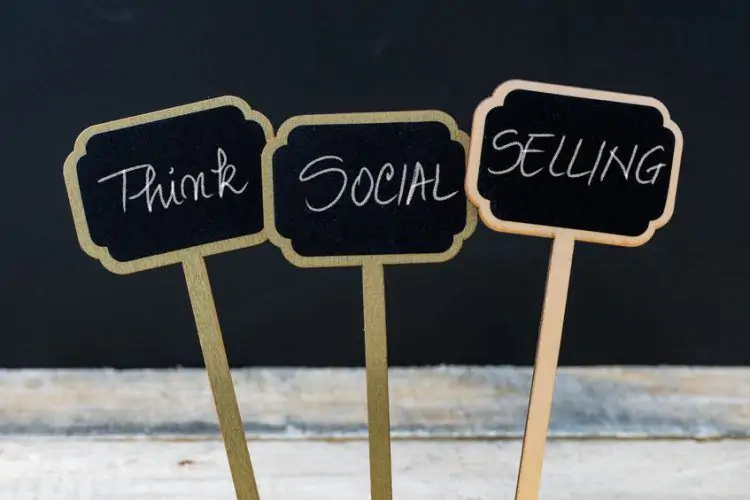 These are four best social selling techniques you should start with:
Establish the social presence of your brand
Find the right influencers in your niche
Engage with your potential customers
Build relationships with your prospects
That doesn't seem so hard, does it?
Read more: What is social selling?
Let's see how exactly you can implement social selling tips in real life!
Before we delve into the nitty-gritty of social selling, let's answer one fundamental question.
Does social selling strategy work?
That's the first question we have to answer.
If you're not social media savvy (there are so many new social media networks, updates and rules emerging every day that it's hard to keep up), you might think that social selling is a scam.
The truth is, it's a valuable selling technique that can help you explore the full potential of social media networks. A sales team that includes this technique in their selling strategy can win potential buyers that will stay loyal to the brand.
By establishing a social media presence, building relationships and producing valuable content, you can:
reach a brand new audience,
set your company as an industry leader
find and work with the right influencers to convert even more prospects.
If you need some hard numbers for convincing, here they are!
IBM saw an increase of 400% in sales in the Social Selling Pilot Program.
You have to admit, it sounds incredible.
I know that IBM is a multinational corporation and can invest vast sums in social selling program and has highly trained sales reps. But the beauty of social selling is that it works with smaller companies and smaller budgets just as effectively as for large corporations.
Not convinced? Let's find out how the best social selling techniques can work to your benefit.
Social media and social selling
Social media and social sellers go together like peanut butter and jelly.
Facebook, Instagram, Linkedin, and other social channels have become an indispensable part of our lives. That's true for businesses as well. Social media presence should be a part of your marketing and social selling strategy.
But with an abundance of social media channels, it's hard to choose the most relevant network.
If you want to succeed in social selling, you have to find your audience. You have to find the online platforms where people are asking questions you can answer.
That's a task for social listening tool, for example, Brand24.
Brand24 will collect all the mentions from the internet with your predefined keywords.
Does it sound interesting?
Wait till you hear more.
Start with our project creation wizard. Think about terms related to your industry or business niche. You can have separate projects to:
monitor mentions of your brand
monitor mentions of particular products
monitor hashtags
monitor terms related to your industry to keep up to date with recent developments
The tool collects all publicly available mentions and presents them in a neat dashboard where you can filter them according to your needs.
That's just the beginning of media monitoring and social selling.
Let's see what more you can do!
Brand24 starts at $49 and offers a 14-day free trial. No credit card required!
Social selling tip number 1 – examine social media mentions
The first rule of social selling states – be social!
And what's the better place to be social than social media!
Be present where your audience is present. People are already talking about your brand. It's your job to find these mentions, respond, and convert leads into customers.
Just take a look here:
That's how you build relationships with your potential clients!
Are you still not convinced?
Take a look at phrases such as:
"who can recommend…"
"where can I buy…"
where to eat in…:
and so on!
Here's someone looking for a romantic place to eat with his girlfriend in Budapest:

Meanwhile, in Italy someone wants to eat some seafood in Venice:

A media monitoring tool will gather all the questions and put them in one neat dashboard. All you have to do, is answer the questions and convince the potential customers to buy your product or service. 
Track social media mentions across all popular platforms. Try Brand24 for free!
Social selling tip number 2 – provide relevant content
You should provide relevant content regularly. And if you pick too many platforms, you might end up producing a massive amount of content nobody engages with.
Many marketers will tell you about SEO, layout, and spellcheck.
But the most important in content marketing strategy is providing content, be it blog posts, Instagram stories or tweets, that are relevant to your audience.
Answer their questions, offer solutions to their problems, and, above all, always stay focused on potential customers. The recipe for success in social selling is that simple.
A successful sales team using social selling techniques has a lot of great articles, case studies, photos at hand and can share relevant content with potential buyers almost instantly to gain advantage.
But how exactly find topics relevant to your content marketing strategy for social selling?
By tracking online conversations!
One of the social selling tips is to find people talking about your brand or industry online and show how your product or service will make their lives easier.
Another social selling tip is to find what questions your potential customers ask regularly and provide content that will answer these needs.
By monitoring online conversations, you will identify the issues they are having with your products and what functionalities they would like to add.
It will help you to nurture the relationships with your existing and potential customers.
What's more, you can also monitor the mentions of your competitors.
Create a separate project in Brand24, but this time, instead of mentions regarding your company, insert keywords related to your competitor.
You can then spot the areas where they are doing better than you, see which functionalities their customers are praising on the internet. If you address the pain points of your competitors' clientele, you might convert them to your side.
Brand24 lets you track online conversations across all popular social media channels.
Social selling tip number 3 – work with industry influencers
It's called social network for a reason. And social selling is all about building relationships.
You can reinforce your brand's messaging by cooperating with influencers. There is a number of reasons why influencers will help you with social selling, such as:
building trust towards your product
increasing brand awareness
helping to produce valuable content
reaching your target audience
building long-lasting partnerships.
The key to success, when it comes to influencer marketing, is to find the right people to work with.
The number of followers is, of course, important, but you should take a look at their engagements rates. You can easily buy followers on all social media channels. These are not real social media users, but bots and bots will never convert. There's no point in wasting your time and energy on pseudo-influencers.
To draw real benefits from influencer marketing for your social selling strategy identify the right influencers to work with.
Log in to your Brand24 dashboard.
Then go to the Analysis tab. Choose "The most popular authors" and, in the Filter mentions section, choose the social media network you'd like to analyse.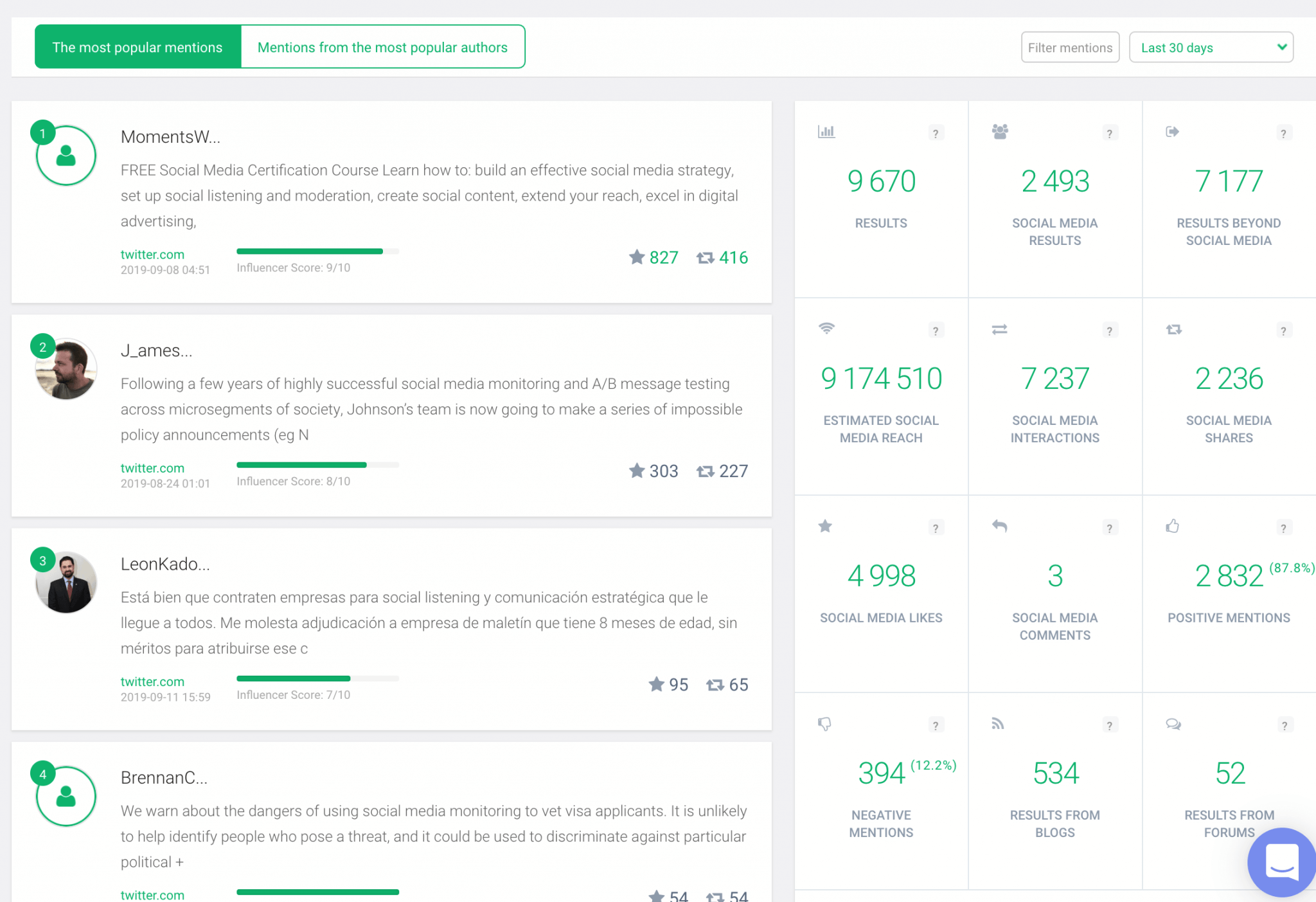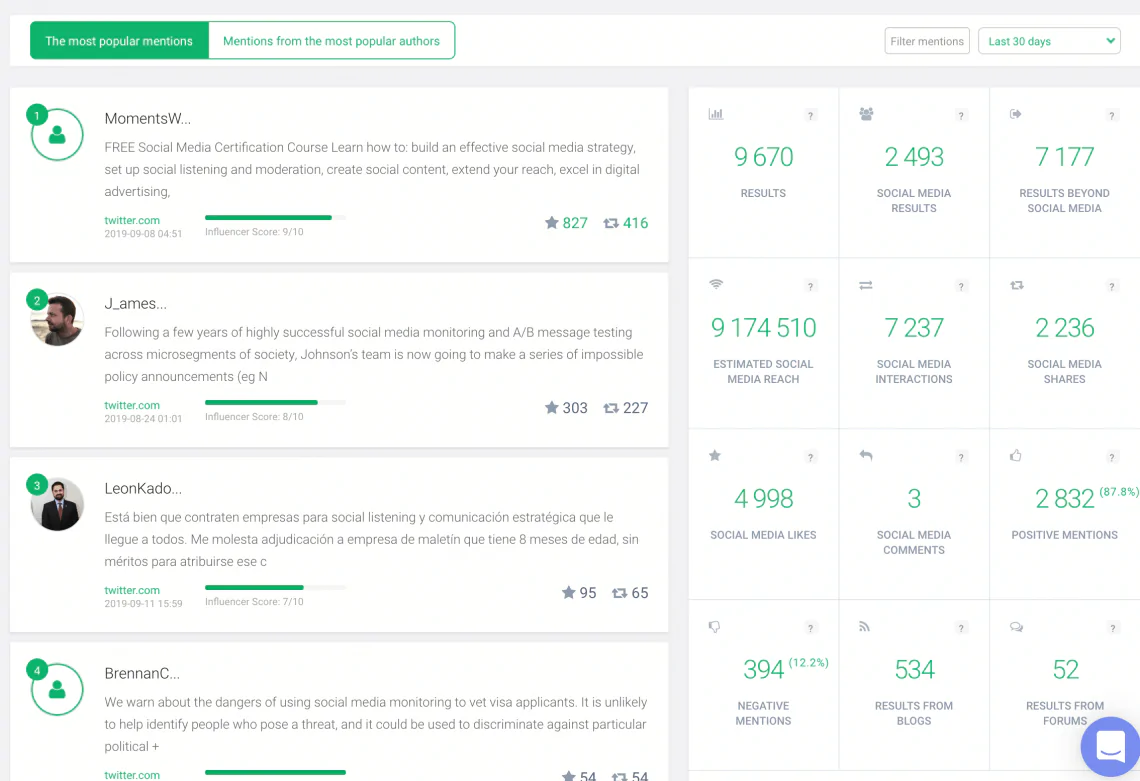 Brand24 will not only show the most popular authors, but it will also calculate influence, the share of voice (the percentage of online discussions generated by the influencer) and social media reach.
They are talking about your brand! Find the most influential personas in your niche.
Remember that even B2B companies can use influencer marketing. B2B buyers use social media too. Be creative with your strategy!
Social selling tip number 4 – engage in discussion
Choosing an influencer is not the end of your work when it comes to social selling. You should also actively participate in the conversations underneath social media posts.
Firstly, you'll be able to steer the conversations in the direction that's best for you. You can show additional functionalities of your product or service, respond to negative comments, and generally show how much you care about your existing and potential customers.
Secondly, it will help you boost your social presence. Social selling is all about building your online reputation and showing a social media savviness has never hurt anybody!
Social selling tip number 5 – share success stories
The key to success when it comes to social selling is showing how your product or service makes the life of your customers easier.
Share the success stories.
If you're social selling for B2B, the best way is to create a report, blog posts or any other piece of content that will show hard numbers. A case study describing the way your customers' business benefited from your product or the percentage showing growth in the number of customers will certainly impress your boss!
Sharing success stories will make your message sound more genuine, accessible and relatable.
If you sell directly to customers, you also have a lot of opportunities. User-generated content is your secret weapon!
User-generated content is not only social media photos and posts.
Think about reviews, videos, guest blog posts, customer reviews you can include on your website as well.
UGC will help you increase the awareness of your brand. Your potential customers will trust the recommendations of their friends the most. When sharing the content produced by other internet users, you will build trust and show practical applications of your product.
Many customers take a closer look at social media channels before they made purchasing decisions.
User-generated content will also provide a social proof for your company.
Social-selling can do wonders for small companies that are not well-known in their business niche.
Word-of-mouth is the best recommendation you can get. Encourage your clients to use your branded hashtag online.
Once a potential client looks up the hashtag, he will see other content customers. That might convince him that your product is the best answer to his needs.
Social selling tips for your business
The social selling tips presented above are universal – you can implement them into multinational corporation or a start-up just beginning its business journey.
Social selling will help you gain new customers and, as an additional bonus, raise brand awareness.
All of your social selling activities should come with a clear and compelling call to action targeted to your customers and potential customers. Social recommendations are a powerful tool that will help you get ahead of your competition.
If you listen carefully to what your customers and their friends have to say you will be able to provide exactly what they need at the given moment. But it all about having meaningful conversations with the right people at the right time.
Most social media networks already have a buy button, so potential customers can purchase items without leaving the app. Just imagine the possibilities – you can identify your customer, social media network they use the most and where you provide a meaningful content to engage with your prospects. When the need arises, they will think about the company they have a meaningful connection with.
And that company might be yours.
HANDPICKED RELATE READ