The Beginner's Guide To Inbound Marketing
March 12, 2018 ・ 8 min read
It's a Thursday night and you head down to your local drugstore, hoping to find some relief for your nagging cough.
When the friendly pharmacist recommends you try his favorite cough remedy – sold at the natural health store a few blocks away – you almost do a double take. Did he really just send me to a competitor?
You thank him and take his advice.
A week later – sans cough – you need to pick up an energy drink for an upcoming project you're spearheading, so where do you end up going? Back to that drugstore.
The heart of any business lies in its ability to effectively market their products or services.
In the example of the person going to the drugstore, why did they go back to this store when they were told to purchase a product at another store?
It's because the buyer trusts the drugstore. This business put the shopper's interests ahead of making a sale and the shopper knew this. This made the shopper a loyal customer.
Businesses don't fare well if their marketing team is just relying on traditional methods such as cold calling, direct advertising or pay-per-click for a sale.
Today's buyers are savvy to these marketing tactics and they know when they're being sold to.
Good businesses don't waste their time on prospects who aren't interested in what they've got to offer. Instead, they focus their business growth on attracting and retaining interested prospects.
And this is what will propel your business forward. It's called inbound marketing and it's something every entrepreneur and every business must learn if they want to have a high return on investment over time.
What is Inbound Marketing?
Inbound marketing is the act of attracting, converting and retaining customers.
Essentially, you are putting your prospects in the driver seat. They choose the path for engaging with your brand and business. And this creates a funnel whereby a prospect starts out curious, becomes comfortable and then finally stays committed to your brand.
This is most evident with Millennials. While Millennials only make up one quarter of the population, they make up the majority of annual sales. Traditional marketing methods just don't work for this generation.
For them, all forms of direct marketing seem unauthentic and not genuine. They install an ad blocker in their browsers, stream their TV programs to avoid commercials and suffer from banner blindness.
Instead, they would rather follow a brand on Twitter, read blogs to become familiar with what the brand has to offer and come to know the person behind the product before they make a purchase.
So, how do you attract these prospects and reap the benefits of inbound marketing?
You'll need a solid strategy to attract, convert and retain your customers.
1. Attracting Website Traffic
The crux of your inbound marketing strategy is generating traffic. Without prospects coming to your site, you'll have a hard time convincing them to buy from you.
There are three major elements to generating traffic to your website. These are knowing your buyer persona, having a content strategy and having a social media strategy.
2. Understand Your Buyer Persona
Here's a question: do you know who your ideal customer is? This is a person who values your products or services and will buy from you over and over again.
Essentially, they trust whatever message you put out and are loyal to your brand inside and out.
These are the people you want for your business. But, not everyone who passes by your site will be your ideal customer. You can, however, attract them by creating a buyer persona.
3. Have a Solid Content Marketing Strategy
With your buyer persona figured out, you can now design content around their interests and needs.
When you understand your target audience you can provide the exact content they seek, making your content the cornerstone to an effective inbound marketing plan.
For your initial content marketing strategy, attract your ideal customer with a blog on your site. From here you can provide other forms of content to reach a greater audience.
Popular forms of content are:
Slideshares
Infographics
Enriched content such as eBooks, guides, or worksheets
4. Amplify Your Social Presence and Promotion.
With up to 74% of people on social media on any given day, you can bet your target audience is tweeting, liking and following.
To take advantage, position your brand on the social media platforms where your audience hangs out the most. Try not to spread yourself too thin; opt for three social media platforms, for example, Twitter, Facebook and Instagram.
To have an effective social media marketing plan, make sure to do the following:
To increase productivity, automate your social media posts by using Hootsuite or Sendible.
Tailor your social media posts to the platform it will be published on. For example, Twitter fares better with microblogging content – short updates – whereas on Facebook you can encourage engagement by asking questions.
Consider hiring out your social media management. This will free up your time and with an experienced social media marketing team behind you, you'll have a better chance at expanding your reach.
Use a social media monitoring tool like Brand24 to find sales opportunities that would otherwise be impossible to find.
Read more: Social Media Lead Generation Strategies
5. Growing Your List
If your content marketing and social media promotional efforts are working, you will be generating more traffic back to your site.
But these are only visitors. Ideally you want to convert these visitors into potential leads that you can contact and market to over and over. The best way to do this is to create an email list and capture their information. Before we get into nurturing that list, let's go over how to grow your list in the first place.
6. Optimize Your Landing Page
Your site should have a landing page with an irresistible offer. Any offer you create can have its own landing page. For your lead generation strategy to work, you will need to have a high converting landing page.
And what's more beneficial, is having multiple landing pages.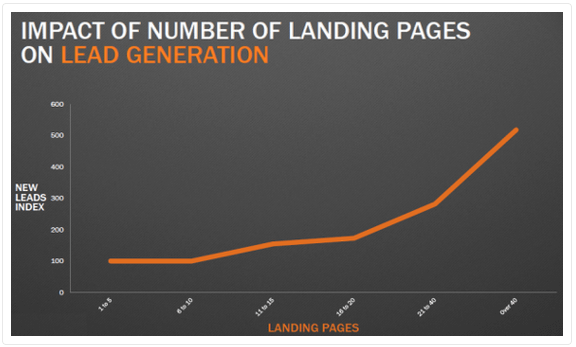 But, there's more to just having multiple landing pages with multiple offers. For a lead capture to be highly effective you need to optimize your landing page.
Here are some ways you can do that:
Use a full-screen email capture like a Welcome Mat from Sumo or a Scroll Mat from Thrive Leads. Here is an example from OkDork.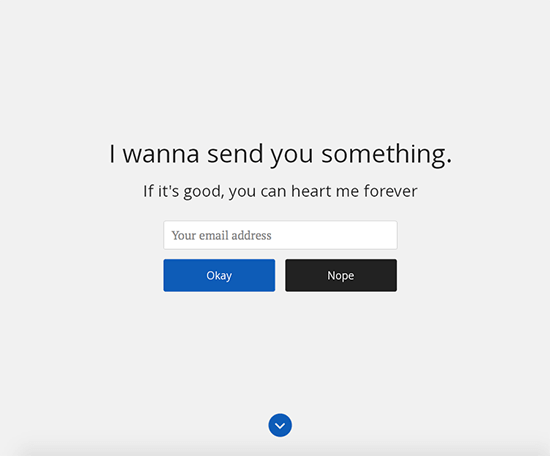 Use social proof to sway a visitor. While you may think your product or service is the best out there, there's nothing more powerful than another person saying so.
Use powerful words and urgency words. Including words like free, available now, and for a limited time only, can generate a 4% higher conversion than if you avoid these words.
7. Have a Powerful Lead Magnet and Call-to-Action
Your offer, or lead magnet, is what will convince a visitor to sign up to your list and eventually buy from you. In statistical terms, up to 40% of unique visitors will opt in to your list.
Lead magnets are alluring offers targeted to your ideal customers. In exchange for a person's email address, they receive something of value.
Usually, it's a guide, eBook, course, toolkit or video series for example, that offers a solution to a common problem faced by your audience.
While a powerful lead magnet can make a huge impact, pairing it with an effective call-to-action button will strengthen your offer even more. Simply changing your button copy to include "start" can double your sign up rate.
8. Nurture Your Email List
With an email list of your target audience, you can now turn those leads into customers.
When designing your email marketing approach, you'll have to consider how you will keep your leads warm and how you will qualify them.
Some ways to ensure you retain warm leads is by:
Promptly responding – don't wait 24 hours to respond to a lead. Once they subscribe, contact them right away. Leads go cold in as little 90 minutes.
Avoiding marketing constantly – this includes the design of your campaigns and the content in your campaigns.
Sending just enough campaigns – blasting them with several campaigns in one week will work against you. It's proven that engagement decreases when frequency increases.
Having targeted campaigns – visitors opting in to a content upgrade versus someone else opting in to your free complimentary service option will have different needs and end goals. Such campaigns should be targeted and is something we will delve into next.
The majority of email marketers are unimaginative and end up sending the same email to their list. So, a buyer may get a pitch campaign – meant for a list comprised of interested prospects – for a project or service they already bought.
It should be due diligence on your part to send targeted emails to specific lists (a buyers list or leads list for example) to increase your revenue.
Qualifying your leads requires planning on your part, however. Developing segments in your list and different qualifying lists will only help your email marketing campaigns avoid falling on deaf ears.
Typically to keep leads warm you'll use an email marketing automation service – like Aweber, Mailerlite or ActiveCampaign – to have a sequence of timed, automated emails sent out to subscribers on a regular basis.
These emails should include both soft and hard pitches of your products or services, depending on which list your leads are on.
9. Retaining Your Customers
By now, your sales funnel is producing consistent revenue for your business. But, just because someone buys from you once, how can you ensure they buy from you again…and again?
A three-pronged approach to customer retention is to:
Delight your customers – having a happy customer only means more business for you. By keeping them happy – exclusive discounts, thank-you follow-ups – you'll ensure they come back and buy from you repeatedly (and then go tell their friends about your product or service).
Listen to your customers (social listening) – monitor and participate in customer's comments and conversations on social media. Take note of any complaints and act promptly. By paying attention and listening to your customers, you'll not only delight them, but they'll become brand ambassadors for you.
Support your customers – your customers want to know you are always available to them and that you will help in any way. Providing this almost 1:1 support will go a long way when it comes to developing a loyal customer.
Wrapping it Up
Inbound marketing doesn't have to be a shot in the dark. With some strategic planning and implementing you can have a strong lead generation plan working hard for your business.
By zeroing in on your traffic, content, social media channels, list, and customers, you'll secure a much better return on investment and generate more success than if you try other methods.
Over to you – what's the greatest challenge you have with your inbound marketing tactics?
Author bio:
Elna Cain is a freelance writer who offers ghostwriting, copywriting and blogging services. She works closely with B2C and B2B businesses providing digital marketing content that gains social media attention and increases their search engine visibility. Check out her new free email course for bloggers and writers!