11 Best Social Media Analytics Tools in 2021
January 30, 2021 ・ 7 min read
Social media marketing and analytics tools are like peanut butter and jelly – one just won't work without the other one in digital marketing. Analytics helps you understand what you do well and, even more importantly, what do do wrong so that you know what to fix and improve. I prepared a list of 11, in my opinion best social media analytics tools in 2021.
Sir Arthur Conan Doyle's Sherlock Holmes once said:
Data! Data! Data! I can't make bricks without clay!
Just like Sherlock Holmes carefully gathers evidence and puts together another pieces of the puzzle to solve a case, you should gather, analyze bits of data to make sense of your marketing efforts and get the full picture of the situation – social media analytics tools are here to help.
Let's see what the best social media analytics tools are. Some of them are free, some paid.
---
1. Google Analytics
One, seemingly unrelated social media analytics tool is Google Analytics.
Even though Google Analytics has been mainly designed to analyze the web performance of your website, it also offers plenty of insights about social media channels, for example:
Sources of social media traffic to your website: Discover what social media platforms bring the traffic
Goals completions for your social media posts: Assign goals and analyze their completion
Conversions from social media posts: Assign revenue to conversions in social media
Assisted social media conversions: See if any of your social media platform contributed to a conversion
Google Analytics is free.
---
2. BuzzSumo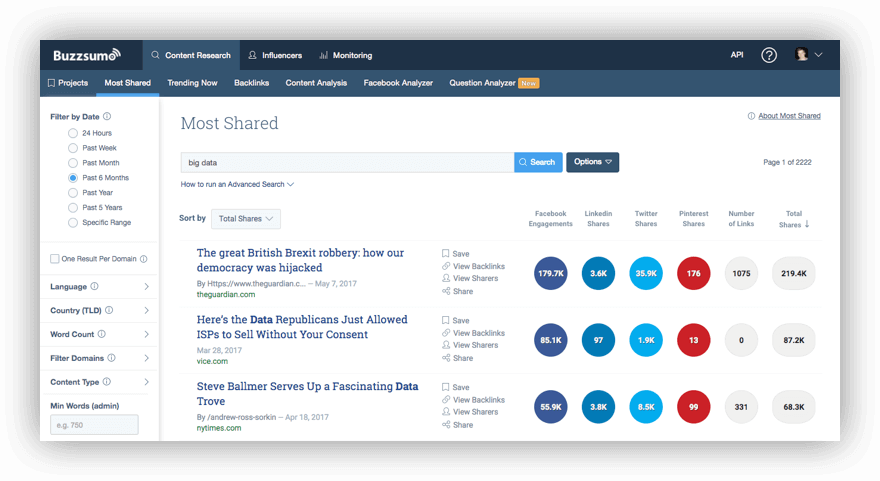 Another, this time paid, social media analytics tool I personally really, really, really like is BuzzSumo.
What is BuzzSummo? It's a content analytics tool – among many features such as brand monitoring, social listening or competitor research, it also provides social media analytics:
Content discovery: Find most shared content in social media networks. It's a powerful feature for content writers!
Content analysis: Find social media data about particular topic of interest: content type, top shared domains, top social media platforms, etc.
Influencer marketing: Find top influencers in a niche or industry based on social media reach or engagement.
BuzzSumo offers free trial.
---
3. Brand24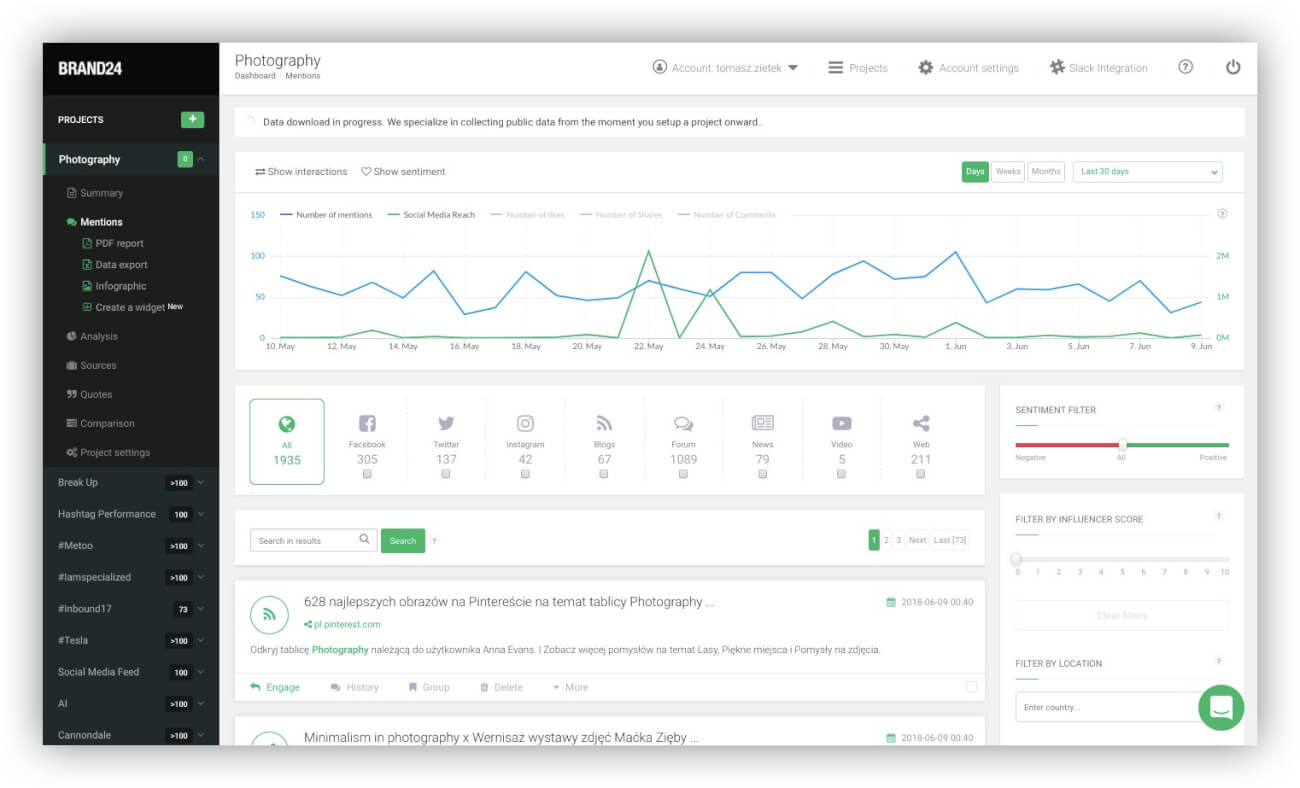 Correct, that's us – one of the best social media monitoring tools. Says who? Says Buffer!
Brand24 is a social media analytics tool starting at $49 a month and offers a free, 2-week trial (no card required).
The tool does web and social media monitoring and analytics across multiple channels You can monitor keywords related to your company, for example company name, website address, company hashtag, marketing campaign name or hashtag and discover how they perform in social media channels in terms of social media reach, engagement, volume of mentions, influential sources mentioning them, etc.
Social media analytics: Analyze the performance of your keywords on Facebook, Twitter, Instagram and YouTube, including volume of mentions, social media reach, sentiment analysis of your keywords.
Metrics of engagement: Track the engagement the social media posts, marketing campaigns and content generate
Metrics of influence: They're great for influencer marketing as you can discover the influence of social media authors talking about your company or any topic
Trending hashtags: Find trending hashtags on Instagram for any keyword
Hashtag analytics: See how many times a hashtag was used on Twitter, Instagram and Facebook
---
4. Cyfe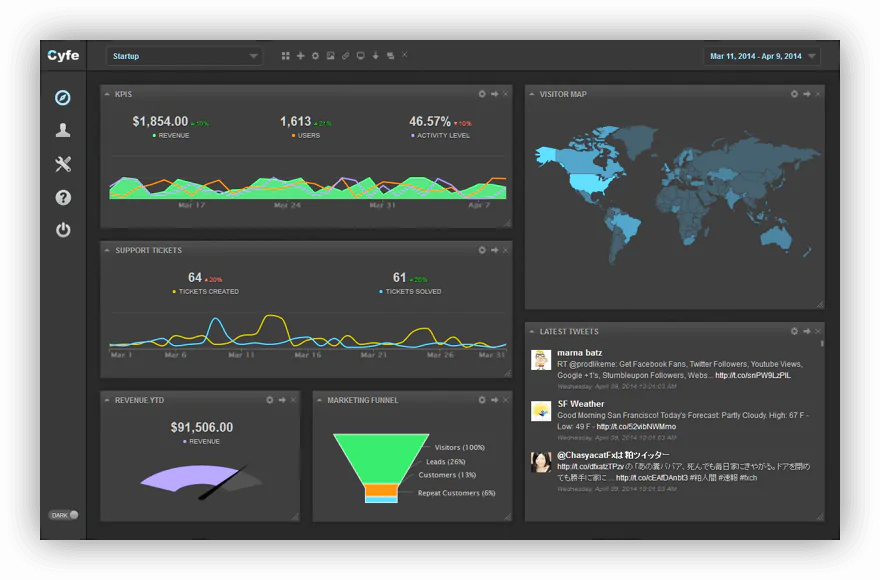 One of the best social media analytics tools is Cyfe – a business dashboard tool.
It syncs up data from many, many, many marketing tools in one place.
The number of available integrations and dashboards is astonishing and makes Cyfe a powerful tool – it covers not only social media analytics tools but also advertising, email, monitoring, sales, SEO and web analytics tools!!!!
However, let's focus on the social media part.
In Cyfe, you can build your social media dashboard including following apps and data:
AddThis
Bitly
Facebook Ads: Cost, impressions, clicks, actions
Facebook Pages: Likes, clicks, active users, page views
Flickr: Top photos, slideshows
Google+: Plus ones, circled by
Google+ Search: Posts
Instagram: Photos, followers, following
LinkedIn Ads: Cost, impressions, clicks, conversions
LinkedIn Company: Followers, impressions, engagement
Pinterest: Boards, pins, likes, followers, following
Publisher: Schedule social media posts
Reviews: Yelp, TripAdvisor, Facebook, Google, YP
SlideShare: Views, favorites, comments, downloads
Twitter: Tweets, followers, listed, mentions, influencers
Twitter Ads: Cost, impression, engagement, follows
Twitter Search: Tweets, mentions, hashtags
Vimeo: My feed, top videos
YouTube
You can try it out for free.
---
5. CoSchedule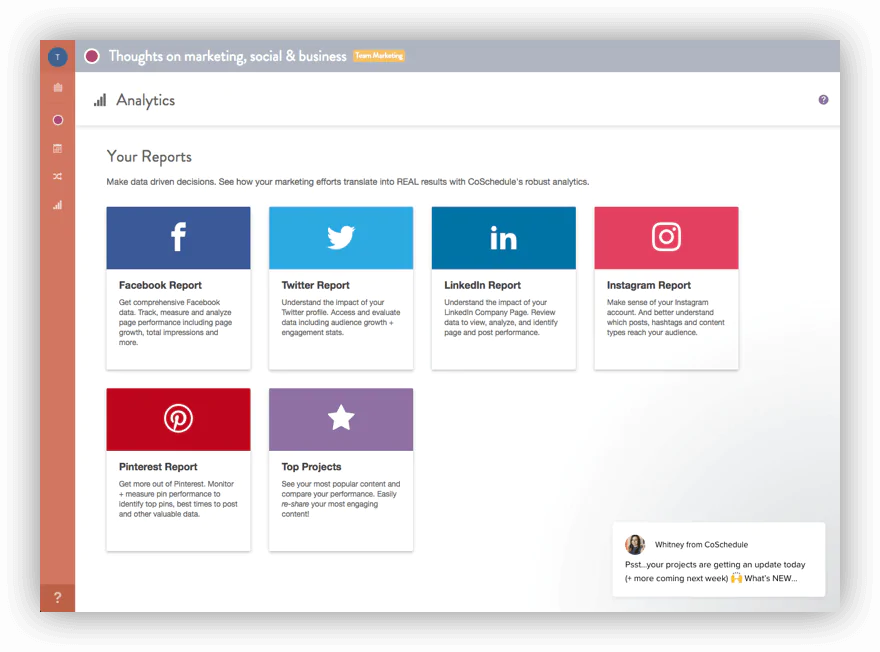 At Brand24, we use CoSchedule as our editorial calendar – it never let us down and we can surely recommend it to all small, medium and large businesses.
The cool thing about CoSchedule is that it analyzes the performance of your social media posts and, on this basis, suggests improvements and recommends particular actions across all your social media channels, for example:
Best day to post
Best time to post
Best type of content to post
What's more, CoSchedule provides analytics of your social media posts, including:
Social engagement analytics: Analytics of interaction your social media posts receive
Social campaign report: Tracking across multiple platforms the performance of a campaign
Audience insights: In-depth reports about performance of your social media channels
Social message analytics: Tracking engagement for particular posts
Social share analytics: How many times your link has been shared across social media
Top projects reports: Analysis of top 100 posts
---
6. Sprout Social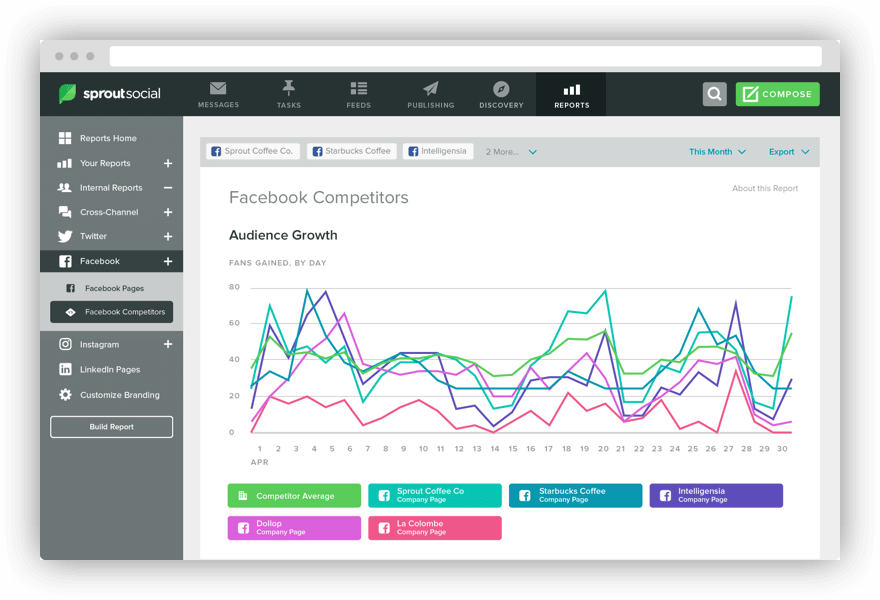 Another all time best social media analytics tool is Sprout Social. It's comprehensive social media management tool you can use to track your performance in social media.
The platform offers plenty of features to analyze social media performance, engagement, post social media messages or listen to social media conversations about your company. Sprout Social has a plenty of features. To make users' lives easier, they offer solutions:
By business type:
For enterprise
For agencies
For small businesses
By need:
For social management
For social marketing
For customer care
For employee advocacy
By network:
Twitter
Facebook
Instagram
LinkedIn
Google+
---
7. Keyhole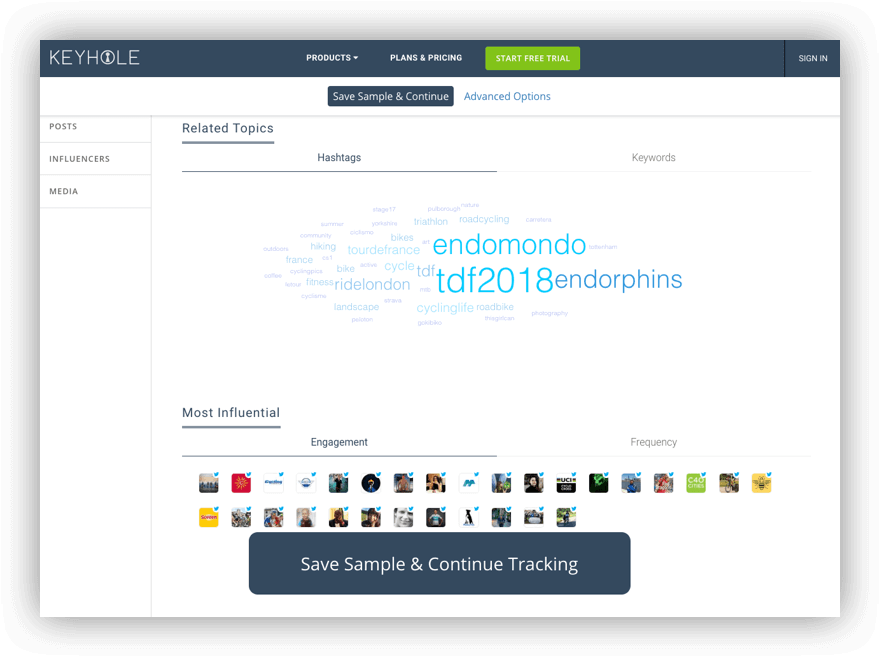 If you're interested in the hashtag game, Keyhole is a nice tool to learn a bit about the hashtags you use. Keyhole supports also account, keyword and URL tracking on the Web. What's more, you can use Keyhole to track mentions about social media profiles, keywords and URLs.
Importantly, you can request historical data from Twitter and Instagram including information about the number of posts, users, engagement and influencers. There are 5 pricing plans and the highest one includes:
Historical data
PDF reports
Real time data
Twitter analytics
Instagram analytics
Facebook analytics
Youtube analytics
Sentiment analysis
API access
+more!
---
8. Brandwatch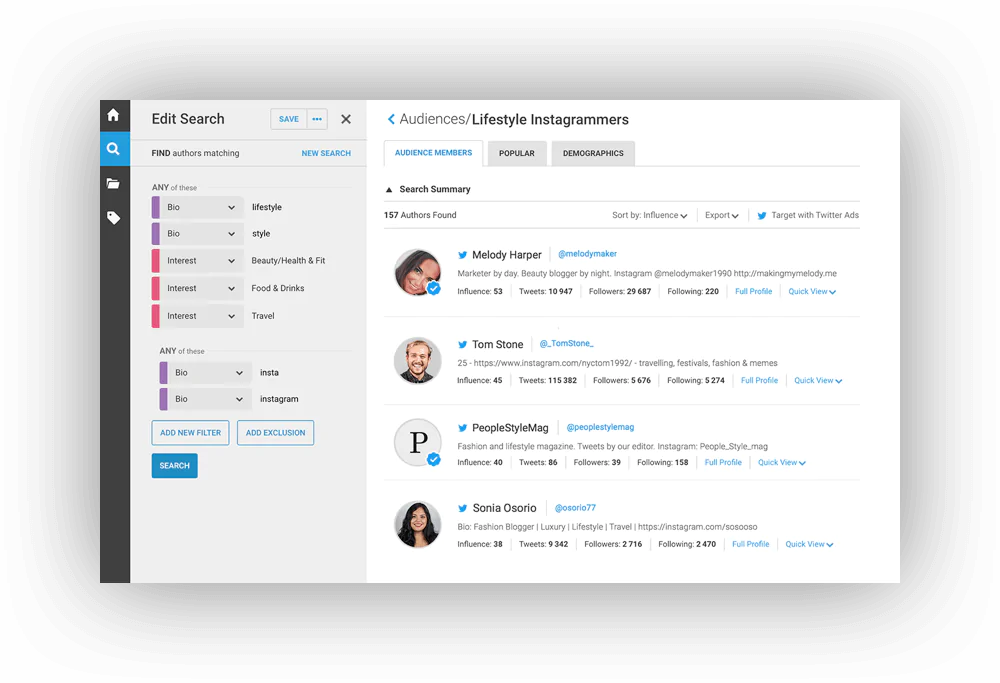 Brandwatch is one of the best social media monitoring and analytics tool out there.
It collects online mentions from all over the Web: social media, discussion forums, blogs, news sites and other publicly available sources. Also, it has plenty of features that allow in-depth analytics of your online mentions. Some of the features include:
Demographics: Data about authors of mentions, including gender, interests, profession or location
Image analysis: Detect images that contain your company logo
Influencers: Find top influencers mentioning your keywords
Locations: Discover where do your mentions come from
Automated reports: Get your data directly to your inbox in HTML or PDF formats
+more!
---
9. Quintly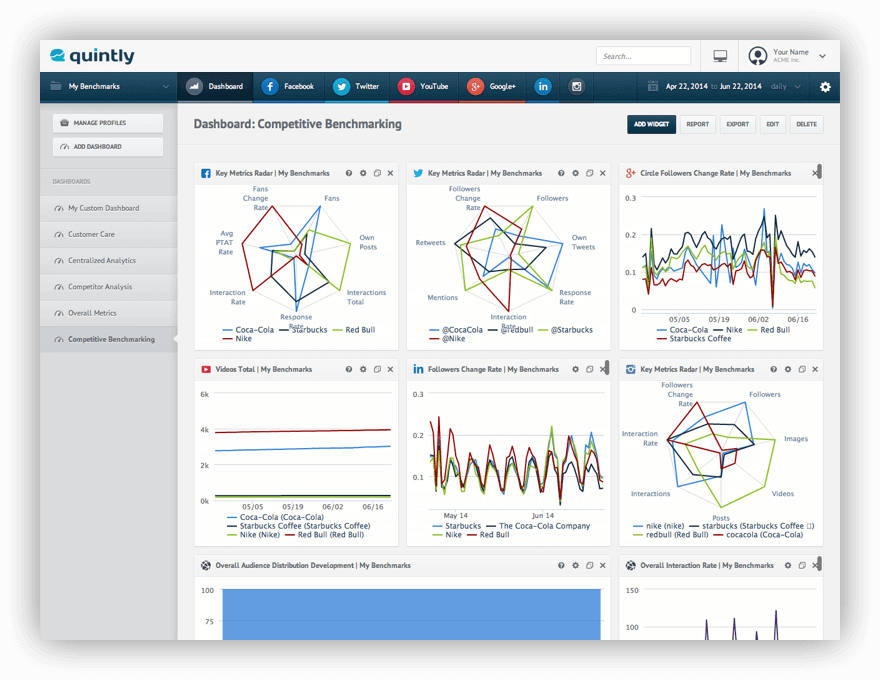 Quintly can help you with social media analytics including Facebook, Twitter, YouTube, Google+, LinkedIn, Instagram, Pinterest and blogs. There's plenty of features for each platform but the most important features include:
Competitive benchmarking: Find benchmarks for your social media channels and discover what content works best for you
Centralized analytics: Discover over 250 social media metrics and track your performance
Smart reporting: Get reports based on your custom dashboards and pick any metrics you want
Custom dashboards: Create custom dashboards including metrics of your choice
Overall metrics: Track specific KPI's and measure social media performance across all major networks
Key influencers: Get data about the most influential social media profiles
Data exporting: Export your data to CSV or Excel and download any metric as JPG, PNG, PDF, PPTX
Customer care: Monitor Facebook and Twitter to track customer queries
+ more!
10. Audiense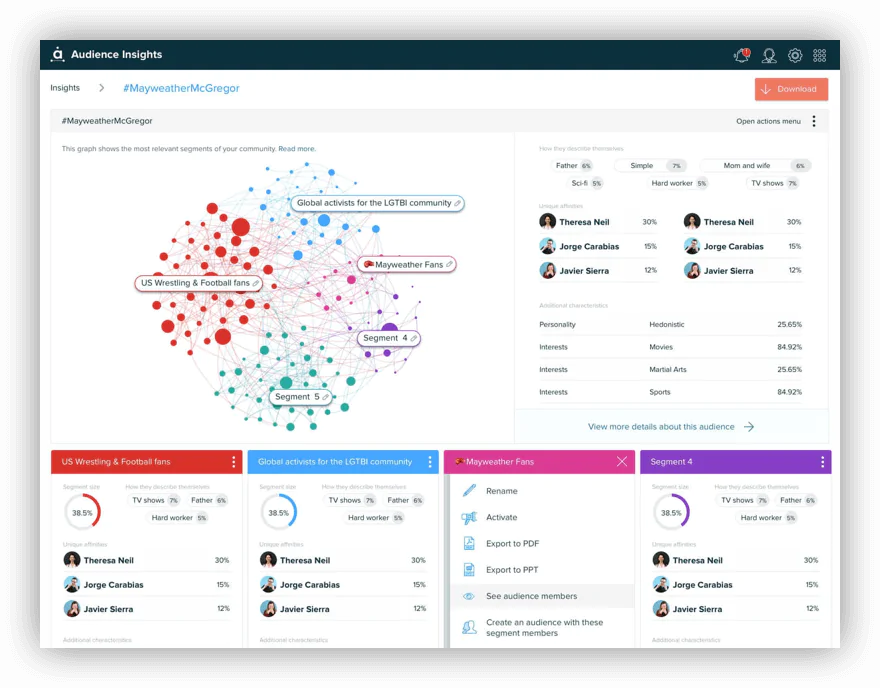 Audiense is one of the best Twitter analytics tools. What's cool is that it's free if you have less than 5k followers.
It gives you a unique insight into your followers:
Interests
Location
Languages
Influence
Best time to tweet
11. HeyOrca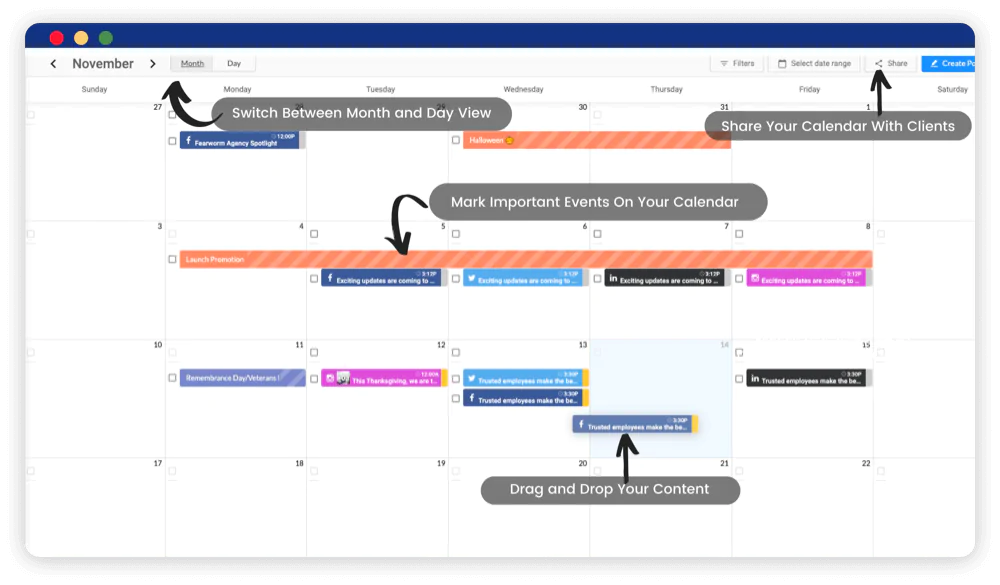 HeyOrca is a social media planner designed for quick and easy collaboration with clients. It offers not only publishing, management, collaboration, but also analytics of social media content across various platforms.
It's a great choice for agencies that cooperate a lot with customers and present them with social media content for approval.
Some of the features HeyOrca offers include:
Accounts Organization
Social Media Planning
Internal Collaboration
Client Approvals
Direct Publishing
Performance Analytics
What are your best social media analytics tools?
Do you have any favorite best social analytics tools? Let us know in our social media – on Facebook, Twitter or Instagram.