What You Can Learn From Sony PlayStation Social Media Monitoring
February 11, 2015 ・ 4 min read
These days, Twitter is one of the most popular and powerful communication channels in social media, especially when we consider gaming. Before the times of ubiquitous access to the Internet, gamers derived information from magazine articles or shared their experiences with other players offline. It was generally type of one-way communication and interactions were very limited.
After the social media revolution the way of communication changed profoundly. People now can share their views and experiences in a real-time and interact with their friends, people they admire and their favorite companies as well. It gives brands ample opportunities to make its name and gain loyal clients.
"Engaging in an authentic, meaningful conversation with consumers will be the key to marketing success and growth." Ron Blake, CEO at Rewards Network"
Twitter created a hospitable space for the gaming community where people can boast about their achievements and advise others on their problems or queries in distinct areas. The 140-character limit is perfect for such messages. Consistency and concision encourage gamers to create actively contents on Twitter.
Interaction in the first place
Marketing specialists and managers very often use social media monitoring in a real time in order to prevent crises. It is important to track negative comments about a brand as soon as possible to avoid brand reputation decrease. However, there is also a bright side of the social media. Internet users not only complain about everything that surrounds them, but also express their positive attitudes and share experiences in general. Canny experts should take advantage of this and always interact with fans, when they talk about a brand in each and every context.
PlayStation on Twitter
PlayStation Poland spotted a huge potential in Twitter, which is both a hospitable space for a gaming community and a powerful communication channel. Together with social relations agency, Konceptika the brand took the challenge to increase engagement of their fans on the platform using 140-character messages. With a consistency and concision they encouraged gamers to interact with the brand.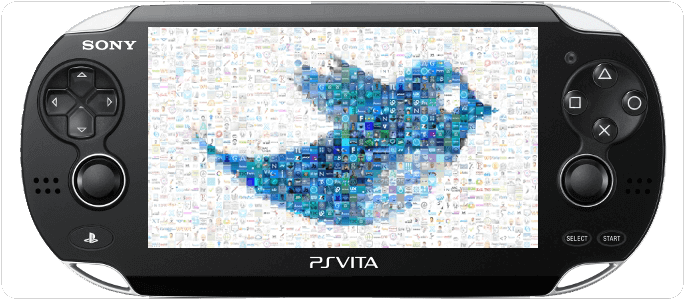 "First of all, you need to remember why your brand is on Twitter? We are there for people not the other way around. Our fans look for ways of interaction with their favorite brand therefore we need to perform like a human being.

How to achieve it?

Respond immediately like in a face to face conversation: would you chat with a person that decides to respond to your query after a week? Never hard-sell and never act pushy, we are there to have a conversation, not to annoy followers with a newest "deal" – be cool and listen them to.

You will see they will not forget you. Show off your wit, humor and charm – engage with top newest topics, have your say, express yourself – no one wants to engage with a dull, boring bureaucrat." Sławomir Kochański, Senior Digital Marketing Specialist, Sony Computer Entertainment Polska."
Discussion Tracking
PlayStation together with Konceptika developed its own approach in managing social media discussion. It is based on an effective, accurate and swift social media monitoring tool which helps to find discussion in a real time and reply as fast as possible.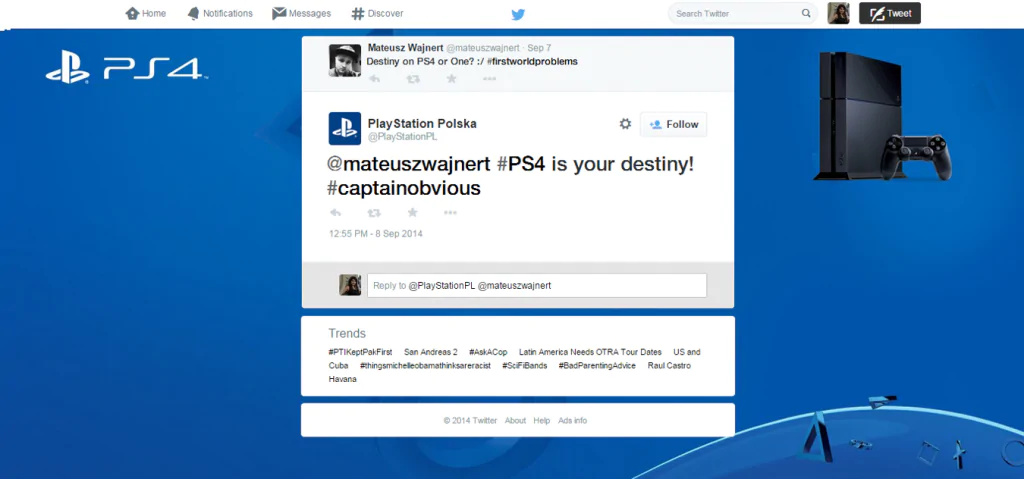 The world of PlayStation is much wider, than it seems to be. Thus proper keyword configuration and finding matched context in the Internet discussion are essential. What is more, 140-character message forces accuracy and concision. There is no place for mistake, lack of precision nor for lagging behind. The message must be in a right time, right place and right context. In addition, positive mentions create enormous potential to enhance this positive attitude of users by a proper interaction.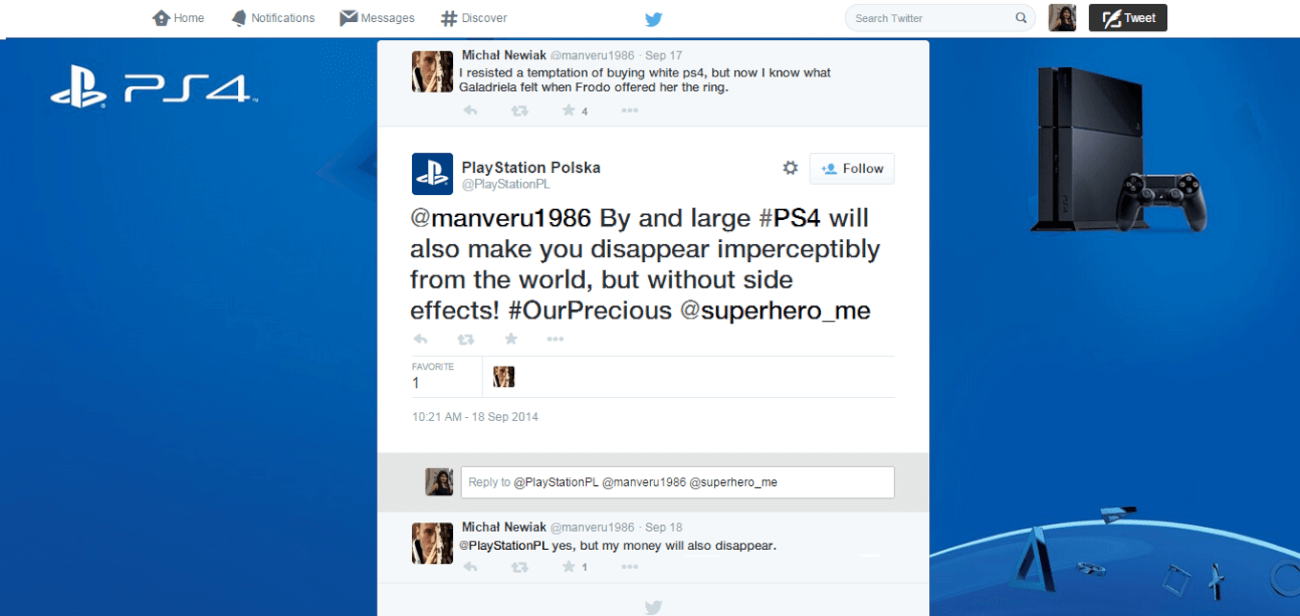 PlayStation's Areas for Interaction
SUPPORT CLIENT'S DECISION – PlayStation always reacts when gamers post about their intention to buy a game or a games console and helps taking decision.
SUPPORT SALES – When a gamer hesitates which brand to choose, PlayStation is always there to dispel their doubts.
EXPRESS A CONCERN – By expressing concern about gamers' problems PlayStation enhance relations with fans.
ACCOMPANY AT THE GAME – PlayStation always reacts to gamers' posts about playing the PS. Thus, gamers willingly share print screens and footages registered during a game with #PS4Share hashtag.
APPRECIATE LOYALTY – PlayStation is always on guard and whenever a client writes in social media that uses or is going to use PS products, the company immediately gives the acknowledgement to him or her.
Results

#1 KEY RESULT
The number of @PlayStationPL followers increased by 60%.
#2 KEY RESULT
The number of tweets about PlayStation increased by 55%.
#3 KEY RESULT
The number of positive mentions about PlayStation increased by 88%.
5 Takeaways From PlayStation Social Media Monitoring
LISTEN TO YOUR CLIENTS. The first and the most important thing is to listen to your clients. You should be present where your customers are and listen to their needs, complaints, opinions, reviews and points of view.
INTERACT WITH FANS. No matter in which context people write about your brand, if you can relate to a message and react properly, you will always have an advantage.
FOCUS ON A PLATFORM WHERE YOUR CLIENTS ARE THE MOST ACTIVE. You can divide your operations in digital media into different channels, but focus on the one or a few that suit best your company's profile and your clients' needs.
CREATE VALUE. Don't forget that valuable and engaging contents bring good measurable results. People interact with contents that appeal to them and are important to them.
DON'T WAIT. The sooner you can react to comment about your brand the better results you can get.


Check out the original case study on Slideshare.
How do you engage your fans on Twitter? Leave us a comment!