How to Use Social Media Monitoring for Reporting
May 30, 2019 ・ 6 min read
"May I have a report from last month asap?" The question that can disrupt the day of every marketer. Thankfully, we have a (not-so) secret weapon for exactly this type of situation. Check out the four steps that will greatly speed up your work.
A report… Sounds serious! It is indeed an important document that presents a summary of key info regarding the effectiveness of our activities. A report enables us to make rational conclusions and decide on the direction of our actions for the months to come.
Read also: Top Marketing Reporting Tools
But let's be honest… Creating it is no fun at all. In practice, downloading and sorting data may take many long hours. I'm sure you know exactly what I mean. Now, how would you feel if the whole process could be efficiently automated?
What if each report could be generated automatically, at any time? Sounds like a beautiful idea, ha? But! It doesn't need to be just an idea! Go through the 5 steps below and see by yourself all the time and effort you can save!
What will my report contain?
Since 'a report' is a very broad term, let's first specify exactly what it is that you get in this type of document:
A number of publications about your brand.
Here you can divide them into those published within social media and outside of social media (websites, blogs, forums, etc.),
Information on how many people have seen your content,
A level of involvement among target recipients,
A list of the most influential people and sources regarding a brand,
a product or action,
The most frequently used words in the context of your brand,
Information on your competition's activities
Media monitoring tools offer a wide array of online sources. For example, Brand24, collects publicly available mentions from:
social media platforms, including Facebook, Instagram, Twitter, TikTok, Twitch, and YouTube
news sites
review sites
blogs
podcasts
newsletters
other Web sources.
Combine the variety of sources with robust analytics data and you got the perfect mix for a robust social media monitoring report!
Start free trial! Create your project!
Is it clearer now? Great! So let's get to work, shall we?
How to create a social listening report?
Creating a social listening report is a piece of cake, given you have some help from a social listening tool.
To make the process even more user-friendly, we prepared a short guide on how to use social media monitoring for reporting!
Step 1. Create a project in Brand24
The first step is setting a keyword. If you run communication, promotional or image activities around your own brand, its name will be in the center of the project. Add it along with a link to your social media profile (a URL address, a Twitter tag, Instagram, etc.). You can also add the names of your products, search terms, and characteristic hashtags. Everything that identifies your brand online.
Step 2. Check competitors data
Remember that network monitoring allows you to collect data not only about your business but also about your competition. In your next project, focus on the companies that you perceive to be your competitors. Thanks to this, you will get a full package of invaluable information on where the active brands in your industry are.
You will find out where they are carrying out their marketing activities and with what effect, as well as what people say about them online. What do they complain about? What do they praise? You can find it all out once you start the project.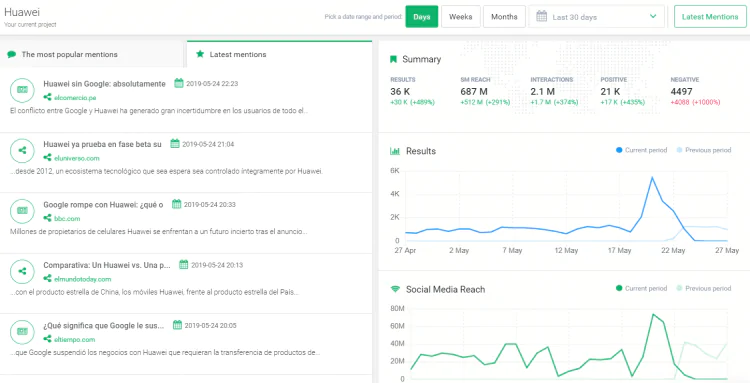 Report your work! Free trial (no credit card required)
Step 3. See the most accurate results
There is a good chance that your project will have results not directly related to your brand or simply not all will be equally valuable to you. Here, the filters come in handy. You can select the data that is most important to you. A few examples of such data selection filters are:
an additional keyword – for example, when the project concerns a brand, and you want to see how many mentions refer to one product or one related phrase,
an influence score – by setting it on e.g. 7/10 you will see results regarding websites and people with the greatest reach,
a domain and author filter- if you are interested in data regarding a specific person or site
These are just a few examples of how you can group results and include the most significant data in your report.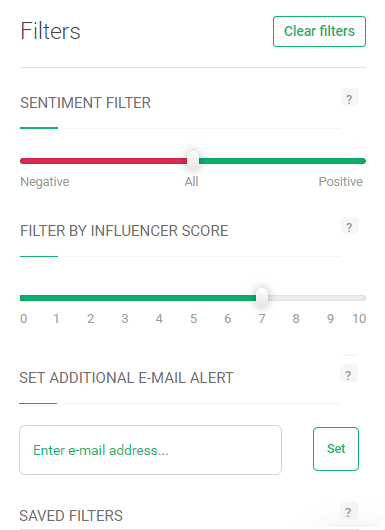 Step 4. See who is already looking for you without you realizing it
We always emphasize the importance of tracking your brand online. Here, I want to emphasize one more thing – the importance of network monitoring in business. It's about tracking down where potential customers are looking for your products or services in case they aren't aware of the fact you provide them.
Do you know that, over the year, there are over 400,000 searches for specific products? They come from people who are determined to buy them, and all they need is to know which manufacturer provides what they are looking for. As our research shows, the vast majority of these inquiries are ignored. Brands underestimate following phrases like "who will recommend" + "product name" or "where to buy" + "product name".
The number and type of such queries show the potential of your market niche and how much interest there is in what you have to offer. This data is very costly, unless you use your wits, set the project properly and let the tool do the rest for you.


Check the mentions! Create your first project!
When you already noticed that mention, you can go there and… close the deal!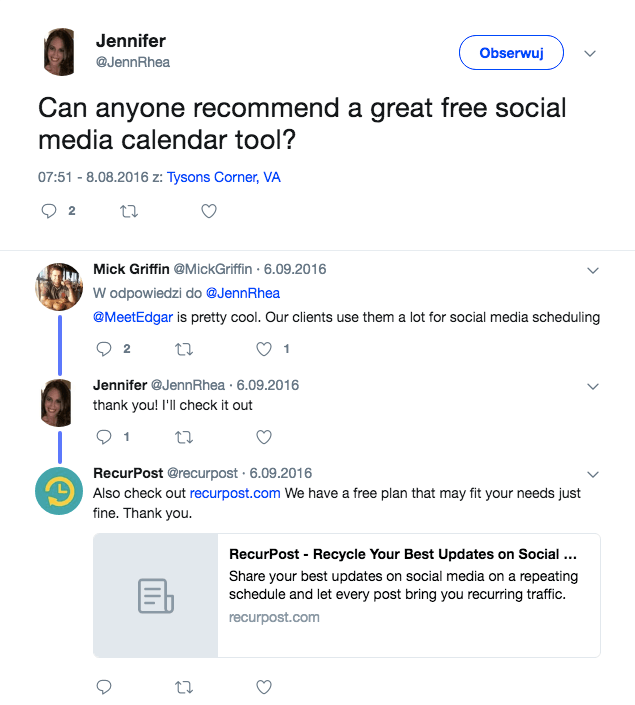 Step 5. Generate the report
We've almost got it. Projects are set to look for mentions of your brand, your competition and people who are looking for both. Data is collected from all publicly available places. If the information is too much or too general – you enter filters so that you can see only those results that are important to you and your team. Remember that a small number of mentions (with a properly designed project) is also a valuable conclusion for you.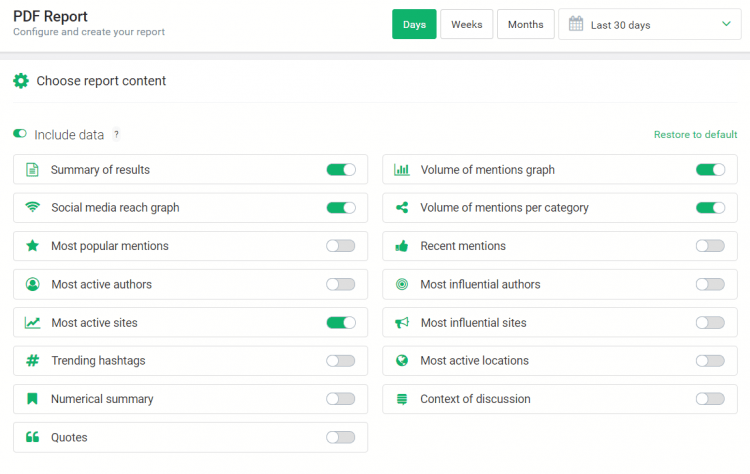 The most pleasant part – generating the report. If you're doing it for the first time, I guess that those two words, "pleasure" and "report", don't really go hand in hand for you. That's exactly why you should make use of the tools, dear marketer.
Open the project on which you want to generate data, click on the RESULTS tab and then the PDF REPORT. Here you can choose the range of information you want to include in the final document. The most popular ones are already chosen for you yet you can modify them any way you want. When you're done, simply click on GENERATE REPORT.
We got this!
Remember, if you already have a well-configured project, generating a report will take just one minute. You can do it whenever there is a need. Brand24 collects data up to date, and one PDF document will put it all in one place. You can watch the results and analyze the effects of your work and track competitors.
Life has become a bit simpler, right?
Related reads: