A Step by Step Guide to Social Media Audit
March 14, 2021 ・ 8 min read
Social media audit can be a dreadful process to perform. Yet it's necessary if you want your social media marketing to succeed. The audit will help you assess the results of your social media activities, discover your strengths and weaknesses, and implement necessary changes to your social media marketing strategy.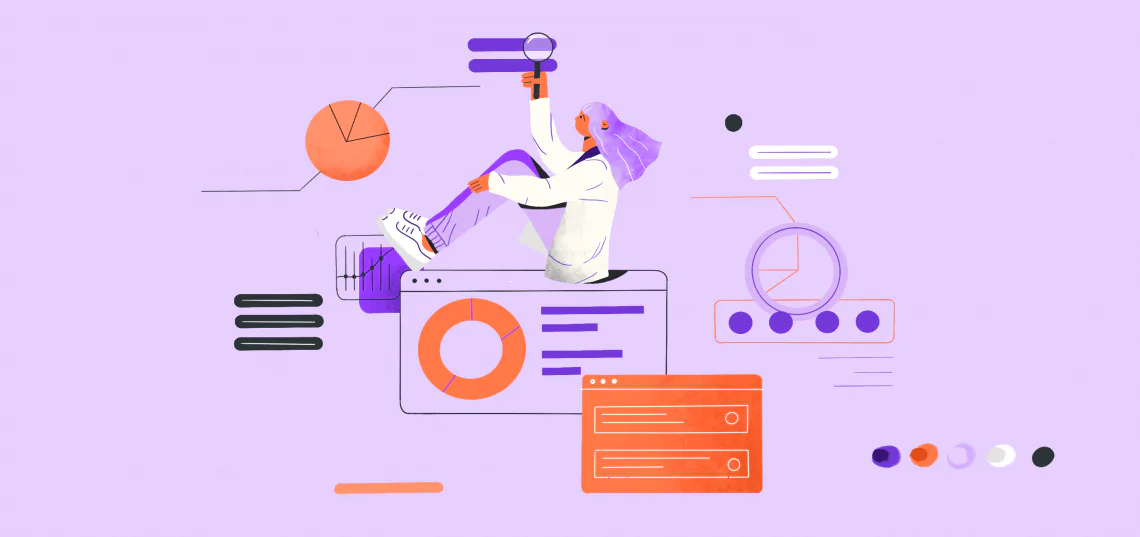 How to conduct a social media audit on your own?
The process doesn't have to be complicated. This step-by-step guide to social media audit will help you structure the audit process making it a piece of cake.
Are you still scared of social media audit? Then let's talk benefits.
You can collect data to perform a SWOT analysis and identify your strengths, weaknesses, opportunities, and threats;
You can make sure your brand is represented consistently and appropriately across different social media channels;
You can grab all the opportunities that arise for your brand – a social media world offers plenty of events to build your brand awareness – it's your job to spot them;
You can measure how your brand performs across various social media channels, including some key metrics of reach, sentiment, volume, engagement, and more.
Here's what's ahead of us today:
What is social media audit?
I know that the majority of people will shiver with fear when they hear the word audit. Having your company audited by the tax authorities is probably one of the most stressful situations imaginable.
But, in the end, social media audit will help to broaden your audience, find new leads, increase conversion rate, and rise spread awareness about your brand.
A social media audit will give you a general idea of what's working for your brand's social media strategy and what's failing miserably. Moreover, you'll realize what can be done to improve your overall social media presence.
Here's everything you always wanted to ask about social media audit but were too afraid to ask!
What does a social media audit include?
Here comes the dreadful moment – you need to create a spreadsheet. Writing down all the necessary data is essential.
First of all, you won't be able to remember all the important information gathered during the process. Jotting down the results of the social media audit will help you keep track of all the data. It's the starting point.
Secondly, social media audit results will be interesting to many people across different departments in your company. I bet your sales division will be more than eager to know which social media posts are converting the most.
And, last but not the least, having one file with all your social media audit data will help you compare the results month to month, quarter to quarter or year to year, depending on your needs.
Some marketing strategies will start paying off a few months after the implementation, so it's vital to monitor the results analyzed for an extended period. You'll also be able to spot seasonal fluctuations. For example, a Black Friday promotion might skew your results from January of the next year.
Social media audit checklist
No matter the industry or company size, a successful audit will include some universal points. These are common elements of social media audit:
Audience data – depending on the audience demographic data, your message and its delivery will vary. Check which social media channels your target audience is using and target your message according to the rules of the social media platform
Profile information – make sure all your bio information and links you posted on your social accounts are up-to-date
Engagement rate – take a look at the rates of engagement. Is your audience responding well to your messaging? What are the best performing posts on your instagram account? How fast is your followers count rising? How does your content spread across social media?
Publishing schedule – monitor how often you publish on specific social media channels
Referral traffic – which social media channels are driving the most traffic to your website?
Since all social media channels have slightly different metrics, you have to create a separate Google Docs spreadsheet for every platform.
Start with finding all the social profiles you ever set up. There's a chance you log in to YouTube or Snapchat only once a few years back, but the profile is still there.
It's ok not to be present everywhere but having social media profiles with no activity whatsoever could have adverse effects on your brand image and social presence. A tool like Namechk will help you with dusting off old social media channels.
As I mentioned before, you don't have to be present everywhere, but it's a good idea to keep a finger on all the developments in the social networks. By being an early adopter, you might gain a competitive advantage and position your company as an industry leader.
If looking for new a new social media channels is just too much in your busy life, take a look at our Social Recap. It's just a couple of minutes that will keep you up to date with recent developments in marketing.
Audit your social media profiles
Analysis of your social media profiles will be the basis of your social media audit. It shows what's working, what needs to be improved and identifies your opportunities.
There are plenty of important metrics to follow, and it might be hard to distinguish the important ones from vanity metrics. I recommend taking a closer look at the numbers for:
Engagement
Shares
Impressions
Referral traffic
Clicks on links
I deliberately omitted the followers' count. This number says absolutely nothing about the health of your social media profile. You can have a lot of followers, but it's the number of interactions (engagement, shares or impressions) that counts. After all, it's better to have 1 000 followers who are interested in your message than 1 000 000 followers who couldn't care less about your offer.
Identify content that matters
The whole point of social media audit is to identify content that resonates well with your audience and emulating these posts. It might be hard to compare posts from different channels as everyone uses slightly different metrics.
That's where you can use a social media monitoring tool, for example, Brand24.
Start with setting up a project.
Enter your predefined keywords into project creation wizard. The social media listening tool will start to collect all the mentions from the Internet that include your keywords.
Having trouble coming up with the right keywords to track? Think about the name of your company, your branded hashtag, or the name of your product or service.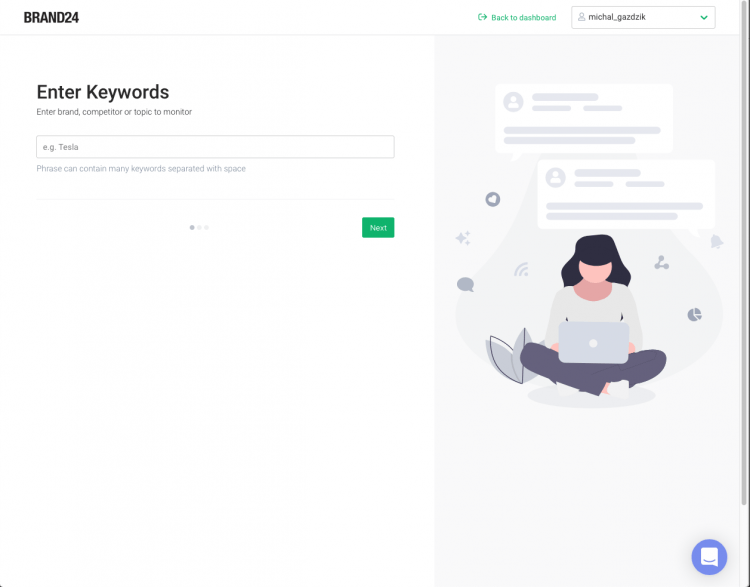 Social media listening tools, in general, don't collect historical data, so give it a couple of days to gather a sufficient amount of data.
You'll find the most important information in the Analysis tab. Brand24 will analyze the mentions and give you information about:
The most popular authors
The most popular mentions
Estimated social media reach
Social media interaction
Social media likes
Social media comments
And many more! You'll find the filters in the right upper corner, and you'll be able to split the results according to a social platform you want to audit.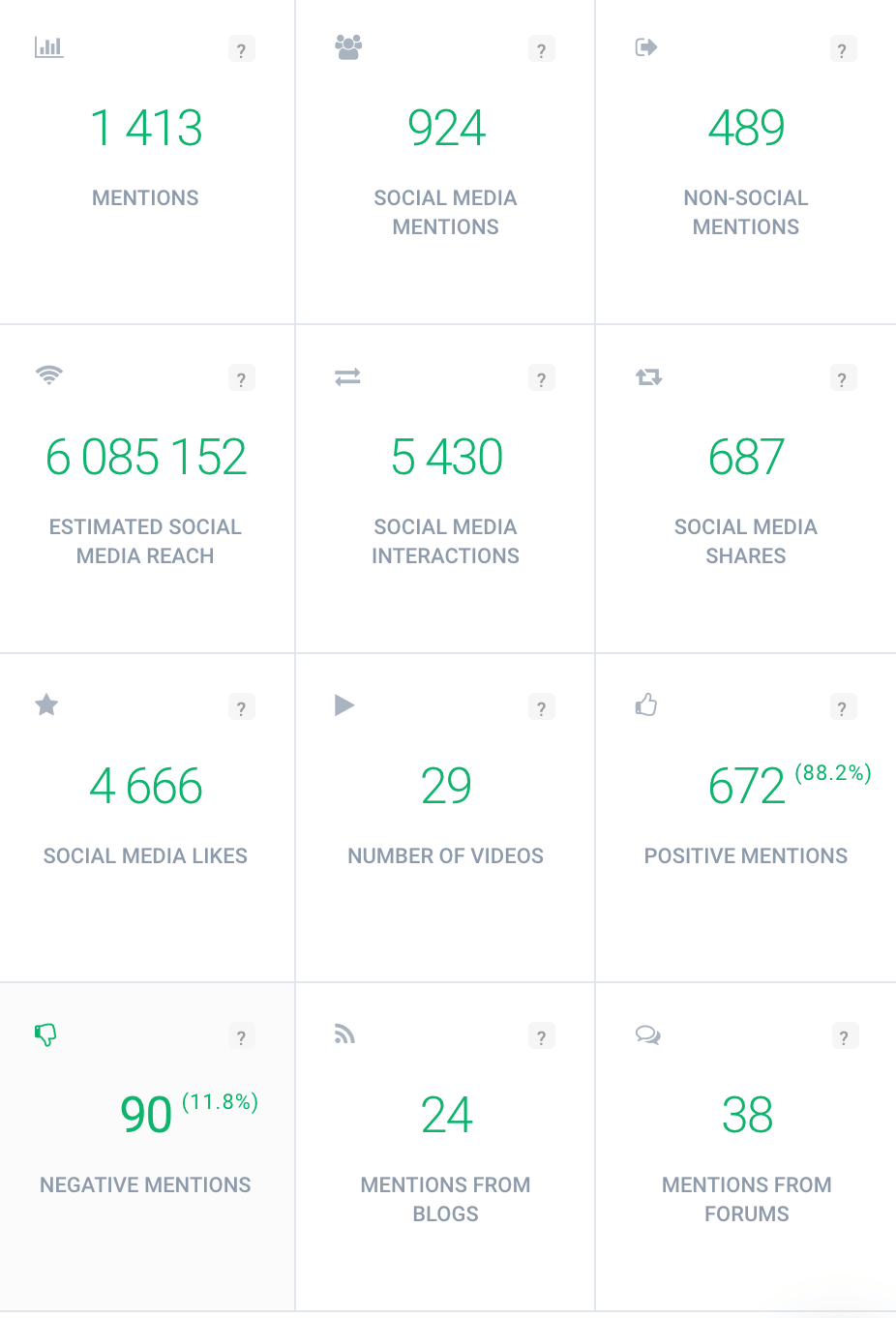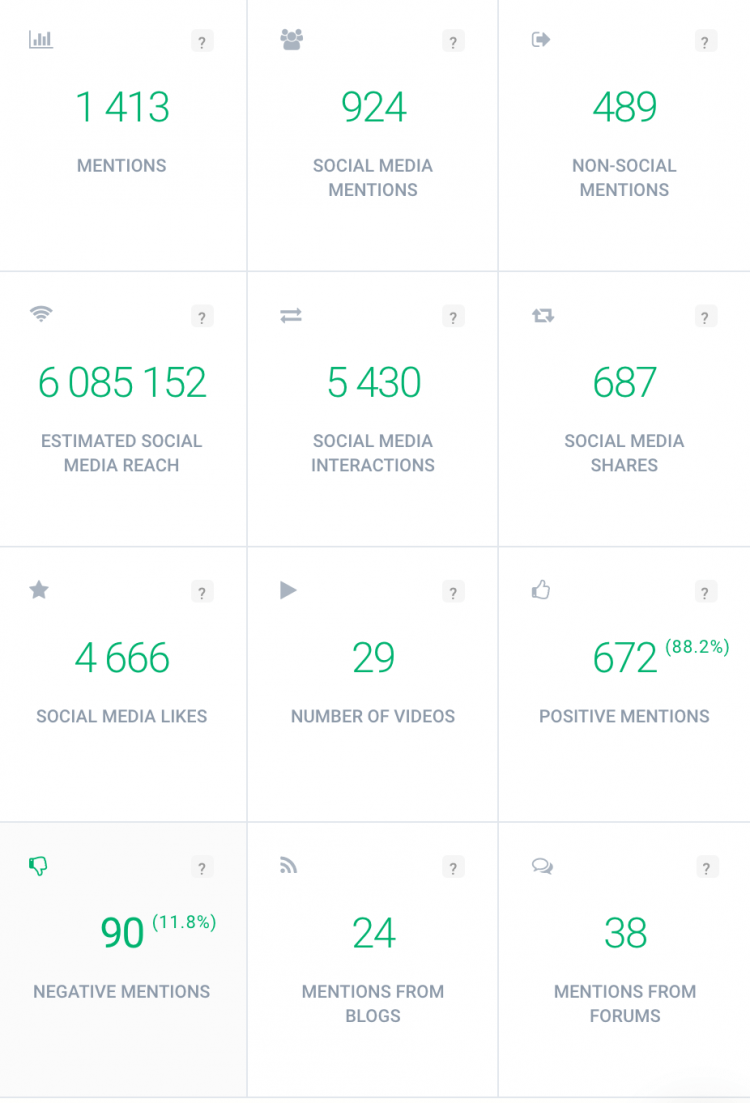 Brand24 starts at $49 and offers a 14-day free trial, no credit card required.
What's also super important while conducting a successful social media audit is taking a deeper look at your referral networks. That can be easily done with Google Analytics under Acquisition.
Audit your brand presence
Every social network gives you an opportunity to introduce your brand. Make sure that your audience knows immediately that they are looking at the profile of your company.
Consistency is key.
Start with your photos. Most social media channels allow you to upload up to two photos. Make sure your profile photo is the same on every channel.
Secondly, check the URL you provide with your bio information. It's easy to forget that you change the link once for a specific campaign that's no longer running.
You can verify your profile on some of the social media platforms. A verification will give you an additional boost to the awareness of your brand as your audience will immediately know that they are in the right place.
Determine your ROI
I know how hard it is to measure the ROI from your social media activities. You can, of course, count the number of conversion from social media channels, but how to do when conversions are not your main objective? What if you want to focus on brand awareness? Or sales that are inspired by social media but do not come directly from social?
An ROI is, however, an indispensable part of your social media audit. It will prevent you from spending resources on activities that will never deliver any value to your company.
You can track the number of downloads of an ebook or any other dedicated content. Google Analytics will help you measure the number of organic traffic or sessions on your website.
A great social media metrics will be tracking hashtag performance. In Brand24 dashboard, create a project where your hashtag is one of your monitored keywords. The tool will calculate all the metrics for you.
In the Summary tab, you'll find the most important information, e.g.:
The total number of results,
Social media reach,
Social media interactions,
Count of positive mentions,
Count of negative mentions.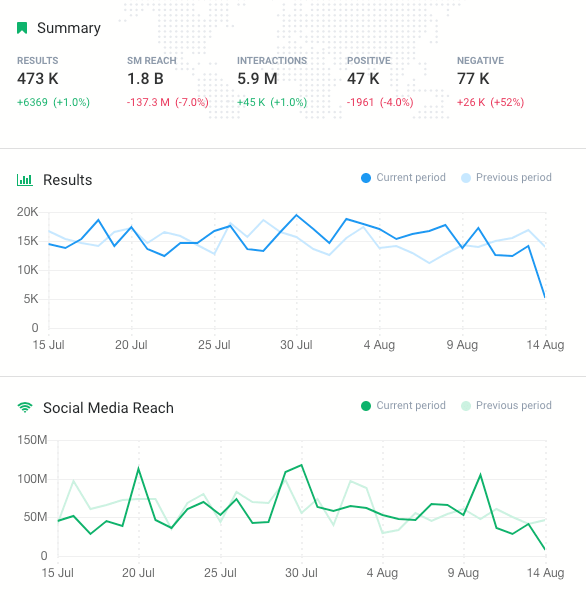 The best part is that you will immediately see a difference within the time range you've chosen. Brand24 will analyse two periods and show you the difference in metrics. It's basically a social media audit handed on a silver platter.
You can divide the fruit of your social media audit into three categories.
The benefits of social media audit
Let's start with short-term goals. A social media audit will help you determine where you currently are with your social strategy. It will identify top performing posts, key insights the best performing social channels and help you create new objectives, like working on your engagement metrics, growing your follower count or reaching a brand new audience, or other social metrics.
According to the Harvard Business Review, consumers now generate over 25% of content that appears in web searches for specific brand names. They also tend to trust the user-generated content much more than traditional forms of advertising. A social media audit will help you influence the most important discussions around your brand conducted on the Internet – the ones that centre around your brand or product on social platforms.
A social media audit will also deliver clear standards that you can incorporate across many channels. Any time there's a new platform, you will have guidelines in place that will assure your overall social media presence is consistent, and your brand is easily recognizable.
Are you ready to perform your first social media audit?
HANDPICKED RELATE READ