Feature Update: Instagram Preview
June 27, 2017 ・ 3 min read
With the end of June, we're happy to announce another monthly feature update.
During the last couple of months, we've been snowed under with customer requests to create a preview of mentions from Instagram.
At Brand24, we believe that the customer comes first and we've taken their requests to heart. Instagrammers, rejoice!
As with every other month, we locked our awesome developers in the basement, cut off their food supply, and forced them to make Instagram preview happen ASAP.
One developer just barely blacked out before the feature update was ready!
Here We Have It: Instagram Preview!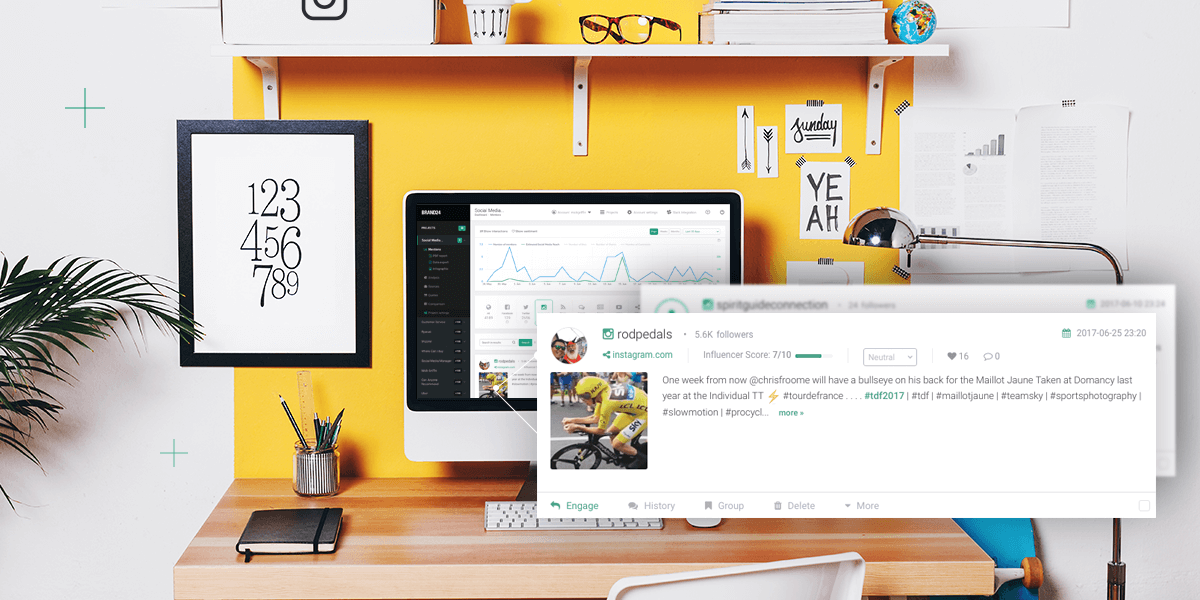 What's It All About?
Preview your Instagram mentions in Brand24.
With our newest feature update, you can see Instagram mentions, with text and photo, directly inside the Brand24 dashboard. You can see the text, hashtags, photo, along with influencer score, sentiment, filters, interactions and more.
You don't waste any time going directly to the source of the mention. How cool is that?

You don't waste any time going directly to the source of the mention and you can quickly decide which mentions you need to engage.
What If I Don't Monitor Instagram?
With 700 million users, Instagram has become yet another marketing and communication channel. More importantly, Instagram is indeed used for every type of business, be it a fitness studio, tiny cafe, startup or car repair shop. You should be there, too.
What makes Instagram stand out of the crowd is the fact that it's one of the most intimate social media platforms. Hence, unlike any other social media platform, Instagram allows businesses to establish customer relationships on an extremely personal level. And social media monitoring can be of help here:
See who's talking about your company and product.
Track Instagram hashtags relevant to your business and discover all Instagram users talking about your business. This is how you can identify your potential brand advocates, engage in conversations, provide customer service, respond to customer inquiries, and more.
Analyze Instagram hashtags performance.
Find out how your hashtags perform on Instagram. See how often they get mentioned, who mentions them, who the most active and influential authors are, and the level of engagement they drive. In other words, see which hashtags are the most effective for your business.
Discover customer insights.
Track Instagram posts mentioning your hashtags and get to know your audience in-and-out. Learn who they are, how they use your product, and what they like and dislike about it.
Keep up with trends.
By monitoring Instagram hashtags relevant to your business, you get the bigger picture of your niche. You see what's trending, what's about to blow, and what's out of date.
Identify your brand advocates.
Get to know the people who mention your hashtags most often. If they're happy customers, you can reach out to them and turn them into your brand ambassadors, spreading the good word about your product to their audience.
Check It Out!
Go to your dashboard and see how it works. Or, if you don't have an account yet, sign up here. It's completely free.