8 Powerful Instagram Analytics Tools [and 15 Metrics to Track]
September 9, 2021 ・ 13 min read
Running an Instagram account desire lots of effort. You need to know your target audience really well. What kind of content do they prefer? What time of day are they active? Analytics provided by Instagram give some data, but it doesn't give us in-depth insights. That's why it's really smart to use advanced Instagram analytics tools. Today I will show you the best ones.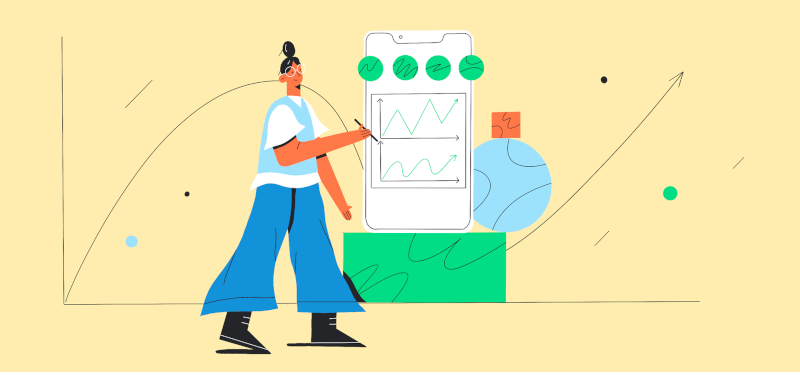 Here's what we're going to cover today:
The analytics section on Instagram is called Instagram Insights. Since Instagram is refocusing on business clients, Instagram analytics offers a lot of information helpful for your business.
Instagram Insights provides data that help you:
Understand your audience
Find your most engaging content
Measure your social media reach
Track the number of followers
As marketers, we love data as they help us develop marketing campaigns tailored to our needs. We would be like babes in the woods without all the metrics, unable to measure the results of our strategies and social media ROI.
That's why Instagram analytics should be an indispensable part of your Instagram marketing strategy.
Is Instagram Analytics Free?
Yes, default Instagram analytics is free.
Instagram Insights are available for all business accounts and accounts that are active more than others on Instagram, so mainly big influencers with a massive following.
So, why would you need an additional tool if the Instagram app offers robust and free analytics?
To run a successful Instagram marketing campaign, you need a more specific set of data that is not available via Instagram Insights.
Don't get me wrong – Instagram Insights offer a great collection of data you need. But when it comes to Instagram analytics there's so much more you can't miss.
8 top Instagram analytics tools
On the market, we have lots of tools that will help you manage your Instagram account. But not each is worth paying attention to. Let's check the most interesting ones.
Brand24
Free 14-day trial. Personal plus plan for $69.
Brand24 is a media monitoring tool that tracks mentions across Instagram public accounts.
What kind of in-depth Instagram analytics does Brand24 offer?
Brand24 will collect insights on what Instagram users are saying about your brand. The tool will also:
Think about Instagram Insights as the quantitative data giving you all the vital numbers about your audience, impressions, likes and comments.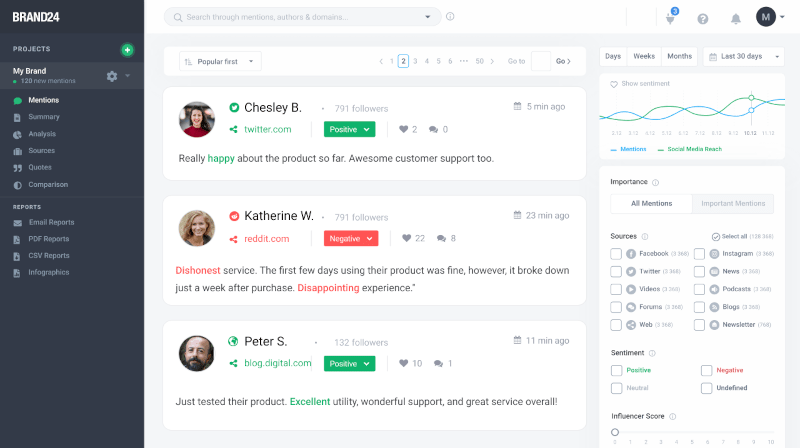 The data collected by Brand24 will complement your Instagram analytics data.
Furthermore, you'll be able to quickly react to negative mentions and prevent the PR crisis.
Of course, Brand24 track mentions from vide number of sources, such as social media platforms, news, blogs, videos, forums, podcasts, reviews.
More information here: media monitoring and Instagram analytics.
Set up Brand24 and discover advanced Instagram analytics.
Creator Studio
Free tool.
Creator Studio is a free Instagram analytics tool. It is a desktop app that is dedicated to business accounts. With this analytics tool, you can manage, post, schedule your content.
Creator Studio provides access to most of the same metrics as Instagram Insights.
The analytics features are not very advanced. The Statistic tab shows the number of followers, clicks, comments, reactions, and views. You will also have a deeper view of audience demographics.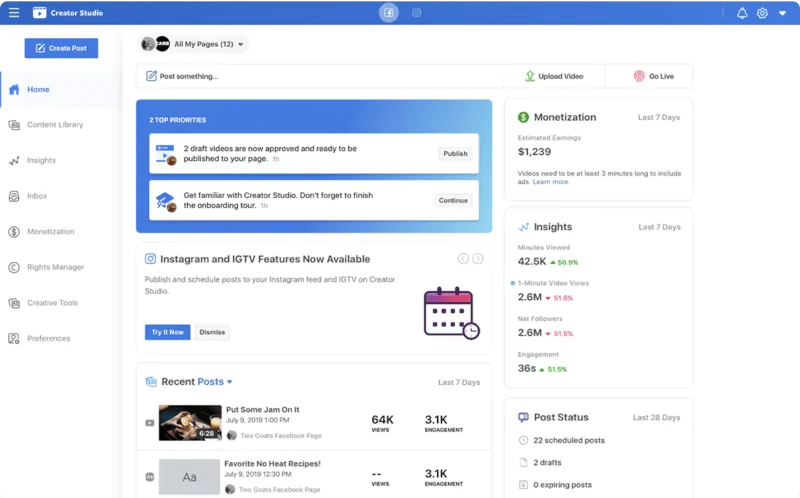 Hootsuite
Free 30-day trial. Professional plan for $19.
Hootsuite is known because of its post-scheduling features. But it is also an analytics tool that measures social media performance across various platforms.
The Analytics dashboard has two main sections Post performance and Reports. So this tool gives access to data related to posts such as engagement, reach, reactions, etc. You can also create customized reports that present an Instagram overview.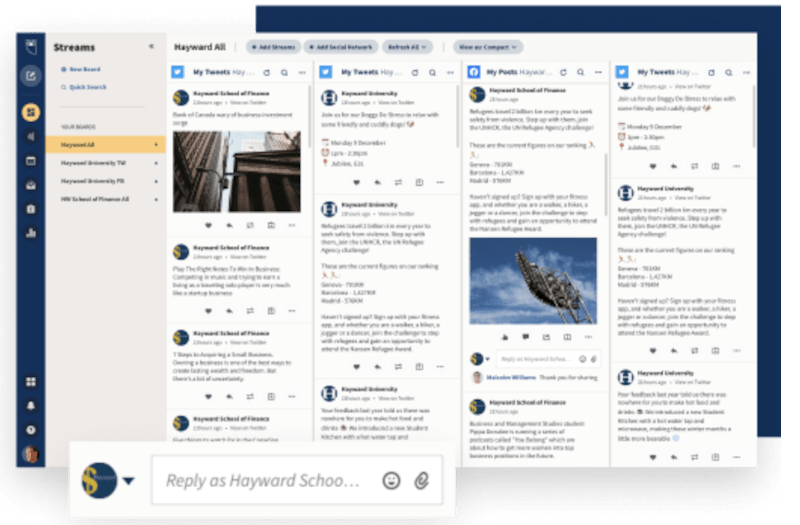 Sprout Social
Free 30-day trial. Standard plan for $89.
Sprout Social enables analyzing Instagram data at both the post and profile levels. It identifies top posts based on users' engagement, discovers influencers that interact with your content, and measures the effectiveness of videos.
With this tool, you'll be able to increase engagement because of real-time monitoring. Despite statistics features, Sprout Social is also equipped with post scheduling.
The tool also converges Instagram Stories and IGTV. Sprout Social focuses on metrics related to clicks, saves, replies, views and comments.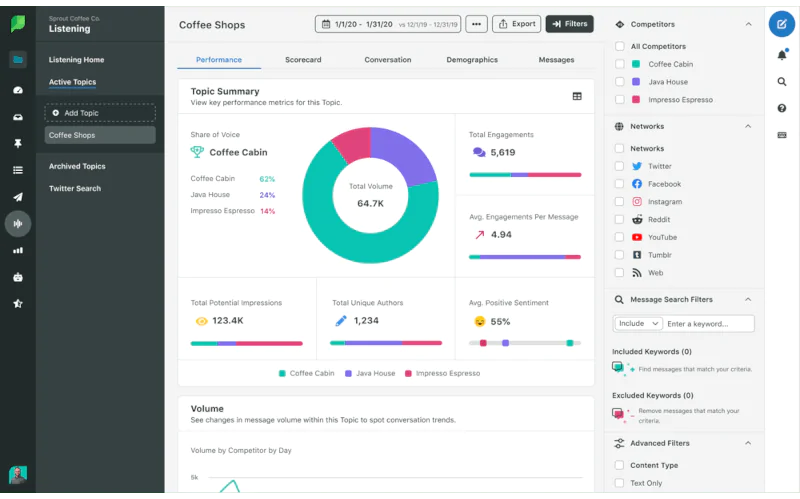 Keyhole
Custom pricing.
Keyhole interprets real-time statistics and indices. It is a keyword and hashtag tracker.
With this tool, you will be able to analyze the current efforts. Keyhole also addresses which of your internal strategies provide value to the social community and work better.
It also allows you to create a feed to follow competitors' Instagram accounts to determine what works for them. So, you'll be able to implement those solutions in your Instagram account strategy.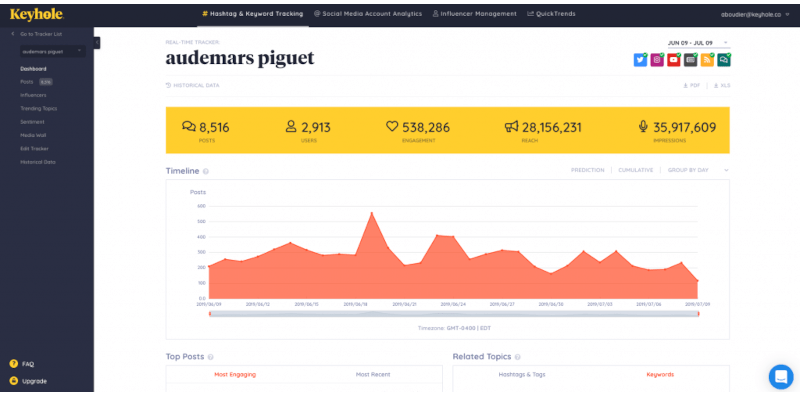 Iconosquare
Free 30-day trial. Pro plan for $49.
Iconosquare is one of the social media analytics tools that are dedicated to brands and agencies. It will help you to optimize your Instagram content strategy.
The tool tracks various metrics like followers evolution, engagement rate, reach. With Iconosquare you'll improve Instagram Stories because of insights that present what the audience wants to watch.
What is very interesting, this Instagram analytics tool suggests what is the best time to post. Furthermore, it helps to understand how your Instagram account content impacts the engagement of followers.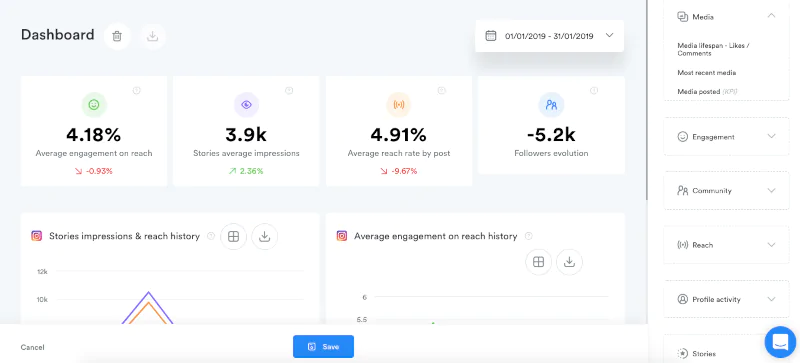 SocialPilot
Free 14-day trial. Pro plan for $112.5.
SocialPilot is one of those Instagram analytics tools that provide in-depth analysis. Also, it enables to run a content calendar and schedule posts.
With this tool, you can analyze all your Instagram accounts in one place. SocialPilot tracks metrics such as likes, impressions, shares, views, clicks, engagements, etc.
Through the audience insights tab, you'll understand your target audience better. SocialPilot analyzes fan activities and suggests the best time to post.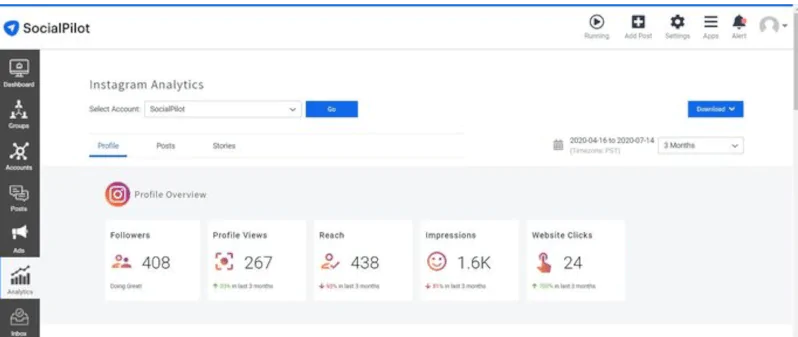 Socialbakers
Essential plan for $200.
Socialbakers is one of those Instagram analytics tools that allow tracking the performance of multiple profiles. You can create customized dashboards and view reach, impressions, top posts, and frequently used hashtags.
The tool provides advanced analysis of the audience. Also, it helps to understand competitors and build business advantage. Tracking influencers is an interesting feature. This tool allows evaluating which influencers are the most effective.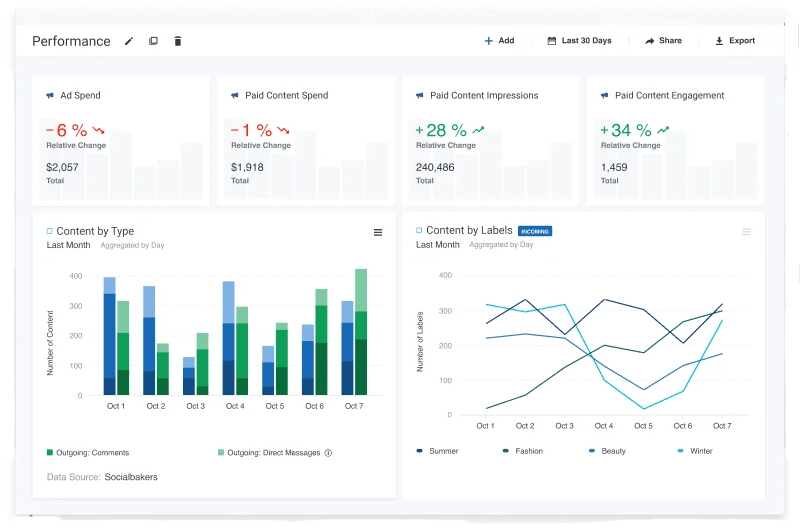 15 important Instagram metrics to track
So you already know which Instagram analytics tools are the most valuable. But how to use them? Which Instagram metrics you should track?
The answer is those key metrics that match your business goals and are important to increase the ROI.
Here you can see 15 metrics that we recommend you to pay attention to:
Follower count: The number of Instagram profiles that follow your account.
Social media reach: The number of Instagram profiles that might have come across your Instagram post.
Profile view: The number of times your Instagram profile was viewed.
Post engagement: The number of all interactions (likes, comments, saved) your post generated.
Social mentions: The number of mentions of your Instagram handle or hashtags.
Hashtags: The number of your hashtags mentions by Instagram profiles.
Gender: Gender distribution of your followers.
Age: Age distribution.
Locations: The most popular locations where your followers come from.
Hours: Top hours your followers are the most active.
Days: Top days your followers are most active.
Video views: The number of views your video, IGTV and Reels got.
Stories engagement: The number of views and reactions your Insta Story got.
Live viewers: The number of profiles that saw your Instagram live.
Viewers: The overall number of profiles that saw your Instagram live at any time.
I know it's a lot but stay calm. There's no need to track all of them – we listed them just to give you an idea of what you can analyze on Instagram. What you track depends on your goals.
Also check: Important Social Media Metrics to Track
Brand24 is an Instagram analytics app that tracks the key metrics.
Media monitoring and Instagram Analytics
Brand24, unlike other Instagram analytics tools, gives you instant access to mentions about your hashtag, product, service, or brand.
With such a tool, you'll get a lot of valuable data that is not available through Instagram default analytics.
How to use it?
First of all, you need to set up a project. In the project creation wizard enter the keywords you'd like to follow. Think about terms like:
The name of your company
The name of a specific product or service
Keywords related to your industry
Your branded hashtag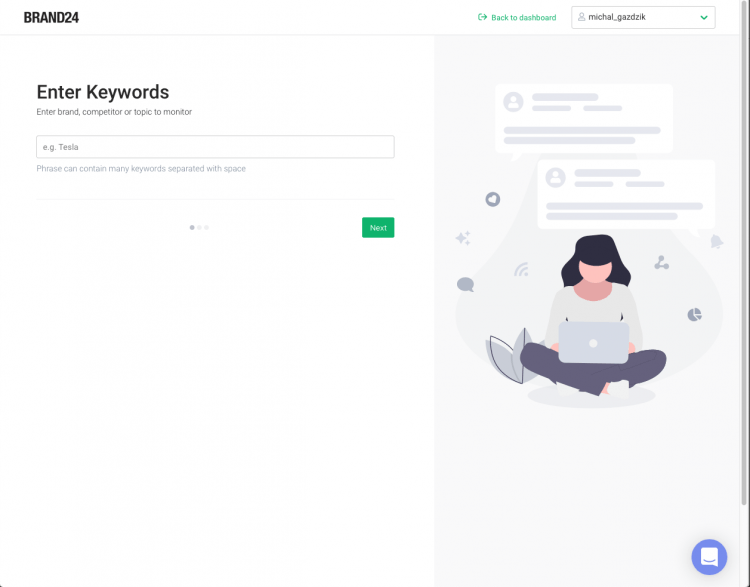 I'll discuss it further in this article, but if you want to measure hashtag performance on Instagram, it's vital that you set up a separate project for each hashtag you use. It will make your life much easier!
Check: Guide to Media Monitoring
Instagram Analytics and Audience Insights
Instagram Insights offers demographic information about your audience. Brand24 offers complimentary data that will help you target your message even more precisely.
Instagram Insights will provide you with information like:
Gender
Age
Location
Followers activity by hours
The media monitoring tool shows the sentiment analysis.
In layman's terms, sentiment analysis determines the author's attitude towards a product or service. Brand24 distinguishes negative, positive, and neutral sentiment.
Why is sentiment analysis so critical when it comes to Instagram analytics?
Native Instagram Insights will give you information about who your audience is – their age, gender, profession, education.
Brand24 will provide information on how your followers feel about your product or service.
Wonder when it can be useful? There are some cases where sentiment analysis for Instagram proved to be valuable, and they include:
Reputation management
Customer feedback
Crises prevention
When it comes specifically to Instagram, sentiment analysis will give you information on how your content resonates with your audience. If the reaction is positive, you can reiterate the message and reinforce your position as an Instagram leader.
If the return message from your followers is negative or neutral, it means that your content is not exactly what they've been looking for. That's a sign you should restructure your strategy. The result should be a boost in engagement metrics.
Use Trending Hashtags
Hashtags have been popularised by Instagram, and now it's hard to imagine a successful Instagram marketing campaign without a dedicated hashtag.
The question remains – which hashtags to choose to reach the widest audience? Instagram Insights won't give you this information. You can manually search for them in Instagram's Explore section, but, let's be honest, who has time to do that?
This video shares some good tips on how to quickly find the best (trending) hashtags to grow your Instagram profile:
This also happens to be where Brand24 comes in handy.
When you log in to the panel, on the left side, you'll find an Analysis tab. Apart from many fantastic Instagram analytics metrics, which I'll discuss later on, you'll find there a Trending hashtags section.
Let's see what's there for you.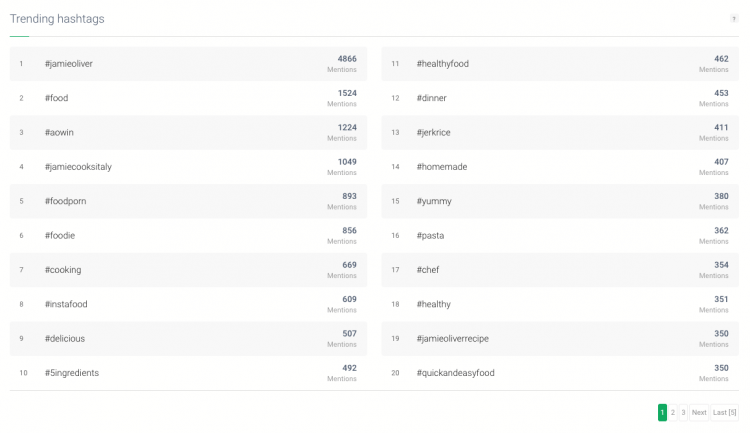 Brand24 generates a list of 100 trending hashtags based on your predefined keywords. You can use the hashtags to boost your brand awareness and increase Instagram reach. Getting your photo on the Instagram Explore page can be a huge boost for your profile.
Measure Hashtag Performance
When we're at trending hashtags, let's take a look at monitoring hashtag performance. Instagram hashtag analytics will tell you:
Whether your campaign was successful
How the hashtag spread across social media
Brand24 measures hashtag performance and deliver a lot of useful metrics to help you understand your data even better.
1. Volume of mentions
The dashboard in Brand24 will show you the number of mentions containing your keyword.
The volume of mentions indicates how many users have seen your hashtag. It will tell you how popular your hashtag, event, campaign or brand is.


If you keep track of it for an extended period, you'll be able to spot seasonal increases and decreases in social media reach and prepare more targeted content for a specific time of year.
2. Engagement
Many marketers claim that engagement is the most important metric you can track across social media. I don't know whether it's crucial for your social media activity, but engagement rates will tell you how popular your content is among your audience.
The engagement metric will tell you how many people reacted to your Instagram posts – either by liking the photo or by leaving a comment. The more comments and likes your posts have, the more your audience identifies with your messaging.
Monitor Multiple Hashtags
You can easily search for one hashtag on Instagram. But if you want to browse through posts that include two or more hashtags, Instagram analytics is of no help.
In the Brand24 panel, you can use the Boolean search to include or exclude a specific hashtag. It's especially useful when you're running a campaign and want to promote the second hashtag among your existing audience. Or if you want to differentiate one specific hashtag campaign associated with the Instagram influencer marketing campaign.
Simply type the hashtag in the box in the left upper corner in the Mentions tab and let Brand24 do the magic.
Analyze the Instagram Analytics of Your Competitors
This point is the real catch. With all the benefits Instagram Insights bring, you can't take a peek into your competitors' social media metrics.
You can do it with Brand24, and it's completely legal and ethical.
Remember when in the beginning you created a project and entered all the keywords related to your company? Now it's time to create a separate project for your competitor.
Knowing what your rivals are up to is an important part of your business strategy. You can stay ahead of the competition and reach and convert your targeted audience before them.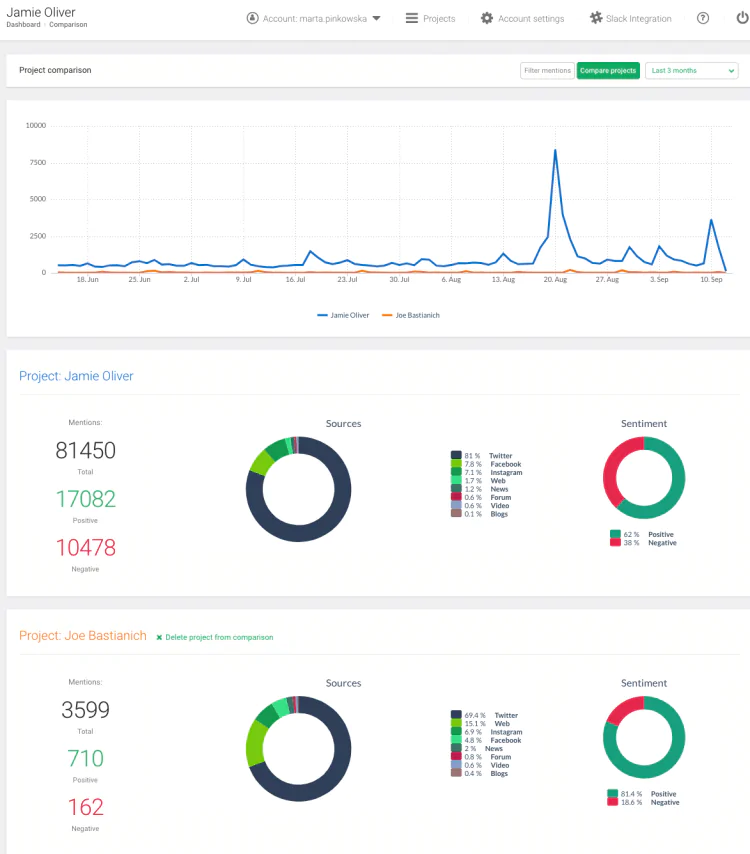 Inside Brand24 you can compare two projects and spot the difference right away. You can compare multiple projects and immediately see which one generated the most social media buzz, the sentiment around the mentions, and the social media platforms where most of the mentions come from.
The great news is that you can filter the mentions according to your needs. The filters include:
Sentiment
Number of interactions
Source
Domain
Date
Compare Different Social Media Channels
I've been talking about Instagram analytics in this post, but the truth is that with Brand24 you can measure the social media reach from other platforms, for instance, Twitter, YouTube, or TikTok.
Preparing separate marketing campaigns and measuring the results of these activities is quite an overwhelming task, especially if you don't have the resources to hire an experienced social media manager.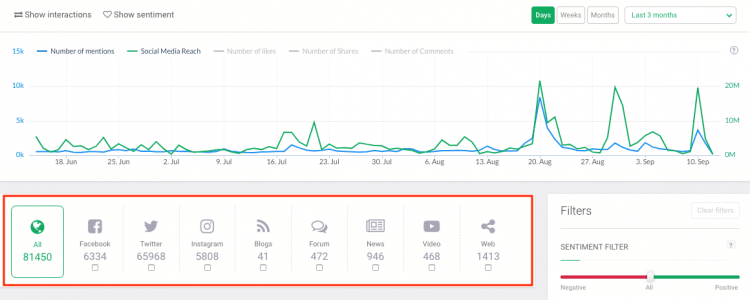 By comparing your performance across different social media accounts, you can choose the one that best suits your brand.
It's not necessarily Instagram, but you won't know it if you don't compare your performance across many different channels. In Brand24 you get all the data in one dashboard.
Use Brand24 to discover trending hashtags and sentiment analysis around your Instagram account!
What is the best Instagram analytics tool? Conclusion
I am sure you want to grow your presence on Instagram. To do that I recommend using a comprehensive Instagram analytics tool.
By having all your metrics in one place, you get a clear overview of all your Instagram channels' performance. That way you can assess all your marketing and PR activities and steer your strategies to maximize the benefits.
Can you stick with free Instagram analytics tools? Yes, you can use Instagram insights or Creator Studio, but I'm afraid you won't get spectacular results based only on free Instagram analytics.
Sooner or later, you'll notice that you need more in-depth knowledge about the audience, their preferences, and habits.
Brand24 gives you more detailed and accurate data to drive traffic, increase social media and, ultimately, drive sales from social media.
Set up Brand24 and discover advanced Instagram Analytics!
Relevant reads: