The 11 Best Instagram Analytics Tools to Use in 2023
June 26, 2023 ・ 10 min read
Running an Instagram account desire lots of effort. You need to know your target audience really well. What kind of content do they prefer? What time of day are they active?
Analytics provided by Instagram give some data, but it doesn't give us in-depth insights.
That's why it's really smart to use advanced Instagram analytics tools.
Today I will show you the best ones.
On the market, we have lots of tools that will help you analyze your Instagram account.
But not each is worth paying attention to. Let's check the most interesting ones.
The best Instagram analytics tools
01 Brand24
Free 14-day trial. Personal plus plan for $79.
Brand24 is a media monitoring tool that tracks mentions across Instagram public accounts.
What kind of in-depth Instagram analytics does Brand24 offer?
Brand24 will collect insights on what Instagram users are saying about your brand. The tool will also:
Think about Instagram Insights as the quantitative data giving you all the vital numbers about your audience, impressions, likes and comments.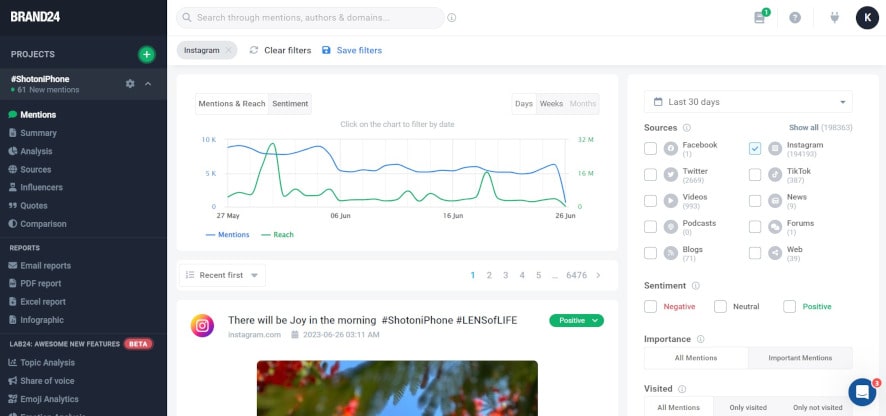 The data collected by Brand24 will complement your Instagram analytics data.
Furthermore, you'll be able to react quickly to negative mentions and prevent a PR crisis.
Of course, Brand24 tracks mentions from vide number of sources, such as social media platforms, news, blogs, videos, forums, podcasts, and reviews.
Set up Brand24! Start advanced Instagram analytics.
02 Instagram Insights
Free Instagram analytics tool
The analytics section on Instagram is called Instagram Insights. Since Instagram is refocusing on business clients, Instagram analytics offers a lot of helpful information for your business.
Instagram Insights provides data that help you:
Understand your audience
Find your most engaging content
Measure your social media reach
Track the number of followers
As marketers, we love data as they help us develop marketing campaigns tailored to our needs. We would be like babes in the woods without all the metrics, unable to measure the results of our strategies and social media ROI.
That's why Instagram Insights should be an indispensable part of your Instagram marketing strategy.
Is Instagram Analytics Free?
Yes, default Instagram analytics is free.
Instagram Insights are available for all business accounts and creator accounts
How to access it? Tap the hamburger menu (three horizontal lines) in the top right of your profile, then tap "Insights."
Here, you'll find data about your followers, post performance, profile views, and more. These metrics provide actionable insights that can help refine your Instagram strategy.
So, why would you need other Instagram analytics tools if Insights offers robust and free analytics?
To run a successful marketing campaign, you need a more specific set of data that is not available via Instagram Insights.
Don't get me wrong – Instagram Insights offer a great collection of data you need. But when it comes to Instagram analytics, there's so much more you can't miss.
03 Creator Studio
Instagram analytics tool
Creator Studio is a free tool. It is a desktop app that is dedicated to business accounts. With this analytics tool, you can manage, post, and schedule your content.
Creator Studio provides access to most of the same metrics as Instagram Insights.
The analytics features are not very advanced. The Statistic tab shows the number of followers, clicks, comments, reactions, and views. You will also have a deeper view of audience demographics.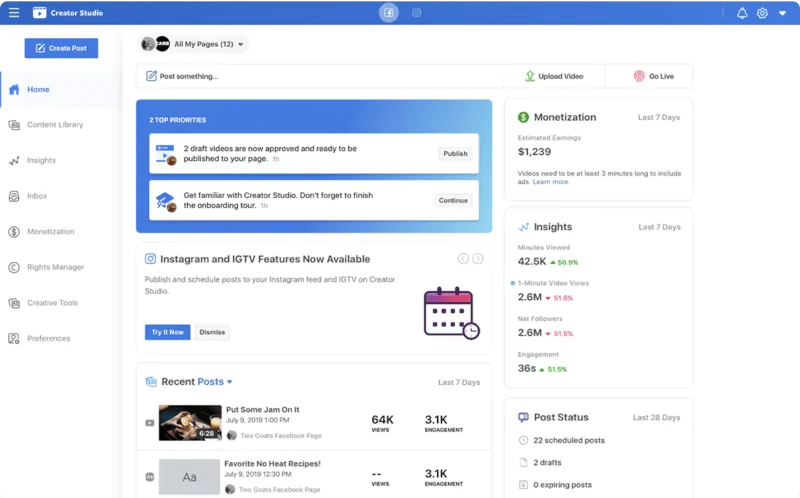 Set up Brand24 and discover advanced Instagram analytics.
04 Hootsuite
Free 30-day trial. Professional plan for $99.
Hootsuite is known because of its post-scheduling features. But it is also an analytics tool that measures social media performance across various platforms.
The Analytics dashboard has two main sections Post performance and Reports. So this tool gives access to data related to posts, such as engagement, reach, reactions, etc. You can also create customized reports that present an Instagram overview.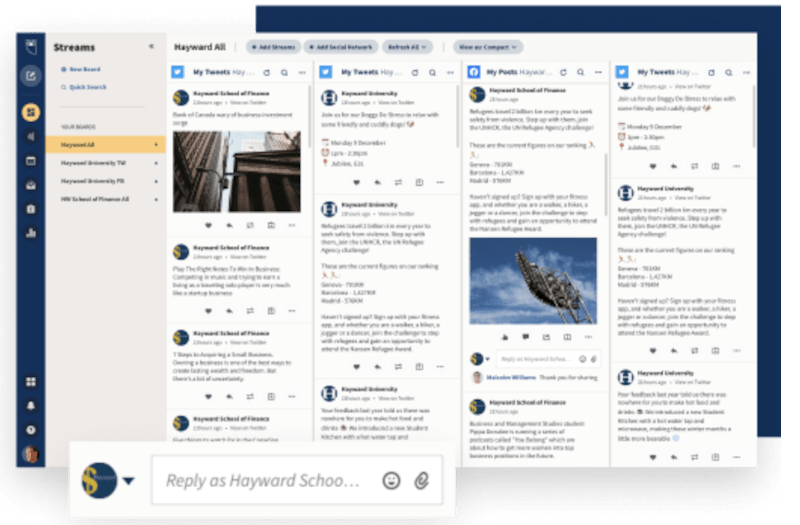 05 Sprout Social
Free 30-day trial. The standard plan for $89.
Sprout Social enables analyzing Instagram data at both the post and profile levels. It identifies top posts based on users' engagement, discovers influencers that interact with your content, and measures the effectiveness of videos.
With this tool, you'll be able to increase engagement because of real-time monitoring. Despite statistics features, Sprout Social is also equipped with post scheduling.
The tool also converges Instagram Stories and IGTV. Sprout Social focuses on metrics related to clicks, saves, replies, views, and comments.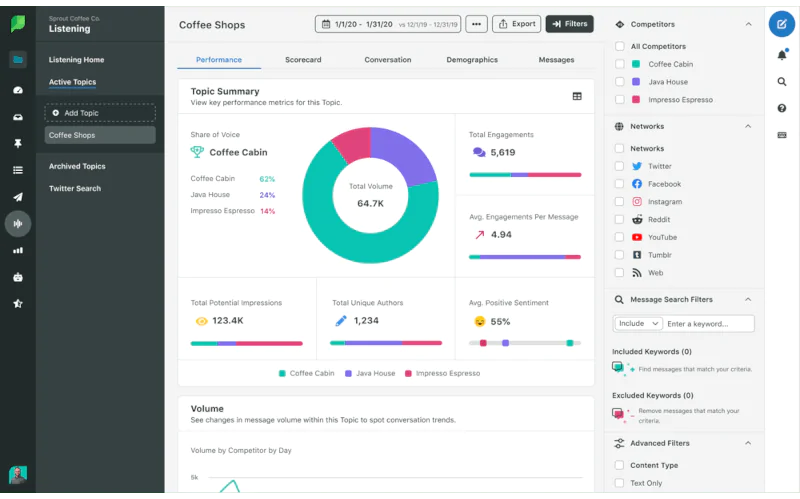 06 Keyhole
Free trial. The SMB & Freelancers plan for $79.
Keyhole interprets real-time statistics and indices. It is a keyword and hashtag tracker.
With this tool, you will be able to analyze the current efforts. Keyhole also addresses which of your internal strategies provide value to the social community and work better.
It also allows you to create a feed to follow competitors' Instagram accounts to determine what works for them. So, you'll be able to implement those solutions in your Instagram account strategy.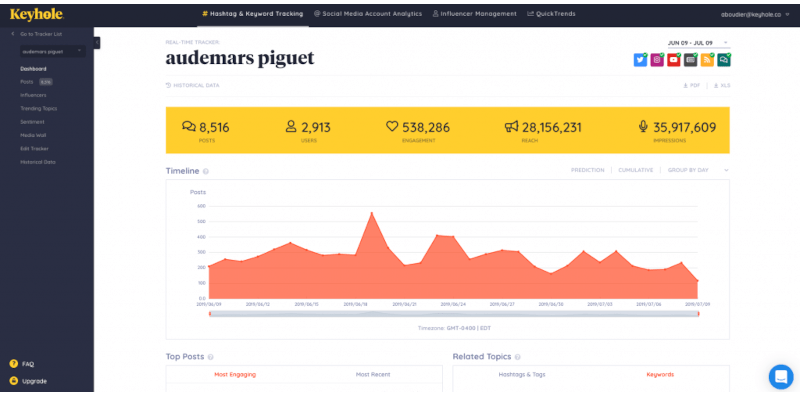 07 Iconosquare
Free 14-day trial. Pro plan for 49€.
Iconosquare is one of the social media analytics tools that are dedicated to brands and agencies. It will help you to optimize your Instagram content strategy.
The tool tracks various metrics like follower evolution, engagement rate, and reach. With Iconosquare, you'll improve Instagram Stories because of insights that present what the audience wants to watch.
What is very interesting, this Instagram analytics app suggests what is the best time to post. Furthermore, it helps to understand how your Instagram account content impacts the engagement of followers.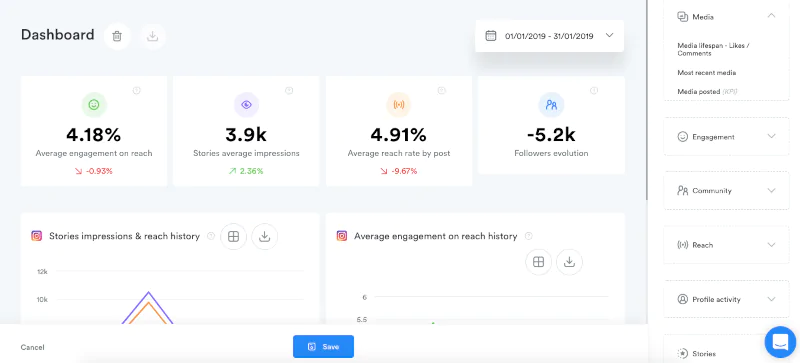 08 SocialPilot
Free 14-day trial. The Professional plan for $25.5.
SocialPilot is one of those Instagram analytics tools that provide in-depth analysis. Also, it enables running a content calendar and scheduling posts.
With this tool, you can analyze all your Instagram accounts in one place. SocialPilot tracks metrics such as likes, impressions, shares, views, clicks, engagements, etc.
Through the audience insights tab, you'll understand your target audience better. SocialPilot analyzes fan activities and suggests the best time to post.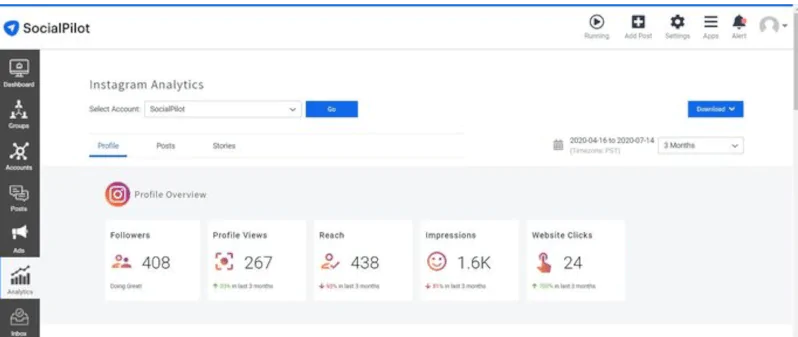 09 Emplifi
Free trial. Custom plan.
Emplifi is one of those Instagram analytics tools that allow tracking the performance of multiple profiles. You can create customized dashboards and view reach, impressions, top posts, and frequently used hashtags.
The tool provides advanced analysis of the audience. Also, it helps to understand competitors and build business advantage. Tracking influencers is an interesting feature. This tool evaluates which influencers are the most effective.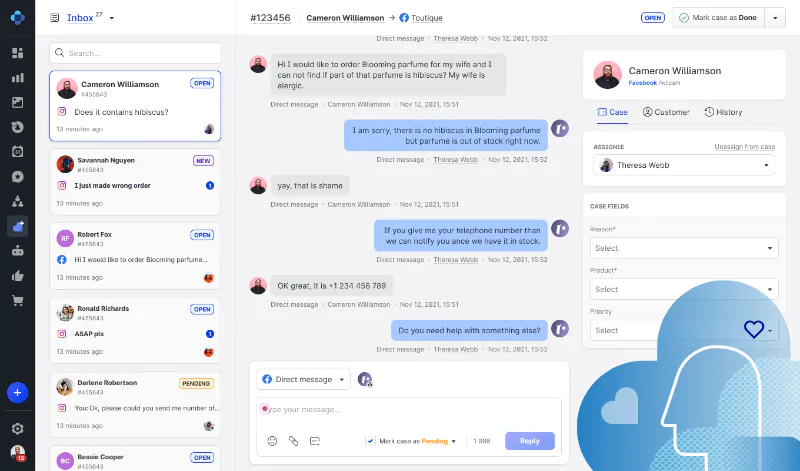 10 Analisa
Premium plan for $69.
With Analisa, you can analyze TikTok, Twitter, and Instagram profiles and hashtags. This tool will help you detect follower demographics and authenticity, content engagement, report campaigns, and conduct competitive analytics.
Analisa.io offers detailed analytics for Instagram profiles, including follower growth, engagement, like, comment rate, and demographics of followers. Also, it provides insights into the performance of Instagram posts and videos.
The tool allows you to track and analyze the performance of hashtags. You can identify the audience and engagement of any hashtag.
What's great is that you can check some metrics right now because Analisa enables some free Instagram analytics features.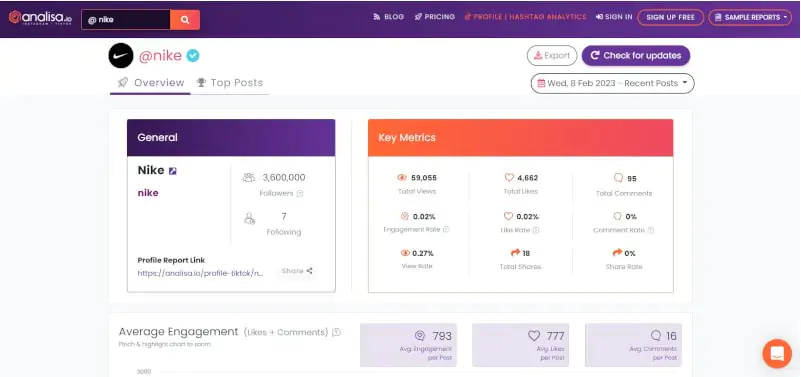 11 HypeAuditor
Custom pricing.
HypeAuditor is one of the Instagram analytics tools that offers several features to analyze influencers. The tool analyzes follower demographics and growth, engagement rate, audience interests, and advertising performance.
If you are seeking software to assist you in finding high-quality influencers, consider using HypeAuditor. With this tool, you can easily find creators who are growing quickly and are similar to your top influencers.
HypeAuditor will help you manage and analyze your Instagram campaigns. Also, it will help you to manage your payments effectively.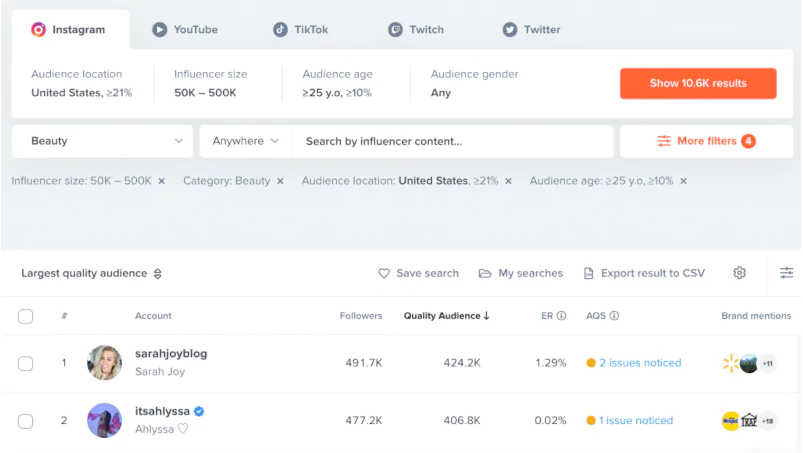 Factors you should consider when choosing an Instagram analytics tool
When selecting an Instagram analytics tool, it's crucial to take into account a few significant factors. Let's break them down:
Budget and affordability
Consider your budget and how much you're willing to spend on an analytics tool. Look for options that align with your financial capabilities.
Required features and metrics
Think about the specific features and metrics you need to track on Instagram. Make sure the tool you choose offers the necessary capabilities to meet your requirements.
Here you can see 15 Instagram metrics that I recommend you pay attention to:
Follower growth: The number of Instagram profiles that follow your account.
Social media reach: The number of Instagram profiles that might have come across your Instagram post.
Profile view: The number of times your Instagram profile was viewed.
Post engagement: The number of all interactions (likes, comments, saved) your post generated.
Social mentions: The number of mentions of your Instagram handle or hashtags.
Hashtags: The number of your hashtags mentions by Instagram profiles.
Gender: Gender distribution of your followers.
Age: Age distribution.
Locations: The most popular locations where your followers come from.
Hours: Top hours your followers are the most active.
Days: Top days your followers are most active.
Video views: The number of views your video, IGTV, and Reels got.
Instagram story analytics: The number of views and reactions your Insta Story got.
Live viewers: The number of profiles that saw your Instagram live.
Viewers: The overall number of profiles that saw your Instagram live at any time.
User-friendliness and ease of integration
Look for a tool that is easy to use and integrates seamlessly with your existing workflow. Avoid complex tools that may be difficult to navigate or require extensive technical knowledge.
Customer support and training resources
Check if the tool provides reliable customer support and training materials. It's important to have assistance available if you encounter any issues or need help understanding how to use the tool effectively.
Reviews and reputation
Research and read reviews about the tool before making a decision. Pay attention to user experiences and the tool's reputation in the industry. Positive reviews and a good reputation indicate reliable and trustworthy Instagram analytics apps.
Set up Brand24 and discover advanced Instagram analytics.
What is the Instagram performance of #ShotOniPhone?
Let's analyze the performance of a hashtag using the Brand24 tool that tracks mentions across social media posts and conducts Instagram hashtag analytics.
#ShotOniPhone is a hashtag that promotes photos taken with iPhones. Instagram is the main source of mentions.

In the past 30 days, more than 201,000 Instagram posts were tagged with this hashtag. Out of all the mentions, 97% were positive, while only 3% were negative. The overall sentiment is positive.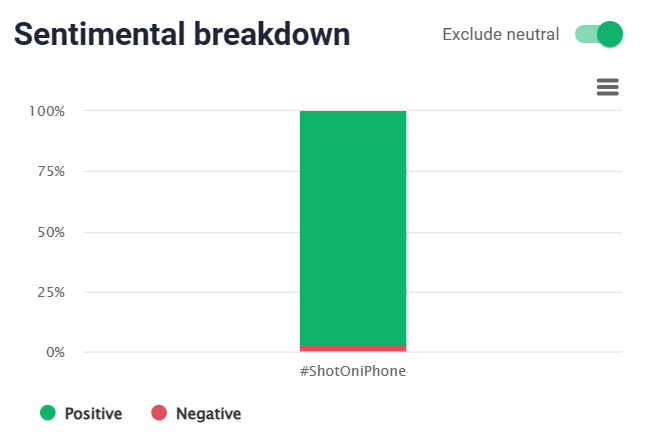 The Instagram reach of this hashtag is 201 million.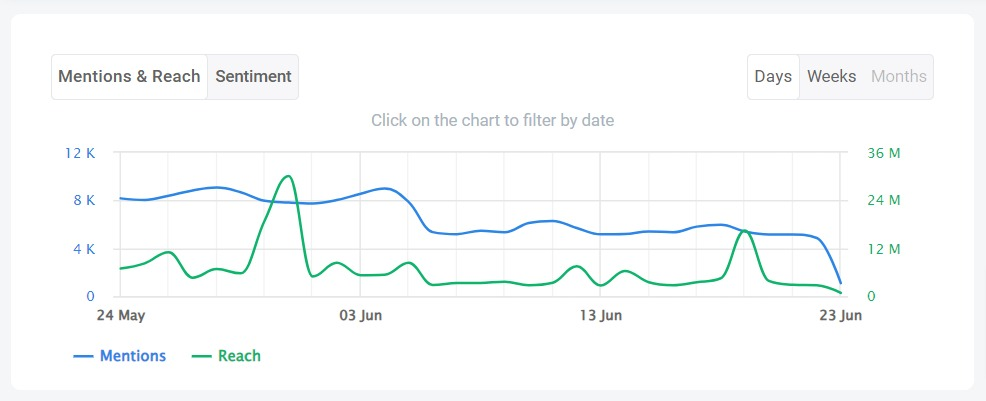 The Presence Score of this hashtag is not bad.

Trending hashtags related to #ShotOniPhone are about photography, nature, traveling, and Reels.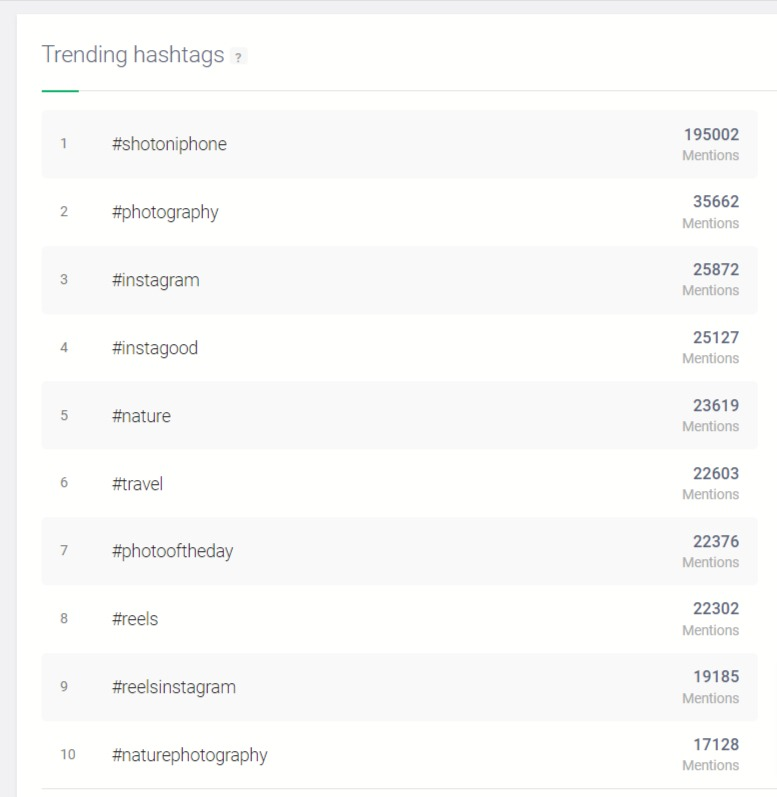 Set up Brand24 and discover advanced Instagram analytics.
Conclusion
In this article, I have provided you with a list of the top Instagram analytics tools. These tools can help you track influencers, hashtags, and engagement metrics.
Many of them also track Tiktok, YouTube, and Twitter. So they will also help you with social media analytics.
Which tools should you use?
I recommend you benefit from free tools like Instagram Insights and Creator Studio as much as possible. They provide important insights about how your profile is doing and how your content is performing.
Additionally, using other tools for monitoring mentions and hashtag tracking will provide deeper insights into audience engagement.
So try an advanced Instagram monitoring tool. Start a free trial!