Instagram has become an indispensable platform for every digital marketer. At least 50% of Instagram users already follow brands profiles, and this number will grow in the future. The question you need to answer is how to increase your reach on Instagram to target and convert new audiences?
A few years ago, building an Instagram marketing strategy was relatively easy. Instagram displayed the posts chronologically, so if you had discovered the right time to post, the only thing you had to do was stick to it.
But Instagram has changed since its early days and it has become harder to increase your reach and deliver your content to your target audience.
This post will help you increase your organic reach and boost your Instagram presence. Here's our itinerary for today: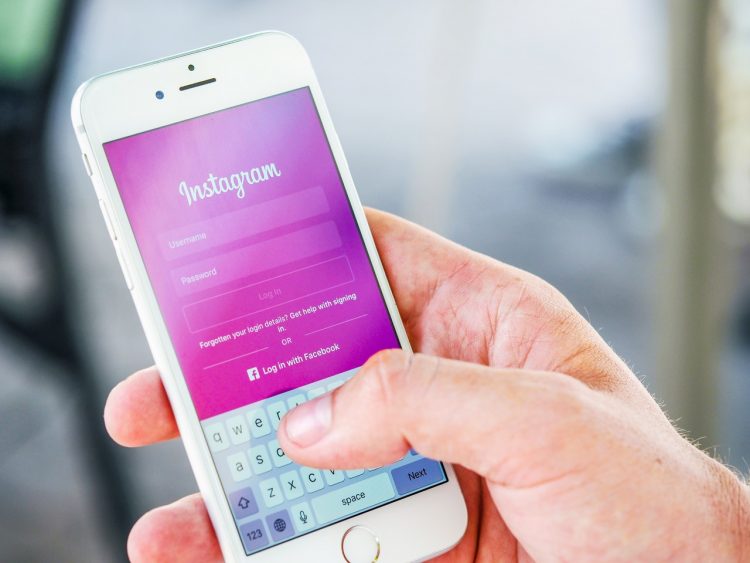 The Instagram Algorithm
Because of the rapid growth, Instagram had to introduce an algorithm. The Instagram algorithm chooses the photos with high engagement rates and presents them first on users' Instagram feed.
For many users, the introduction of the Instagram algorithm meant a decline in organic reach. Far fewer Instagrammers could've seen individual photos and videos. As a result, the conversion rates had plummeted.
Almost everyone was asking a question – how can we reverse the effects of the Instagram algorithm? In this post, I present a few tricks and tips to boost your Instagram reach, attract new followers and increase your conversion rates.
As it turns out, the Instagram algorithm is here to stay and we have to learn how to use it to our advantage. Of course, it's harder to increase your organic reach on Instagram, but not impossible. The key to success in Instagram is to understand the Instagram algorithm and to implement a few easy techniques to boost your Instagram presence.
What is important for the Instagram algorithm?
There are 3 key factors Instagram algorithm takes into account when ranking posts.
1. Interest
Social media channels are now all about meaningful interactions between users. That's why it's so important to publish content your target audience will find interesting.
Encourage your followers to interact with your Instagram channel by posting carefully curated photos with captivating descriptions and strong calls to action. Try to grab their attention right at the beginning so they will spend more time on your account.
2. Timing
Instagram doesn't display content chronologically but the timing of your post is still important. Instagram announced in March 2018 an update in the algorithm in order to:
ensure that newer posts are more likely to appear first in feed so your feed will feel more fresh, and you won't miss the moments you care about.
Figuring out the best time to post and sticking to it, is still an important part of increasing your organic reach on Instagram.
3. Meaningful interactions
After the Cambridge Analytica scandal, social platforms had to change. Instagram algorithm analyses the depth of the relationship between you and your followers. If someone likes and comments on your posts more often than on content from other Instagram users, that users will be more likely to see more content from you.
What does it mean in terms of increasing your reach on Instagram? It's better to have a steady flow of engagement, even if it's not the highest rate than to have a few spikes of likes and comments under different posts.
What Does Reach Mean on Instagram
Let's start with the basics. If you want to increase Instagram reach, you first have to define what does reach on Instagram mean.
When it comes to social media, reach is the number of unique people who see your content. There are two types or reach – organic reach, where you create engaging content, hashtags and other techniques to appear high on your audience feed.
The second type of reach you can get is paid reach, where you buy Instagram ads to sponsor your content.
Organic Instagram reach is much more difficult to achieve, but it is also much more beneficial when it comes to maximizing your conversion rates from Instagram or, in fact, any other social media channel.
So, what exactly do you have to do to increase your Instagram reach?
How Do You Increase Instagram Reach
There are several easy Instagram techniques to increase the reach of your posts. This tips and tricks will help you combat the effects of the Instagram algorithm as well as reach and influence brand new audiences.
Let's dig in!
1. Time is of the essence
When it comes to Instagram reach, the number of likes and comments received right after posting is extremely important. If the initial round of engagement is high, it is more likely that Instagram will push your post higher in the feed.
Spotting the right time to post on Instagram should be a piece of cake if you have Instagram Business account. Take a look at Instagram Insights and check when your followers are the most active.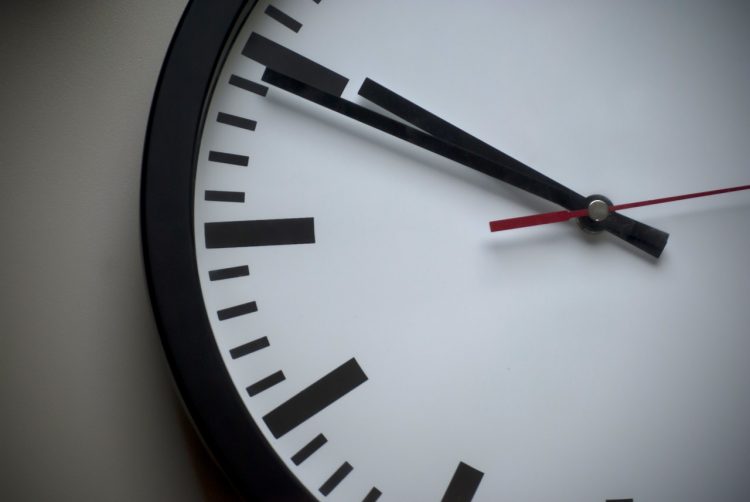 Don't worry if you don't have Instagram Business account. There are Instagram analytics tools that will help you. Take a look at Iconosquare, Buzzsumo or Sprout Social. The tools will analyse when your target follower group is the most active and present the data in a neat table.
2. Use the right hashtags
There's no increasing your reach on Instagram without using the right hashtags. Hashtags are everything on Instagram. They help other users discover your content and help you to analyse the performance of your Instagram marketing campaign.
The hashtags can be divided into:
trending hashtags
general hashtags
industry-specific hashtags
How to find popular hashtags on Instagram? With social media monitoring tool like Brand24, you'll not only find the most popular hashtag to boost your Instagram reach but you'll also be able to measure the results of your Instagram activities.
You can set up your free 14-day trial here (no credit card required). 
Start with setting up a project.
In the project creation wizard type the keywords related to your industry. Think about the name of your company, your branded hashtag, the name of your product or terms associated with your industry.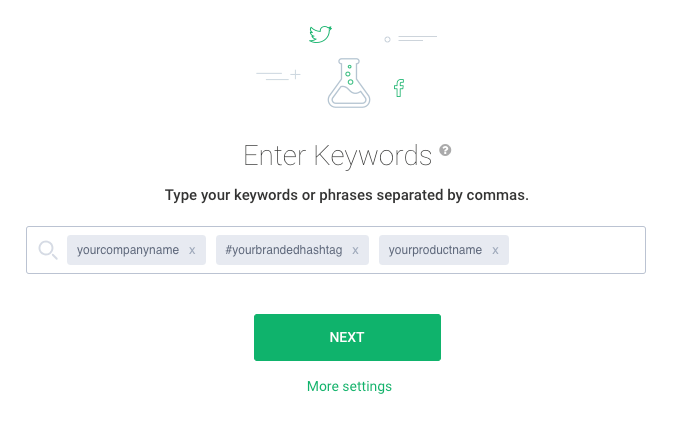 Brand24 will start collecting all the mentions from the Internet with your predefined keywords.
To find the right hashtags for Instagram, choose the Analysis tab on the left side of the dashboard and scroll down. You will see a list of 100 trending hashtags for a given topic, together with the number of mentions.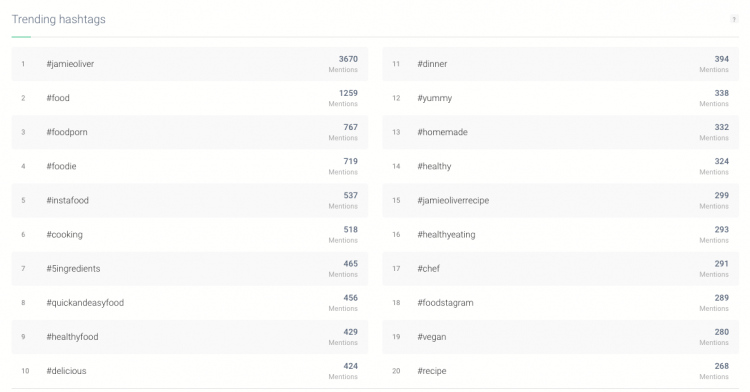 Using the right hashtags will help you reach a wider audience and, ultimately, increase your organic reach on Instagram.
Moreover, Brand24 offers analytics metrics that can be helpful for analyzing the impact of your Instagram posts. In the Analysis tab, you can filter all the mentions and see the numbers for:
estimated social media reach – the estimated number of people who could have had contact with the post
social media interactions
social media likes
social media comments
positive and negative mentions
Brand24 offers a 14-day free trial, no credit card required!
3. Explore the social side of Instagram
Instagram is a social network, after all, that's why it's vital to interact with other users if you want to increase your organic Instagram reach. The changes made to social media algorithms after the Cambridge Analytica scandal was set up to encourage genuine, positive behaviours.
What does it mean when it comes to Instagram interactions? You can sum up Instagram best practices to these critical points:
quickly reply to questions asked by your followers
thank people for liking and commenting on your post
explore other people's post and engage with their content
Again, Brand24 will help you keep track of all the mentions. When you log in to the dashboard, you'll see all the mentions from Instagram, and that includes the ones with a hashtag and with an @mention. 
I find the second application particularly useful. The @mentions disappear pretty quickly, and there's no way to find once they vanish from Instagram notification section.
Another useful feature to boost your organic Instagram reach is the sentiment analysis. Brand24 will assess whether an Instagram user has been talking about your product in a positive, negative or neutral tone.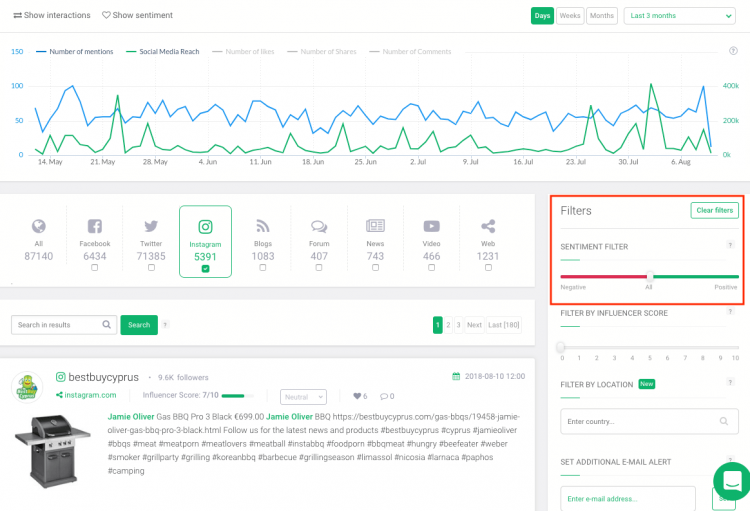 Thank people for all the positive mention to build brand awareness and associate your brand with positive emotions.
Negative comments can be a blessing in disguise. First of all, negative comments are a goldmine of knowledge when it comes to your followers' needs. It will give you an idea of the direction you should develop your Instagram presence.
Secondly, they give you a chance to prevent escalation of a social media crisis. Try to address the queries promptly, so you show your followers that you care about them.
4. Curate user-generated content
That's a great way to boost Instagram engagement rates. It will encourage users to interact with your photos or videos and share it further. And Instagram is making content sharing even easier, especially when it comes to Instagram Stories, which I'll discuss in more detail later on.
User-generated content is 35% more memorable and 50% more trusted than traditional media and other non-user-generated content.
Posting user-generated content will help you build relationships with your followers. And fruitful relationships with your followers can have a  positive impact on the Instagram algorithm.
5. Explore Instagram Stories
Instagram Stories are important for two reasons.
Instagram Stories give you a chance to show the human face of your company. Record some behind-the-scenes footage of your company, run a competition or create a separate content for Instagram Stories. It's a great way to have some additional exposure for your brand.
Instagram Stories are also great for brand's exposure because they are above the news feed. Your company logo will be the first image people see when they log into Instagram. That's an opportunity not to be missed!
The same applies to Instagram live streams. According to Social Media Examiner the more you go live, the more exposure your non-live content will receive.
The Stories are also based on an algorithm, so it's vital to post regularly and deliver informative and inspiring content.
6. Use geolocation
Apart from Instagram hashtags, the geolocation is another great way to increase your Instagram reach. Some Instagram users search not for a hashtag, but for a specific location.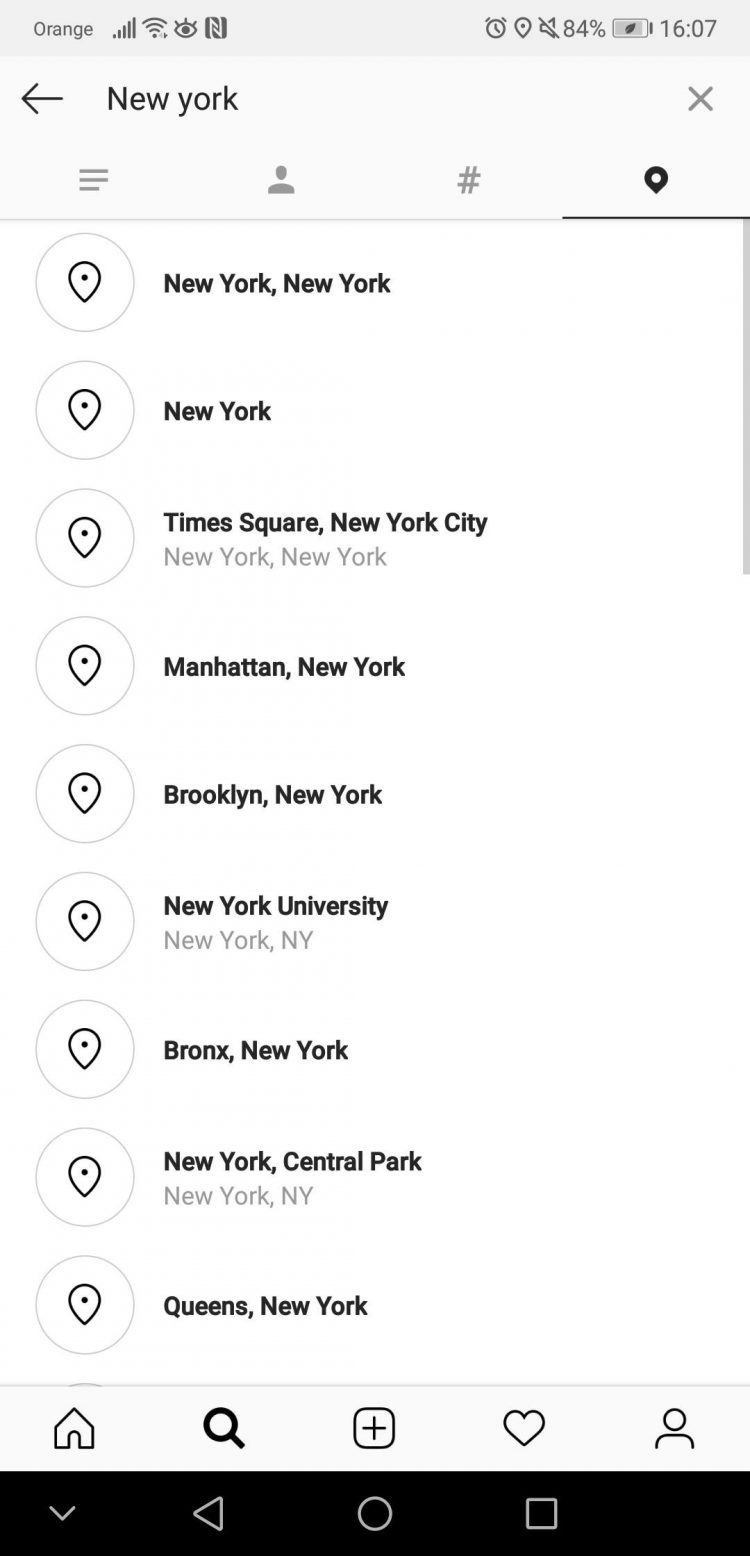 You can also discover images that feature your brand but you aren't tagged in. That's a proactive way to find new followers and expand your Instagram reach.
7. Take a look at Instagram Ads
I know that Instagram Ads and organic Instagram reach sounds like ice and fire or day and night. However, having a great Instagram Ad strategy in place can help you develop a sound organic following. How does this sorcery work, you might ask? Let me explain!
Choose an already existing post and promote it with Instagram Ads among the carefully chosen audience. The engagement rate for this post will rise and it will organically rank better on your followers' feed.
The question remains – which posts to choose from? Take a look at your Instagram analytics and identify a post that generated the highest engagement rate. You can easily identify the right Instagram posts in the Brand24's Analysis tab.

8. Collaborate with Instagram influencers
Instagram influencers are your secret weapon. They will help you with:
finding new audience
producing new content
authenticating your product or service in the eyes of others
generating leads
raising brand awareness.
Most social media marketers think about collaborating with top influencers who have tens of thousands of followers. But take a look at micro-influencers as well.
Micro influencers usually have up to 100 000 followers and are considered much more trustworthy than Internet celebrities. Your followers will relate more to micro influencers. Their posts also generate much higher engagement rates.
How do you choose the right Instagram influencer?
Again, the social media monitoring tool comes to the rescue!
In the Analysis tab, take a look at the most popular mention. Then go to "Filter mentions" on the right side of the panel and choose Instagram.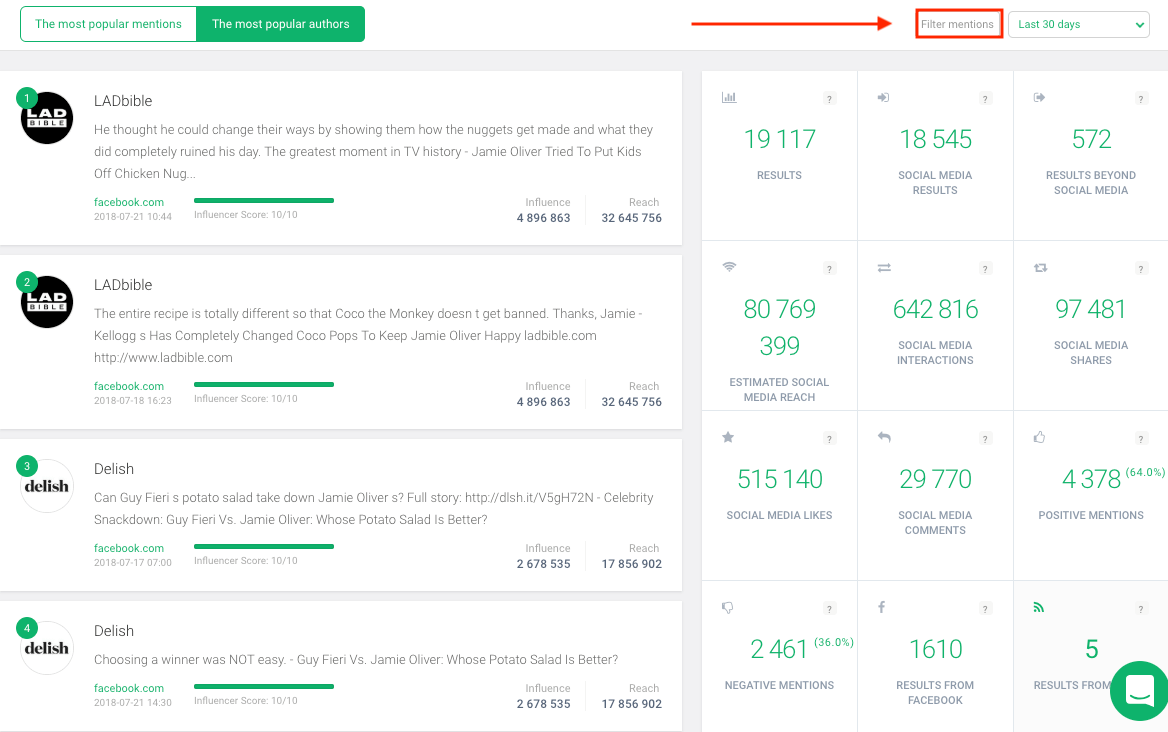 If the number of mentions is too high, scroll down to the "Influence of social media authors" section. There's your short list for candidates for your Instagram influencer marketing campaign!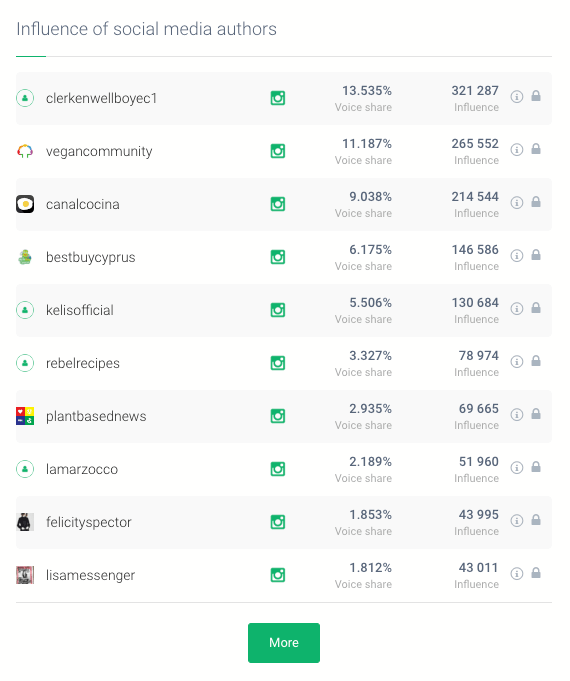 9. Engage with your audience
Instagram gives you a possibility to ask questions, runs polls and tag other users in your posts and Instagram Stories. Running a giveaway will certainly generate a lot of online buzz that will help boost your Instagram organic reach.
Apart from engaging your audience, you get a chance to show the funny face of your business. Just remember to post questions and polls every few months, so you will keep the effect fresh and interesting.
Benefits From an Increased Reach on Instagram
To increase your Instagram organic reach you have to comply with the Instagram algorithm. And the top concern for the algorithm is high user engagement.
When it comes to organic reach on Instagram, think about your account as a whole. If you have lots of views on Instagram Stories but not many likes and comments under your photos, that's perfectly fine. It means your target audience is more interested in video content and you should focus on creating engaging short clips.
Get to know your audience and try to fulfil their expectations. Building an organic reach on Instagram is not something you can do overnight but with the right attitude, you will succeed.
Relevant Read
How to Find the Right Instagram Influencer for Powerful Instagram Influencer Marketing
4 Tips&Tricks to Boost Your Instagram Stories Game
How to Find Trending Hashtags on Instagram
---
---