8 Fundamentals of Effective Event Management
February 2, 2018 ・ 13 min read
No doubt about that — running an event is a huge, huge undertaking on so many levels. There's just too many things to manage, organize, and take care of:
Catering
Venue
Prints
Ticketing
Plus a whole bunch of things I'm merely aware of
However, what I am aware of is that a good event needs a proper online presence. Doing a great event on the ground is one thing, but taking care of its online management and marketing and is just as important.
It takes two to tango!
In this blog post, you'll learn a bit about the fundamentals of effective event management and marketing.
How is event marketing and management valuable for brands
The success of an event relies mostly on three things:
On the organizer's reputation which is synonymous to the value an event offers
On attendance and interest it generates
On organization
While the first one is somewhat set in stone, as it's built over time, takes years of experience and tons of expertise, the last two one give a bit more room for adjustment.
Marketing events on the Web and generating online buzz along with great organization will help you conduct a successful event. So why event marketing is important exactly?
It brings attendees
It brings sponsors
It brings speakers
It strengthens your brand reputation
It increases revenue
It fosters your relationship with customers
It provides exposure
It generates connections
It generates backlinks
It increases your social media reach
Event organization and management are as important as event marketing or the reputation of the organizer. Taking a good care of event website, payment system or surveys help in making the most out of the event as they ensure about the value an event offers.
Event management pitfalls to avoid
Event marketing is no different than other areas of live — there's a lot of things that can go wrong. Below you can find six challenges every event organizer has to face.
1. Overlooking event management and registration software.
This kind of software is a must as it saves time and money. The position of event manager is pretty nerve-wracking and has been named most stressful job out there. Good enough event planners and management companies use registration software and save not only time and money, but also nerves.
With a solid piece of software at your disposal, you don't have to worry if invitations were sent, if the registration form works and so on. With the proper software you can keep calm and provide the attendees with the highest standard of experience.
It's good to use a complex software that cover at least a few areas of event management, such as a registration sytem, payments, invitations, etc. Then, managing an event is easier as many different aspects of the whole event planning process are at the hand's reach.
One of the tools I can recommend is CONREGO. It's an event management and registration software that covers plenty of other areas of an event.
2. No plan.
A marketing strategy for an event is a must. A well-thought event marketing plan should state event goals, event budget, means of achieving them, and means of evaluation.
3. Bad timing.
The execution of event marketing strategy by event professionals should start long before the event.
The longer it generates online buzz, the bigger publicity and interest it gains. In the long run, it makes an event even more successful as, for example, more sponsors decide to chip in, or more people learn about the event and decide to buy tickets.
4. Lack of metrics to track.
Business tend to overlook tracking metrics, particularly these connected to social media.
This situation stems mainly from two facts: companies are unaware of what metrics they could track and how they can do it.
The truth is, there's a good deal of social media metrics connected to social media performance of an event — be it the number of interactions (likes, comments, shares), social media reach of social media conversations, or the number of social media conversations about an event.
5. Lack of event hashtag.
We can't talk about event marketing in social media without a dedicated event hashtag.
It not only looks cool, supports your brand reputation but, what's more important, it gives an opportunity to gather all related online conversations and measure their impact under one hashtag.
6. Lack of social media engagement during the event.
Since an event has an online presence, it needs to be cultivated not only before, but also during and after the event.
Reaching out and interacting with people talking about the event online tightens relations with audience and is a proof of respect and appreciation towards the consumer. It's super important to connect with your audience!
These are just some challenges event managers have to face. Let's talk now about a couple of event management basics all events managers have to take care of.
The basics
1. Event website / event landing page.
An event website or a landing page is probably one of the most, if not the most popular place a potential attendee can visit.
According to Unbounce, a landing page is "a dedicated, campaign-specific webpage that drives visitors to complete a single marketing goal or call to action." — in the case of an event landing page, the goal is to convert visitors into attendees.
The first impression matters the most. Having this in mind, an event landing page should be created with an utmost care regarding style, elements, information, copy and appearance.
Also, there are some essential pieces of information such event landing page should contain:
Registration form
Conference program and venue (a map is more than welcomed!)
Speakers
Information about the organizer
Terms and conditions of participation
An event landing page should be the apple of the event manager's eye. Luckily, there's plenty of tools one can use to generate a fully professional and functional event landing page.
With their help we can create event landing pages without any involvement of programmers. And, what's also important, we can freely adjust the design and make changes anytime we need.
CONREGO is one pretty awesome event registration and management software I can sincerely recommend for designing an event landing page.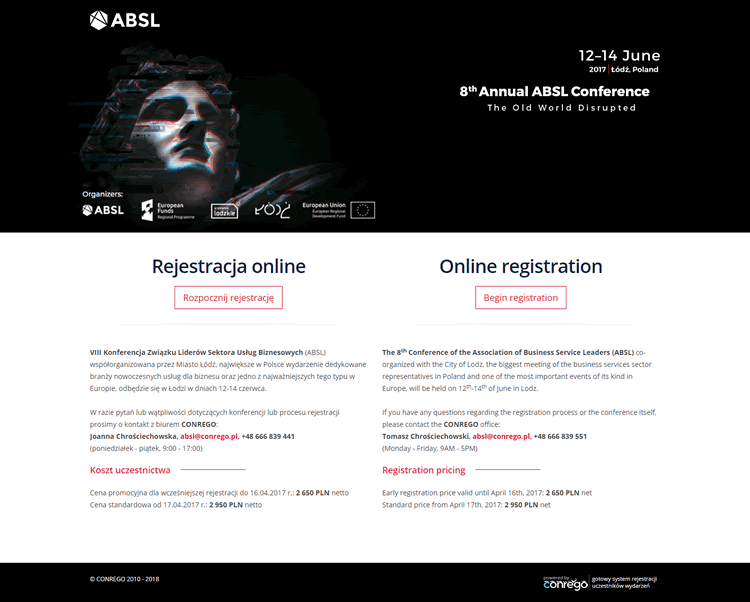 Designing an event landing page in such tools is super easy and intuitive — they have all necessary elements a landing page has to consist of: CTA buttons, registration forms, headers, image carousels, banners, video players, maps, content boxes and more.
CONREGO, for that matter, offers a huge room for customization, including branding, styles, content and appearance so that one can adjust them to match the branding of an event.
2. Registration system.
You've booked the venue. You've confirmed speakers. You have your event landing page, hashtag and so on. Now it's time to see some registration forms roll in, isn't it?
Can you imagine offline event registration these days? Well, it's possible but it might be too big of a struggle. A reliable online event registration system is a must.
Event registration systems vary in terms of complexity and features. In the best event registration software you can create, for example, multiple steps of the registration process that can be broadly customized, including:
Seats in conference rooms
Accommodation sites
If attendees can register multiple times using the same email address
Group registrations
Invitations
Availability of registration
Layout
Event agenda
Summary
Confirmation
It can be easily done in CONREGO — the great thing about this tool is that the customization it offers, fits the needs of both small, and large-scale events.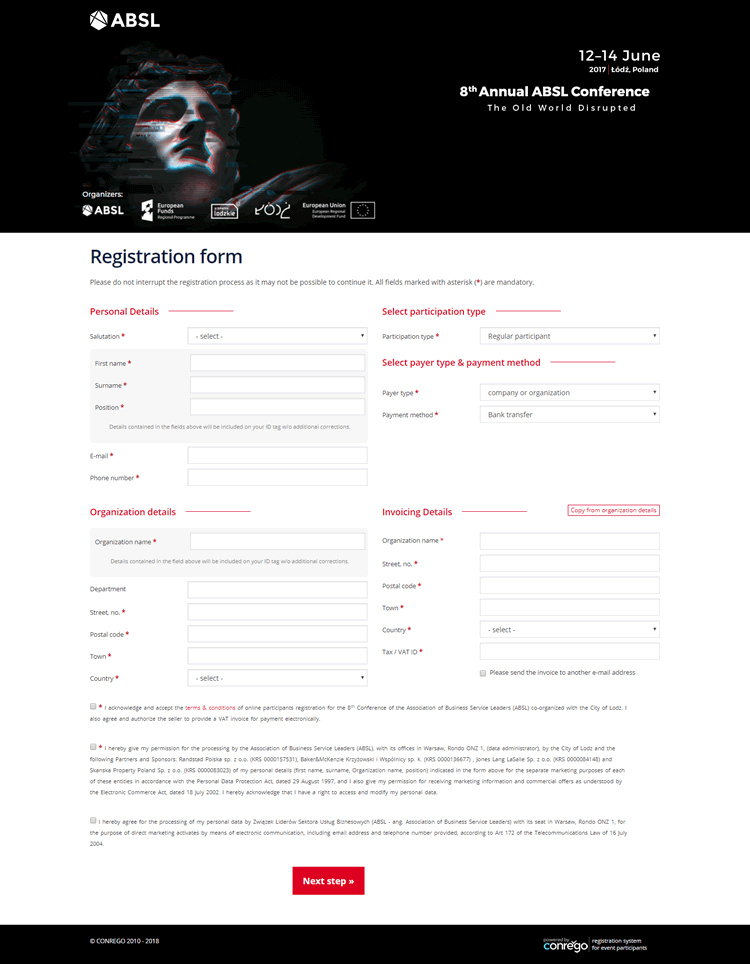 3. Event hashtag.
As mentioned earlier, we can't talk about event marketing without a dedicated event hashtag. It mostly works as a tool of gathering all social media content, posts and conversations in one place.
However, there's more — a dedicated event hashtag becomes just another event marketing and management tool:
It gathers all social media buzz about the event under one hashtag
It connects attendees, speakers and followers
It helps with customer engagement during the event
It helps with measuring event social media KPI's
It increases brand awareness
It increases social media reach
Social media monitoring tools offer interesting insights connected to the performance of a hashtag — you can use them to track the social media impact of your event. Apart from their ability to collect all online mentions of predefined keywords, social media monitoring tools have enormous analytical capabilities.
Using a social media monitoring tool, one can measure the volume of hashtag mentions (for example, how many times hashtag was used on Twitter), the social media reach of these mentions and people generating them, or the number of interactions (likes, shares, comments).
What's more, some social media monitoring tools allow the identification of the most active social media profiles mentioning your hashtag or the most influential social media profiles doing so.
After the event, one can use a social media monitoring tool to put together all these metrics and summarize the social media buzz about the event.
At the same time, one can track the hashtag of a competitive event — it's good to keep track on competitors and compare the results agains them.
4. Invitations.
It's always nice to see an invitation to the event you attend, isn't it? Event invitations are a small brick the wall of providing a full event schedule and great attendee experience.
Event registration and management tools offer customizable invitation generators in which one can create and adjust invitations using pre event planning beforehand.
They can be customized both in terms of visuals and personalization using unique codes and links.
It's even better when an event management tool has a PDF creator. Then, one can not only create invitations, but also tickets, entry passes, ID badges, certificates and personalized guides. Again, all-in-one event management tools are great!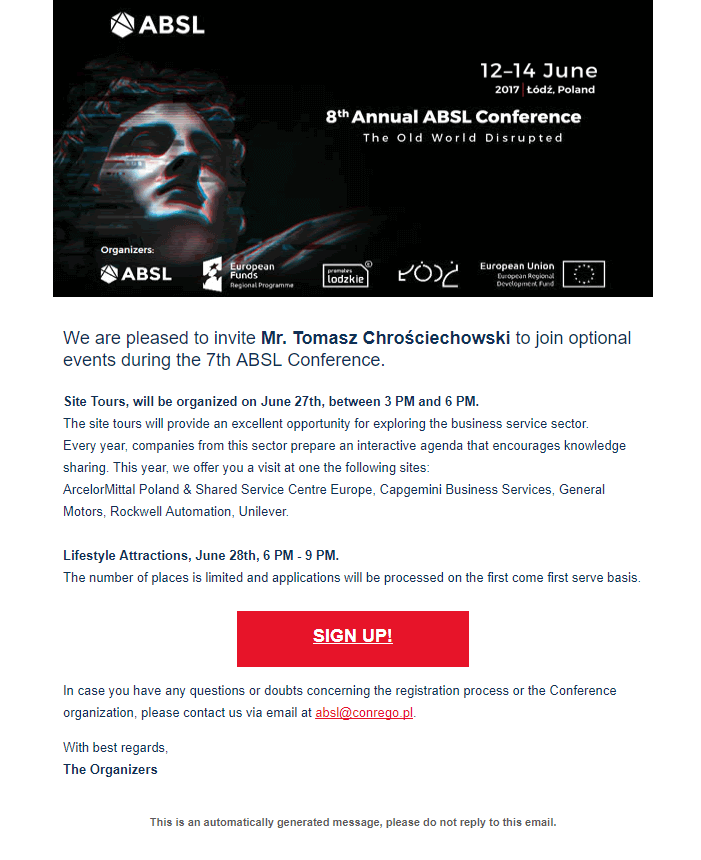 5. Payment system.
Another vital part of a solid event is payment system. There's no room for shortcuts here — it's a too delicate of a matter to use an unreliable software. Again — there's a good chance that an event management tools support payment processing.
Considering an all-in-one event management tool is a good call here. In such a case, the payment system is already integrated with other event management services, such as landing page generator, ticketing system, etc.
When it comes to accounting, a good payment system should offer a couple of essential features:
Currency and VAT rates adjustment
Invoice numeration system
Due date adjustment on proforma invoices
Setting invoice lines by aggregating items on the agenta and accommodation options
Invoice customization with own logo
Customization of registration form fields
Seller details
After making a payment, an event attendee should receive payment confirmation so automated messages are vital here.
Another important feature is payment reminder. If a potential attendee registered but haven't made a payment, one can remind him or her about making the payment.
Similarly, an attendee who hasn't paid within a specific time frame should receive a cancellation message.
One of common practices in the event industry are discounts. It's a way to encourage attendees to participate or to reward the regulars.
There's plenty to consider when it comes to discounts:
The number of discount codes
Validity times of discount codes
The number of uses limit for each code
Points of agenda covered by the discount
If you're looking for a good event management software that supports payment processing, CONREGO is worth-checking. You'll thank me later!
6. Social media presence.
Once you have your event hashtag, it's good to consider setting up a social media wall also known as social stream.
A social media wall is a real-time, aggregated stream of social media posts displayed on a large display. It's works well for attendee engagement during the conference — people love sharing photos and updates during events as it gives a sense of validation. It's also just cool to post something using an event hashtag and see your post on a big screen knowing that other people see it.
Social media walls a have plenty of other benefits:
Promote an event hashtag
Drive engagement
Promote branded hashtags
Increase followers
Here's a bit more about the benefits of social media walls.
Remember that social media wall drives customer engagement just to some extent — nothing can engage humans better than other humans.
Interaction with attendees is extremely important as it boosts their customer experience — they feel taken care of by the event organizer — and we know that customer satisfaction is all.
The role of social listening tools is pivotal here — their main super power is collecting relevant Web and social media mentions in real time and in one place — inside a tool's dashboard, in an email notification, or inside a mobile app.
Sure one can browse an event's social media platforms one after another and look for comments and mentions but let's be honest — it's a struggle that takes loads of time.
Another useful thing about social media monitoring tools is that they collect also mentions without social media handles and such mentions happen, too.
Anyway, with the right tool at your disposal, one can quickly identify event attendees talking about the event, reach out to them, connect, and build relations.
7. Surveys.
One of the biggest struggles out there is getting customer feedback.
Of course, consumers happen to share their thoughts, experiences and opinions on events, but there could be more of them — especially if we know that feedback is super, super valuable for any product, service or, in this case, event.
To bring the most out of the attendees, it's good to use surveys. They are one of the best ways of getting customer feedback — then, one can find out how attendees enjoyed the event, or if the event met their expectations and needs.
What's more, customers often have super accurate suggestions of improvements one can learn about and apply in future events.
What questions should one ask? Just for starters:
How would you rate speakers / content / catering / location / agenda?
What was the best / worst thing about the event?
What would you improve?
Do you have any suggestions of improvement on your mind?
Will you attend the next edition of the event?
Will you recommend the event to your friends?
Event surveys are often a part of event management systems like CONREGO. Inside, one can easily build surveys, thank-you pages beginning with layout, finishing on content, conditional registration form, or confirmations.
8. Results.
Once the dust settles after the event, it's time to have a look at a the results.
Evaluation of an event means different things to different departments working on an event: for marketers it can be measuring the social media reach of the event, for C-level management it can be revenue. What are your goals?
Having this in mind, there's plenty of areas one can assess:
Social media buzz
Volume of mentions
Social media reach
The number of publications in media
Attendee satisfaction
Revenue
The number of participants
The number of completed surveys
The number of registrations and their type
While the social media side of the event can be measured using social media monitoring and analytics tools, the stats connected to participation, such as attendance, payments, or registration types can be analyzed by an event registration and management software. CONREGO does a great job here. Results is yet another piece of data one can learn about in the tool.
That's why setting goals and KPIs is crucial before the event.
Conclusion
Event management and marketing is a tremendous undertaking that requires a huge effort both online and offline.
Running an event at the highest standard can be easier with the right tools. Having this in mind, it's good to consider all-in-one event management software as it covers many aspects of running an event online: registration system, payments, invitations, or analytics.
The same goes with marketing. A comprehensive tool stores all significant data in one place — it provides easy access and saves lots of time which is precious.
Good planning tools save time, money, and, what's the most important, an event organizer's nerves.
FAQ
What does event management do?
Event management involves the planning and execution of live experiences, ranging from conferences and networking events to concerts and festivals. Event management companies are responsible for understanding their clients' needs and translating them into a successful event. This can involve numerous tasks, such as scouting event venues, organizing logistics, adhering to health and safety standards, managing the budget, coordinating with vendors, and overseeing the technical aspects of the event. Successful event management ensures that every aspect of the event, from initial planning to event execution, runs smoothly and creates an unforgettable experience for attendees.
What are the 5 roles in event management?
The five roles in an event management company often include:
Event Planner: Event planners create the overall event concept and purpose, plan logistics, select venues, and manage the event timeline.
Event Coordinator: Coordinators handle on-the-ground logistics during the event, solving problems and ensuring the event runs smoothly.
Event Marketer: This role involves promoting the event to the target audience, managing social media, and other marketing channels to drive ticket sales or attendance.
Vendor Manager: The vendor manager sources and negotiates with vendors, from caterers to AV companies, to meet the needs of the event.
Safety Officer: The safety officer ensures that the event complies with all health and safety regulations to protect attendees and staff.
Together, these roles encompass the diverse skills and responsibilities needed for a successful event.
What are event management skills?
Successful event management requires a blend of skills. Key among them is project management, which involves planning, organizing, and managing resources to bring about the successful completion of specific event goals and objectives. Interpersonal skills are also essential, as event managers need to communicate effectively with a wide range of people, from clients and vendors to staff and attendees. Good negotiation skills are important for securing contracts with vendors and venues. Other crucial skills include problem-solving, to handle any issues that arise during the planning or execution of the event, and creativity, to develop unique event concepts and make each event stand out. These skills, among others, form the backbone of a successful event management career.