An Instagram post and hashtags are just as inseparable as fish and chips, Starsky and Hutch, or tequila and great decisions. They are an inevitable part of your marketing activity. Here's why: you need them to grow your account.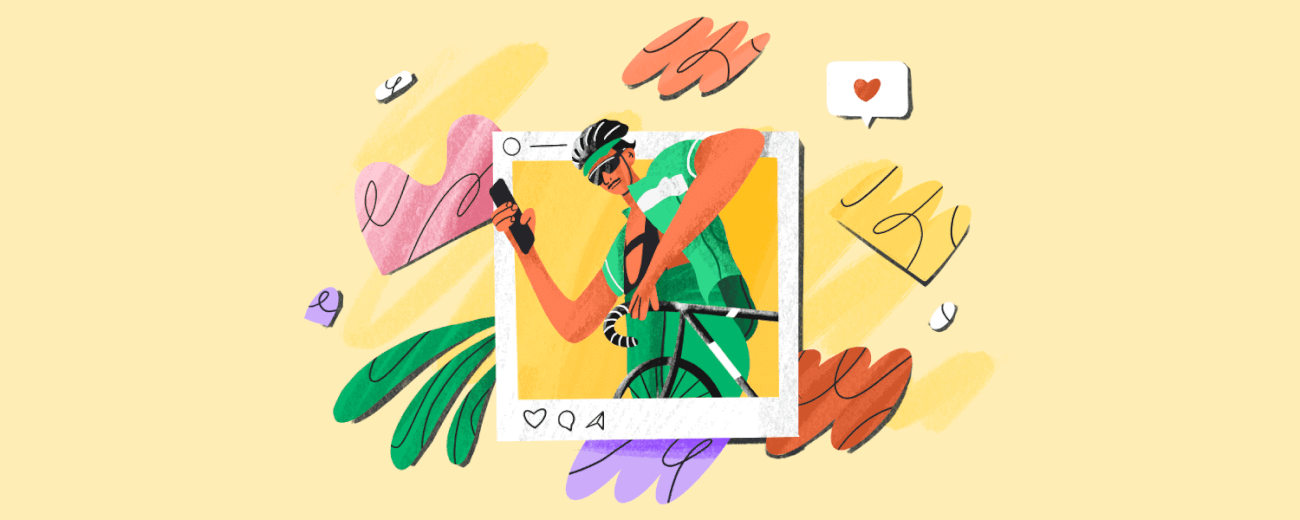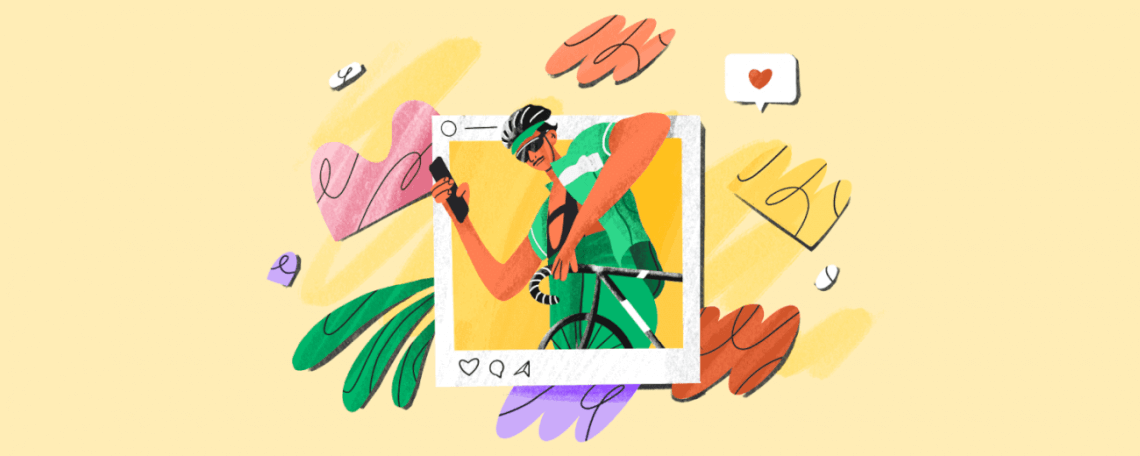 Instagram analytics will give you necessary data you need to grow your account. It's not enough to use 30 trending hashtags and track your performance. Instagram hashtag analytics is much more complicated and time-consuming than many might expect.
Monitor your Instagram hashtag performance!
You can track Instagram hashtags on your own, but the best way to approach this task is to use an Instagram hashtag analytics tool. A dedicated tool will track hashtag usage, identify top trending hashtags within your industry, and help you post more relevant content your audience will interact with. Once you know how to use hashtags strategically, you can bring your social media game to the next level.
Instagram hashtag analytics translates into numerous benefits, such as:
engagement
exposure
brand awareness
customer insights
Firstly, let's dive into basic Instagram analytics metrics:
Engagement
In general, social media posts with hashtags raise the engagement of your audience. Simply Measured found out that it's a 12.6% growth.
Social media engagement should be one of your Instagram metrics as it proves how your content resonates with your target audience. Social media managers calculate engagement by number of likes, comments, and shares a post or Instagram account receives.
What's more, if content gets engagement, Instagram recognizes it as valuable and boosts its visibility in Instagram search engine, and in the Explore page.
Exposure
Hashtags create a network of connections and categorize social media content. Using the right number of relevant hashtags in your Instagram posts guarantees exposure to broader audience – whether you target influencers, brand ambassadors, or potential customers.
Brand awareness
The bigger exposure the higher your brand awareness.
Creating unique Instagram hashtags for your company, marketing campaigns, or content supports your brand image and online reputation. They help in establishing your position as an expert in your niche, and make your presence more memorable.
Customer insights
By following your hashtags, you can get to know your target audience better.
You can see who they are, how they use your product or service, or what their problems and expectations are. It's a massive source of business intelligence you can act upon.
Let's what's ahead of us today:
What relevant hashtags should you use?
Your success on Instagram depends on the hashtags you choose. Depending on the goal of your marketing campaign, you should put a predefined set of Instagram hashtags under each post.
You should always put certain hashtags with your posts:
your branded hashtags
your campaign-specific hashtags
trending hashtags
Your branded hashtags will help you discover who, where, and when shares your Instagram posts. Instagram analytics tools will automatically monitor aggregated data. You can use the Instagram insights to improve your social media strategy.
Instagram hashtag analytics: examples of hashtags
Once you have Instagram hashtags that matter for your business, you can start tracking hashtags using one of hashtag analytics tools, for example, Brand24.
Use the Brand24 tool to analyze Instagram hashtags!
Company hashtag
Company hashtag is one of the ways to build your brand awareness and establish yourself as an expert in a given niche. Measuring the performance of a company hashtag on Instagram will show you how many people talk about your company, what sentiment it generates, and how many people it reaches.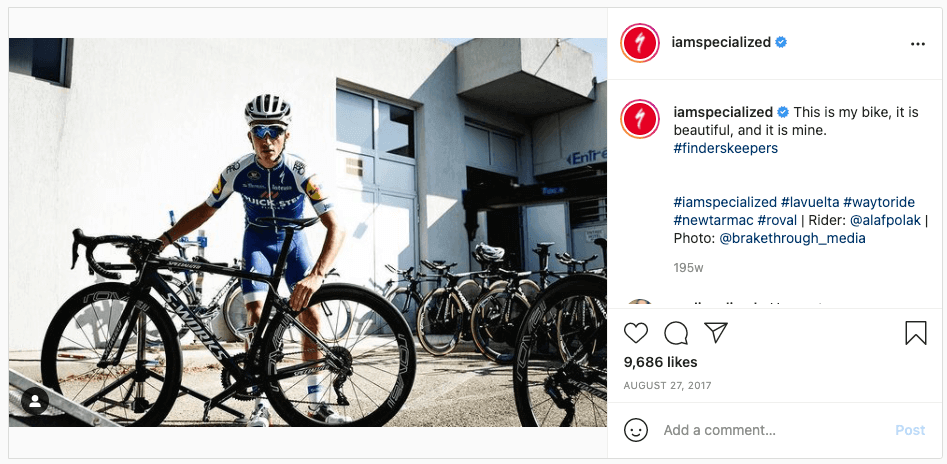 Specialized uses #imspecialized hashtag.
Event hashtag
Instagram is a perfect match for event marketing.
It's a way to spread the news about your event and attract audience's attention: get more attendees, sponsors or speakers.
During an event, you can post pictures from lectures, some behind-the-scenes pictures or videos. All of them can be hashtagged with your hashtags.
During and after the event, you should track Instagram hashtags to collect user-generated content and keep your social media feed interesting for other users.
Hashtag campaigns
Instagram is ideal for running hashtag marketing campaigns.
Adding a dedicated hashtag to your campaign allows you to measure its performance.
Before you start tracking Instagram hashtags, establish the goal of your campaign. Your brand awareness campaign will look completely different than a social media campaign.
The goal of the campaign will determine the hashtags you will track. The brand awareness campaign will require you to use a branded hashtag. For a social media campaign, you need to track different sets of hashtag data. Apart from hashtag reach, you should track metrics such as:
sentiment analysis
user-generated content
social media engagement
the most popular public profiles
Check: 8 Creative Hashtag Campaigns You Should Look Up To
Why is Instagram hashtag analytics important?
Bear in mind that, in general, companies are unaware of the necessity of tracking the performance of their social media activities.
A study from Altimeter shows that 39% of businesses don't analyze their social media actions due to lack of tools and expertise.
The good thing is that tracking hashtag performance on Instagram is relatively easy and straightforward: there's a couple of metrics you can track to monitor your progress.
Let's see what they are.
1. Volume of mentions
Instagram hashtag analytics starts with the volume of mentions.
This is the most elementary metric. It's good to track it over a certain period of time. Here's how it looks like in Brand24.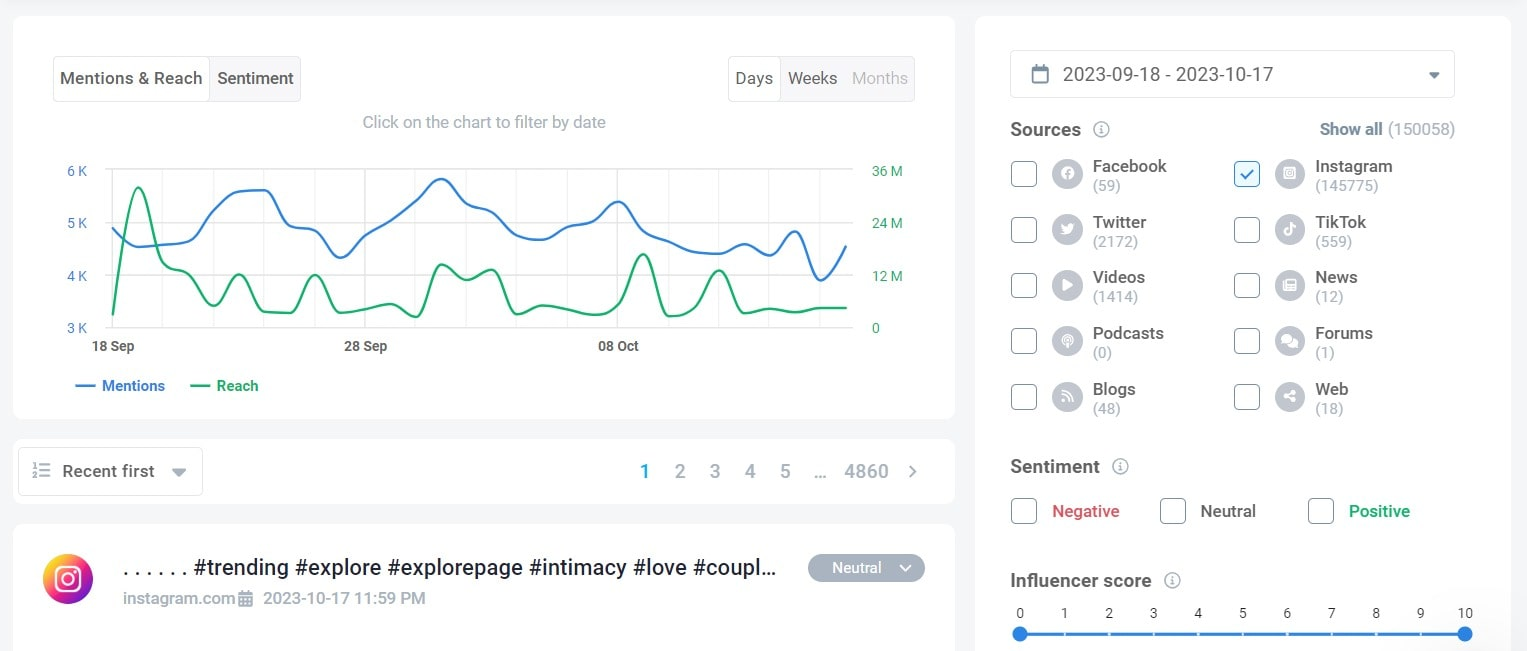 Above, you can see some data about the #ShotoniPhone hashtag. In the last 30 days, this hashtag was mentioned over 150,000 times on Instagram.
Monitor and analyze Instagram hashtags!
The blue line indicates the number of mentions, and the green line represents the social media reach they generated.
The volume of mentions is a good indicator of the popularity of your hashtag. You can observe the volume of conversations about your company, event, or marketing campaign.
It's important to keep track of these numbers: if the number of mentions grows, decreases, or stays the same. Hashtag tracking tools will report this number daily.
2. Social media reach
Another super important metric you can track is the social media reach of Instagram hashtags.
Social media reach is the number of social media users that might have to stumble upon your hashtag on social media. It's an algorithm based on the number of followers a user has. It means that if I share an Instagram post with your hashtag, my followers will see it. This is how they add up to the overall social media reach of your hashtag.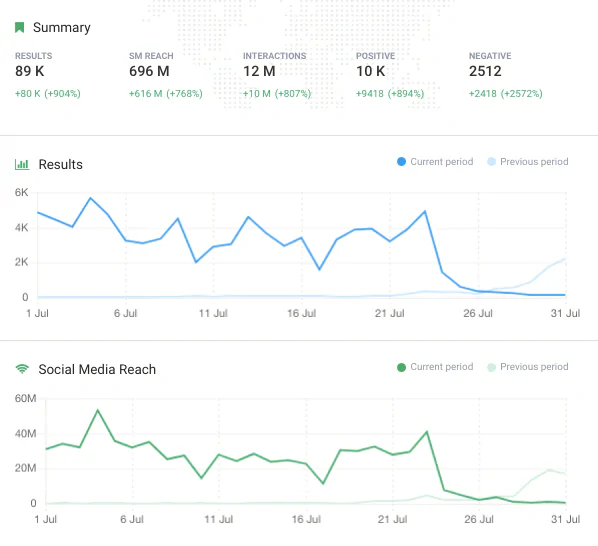 Instagram hashtag analytics lets you discover how your hashtags spread and what audience it reaches.
By comparing social media reach with engagement numbers, you can find out what your engagement percentage is.
To get your engagement percentage, take the number of interactions (likes, comments) and divide it by the social media reach your hashtag generates. This percentage shows what part of the audience engaged with your hashtagged content.
Check: How to increase Instagram reach?
Monitor and analyze Instagram hashtags!
3. Engagement
We can't talk about Instagram hashtag analytics without discussing engagement.
Engagement indicates how many users interact with posts mentioning your hashtag. It includes the number of likes and comments.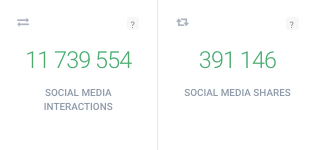 This metrics shows how your hashtagged content resonates with your target audience.
Hashtags are key to getting more engagement on Instagram, especially trending hashtags. This video shares some good tips on how to find the best Instagram hashtags to grow your Instagram account:
4. Sentiment
Sentiment analysis helps you understand how your audience feels about the content associated with a specific hashtag.
Positive sentiment indicates that your audience is engaged and enjoys the content, while negative sentiment may suggest issues that must be addressed.
Here, you can see the sentiment of the #ShotoniPhone hashtag: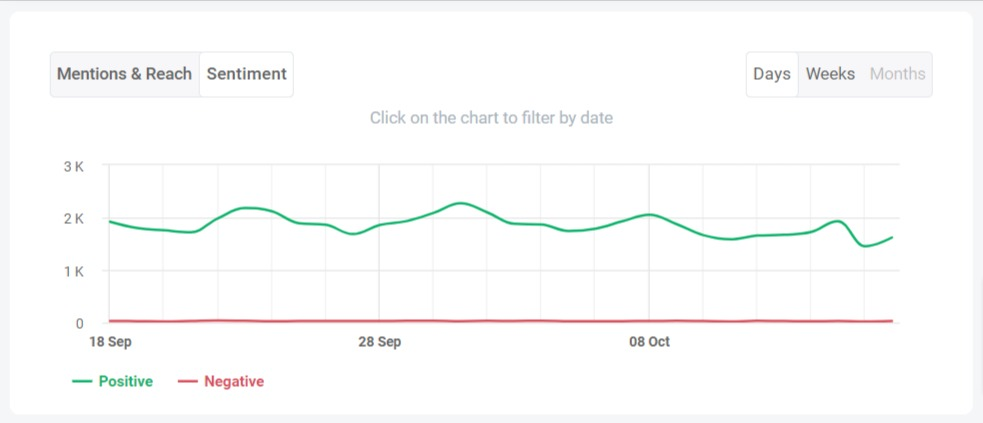 And here's a detailed sentiment breakdown:
As you can see, 61% of mentions were neutral, and 38% were positive. This means that the #ShotoniPhone hashtag indicated positive emotions.
Now, it's time to figure out what emotions your hashtag indicates among the target audience. Tools like Brand24 can identify detailed emotions of mentions.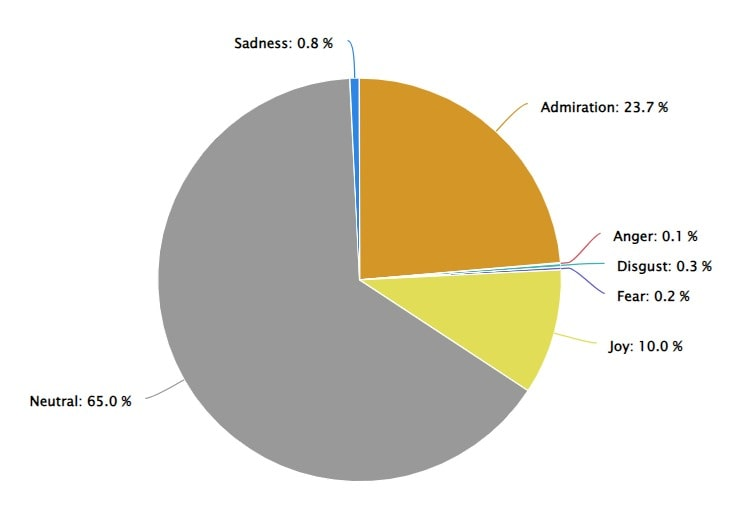 Monitor and analyze Instagram hashtags!
5. Influence
Another metric to track hashtag performance on Instagram is Influence.
It sounds rather enigmatic but can be measured indeed.
In Brand24, influence is an algorithm that combines of the number of followers, and engagement metrics: comments and likes. On this basis, each Instagram profile that mentions your hashtag gets an Influencer Score.
It helps you identify the most influential authors.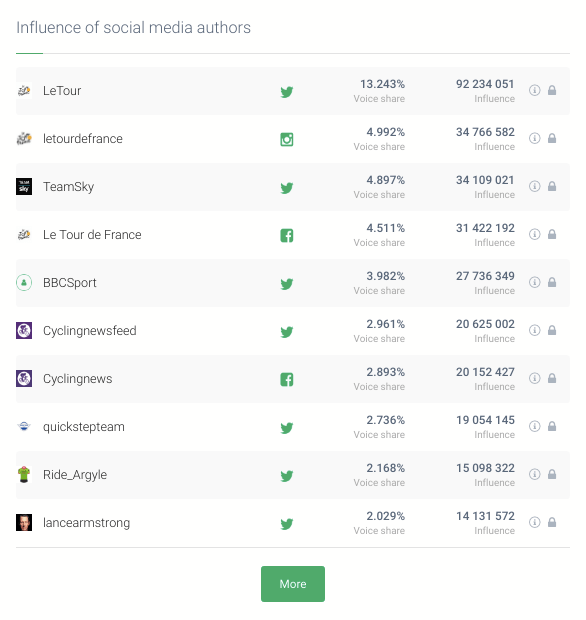 Having look at the influence of Instagram profiles mentioning your hashtag, you can identify influencers that might be interested in promoting your product – people who will support your company and product by talking about them in their social media. It will give you access to their audience.
6. The most active social media authors
Instagram hashtag analytics involves tracking the most active Instagram authors.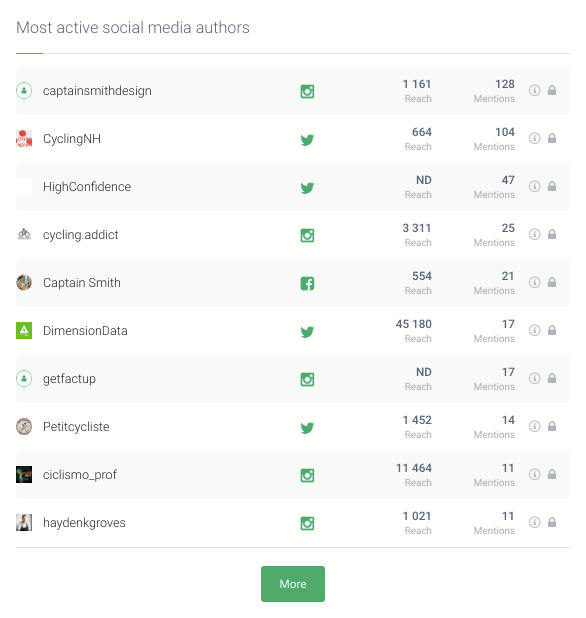 This metric shows Instagram profiles that use your hashtag most often.
This is another way to identify social media influencers to work with your company and promote it.
7. Presence
This metric will help you measure hashtag popularity in a given time.
By tracking the presence score, you can measure and benchmark the awareness of a hashtag.
The presence score provides a quick and easy way to evaluate a hashtag's performance during a specific period. This is especially valuable when running time-sensitive campaigns or promotions and assessing their impact in real-time.

Who needs Instagram hashtag analytics?
Instagram influencers from various niches
YouTubers present on Instagram
Online stores
Saas businesses
Small, medium and large companies growing their social media presence
Monitor and analyze Instagram hashtags!
How to track hashtag performance on Instagram?
One of the ways to track your hashtag is to use Brand24 which is a media monitoring tool. It supports Instagram hashtag analytics.
Once you create your free account, you need to create your first project. Since we're talking here about Instagram hashtag analytics, you should enter your hashtag. Don't forget to include the hashtag sign.
If you enter a couple of hashtags, you get combined data about all of them. If you enter one hashtag, you get data about one hashtag. You can create multiple projects.
Then, in Summary tab, you can see a short summary of the most important KPIs.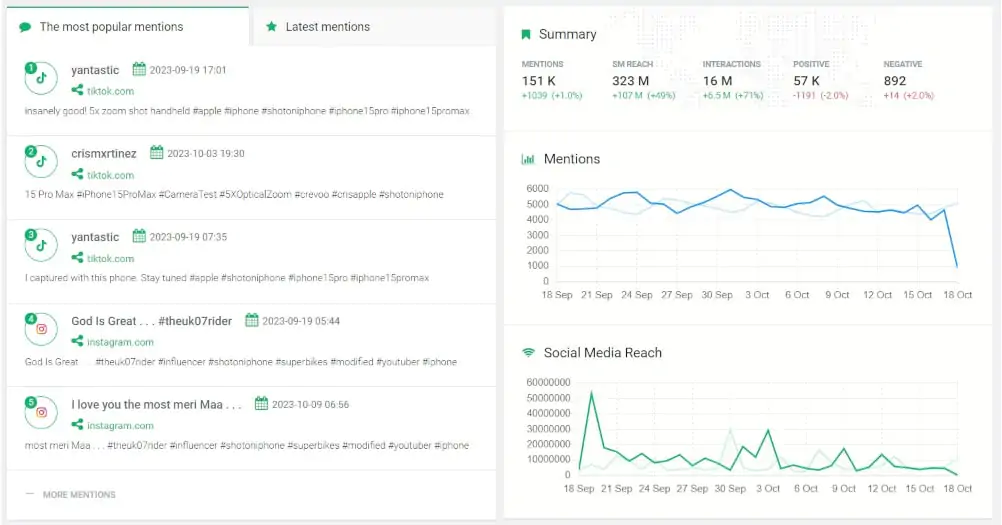 All mentions can be found in the Mentions tab, and all the most important data is inside the Analysis tab: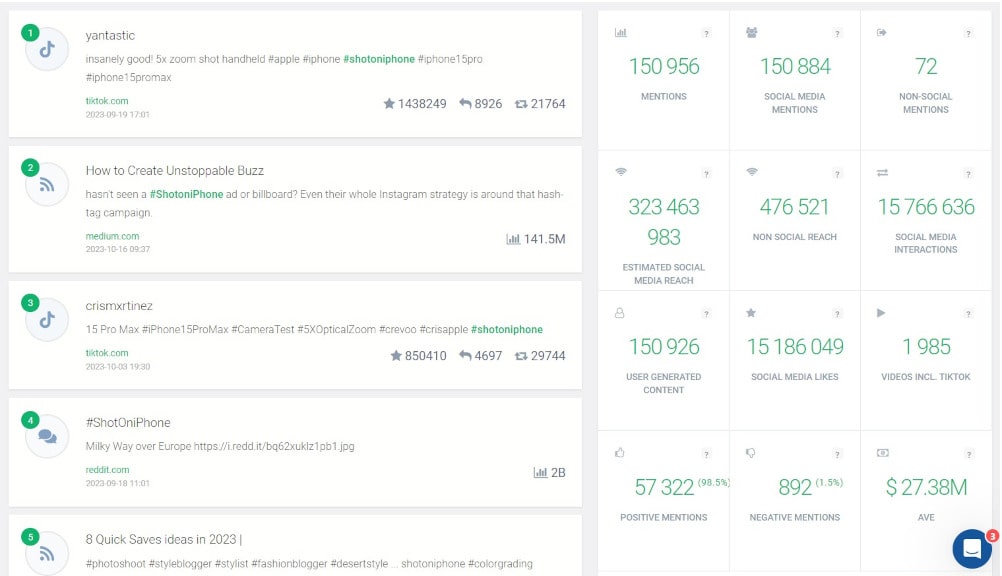 How to follow hashtags on Instagram?
Instagram finally let their users follow a specific hashtag. This is a great opportunity for both influencers and marketers to track hashtags, see the most popular posts and recent photos.
This option, however, lacks a few important metrics. Marketers who like to implement an advanced social strategy will most likely like to dive deeper info hashtag analysis and would like to see the Instagram hashtag stats, suggestions and related content.
Monitor and analyze Instagram hashtags!
Brand24: Hashtag tracking tool
Here comes Brand24 – a convenient Instagram hashtag tracking tool. Not only will you see the latest mentions of your branded hashtag, but also you can get e-mail notifications when people are talking about your company on social media platforms.
Additionally, you can create custom reports that will boost your Instagram hashtag strategy.
If you skipped the article right to the end, jump back up to read more how to set up the first project in Brand24, and how to analyse hashtag statistics.
Here's a list of insights you can learn about a hashtag in our tool:
The number of mentions over specific time.
The number of mentions over specific time.
The social media reach of posts containing a hashtag.
The number of interactions a post including the hashtag generated.
Who are the most influential authors mentioning a hashtag.
The most active Instagram authors.
The context of the discussion.
All these pieces of data can be used in business, marketing, research, analyses and more. The sky is the limit here.
Once you have Instagram hashtags that matter for your business, you can start tracking hashtags using one of hashtag analytics tools, for example, Brand24.
HANDPICKED RELATED READS:
How to See the Number of Tweets for a Specific Hashtag
How to follow a hashtag on TikTok