Marketers, social media managers, content creators, or even business owners need to be multifunctional if they manage social media, especially Instagram. Fortunately, technology is constantly moving forward, and they are lucky enough to have multiple tools, services, and solutions that make managing this time-consuming platform easier. In this article, you will learn a couple of top Instagram tools for 2021.
Instagram tools serve for various purposes and can be used by many people or businesses that have different goals or needs.
Instagram tools can come in handy as they allow to often automatize or organize work – edit or manage content, manage profiles and engagement, follow and find hashtags, share tasks, and improve team work.
If you haven't used any Instagram tools yet, 2021 is the perfect time to finally start. They may make this year better, believe me, or find out yourself. I prepared a list of the best, in my biased opinion, Instagram tools for 2021.
Brand24
Brand24 is a media monitoring tool that has a dedicated integration with Instagram, that is compliant with all the latest regulations and guidelines.
Brand24 can be used for various purposes when it comes to Instagram, so it's considered a robust tool that can be beneficial for social media managers, marketers, PR experts or owners of small businesses.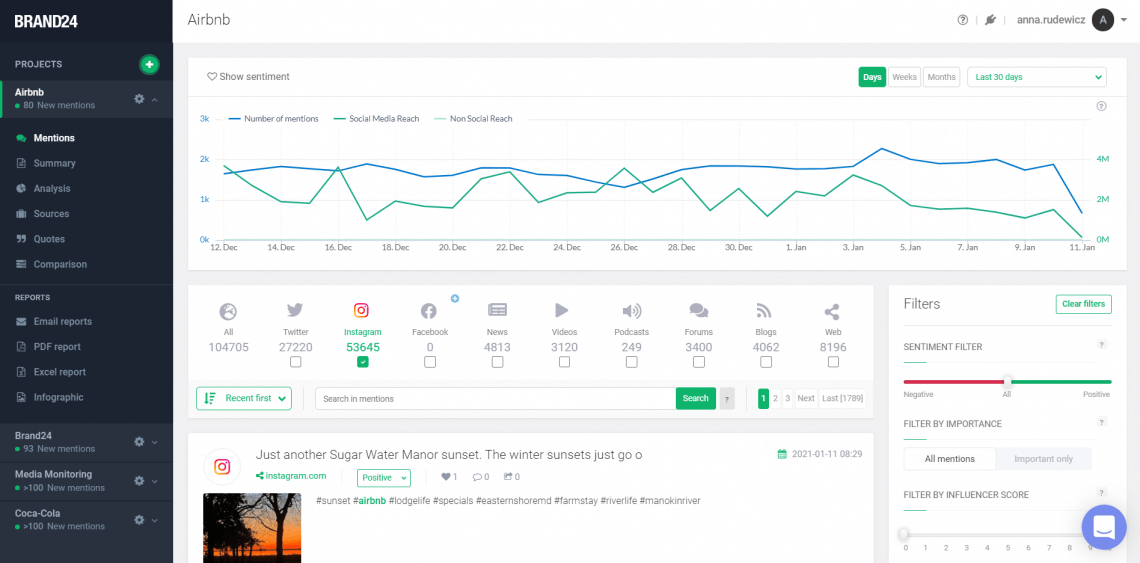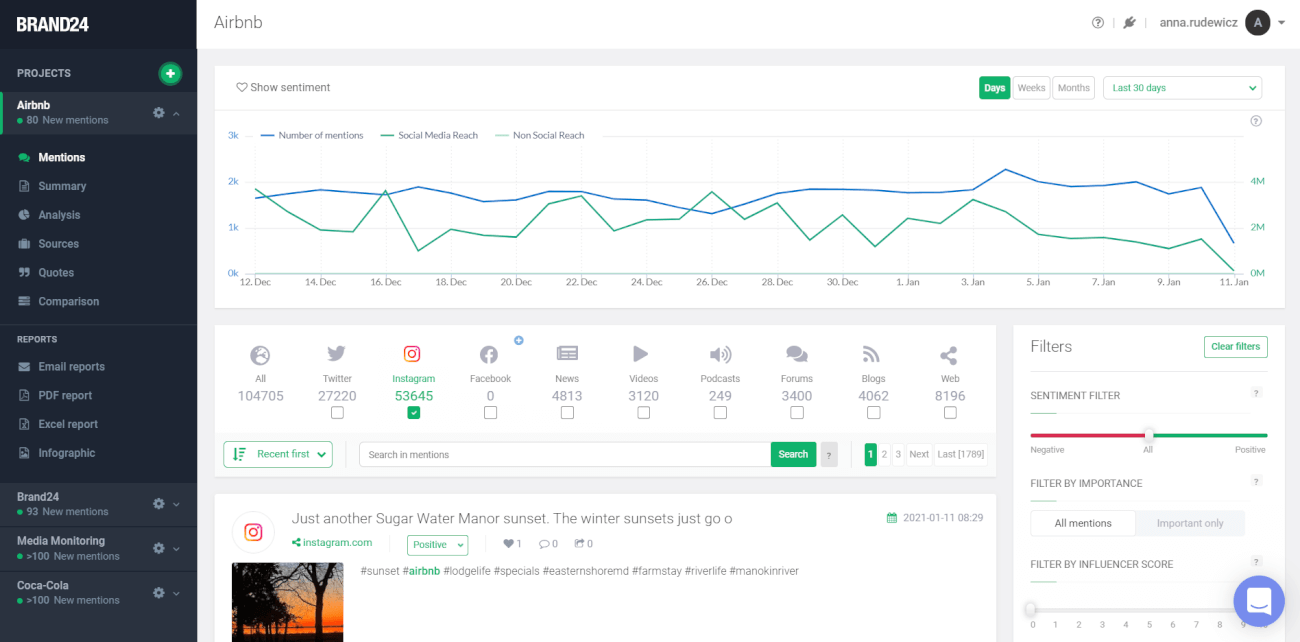 Track hashtags and hashtag campaigns.
The tool enables you to search multiple hashtags at once, and follow public photos and videos containing a specific hashtag or hashtags.
This feature also enables you to track your competitors' posts, as they probably frequently use hashtags dedicated to their company or campaign.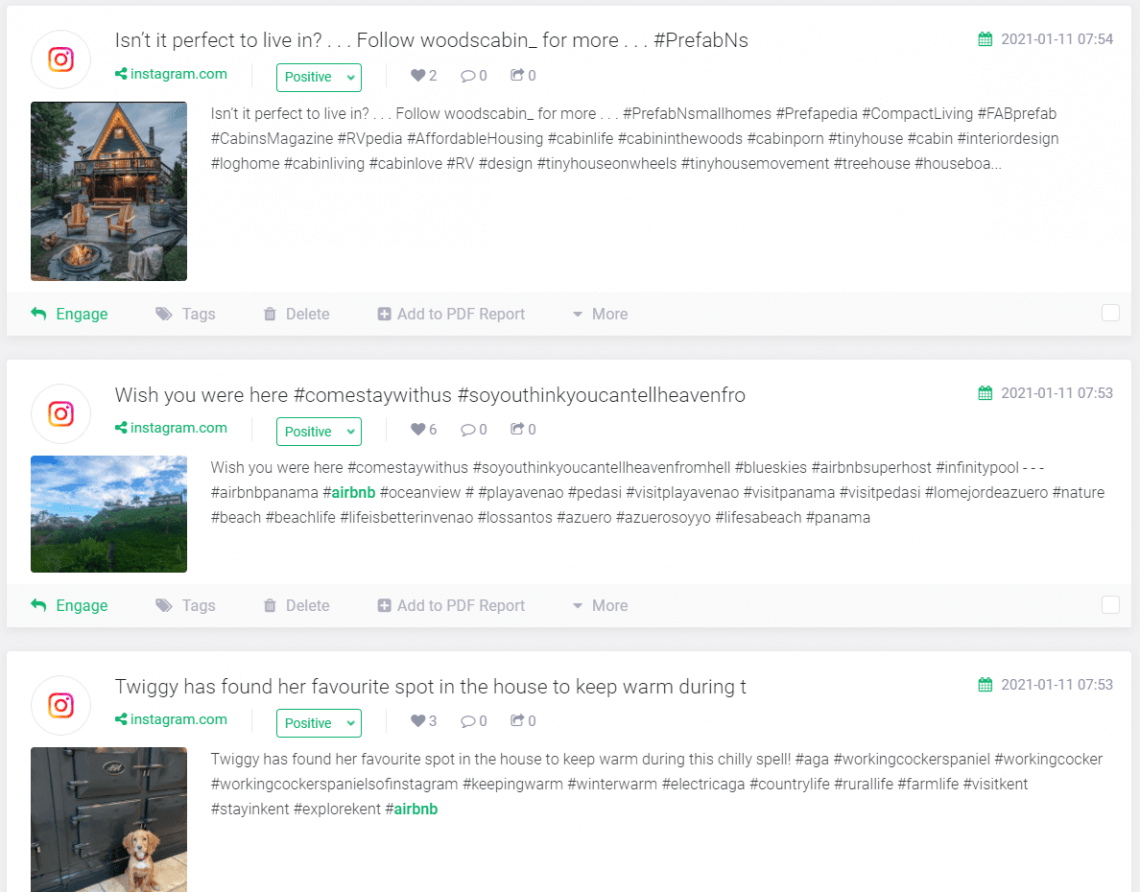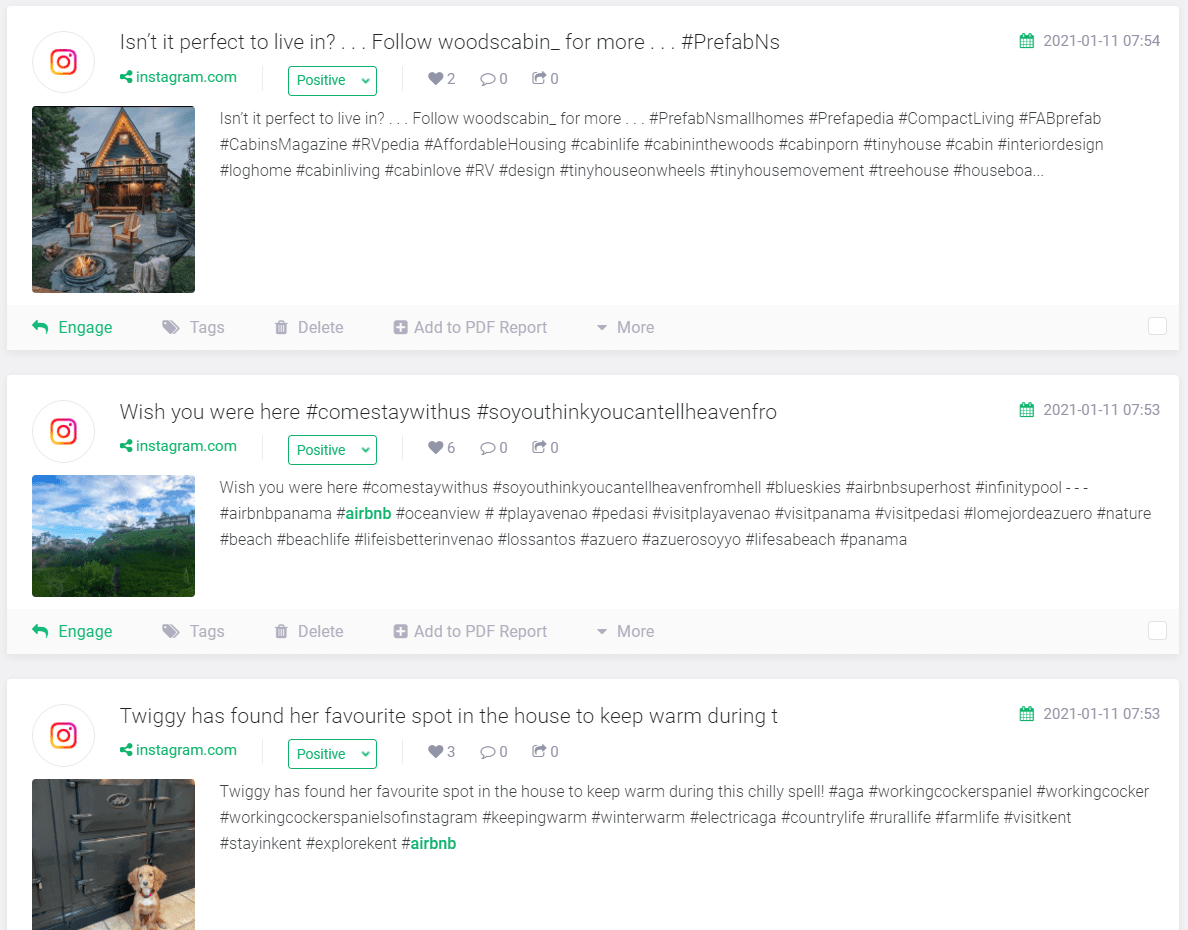 Manage your profile.
Keep up with public photos, videos, and comments in which an Instagram Business or Creator account has been tagged or @mentioned.
Tracking public photos and/or videos posted by an Instagram Business or Creator account to stay up to date with your content and how it is performing.
Finding most engaging Instagram influencers.
Brand24 shows you detailed post statistics including the number of likes, comments, and shares, and works as an influencer marketing platform as well.
Find most popular hashtags.
If you're looking for the most popular hashtags to use for your posts, Brand24's Analysis tab will let you discover what hashtags will help you reach a wider audience.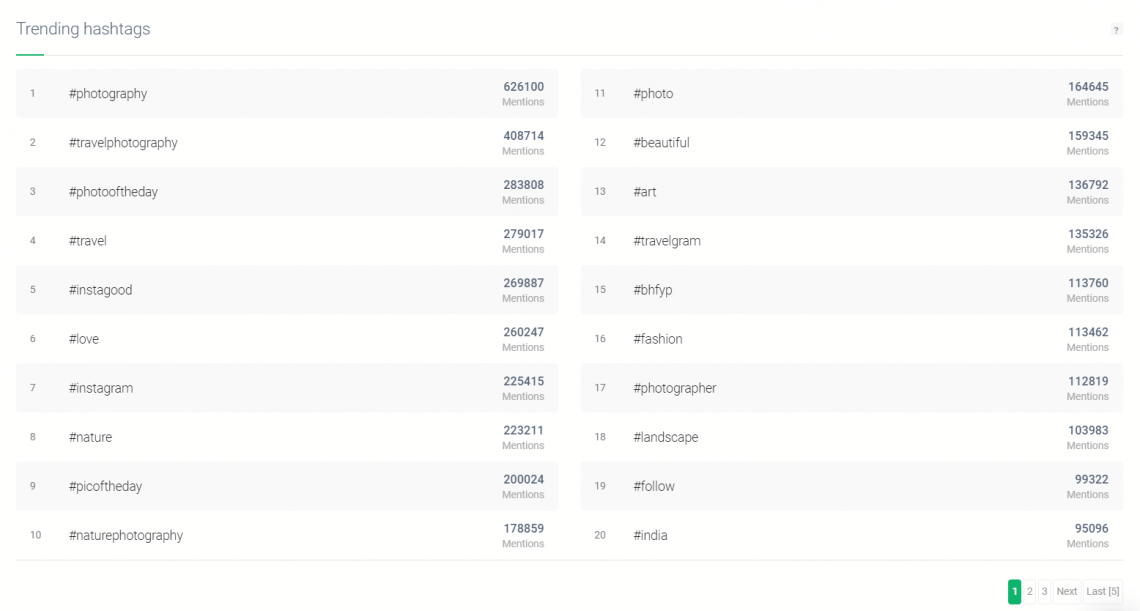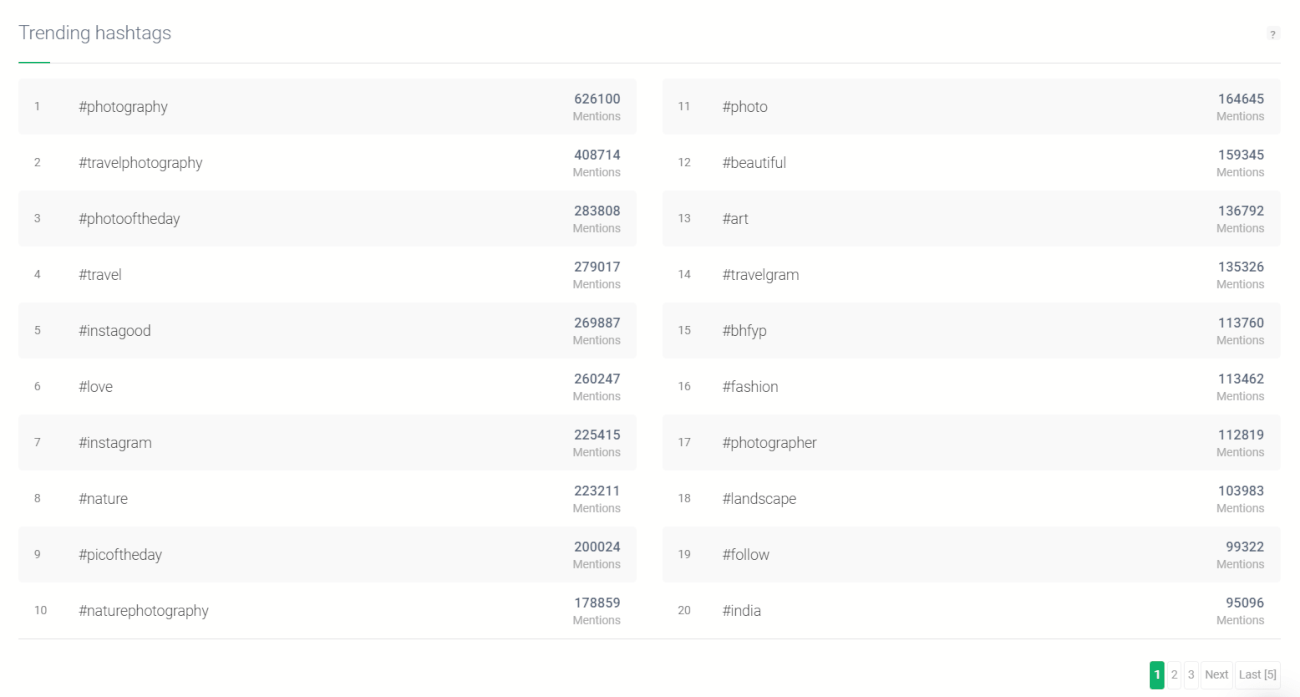 3 pricing plans:
Personal Plus – 49$ / mo
Professional Premium – 99$ / mo
Professional Max – 199$ / mo
Preview
Preview is a mobile app that I personally use to visually plan my feed, but it works for scheduling, editing, analyzing Instagram posts as well.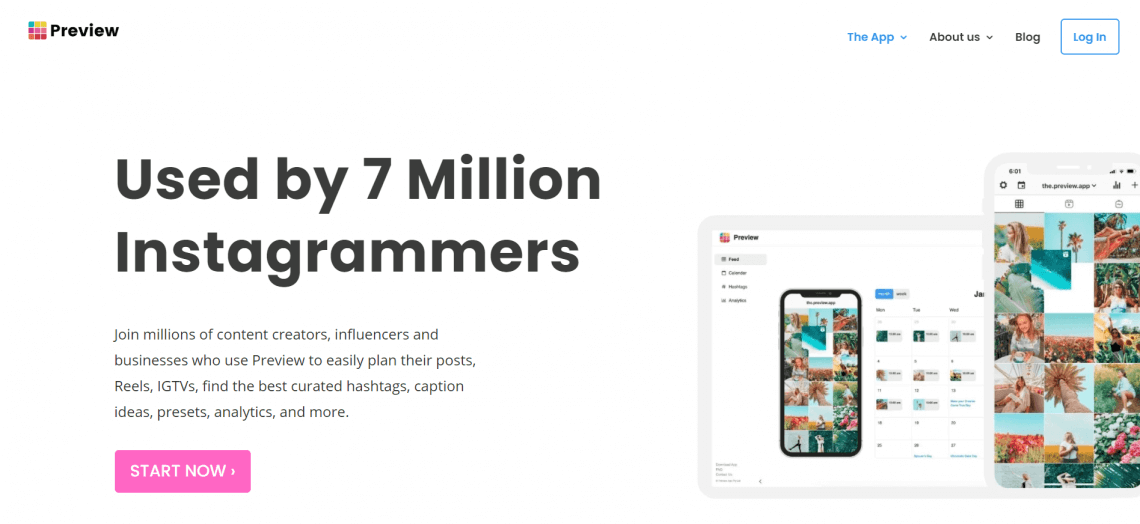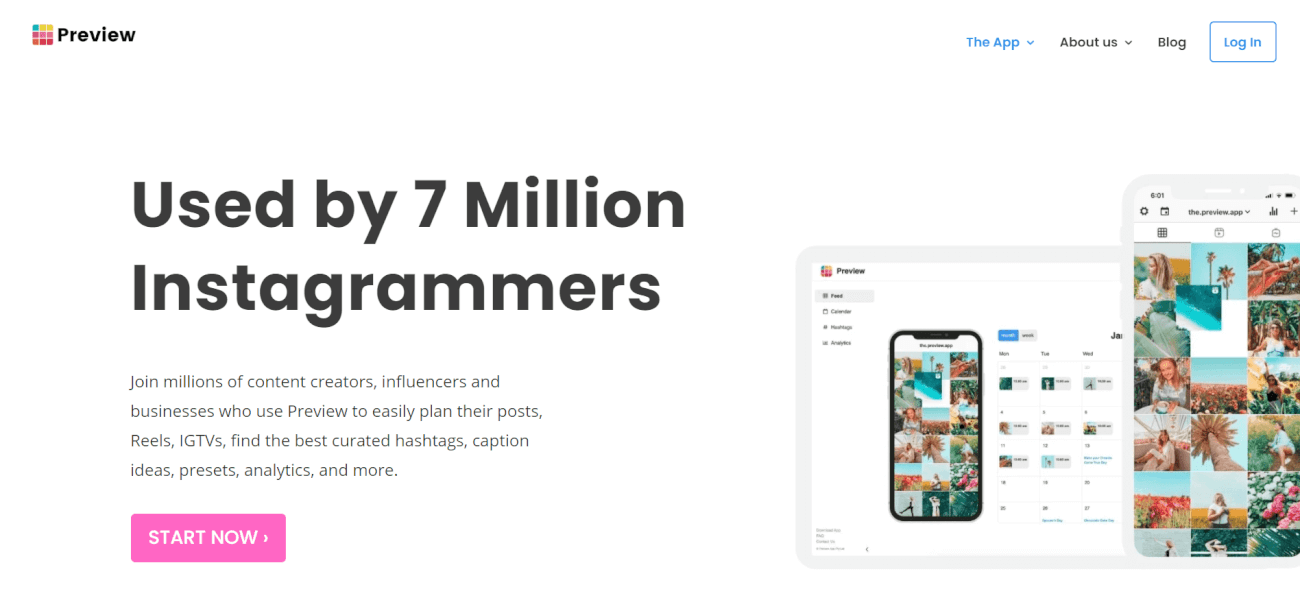 Paid versions let you find the best hashtags, caption ideas, and provide analytics.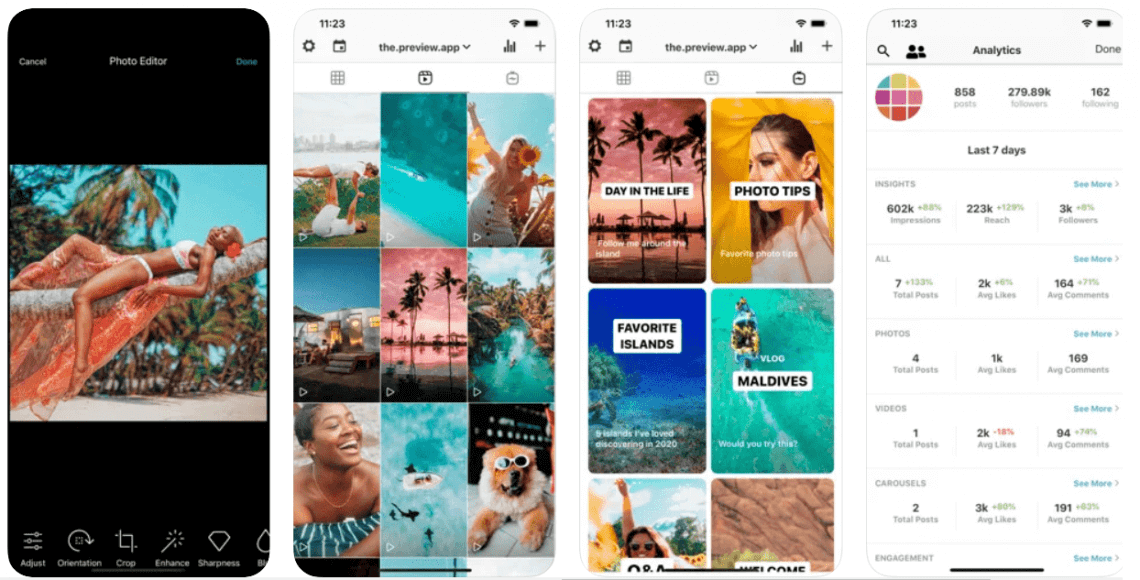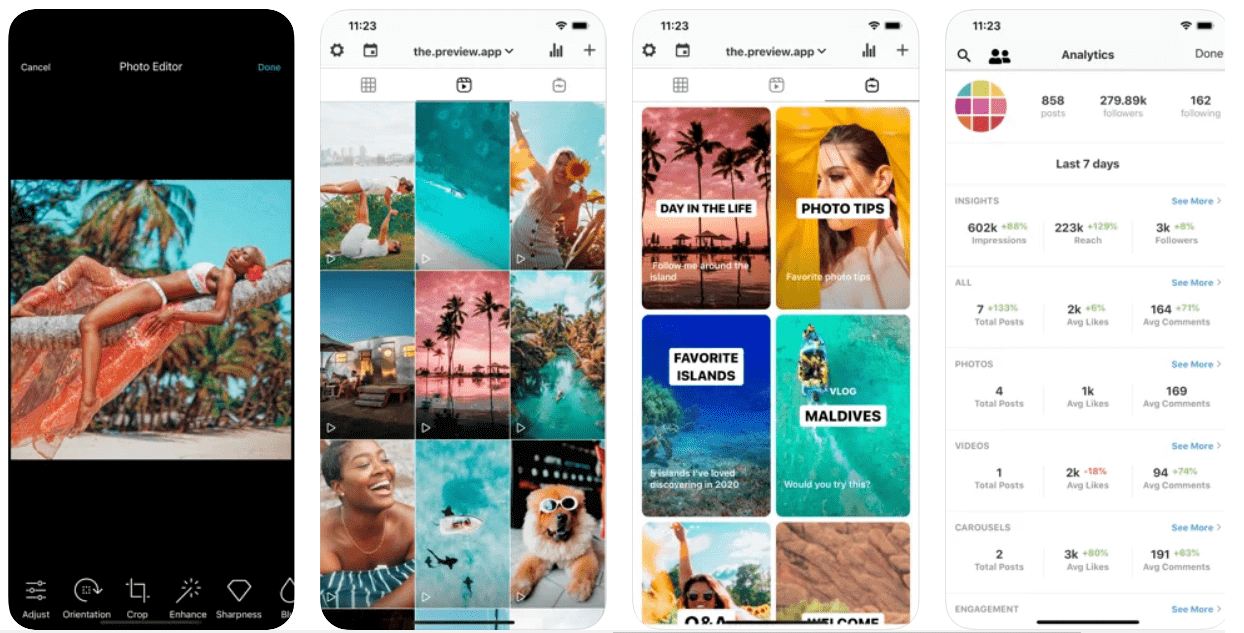 3 pricing plans:
Free app
Pro – 7.99$ / mo
Premium – 14.99$ / mo
ContentCal
ContentCal is another tool that can come in handy when it comes to Instagram, especially for social media or marketing teams.
It is a solution that offers features for other social media platforms as well, but since we focus on Instagram in this article, I'll mention only the purposes dedicated to this specific channel.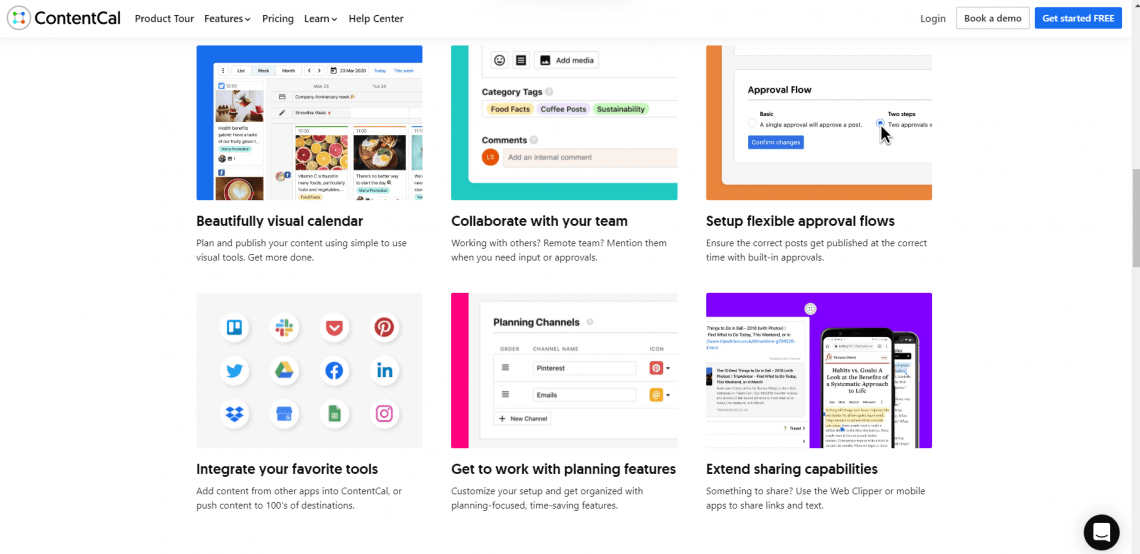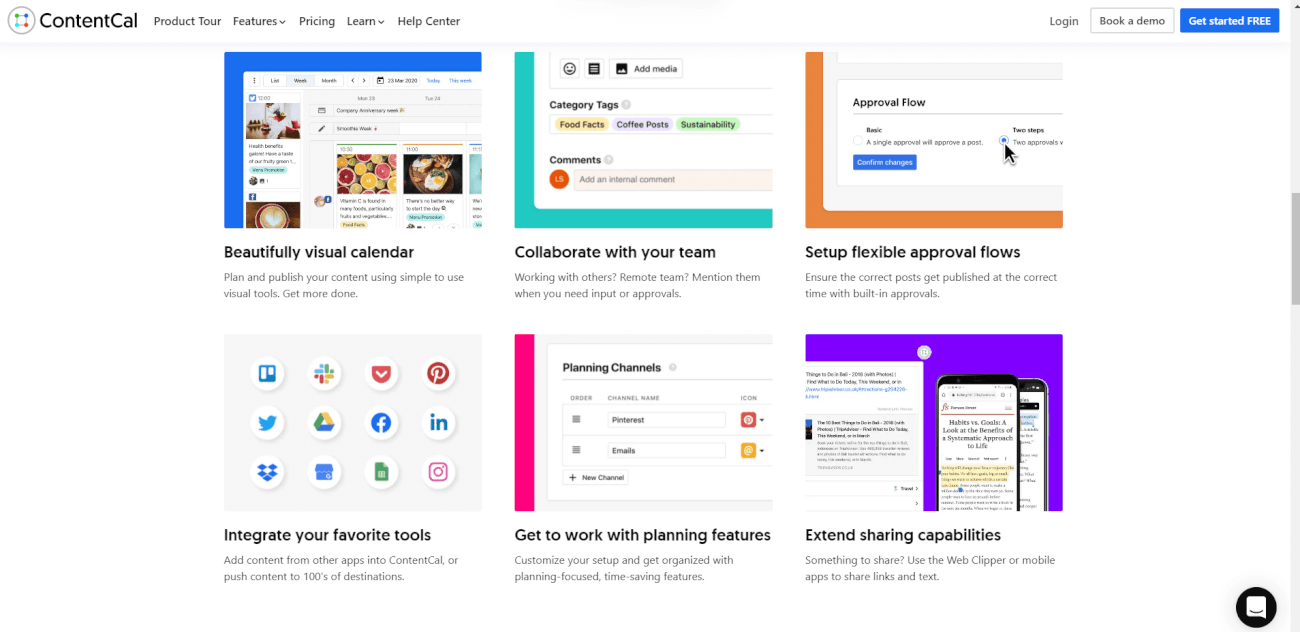 ContentCal helps you:
Create content
ContentCal lets you create template posts and craft Instagram content.
Organize your work and content
You can use its calendar to plan future Instagram posts, plan campaigns, and organize your content to have a clear visual image of what will be published in the future.
Collaborate with your team
ContentCal is a good collaboration tool since it allows to share ideas, give feedback, create content ideas together, and make suggestions. Managers can also approve the posts that are ready to see the World!
Analyze
ContentCal helps to analyze the performance of your Instagram posts and see how they are performing. This feature may help to draw conclusions and improve your future content.
When it comes to Instagram, you can schedule Instagram posts with the use of a ContentCal mobile app.
14-day free trial
4 pricing plans:
Pro – 17$/ paid annually
Company – 47$ / paid annually, 59$/ paid monthly
Premium – Custom
Enterprise – Custom
Later
Later is an Instagram marketing platform that allows you to plan Instagram posts, publish them automatically, and get tailored insights to help you reach more people.
Later is kind of an all-in-one Instagram tool for social media managers. It offers many features that can help with organizing and planning content. It can save a lot of time and avoid mistakes.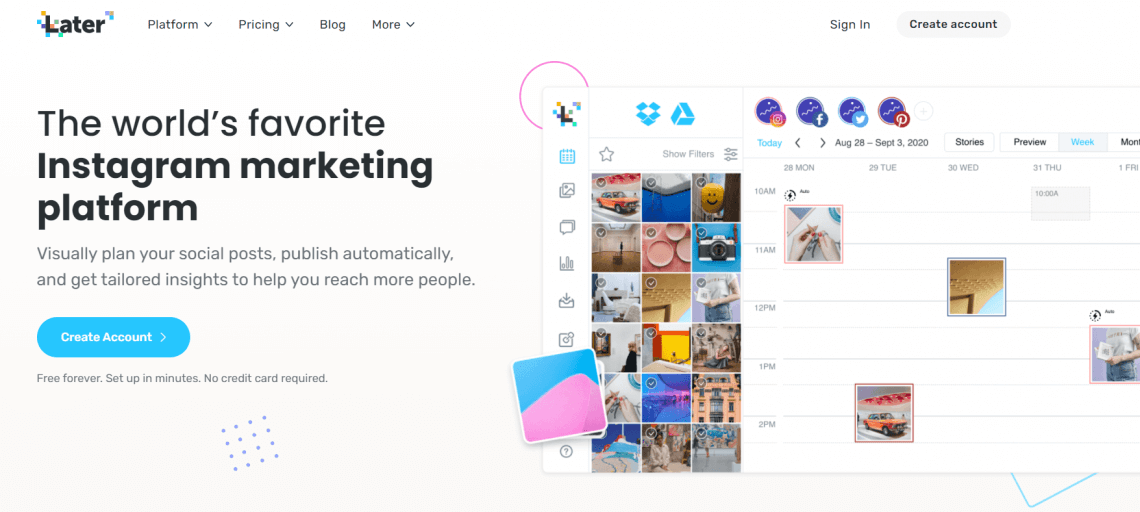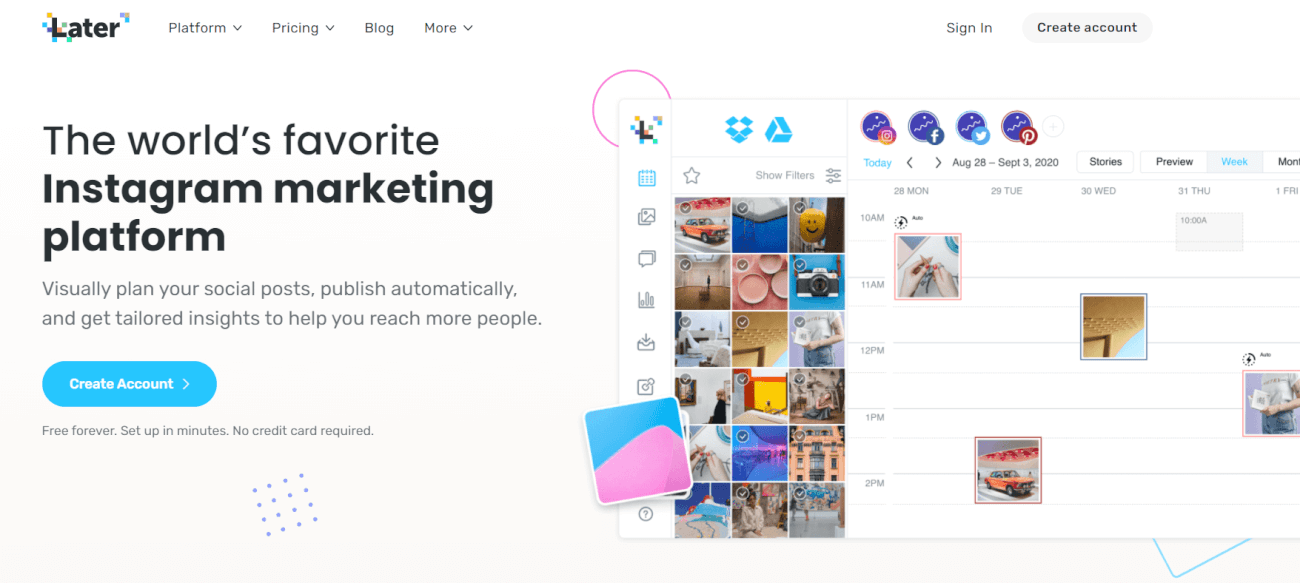 Later features:
Scheduling Instagram posts and stories
Providing Instagram Analytics
Finding hashtags for your Instagram posts
Helping to discover insights
Later offers a free version for individuals that do not need many features, but if you need it for business, it offers 3 pricing plans:
Starter For building your social strategy – 15$ / mo
Growth For growing your brand & driving engagement – 25$ / mo
Advanced For managing social media with a larger team – 40$ / mo
Creator Studio
Facebook's Creator Sudio started supporting Instagram last year. It offers a couple of features that can be useful for some social media managers that do not have any additional budget to spend on external, more advanced solutions.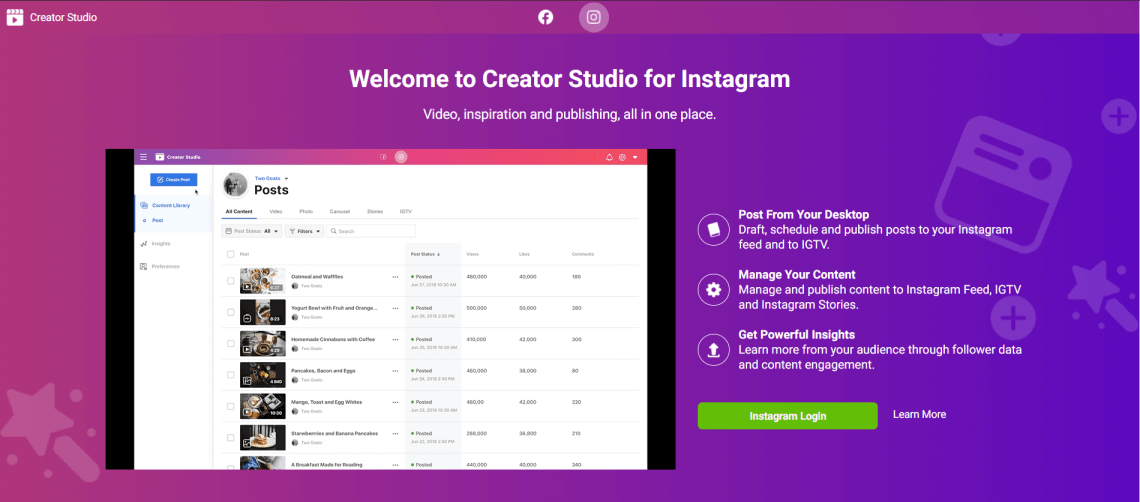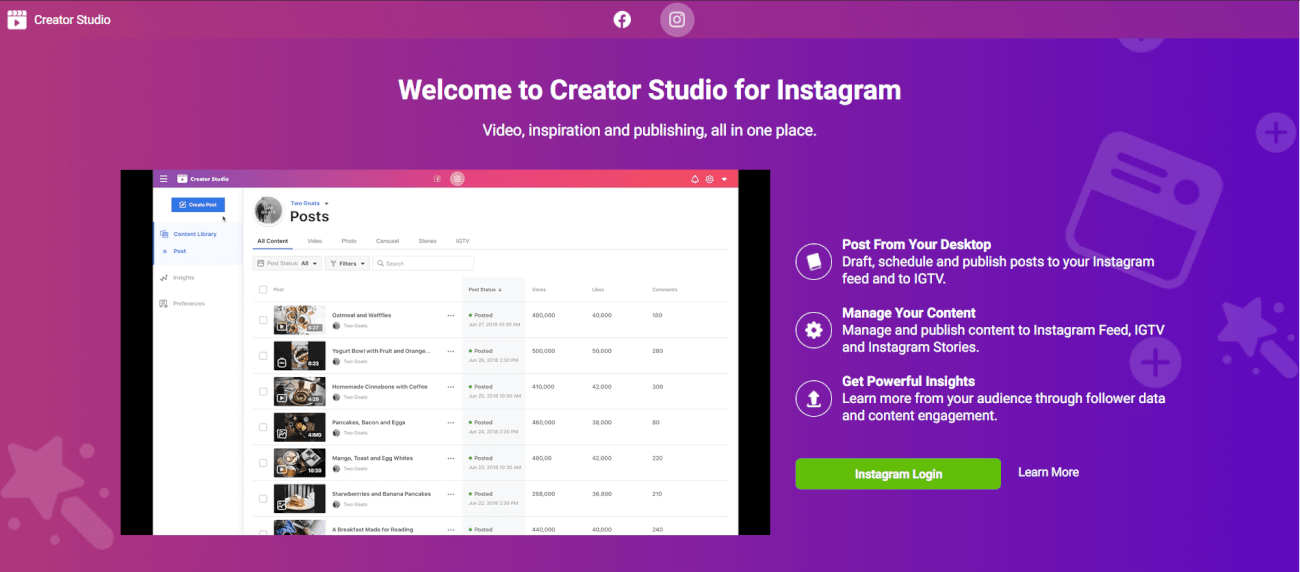 Creator Studio allows:
Managing Instagram accounts;
Scheduling posts;
Measuring posts' performance;
Discovering insights;
Managing Instagram inbox and engaging with an audience.
Unfold
Unfold is a mobile app that serves to pimp up your Instagram stories content.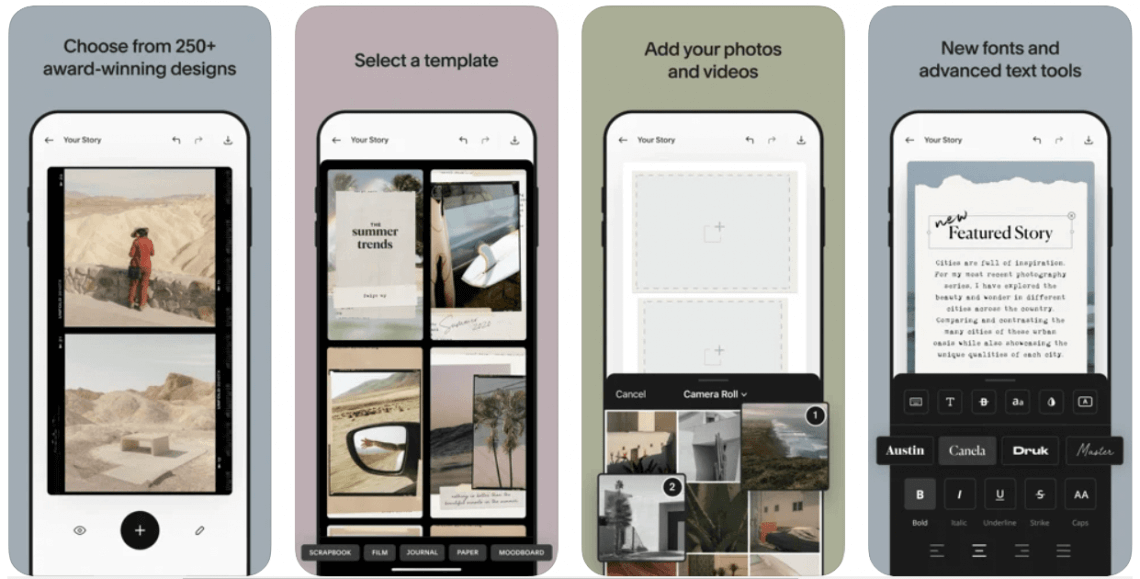 It lets you overlay text, graphics onto your photos and videos as well as use existing templates that will make your stories more creative and interesting for the audience.
The app is very asthetically pleasing and it gives you a possibility to stand out among other Instagram accounts and competitors.
When it comes to pricing, Unfold offers additional templates, frames, collections that you can purchase. Also, there are two pricing plans for those that need more features and the free app is not enough for them.
Unfold+ – 2.99$ / mo or 19.99$ / year
Unfold for Brands – 12.99$ / mo or 99.99$ / year
NapoleonCat
NapoleonCat is a social media managing tool that offers many other additional features as well, but since we focus on Instagram in this article, I will mention one of the most useful features targeted to this specific platform.
NapoleonCat's Instagram Scheduler allows you to:
Create content;
Schedule and publish posts;
Moderate Instagram Ads.
NapoleonCat is also helpful for teamwork and collaborating on projects.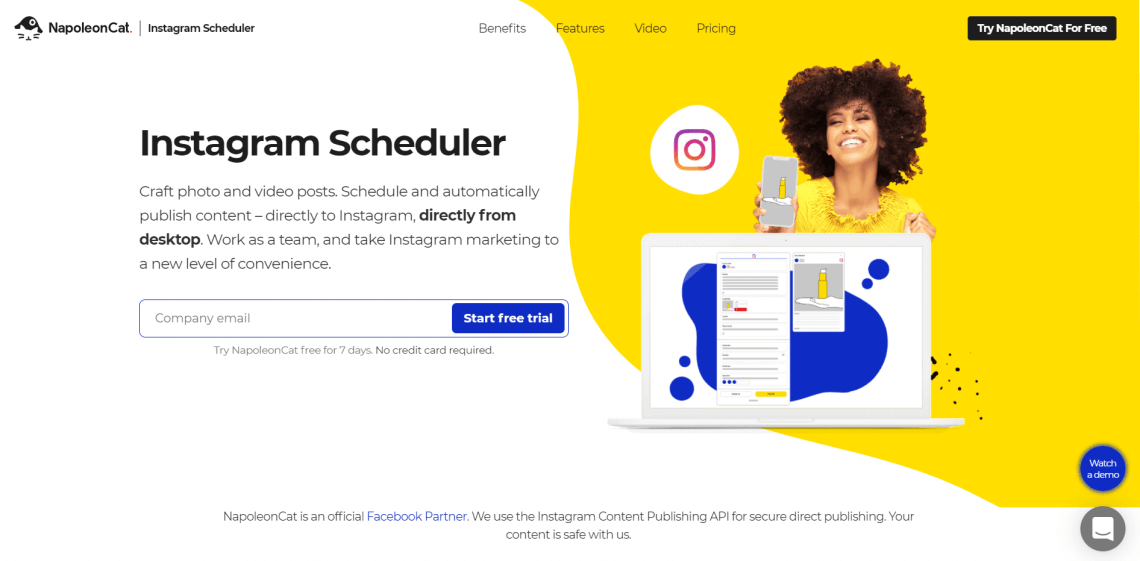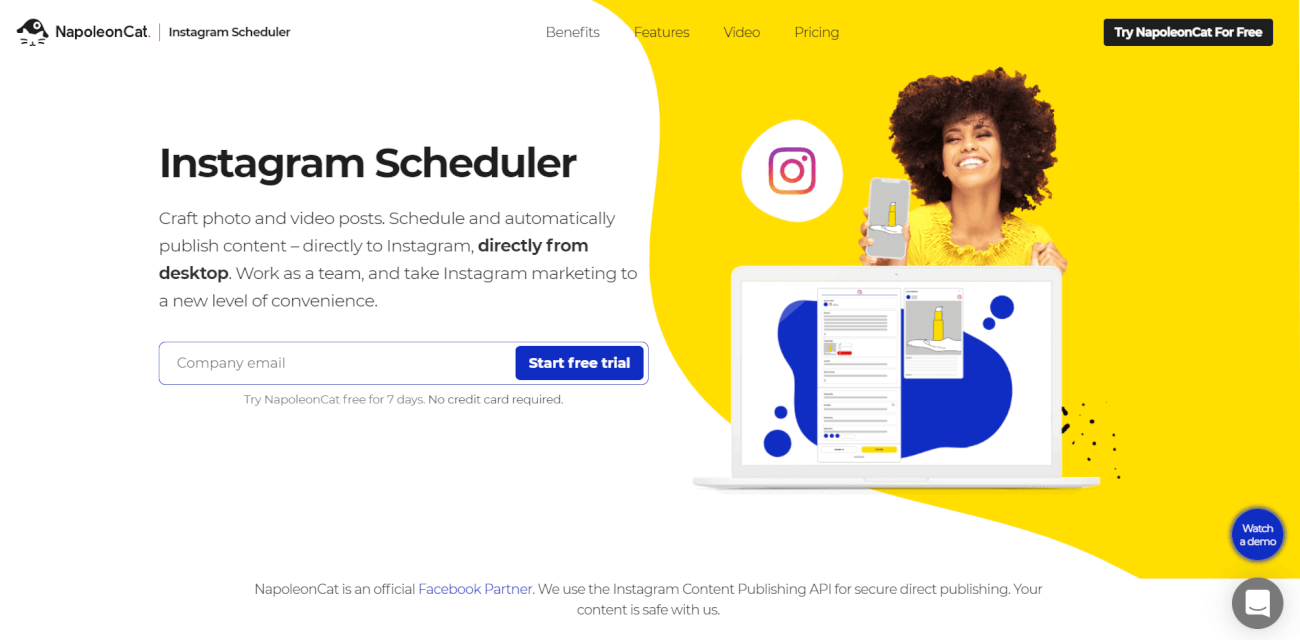 7-day free trial
NapoleonCat's Instagram Scheduler costs 15$ / mo.
Repost: For Instagram
Repost: For Instagram won't be a new tool for many of you probably, but I would suggest giving it more attention in 2021.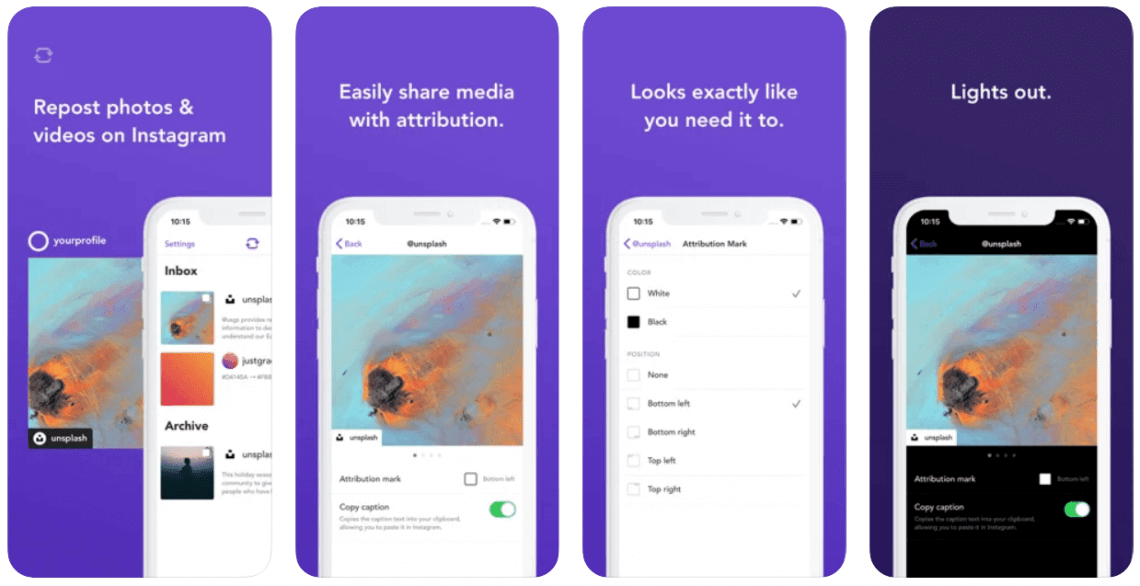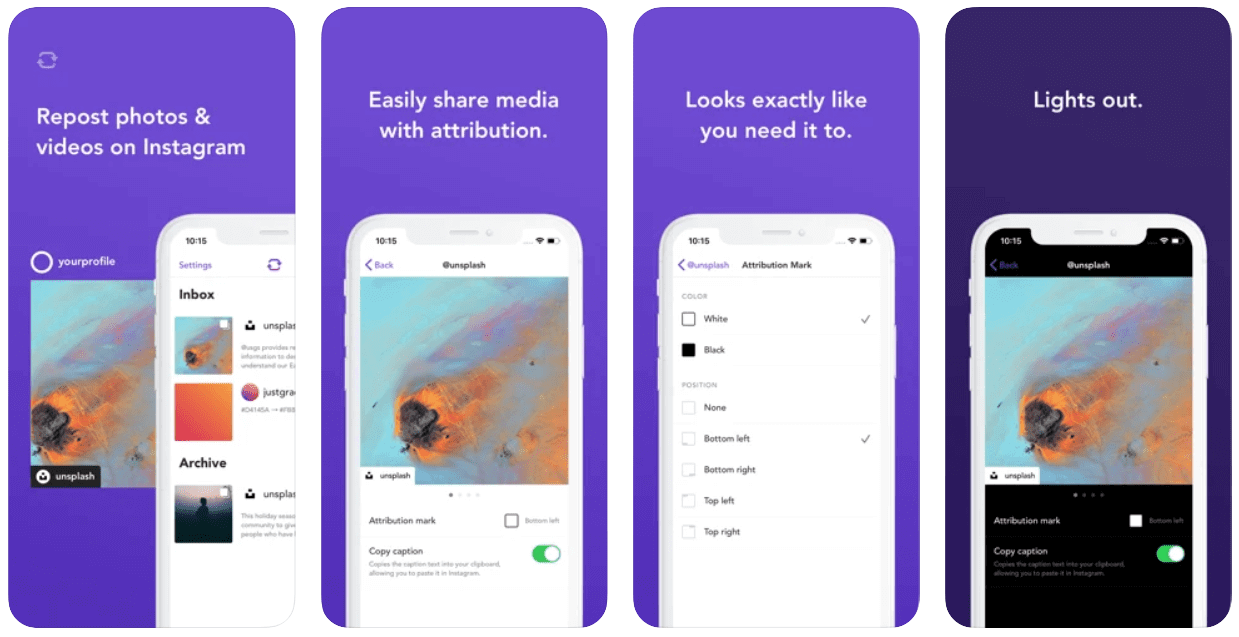 User-generated content is a great type of Instagram content and Repost: For Instagram app works best for posting it. Reposting also helps to engage with your audience and build a community.
Repost: For Instagram makes it easy to #Repost your favorite photos & videos on Instagram while giving credit to the original Instagramer.
The current price for Repost Plus is 1.99$ / mo or 9.99$ / year and may vary from country to country.
Purposes and benefits of Instagram tools
Managing multiple profiles.
Organizing work and sharing tasks.
Creating, scheduling, and publishing creative content.
Building relationships with followers by responding to comments, liking their posts, and sharing content.
Maintaining a brand's solid online presence by being systematic, consistent, and staying up-to-date with what's going on on Instagram all the time.
Planning social media strategies based on well-conducted research and analysis.
Analyzing competitors' Instagram activities, strategies, and campaigns.
Planning and creating Instagram campaigns, hashtag campaigns.
Finding influencers and collaborating with them.
Monitoring brand on Instagram.
Planning sponsored posts.
Analyzing the performance, reach of Instagram profiles, and drawing conclusions.
Taking care of the brand's positive image and reputation on Instagram.