How to Find Trending Hashtags on Instagram in 2023?
January 5, 2023 ・ 11 min read
Hashtags have been with us since 2017. They have come a long way from grouping discussions in first IRC chats, revolutionizing social media to commemorating historical events, and raising awareness about social issues. I'm so glad we have them. It's much easier to find relevant content on Instagram, isn't it? I'm pretty sure that Marketers and Influencers all over the World can't imagine Instagram without hashtags. But to realize their potential, we need to use popular Instagram hashtags. So, how to find trending hashtags on Instagram?
There are lots of ways.
This article will show you the 7 best methods to discover popular and relevant hashtags.
What will you need to do that?
The Instagram app, of course. That should be enough for the beginning. But to put your hashtag strategy to the next level, you will need external tools.
Before we get started, let see how the very first hashtag looked like: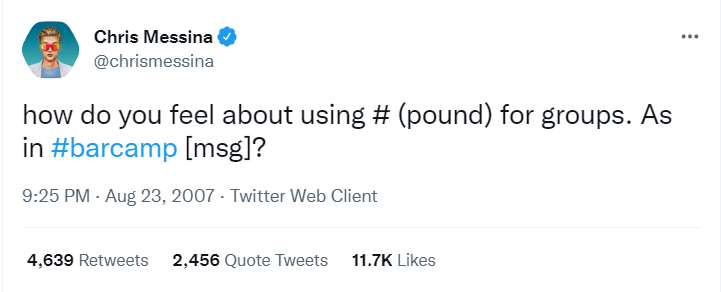 Yep, it was shared on Twitter in 2007.
Since that day, hashtags have been implemented across social media, including Facebook, Twitter, LinkedIn, TikTok, and YouTube. The biggest impact they actually have is on Instagram and Twitter.
Here's the plan for this post:
Let's begin.
How does the Instagram hashtag work?
On Instagram, hashtags are a matter of your "to be, or not to be" – they make your content discoverable, increase the social media reach of your posts. They categorize content and make your content visible to a wider audience.
Therefore, hashtags are one of the best ways to grow your Instagram profile.
What is it all about? Hashtags are clickable. Users who click on a hashtag on Instagram posts or type it in search will see a page showing content tagged with that particular hashtag. That's the power of them.
We can use hashtags on posts, Stories, and Reels. If you tag your content with the proper hashtag, it will appear on the hashtag page. As people can follow hashtags, it's a great way to reach a new audience.
Many brands create their own hashtags to engage followers and build a wide online community.
Adidas does it well. Their branded hashtag #ImpossibleIsNothing already reached over 430k posts.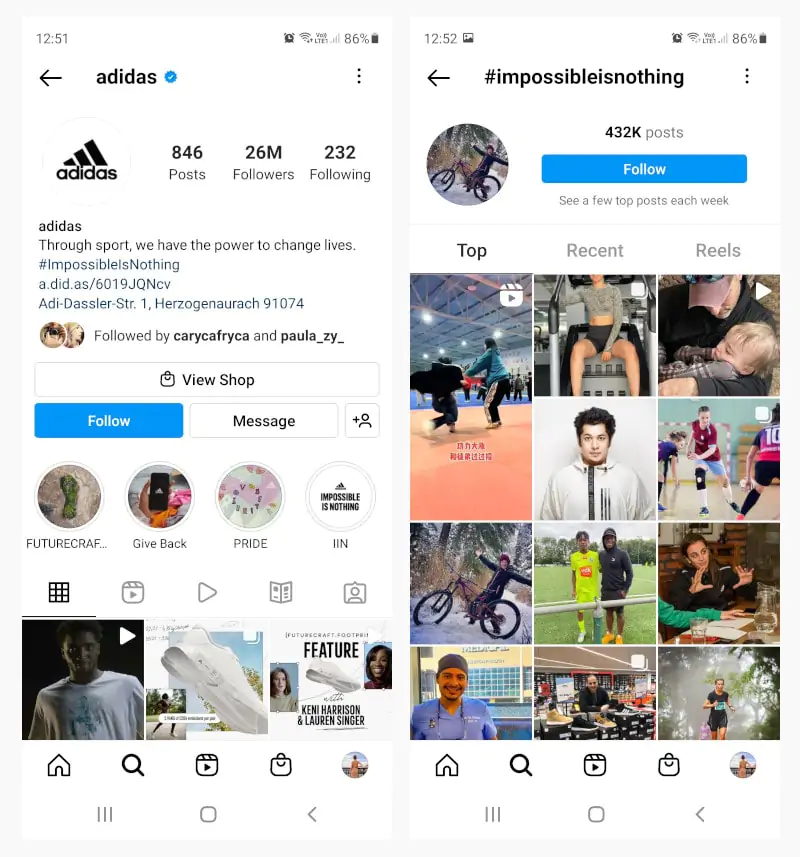 My advice here for you is to track the performance of branded hashtags. Unfortunately, Instagram does not give us extended analytics. To analyze such a campaign, you can use a hashtag tracker.
Brand24 is a tool that finds trending hashtags from your business niche.
How to find trending hashtags on Instagram in 2022?
The first thought that probably comes to your mind is to search for trending hashtags inside an Instagram mobile app. That's a good lead. Instagram gives us a few ways to discover what is trending. But that's not the only way. I will also show you some interesting tools and apps worth using.
This video has some good tips on how to find trending hashtags on Instagram and what they're all about:
01 Check the Instagram's Explore Page
Explore Page is driven by an algorithm. It is a collection of posts and reels generated by your reactions, followers, and accounts you are following. You can see here content related to your interests. Everyone sees it differently.
It's a great place to search for hashtags, but you will have to do it manually. Click posts and check their description. So it will be time-consuming.
The thing about the Explore page is that getting there is a huge, huge, huge booster in reaching a wider audience. It can be achieved by understanding and responding to the Instagram algorithm. There's a couple of factors that decide if your content gets to the Explore page and one of them is trending Instagram hashtags.
02 Check the hashtag autocomplete feature
Instagram has a search engine. We can use it to search accounts, audio, places, and of course, tags. Anyone can use it to search for hashtags related to their interests.
While typing, the search engine also shows similar, popular hashtags. Furthermore, it shows those tags followed by accounts you are following.
An important note is that this feature suggests highly popular hashtags with millions of posts. Well, using such a popular tag is not the best idea. The chance that your content will disappear in the crowd is very high.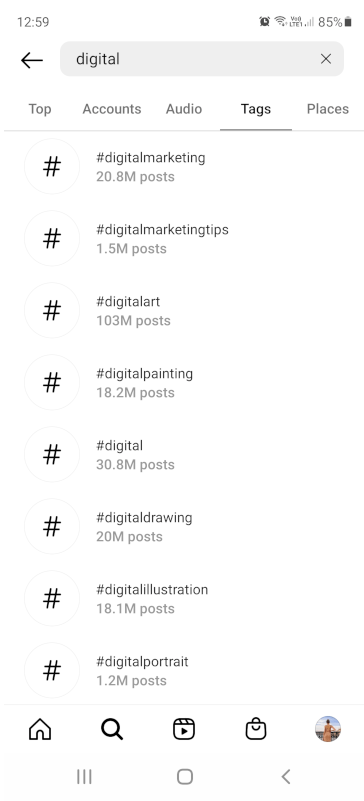 03 Use the social listening tool
Using a social listening tool is one of the most effective ways to discover popular Instagram hashtags dedicated to your business.
How does such a tool work?
In general, social listening tools (like Brand24) collects in real-time mentions of predefined keywords from all over the web.
You can monitor literally any keyword. Here are a few examples of what you might track:
The name of your company brand, product, or service
Your branded hashtags
Your campaign-specific hashtag
Your CEO's name or any other prominent team member
Keywords related to your business niche
Keywords that might be trending in the future
Based on that data, the tool defines the most popular hashtags related to your business.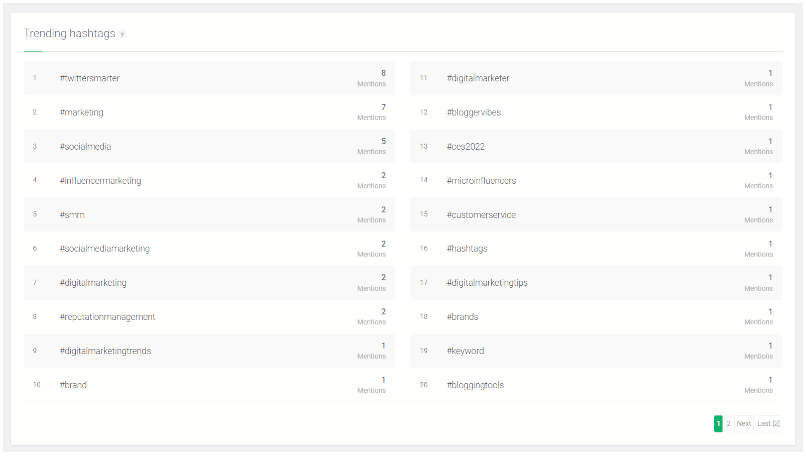 Brand24 updates the data once per hour. That's the big advantage of this tool. You don't have to waste your time searching hashtags on your Instagram feed. The tool does all the work for you.
Set up Brand24, find trending hashtags, and expand your brand awareness on Instagram.
04 Follow relevant hashtags
Of course, you can follow Instagram users, but did you know that you can also track hashtags? Yep, you can click "Follow" and top posts marked with a hashtag will appear on the home page. Those posts will probably include similar hashtags.
That's why it's a great way to discover popular and related hashtags. Also, it's a fantastic source of content inspiration.
All you have to do is read the description of posts and check whether they use hashtags that might suit your content. Again it's a time-consuming solution that will require lots of your attention.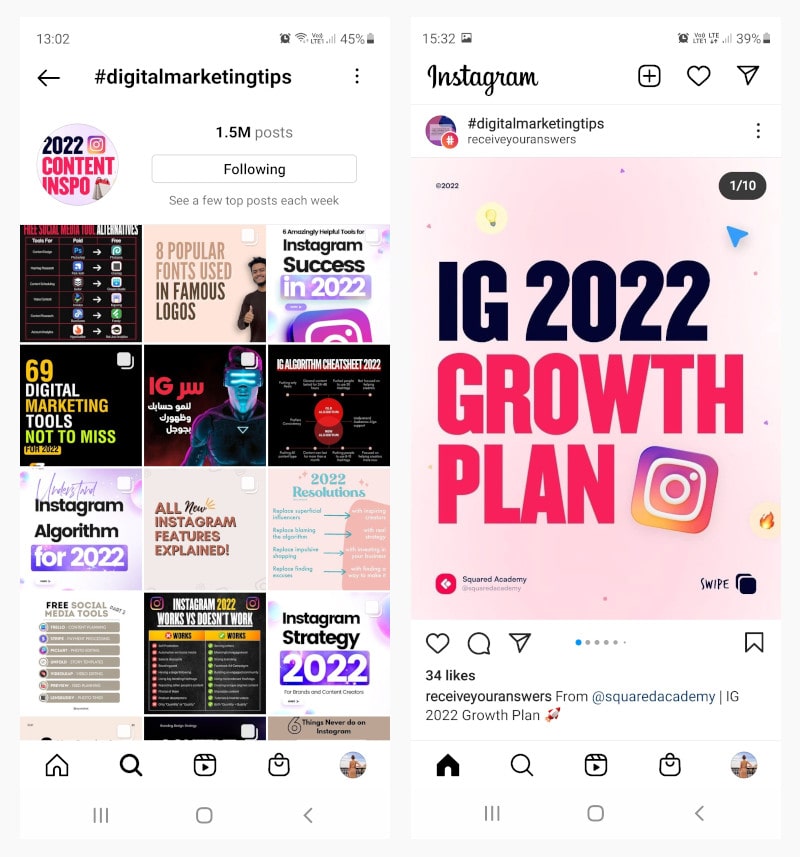 05 Follow relevant influencers
Influencers create trends on Instagram. That's a fact. So why don't you check what hashtags they use? There is nothing wrong with following their steps.
Instagram Stories also can contain hashtags. So do not forget to follow it too.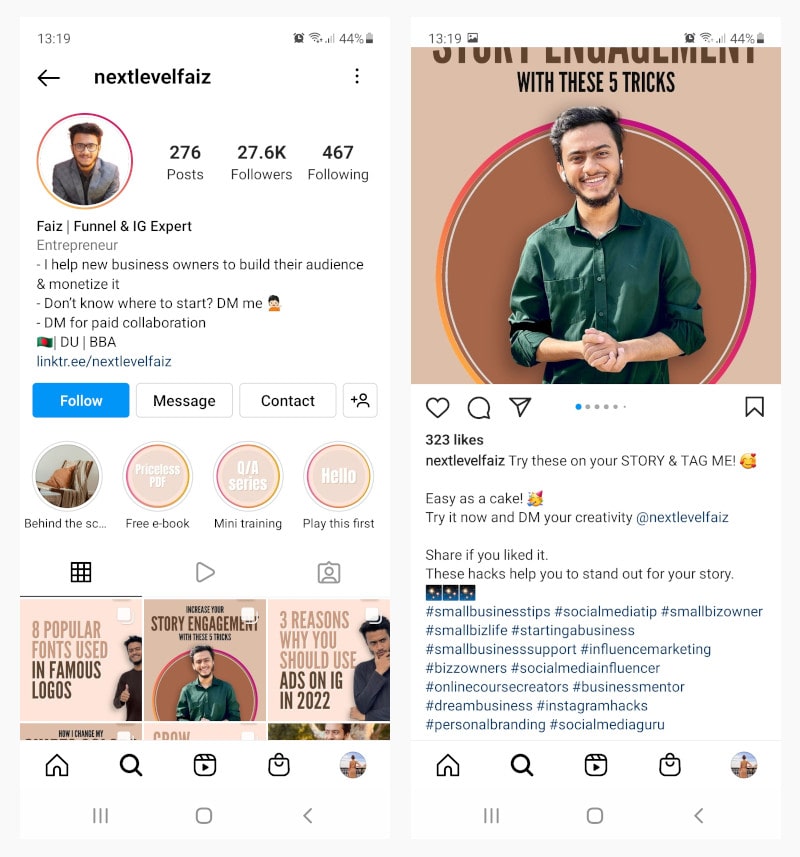 Those influencers should feel what kind of content their audience wants to consume. So it's essential to pick the right ones.
Brand24 detects top and most active public profiles, but this feature works for Twitter and Facebook. In my opinion, this list can also be helpful to find Instagram influencers. But it will require searching for those people on Instagram manually.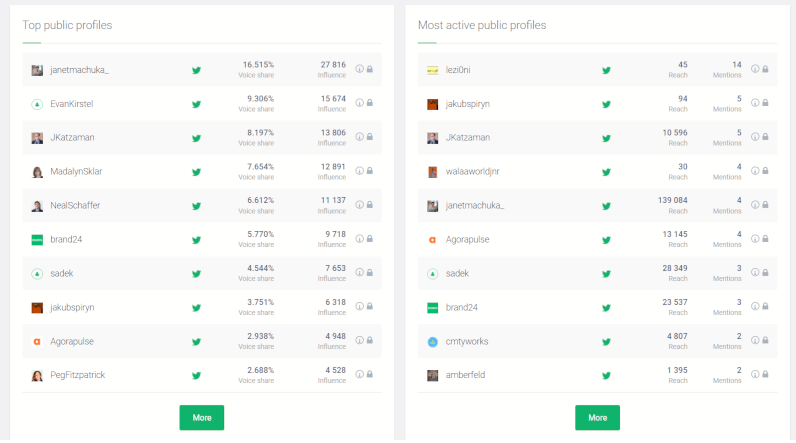 You may also want to check: Twitter Influencers: How to Find Them + benchmarks
06 Explore websites with hashtags lists
Many web sources public lists of trending hashtags on Instagram. Keep in mind that those kinds of lists contain highly popular tags used by millions of users. As I mentioned before, it's not always a good idea to add them to your Instagram posts. Furthermore, it's hard to verify whether the lists are updated and trustworthy.
Still, many people search for the most popular hashtags in Google. So, if you are interested in such a list, I recommend those sources:
07 Use mobile apps
App Stores are full of mobile apps that generate popular hashtags for social media platforms. Since we all use Instagram on mobile, it's logical that there are many mobile apps that prompt trending hashtags.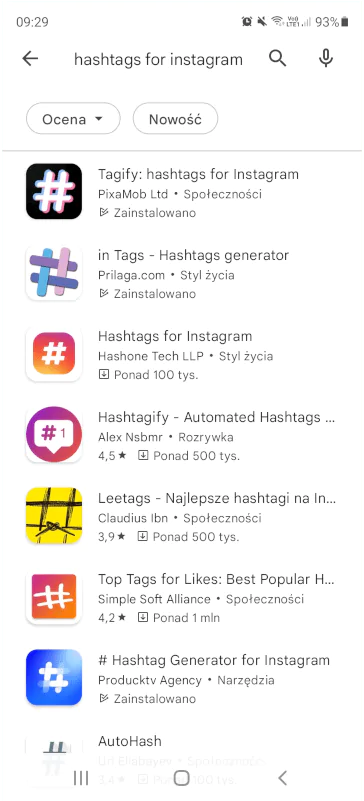 I tested 3 hashtags generator mobile apps: In Tags, Tagify, and Hashtag Generator. Here are my thoughts.
Those mobile apps are based on the same features. You can search hashtags by category or generate them through typing keywords. What's important you can filter the hashtags by the number of uses. I found this feature very helpful. Usually, free versions of hashtag generator mobile apps are full of ads that pop up full screen.
They work pretty nicely if you are looking for popular or the most popular hashtags. But will they detect that some hashtags are trending and gathering more and more interest of Instagram users?
No, they don't.
Mobile apps list hashtags by popularity. That's all.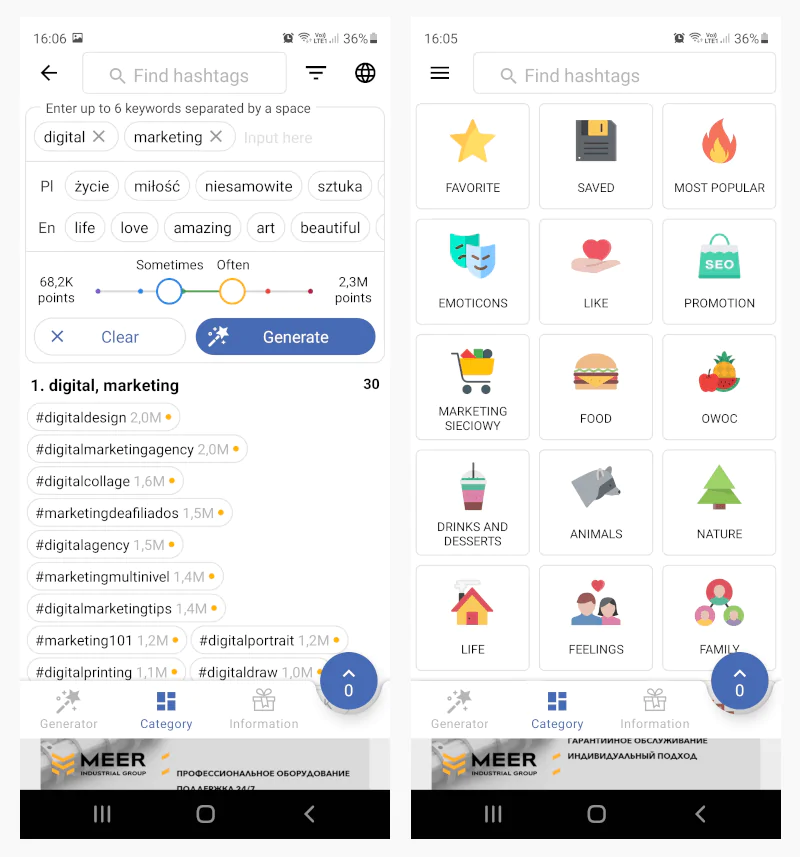 Searching for trending hashtags: Mobile apps vs Social listening tools
I've deepened my research and tried to find trending hashtags for my company, Brand24. Here are the results:
In Tags app proposed hashtags related to digital marketing
Tagify app didn't find anything
Hashtag Generator app suggested hashtags containing the word brand
As you can see, it's impossible to discover accurate tags for brands with such simple mobile apps.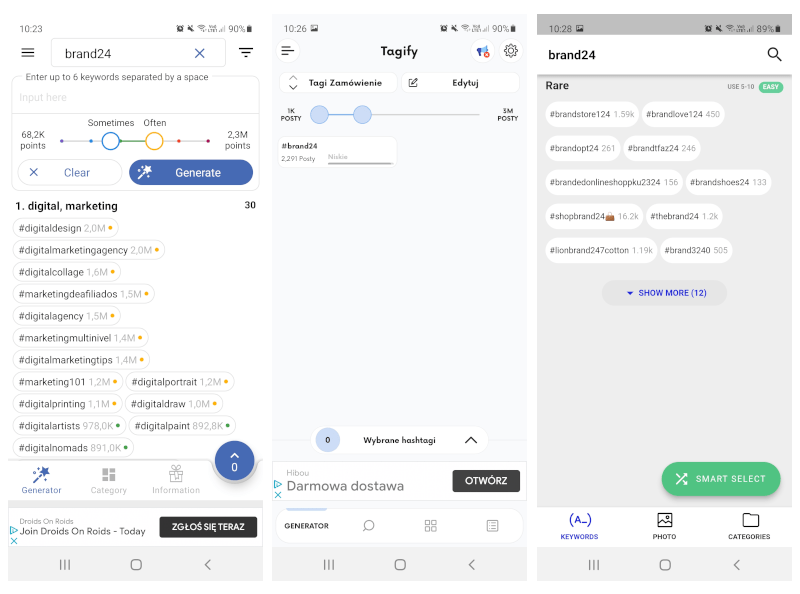 Now let's take a look at data generated by social listening tool Brand24.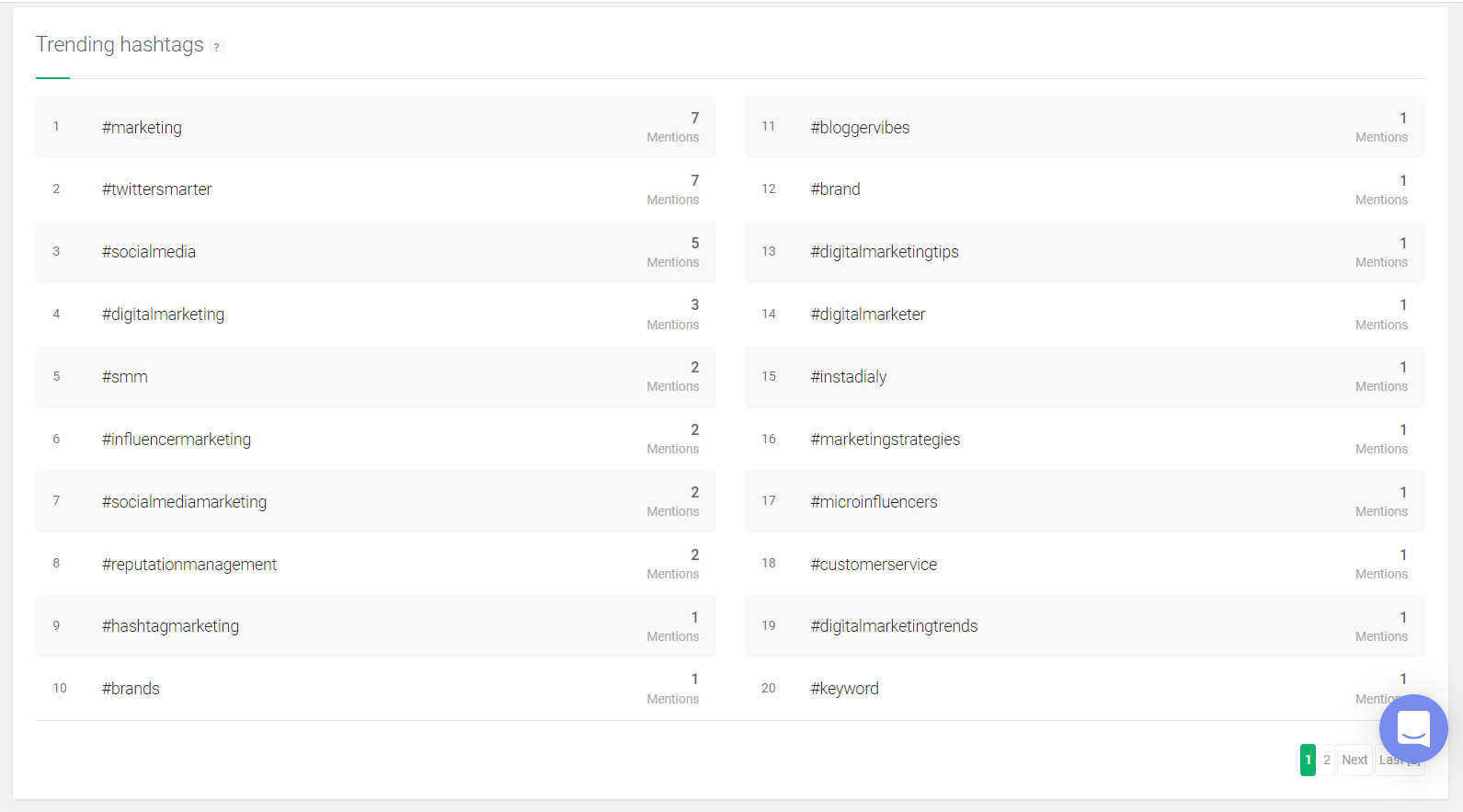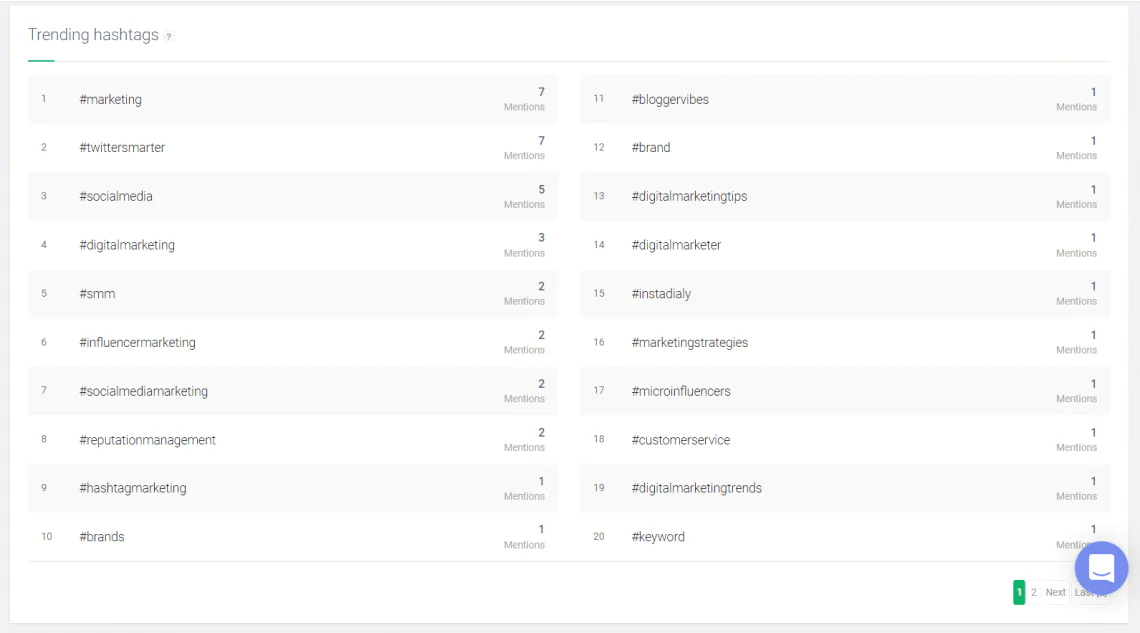 The tool suggested hashtags related to the latest articles publications on the blog:
#influencermarketing
#digitalmarketingtrends
#microinfluencers
And related to the business niche:
#reputationmanagement
#hashtagmarketing
#socialmediamarketing
The results are much more accurate. Data is updated once per hour so you can detect what's trending almost in real-time.
Use the Brand24 tool to find trending hashtags dedicated to your brand and business niche!
Best practices for Instagram hashtags in 2022
Finding trending hashtags is just half the story – another important part is how to use them properly. As Instagram's algorithm changes from time to time, the Internet is full of questions and tips on how to use hashtags.
In this article, I will include some timeless tips.
Check Instagram Insights to discover which hashtags works
You can check how many impressions you received from hashtags. With this data, you deduce which hashtags are the best for improving reach.
Avoid popular and too general hashtags
If too many people use a hashtag, it's hard to gain broad reach. The algorithm won't favor your post for that hashtag. It's much better to use a combination of the moderately popular, relevant hashtag.
Avoid random hashtags, use relevant ones
Using super trending hashtags is tempting but if irrelevant to your photo, they might do more bad than good. Instagram's algorithm treats irrelevant hashtags as spam which may result in shadowban.
Use niche hashtags
Using niche hashtags will bring a highly targeted audience – they will drive quality engagement on your profile.
Don't overuse your hashtags
If you post often, make sure you change hashtags but always keep them relevant and as trending as possible. Yes, it might be hard. Otherwise, Instagram's algorithm will recognize you as a spammer.
Add trending hashtags to Instagram Stories
Do not forget to add a trending hashtag to your Stories. So it will be visible in the collection of Stories on Hashtag pages.
Create branded and campaign hashtags
Using dedicated hashtags for your brand and marketing campaigns is a great way to increase brand awareness and measure the results of Instagram marketing. You can track the performance of such hashtags with a brand monitoring tool.
Create hashtag lists
Make your life easier with a few hashtag lists you will only copy and paste into your Instagram post. Remember to keep the lists fresh and avoid overusing them.
Use local hashtags for your local business
Local hashtags are the best way to reach an audience near you. The second way is to mark posts and Stories with localization.
Check our video that contains top hashtag dos and don'ts:
How many hashtags should I use on Instagram?
I guess every Instagram user asks this question. There are different theories about the number of hashtags an Instagram post should contain.
Later analyzed over 18M Instagram feed posts. They focused on how the number of hashtags impacts reach during the research. The results are very interesting:
Posts with 20 hashtags receive the highest average reach, posts with 30 hashtags are close behind
Posts with 30 Instagram hashtags gain the most likes and comments
The conclusions are obvious.
Instagram boosts the reach of posts with 20-30 hashtags. Using more hashtags typically pays the best results.
Discover trending hashtags that are perfect for your brand.
Conclusion
Trending Instagram hashtags are super important in digital marketing. The aim is to place your posts on Explore Page because getting up there means reaching a wider audience and, more importantly, potential customers.
You need to have an Instagram hashtag strategy.
Whether you want to boost your Instagram marketing or simply get more followers and likes of your cycling adventures, top trending hashtags on Instagram are needed to control.
As you probably noticed, some ways are quicker, and some require much more time. My question is, how much time can you spend on hashtag searching? Can you afford to spend hours scrolling and exploring tags?
Most Social Media Marketers can't.
Advanced tools are here to rescue you. So, if you want to quickly find trending and regularly updated hashtags check Brand24. Sign up and try a free trial!
HANDPICKED RELATED READS
8 Powerful Instagram Analytics Tools [and 15 Metrics to Track]
Instagram Hashtag Analytics: How to Track Performance