How Effective is Nike's Social Media Strategy? Report [2023]
February 1, 2023 ・ 10 min read
Did you know that Nike runs over 300 social media profiles? You'll find them everywhere on Facebook, Instagram, Twitter, YouTube, Pinterest, TikTok, and LinkedIn. The success of Nike's social media strategy is undeniable. What is the secret of this one of the most followed brands online? Wide reach and positive sentiment around the brand.
For me, Nike is much more than sportswear. It's a brand that impacts our everyday lives by encouraging us to be physically active and live a healthy lifestyle.
I like that instead of pushy product promotion, they motivate me to activity. In my opinion, they run social media in an interesting way, but whether it's effective?
Let's find out!
Today, we will take a closer look at Nike's social media data.
Key points of the article:
Main conclusions from Nike social media strategy:
I deeply investigated Nike sports brand channels. My observations gave me a few conclusions:
The brand runs multiple profiles on every social media platform. For example, you'll find separate Facebook pages for Nike Football, Nike Basketball, Nike Run Club, Nike Skateboarding, Nike Swim, Nike Women, Nike Yoga, and many more.
Instead of just selling their products, Nike positions the brand as a healthy lifestyle motivator.
Simple, powerful slogans and emotional storytelling are elements of communication. Brand empower their target audience and present news from the world of sport.
Many campaigns aim to stop racism, discrimination, or hate. Right now, Twitter bio and Instagram bio include hashtags #BlackLivesMatter and #StopAsianHate.
Nike doesn't post too much. Their content is wise and eye-catching.
Nike systematically produces video content and runs 3 YouTube channels: Nike, Nike Football, nikeskateboarding.
Big names mean great profits. For years Nike sponsors and cooperates with the biggest athletes, such as Lebron James, Tiger Woods, Serena Williams, Cristiano Ronaldo, and many more. The latest Ronaldo's post on Instagram with hashtag #teamnike gained 2,5m likes.

Brand24 is a tool that measures the sentiment and online reach of brands, products, and services.
Analysis of target audience engagement
Nike runs lots of social media networks that gather millions of fans. Here are the numbers of followers:
Instagram – 196m
Facebook – 35m
Twitter – 8,9m
LinkedIn – 4,7m
TikTok – 2m
YouTube – 1,67m
Pinterest – 828k
Those numbers are impressive. But every social media marketer knows that nowadays, the number of followers doesn't matter as much as it used to. To gain broad reach, we need to engage followers or/and run paid ads, and Nike does both.
So which social channel gives Nike the biggest engagement?
Instagram – the average number of reactions for the profile is 234k likes and 5.7k comments, which stands for a 0.12% average engagement rate.

Twitter – Nike's video tweets are willingly retweeted. The average number of retweets is 1.9k which stands for a 0.13% average engagement rate.

Tik Tok – the average number of reactions for the profile is2.1k likes, 22.58 shares, and 201 comments which stands for a 0.11% average engagement rate.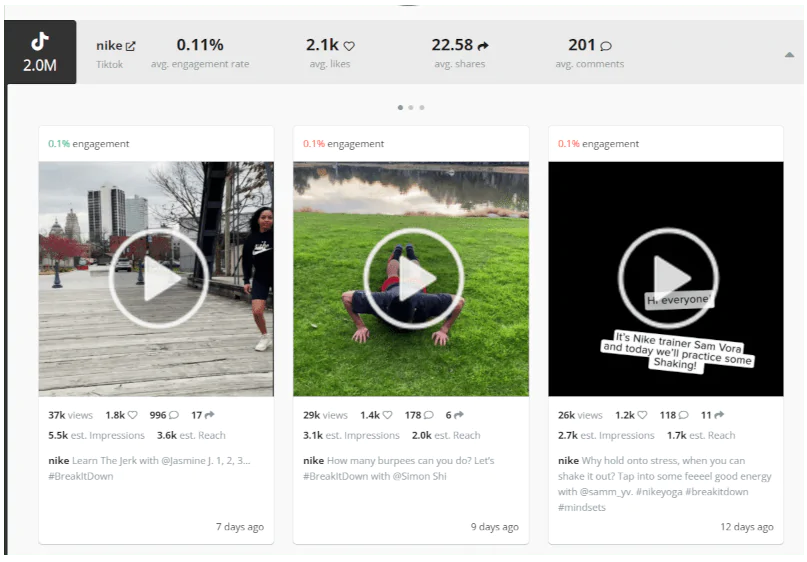 YouTube – this profile has the lowest average engagement rate. The average number of reactions for the profile is 323 likes and 499k views, which stands for a 0.06% average engagement rate.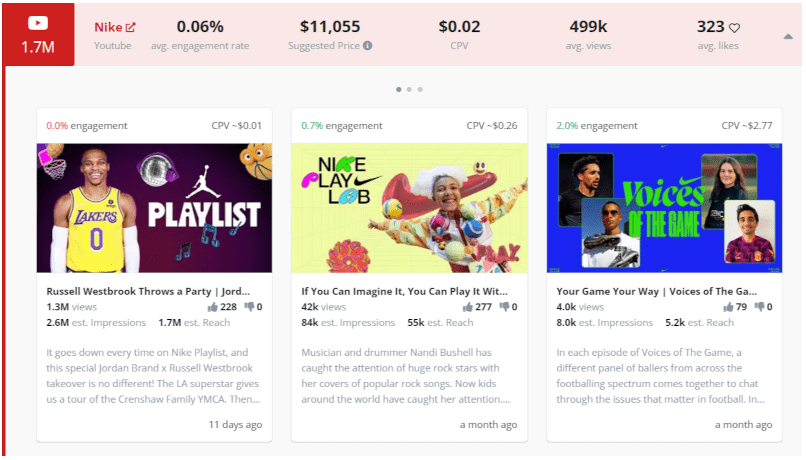 Source: Upfluence Chrome plugin.
That's the analysis of social accounts that belongs to Nike. Although the brand gathered a huge audience around their social media sites, it's challenging to maintain a high engagement rate without investing in paid advertisements.
The alternative is to strengthen brand loyalty. Nike has many evangelists who post about their products on their private social channels.
How many?
Let's take a look at data delivered by the media monitoring tool Brand24 and analyze the number of mentions. I did some social listening, and here's a result.
During the last 30 days, Nike received over 570k (!) of online mentions.
The majority of them come from 2 sources: Instagram and Twitter.
I'm sure you predicted that Instagram brings Nike lots of buzz. But did you expect Twitter takes second place? For me, it was a little surprising. But yes, Twitter generated over 250k mentions. As we see, Facebook is not the place where people like to mention brands, even such popular as Nike.

Statistics present that 532k of mentions come from social media while only 46k from non-social sources. Also, Nike generated over 9800 mentions across videos.
Interestingly, during the last 30 days, the brand noted 303k shares and 17m likes.
We clearly see that social media are the key to Nike's brand awareness strategy.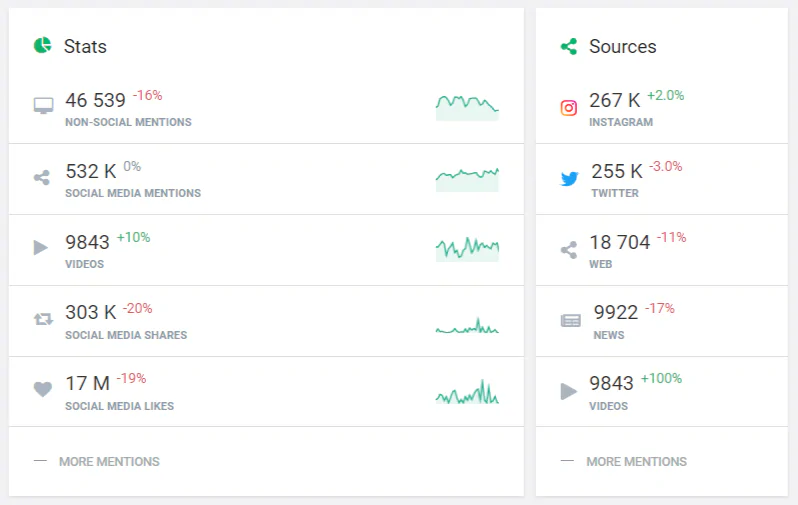 Analysis of social media reach
Reach is one of the most important social media metrics we can track. It is an estimated number of users that could have contact with social media posts.
Broad reach means more vital brand awareness. It's crucial for sports brands such as Nike because the competition in this sector is high.
Online mentions play an essential role in increasing brand awareness. They allow reaching new users. The more positive mentions about your brand, the better.
Here's the online reach of the sports brand Nike:


For example, on 24 January 2022, 20k of online mentions generated 17,5m social media reach and 22,8m non-social reach.
Non-social reach is an estimated number of contacts with content beyond social platforms. Non-social reach is based on the number of domains mentioning a piece of content, the average monthly visits number on a given domain, and the Visibility Ratio, which describes how big was the exposition of a piece of content.
Now, let's check the data summary of the last 30 days: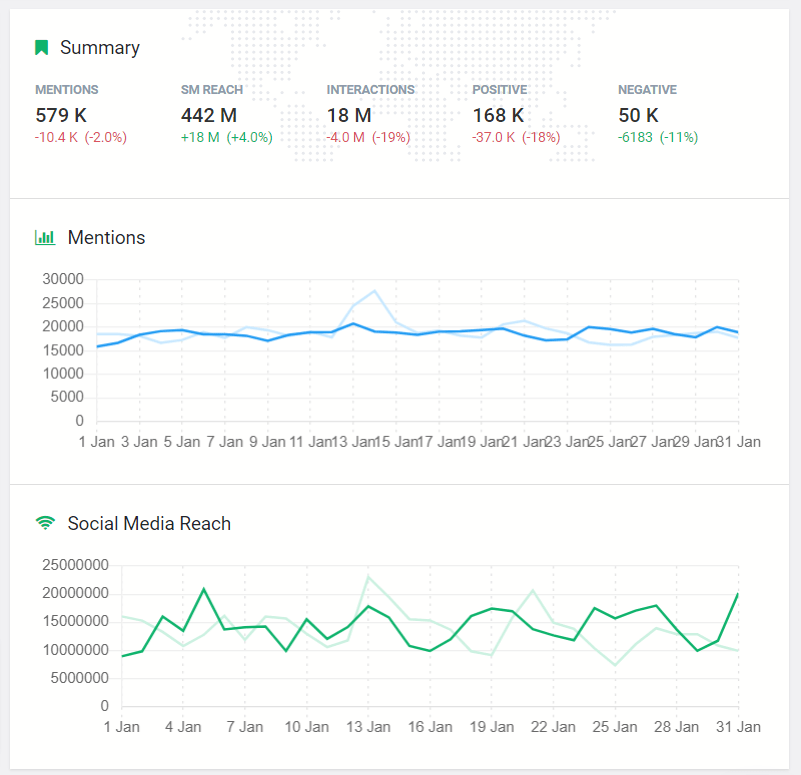 In last 30 days, the total social media reach of Nike was 442m (!).
As you probably noticed, Nike also gains a broad non-social reach. In the last 30 days, non-social reach was 728m. That's a very impressive result!
Here are the most active sites that mentioned Nike: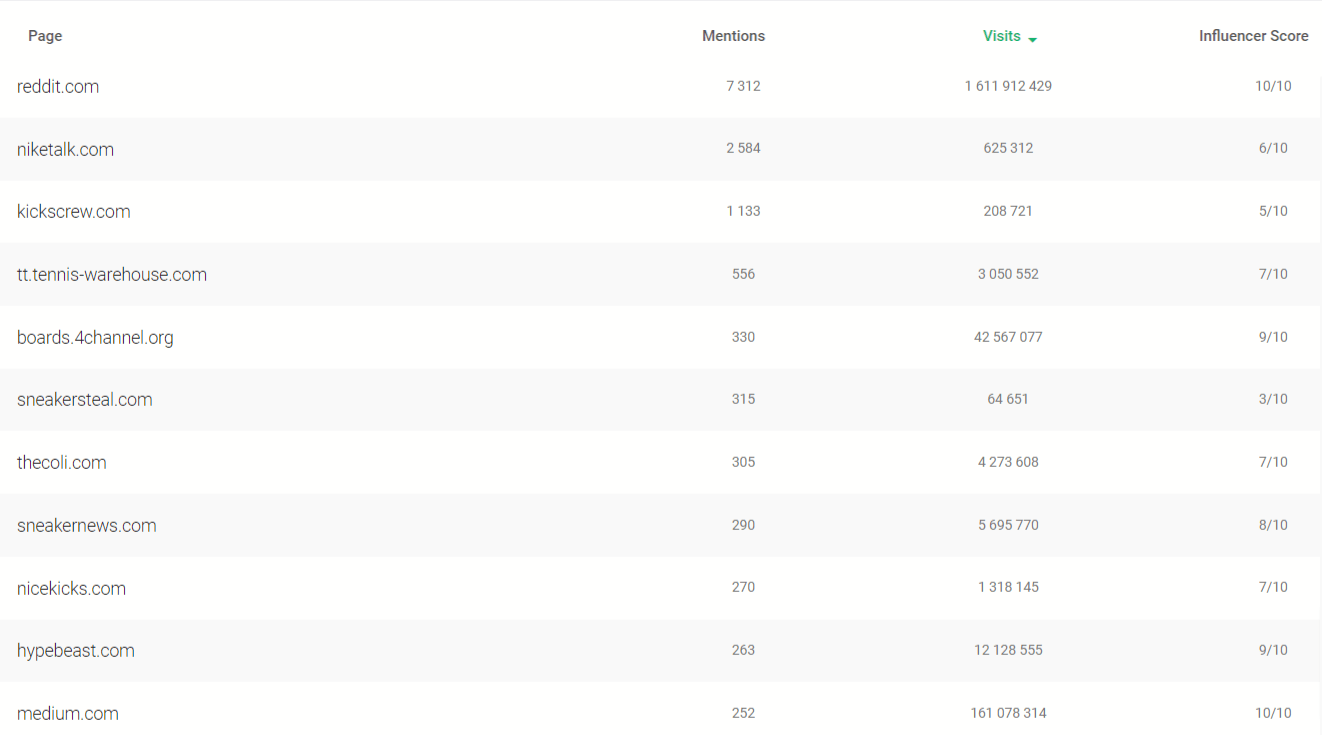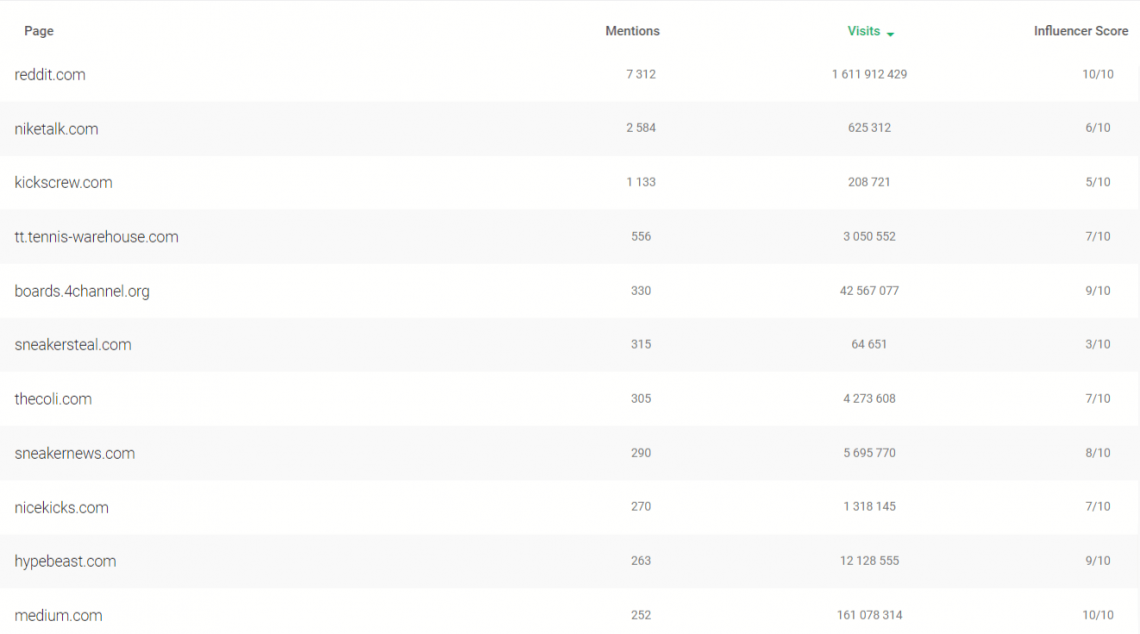 Overall, the Nike brand's online presence (popularity) is enormous and admirable. The Presence Score metric provided by Brand24 tells us that Nike is among the most recognizable brands globally.
This metric operates on a scale from 0 to 100, where 100 is a score achieved by top global brands. Nike's success in building strong online brand awareness is undisputed.


Where is the opportunity for the broadest reach?
It's always worth exploring the new features social platforms offer. Nike's Reels on Instagram notes millions of views.
Brand24 tool suggests that many of the most popular mentions come from TikTok. But not from Nike's main account. Rather from fans that mention their products. For example, a simple video about a gym outfit gained 4,2m views and over 470k comments.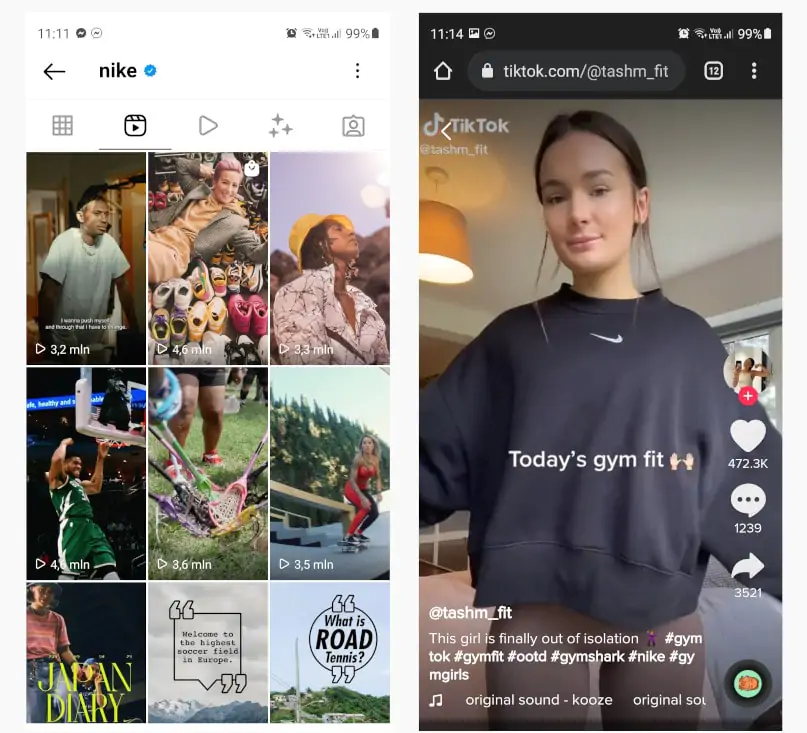 On the other hand, it seems like Nike's Facebook page is dying. Their posts gain a tiny number of reactions. For example post about the first-ever sports bra with Nike Flyknit technology gained only 12k reactions, 1k of comments, and about 500 shares. That's a terrible reach for a 35m size Facebook account.
Set up Brand24 and measure social media reach. Give it a spin during a 14-day free trial!
Analysis of Nike brand sentiment
We already know that people are talking a lot about Nike. But what do they talk about? Are mentions positive or rather negative?
To get to know the answers, we need to conduct sentiment analysis. It's the process of analyzing mentions to determine the emotional tone they carry, whether they're positive, negative, or neutral.
According to Brand24 data, the majority of mentions are positive. In the last 30 days, Nike has gotten 167k positive and 49k negative mentions.
Positive mentions came mainly from 2 sources, Instagram users wrote over 91k of them and Twitter users about 60k. Similar situation with negative remarks, 5k come from Instagram and 37k from Twitter.


Based on reach and sentiment analysis, Brand24 investigates Reputation Score. These metric measures brand reputation in a given time. Reputation Score operates on a scale of -100 to 100, where -100 is extremely bad and 100 is extremely good.


Nike does a great job in this area.
Important note, negative mentions are a source of tips on how you can improve your products. For example, this mention informs that after a while sneakers Air Max 93 start yellowing. I think it is important feedback for a sports brand.


Nike vs. Adidas
Nike's iconic swoosh logo or Adidas's three stripes? Which brand gains more online buzz?
Nike and Adidas are the most recognizable brands in the sportswear market. Those two sports brands produce quite similar content for their social strategy purposes.
But when it comes to online reach, Nike wins this competition. Nike's fans publish about 3 times more mentions than Adidas fans.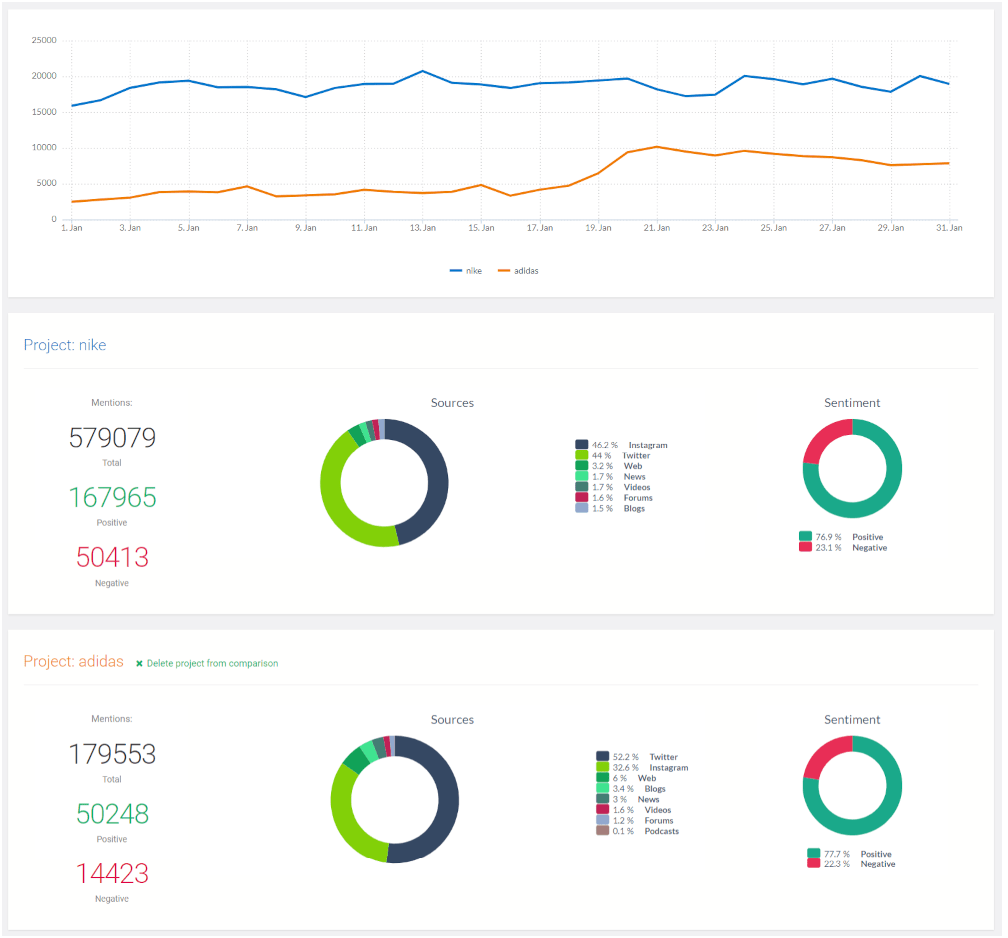 The social platform that generates the most mentions for the Adidas brand is Twitter. What's surprising only 32% of mentions come from Instagram. When it comes to sentiment analysis, the differences are minimal. Both brands do a great job, gathering over 75% of positive mentions.
Also, what is important, Adidas has a lower Presence and Reputation Score than Nike. It means they should work more on brand awareness and positive sentiment around their brand and products.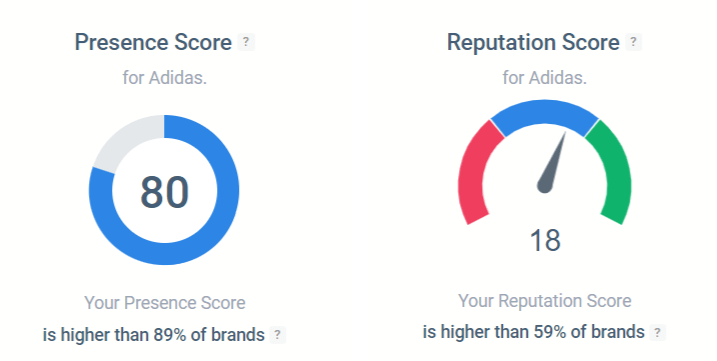 Discover the Presence and Reputation score of your brand, products, and services!
5 things we can learn from Nike
Social media can bring value, but we need to know how to use them. Recently we can see that the reach of private accounts can be higher than that of business accounts. It already happens on LinkedIn, Facebook, and TikTok.
Nike is an excellent example of a brand that achieves so much online buzz despite restrictive algorithms.
Here are 5 key takeaways:
Nike's strategy is based on running multiple social accounts. So the brand is able to target the audience by interest such as football, basketball, yoga, etc. Perhaps separate pages will also work for your niche?
Nike's fans are most active on Instagram and Twitter. Those two social platforms are the primary source of mentions. Do you know where fans of your products are active mainly? Get to know it, and think about how you can engage them.
Although YouTube has the lowest average engagement rate, the average number of views is 499k. Furthermore, almost every post on Nike's Twitter is a video. Video content is still willingly consumed by users. Can you implement it in your marketing strategy? If you're not using it, start as soon as possible.
Nike's Reels on Instagram notes millions of views. It is a content format promoted by Instagram. Right now, it is the best option for brands to reach a broad audience. So, do you benefit from it?
To gain a broad reach and build a recognizable brand, Nike cooperates with sports megastars such as Lebron James, Cristiano Ronaldo, Serena Williams. That's an enormous source of reach. Do you have evangelists that promote your brand in the long term?
Conclusion
Yes, Nike's social media strategy is effective. With the Presence Score higher than 96% of brands, Nike is one of the most recognizable sports brands in the World.
Positive sentiment and a high Reputation Score give an advantage over competitors such as Adidas. Although the main account gathers millions of followers the engagement rate is very low. Furthermore, nowadays, gaining wide organic reach is a challenge for brands.
Building brand awareness and gathering evangelists is a great way to win with algorithms. That's why compared to Adidas, Nike gains more online buzz.
Last but not least, Nike makes an impact on the sports world. Instead of just selling the products, it promotes a healthy lifestyle and encourages us to do everyday activities, saying #JustDoIt. Fans love it.
In case you would like to find out what's the sentiment and online reach of the brand, click here and try the Brand24 tool for free!