20 Best SaaS Affiliate Programs That You Need to Join
June 20, 2023 ・ 23 min read
According to Influencer Marketing Hub, the affiliate marketing industry is expected to reach $14.3 billion by 2023 and $15.7 billion by 2024. Clearly, lots of businesses are jumping on board with this marketing tactic. If you're curious about which SaaS affiliate programs are the best, I've got you covered. Keep reading to discover the crème de la crème of SaaS affiliate programs guaranteed to supercharge your success.
Table of contents:
20 Best SaaS Affiliate Programs
Discovering a high-paying affiliate program within the SaaS niche can take time and effort, regardless of your proficiency in affiliate marketing.
To assist you in maximizing your revenue potential, I have compiled a collection of top-tier SaaS affiliate programs.
Brand24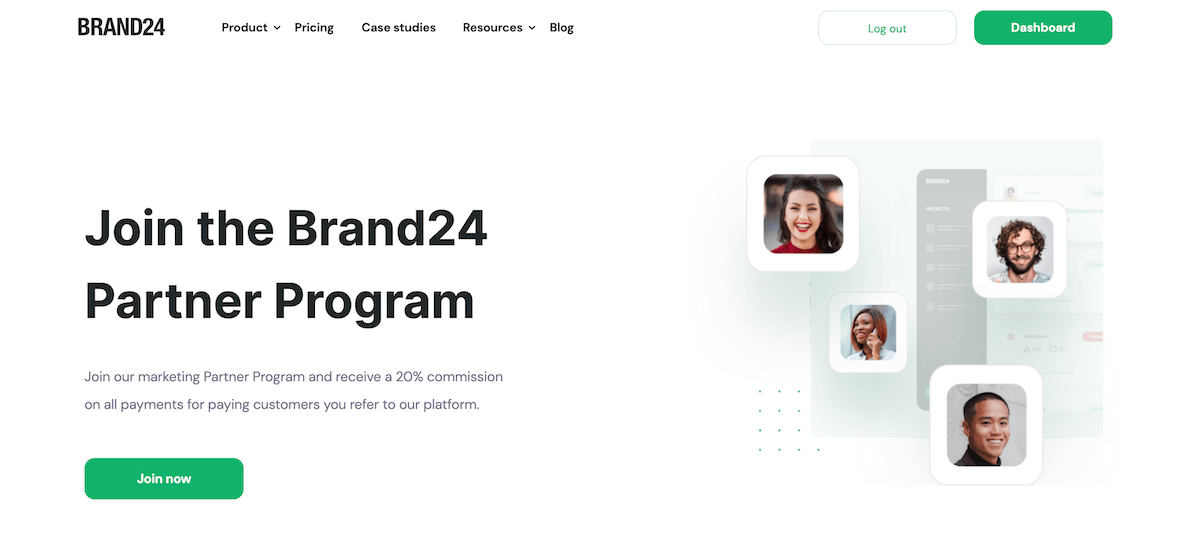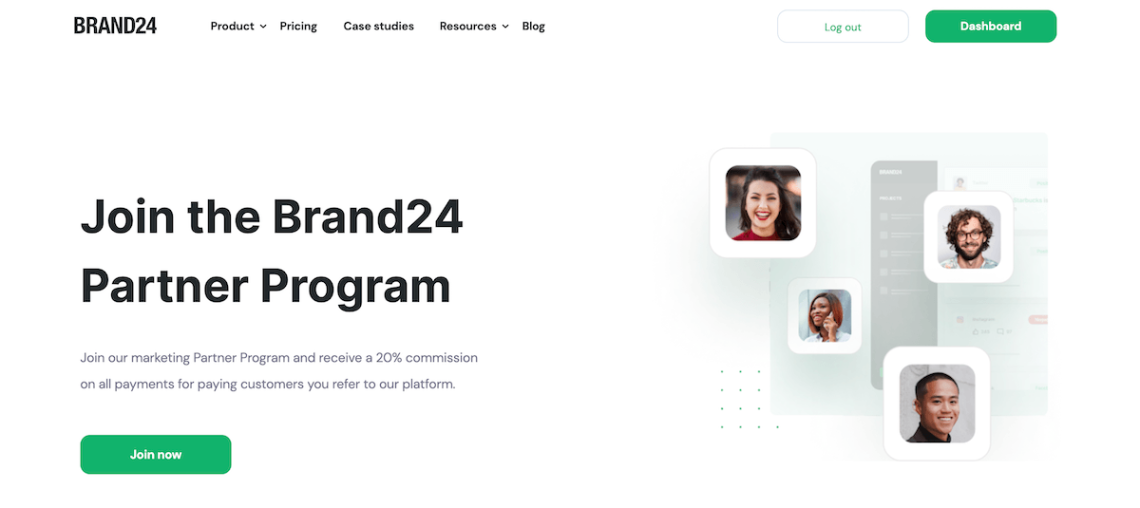 Brand24 is a social listening tool that monitors a business's online presence by tracking brand mentions on social media and the web. It helps quickly gather real-time data and analytics to understand customer sentiment better, identify trends, track competitors, and engage with their audience.
Start earning with Brand24's affiliate program!
Brand24's affiliate program allows its affiliates to earn up to a 30% recurring commission for life on all pricing plans. Our program offers affiliates three tiers – Bronze, Silver, and Gold – to earn higher rewards and access co-marketing benefits.
What sets our program apart is its user-friendly approach. Affiliates can immediately start promoting Brand24 without the hassle of creating marketing materials from scratch. The program provides ready-to-use assets such as banners and swipe copy, ensuring a seamless experience.
Brand24 provides various resources, including a Partner Panel for performance tracking and a dedicated partner manager for support. Affiliates can also stay informed on product updates and releases through the program's monthly newsletter.
Commission:
Bronze (0-4 referrals): 20% commission
Silver (5-7 referrals): 25% commission
Gold (8+ referrals): 30% commission
Cookie duration: 90 days
Perks:
Ready-to-go marketing resources
Dedicated Partner Manager
Program's monthly newsletter
Partner Tiers
Partner Directory listing
Co-marketing opportunities
Affiliate Page Link: Brand24 SaaS Affiliate Program
GetResponse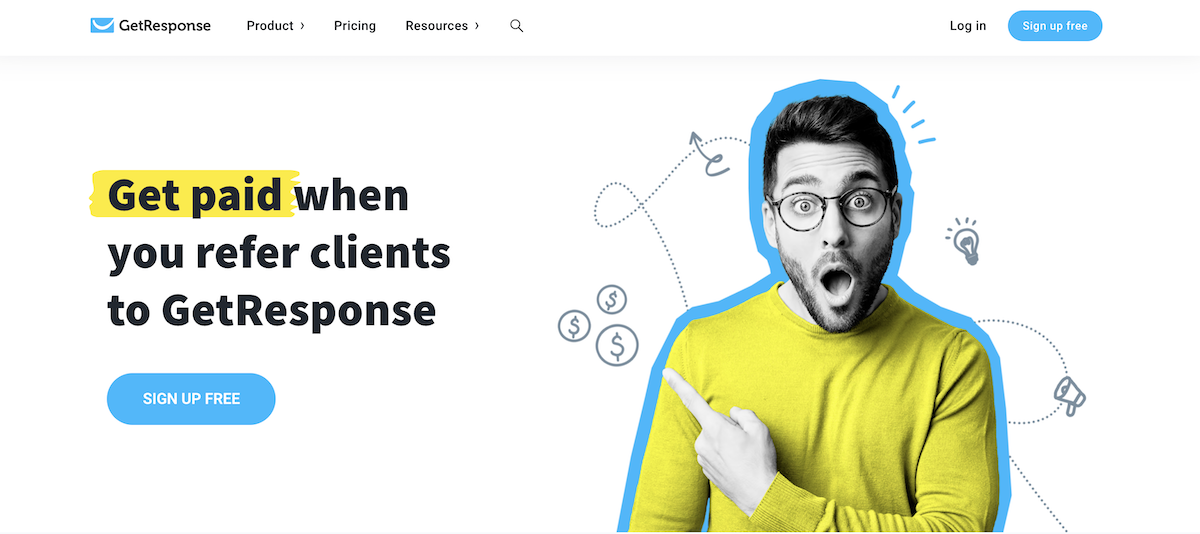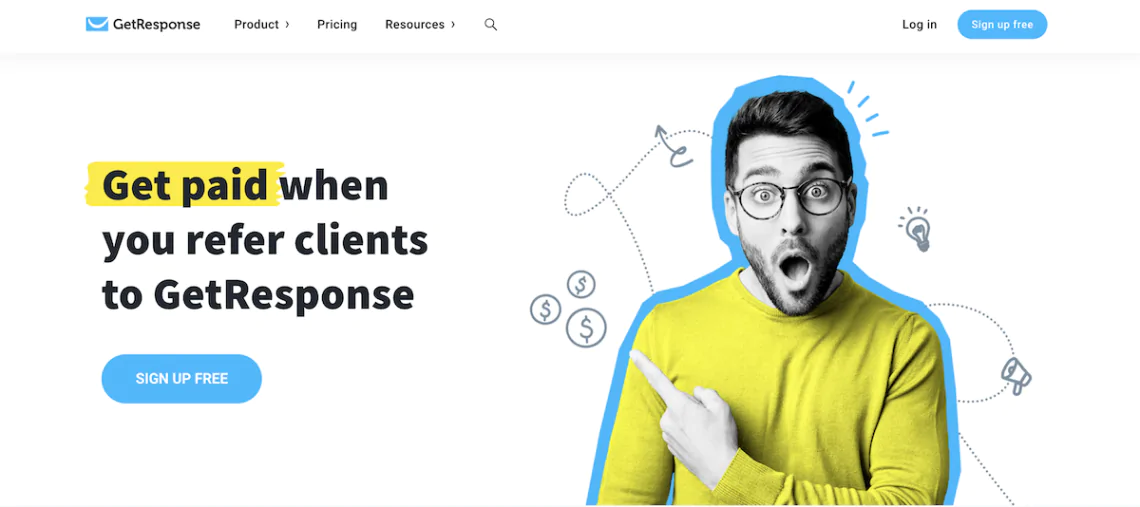 GetResponse is an email marketing platform that helps you grow, engage, and convert your audience with email, automation, and list growth tools.
It's the go-to solution for those who want to succeed in building their personal brand, sell products and services, nurture their audience, and build a community.
GetResponse offers two types of affiliate programs.
The bounty program pays $100 for every referred customer that signs up for a paid account. And the recurring program pays 33% of every sale you refer for as long as they stay a GetResponse customer.
Commission:
One-time $100 for every referred customer, or
33% lifetime recurring commissions for every referred customer
Cookie duration: 120 days
Perks:
You'll get access to a range of promotional materials, like videos, banners, and sales copy, to help you sell the platform better
You'll be able to track your commission in real-time in an intuitive dashboard
You'll be promoting a trusted product that's been on the market for 20+ years and launched its affiliate program in the early 2000s
No earning cap
Affiliate Page Link: GetResponse Affiliate Program
Survicate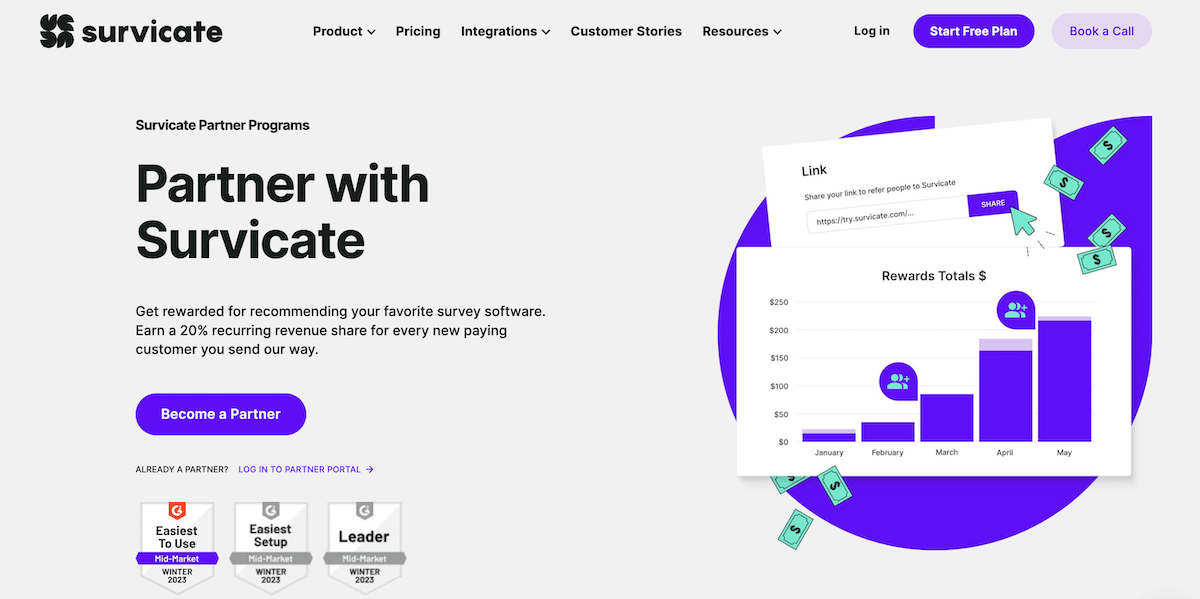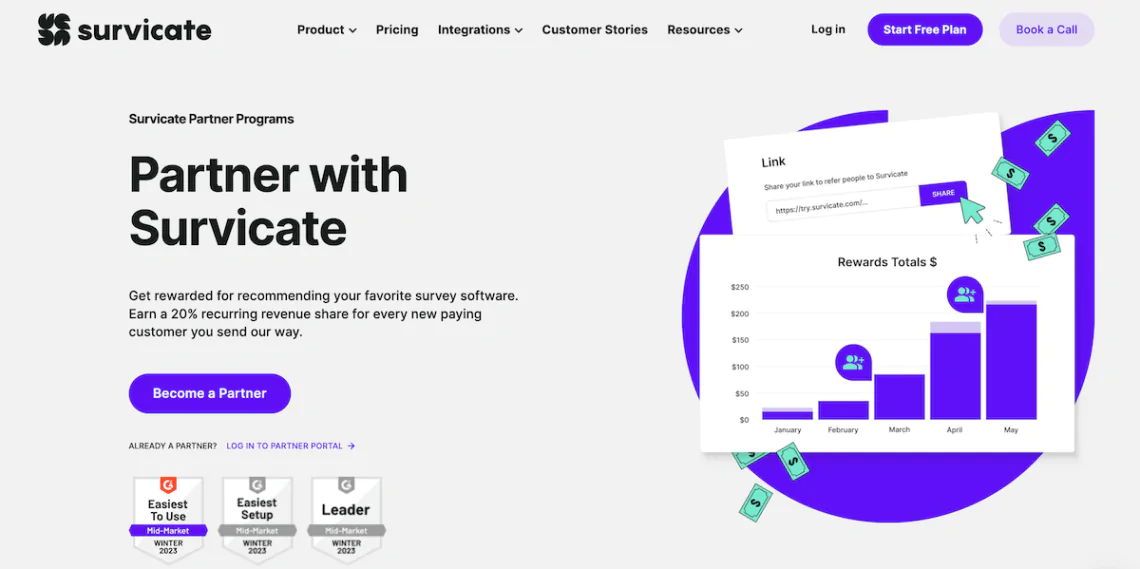 Survicate Partner program lets you monetize your audience while offering them an effortless survey tool. Earn a revenue share for every new paying customer and get support every step of the way.
For who: Agencies, Affiliates, and Ambassadors
Commission: Earn 20% revenue share for every new customer for a year
Perks: Monthly payouts, ready-to-use assets, dedicated support
Affiliate Page Link: Survicate Affiliate Program
Surfer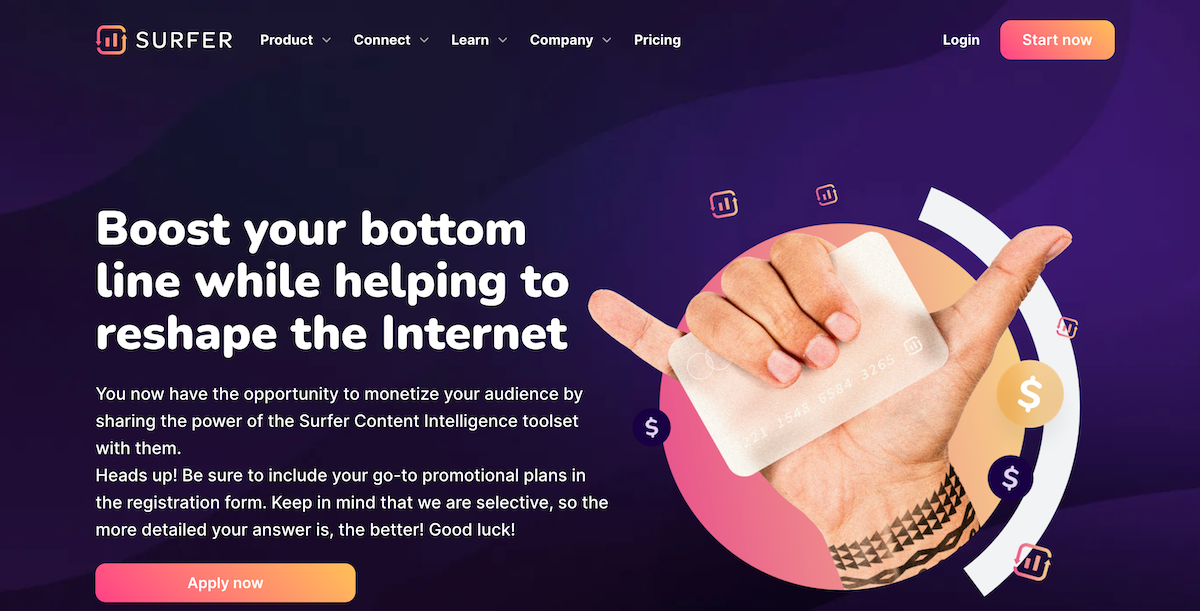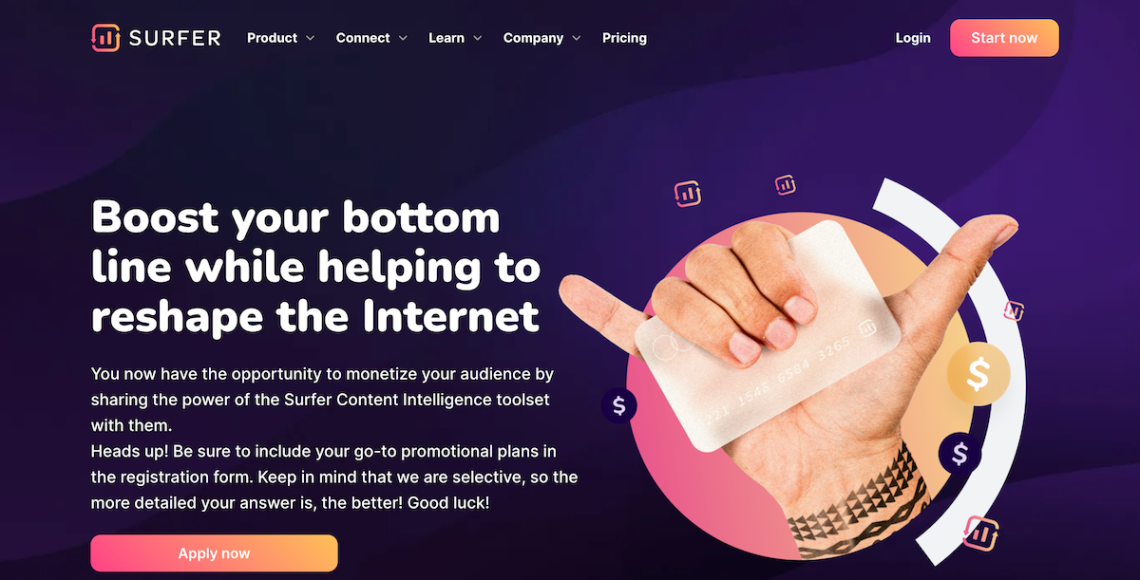 Surfer is an all-in-one platform for keyword research, content creation, and optimization. The tool has been synonymous with SEO since 2017, and with the recent launch of Surfer AI, they've made scaling and ranking content easier than ever before.

Ideal for content teams and agencies alike, it guides you through the planning, writing, and optimizing stages with a unique focus on creating quality content that ranks. By using Surfer's data and guidelines, you'll boost organic traffic, increase visibility, and improve search engine ranking.

They offer a highly customizable subscription service, so customers only pay for what they need. Affiliate partners have a lot of up-selling opportunities thanks to its plan add-ons, including Surfer AI, which has made waves since its release in May '23.
Commission: A recurring 25% commission on subscriptions + a 10% commission on subscription add-ons.
Cookie duration: 60 days
Perks: Surfer's affiliate partners are supported by a regularly-updated media kit and have direct access to Surfer employees who will work with them on developing the best promotions possible.
Affiliate Page Link: Surfer Affiliate Program
SocialBee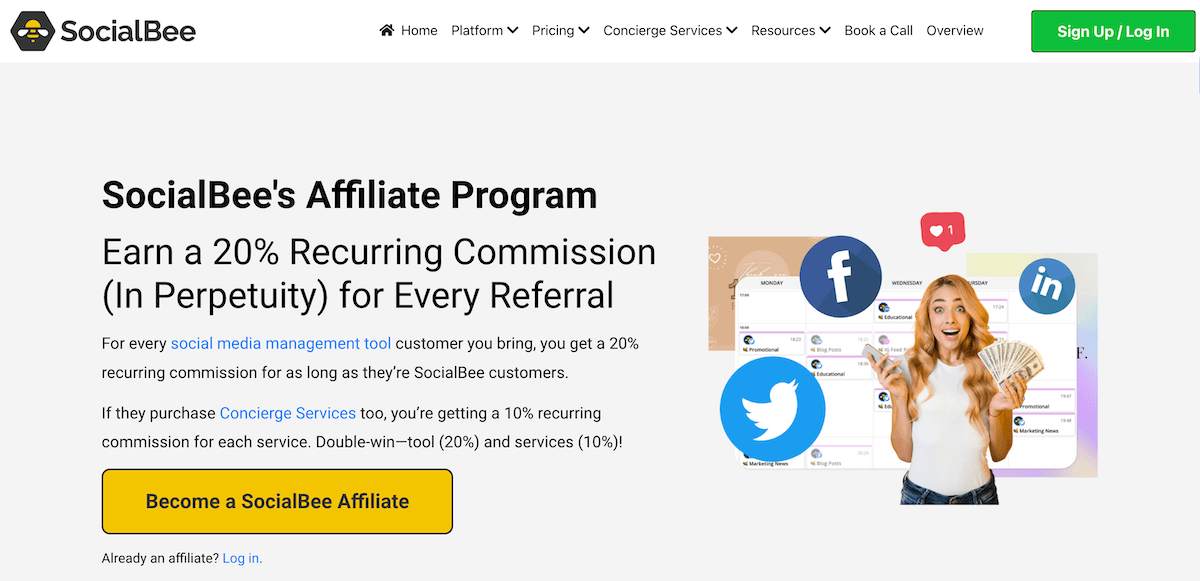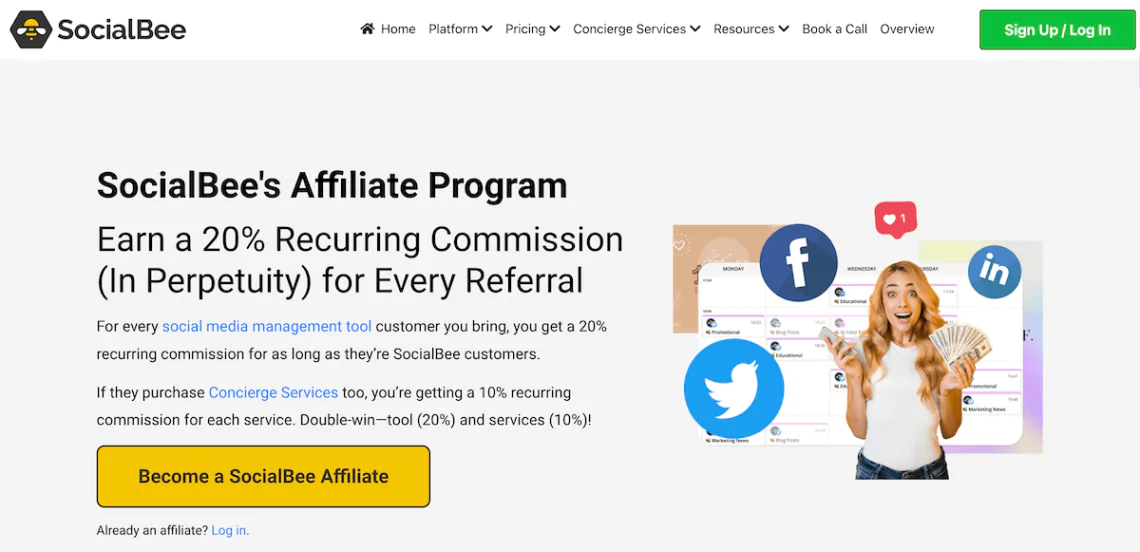 SocialBee is a comprehensive social media management tool that allows users to create, schedule, and share posts across multiple platforms from one location. It also offers concierge services for content creation and community management.
All clicks, sign-ups, and customers are tracked in PartnerStack, with a 90-day cookie-tracking feature. Commissions can be easily viewed and managed from an affiliate dashboard. Each affiliate is also assigned an Account Manager who provides personalized assistance and suggests new promotion strategies.
SocialBee's SaaS affiliate program provides a 20% recurring commission for every customer brought to the platform, maintaining the commission as long as the customers remain active users. Additionally, there is an opportunity to earn an extra 10% recurring commission for each sold concierge service.
Commission:
20% recurring commissions for every customer
Extra 10% recurring commissions for each sold concierge service
Cookie duration: 90 days
Perks:
Commissions can be conveniently viewed and managed through an affiliate dashboard.
Every affiliate is assigned a dedicated Account Manager, and they offer personalized assistance.
Affiliate Page Link: SocialBee Affiliate Program
Woodpecker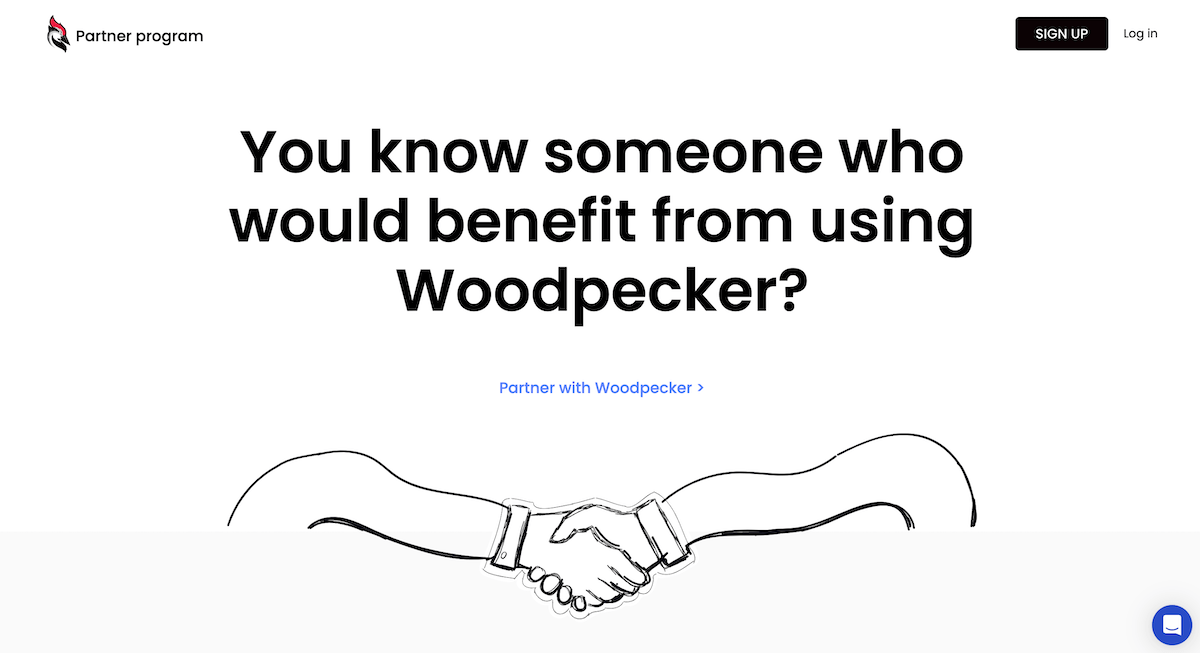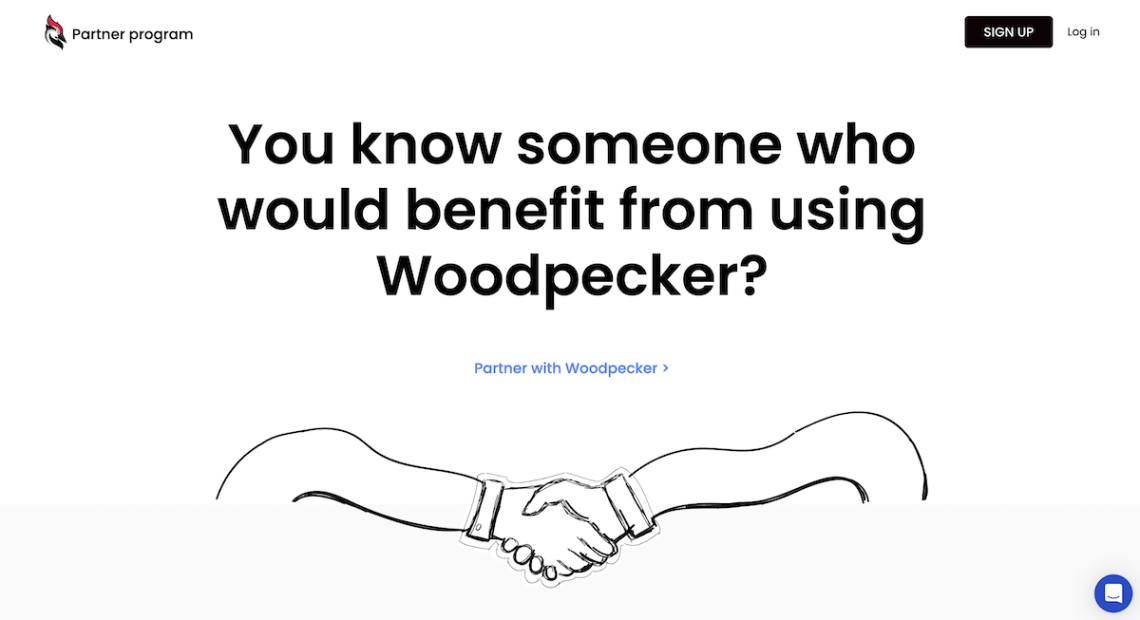 Woodpecker – Cold emails that start warm conversations: Woodpecker Cold Email helps you send cold emails, automate follow-ups and get real responses. Woodpecker Sales Assistant integrates automation and testing into your workflow to reach your target audience.
Commission: 20% lifetime commission for every customer's payment
Cookie duration: 30 days
Perks: Lifetime commission for a partner and better trial conditions for referred clients: 30 days and 500 emails to test our services (standard trial offers 7 days and 50 emails).
Affiliate Page Link: Woodpecker SaaS Affiliate Program
Semrush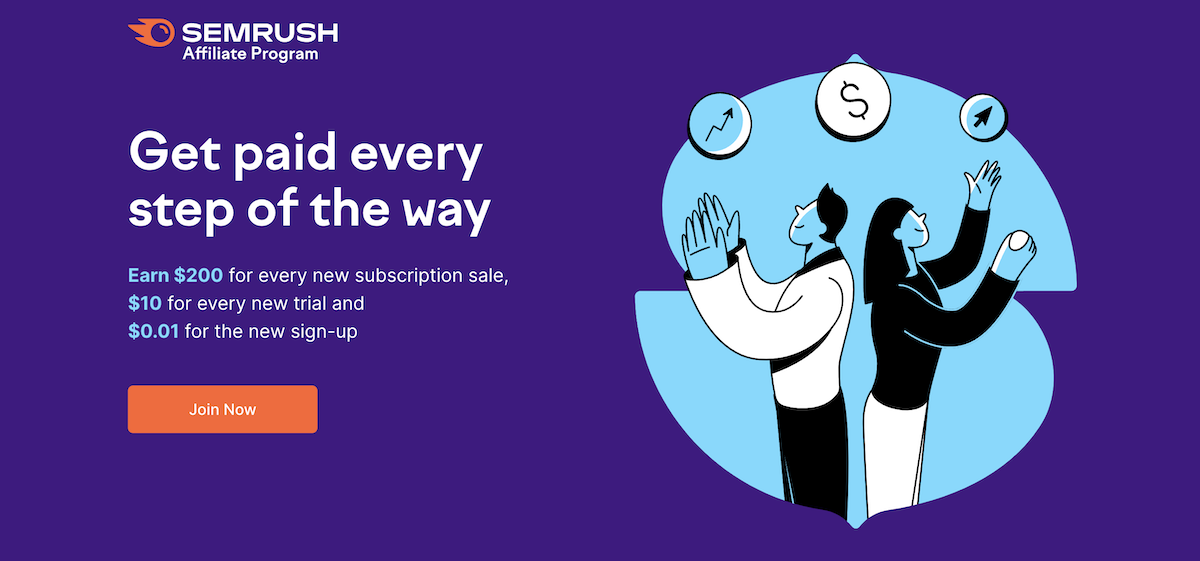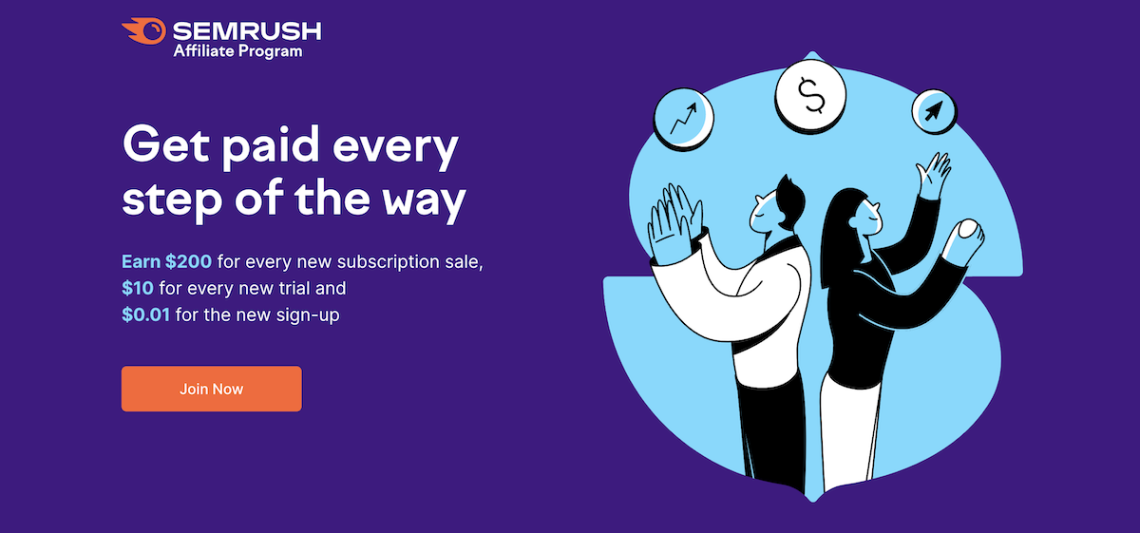 Semrush is a leading online visibility management SaaS platform that enables businesses globally to run search engine optimization, pay-per-click, content, social media and competitive research campaigns and get measurable results from online marketing. Semrush offers insights and solutions for companies to build, manage, and measure campaigns across various marketing channels.
Commission: Earn $200 for every new subscription sale, $10 for every new trial, and $0.01 for the new sign-up
Cookie Period: Benefit from last-click attribution and 120 days of cookie life
Extra Features: exclusive Semrush creatives, as, for example, Semrush Pro trial for promotion, content and performance bonuses, optimization recommendations from our dedicated and experienced account managers.
Affiliate Page Link: Semrush Affiliate Program
Landingi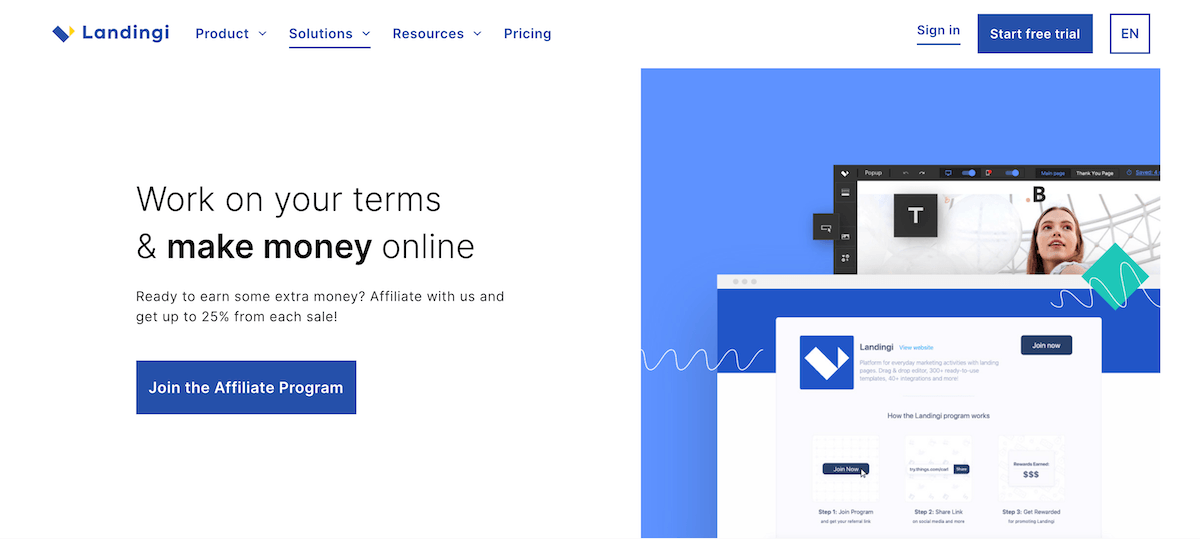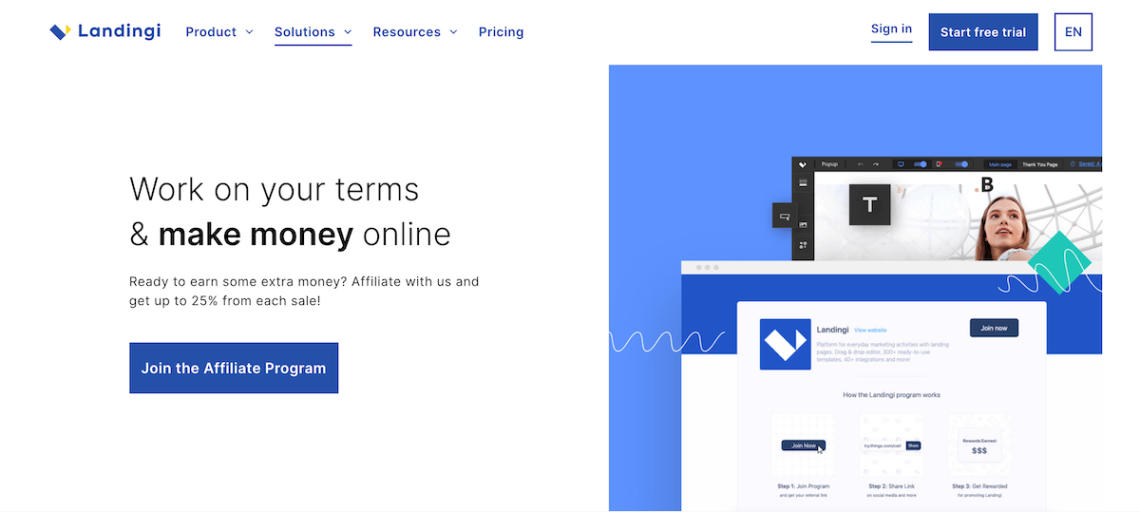 Landingi helps increase the conversion rate on your landing pages and build them easier and faster than ever before. Generate leads, signups, and sales to improve the effectiveness of your digital marketing campaigns and grow your business. With Landingi's drag-and-drop builder, you have complete freedom to design a landing page how you want, even if you have no coding experience.
Commission: 25% recurring lifetime commission
Cookie duration: 90 days
Perks: User-friendly program management, Ready to use marketing resources, Affiliate Manager at your service, Co-promotion opportunities
Affiliate Page Link: Landingi Affiliate Program
PandaDoc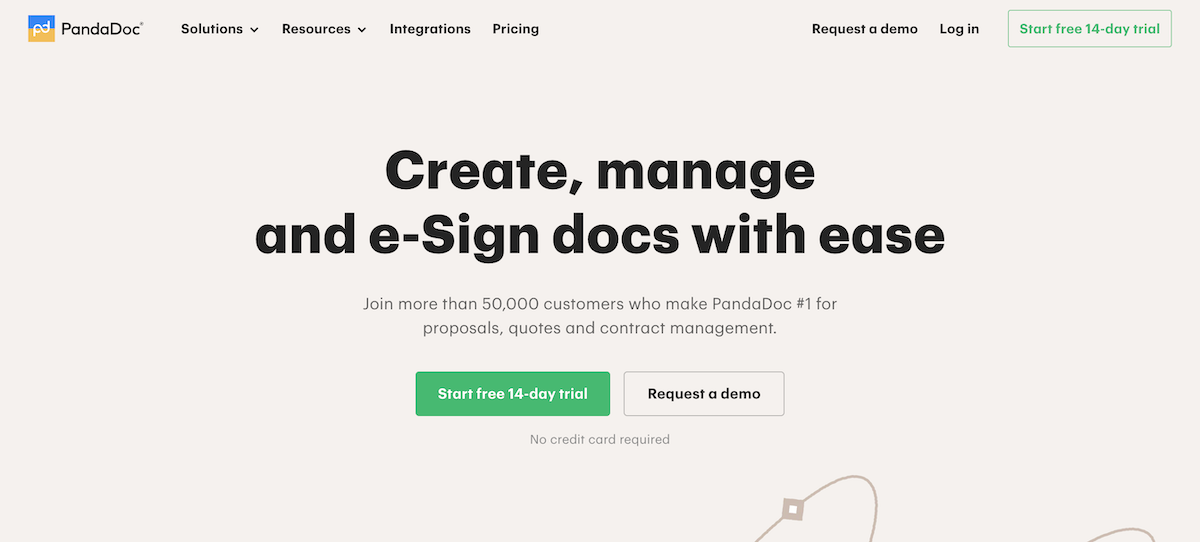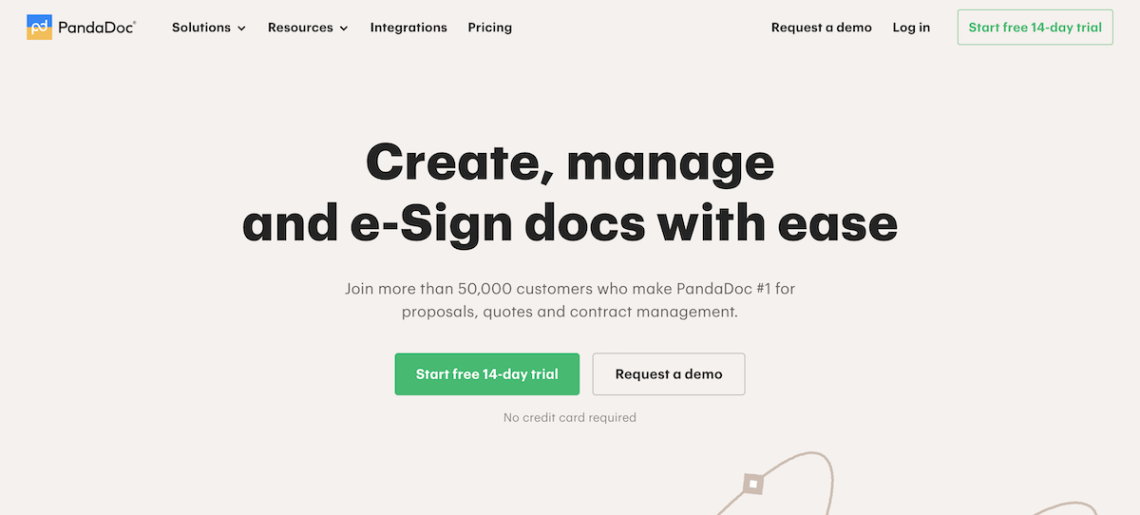 Join over 50,000 customers who make PandaDoc #1 for proposals, quotes, and contract management. It's a perfect tool to help you create, manage, and e-Sign docs with ease!
It's perfect for teams with complex and repetitive document needs like sales, HR, partnership, and legal teams.
PandaDoc's SaaS affiliate program offers up to 25-45% recurring commission for the first year of any new business you refer. With three Partner Tiers that help extend the life cycle of your commission to multi-year or lifetime and give you access to marketing development funds, spiffs, and other tools to help you get the most out of this partnership.
The program stands out for its simplicity, providing ready-to-use marketing materials like banners and swipe copy, as well as its turnkey solutions for co-selling and onboarding. Affiliate partners can start promoting immediately without creating assets from scratch.
Commission: Earn 25%-45% of revenue for the first 12 months of a new customer
Cookie duration: 90 days
Perks: Partner Tiers, MDF, Perks, Spiffs, turnkey marketing and sales campaigns, deal reg, and UTM-based tracking.
Affiliate Page Link: PandaDoc SaaS Affiliate Program
Lucid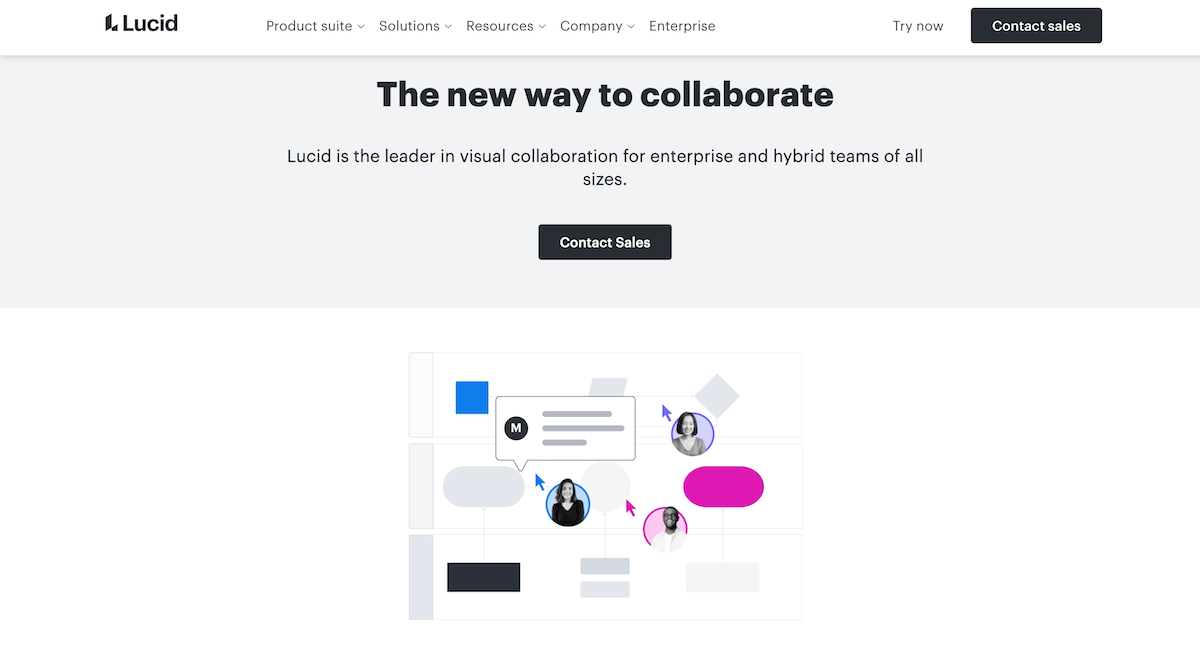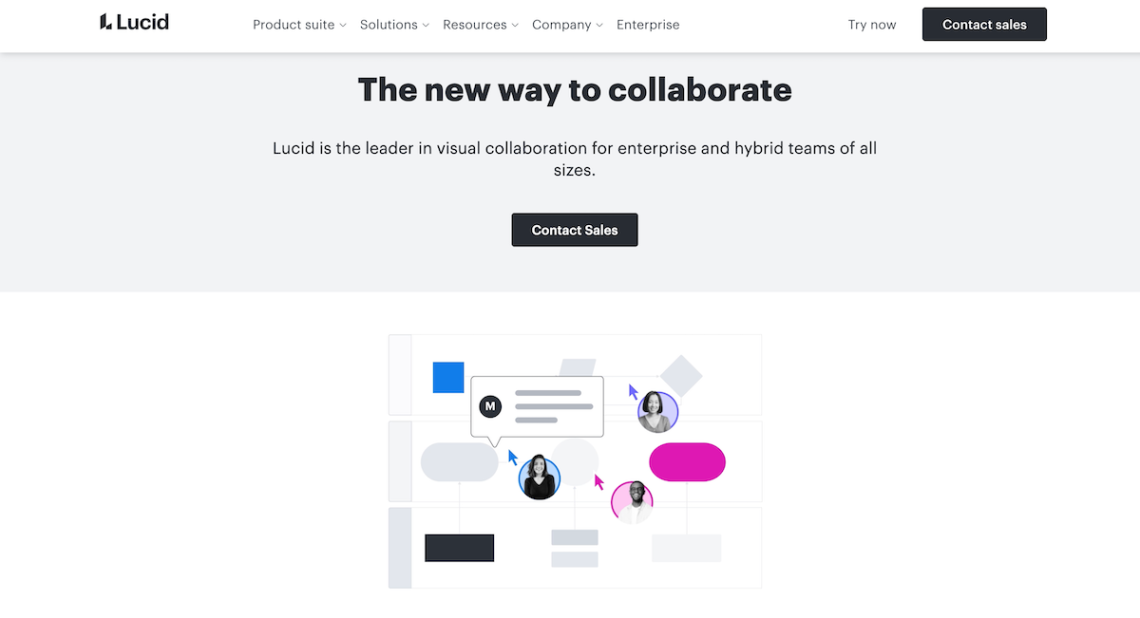 Lucid is the leader in visual collaboration for teams of all sizes. Lucidchart is an intelligent diagramming application that brings teams together to make better decisions and build the future. Lucidspark is the virtual whiteboard that connects teams so they can bring their best ideas to life.
If you are a publisher or content creator with an audience that could benefit from using Lucidchart or Lucidspark, they have a great Affiliate Partner Program with the following offerings:
Commission: 25-50% commissions for customers' first year plus extra bonuses for top partners
Cookie Period: 90-day cookie period
Perks: Robust dashboard via PartnerStack, easy commission payouts via PayPal or Stripe, and a large collection of ready-to-use marketing assets (banners, product images, videos, etc.).
Affiliate Page Link: Lucid Affiliate Program
Triple Whale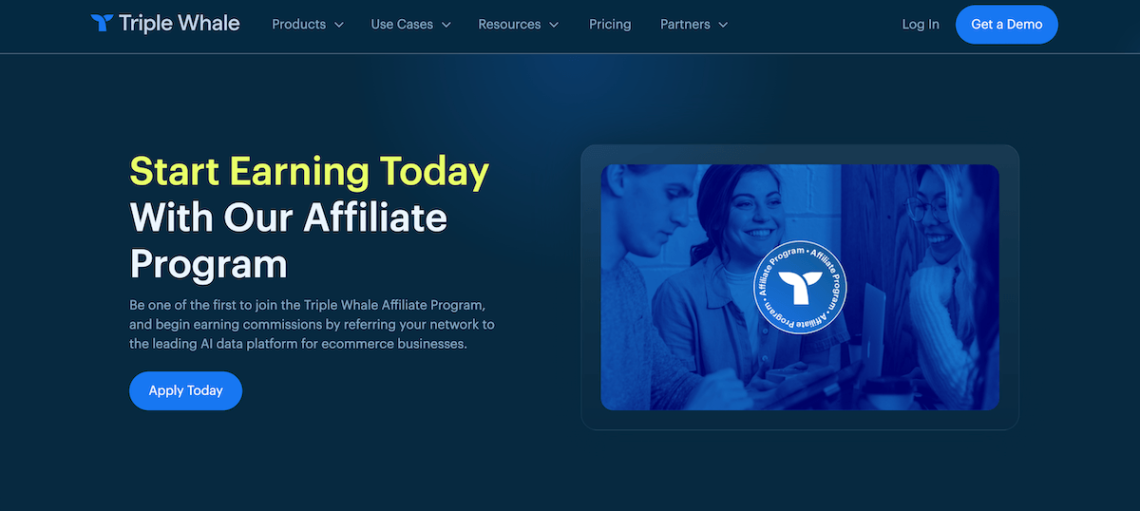 Triple Whale, established in May 2021, is a B2B SaaS company revolutionizing e-commerce growth through AI-driven data aggregation, analysis, and automation. Its user-friendly dashboard simplifies advertising insights, empowering Shopify retailers to make informed decisions.
Based in Columbus, Ohio, the company aims to be the go-to e-commerce operating system for Shopify brands worldwide. It integrates with popular marketing tools, providing comprehensive eCommerce analytics, attribution, merchandising, and forecasting.
Triple Whale saves time, resources and eliminates ad spending uncertainties, enabling users to optimize strategies and achieve financial gains. The SaaS affiliate program is an opportunity for Content Creators, Consultants, and Coaches to earn a commission for referring their network to Triple Whale.
Commission:
Blue Affiliate (0-15 referrals): $50 for each completed demo, 15% referrals' revenue for their first 6 months
Silver Affiliates (16-50 referrals): $100 per completed demo, 20% referrals' revenue for their first 6 months
Gold Affiliates (51+ referrals): $100 per completed demo, 25% referrals' revenue for their first 6 months
**Commissions eligible for payout 60 days after customer signup**
Cookie Period: 90 days
Perks:
Content ideas, product training
Affiliate network – a private Slack channel where Affiliate partners can share ideas and best practices and be the first to receive product updates.
Gold Affiliates also receive a co-branded, personalized landing page
Affiliate Page Link: Triple Whale Affiliate Program
Xero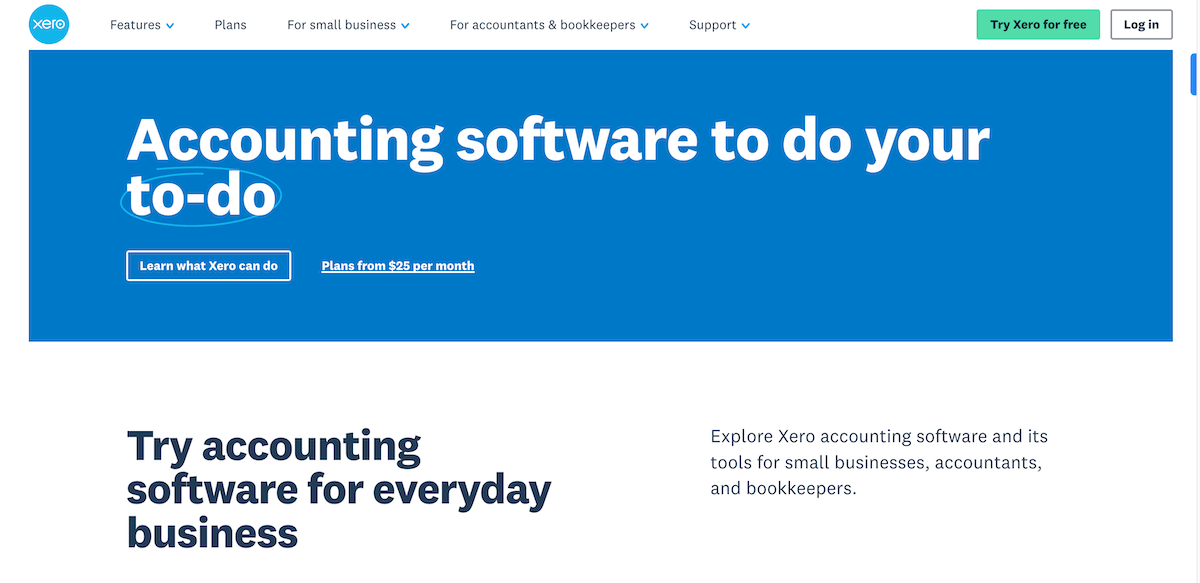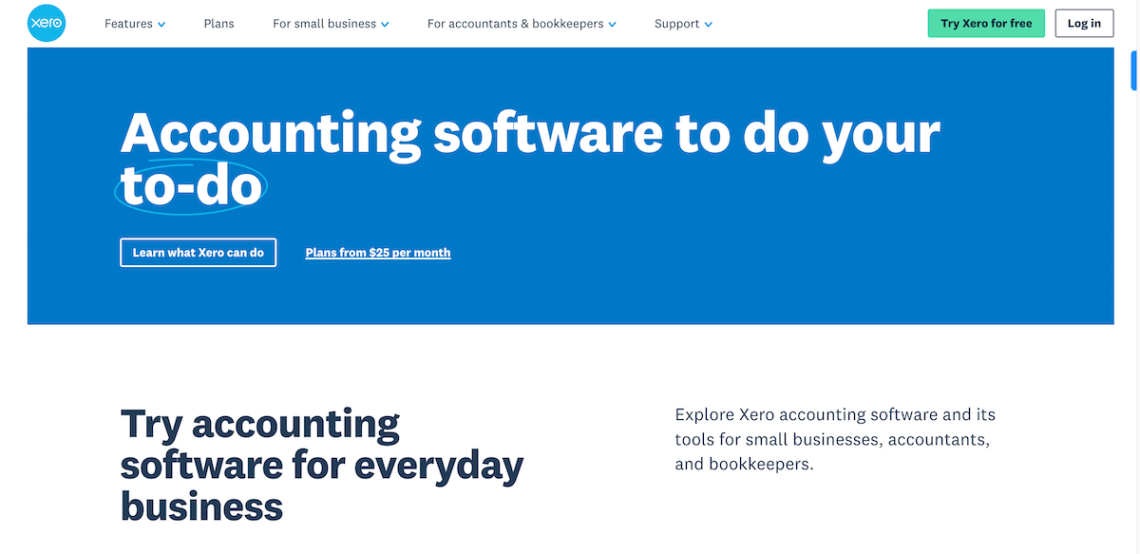 Xero is a cloud-based accounting software designed for small businesses. It offers a range of features, including invoicing, bill management, expense tracking, and financial reporting. With Xero's user-friendly and intuitive interface, small business owners can easily manage their finances from anywhere, at any time.
Xero also integrates with a range of other business tools, such as payment gateways and inventory management systems, to provide a complete solution for small businesses. With Xero's SaaS affiliate program, you'll get the support and tools you need to help educate your audience and recommend accounting software built for your client's needs.
Xero is currently offering a one-time commission fee of $150 USD for all qualified referrals based in the US or Canada. A qualified referral is defined as a lead sourced from the affiliate partner's unique link that becomes a paying customer of Xero and completes three consecutive months' subscription payments.
Commission: One-time commission of $150
Cookie Period: 90 days
Perks: Personalized support, in-depth biweekly or monthly reporting upon request, affiliate partner resources such as branding elements and how to boost traffic with keywords and an informational one-pager.
Affiliate Page Link: Xero Affiliate Program
signNow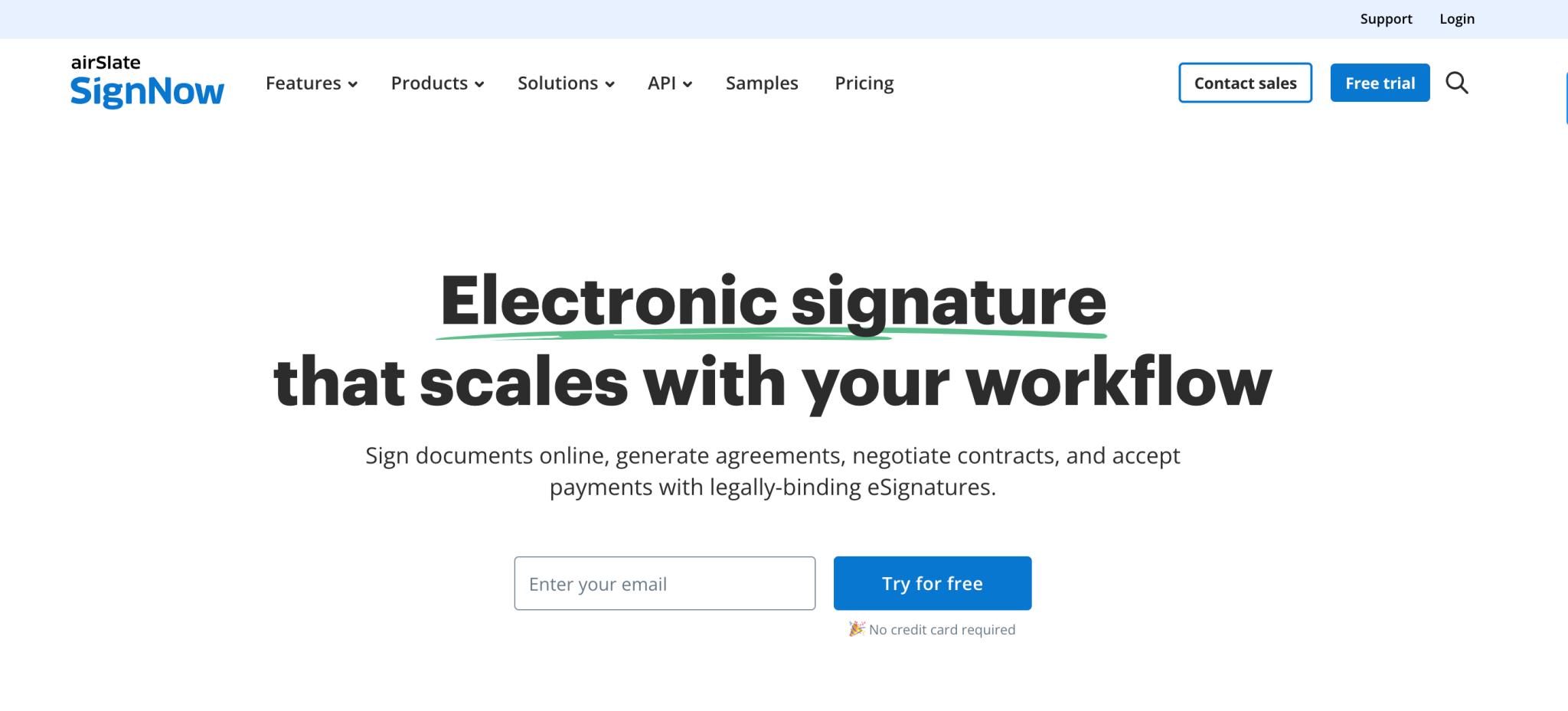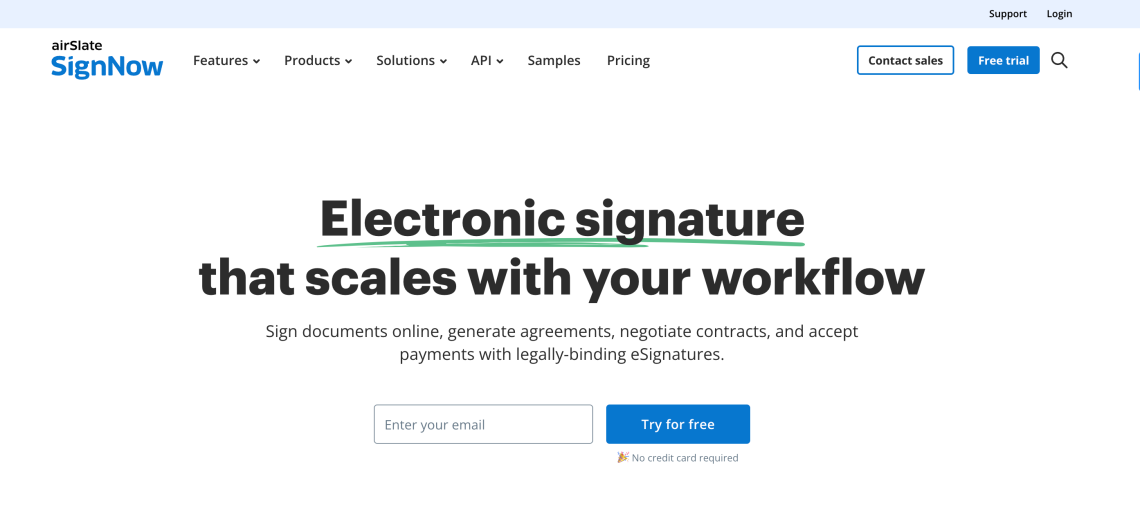 signNow is a legally-binding electronic signature solution that allows users to keep their business moving forward from anywhere, at any time, and on any device. It is designed to simplify the signing and managing of documents online.
signNow offers the best ROI for SMBs and mid-market with its intuitive UI, transparent pricing, flexible configuration, and ease of API integrations.
Commission: from $40 to $80 CPA
Cookie Period: 60 Days
Perks: Performance bonuses
Affiliate Page Link: signNow Affiliate Program
pdfFiller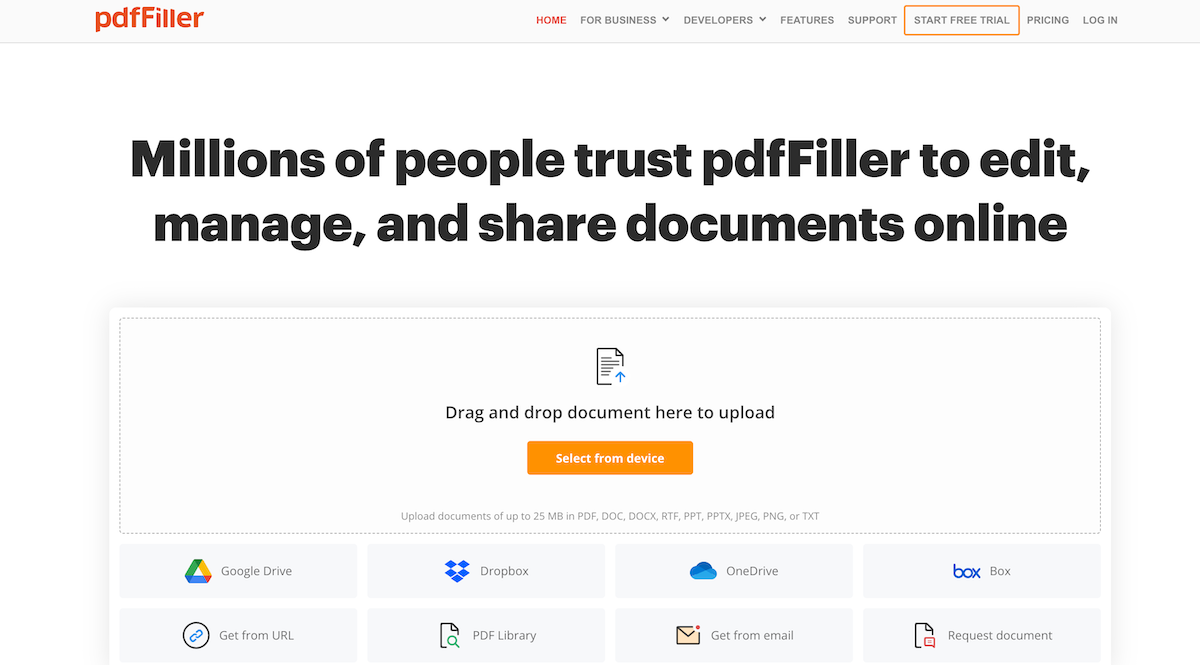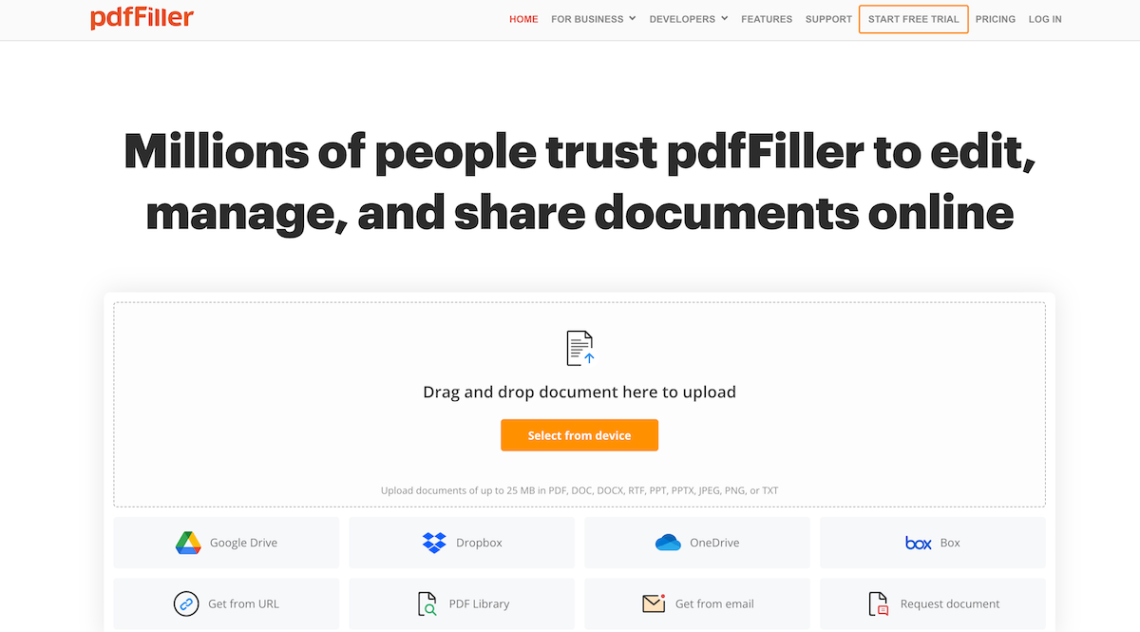 pdfFiller is the most powerful and comprehensive solution for creating, editing, eSigning, and managing documents and forms online, using any desktop or mobile device. The feature-rich, cloud-native solution transforms static PDFs into an interactive experience for the sender and receiver. It serves as a single, easy-to-use place for collaborating, storing, locating, and auditing documents.
Commission: from $30 to $50 CPA
Cookie Period: 60 Days
Perks: Performance bonuses
Affiliate Page Link: pdfFiller Affiliate Program
Big Commerce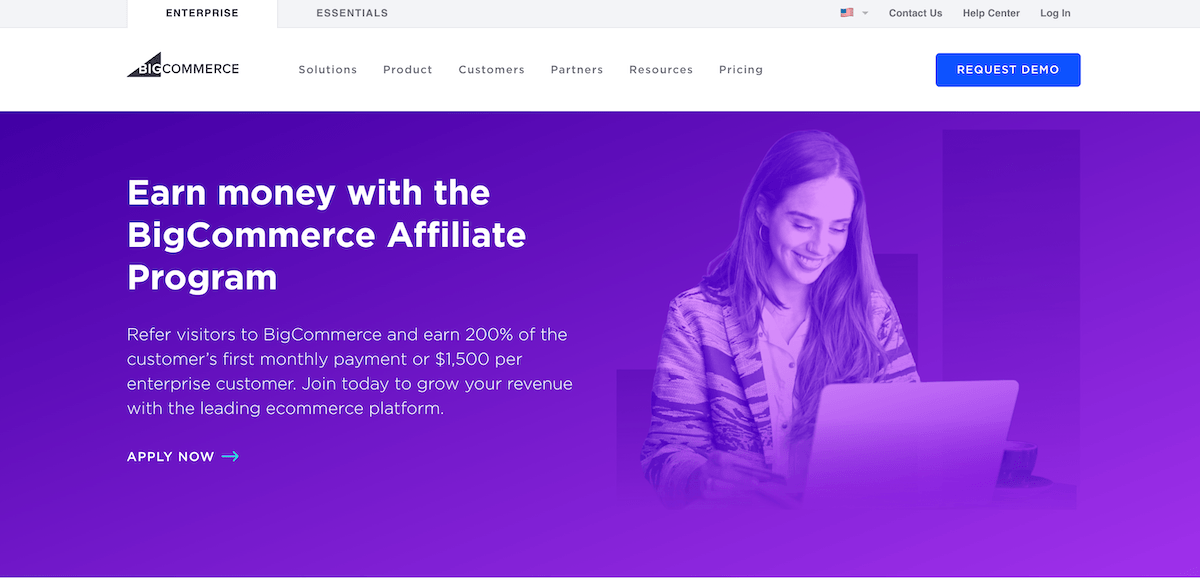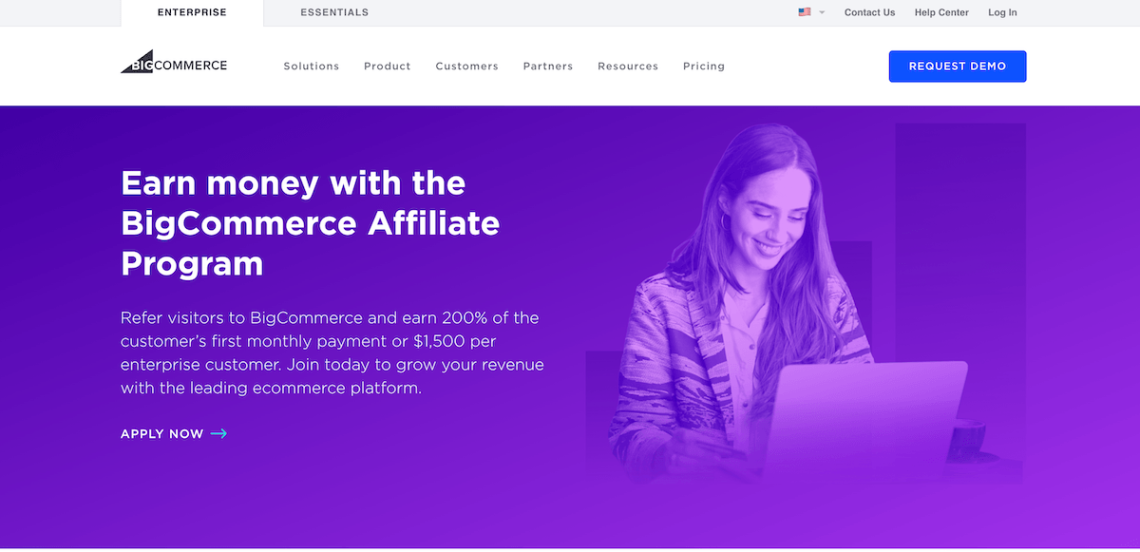 Big Commerce is an e-commerce platform that creates beautiful and completely customized online stores with built-in features such as search engine optimization, marketing tools, analytics, and hundreds of integrated apps.
Commission:
Paid Conversion: $60-600
Enterprise Lead: $40 – Enterprise Sale: $1,500
Cookie Period: 90 days
Perks:
In-house and agency affiliate account managers to facilitate bespoke support to launch and optimize affiliate partnerships.
Option to have a free BigCommerce account with access to BigCommerce platform.
Affiliate resource hub with a plethora of content, affiliate tips and tricks, and multi-language resources.
Affiliate Page Link: Big Commerce Affiliate Program
Bambee


Bambee provides HR services to small businesses across the United States. They help craft custom HR policy and help with onboarding to terminations and everything in between. With Bambee you'll get a dedicated HR manager and a powerful platform called HR Autopilot to manage your HR needs.
Commission: UP to $150 for a qualified lead
Cookie duration: 90 days
Perks:
Opportunity to increase payout up to $200 based upon performance
Referral partner program
Offers and promos available
Affiliate Page Link: Bambee Affiliate Program
Later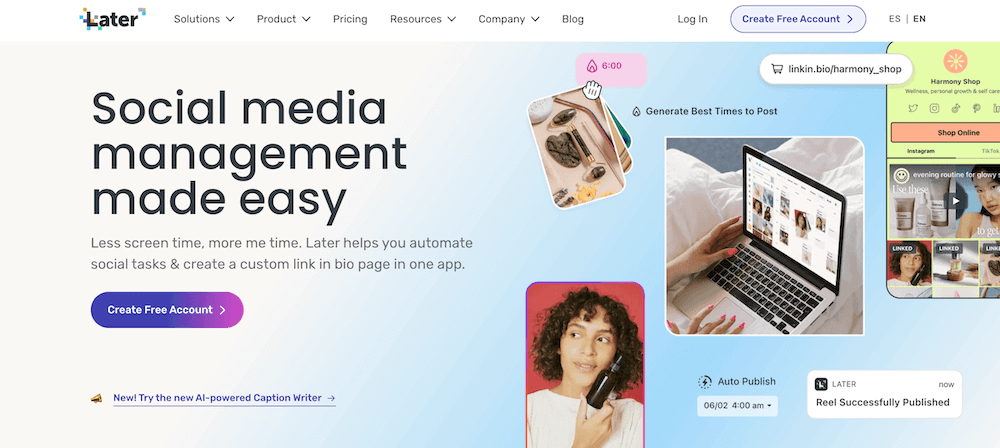 Later is the all-in-one social marketing platform for the top social networks. Plan, analyze, and publish your content in a few clicks – so you can save time and grow your business.
Commission: 30% recurring commissions for up to 1 year
Cookie duration: 90 days
Perks: Ready-to-post inspirational content, dedicated support team, opportunities for increased commission based on performance.
Affiliate Page Link: Later Affiliate Program
Oracle NetSuite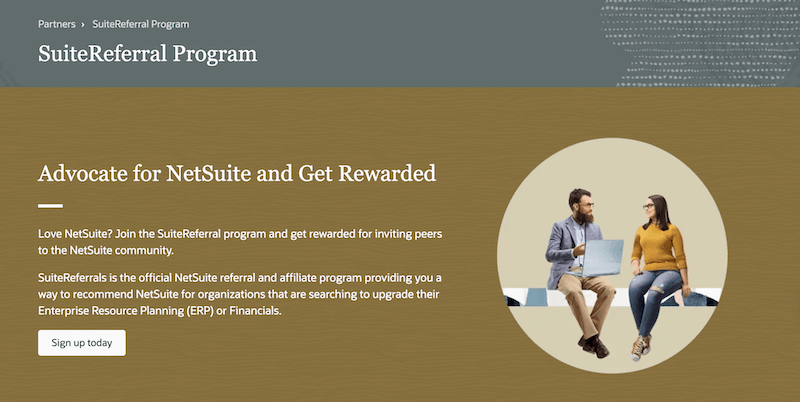 NetSuite provides a suite of cloud-based financials / Enterprise Resource Planning (ERP) and omnichannel commerce software that runs the business of more than 36,000 customers in more than 200 countries and territories.
Commission: $30 MQL (marketing qualified lead): $150 SQL (sales qualified lead) North America Only commission base -flexible on discussing other options.
Cookie duration: 30 days
Perks: Gold, Silver, and Bronze level options for partners, including certification vouchers, discounted NetSuite training and support, exclusive access to NetSuite executives, and VIP Access at NetSuite's annual user conference, SuiteWorld.
Affiliate Page Link: NetSuite Affiliate Program
Unbounce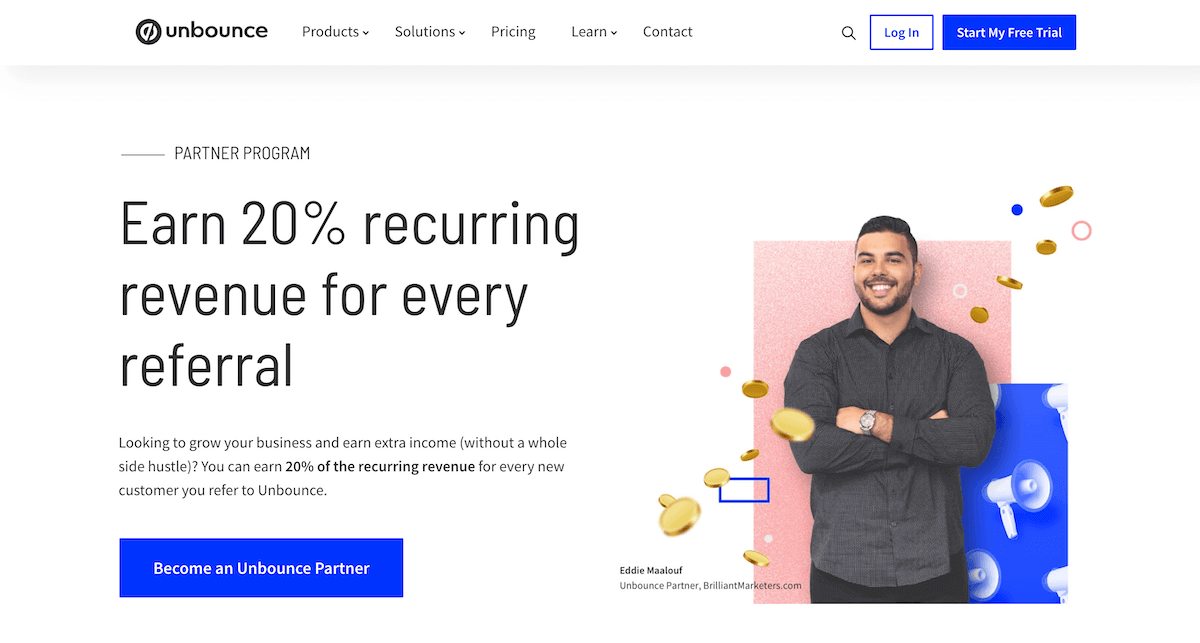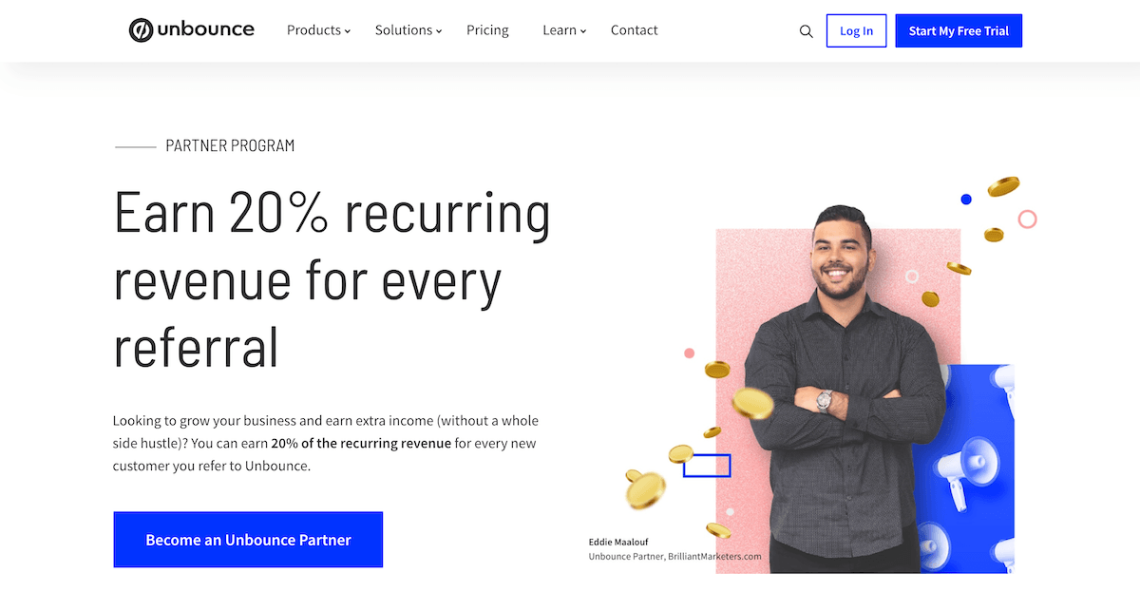 Unbounce is the #1 landing page platform, driving over 1.5 billion conversions for 70,000+ customers. With Unbounce, you can create and optimize dedicated landing pages turning more of your website visitors into customers. Unbounce is an AI-powered landing page builder with smart features that let you create beautiful, high-performing marketing campaigns in just a few minutes.
Commission: 20% monthly recurring on paid subscriptions for a lifetime of the customer
Cookie duration: 90 days
Perks:
Partners are able to offer their audience an exclusive 20% off discount for monthly plans and 35% off for new annual plans.
Dedicated affiliate account manager for the launch and optimization of new affiliate partnerships.
Large amounts of ready-to-post content and resources to launch.
Affiliate Page Link: Unbounce Affiliate Program
Creately


Creately is a visual collaboration platform that helps teams ideate, plan and execute all their work. Teams use Creately to brainstorm, visualize ideas, map processes, and plan and run projects on its smart visual canvas.
Their referral program offers partners a 20% commission for all users upgrading or signing up for a paid plan using the affiliate link. There are no limits to how much you can earn. It offers onboarding sessions, trial accounts, marketing collateral, and help with content creation for its partners.
Commission: 20% recurring commission
Cookie duration: 90 days
Perks: Onboarding sessions, trial accounts, and marketing collateral.
Affiliate Page Link: Creately Affiliate Program
What is SaaS affiliate marketing?
SaaS affiliate marketing is a type of advertising where a brand compensates third-party content creators for directing traffic and leads to its products or services.
A digital publisher, who could be an influencer with a well-known YouTube channel, a blogger, a podcaster, or a website owner, endorses a product or service and earns a commission based on the sales or leads that the advertising generates.
Affiliate marketing is a valuable strategy for businesses to expand their reach by partnering with creators who already have an established audience. This billion-dollar industry operates in both B2C and B2B spaces and offers a high return on investment as it allows companies to outsource marketing and selling to affiliate partners.
How do affiliate programs work?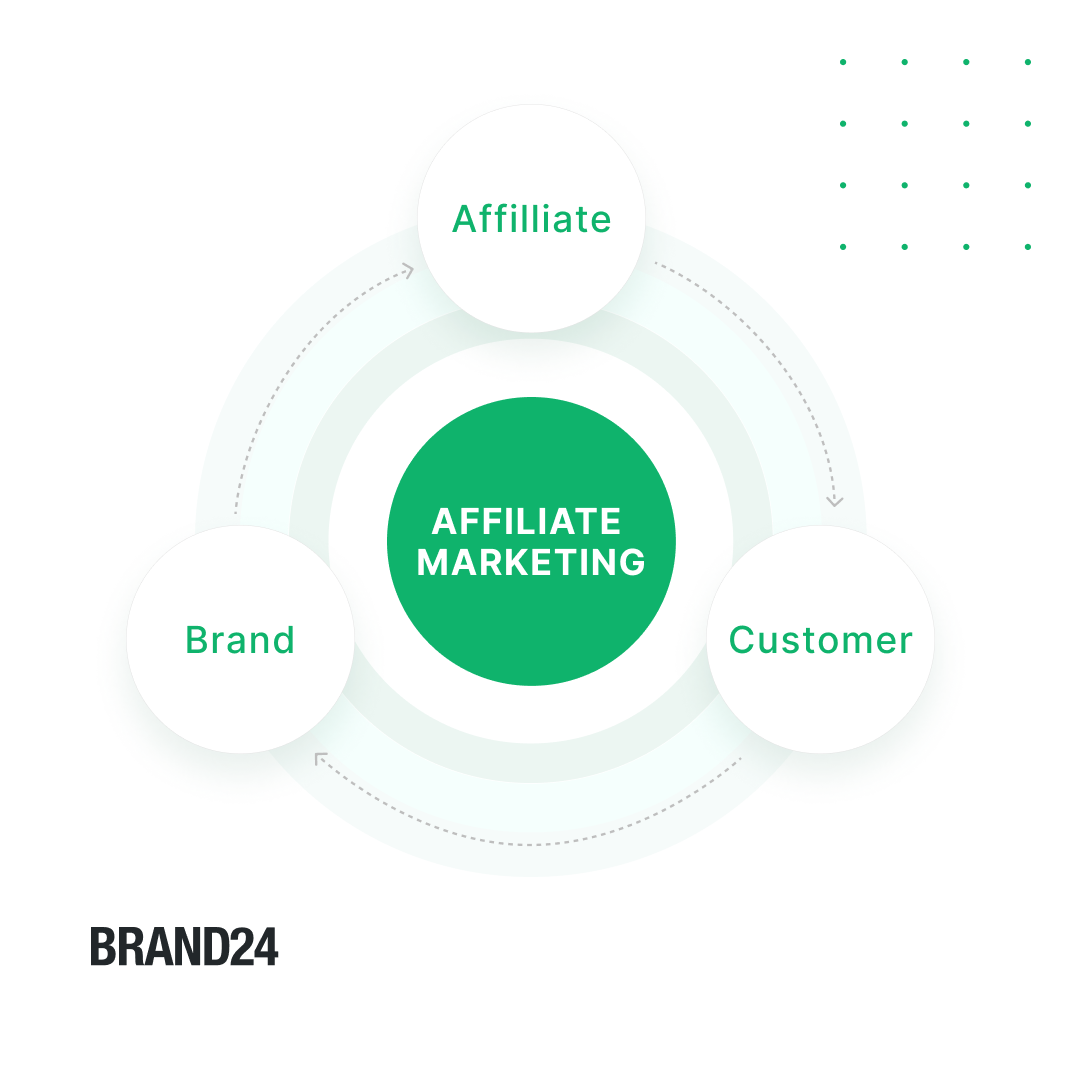 1. The affiliate promotes SaaS products
Interested individuals or entities sign up for the affiliate program. They receive unique tracking links, also known as referral links. These links have a specific identifier that tracks the traffic and affiliate sales.
Affiliates use their various marketing channels, such as websites, blogs, social media, email lists, or advertising, to promote the merchant's products or services. They incorporate their unique affiliate link into their promotional content.
2. Customer buys the product
When potential customers click on a referral link, they are redirected to the merchant's website. The tracking code embedded in the link enables the merchant to track the referral source and associate it with the respective affiliate.
3. The brand pays fees to affiliate
If the referred customer signs up or makes a purchase, it is considered a conversion. The merchant attributes the conversion to the corresponding affiliate marketer and calculates the commission based on the agreed-upon terms.
Depending on the program's payout structure, commissions are typically paid out to affiliates on a regular basis, such as monthly or quarterly.
What are the most common types of SaaS affiliate marketers?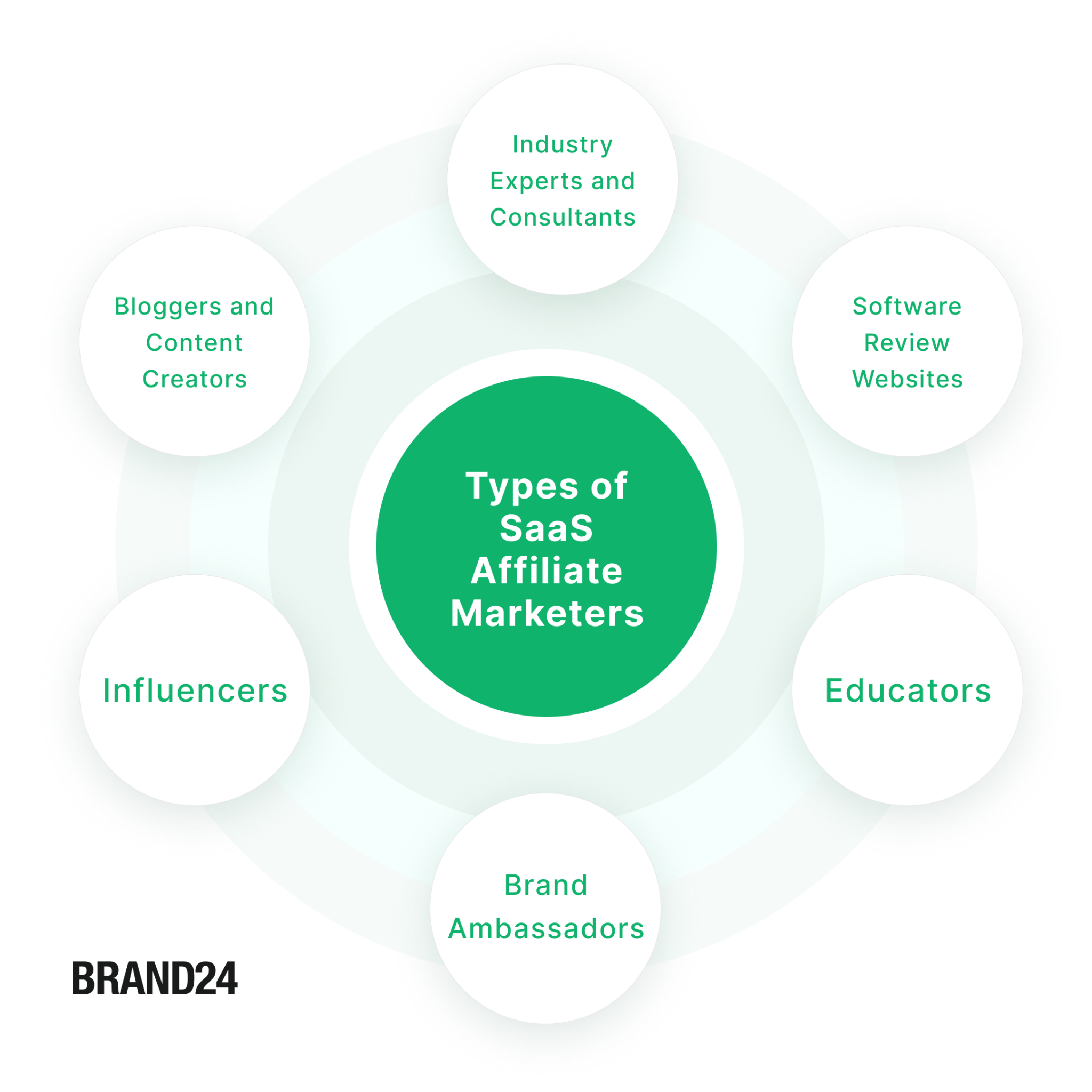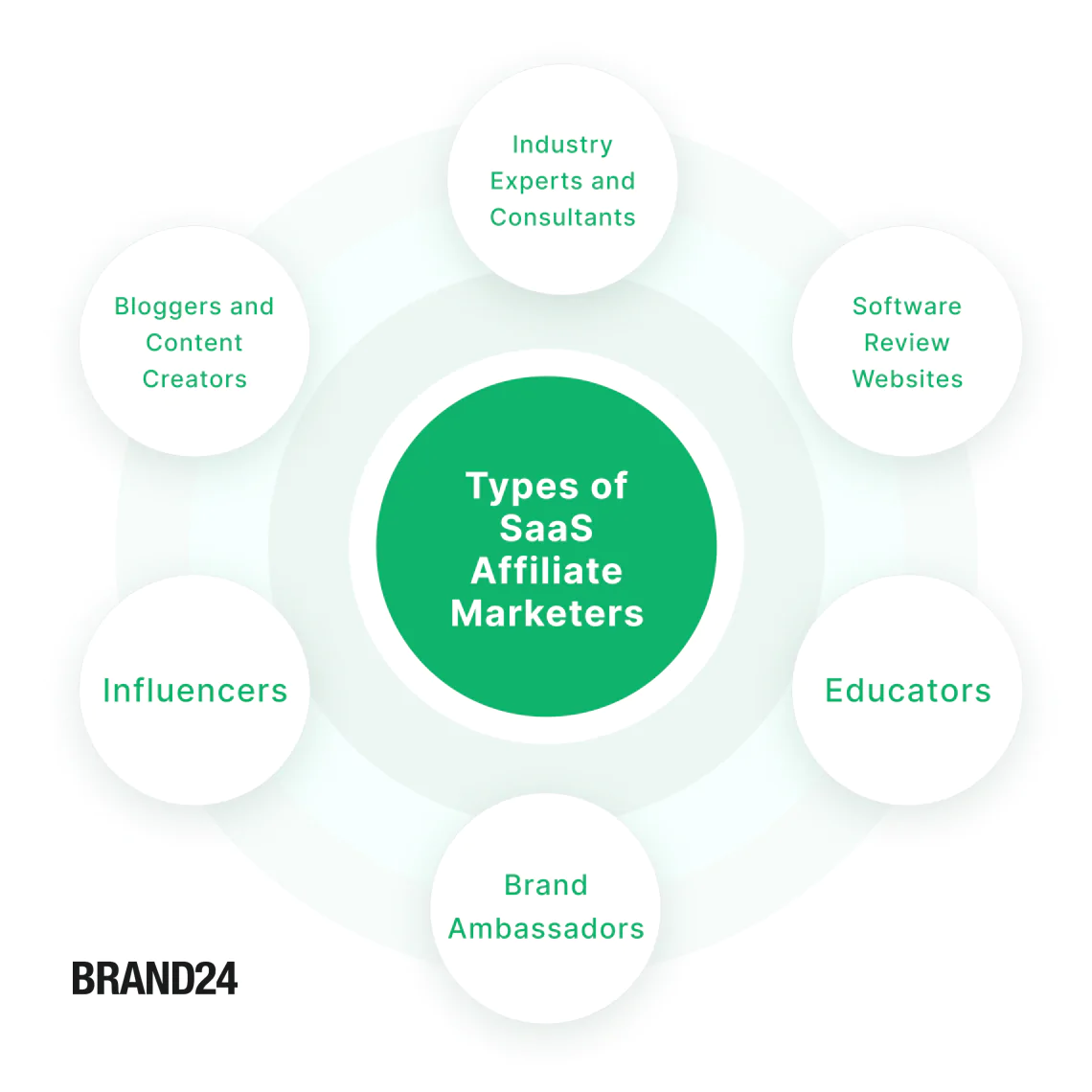 Bloggers and Content Creators
These individuals operate blogs or websites where they create valuable content related to the SaaS industry. They promote SaaS companies through reviews, tutorials, or comparisons.
Influencers
These are individuals with large followings on various social media platforms like Instagram, YouTube, or TikTok. They can help a SaaS company reach more people and generate more leads by promoting their products or services to their followers.
Software Review Websites
There are dedicated websites that review and compare different SaaS products. These websites generate passive income by including affiliate links in their reviews, directing successful referrals to the SaaS product's website.
Coupon and Deal Websites
These platforms focus on sharing exclusive discounts, coupons, or limited-time deals for various products. SaaS affiliates earn commissions when visitors use their affiliate link to make a purchase while also providing value to their audience through cost savings.
Brand Ambassadors
Even employees can be good ambassadors for a software company — especially larger software enterprises.
Educators
These partners produce valuable educational content, such as online courses and tutorials, that help users maximize the benefits of the software or provide an introduction to the broader concept in which the tool is used.
Industry Experts and Consultants
Professionals with expertise in specific industries or fields often promote marketing tools that are relevant to their audience. They may recommend SaaS companies to their clients or followers, either through direct referrals or by incorporating affiliate links in their recommendations or marketing materials.
What are the benefits of joining a SaaS affiliate program?
Joining a SaaS affiliate program can be a mutually beneficial arrangement, offering a range of advantages for both affiliates and SaaS providers. In this paragraph, we will explore the various benefits that come with being part of a SaaS affiliate program, from lucrative earning potential to access to cutting-edge products and services.
Lucrative Revenue Streams
One of the primary advantages of participating in a SaaS affiliate program is the potential to generate substantial passive income. As an affiliate, you earn a commission for every successful referral you make.
Since SaaS products often have subscription models, you can enjoy recurring commission payments for as long as your referrals remain subscribed. With the right marketing strategies and a sizable customer base, your earnings can grow exponentially over time, providing a steady and reliable income stream.
Minimal Investment, Maximum Returns
Unlike traditional businesses that require significant capital investment, joining a SaaS affiliate program typically involves minimal upfront costs. Most affiliate programs are free to join, allowing you to start promoting products immediately.
Additionally, you don't have to worry about product development, customer support, or infrastructure management. The SaaS vendor takes care of these aspects, enabling you to focus solely on marketing and driving sales. This low-risk, high-reward scenario allows you to leverage your existing network and resources to generate income without substantial financial risk.
Diverse Product Offerings
SaaS affiliate marketing offers a wide range of products and services across various industries and niches. Whether you have a technology-focused audience or cater to specific sectors like e-commerce, email marketing, project management, or customer relationship management, there is likely a SaaS product that aligns with your audience's needs.
This diversity enables you to select products that resonate with your target audience, enhancing your chances of success and maximizing your earning potential.
Flexibility and Scalability
Affiliate marketing, in general, provides unparalleled flexibility. You can work from anywhere in the world and set your own schedule. Whether you're a digital marketing specialist, a blogger, a social media influencer, or even a student looking to earn extra income, the best affiliate programs can accommodate your unique circumstances.
Furthermore, the scalability of many affiliate programs allows you to expand your efforts and reach a broader audience without incurring additional overhead costs. As your marketing skills and affiliate networks grow, so does your potential for higher earnings.
Pointers to look for while picking an affiliate marketing program
When it comes to affiliate marketing, partnering with the right Software as a Service (SaaS) company can make a significant difference in your success as an affiliate marketer. SaaS products have gained immense popularity due to their ability to solve specific business needs efficiently. As an affiliate, promoting SaaS products can be a lucrative opportunity to earn commissions while providing value to your audience.
However, with the plethora of SaaS affiliate programs available, it's essential to carefully evaluate and select the right one that aligns with your target audience, suits your niche, and offers a fair and competitive compensation structure. To help you navigate this process, there are several crucial pointers to consider when picking a SaaS affiliate program.
In addition to relevance, here are some of the crucial factors to consider when choosing an affiliate program:
Tracking and Analytics
It is important to confirm that the affiliate program you choose has dependable tracking and analytics systems established. By doing so, you can keep track of your performance, monitor clicks and conversions, and adjust your marketing strategies for better results.
High Commission Rates
Commission rates vary among different merchants. In the SaaS industry, the typical commission rate is around 20%, with potential variations based on subscription length. While commission rates are not the sole factor, starting with a high rate is advantageous. Affiliate marketing requires time and effort, so a low commission rate may not be worth your investment.
Long Cookie Lifespan
Cookies play a role in tracking user actions and attributing commissions. As an affiliate marketer, pay attention to the cookie lifespan offered by the SaaS affiliate programs. A longer duration benefits you as an affiliate, allowing for more conversion opportunities. Avoid programs with cookie durations of less than 30 days.
Good Brand Recognition
Consider the brand recognition and reputation of the merchant company you plan to partner with. Evaluate factors such as the number of customers and revenue scale, customer testimonials, and social media presence. A recognized brand with a good reputation indicates a reliable and trustworthy affiliate program.
Vendor Transparency
Trust and communication are essential in a successful working relationship. Ensure that the affiliate program merchant is transparent with its affiliates. Look for clear affiliate program policies, commission calculation methods, and dedicated affiliate support. Lack of transparency can lead to future issues, so choosing a program that provides clarity from the start is advisable.
Access to Resources and Support
Top SaaS affiliate programs provide their affiliates with a wide array of marketing resources and support. This often includes promotional materials, such as banners, landing pages, and email templates, as well as access to analytics tools and performance reports.
Additionally, many affiliate program offers dedicated affiliate manager who provides guidance, advice, and strategies to optimize your marketing efforts. These resources and support systems empower affiliates to maximize their promotional activities and increase their chances of success.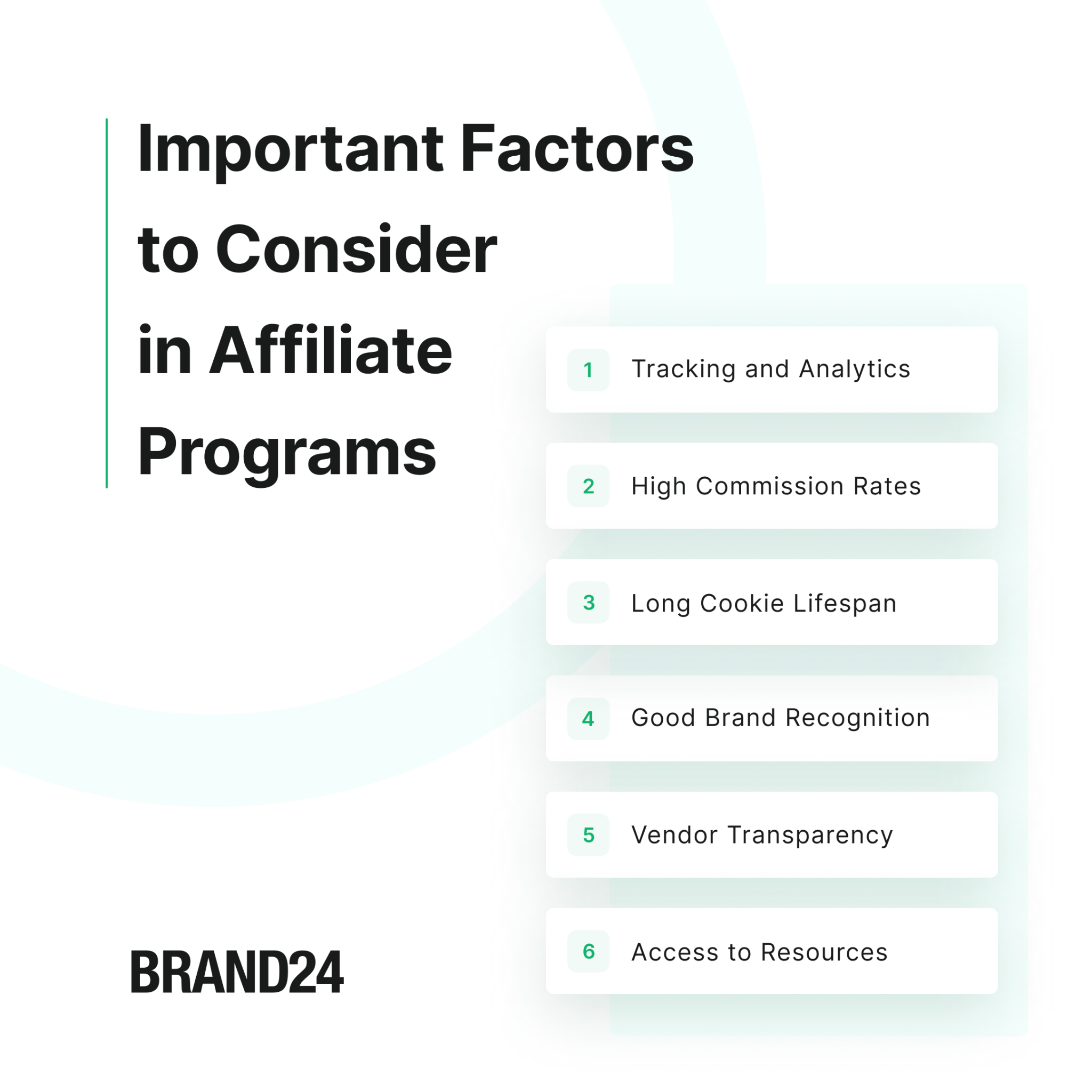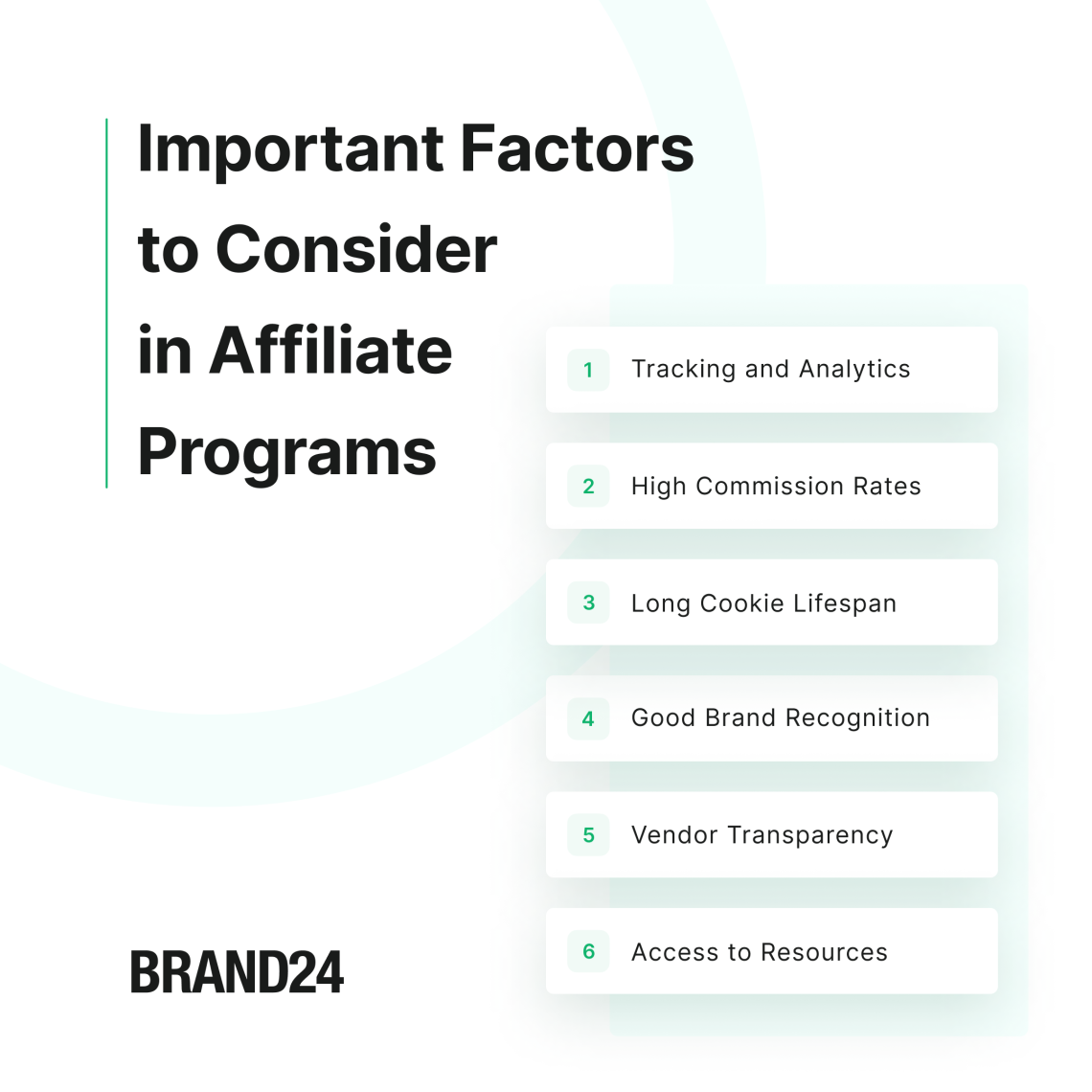 Tips for promoting SaaS products
As an affiliate marketer, you're surely looking for ways to promote SaaS products effectively.
To assist you in your journey, I have gathered tips and insights from top industry experts.
By implementing these useful recommendations, you can enhance your promotional techniques and boost your income.
Andrea Swain, Channel Partnerships at Xero:
When promoting any SaaS product, it's important to get to know the target audience and tailor your marketing efforts to their needs and preferences. This may involve using different channels, from social media to email marketing, to reach your audience where they are most active.
Additionally, leveraging influencer marketing, attending industry events, and partnering with other organizations can help expand your reach and build credibility!
Tanner Braden, Partner Marketing Specialist at Lucid:
Don't be the affiliate that recommends ketchup to a person with ice cream, and caramel to someone with a hamburger. The most successful affiliate marketers all do one thing really well: connecting people with products that solve their problems. You need to truly understand what problems your audience has. Then you need to identify products that solve those problems, and recommend those products to the right people.
Kyle Byers, Director of Organic Search at Semrush:
Creating amazing content that speaks to your audience is crucial. Keyword research tools (like Keyword Overview) will help you uncover the most common topics in a specific industry and find out if a keyword has enough search volume to attract significant traffic to your webpage. Make sure all content you create is relevant (answers the needs of your audience), useful (makes their lives easier or solves a problem), and engaging (people are eager to view it and share it with others).
SEO Writing Assistant is one easy way to help optimize your content based on your target keywords, audience, and general good writing practices. Then, once you've created and shared your content, you should continually update and optimize it.
The competitive landscape, trends, and audience needs all change over time. Plus, almost all content becomes outdated eventually. So you need to review and update your content regularly. And finally, don't be afraid to try new things: change your CTAs, add new information, or even refocus the main angle of the content to better address your audience's needs.
Paul Bukhovko, Sr. Affiliate Marketing Director at airSlate:
Don't be afraid to get deep into details when creating content around SaaS products (blog posts, video reviews, tutorials, guides, and everything in between). Very often, users are looking for a solution to a very specific use case, and if you help them to navigate through that, you will gain a loyal reader/follower and become a trusted source of information/recommendations for them.
For example, I used to work with an affiliate who was producing 1 hour + review videos while everyone else was creating short clips. That affiliate was extremely successful, while most other affiliates who tried YouTube failed. Also, it will help you with a long-tail keywords strategy where competition is not as fierce and is easier to rank high in search engines.
Erica Grodin, Senior Affiliate Marketing Manager at Triple Whale:
Personal experience is crucial in recommending software to your audience. Share your thoughts, usage tips, and benefits to gain trust and maximize referrals. Don't hold back—speak your mind and watch your influence grow!
Bernardo Castañeda, Senior Manager, Affiliates and Partnerships at PandaDoc
Speak from experience and show that you understand/care. Our best partners drink their own champagne and have used our products to solve a meaningful problems for their firms. They understand the situation that their audience is going through, the problems they face, and how these may be impacting their business in a negative way and have seen the "mountain top" and can speak to what its like having these problems solved.
Milinda Ubeysinghe, Creately Partnerships at Creately:
The best way to promote a SaaS is to understand how their audience can use the product. For this, it's important for partners to get themselves educated about the product and its benefits. Using the product themselves can give better insights to the product and its use cases. With this knowledge a partner can match the product benefits to the needs of the audience.
To create engagement, the partners can share information about how the product solves a problem for the audience. Promote exciting content about the product on the channels used to create interest.
Ross Vercoe, Affiliate Program Coordinator at Surfer:
Affiliate marketers should customize their offering to their audience. Don't just repeat generic marketing speak copied from the SaaS product's website; understand and communicate the value propositions that their audience will care most about.
Dawid Adamczewski, Partner Program Specialist at Woodpecker:
We're not trying to reinvent the wheel. We try to convey the same approach to our partners in terms of how you can successfully promote our tool and find new customers. Most of all, an individual approach is important, finding customers who will understand the use of the tool and be satisfied with the results.
Because it is the value we deliver that determines whether a customer stays with us for longer or not. In addition, apart from a good customer fit, it is crucial to show the complementarity of our tool in combination with others. Especially in a world where there are hundreds of SaaS tools, creating a whole process that solves customers problems is key to success.
Conclusion
Affiliate programs are a fantastic way to earn money regarding SaaS products and services. As the best SaaS affiliate programs continue to expand, getting involved in this topic can be highly lucrative. Being aware of the different types of affiliates is also crucial for maximizing profits with an affiliate program.
With the help of top industry experts' tips for promoting SaaS-related products, you have all you need to start making serious money as a SaaS affiliate marketer. The list provided in this blog has some of the best SaaS companies and their offerings—so why don't you check them out now?
And if this interests you, why not try your hand at Brand24's competitive and reliable affiliate program? Join today and start earning!