Influencers are definitely arousing great interest, not only among their followers but also among marketers themselves. We can read many successful case studies about their effectiveness in cooperation with brands. Can you also benefit from it? Of course, you can! All you need to do is to choose the right people for the job. So how to identify influencers for your brand?
Nowadays, it's tough to run effective social media campaigns without engaging relevant influencers. In the e-commerce business, where broad reach is essential for high profits, they arrive as game-changers.
Imagine the situation, you're sending a package with your products to an influential social media personality. The influencer presents the unboxing on their Instagram, TikTok, and other profiles.
It's one of the easiest ways to reach a new audience.
A new audience that, let's be honest, is not easily accessible for brands because companys' profiles have tiny organic reach nowadays.
Working with influencers is advertising that will boost your online presence, raise brand awareness, reach brand new audiences, acquire backlinks, and, most importantly, generate leads and sales.
To tap into influencer marketing, you need to know with whom work.
In this article, I present a few valuable tips that will show you that finding appropriate influencers it's not so difficult as it might appear.
Here's our itinerary for today:
Before you read: perhaps you will be interested in our report on Top 100 Marketing Influencers.
Who is an influencer?
An influencer is an online personality who has authority within a given niche.
An influencer usually has a dedicated following, interacting with his or her posts, and trusting their recommendations.
An influencer could be a:
Blogger
Social media star
Youtuber
Gamer
Lifestyle brand
Expert
Celebrity
As I mentioned before, an influencer does not need a huge audience to be able to reach your target group. In many cases, smaller influencers (for example micro-influencers) are perceived as a more reliable source of information than big names.
The benefits of cooperation with influencers:
Increase brand awareness
Reach brand new audiences
Increase the number of followers on your social media channels
Get backlinks to your website
Increase the value of earned media
Generate new leads and boost sales
And, as a bonus to all these perks, you will get an endorsement from a personality his or her audience trusts.
Brand24 is a tool that lists the top and most active influencers in your business niche.
What is influencer marketing?
Influencer marketing is a form of marketing where a brand uses an influencer's authority to promote its product or service.
Influencer campaigns are a partnership between a brand and an online personality. There are numerous ways of how influencers can boost brands' visibility, for example:
Sharing content prepared by the brand and leading their followers to the brand's website or social media accounts
Being brand ambassadors and showing the benefits of a product or service
Preparing their content. Influencers can write or shoot a video on their own promoting the brand.
How to find social media influencers for influencer marketing campaigns?
There are 4 proven and simple ways to find the right influencers for your marketing campaigns. Some of them are for free, while some require investing money.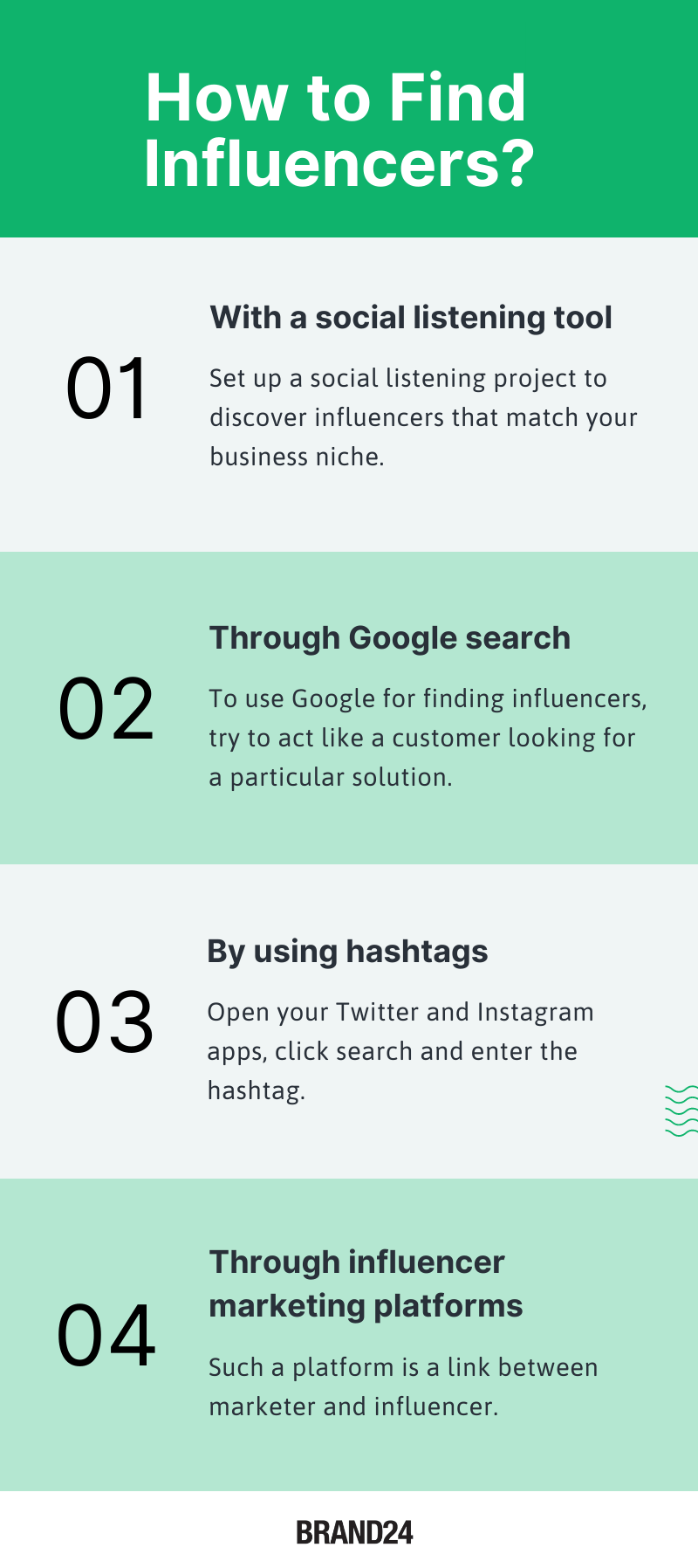 Now, let's dive into 5 tips on how to find influencers.
01 Find influencers with a social listening tool
There is a chance that influential people are already talking about your solution, product, or service.
Your job is to find those people. How you can do that? You'll need a high-quality social listening tool.
Now, let me show you how to find influencers using such software. I will base my analysis on Brand24, one of the most reliable and affordable tools on the market.
First, start with creating a social listening project.
In the project creation wizard, enter the keywords you would like to track.
The keywords can be:
The name of your company
Your branded hashtag
Your campaign-specific hashtag
The name of your CEO or another highly recognizable team member
A term specific to your industry niche
Once you create a project, the media monitoring tool will start gathering all publicly available mentions containing your keywords.
Every result is then analyzed, and you can find the most insightful data in the Analysis tab.
Let's start with Top public profiles and the Most active public profiles.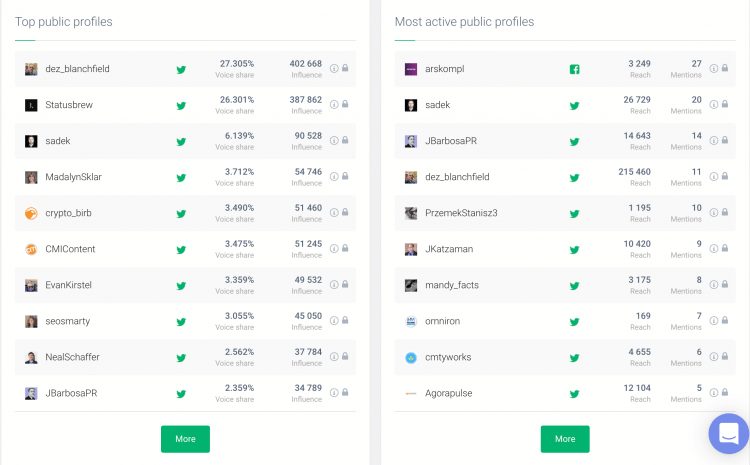 Top public profiles list all the social media public profiles talking about your brand. The list is accompanied by some useful metrics: the share of voice and influence.
The share of voice measures what part of the whole discussion was started by a given social media profile. The higher the number, the more influence the person behind the profile has.
Influence is the estimated number of views generated by the selected author containing the monitored phrase.
The bigger the influence number, the more people given influencer can reach.
You can also derive a lot of useful information from the Most active public profiles.
This section is especially important if you are looking for micro-influencers.
Micro-influencers usually do not have a massive following, but they have a good relationship with their followers. They have authority, and their followers trust their recommendations and opinions.
For many companies, cooperating with a smaller influencer will be a better solution. You will be able to reach the right audience, at the right channels, and with a message crafted for them.
These two tables will show the data related to social media influencers.
Since Brand24 collects data from the whole Internet, you are also able to find other reliable sources. To help you with the task, we prepared a wide range of filters you can find in the upper right corner of the dashboard.
You can filter mentions according to:
Major social media sites (Twitter, Instagram, Facebook)
News
Videos (including YouTube)
Podcasts
Forums
Blogs
Web
If you want to further narrow down the search, you can filter the results by a specific domain.
Imagine you want to run an influencer marketing campaign on carefully selected YouTube channels.
You have to filter the results to see only videos, either by domain or use the videos filter.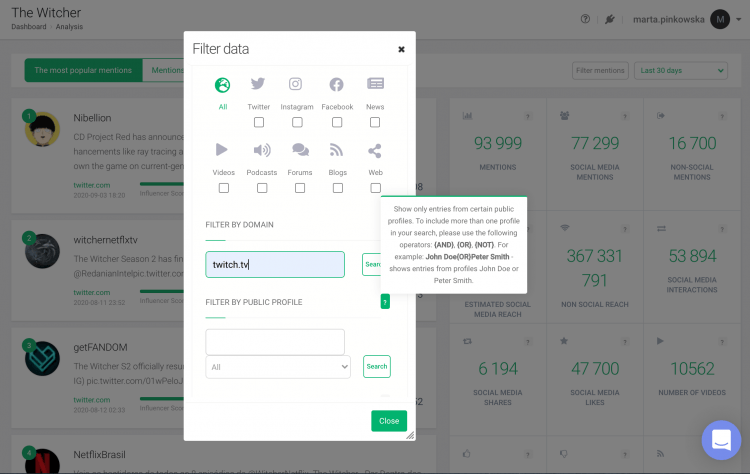 The top public profiles will show the top YouTubers talking about your brand, product, or service.
You can also take a closer look at specific YouTube mentions. On the top of the page, you will find a tab Mentions from the Most popular public profiles.
This method applies to all sources we monitor, and that includes Twitch.tv.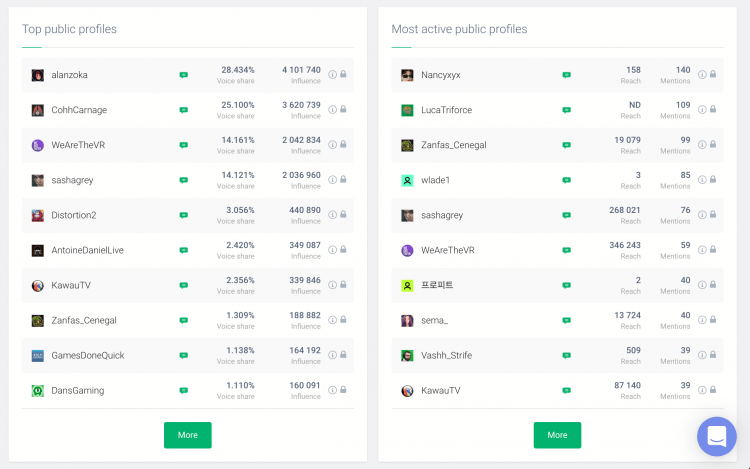 What are the benefits of using Brand24 for finding influencers?
The process is automated, and apart from the list of people you can work with, you also get metrics you can base your decisions upon.
Set up Brand24, find the right influencers, and grow your brand awareness.
Check: Influencer Marketing: Tools to Find Influencers
02 Google search to find influencers
In case you don't want to invest in a social listening tool yet, you can try using Google search. You can still find the right influencers to boost your business that way.
The process will take much more of your time.
To use Google for finding influencers, try to act like a customer looking for a particular solution.
So, if you want to find out about a new game release, a review of a book, or which foundation people recommend, what would you do?
I would ask the question online and look for some solid responses. I would read the detailed reviews or watch a YouTube channel.
You can find influencers in the same way. The process has one substantial advantage — it is free of charge.
The number of drawbacks is, unfortunately, much higher.
For starters, the process is much more resource-consuming. You have to manually look for influencers, assess their online activity, and following.
Secondly, an automated process will provide you with metrics you can track. And tracking applies to the whole process of working with an influencer. You can assess the metrics before starting the campaign, during, and after it has ended.
03 Find influencers by using hashtags
Hashtags make social media content searchable. Influencers use them to reach the target audience. You can use them to reach potential influencers to work with.
I am sure that your relevant influencers are using hashtags. You need to know what hashtags are trending right now across social media platforms and track them.
Twitter and Instagram influencers are known for their willingness to use hashtags. So if you are thinking about starting an influencer campaign across those platforms, hashtags will be helpful.
How to do that? Open your Twitter and Instagram apps, click search and enter the hashtag.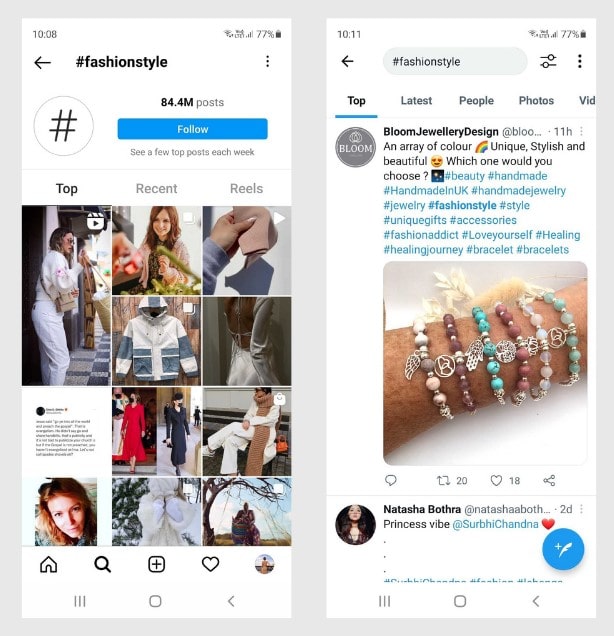 Here's how you can filter the hashtags:
On Instagram, you can search hashtags by top, recent, and reels.
On Twitter, you can search by top, latest, people, photos, videos, and by location (anywhere or near you).
You may also be interested in: Twitter Influencers: How to Find Them + benchmarks
Unfortunately, hashtags do not work well on Facebook. Users don't like to use them on this social media platform.
Looking for influencers by hashtags can be effective, but it will take some time. You will have to check potential influencers manually.
Use the Brand24 tool to find the right influencers to work with.
04 Find influencers through influencer marketing platforms and agencies
To make influencer marketing much easier, you can benefit from influencer platforms and agencies. It's an excellent option for companies with big budgets that want to run broad influencer campaigns.
Such a platform is a link between marketer and influencer.
With an influencer marketing platform you will be able to:
Find influencers that match your target audience
Analyze influencers reach and effectiveness
Forecast results
Manage multiple influencer campaigns
Measure the results
There are a lot of influencer platforms available, for example, Influencer Marketing Hub, Influencity, Upfluence, or Linqia.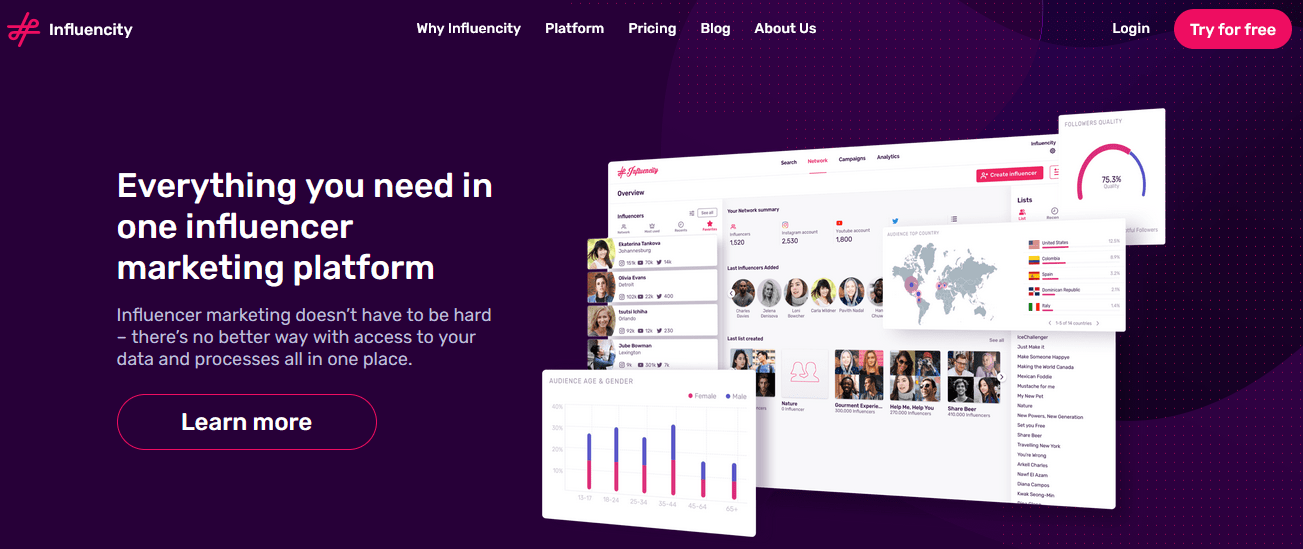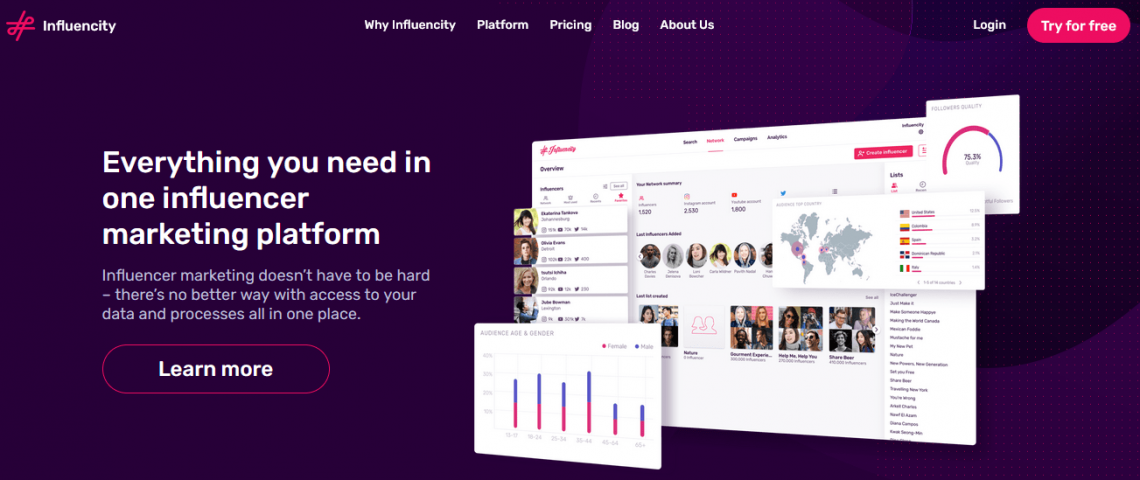 Furthermore, most of the highly popular influencers (celebrities) have their agencies and personal agents. To collaborate with such a person you will contact her/his agent.
The main disadvantage is the price. Agencies add an extra fee for mediation.
05 How to find Instagram influencers
Because Instagram is such a big social media, you can get lost in the explore tab and not find any relevant profiles. Here's a short guide on how to find Instagram influencers in your niche.
First of all, you should define a niche you want to explore – fashion, technology, food, cosmetics; there are thousands of them. And, frankly speaking, you probably know already what niche your brand is in.
Then, you can use the niche hashtag (for example, #technology) and type it in the Instagram search bar. It will show you the most popular posts with that hashtag. Simple as that – the most popular posts will most probably be the Instagram influencers.
The next step is to identify similar hashtags. This can be done manually – by doing the previous step and checking other hashtags the Instagramer used under their post. You can also use free tools. There's a lot to choose from. Repeat the previous step – just look under the most popular posts and check the Instagram profiles.
Finding Instagram influencers can also be done using paid influencer tools, which have more advanced features and analytics.
How to vet influencers?
The bad news is that influencers can try to cheat us.
Buying followers, artificially gaining likes, or using bots for better reach are some of the risks. Those unfair practices are especially common on Instagram. That's why you need to verify each influencer before starting the cooperation precisely. Otherwise, you'll lose money.
Before you start the process of finding the right influencer for your campaign, you need to define the goals. Here's how to identify influencers that might scam you.
What do you want to achieve?
All other decisions, for example, choosing the right influencer or measuring the results of your work, will be based on that decision.
The objectives of your campaign can include:
Building brand awareness
Creating brand identity
Reaching a new audience
Increase in engagement
Increase in sales
Building customer loyalty
Building backlinks to your website
Based on your goals, you can determine who do you want to work with, what type of campaign you will run, and how you will measure the results.
I devoted a whole section of this post to finding the right influencers, but I cannot stress enough how important this part of the process is.
Finding the right influencer can make or break your campaign. You need a person who has their audience's trust and is considered a reliable source of information.
Here I have for you some important rules:
Any influencer that works with your brand should have the same target audience — at least as a subset.
The image or online persona of the influencer should fit your brand personality.
Influencers should genuinely like your brand. You might not see this as a requirement, but trust me — influencers will be so much more inspired and create much better content if they truly appreciate your product or brand.
Always ask for actual statistics of influencer social media accounts.
Check the results of campaigns with other brands. Do you like how influencer presents products or services?
Evaluate whether reactions of the audience are from real people.
Check influencers in your niche
Sometimes you don't even have to look too far, and the influencers are at your fingertips. Start with people who you are already following. These may be the blog's authors, whom you have been reading for a long time, and they're considered an authority in their field of expertise.
Neal Schaffer is one such individual recognized throughout his industry for being able to help brands reach their goals through effective marketing strategies.
He's helped businesses in various ways, from paid services like consulting to free content on his blog covering everything about marketing strategy from A-Z!
His site is a perfect example of the power of personal branding. The content that comes with it is an excellent way of creating and promoting his self-image.
Such experts are the ideal people to collaborate with. Look for influencers who run personal brands in the areas that interest you, and you will surely benefit from these partnerships.
Focus on long term relationship
Influencer marketing is about building strong relationships. My advice is to make long-lasting friendships with your influencer to obtain optimal results.
Give them fair benefits and keep in contact even after the collaboration. Such a gesture will ensure the influencer you are a good partner to work with.
Influencers know each other. They talk about brands and share thoughts about past collaborations. And they might recommend you to other influential people. That's a great way to find new influencers.
What is the advantage of influencers?
Influencers have the power that no other source has. What power is it exactly?
Trust. They are trusted by their group of followers. Do you know how many people believe in traditional advertising? The indicators here go down as fast brutally as an avalanche. Influencers achieve success because of the trust they gain among the people they engage with. They are not perfect, they have their ups and downs – they are often very transparent. Thanks to that, the trust in what they say (and recommend) is really high.
Approachability. This feature cannot be overestimated. A Youtuber shows a trip to a known event? No big deal, we can watch it on the official channel or website. But what we can't see there are all the details from behind the scenes, what the organization looks like, how to get to the place and whether it was even worth it. In their stories, an Instagrammer will not only post a retouched photo of the last meeting with friends, but they will also show what they look like after waking up, how they got stuck in a traffic jam, and how they dealt with it. We have the feeling that although an influencer is a "star", it is also a normal human being with human challenges that we can sympathize with.
Accessibility. Being within our reach. We take a smartphone, a tablet, often a laptop, almost everywhere. All we need is to click on the application icon, enter the name of the blog, and just like that – we are connected. We have access to published content that is most often given in the most accessible form. Influencers are easy to watch, and always close to us – literally at our fingertips. You want it to be the same with your brand, right?
Creativity. Influencers create content that social media users want to consume willingly. Do you know a brand that wants to be cool, but in the end, it looks weird? I am sure you do. I know at least a few of them. Instagram influencers are an excellent example of creativity. Beautiful pictures and a sense of esthetic are essential to gain many followers on Instagram. Furthermore, they need to know how to engage the audience and speak freely in front of the camera. That's the profile of the influencer you want to collaborate with.
Set up the Brand24 tool and discover the right influencers to collaborate with.
It's time for you to find some influencers!
In this article, I presented 5 ways to find influencers. Some of them are for free and take more time. Some will require investing money but allow you to find relevant influencers quicker.
The decision is up to you and your budget. However, using an influencer marketing tool will help you a lot with identifying the right people in your niche.
In my opinion, the optimal solution is to use a social listening tool that shows influencers perfect for your business. Also, such a tool presents mentions about your brand. It is a great way to discover online personalities that already know your brand and talk about it. Getting in touch with them will be a piece of cake.
You see, it might happen that not every influencer will be interested in collaboration. It would be best if you were prepared for that. It seems that cooperation with those who already mentioned your products or services reduces the risk of rejection. Furthermore, you will not waste time on nonrelevant persons.
How to identify the most accurate influencers? They should have (between others) a common value and a proper reach to influence your audience.
It's not that easy task to find them but surely those tips I mentioned will guide you. I keep my fingers crossed for your upcoming influencer campaigns!
If you'd like to try Brand24 to find the right influencers, just sign up for a 14-day free trial.
HANDPICKED RELATED CONTENT