Social Media Monitoring for Event Promotion
May 30, 2019 ・ 5 min read
Event management is not an easy peasy lemon squeezy task, it's quite obvious. In most cases, it demands the engagement of a lot of people, extensive teams and months of preparations containing sleepless nights. However, all of this effort can be wasted if we won't take care of the proper event promotion.
In this text you'll get to know:
Let's go!
How to Manage Event Hashtags
Hashtags are a great way to increase your organic reach in Social Media. This is because hashtags are searchable and they're clickable on most popular social media platforms, especially on Twitter and Instagram.
People use hashtags to find the content they're interested in. That's why you should use both types of hashtags – dedicated and related thematically to the event.
Dedicated event hashtag – gathers all social media content, posts, and conversations in one place and helps in measuring content generated by attendees.
Thematically related to the event hashtags – will increase the chance that people who are looking for a content thematically related to your event will see your posts.
Moreover, dedicated event hashtag can give you much more profits. Here are some examples:
It helps with customer engagement during the event – People like to post what they do and where they are especially if there is something interesting to show.
It creates a consistent stream of user-generated content – Having a special event hashtag, attendees will generate content about your event and you'll be able to measure it and react on these posts what also tighten relations between you and your guests. It also makes this content consistent when all posts include one dedicated hashtag. And it's totally free, your guests do your job 🙂
It increases brand awareness – the more posts about your event, the bigger your brand awareness gets. You may ask your attendees to post a specific type of photos with the event hashtag if you want to present your event in some particular way.
It increases your social media reach – the more posts, the bigger reach 🙂
How to measure the hashtag effectiveness
Measuring social media results of event hashtags is very easy but it requires appropriate preparation.
First, create an account on Brand24. It's free for the first 14 days, then prices start at 49$ per month if you decide to stay with us 🙂
Second, try to create a hashtag which will be associated only with your event. It should be as unique as possible.
Third, type the dedicated event hashtag in the keywords tab during setting up the project. It will help our tool in collecting mentions containing the hashtag.
Having the data collected, type your event hashtag in search console in Mentions thread and then you'll see every mentions with the hashtag.


If you want to dive in the data, go to Analysis thread, then click on "Filter mentions" and type there your hashtag. Just like in the picture below: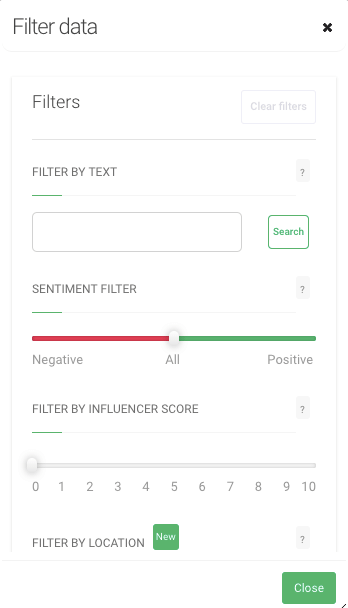 Now you can check for stats like:
number of all mentions containing the event hashtag,
social media reach,
social media interactions,
shares, likes, and comments,
how many comments are positive / negative.
How to Find social media influencers and speakers for your event
If you are managing an event focused on some branch, it will be interesting for attendees to arrange some lectures led by authorities in a particular industry. They may be influencers, popular authors, etc. Having media monitoring tools you can find them very quickly. Presence of that people may be also a part of the event promotion.
Another benefit of working with influencers is their social media reach. Thanks to their recommendations you can not only increase the attractiveness of your event but also reach a larger number of potentially interested attendees.
According research prepared by Tomson company, companies generate 6,50$ in revenue for each 1$ invested in influencer marketing on average.
Let's have a look at a quick guide on how to find speakers for your event:
First, create an account in Brand24.
Second, set up a project related to your event.
Tip: Include some phrases describing the industry like for example automotive, electronic music etc.
Third, having all the data collected, go to the Analysis tab and find the Influence of social media authors section. Here you have listed the most popular authors of mentions related to your keywords. If the figures are not that clear for you, here is an explanation:
Voice share – stands for what part of the whole discussion was generated by the selected author.
Influence – estimated number of views generated by the selected author containing selected phrases.
Voila! Here is the list of the most popular authors of mentions related to your keywords.
Learn more: If you want to learn more about finding the right influencers for your brand check the video below:
How to Create Post Event Report for Potential Investors
Coming to the conclusion, all of the data collected by our tool can serve you also for selling points while attracting investors and partners for your event.
One of our features – PDF reports allows you to produce a complete report containing a lot of data from your project.
In a few minutes, you are able to create a report, which contains inter alia:
the volume of mentions,
the volume of interactions,
media publications,
sentiment analysis,
social media reach,
quotes,
most popular mentions,
most influential profiles,
… and many more 🙂
What is also exciting about the reports is the fact that they're customizable. While creating PDF reports, you can choose what data your report will contain – just flip the switch next to the data point you want in your report.
Also you can add to your report more options like:
filters,
groups,
logo,
description,
accent color.
Learn more: If you want to know more about PDF reports read this article
HANDPICKED RELATED CONTENT
8 Fundamentals of Effective Event Management
A Complete Guide to Event Marketing: Before the Event [1]
Hashtag Marketing Tactics That Will Boost Your Business