2 Million Mentions Analyzed: The Top 100 Marketing Influencers Report is Here!
March 15, 2017 ・ 2 min read
What would the industry without influencers look like? Imagine there's no Gary Vaynerchuk with his Daily Vee Show. Imagine you don't spend your lunch reading Neil Patel's knowledge-packed articles.
The industry without their insights wouldn't be the same.
Influencers significantly contribute to the shape of the industry and our professional lives. They're trailblazers that spot, test and recommend tools and solutions that later on we implement in our businesses. They talk about dos and don'ts, make predictions for the future and, what's important, they are open to discussion. Thank God we have them!
Ladies and gentlemen, make some noise for
100 Top Marketing Influencers Report!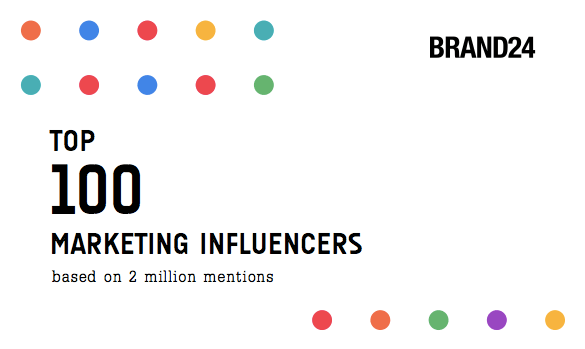 The Report
The report is based on solid numbers. It's our appreciation towards the most inspiring people of digital marketing. In includes all sorts of specialists, ranging from bloggers, strategists, content creators to CEOs. What connects them is a strong social media presence and great expertise of their niche.
Methodology
We used Brand24 to identify 100 influencers who drive the biggest engagement in social media. It was done by analyzing more than 1,923,272 mentions and 4,511,257 interactions over the period of 3 months.
The report contains two rankings: Top 100 Marketing Influencers 2017 and Top 30 Most Engaging Marketing Influencers. The first one was based on the number of mentions, while the second one was based on the number of interactions.
Using social media monitoring, we collected the data from social media, blogs, discussion forums, websites and other parts of the Web.
All the mentions and interactions generated a collective social media reach of 3,059,659,284.
What's In It For You?
the list of 100 most popular influencers based on the analysis of 2 million social media mentions
tools, tips & tricks influencers use to find and engage their audience
a source of inspiration for building your personal brand
Can't wait to see who's the top influencer? Get your free copy of the report below!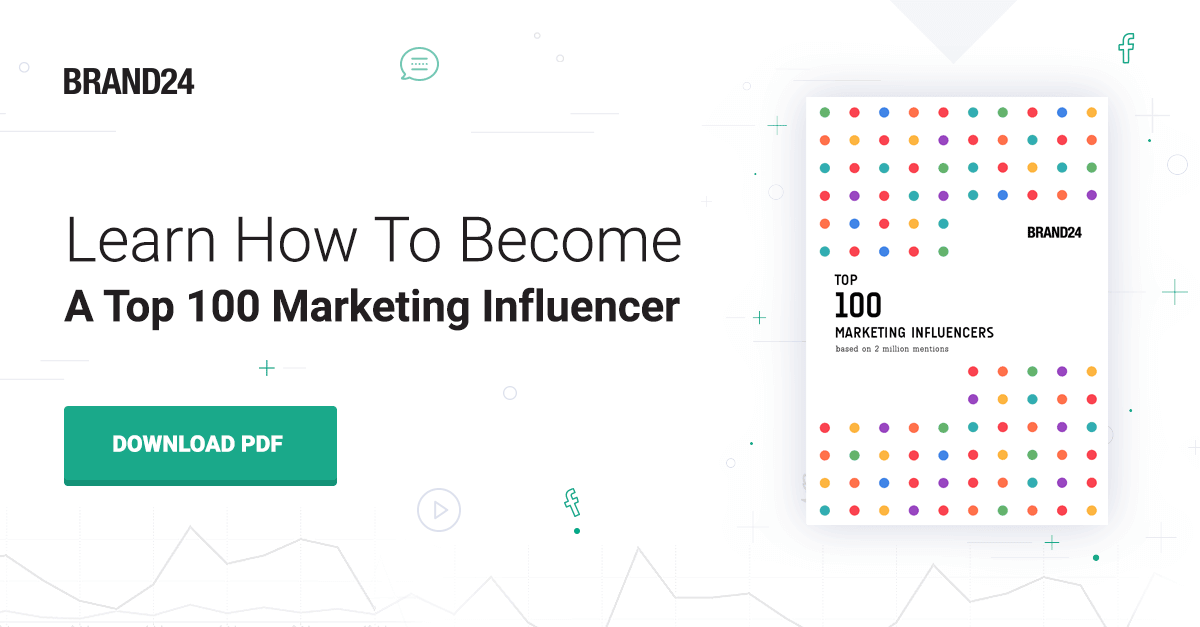 We'd appreciate you sharing it.