Why you should include customer reviews on your website?
August 31, 2018 ・ 9 min read
Ever wondered how to strengthen your company position on the market, build brand loyalty and boost sales? The answer is simple — customers review! If you need some more convincing and numerical proof, research by Pew Research confirmed the advantages of customer reviews and word of mouth marketing.
According to the study:
74% of Americans say it's important to read reviews posted online by others who have purchased the item;
Eight-in-ten Americans (82%) say they consult online ratings and reviews when buying something for the first time;
40% of Americans (roughly half of those under the age of 50) indicate that they nearly always turn to online reviews when buying something new;
Nearly half of Americans feel that customer reviews help "a lot" to make consumers feel confident about their purchase.
And we tend to buy more and more online. That's why online customer reviews if incorporated to your website well, are a powerful and influential marketing tool.
Here's what you will learn in this blog posts:
The benefits of customer reviews
There are many benefits of customer reviews, for example:
boosted trust in your company, product, or service
influencing the decision-making process
shortening the time to buy a product
improved SEO positioning
Does it sound attractive?
There are, however, a few tips and tricks you have to bear in mind.
Firs of all, customers reviews have to be authentic. Many companies have seen the benefits of customer reviews and try to get ahead in the game by buying fake reviews online. Copywriters offer to write glowing reviews for your product or service.
There's only one problem – fake customer reviews don't work.
Gaining your customer reviews organically will be much time-consuming, but, in the long-term, much more effective. People don't trust perfect reviews, because no one is perfect.
It's hard to distinguish a review made by a satisfied customer from a bought review, but it's not impossible. Just like your product or service, it won't be perfect. Reviews made by real clients will contain grammatical and spelling errors, suggestions, and negative opinions. The point is, real reviews will be written by real people, not bots or trained professionals.
How to include customer reviews on your website?
Before we get to more complicated matters, like how to get customer reviews or how to deal with negative reviews, let's deal with some technical issues first.
Mainly, how exactly do you include customer reviews on your website? I mean the real, authentic customer reviews left on various social media channels by real customers. Reviews that will strengthen brand loyalty and generate sales.
Well, thanks to the internet monitoring tool, Brand24, and live customer's testimonials, including your customer reviews on your website has never been easier.
First of all, you need to create a project. In the project creation wizard insert the keywords associated with your brand. Think about the name of your company, the name of your product or your branded hashtag.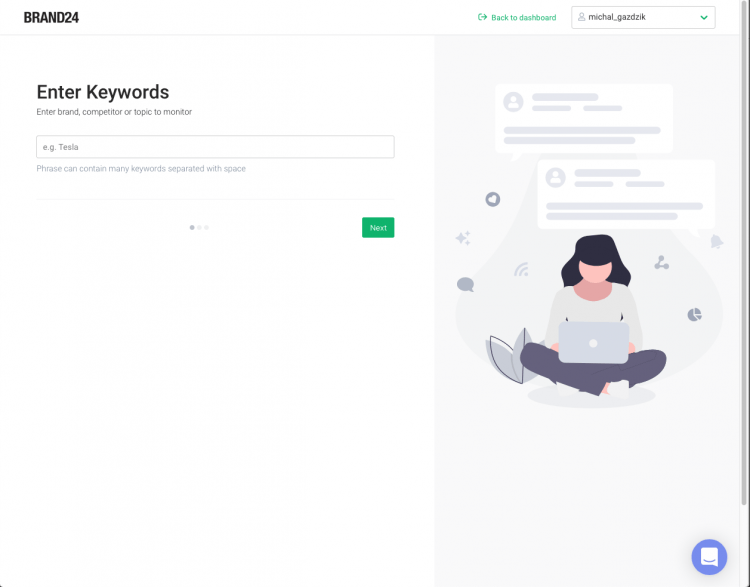 Brand24 will start gathering all the mentions from the internet that contain your keyword.
When you have enough mentions with positive reviews, tag them. Just click on the Group button at the bottom of the chosen mention. By choosing the customer reviews beforehand, you can control which reviews your clients will see.

In the menu on the left side, click on "Create a Widget".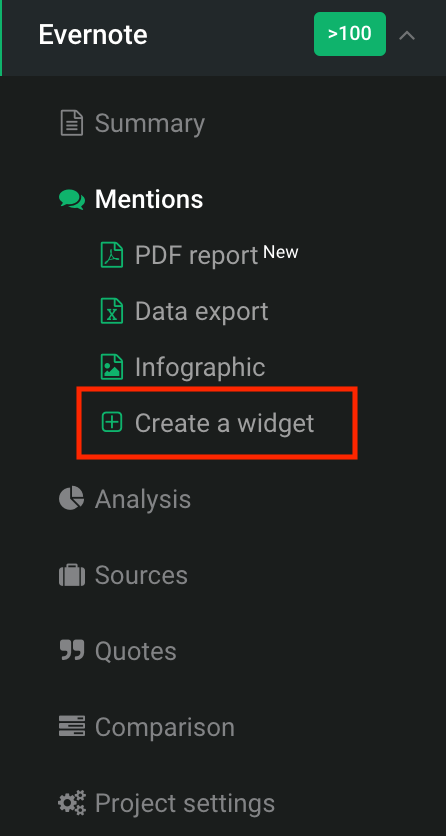 A drop-down menu will appear. Choose the project you want to display reviews from. You can order the mentions by the most popular or the most recent.
You can adjust Live Customer Testimonials by picking up a light or dark theme. Moreover, you can adjust:
Accent colour
Font colour
Background colour
Mention background colour
Mention border colour
Click Save changes.
The tool generated a code you have to paste onto your website, and voila! You can enjoy real customer reviews.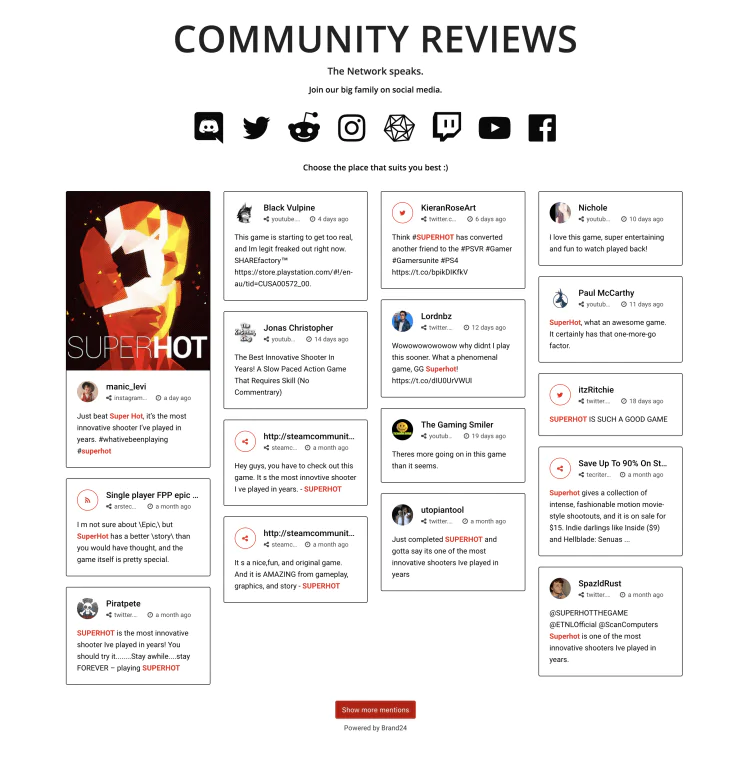 What's so special about customers reviews displayed as a widget? Apart from the ease of installation, all the reviews are authentic, and that can be easily checked. All a customer has to do is to click on the review, and he or she will be directed to the source of the mention, for example, Instagram or Twitter. It's as trustworthy as it gets.
Brand24 has parsers dedicated to Yelp and Tripadvisor, so you will certainly be able to display reviews from the most popular review sites.
Introduce customer reviews to your website! Brand24 offers a 14-day free trial, no credit card required.
How to get customer reviews?
Now the tricky part. How do you encourage your customers to leave a review?
The simple truth is that we don't have time to go on a website and click through forms to write a couple of sentences about a product we'd just purchased. But there are some tricks and tips you can implement to encourage users to leave a review.
Let's see what they are!
Make it easy
There aren't many more annoying things than having to click through 5 pages before you can leave a review. Most people probably leave the form before completing it.
That's why it's essential to make the process of leaving a review as easy as possible. While asking for a review include a link to your Facebook page, Instagram profile or dedicated form.
Keep the form short and minimise the number of clicks. And a sense of humour will be a great addition and might encourage people to fill in a questionnaire.
Find out where your customers are
Send an invitation to leave a customer review on a platform where your customers are hanging out. No matter how great your product is, no one is going to set up an account on a platform they're not acquainted with, only to leave a review
Try to use social media platforms cleverly. If you your customer to leave a review on Instagram, ask them to use a dedicated hashtag. If you want a review on a Facebook fan page, send a message via Messenger
Many social media platforms created their ecosystem. Incorporating the whole system into your review mechanism shows great technological savviness and will be appreciated by your clients. For example, if you want to encourage people to leave a review on Instagram, create a special hashtag they will use when they post a photo.
Ask at the right moment
The right moment to ask for customers review will depend on the product or service you offer. A ride-hailing app, like Uber or Lyft, will ask for a review right after a customer used a service.
For other products, like shoes, appliances or computer software, it's better to ask for a review after a couple of days or even weeks. Give your customer some time to get to know your product, enjoy it and form an opinion.
And while we're at asking, please don't spam your customers with emails and notification. You will achieve just the opposite effect and discourage your clients to leave a review.
Give something in return
Creating incentives to leave a review is one of the most powerful and effective tactics you can use. Giving your customers a discount code, gift card or reimbursing the price of shipment costs will not only encourage them to leave a review but also show your customers that you value their time and effort.
Is it possible to automate the feedback acquisition process?
As we mentioned above, obtaining reviews is a time-consuming process, so it is worth using special tools that not only automate the process of gathering reviews, but also help manage brand reputation.
One such tool is Rating Captain, which is an application that sends invitations to your clients via e-mail, text message or pop-up. The application will also notify you about each new review in services such as Google, Facebook, TripAdvisor, Yelp, etc.
An interesting functionality of the mentioned tool is automation feedback, i.e. the possibility of setting up automatic responses to the feedback left by your customers. In such a message you can apologize or thank the client and give him a voucher for future purchases. You can also inform that you are working on solving the situation. This way, you won't leave the customer without a response. What's more, you will show them that you have already taken action to fix the mistake. Have you heard of the paradox of negative feedback? Well, it's that solving a customer's problem results in more customer loyalty than a customer who went through the buying process unscathed*. Source: Shopify.com
How to respond to customer reviews?
Responding to customer reviews is a cherry on the top of your customer service. It's not necessary, but it's a nice addition to the overall customer experience you're offering.
The task seems overwhelming at first, especially if your company is popular on social media and you have to reply to hundreds or thousands of social mentions from different social media channels. A social media listening tool will help you manage all comments
When you log into the Brand24 panel, the tab with all the mentions will display automatically. You can filter them according to:
The social media channel you're interested in;
The sentiment of a mention (positive or negative);
If you want to reply to a comment, simply click on "engage" on the bottom left corner of a mention.
When it comes to responding to online comments, time is of the essence. First of all, the faster you respond, the bigger chance you get of containing an online crisis. Secondly, your clients will feel that they opinion matters to you.
We know how important it is to react swiftly, that's why Brand24 offers three types of notifications.
An email storm alert. Every time there's an unexpected rise in the number of mentions you will receive a dedicated email.
Slack integration. If you connect your Brand24 project with a Slack channel, you will see a banner every time there's a new mention.
In-app notification. Brand24 offers a mobile app for Android and iOS. You can have all the mentions about your company at the tip of your fingers.
Try it yourself! Brand24 offers a 14-day free trial, no credit card required.
Apart from responding on time, there are also other factors that contribute to the successful interactions with your clients.
The golden rule of community management is to never insult your customer, no matter how rude he or she is. Try to take the dispute into a private channel, and get to the bottom of the issue. If the problem wasn't your fault, you don't have to apologize.
We all like to feel unique, that's why it's important to respond to every message with a one-of-a-kind statement. It takes much more time and effort than just generic "thank you" or an emoji.
Set up rules and guidelines in the beginning. Remove all comments that use hate language, religious or racial inflammatory statements. Review sites will do it on their own, but if you have a review section on your website, make sure such statement don't appear on your site.
Customer reviews in a nutshell
Customer reviews will add social proof to your website. Your potential clients will know that you're a trusted brand. Moreover, customer feedback will give you insights into how you could improve your product and the overall buying experience. That's an opportunity you can't miss.
HANDPICKED RELATE READ