20 Powerful Online Business Tools To Keep Your Company On Track
March 27, 2022 ・ 10 min read
Brand24 is a distributed team. We are spread across a few major cities in Poland, yet the results we provide as a team are amazing. We do so many things online and remotely. It turned out that most of the credits for these achievements go to the extraordinary online business tools we use. We are constantly developing our toolbox with a simple aim to work even more effectively and, most importantly, to make sure our customers get our services the best experience possible.
Below you can find a list of some online tools that we have tested and incorporated into our powerful arsenal.
Don't hold back if you are not a member of a fully distributed team. You might still find a tool that will save you a lot of time and money in your daily business operations.
20 best online business tools
Feel more than welcome to explore the list if you represent a remote team. And if there is something you would like to add to the list, don't think twice! Good things are worth sharing. The order of the list is purely circumstantial.
The list of helpful tools:
01 Asana
Asana is a brilliant project management tool to make your project management enjoyable and straightforward.
The best way to describe this tool is by comparing it to a whiteboard filled with Post-it notes. Each Post-it note represents different tasks involved in your project. The system of online notes creates a space for an individual or teams to track a project, collaborate, or contribute where they feel the most useful or needed.
Board is one of the task organization options. You can also use a list view or timeline. With Asana, you will stay organized and connected with other team members.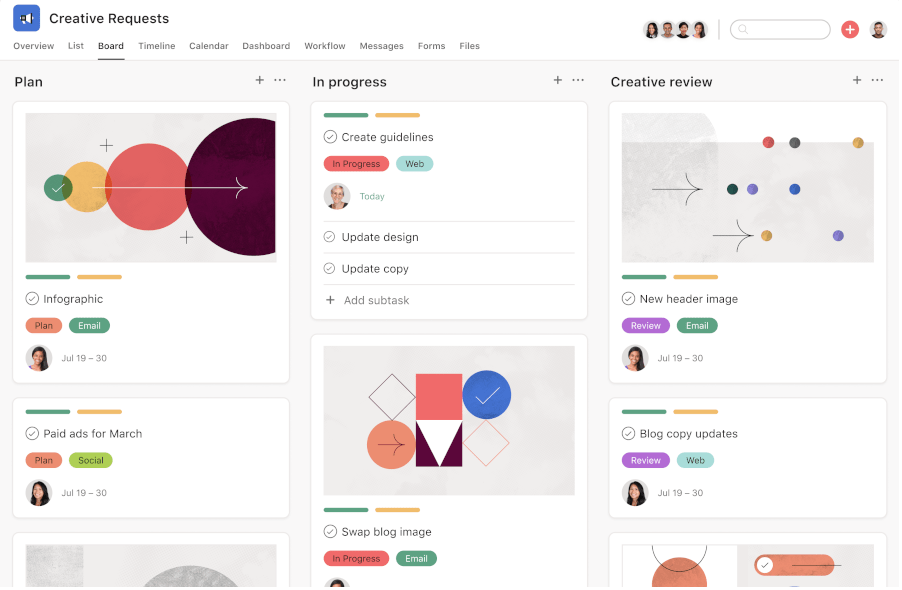 02 Intercom
Intercom is a highly effective CRM tool available as a SaaS (business model is subscription-based) that helps website owners to interact easily with their users. The tool basically answers two leading sales and marketing needs: it keeps an up-to-date userbase and allows you to communicate with your users.
With the Intercom app, you can easily and automatically connect to your customers through messages or e-mails. All your communication channels are integrated into one feature-rich dashboard. The tool lets you set up automatic messages that your clients receive when they do or do not use your product. Thanks to advanced filters, you can segment your customers and engage each group differently.
At Brand24, except for traditionally sales and marketing purposes, we sometimes use Intercom to promote blog content when we reckon it would be of particular interest to the users.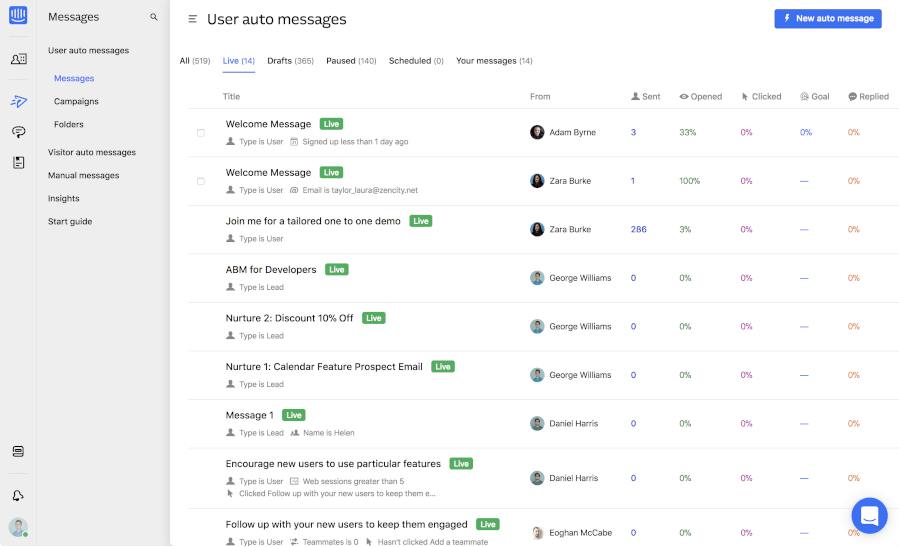 03 Slack
Slack is one of the best communication tools. The tool offers plenty of different features that simplify information flow among all users.
You can create open channels for specific topics, close groups, and send private messages to all members. Slack is integrated with different external services like Twitter, Dropbox, and Google Drive.
Besides text messages, you can send files with comments, inline images, and videos. In addition, everything in the tool is instantly searchable.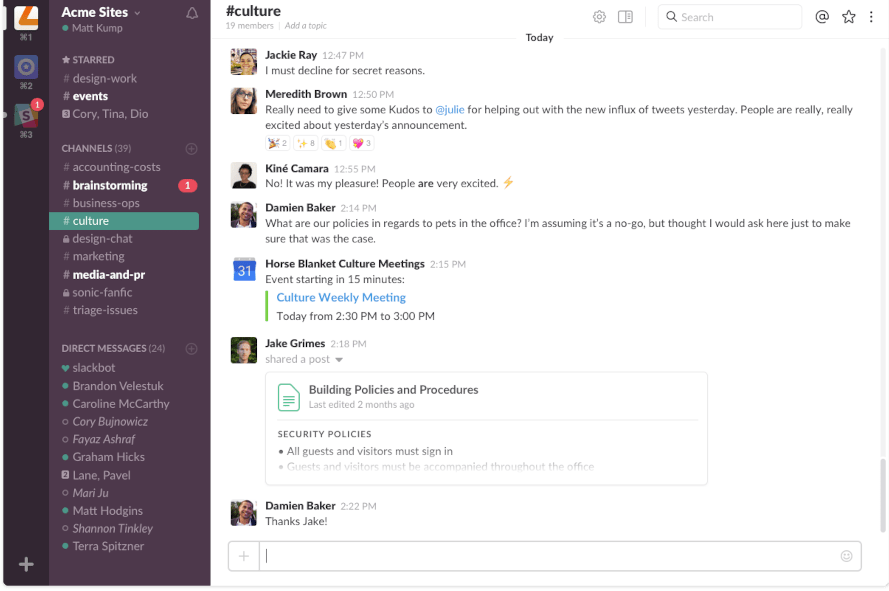 04 Google Docs/Drive
Maybe not too revelatory, but still worth mentioning. I can not imagine working without it.
Google Docs enables you to create and share docs, spreadsheets, and presentations for free in real-time from any device. Thanks to Google Drive, you can store your files online and share them with teammates. It's a perfect choice, especially for small businesses that do not have a large budget for online tools.
Google's mission is to organize the world's information is going pretty well, and our team uses it daily.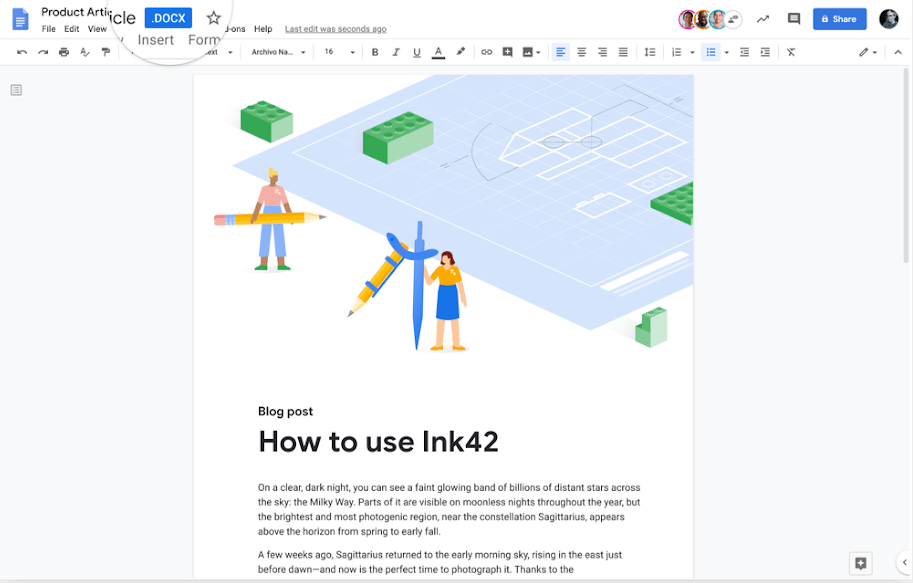 05 Miro
Miro is a collaborative whiteboard platform for teams to work together. It's one of the best online business tools for remote companies. The significant advantage of this tool is it allows to explain the complicated processes via visual mapping and diagramming.
Thanks to Miro, you can run meetings, workshops, and brainstorming sessions. How to organize an engaging meeting? You can use video conference, file and screen sharing, or presentation mode.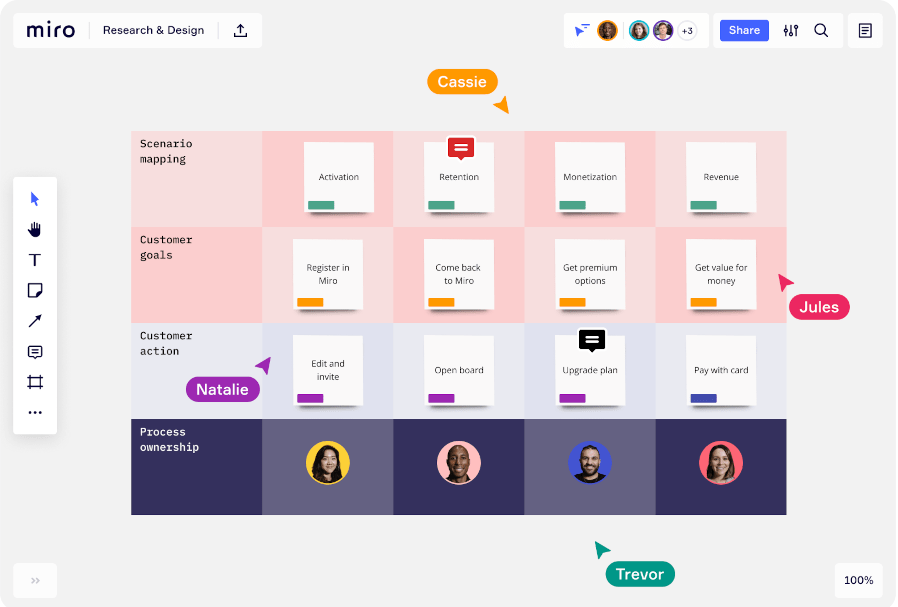 06 Cluvio
Cluvio is a cloud analytics platform for startups and data-driven companies. This tool will help you understand the data to drive valuable conclusions.
With Cluvio, you can analyze your data and create beautiful, interactive, real-time dashboards. As a result, you will access the most critical KPIs anywhere and anytime. Furthermore, you can set up alerts and notifications for conditions you define. Cluvio is a great tool for business growth.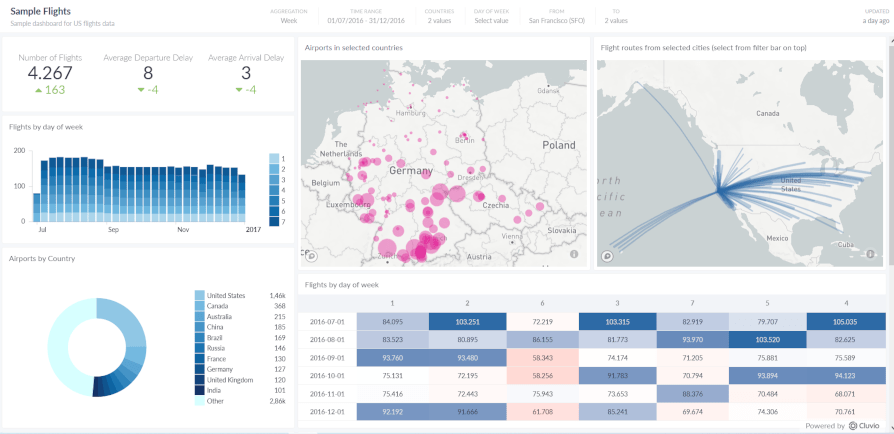 07 ChartMogul
ChartMogul is a tool for calculating and analyzing all key subscription metrics, like Monthly Recurring Revenue, Churn, ARPU, and Lifetime. Data can be imported from Stripe, Braintree, Recurly, Chargify accounts, etc.
ChartMogul updates your metrics in real-time and offers push in-app and email notifications. This subscription analytics platform uncovers hidden insights and discovers ways to optimize your business.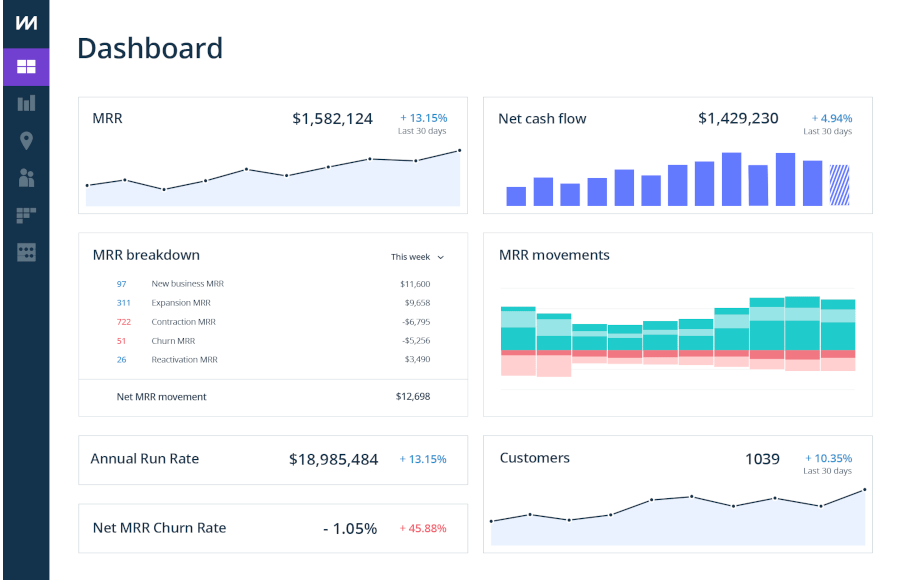 08 Brand24
Brand24 is a must for any business that cares about brand reputation management, customer service, or competition analysis.
The tool collects publicly available online mentions based on a specific keyword. Just enter your brand's name, brand hashtag, or the name of the competition, and Brand24 will show results on this topic in one place.
In addition to the results, the tool provides many analytical data such as sentiment analysis, presence score, social media reach, and many more. Thanks to this, you will assess how your company is perceived externally and/or analyze your marketing and PR campaigns.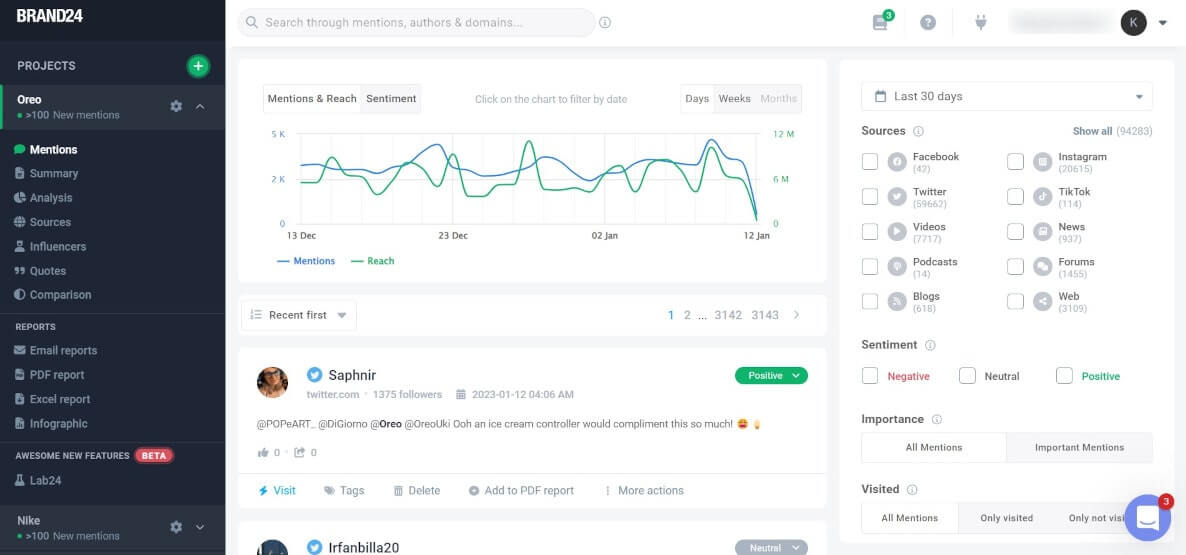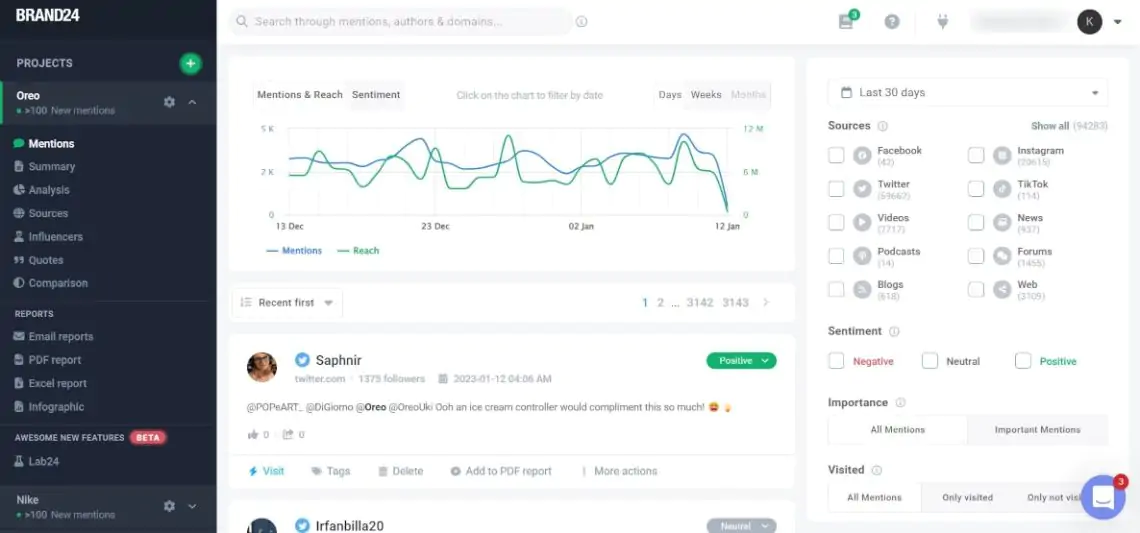 Brand24 is a social listening tool that monitors online mentions about your company.
09 Hotjar
Hotjar is an analytics tool that helps you track and study customers' behavior on your website. You can employ heatmaps that visually represent clicks, taps, and scrolling behavior or visitor recordings that fulfill a similar function.
The tool also offers a feedback feature that helps you understand the target audience on your website and then improve the performance and experience of the page.
With Hotjar, you'll understand what website visitors need and how they feel. Furthermore, you'll be able to boost your site and gain its aims efficiently.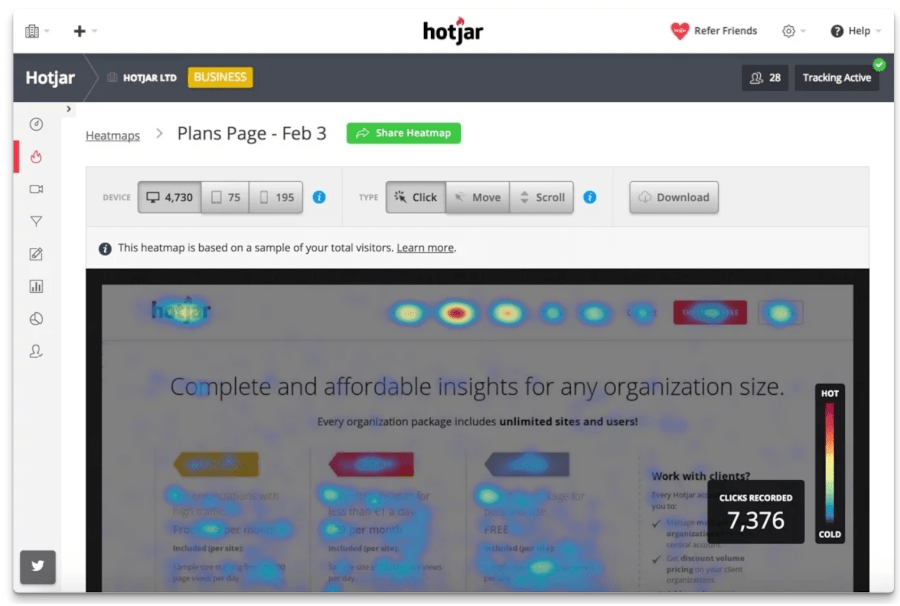 10 Jasper
Don't have time for writing perfect content marketing copy? No problem. Jasper is one of those marketing tools that do it for you. Jasper.ai is an artificial intelligence software that creates content for your blog, landing pages, newsletters, social media, website, and more.
Thanks to Jasper.ai, you will say goodbye to writer's block and finish your first drafts about 2-5X faster. With this tool, you can create product descriptions, blog post outlines, creative stories, advertisement copy, and anything you need.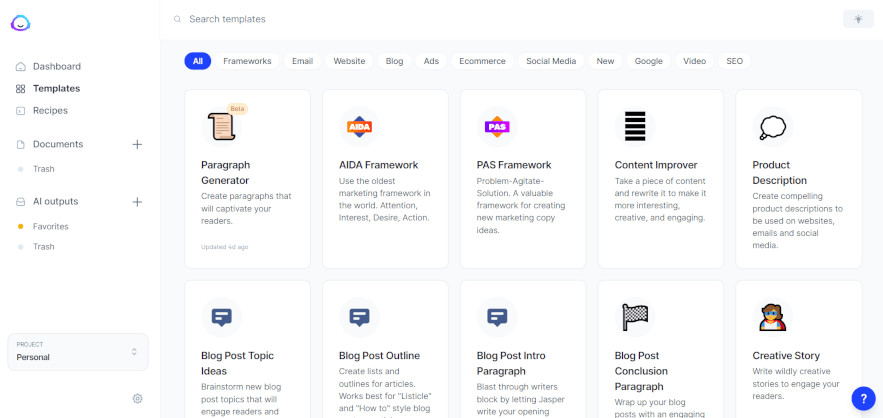 11 UXPin
Uxpin is a simple design platform with plenty of features to create wireframes, mockups, and fully-interactive prototypes. It is fully integrated with Photoshop and Sketch and provides stock UI design elements & patterns for web, iPhone, Android, Twitter, and more.
The tool works as a collaborative design platform, with entire teams being able to participate in the whole design process. Each user has a Tool Kit with common design elements and a library of custom UI elements. UxPin lets users share their projects with other stakeholders and customers.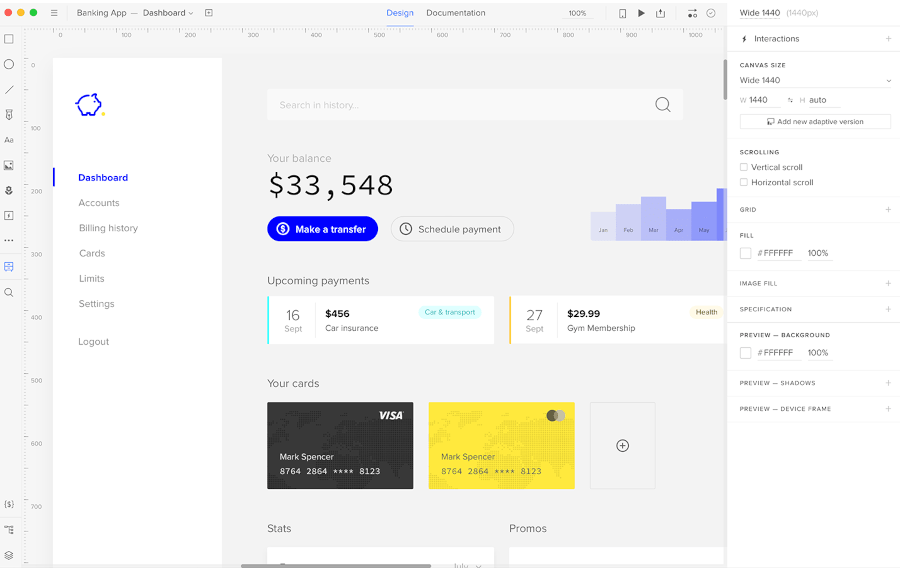 12 Prowly
Prowly is dedicated to PR specialists, and it simplifies communication with media. It offers you many functionalities, from finding proper media contacts to sending press releases. Also, it offers comprehensive analytics, so your PR activities will be even more effective.
With Prowly, you can easily create eye-catching visuals, produce and analyze the performance of press releases, and much more. What is interesting, this tool will help you find relevant media contacts and manage them with just a few clicks.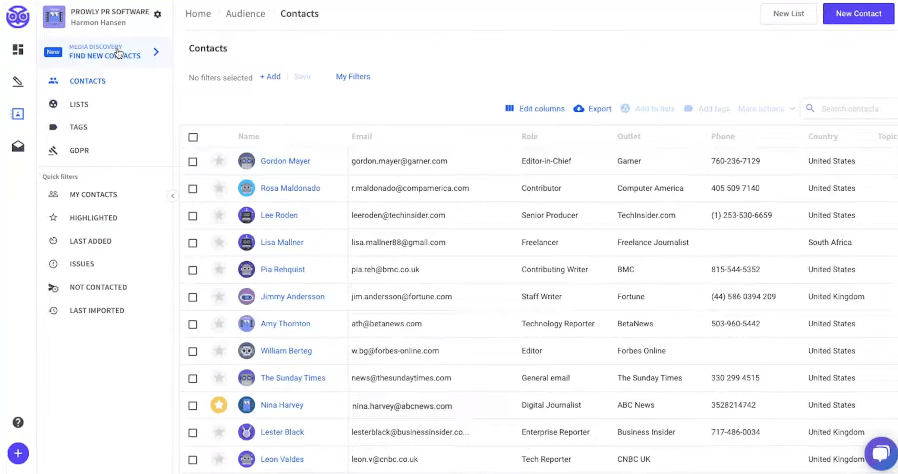 13 LiveChat
LiveChat enables you to implement a live chat to your platforms to quickly contact clients and prospects in real-time. The tool will improve the customer service of your online businesses quality and makes it much easier and faster.
With LiveChat, you can reach your customers immediately when they ask you something and solve their problems on the spot. The tool offers loads of valuable features. In addition to the brilliant customer support options it provides, you can also track the interactions with your customers to gain valuable insights.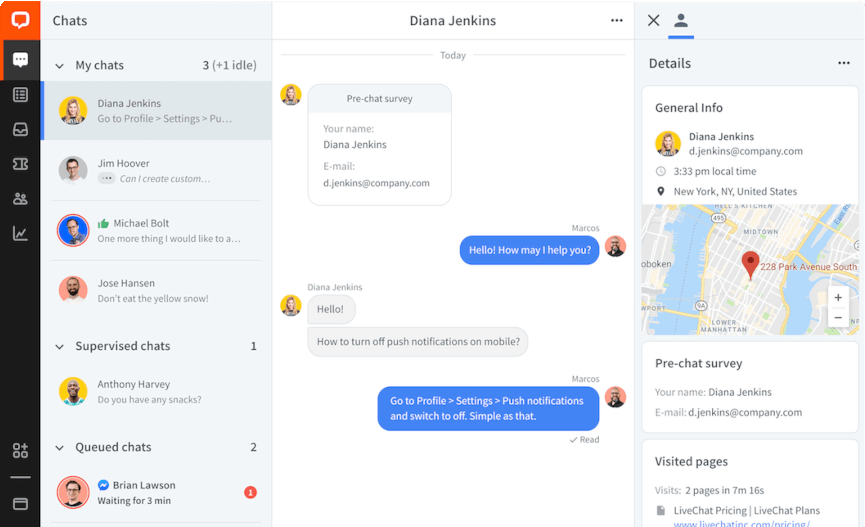 14 Coschedule
CoSchedule is a must-have application for bloggers, marketers, and publishers who regularly publish content on their websites. It helps you schedule your blog posts together with social sharing on your social profiles. It is a timesaver that simplifies your social media marketing, and content marketing strategy.
Also, this online marketing platform will help you to manage marketing activities and coordinate your process, projects, and teams.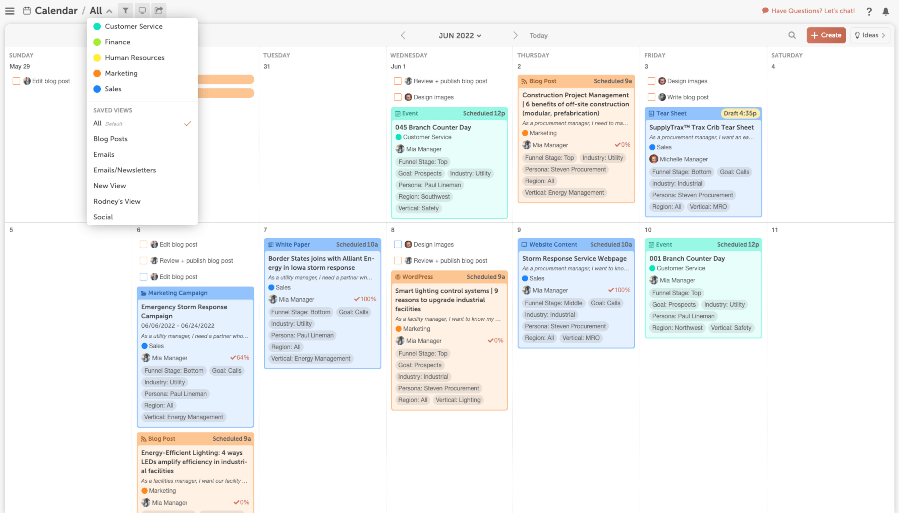 15 Sotrender
Sotrender is a complete solution for social marketing analytics. The tool enables you to set KPIs for a brand and then measure your effectiveness in the area of engagement, audience, content, customer service, and admin activities.
You can track both your brand and other players in an industry. With Sotrender, you will be able to understand better your target audience and boost your social media organic performance. It is all composed in a user-friendly dashboard with an option to create professional reports.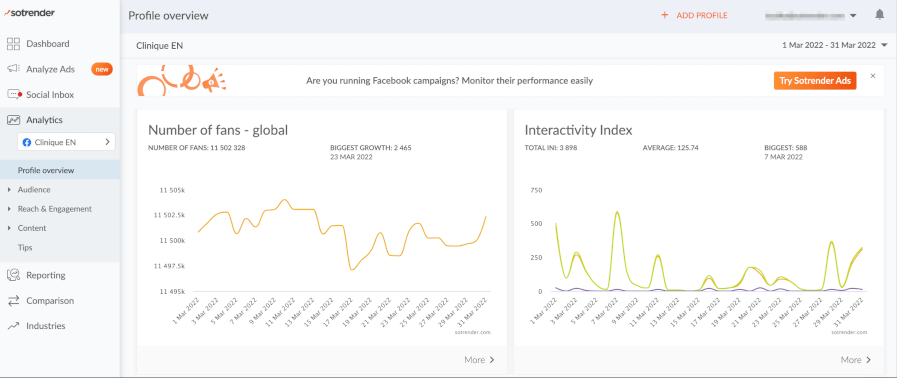 16 Unamo SEO
Unamo SEO is an easy-in-use tool that helps you get more organic traffic with SEO tracking. Whether you are running a small business or a well prospering online store, you need daily keyword rank tracking. The tool will help your business improve rankings and get more traffic from search engines to your website.
With Unamo SEO, you can gain a competitive advantage over other companies in your industry. The tool provides complete analytics of your web page optimization, so you can adjust it to make the most of your website potential.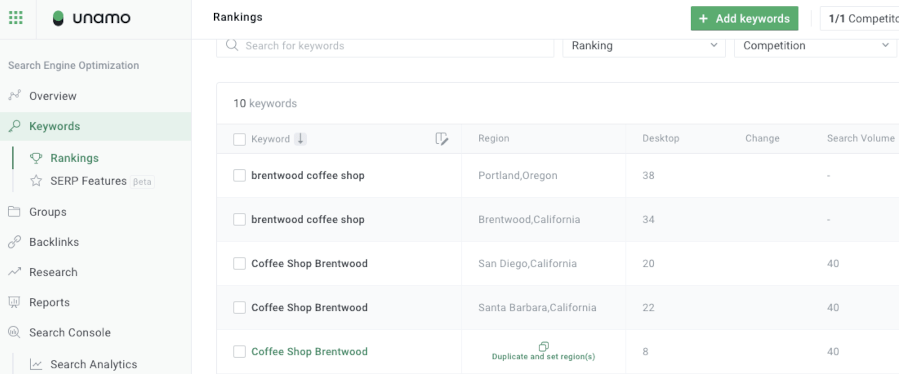 17 tomHRM
It is an all-in-one HR software that will support all your people's operations. With the tomHRM tool, you will run recruitment campaigns, implement friendly onboarding, manage absences, schedule 1on1 meetings, handle surveys or quizzes, and more.
tomHRM is a great tool for small businesses and entrepreneurs that are starting their HR strategy. Among all the online business tools I presented to you today, tomHRM is a must-have for sure.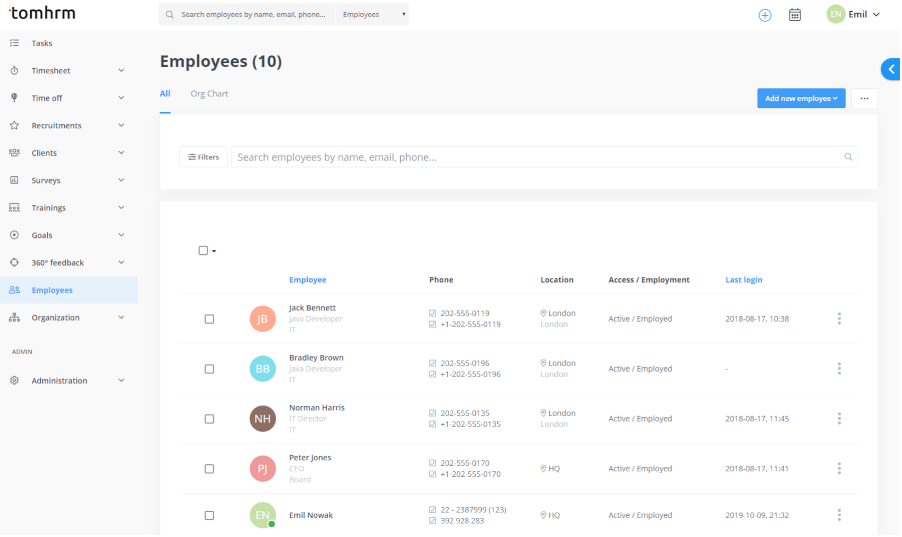 18 Mailchimp
Mailchimp is an online email marketing solution to manage your subscribers, send emails, and track your email marketing results. With Mailchimp, you can import and host a mailing list, design-friendly newsletters and send them to your subscribers, automate your emails via autoresponders, and monitor statistics related to your email marketing – open rate, click-through, forwards, etc.
Right now, Mailchimp offers much more exciting features that sending emails. It's a suite of marketing tools. You can use it to build landing pages, manage social media and digital advertising. Mailchimp is a great tool for small business owners because of its affordable price.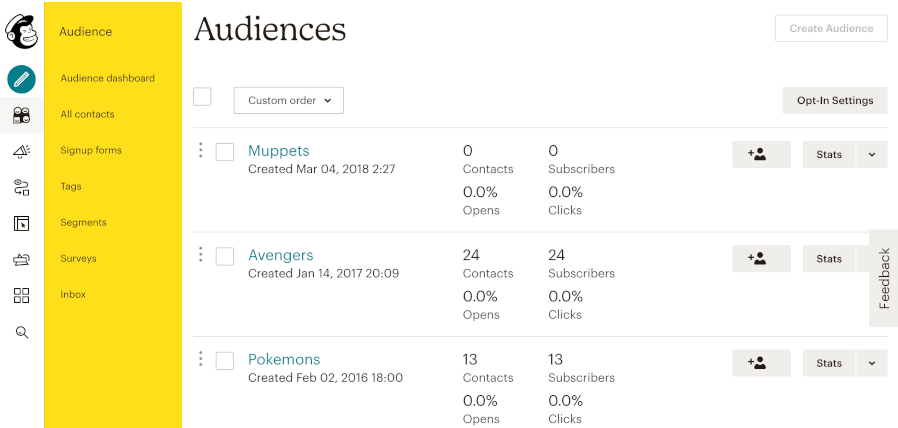 19 BoldDesk
BoldDesk is a cloud-based modern help desk software that performs outstanding customer service operations. It helps to organize the support requests and automates routine tasks to enhance the customer experience.
It has powerful help desk features, such as a ticketing system, knowledge base management, CSAT surveys, workflow automation, SLA management, ticket approval module and task management.
BoldDesk lets create a business-specific operation workflow using no-code automation to perform recurring manual operations at each level of the ticket life cycle. With BoldDesk, there is a 100% guarantee of customer satisfaction and a great customer experience!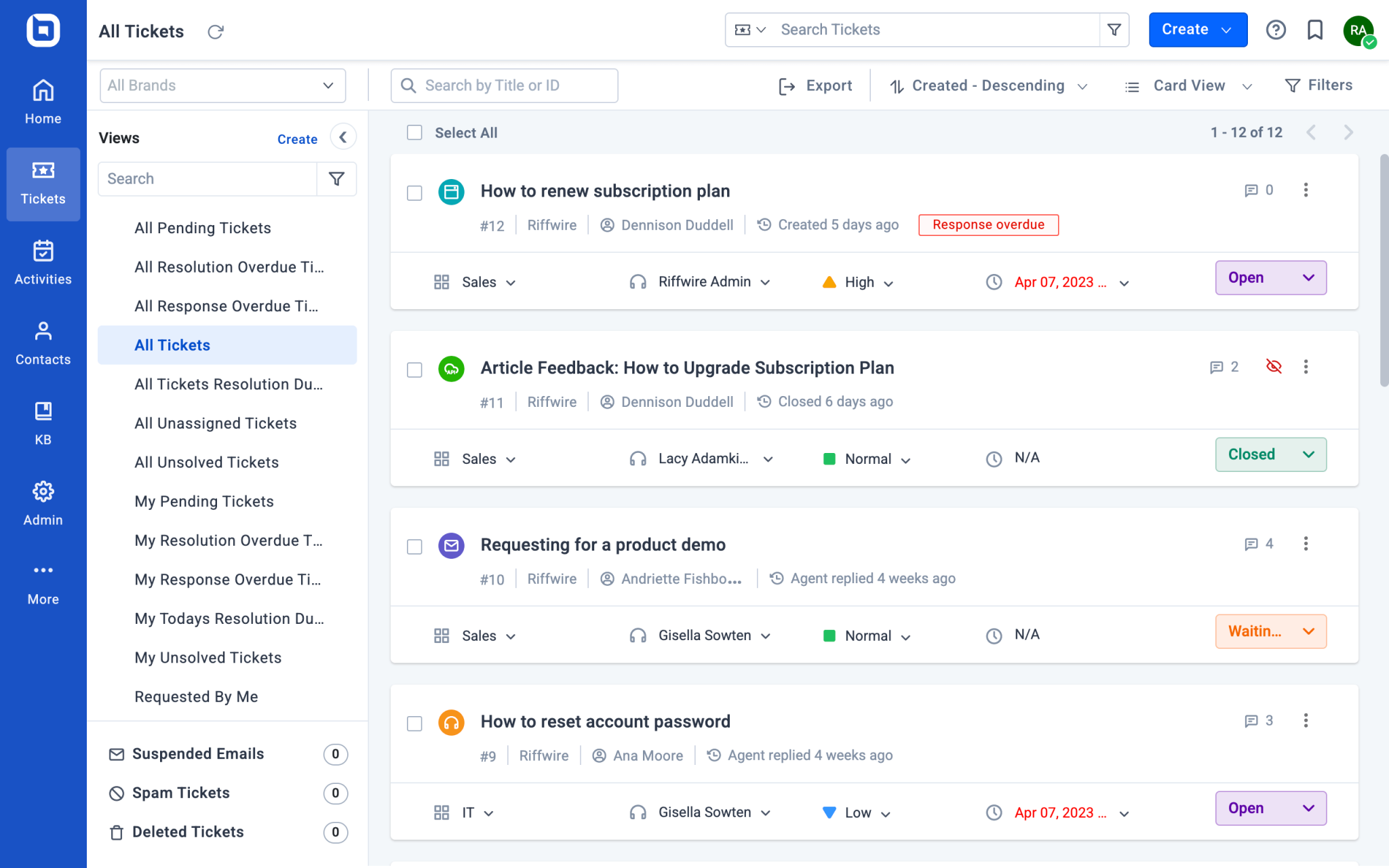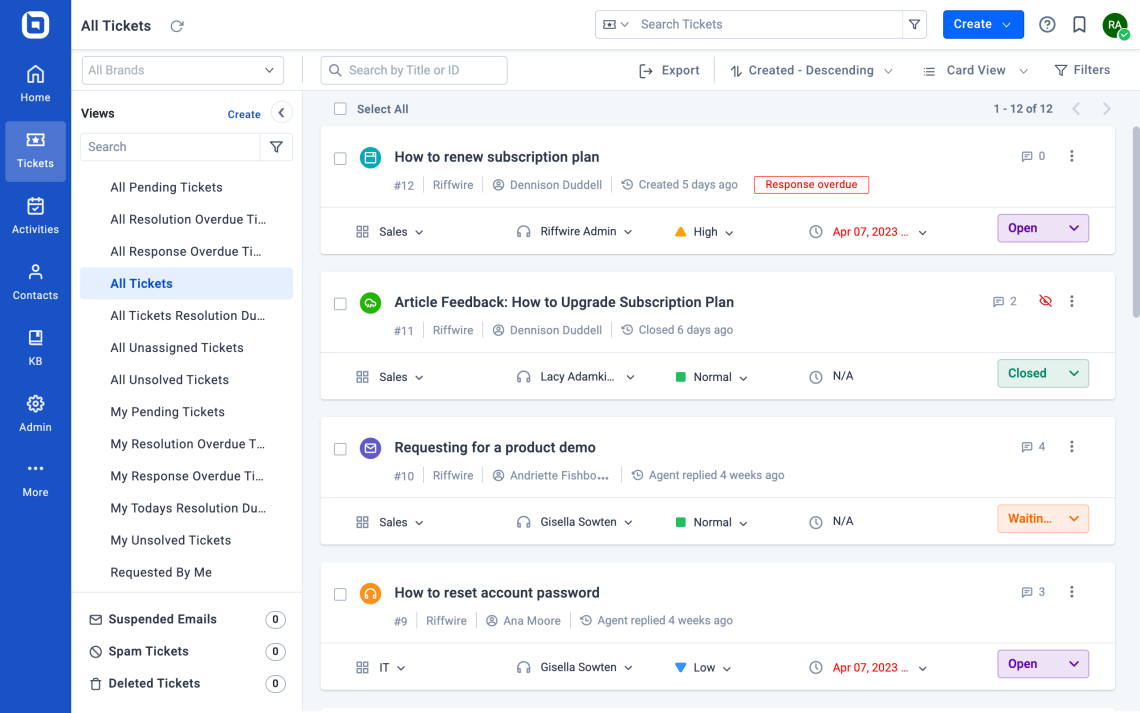 20 Teamly
Teamly is a unified remote team management tool that integrates various functionalities into one platform.
It offers real-time chat rooms for instant collaboration and user-friendly boards for workflow and task management. The built-in timer for employee time tracking and customizable Standard Operating Procedures (SOPs) make it a versatile tool for remote teams.
Teamly strives to empower teams with the tools they need to enhance organization and maximize efficiency.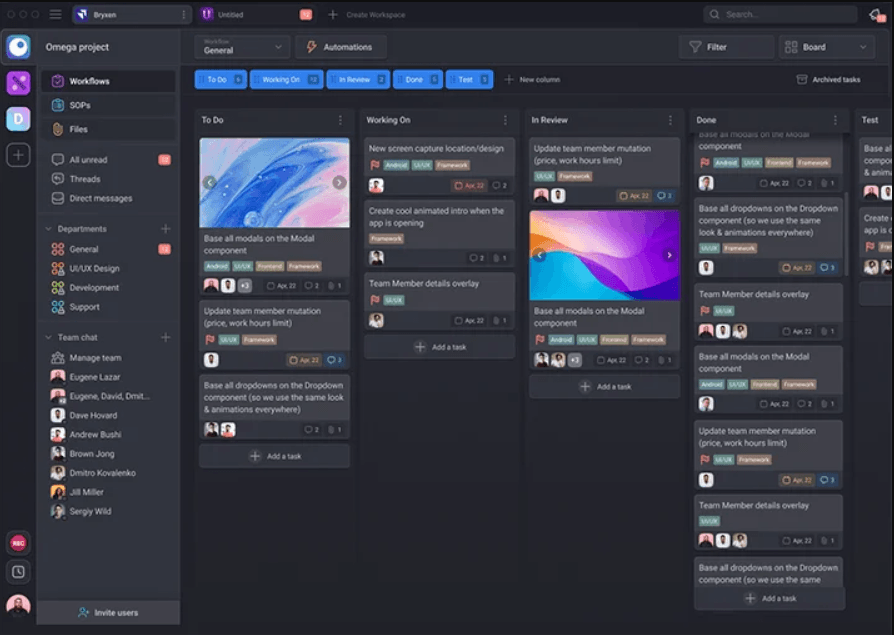 Conclusion
So there you have it, 19 powerful online tools to support your business. They will help you in a number of areas, from creating exciting content to automating your business processes.
Do you need all of them to run a successful online business?
That's your choice. The ones we've listed here are a great starting point. They will help you streamline your workflow, boost marketing and sales efforts, and increase productivity.
You don't have to use them all, but as your business grows, you'll want to add these essential tools to your arsenal.
Don't be afraid to experiment with different tools until you find the ones that work best for you. Keep exploring and expanding your toolkit until you find the perfect ones for you and your business.