The title of this post should sound "Bulletproof Marketing Tips for Small Business or How to Successfully Compete with Industry Giants". Small business owners have been struggling to keep up with competition from huge online retailers. In this uneven battle, a not-so-obvious ally in the marketing game is social media channels and digital marketing in general.
A robust digital marketing strategy will help your small business thrive in your community. The social media marketing strategy will help you:
promote your products among local communities;
find new customers;
scale your marketing budget
increase brand awareness.
Of course, you need to invest your time, and possibly some money into social media monitoring and management tools. But the key to a successful marketing campaign for small businesses is not the right set of tools. Tools will help you execute your social media marketing campaign, but won't do the job for you.
You need to come up with a bulletproof plan how do you want to present and market your company. How would you differentiate your product from thousands other on the market? Is it the price? Quality? The fact that it's manufactured locally?
Once you got your product features all figured out, it's time for implementation of your strategy.
Hopefully, with a little help from this post, you'll discover the bulletproof marketing tips for small business.
Social Media Tips for Small Business
Can you imagine your life without social media platforms? I bet it's hard, if not impossible.
Social media channels are obligatory to execute an effective marketing strategy for your small business. Building your engaged online community takes time and effort, but is one of the easiest ways to promote your small business.
Social media channels differ when it comes to algorithms and audience needs but they do have a few things in common.
Let's take a look!
Choose the right social media platform
An advice many small business owners often hear is that they simply must have a Facebook fan page. That's not entirely true.
The right social media platform for a small business is the one on which your audience is present, it's as simple as that. There's no point in investing in promoting a social media channel where you don't have any followers.
Choosing the right social media channel (the one or two on which your customers are present) will help you reach the right audience, which will result in high engagement rates.
That will save you a lot of money and time. Your message won't be broadcasted into the void but directed to a very specific audience, which will boost your social media ROI.
Moreover, people tend to share valuable services or products they discover online. That's called word-of-mouth marketing, and it's one of the most powerful marketing tools you can get.
You will also be able to create much better content, as it will be tailored to your audience needs.
Schedule your posts in advance
Promoting your small business on social media channels is necessary, but it's also a very time-consuming task. And when you're running your own business you usually don't want to or can't delegate management of your social media channels.
Scheduling your posts in advance will save you a lot of time.
Pick one day of the week to plan all posts for the upcoming seven days and then reply to comments daily.
That does sound like a lot of content to prepare, doesn't it?
You can help yourself by posting user-generated content. UGC is simply content that your followers post on social media. If you want to spot interesting content in time you have to use branded hashtags.
A branded hashtag can be the name of your company (which is the easiest way to establish a branded hashtag) or a slogan associated with your company. Think about Nike's motto "Just Do It". When you hear it, you think about the sports giant right away. The branded hashtag has to be easy to spell and remember.
Once you establish your branded hashtag, start promoting it. If you have a brick-and-mortar shop you can have a special sign that will encourage your customers to use the hashtag. Or you can simply add a leaflet to every order make on your website and offer a discount for a hashtagged photo on Instagram, Twitter or any other social media network.
You can put a call-to-action on your social media profiles, just like ASOS does.


UGC will not only help you come up with content ideas, but it will also help to grow your online presence. Your followers will certainly appreciate a repost. Just remember to ask for permission first!
Measure the results of your social media activities
That's one of the marketing activities often overlooked by small business owners. Monitoring the performance of your marketing campaigns is key to success.
Tracking the performance of your hashtag campaign is a piece of cake, if you have a social media monitoring tool, for example, Brand24.
Why choose Brand24?
Because it's one of the top social media monitoring tools, at least according to Buffer. It's both reliable and affordable.
Start with creating a project.
In the project creation wizard, enter your branded hashtag. From that moment Brand24 starts to gather all mentions from the Internet that contain your hashtag.
You can narrow down the results to the social media platform you're interested in.
In the Analysis tab you'll find:
the volume of mentions;
the number of social media shares;
the number of social media likes;
estimated social media reach;
social media comments;
a total number of positive mentions;
a total number of negative mentions.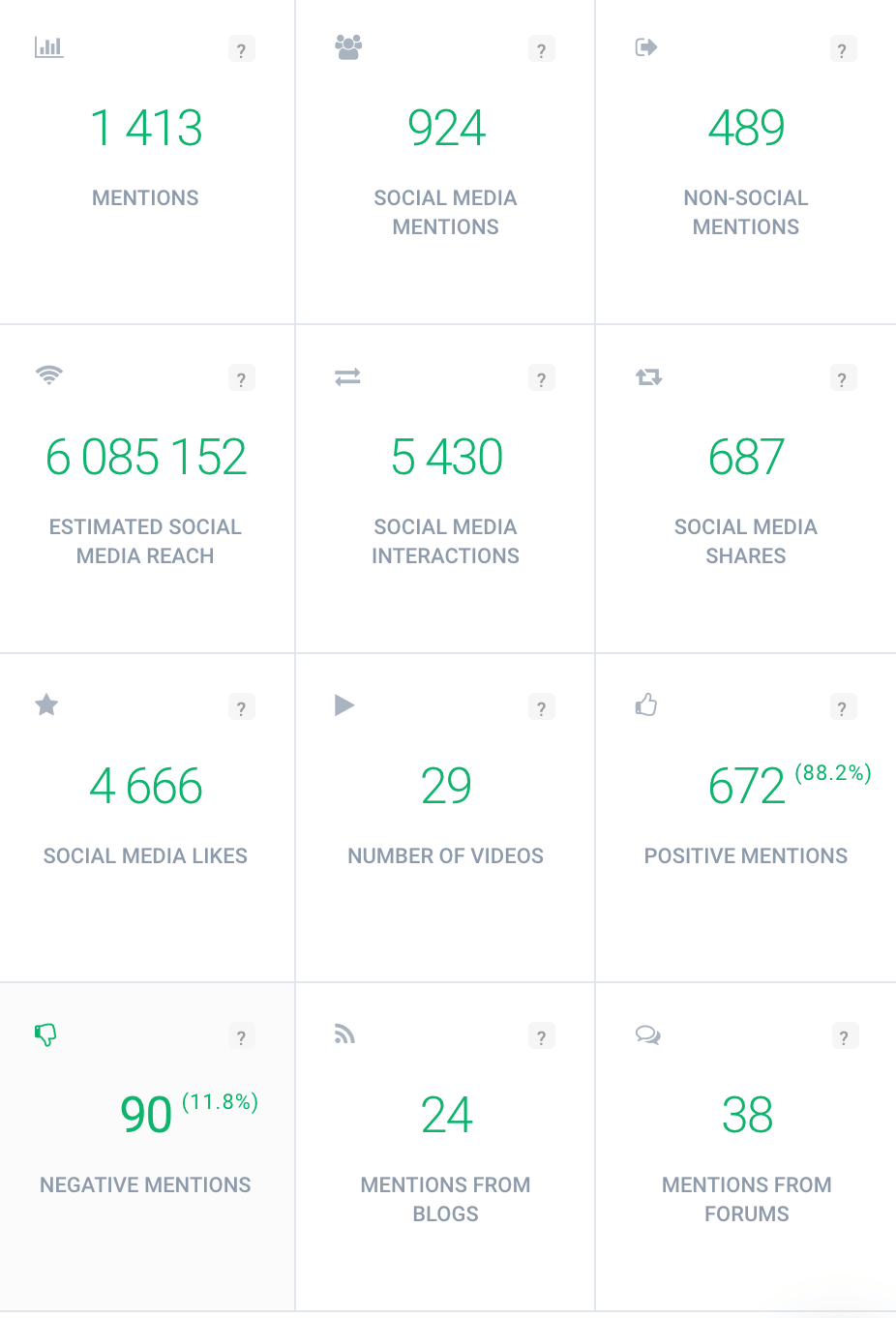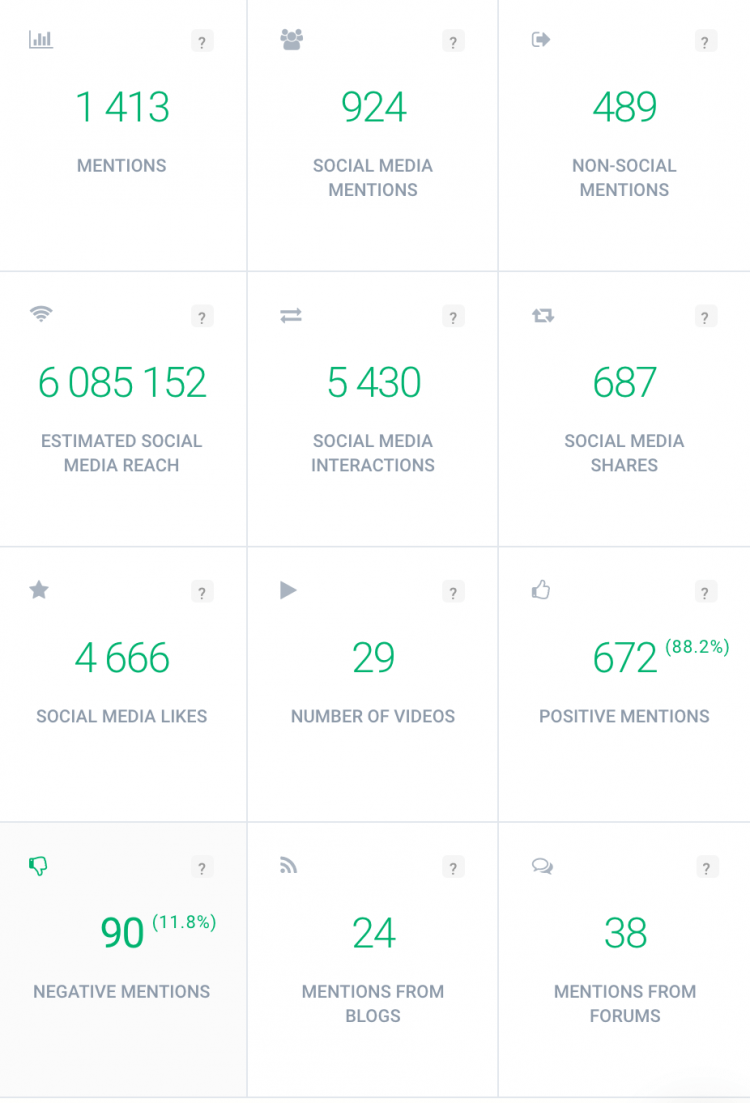 If the marketing campaign for your small business goes south, you can react in time and adjust your digital marketing strategy accordingly.
Sounds interesting?
Give it a spin! Brand24 offers a 14-day free trial period (no credit card required!)
SEO Tips for Small Business
Chances are your potential customers will google a product or service you offer. A well-optimized website will allow to rank high in Google search results and gain new customers. Ranking in the first three positions is vital as people usually don't look any further.
Ranking your website high is a long-term process so you have to be patient.
Start with researching keywords you'd like to position for in search engines. Take a closer look at two metrics – volume of the keyword and keyword difficulty.
The first one will tell you how popular the keyword is. The higher the number, the more users are looking for it.
Keyword difficulty will indicate the competitors you will rank against. The higher the keyword difficulty, the harder it would be to rank high.
SEO is a very technical and enigmatic issue. You don't know how Google or any other social media algorithm works so you have to base your activities on assumptions.
Moreover, the search algorithms change every now and then, almost always without official warning from Google. So it's vital to monitor the position of your website on a regular basis, update the content and the technical parameters of your website whenever you need (e.g. Google takes into account the loading speed of a website, so optimizing your photos is important for SEO) and be on constant SEO alert.
This paragraph only scratches the surface of SEO tips for small business.
But don't worry, if you need any more information, take a look at this post: 8 Tools Needed to Run a Successful SEO Campaign.
Social Listening Tools for Small Business
When you're running a small business you have your hands full – you can't delegate some of the tasks and have to keep an eye on everything. The social listening tool seems like an unnecessary burden.
It's just the opposite!
Remember when you set up a project to monitor the performance of your hashtag marketing campaign?
You can set up a similar project to look for sale opportunities.
People are actively looking for recommendations on social media and other online channels. Social media listening tool will help you find the sales leads and promote your business.
Does it sound like some kind of sorcery? Well, it's not!
All you have to do is set up a project with keywords like:
– who can recommend…?
– where can I buy…?
– where can I eat well?


You can always narrow down the results by using Boolean search.

It sounds complicated, but it's not. All you have to do is add words that have to be included in your search results, for example, the name of your city to cut down the results geographically.
Influencer Marketing Tips for Small Business
Influencer marketing has been to a go-to strategy for a couple of years now. Because, if executed well, it works!
The most important aspect of a successful influencer marketing campaign is choosing the right influencer for your small business.
For influencer marketing campaign to be effective, you don't need to invest vast sums of money into social media celebrities with millions of followers. On the contrary, they might be the worst choice you could make.
Instead, take a look at micro-influencers. Those are people with a much lower number of followers (usually anywhere between 10,000 and 100,000) but whose audience is much more engaged. Micro-influencers are the best people to promote your business.
How do you find the micro-influencers that will align with your mission statement?
Set up a project with general terms related to your industry. You can narrow down the results by inserting your location as one of the Boolean search keywords.
Take a look at the Analysis tab once again. There are two tables that will help you choose the right influencer for your small business:
top public profiles;
most active public profiles.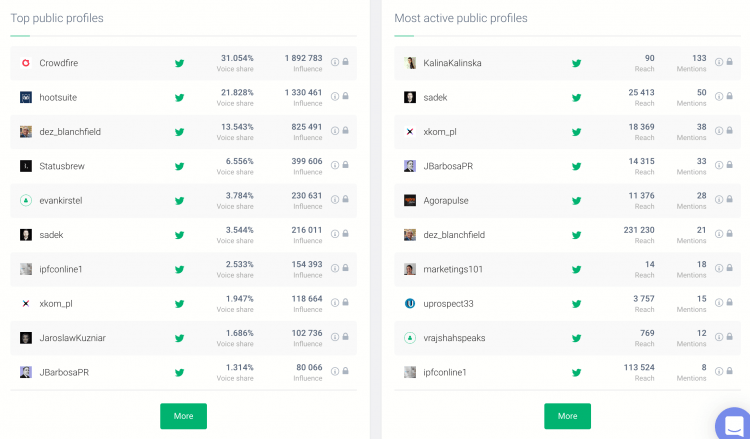 You can find what percentage of an online discussion was initiated by a person (the share of voice) and what their influence score is.
The benefits of an influencer marketing campaign conducted with surgical precision?
You reach the audience which is most likely interested in your product. That's the power of influencer marketing, especially micro – influencers. They are real authorities among their followers and their recommendation will help sell your product or service.
You boost your brand awareness. The more people see your content or hashtag, the more the name of your product or service spreads across social media, and the more people are aware of your small business.
You increase your sales. By reaching exactly the audience you need, your sales opportunities are growing exponentially.
Competitors Research for Small Business
When you're a small business keeping an eye on your competition is vital. Every new business entering the market can take your clients away.
An Internet monitoring tool will help you with that as well.
If you want to know about the promotions your competitors are running, which social media channels they use, are they cooperating with influencers simply set up a project in Brand24 for your competitors.
The tool will calculate the social media reach of their posts, the number of social media interactions, and the total number of positive and negative reviews.
You can assess their marketing campaigns (and if your competitors don't measure their marketing activities gain some valuable insights before them), spot their mistakes and try to benefit from them.
You could offer a feature your competitors' are missing, be it eco-friendly packaging or free shipping. You will see online complaints from unhappy customers first and be able to offer your solution to the problem.
Why Are Small Businesses Important?
There are various reasons why small businesses are important. They are the counterweight to big corporations who are often involved in some shady behaviour (for instance, privacy violations, human rights violations etc.)
Small businesses, on the other hand, are often the power that helps rebuild local communities, especially in cities afflicted with the results of economic crisis.
The number of small businesses in a community is correlated to the residents' health. Quality social interactions lessen the chances of premature death by 50%. And small and local shops clearly help build relations with your neighbours.
Moreover, small businesses are usually located in the city centre rather than on the outskirts, so the amount of pollution needed to get there is much lower.
All the social media tips will help you thrive but don't be afraid to make your place a local hub – chat with your favourite customers, be interested in their everyday problems, and become an inseparable part of your town.
To Sum Up – How Social Media Listening Helps Small Business?
I recommend Internet listening tool because it's so versatile. As a small business, you have to choose the tools wisely – not only because most of them are quite expensive but also time-consuming. And time is a rare resource, especially when you're a small business owner.
Brand24 will help you:
monitor the performance of your hashtag campaign;
spot user-generated content;
see and react to all the mentions about your brand;
nip in the bud all online customers' complaints by reacting fast;
choose the right influencers for your influencer marketing campaign;
see what your competitors' are up to.
That's quite a lot for a single affordable tool, isn't it?
HANDPICKED RELEVANT CONTENT
9 Marketing Tactics to Build Brand Awareness
10 affordable news monitoring tools to keep you in the know