8 Examples of Top-Notch Customer Service
September 5, 2016 ・ 6 min read
Every company repeats again and again that the customers are its main priority. But what are they ready to do to prove it? We all know that well done is better than well said and companies often take an extra step to please their loyal customers. We've picked up some memorable customer support stories that you can use as an inspiration for your business support.
1. Unexpected food delivery from Morton's Steakhouse.
One of Morton's Steakhouse customers jokingly asked the company to bring him a porterhouse steak right to the airport upon landing.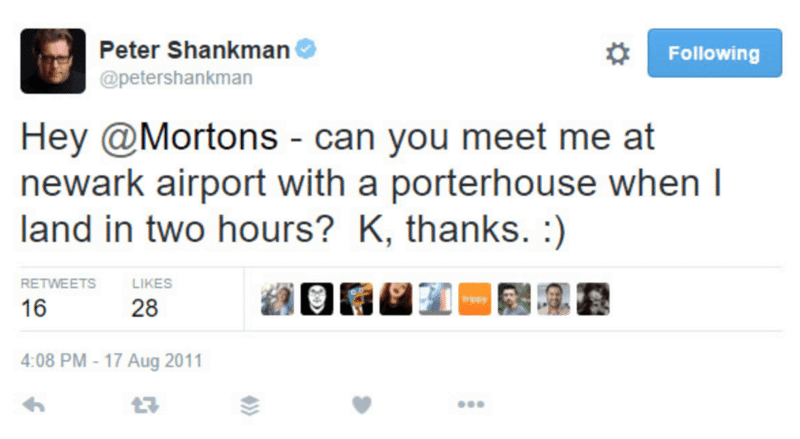 The guy was shocked to meet Morton's courier with the steak, potatoes, shrimp, and bread that was given to him for free. Just imagine that the company had to place the order, prepare the meal, get to the airport and find the guy in less than 3 hours. The delivery was absolutely unexpected as the tweet was just a joke. It was not the only time Morton's steakhouse impresses its loyal customers and does something unexpected for them absolutely for free.
2. Changing the room at Delta Hotel.
During one of the visits at a Delta hotel, Mike McCready tweeted that he liked his room but did not enjoy the view from the window a lot. Even though he didn't tag Delta and did not even expect them to see this message and react somehow, he was offered a room with a much more fascinating view an hour afterwards. In addition, when he arrived at his room he was thrilled to see a plate with candies together with the handwritten letter from hotel administration.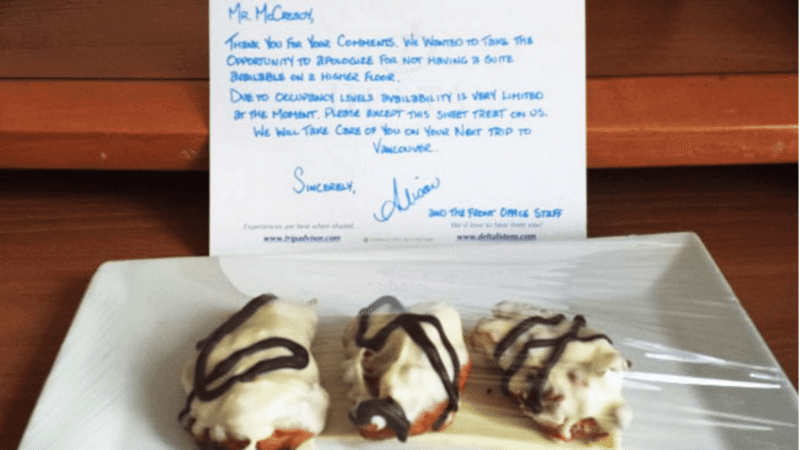 Businesses should pay more attention to what their customers are saying, even if they don't insist on anything. It is possible to do it with the social listening feature available in social media. Having feedback is very important for customers.
3. All-year-round support from Hubspot.
It may be really tough to hit anyone from the support team at a holiday season. But it often happens that customers still have questions and need to get in touch with the support urgently. The situation that happened to a HubSpot client from London is a brilliant example. On the Thanksgiving day, the US-based support was not operating that day. But she decided to reach them via Twitter and luckily got in touch with the customer support team member from the Irish office.
HubSpot has an all-year-round dedicated Twitter account to manage the concerns of all its clients regardless of the holidays. You need to be available for your clients at any day of the year or have someone responsible for getting in touch with them when they need it the most.
4. Clock radio presents from Gaylord Opryland.
As a regular visitor of Nashville Opryland Resort, Christina McMenemy really wanted to buy the same spa sound clock radio as she found in hotel rooms. She claimed that it made her sleep better than ever and was decisive to find and buy one.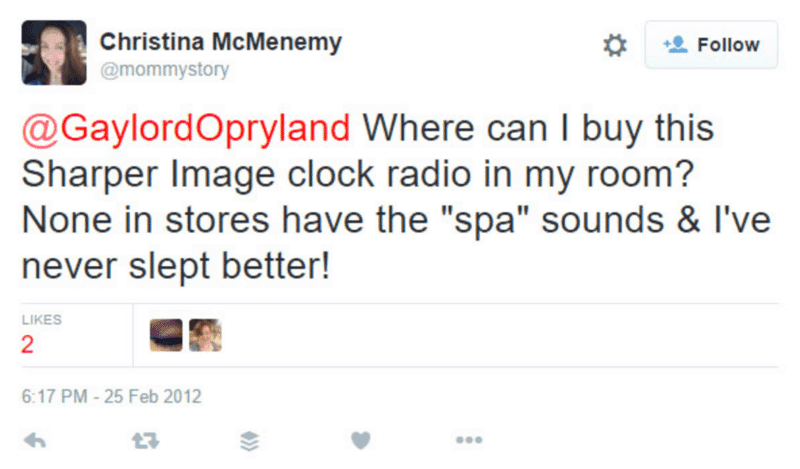 But unfortunately, the clock was custom-made especially for Gaylord hotels. She was disappointed but put up with it soon. To her surprise, when she arrived at her room, she was thrilled to find a special gift: her favorite clock with the letter from the hotel staff. Christina was very grateful for such a pleasant present and gladly spread the news about their unique kindness. Here is her message:
"You reaffirmed me that there are still companies out there focused on great service, and you've made a lifelong fan out of me", – Christina McMenemy.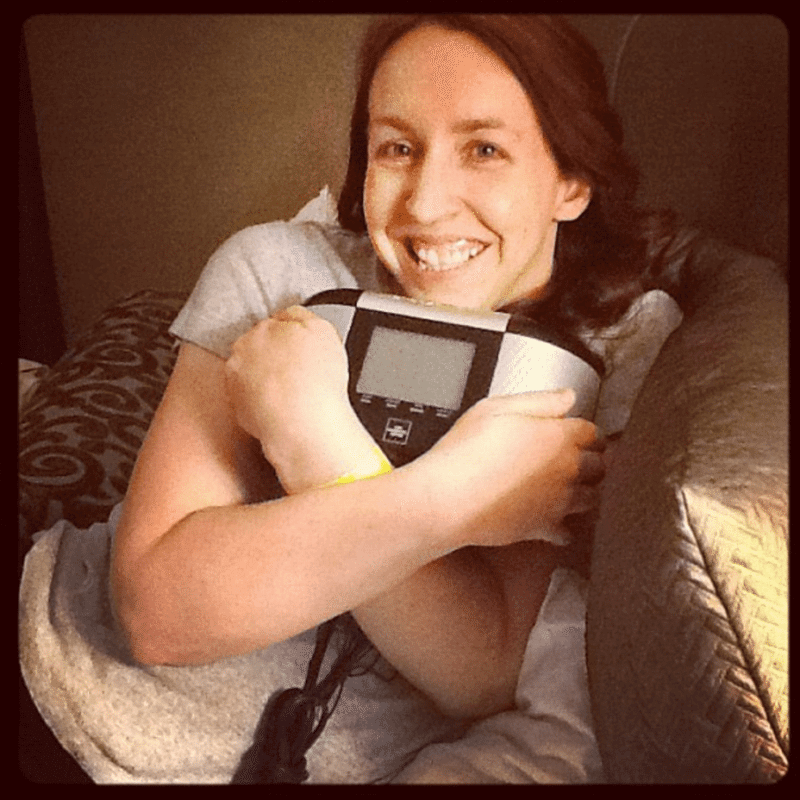 5. Generous compensation from Zappos.
Every company wants to demonstrate how easy it is to work with. But complexities happen, and it is necessary to fix them as soon as possible. When your business for some reason screws up, you need to be generous enough to compensate your failure. This is just like Zappos does. They gladly offer a $50 compensation when they make any mistake. Everyone can screw up, but only few can be responsible for this.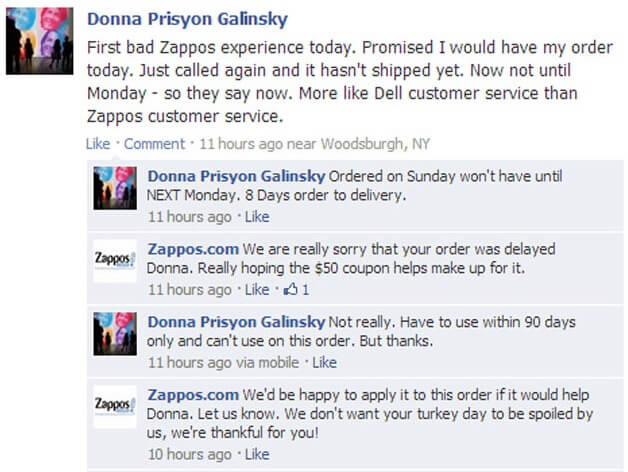 6. Sainsbury's agrees with a 3-year old.
One of the youngest Sainsbury's fans got a bit confused about one of their products. As she noticed, tiger bread did not look like a tiger at all, but rather like a giraffe.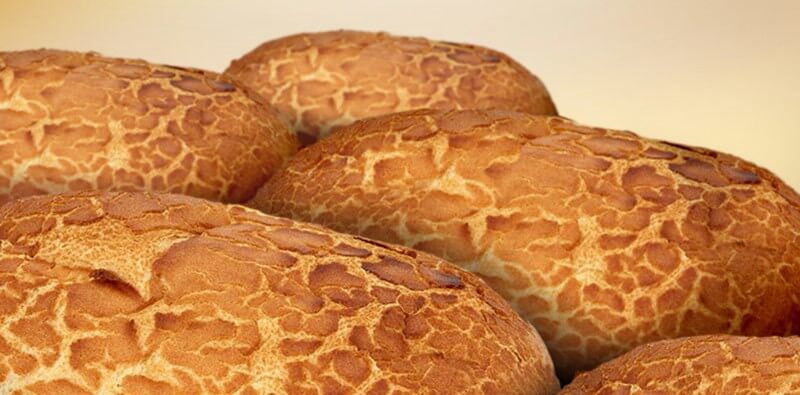 Assisted by her parents a bit, she wrote a letter to Sainsbury's support to express her confusion.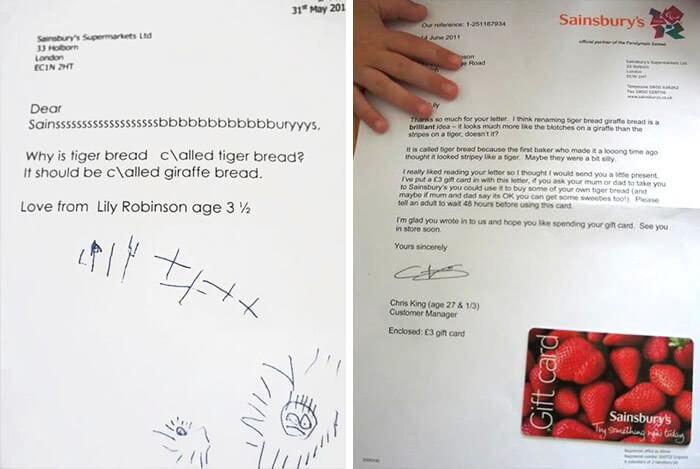 Unexpectedly, she received a response from the support manager who said that he actually agreed and then provided the name origin:
"I think renaming tiger bread giraffe bread is a brilliant idea – it looks much more like the blotches on a giraffe than the stripes on a tiger, doesn't it? It is called tiger bread because the first baker who made it a loooong time ago thought it looked stripey like a tiger. Maybe they were a bit silly."
Girl's mother decided to post these letters on her blog, and they quickly got viral. This idea got lots of supporters who later insisted on changing the name from Tiger Bread to Giraffe Bread.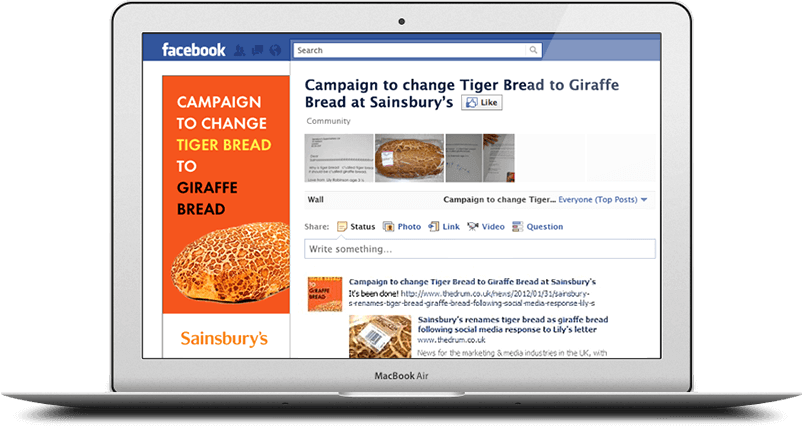 Sainsbury's has always been known for doing something fun, and they finally decided to modify the name of the bread and tell shoppers where the idea came from. Sainsbury, by the way, has its own blog where all news about the brand is reported.
Check Brand24's guide to crafting your own blogging brand!
7. Freeing the man locked in Waterstones Bookstore.
Waterstones has shown that some comments tend to be more urgent than others. They accidentally closed a customer David Willis in their bookstore. Confused, he tweeted to them.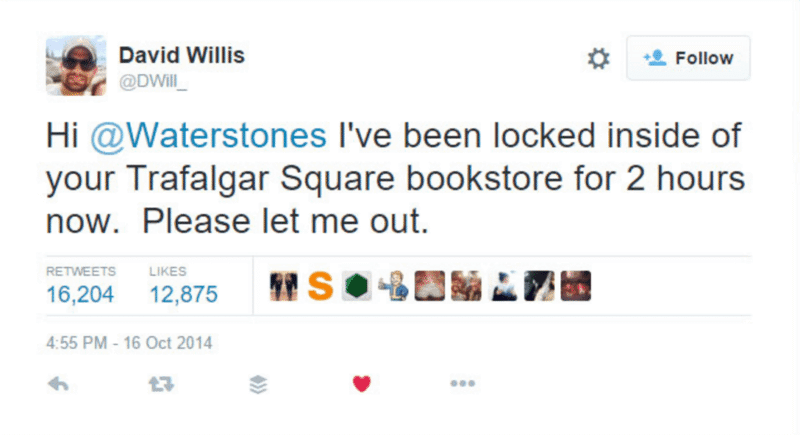 The message went viral very soon. Waterstones has a dedicated Twitter account and monitors it continuously. 80 minutes later they wrote: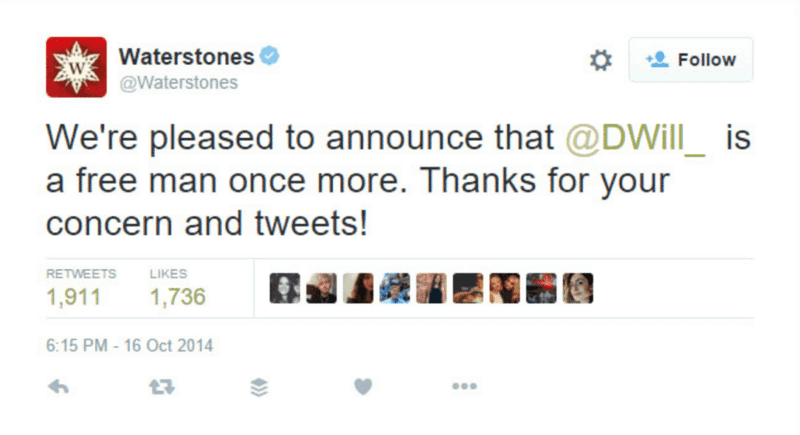 Always check your customer support channels and use social media to promote your brand because someone may need you urgently.
8. Christmas present from Amazon.
One of Amazon customers ordered a PlayStation for his son. But since he was expecting to get it from Santa, the father called them to ask if it is possible to get it delivered by Santa. Amazon gladly sent another PlayStation and didn't charge for shipping at all. In the end, the present was delivered right on time for Christmas.
Lessons to Learn:
Be available at any of your customer support channels because your clients may like any of them and may need to get in touch with you urgently.

Choose a friendly tone for your social media conversations and step into your customer's shoes first.

Be generous to your clients, even if they want something you would generally refuse to do.

Be loyal to customers who are loyal to you and they will tell the world how good you are.

Use a social listening tool such as Brand24. It allows tracking people in the need of assistance, who don't use official handles of your company. Read more about providing customer service using social listening.
Pro Tip!
Keep in mind this pro tip from Justyna Polaczyk of LiveChat: "Excellent customer service is not about perfection: it's about willingness to do your best to make your customers happy. If you want them to fall in love with your brand, you should be ready to know what their expectations are, and exceed them whenever possible. At the end of the day, they will remember a great experience, not the cost of your products."
Author Bio:
Kevin McNamara is a blogger and content writer. All about writing and reading. In his free time, he travels, plays the guitar and writes, writes, writes.