The 15 Best Competitor Monitoring Tools to Use in 2023
July 13, 2023 ・ 13 min read
Are you looking for competitor monitoring tools? Fantastic! I have compiled a list of helpful tools that can assist you in monitoring your competitors across various areas, including SEO, social media, content, email marketing, and more.
Let's dive in!
Top competitor monitoring tools:
01 Brand24 for mentions monitoring
Free 14-day trial. Individual plan for $79.
Brand24 is a media monitoring tool that will help you monitor your competitors on social media, websites, forums, blogs, podcasts, newsletters, review sites, and many more sources.
With Brand24, you can track mentions of your competitors across the Internet. It provides real-time data on competitor mentions, which helps you stay informed about their campaigns, activities, and customer interactions.
Track your competitors! Monitor their mentions, sentiment, and other metrics!
Key features:
Media monitoring – Brand24 track mentions from many sources in real-time. Also, it will let you analyze metrics such as reach, engagement, Presence and Reputation scores, share of voice, and AVE to evaluate your brand's position relative to competitors.
Competitive analysis – the tool offers comparison features that allow you to benchmark your brand's online performance against competitors.
Sentiment analysis – the tool analyzes the sentiment associated with competitor mentions, determining whether the sentiment is positive, negative, or neutral.
Influencer identification – with Brand24, you can identify influential individuals engaging with or mentioning your competitors. This allows you to assess the impact of these influencers and potentially collaborate with them to amplify your own brand presence.
AI reports – Brand24 delivers AI reports with insights, trends, and recommendations straight to your inbox.
Topic analysis – the tool identifies and examines topics associated with brands. This helps you to keep track of trending topics, who is talking about them online, and where most of the mentions are coming from.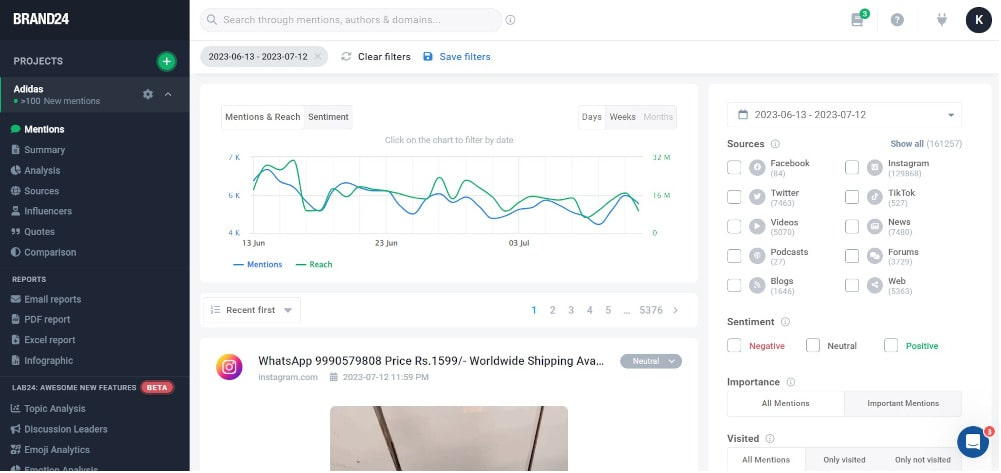 What's very helpful, the tool offers a comparison feature. It will allow you to compare your metrics, sentiment, reach, and source of mentions to any competitor.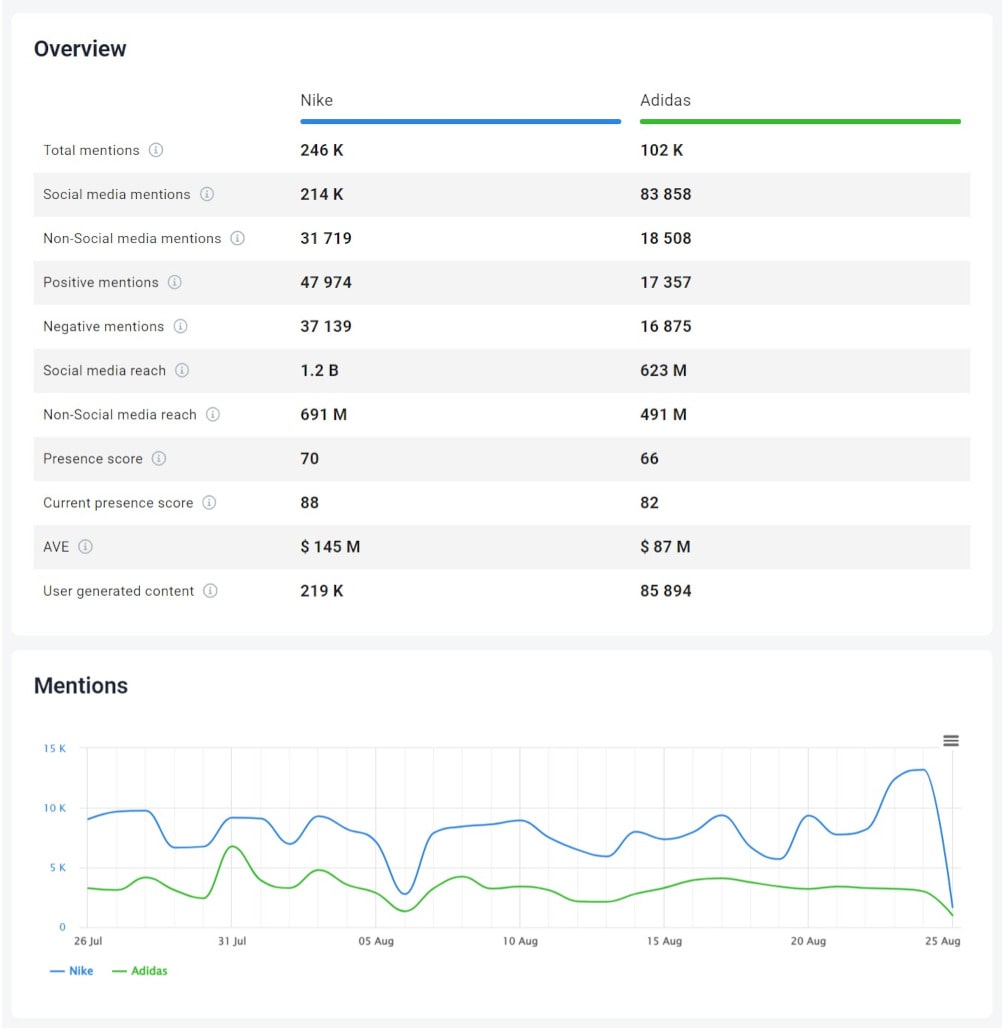 Monitor your competitors on social media, forums, blogs, newsletters, and podcasts!
02 SimilarWeb for website traffic analytics
Free trial. Starter plan for $167.
SimilarWeb is a powerful competitive intelligence tool that provides valuable insights into competitors' online performance.
With SimilarWeb, you can evaluate the website traffic and engagement metrics of your competitors. It gives you an idea of their total visits, pageviews, bounce rates, and average visit duration.
By analyzing this data, you can determine how popular and engaging your competitors' websites are compared to your own.
The tool provides information about the sources driving traffic to your competitors' websites. You can identify which channels, such as search engines, social media, referrals, or direct traffic, generate the most visitors.
Key features:
Website traffic analysis
Audience demographics
Competitor benchmarking
Competitor detecting
Audience interests

03 Google Trends for trend tracking
Free competitor monitoring tool
Google Trends is a powerful tool that can provide valuable insights into competitors and their online presence.
With Google Trends, you can compare the search interest for various keywords or topics, such as your competitors' brand names. By analyzing the search interest over time, you can determine the popularity and trends associated with your competitors' brands.
What's interesting, Google Trends provides valuable information about the regions where search interest for specific keywords or brands is highest. This data helps you understand the regional markets where your competitors are gaining traction or facing challenges.
Moreover, Google Trends also offers demographic insights about the age and gender distribution of search interest, which gives you a better understanding of your competitors' target audience.
Key features:
Search Interest Comparison
Regional and Demographic Insights
Rising Queries and Topics
Related topics and queries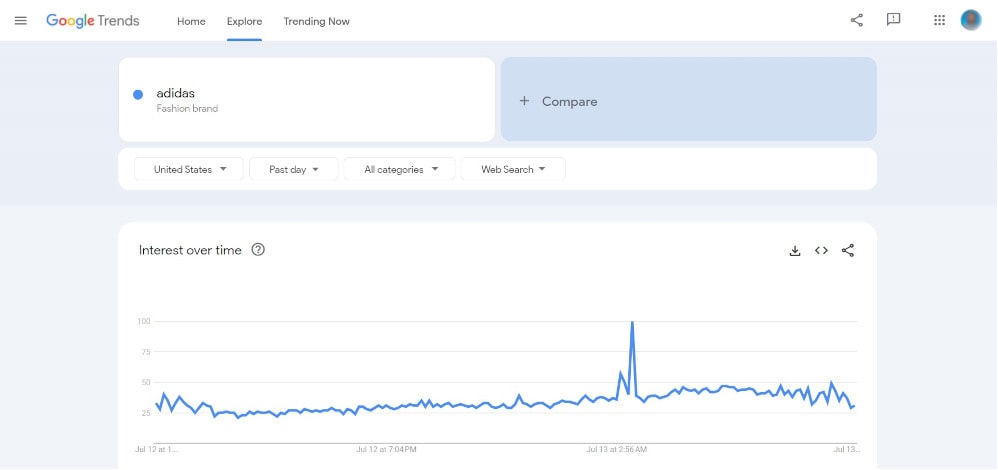 04 Ahrefs for SEO analysis
Lite plan for $99.
Ahrefs is well-known for its powerful SEO analysis tools but also includes competitor analysis features.
With Ahrefs, you can easily identify the best-performing content, keywords, and organic search strategies of your competitors. Additionally, this tool provides valuable insights into your competitors' paid search campaigns.
With Ahrefs, you can conduct comprehensive keyword research. It allows you to uncover the organic keywords your competitors are ranking for, their search volumes, and estimated traffic.
This valuable information can help you gain insights into their keyword strategies, identify potential growth areas, and optimize your SEO efforts.
Ahrefs provides various competitive analysis features that allow you to compare your website's performance with your competitors. You can analyze their domain authority, backlink profiles, and organic traffic to assess your relative market position and identify areas for improvement.
Key features:
Competitive analysis
Content gap analysis
Backlink analysis
Keyword research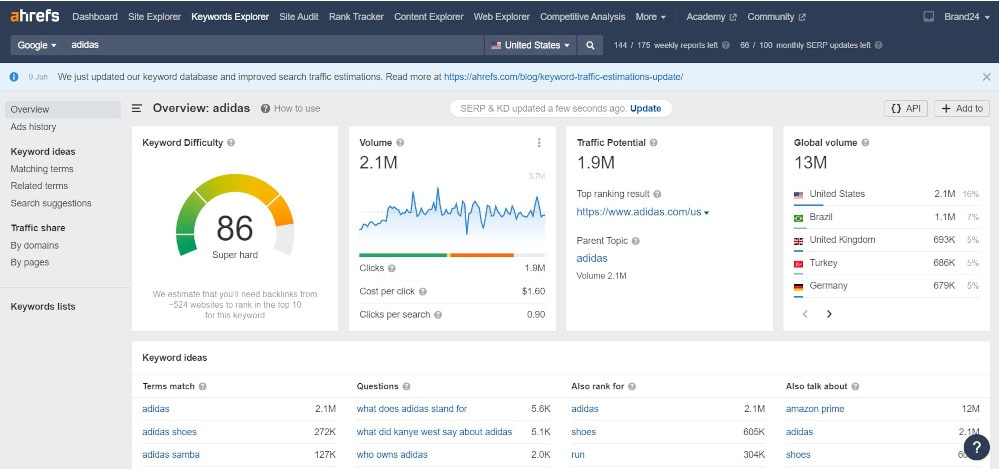 05 Rival IQ for social media comparison
Free 14-day trial. Drive plan for $239.
Rival IQ is a competitive intelligence tool specializing in social media and digital marketing analysis.
With Rival IQ, you can keep tabs on your competitor's activities across multiple social media platforms. You can track their follower growth, engagement metrics, posting frequency, and content performance.
This enables you to gain insights into their social media marketing strategy, identify the types of content that perform well, and measure your own performance against theirs.
Did you know that with Rival IQ, you can perform simple social media comparisons without spending any money? Simply select a competitor and create an email report that will identify their top performing posts, level of activity, engagement, and audience information.
Key features:
Social media benchmarking
Social media audit
Social media posts analysis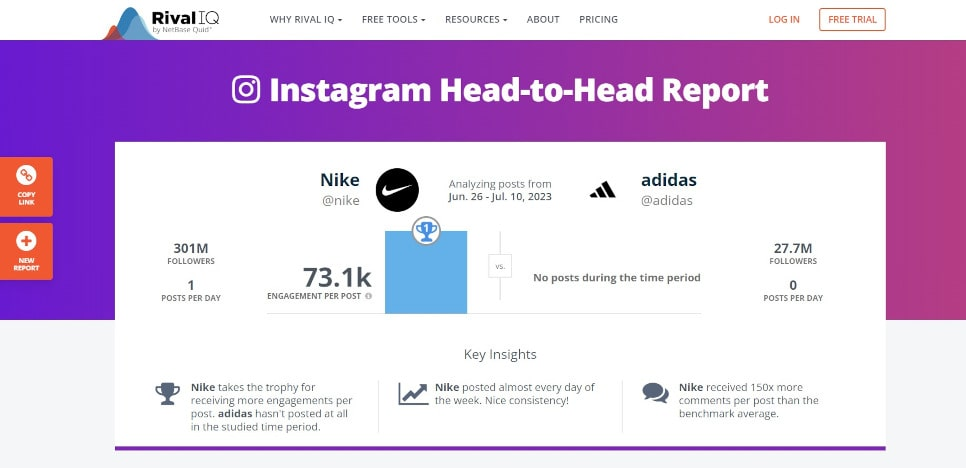 Monitor your competitors on social media, forums, blogs, newsletters, and podcasts!
06 vidIQ for tracking YouTube competitors
Custom pricing.
vidIQ is a powerful tool specifically designed to help monitor and optimize YouTube channels and videos.
With vidIQ, you can get a detailed analysis of your competitors' YouTube channels. You can check out their top-performing and trending videos, view counts, subscriber growth, and channel performance.
This information will help you understand their content strategy, identify popular video topics, and evaluate their audience engagement.
vidIQ provides keyword research tools tailored for YouTube. You can discover trending and relevant keywords and assess their search volume, competition, and ranking difficulty.
Key features:
Competitor channel analysis
Trending video insights
Subscriber Analytics
Keyword research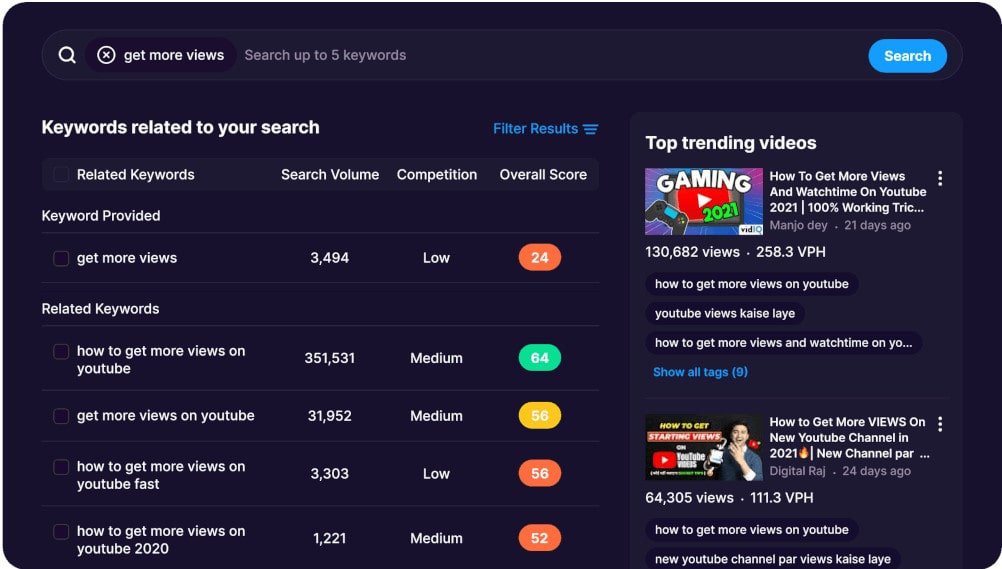 07 BuzzSumo for tracking competitors' content
Free 30-day trial. Basic plan for $239.
BuzzSumo is an efficient tool for researching and planning content marketing strategies. It can provide a wealth of information about what's working in your industry or niche, including information about your competitors.
You can use BuzzSumo to see which pieces of content from your competitors are getting the most shares and engagement on social media. This allows you to understand the types of content that resonate with your target audience, and you can produce similar (but better!) content.
BuzzSumo allows you to identify key influencers in your industry who are sharing your competitors' content. This gives you potential targets for influencer marketing and potential partners who might help promote your content.
Key features:
Track competitor's content
Content analysis
Identify key influencers
Compare performance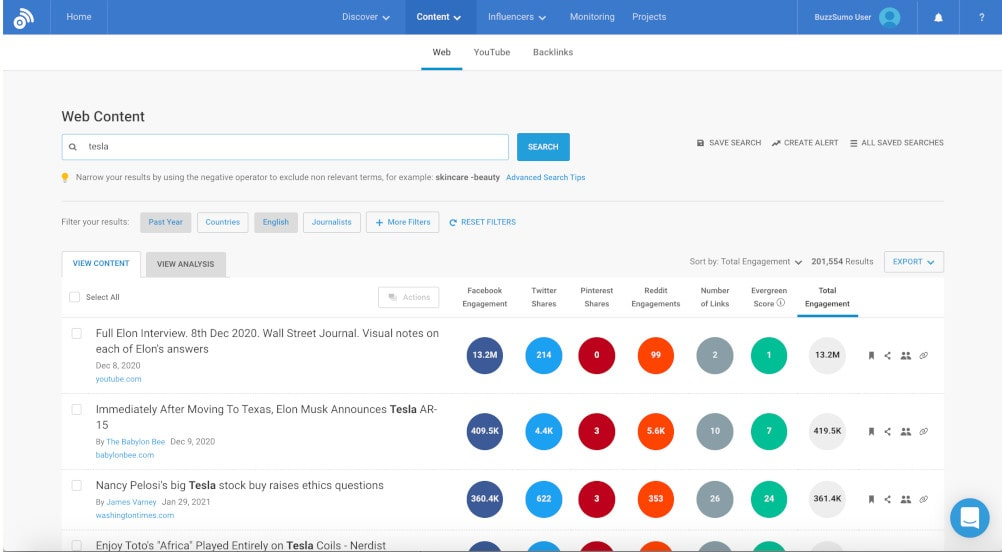 08 Visualping for monitoring website changes
Free competitor monitoring software
Visualping is a tool primarily used to monitor changes to websites. It can automatically track modifications on your competitor's web pages and notify you when changes are detected.
With Visualping, you can monitor and track any changes made to your competitors' websites. This could include updates to product offerings, pricing changes, promotional offers, updates to their "About Us" or "Team" pages, and more.
The tool will help you keep an eye on your competitors' pricing strategies. If they make any changes to their pricing, you'll be notified.
Key features:
Monitor website changes
Track product pricing
Observe SEO changes
Track content updates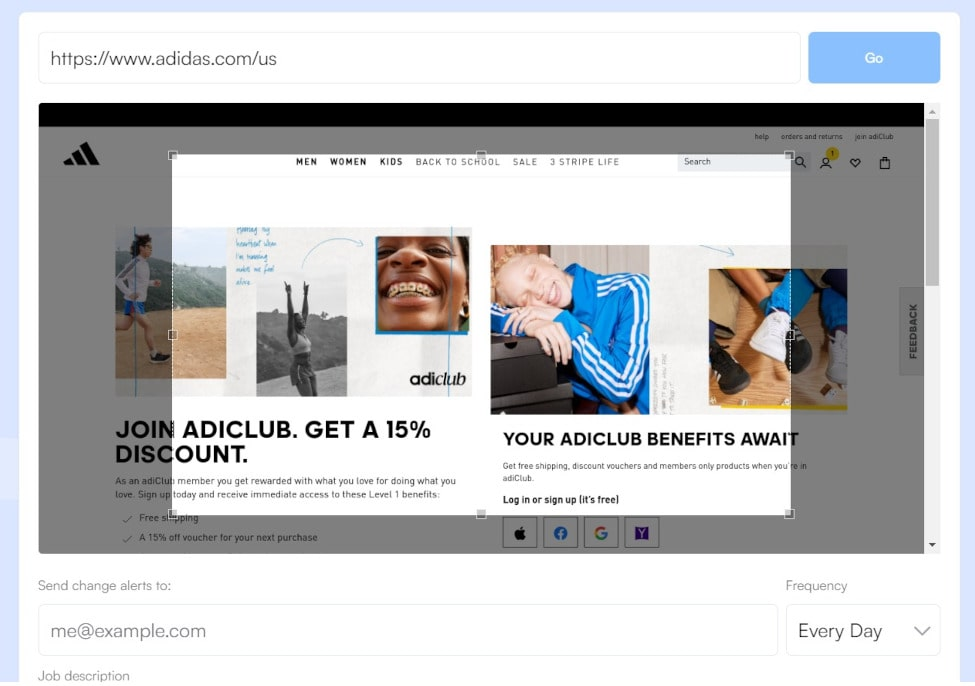 09 Wide Narrow for competitive advantage
Custom plan
Wide Narrow is a competitive intelligence tool that helps businesses monitor and analyze their competitors' activities. It offers a variety of features that can make competitor monitoring more effective and efficient.
The tool can pull in data from various sources. This means you can track what your competitors are doing across multiple platforms in one place.
The tool helps sift through large amounts of data to find the most relevant and valuable information. It uses a combination of AI and machine learning to reduce noise and ensure you're only getting the insights you need.
Wide Narrow is a tool that facilitates team collaboration. Also, you can configure alerts that will inform you about important updates or changes.
Key features:
Streamlined data collection
Intelligent filtering
Easy reporting
Integrations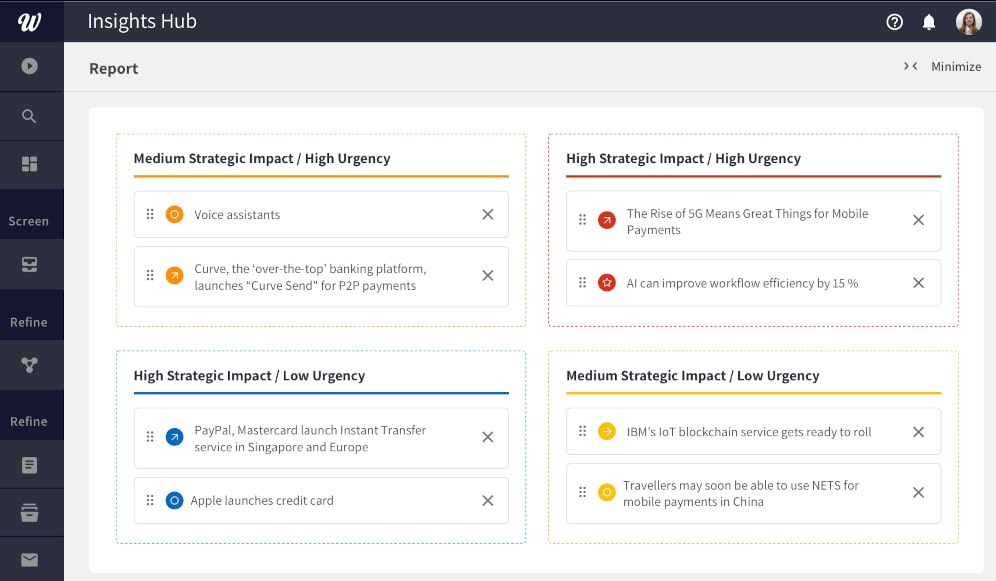 10 Wappalyzer for technology detecting
Pro plan for $250.
Wappalyzer is a tool that uncovers the technologies used on websites. It detects content management systems, e-commerce platforms, web servers, JavaScript frameworks, analytics tools, and many more.
It's always a great idea to closely examine what your competitors are up to. By checking out the technologies, platforms, and tools they're using, you might find some really helpful insights into their strategies.
Keep an eye on their technology stack. Try to understand why they've chosen them. You might even discover a new tool or platform that could supercharge your own business.
What's interesting, Wappalyzer can identify third-party tools like customer support chat systems, appointment scheduling widgets, and more. This can give you insights into the user experience offered by your competitors.
Key features:
Technology stack analysis
Security analysis
Budget & resources estimation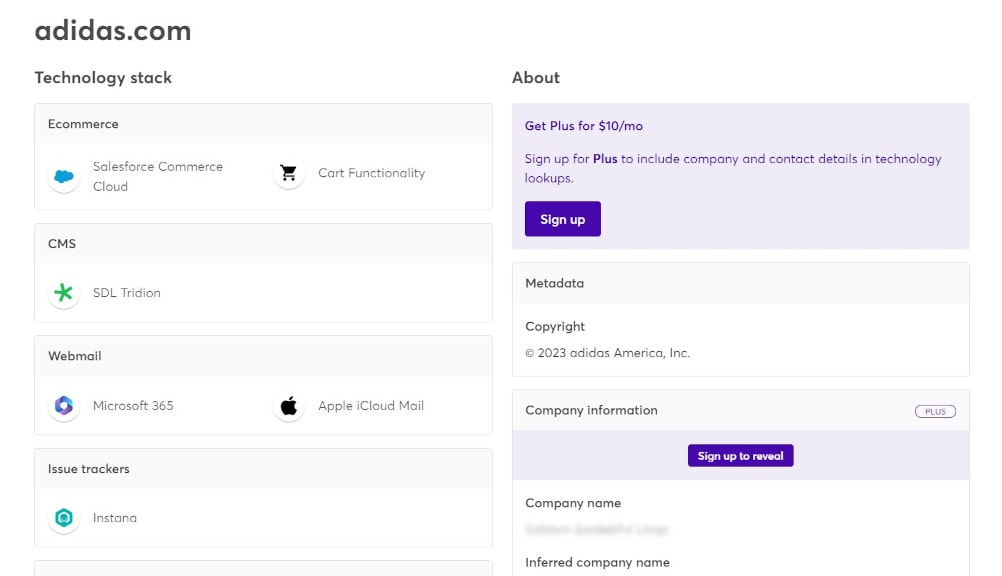 Monitor your competitors on social media, forums, blogs, newsletters, and podcasts!
11 SparkToro for audience insights
Free tool
SparkToro is a competitor research and audience intelligence tool. It will help you understand your competitor's audience and how to reach them online.
SparkToro can help you understand where your competitor's audience is engaging online. This includes which websites they visit, the social media accounts they follow, the podcasts they listen to, the videos they watch, and more.
SparkToro can help you identify the keywords and phrases used by your competitors' audience in their content. This can assist you in comprehending their messaging and positioning.
Key features:
Audience research
Influencer identification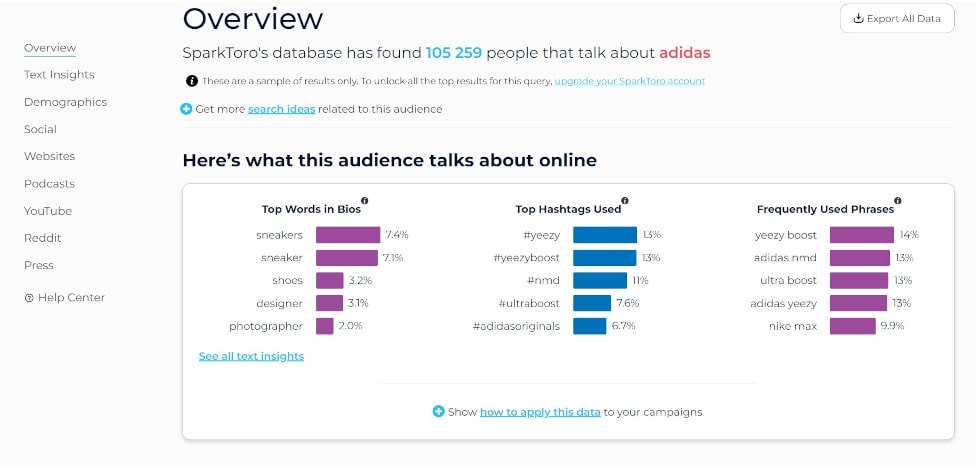 12 Boardfy for price monitoring
Free 7-day trial. Starts at $39.
Boardfy is a pricing intelligence tool primarily used by e-commerce businesses to monitor competitor pricing. It automatically tracks price changes and promotions on your competitor's websites and various marketplaces.
Boardfy tracks the prices of your competitors' products across various platforms, such as Amazon, Google Shopping, eBay, etc.
The tool can automatically adjust your prices based on your pricing strategy and competitors' charges. It allows you to set up pricing rules and implement them in real-time.
Also, Boardfy can send you alerts whenever a competitor puts a product on sale or runs a promotional offer.
Key features:
Price tracking
Promotion alerts
Dynamic pricing
Marketplace monitoring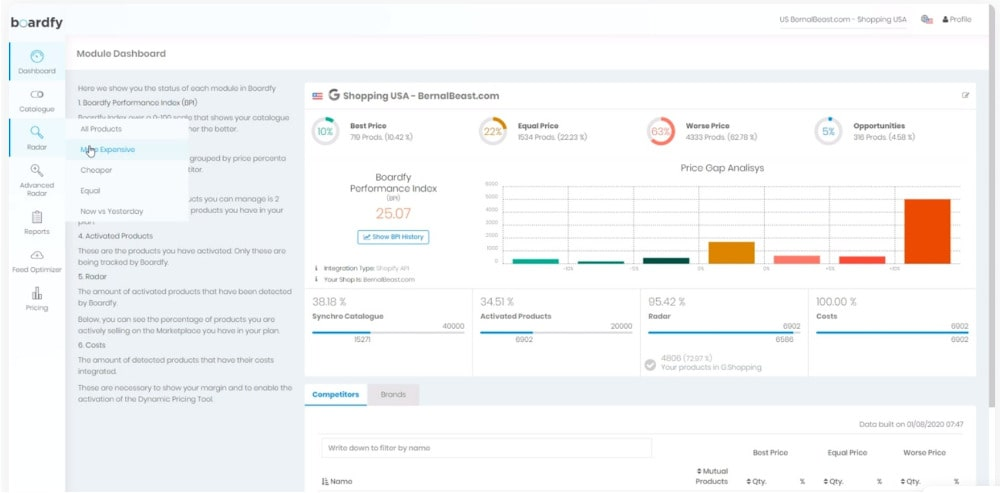 13 Owler for financial analysis
Free tool
Owler maintains detailed profiles on millions of companies, including information about their revenue, employees, funding, acquisitions, competitors, and leadership.
Based on competitor data, the tool detects similar companies that might be your potential rivals. Furthermore, Owler detects recent news, which can give you insights into your competitors' strategies and growth.
Also, Owler offers a "Competitive Graph" that visualizes your competitive landscape, helping you understand who your competitors are and how they relate to one another.
Key features:
Company profiles analysis
Competitive analysis
Competitive Graph
Company rankings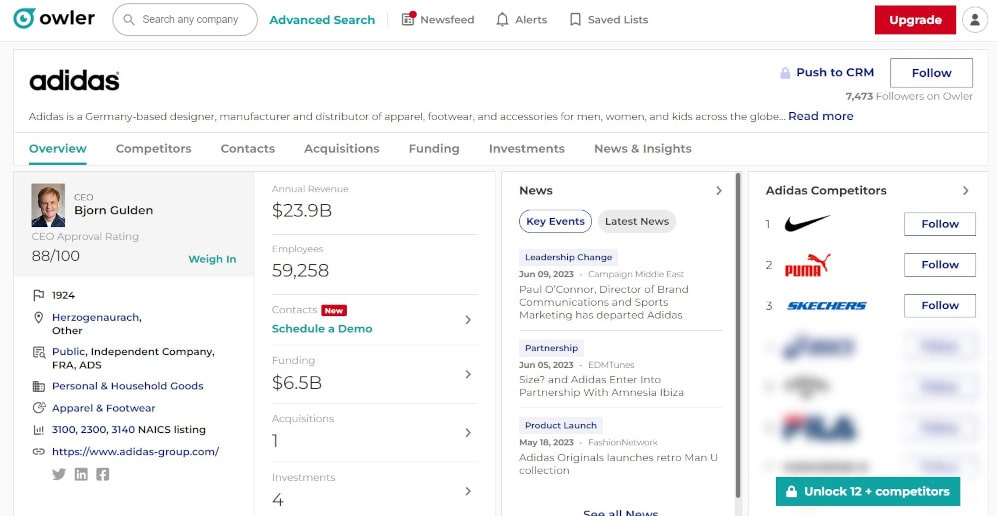 14 iSpionage for tracking ad campaigns
Starter plan for $59.
iSpionage monitors your competitors' PPC and SEO strategies. The tool lets you see which keywords your competitors target in their PPC and SEO campaigns.
Thanks to iSpionage, you can see the exact ad copy your competitors are using in their PPC campaigns. The tool provides estimates on how well your competitors' PPC campaigns are performing.
In addition to PPC, iSpionage also provides information on your competitors' organic search performance, helping you understand their SEO strategy.
Key features:
PPC and SEO keyword research
Ad copy analysis
Campaigns performance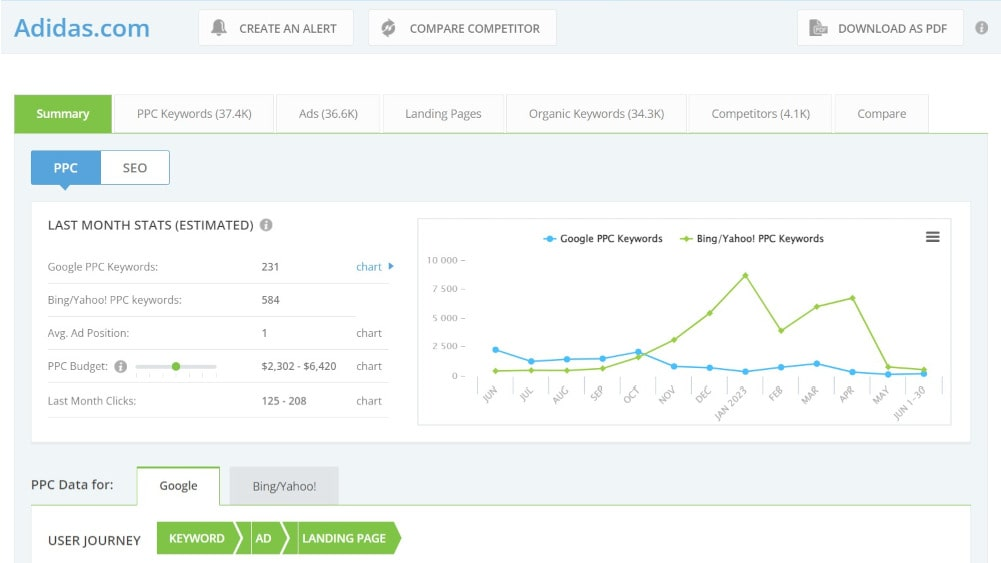 15 Owletter for email monitoring
Free 14-day trial. Starter plan for $19.
Owletter is an email monitoring tool that can help you keep track of your competitors' email and newsletter strategies.
Owletter automatically captures and stores every email sent from the websites you want to monitor.
This tool analyzes how many emails your competitors have sent this year, the specific days they send the emails, and the hours of the day when they send them.
Key features:
Email Capture
Email Analysis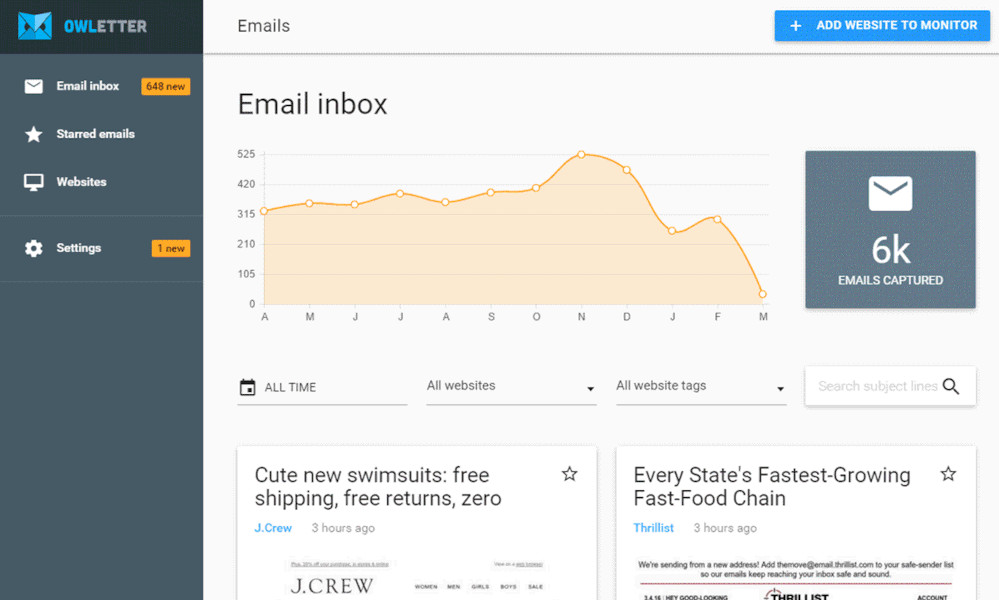 Start competitor monitoring! Detect their reach, sentiment, and mentions!
Conclusion
As you can see, there are many tools that can support you while researching and monitoring your competitors.
When choosing the perfect tool, keep these three crucial tips in mind:
Feature suitability – Consider what features are most important for your specific business needs. Are you more interested in tracking social media activity, SEO rankings, product developments, or perhaps email campaigns? Make sure the tool you choose specializes in tracking the areas most relevant to your business.
Ease of use – The tool should be user-friendly and intuitive. If it takes too much time to learn how to use the tool or if the tool is too complex, it could end up costing more in time than it saves. A good competitor monitoring tool should simplify your work, not complicate it. Look for one with a clean, easy-to-navigate interface and good user support.
Comprehensive reporting – The tool should offer detailed and comprehensive reporting. It's not enough to simply collect data. The tool should also be able to analyze that data and present it in a way that's easy for you to understand and act on. Look for a tool that provides actionable insights, not just raw data.
Brand24 has it all. It's a robust media monitoring tool that helps you keep a real-time pulse on your competition. Start a free trial now!