Table of contents:
Keep your friends close and your enemies closer.
The logic behind these memorable words from Sun Tzu / Michael Corleone / a unknown author makes sense not only in war or mafia but also in business.
If you want to keep up your competitors, monitor their actions and never miss a beat in the competitive landscape, this article is for you.
Is Keeping an Eye on Your Competitors a Bad Thing?
Absolutely not.
It's the right thing to do for every business. It has nothing to do with spying or eavesdropping – competitor analysis is 100% legal and relies on publicly available data. 
Having in-depth insights into various areas of business and marketing of your competitors has plenty of benefits for your business:
Winning over your competitors' customers.
Avoiding losses.
Predicting your competitors moves.
Spotting emerging threats
Identifying  gaps.
Assessing the performance of your business.
Identifying market opportunities.
The goal here is to know and be aware.
Then, on the basis of the comparison, you can adjust your actions accordingly.
There's plenty of business areas that can be analyzed. Social media marketing, marketing campaigns, SEO performance, paid ads, backlinks, PR activities are just some of them.
Below you can find 5 tools that can help you gain competitive edge over your competitors. 
1. Similar Web. 
One of the best competitor analysis tools our there is Similar Web.
Similar Web is a powerful and publicly acclaimed tool for analysis of website traffic and much, much more in paid version.
To compare the performance of your website to your competitor's, enter your site address first: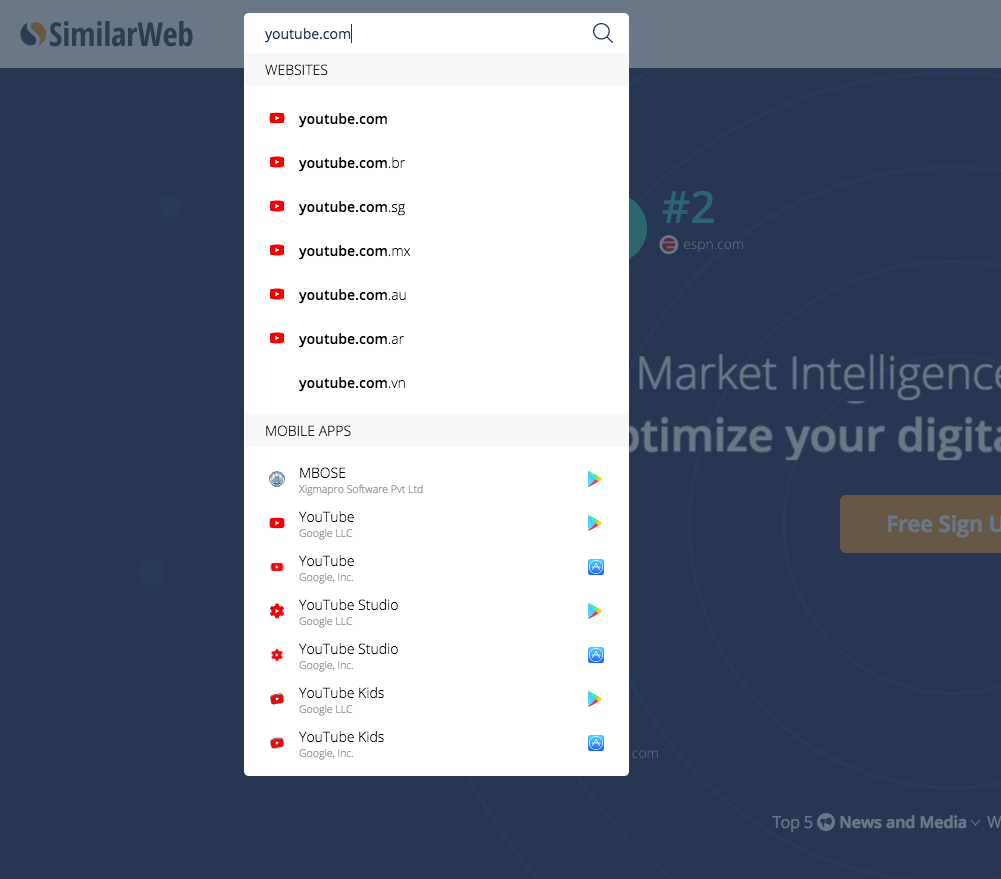 Next, provide your competitor's web address: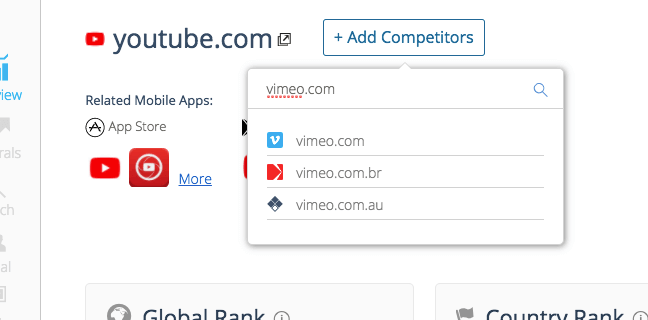 In the free version of the tool you can see global rank, country rank and category rank:

Also, the free version of Similar Web offers traffic overview: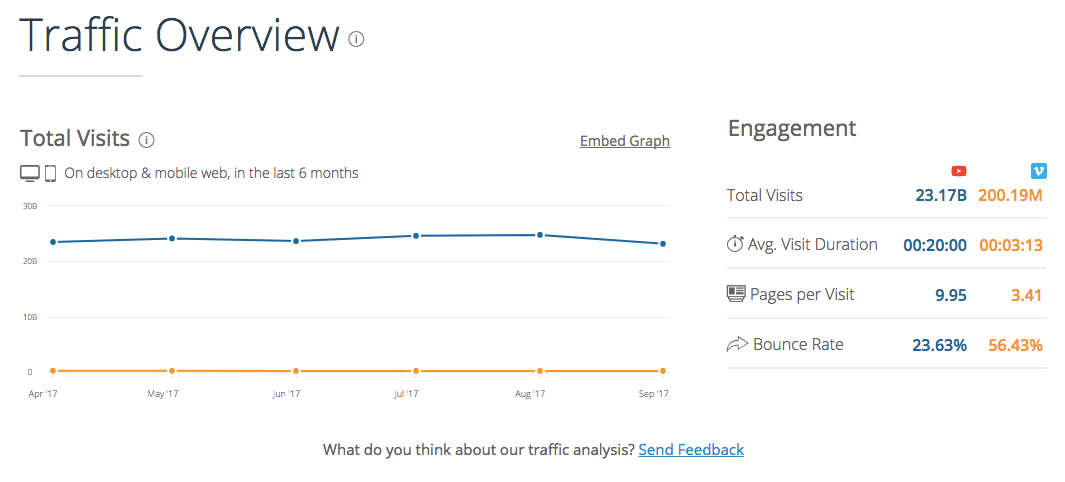 And traffic sources:

Those are features you can investigate using the free version of Similar Web.
On the basis of traffic source, you can see the differences between you and your competitor. If you see that your competitor performs well in organic traffic (Search in Similar Web), you can concentrate your efforts on social traffic.
How?
By addressing your audience's needs and creating highly shareable content.
At the same time, it'll boost your referral traffic and build your expert authority. It'll also improve your SEO reputation as Google bot likes engaging content and boosts its performance.
The pro version of Similar Web offers much more in competitor analysis:
Referrals.
Social.
Display.
Content.
Audience.
Competitors.
Mobile apps.
2. Brand24.
Competitor analysis tools work also in social media.
Another one of those is social media monitoring.
Using social media monitoring, you can track web and social mentions of predefined keywords, be it your company, product, hashtag, campaign name, or whatnot.
You can use it to monitor your online reputation, hashtag performance, provide customer service, track customer feedback, analyze the performance of your marketing campaigns and much, much more.
What's more important, you can monitor your competitor in the exactly same way. 
With a social media monitoring tool, you're able to track:
Web and social mentions about your competitors — What their customers talk about them online? Are there any influential sources that mention them? Are they gettin a lot of negative / positive customer feedback? What are their customers' requests? What are their pain-points? Do they struggle with some fuc*ups? What are their newest product improvements?
Performance of their company name, marketing campaigns and hashtags — How often their company / product / hashtag get mentioned online? What is the social media reach of these mentions? How fast, and it at all, their recent marketing campaign spreads? What sources mention them most frequently? Are they getting a lot of engagement (likes, comments, shares)?
This kind of insights is a great source of knowledge you can use to fill the market need your competitors are missing out on.
Here are some examples:
By monitoring influential sources that mention your competitors, you discover blogs, websites or authors that are likely to cover also your business. The rest is the matter of reaching out and striking a deal.
You see that the customers of one of your competitors complain online about something. It so happens that your business is way better at it. In such a case, you need to reach out to the disappointed customers of your competitor and show what you have to offer.
Your competitor launched a hashtag campaign promoting something new. You monitor it and see how it spreads and what's the response of their audience.
You can let the tool automatically compare your numbers to the numbers of your competitors.
First of all, to collect social mentions about your competitors, you need to create a project:

Then, you'll see the summary tab that contains the most important pieces of data regarding your project:
The most popular mentions
Latest mentions.
Numerical summary of your project: the number of mentions, social media reach, interactions, positive and negative mentions.
The most influential profiles and websites mentioning your competitor.
Graphs showing the number of mentions and their social media reach.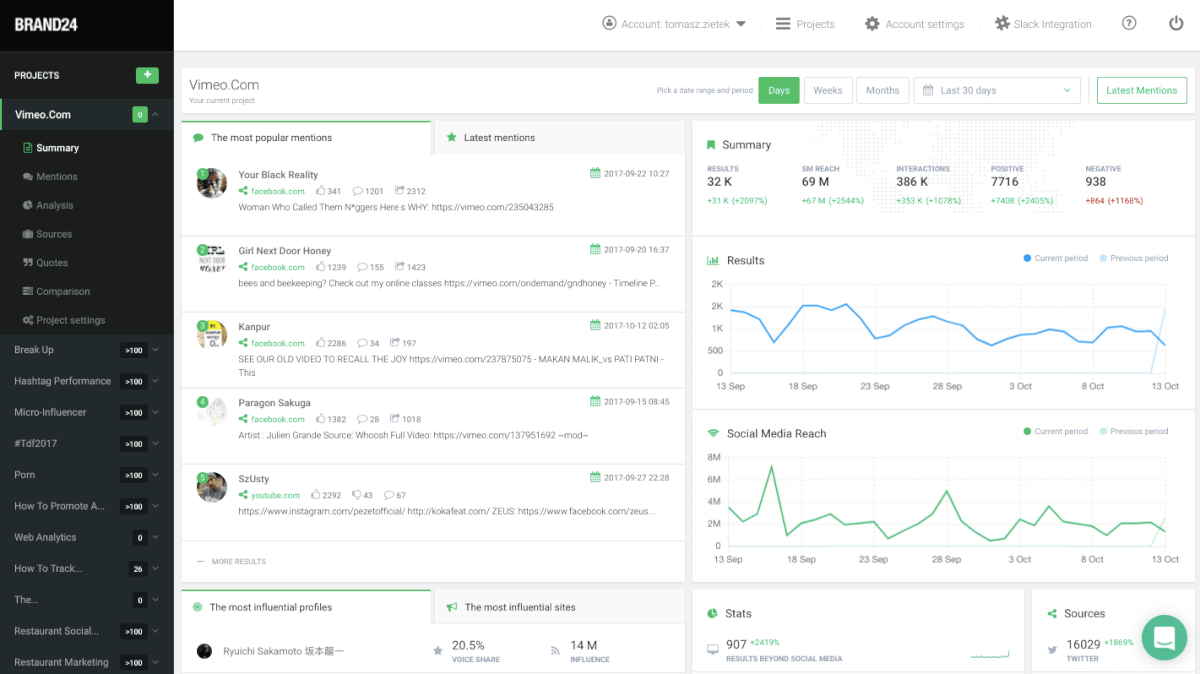 The most important information is in the analysis tab. Check it out, it's completely free.
3. SEMrush.
You say SEO, you think SEMrush.
Another great tool you can use for competitor analysis is SEMrush.
It's is one of the most popular tools out there and covers many areas of online marketing. One of its strongest points is SEO and keyword research.
SEO (search engine optimization) a fundamental part of your online presence — the quality of your website's SEO determines how visible your website is in search engines. 
In SEMrush, you can monitor the performance of your SEO:
Traffic.
Organic keywords.
Backlinks.
New keywords.
Paid keywords.
Keyword trends.
+ more!
It's an awesome tool for keyword research for your content.
What's important, you can use SEMrush to research any domain, including those of your competitors.
Using SEMrush you can analyze:
Top keywords your competitors rank for.
Their backlinks.
Their paid keywords.
Their traffic.
One of the most important pieces of data is stored in top organic keywords. This is where you can see the keywords your competitor ranks for.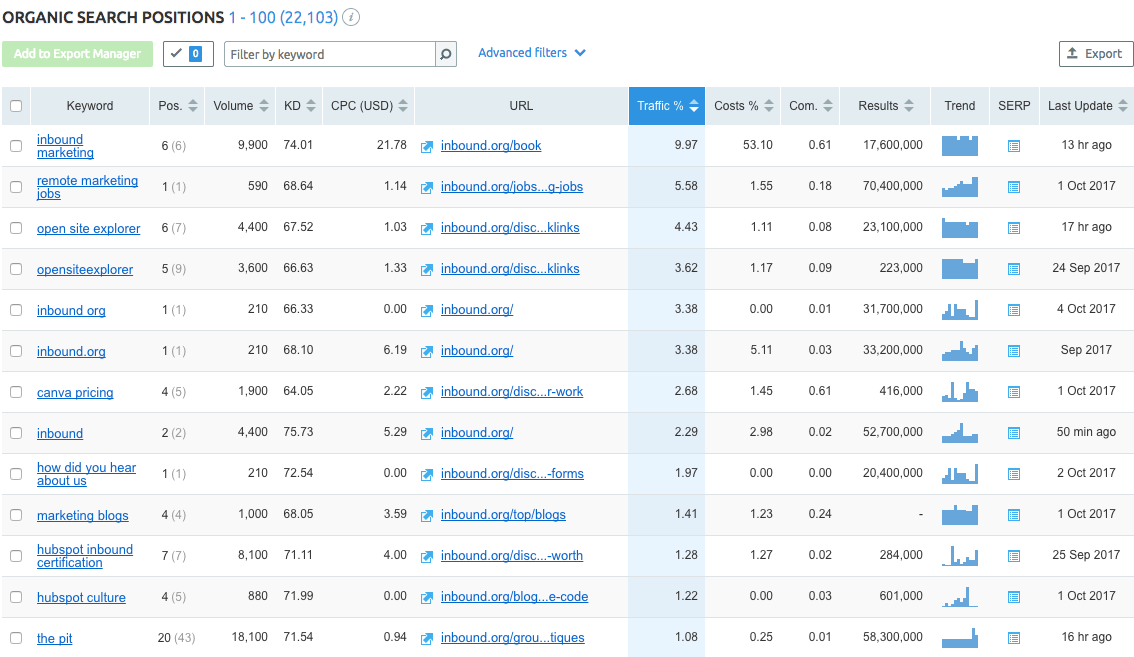 In backlinks, you can see all sites that link to your competitor's site: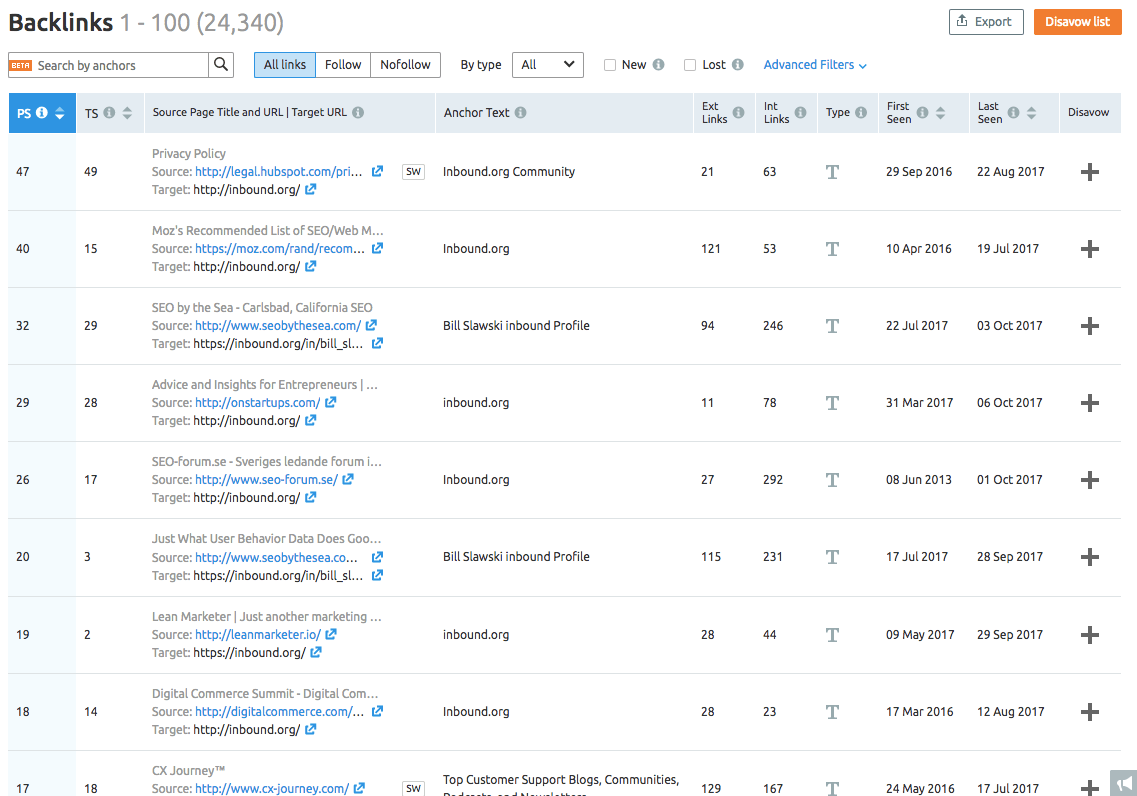 How you can use this knowledge?
For example, you can reach out to websites linking to your competitor with a message asking to mention your website too. Backlinks give massive boost to SEO and increase visibility.
4. Siteliner.
We cannot talk about competitor analysis tools without mentioning Siteliner.
Using Siteliner you can evaluate your competitor's website on a couple of levels:
Find broken links.
Page sizes.
Internal linking.
Number of links on a page.
With this kind of knowledge, you can, for example link for your competitor's broken links. Moz created a great guide for that:
Linking hugely influences Google rankings. Without links linking to your content, you won't be able to rank high in Google. Simple as that.
Here's a great piece of content from Moz that discusses both links and Google ranking. 
The free version of the tool allows analyzing up to 250 pages.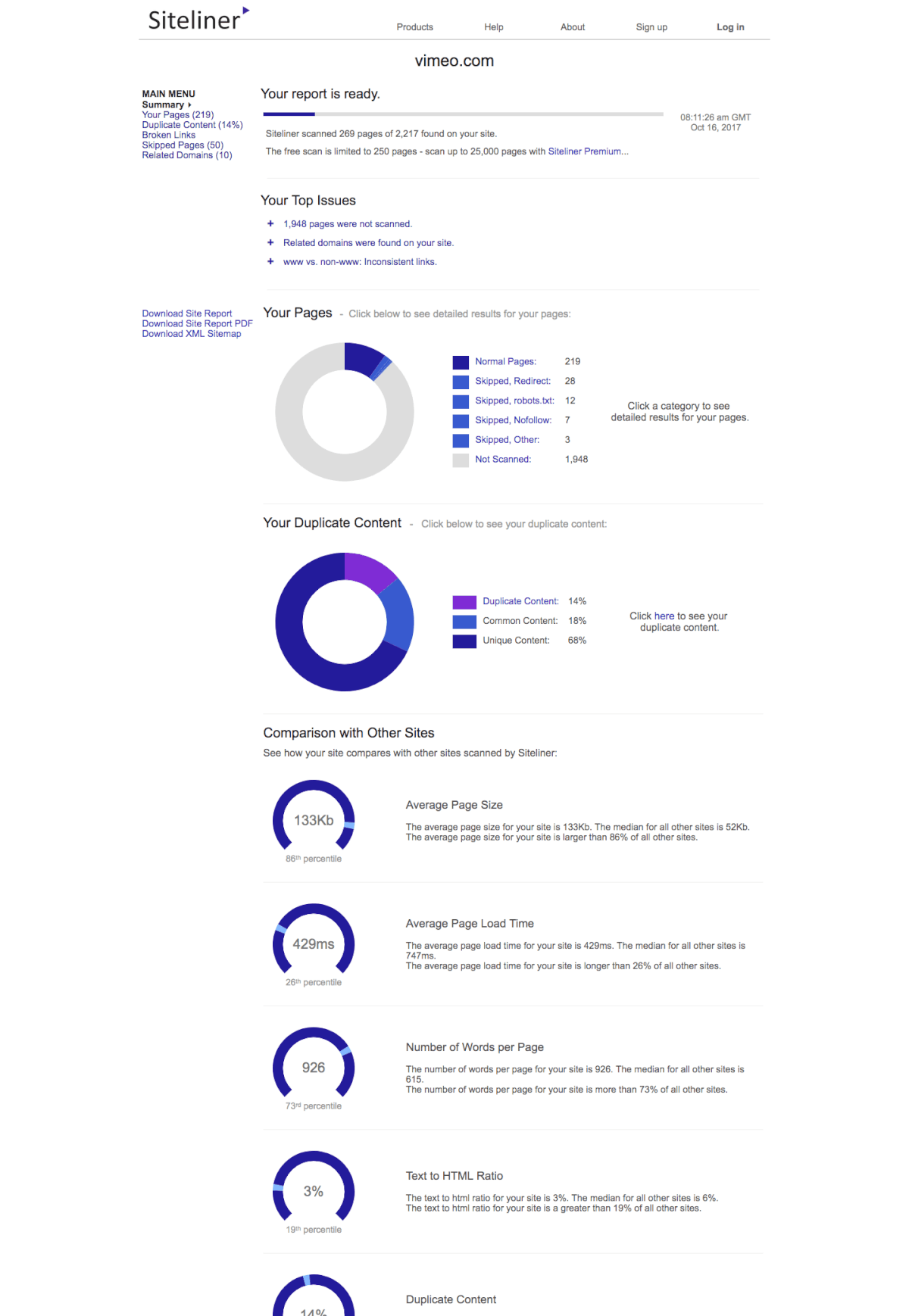 5. Rank Signals.
It's another competitor analysis tool for SEO.
Using Rank Signals, you can track your competitors backlinks. This will give you an idea of sources that link to your competitor and boost one's Google ranking.

Rank signals shows you title and URL, link anchor text and URL
Backlinks add up to your website's good search engine optimization. What's more important, they have a considerable influence on your domain SEO visibility. Also, it's absolutely crucial that sites linking to your site are of good quality.
It's quality over quantity scenario here.
Neil Patel has an awesome article about backlinking strategy you can use for your website.
Here you can try Rank Signals for free.
---
---