Competitor analysis and tools to perform it are an important, but often overlooked area of business. Even if the process seems dull and all but adrenaline-pumping, it's the outcome that can give tremendous value. Here's what it's all about.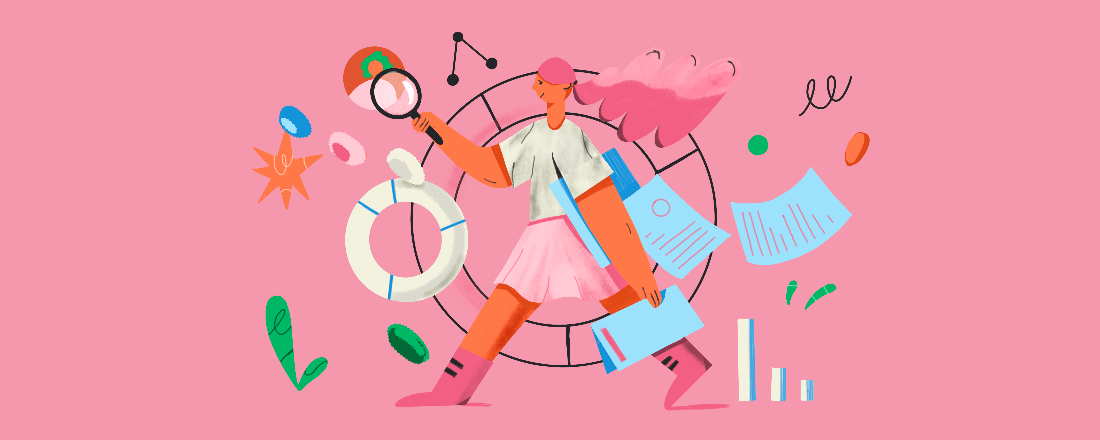 The wisdom of keep your friends close and your enemies closer goes beyond Sun Tzu's thoughts on war strategy. It's a school of thought that resonates in business and marketing alike.
Some may wonder is keeping an eye on your competitors a bad thing and the answer is: absolutely not!
It's the right thing to do for every business that thinks strategically. Competitor analysis and relevant tools have nothing to do with spying or eavesdropping.
Competitive analysis is 100% legal and relies on publicly available data. Competitor analysis tools make the process quick and effortless.
Having an in-depth insight into various areas of business and marketing efforts of your competitors has plenty of benefits for your business. Competitive analysis tools will help you:
Understand how to differentiate your product and stand out in the market
Win over your competitors' customers
Discover your audience interests
Spot link building opportunities
Improve your content strategy
Track ad campaigns of your competitors
Avoid losses
Discover keyword opportunities
Predict your competitors moves
Spot emerging threats
Identify gaps
Asses the performance of your business
Identify market opportunities
There's plenty of business areas that can be analyzed online. Social media presence, marketing campaigns, brand awareness, sentiment, SEO performance, paid ads, backlinks, or PR activities.
Competitive analysis can be a piece of cake, given you have the right set of tools to spy on your competition.
The 11 best competitor analysis tools
Competitive analysis is an all-encompassing project. You can track different KPIs, starting with social media presence, through brand awareness, ending with SEO metrics, such as domain score and keywords rankings.
Competition can make or break your brand. The more you know about your industry, the better decisions you can make. That's why before you get into any marketing activities or product development, you need to conduct competitor research.
We present a wide range of tools — from ones that will help you monitor your online presence through SEO efforts to end with social media competitors tools.
In this blog post, we present 11 competitor analysis tools that can help you look into those areas and gain competitive edge over your competitors:
Brand24
One area of business these days we all compete in is the presence in online media. As faintly as it sounds, it can be reduced to a few aspects:
Online sentiment around a business, its product, service, or anything else
Share of voice in their industry
Volume of mentions in online media
Social media reach of content talking about a business
Engagement around content mentioning a brand
Most influential authors chatting about brands
Customer feedback
In this context, Brand24 is one of the best competitor analysis tools for the job.
It's an online media monitoring tool you can use to track web and social media mentions of predefined keywords, that are relevant to your competitors. More than that, the tools offers extensive analytics to put this data into perspective.
If you try it for free, it's good to start tracking competitors using the following keywords:
Their company name
Their product name
Their service name
Hashtag they use
The name of marketing campaign
Their CEO's name
Any keyword which is relevant to your industry
With an online media monitoring tool, you're able to track:
What their customers talk about them online?
Are there any influential sources that mention them?
Are they getting a lot of negative and positive customer feedback?
What are their customers' requests?
What are their product pain-points?
Do they struggle with some fuc*ups?
What are their newest product improvements?
How often their company, product, or hashtag get mentioned online?
What is the social media reach of these mentions?
How fast, and it at all, their recent marketing campaign spreads?
What sources mention them most frequently?
Are they getting a lot of engagement (likes, comments, shares)?
This kind of insight is a source of powerful knowledge you can operate on, and use to fill the market need your competitors are missing out on. Especially with the recently refreshed and updated comparison tab you can create beautiful reports on your direct competitors and perform data-driven benchmarking.
Here are some examples:
By monitoring influential sources that mention your competitors, you discover blogs, websites or authors that are likely to get interested in your business.
You see that the customers of your competitor complain online about something. It so happens that your business is way better at it. In such a case, you need to reach out to the disappointed customers of your competitor and show what you have to offer.
Your competitor launched a hashtag marketing campaign promoting something new. You monitor it and see how it spreads and what's the response of their audience.
First of all, to collect social mentions about your competitors, you need to create a project and enter relevant keywords.
Then, you'll see the Summary tab which contains the most important pieces of data regarding your competition:
The most popular mentions
Latest mentions.
Numerical summary of your project: the number of mentions, social and non-social reach, interactions, positive and negative mentions.
The most influential profiles and websites mentioning your competitor.
Graphs showing the number of mentions and their social media reach.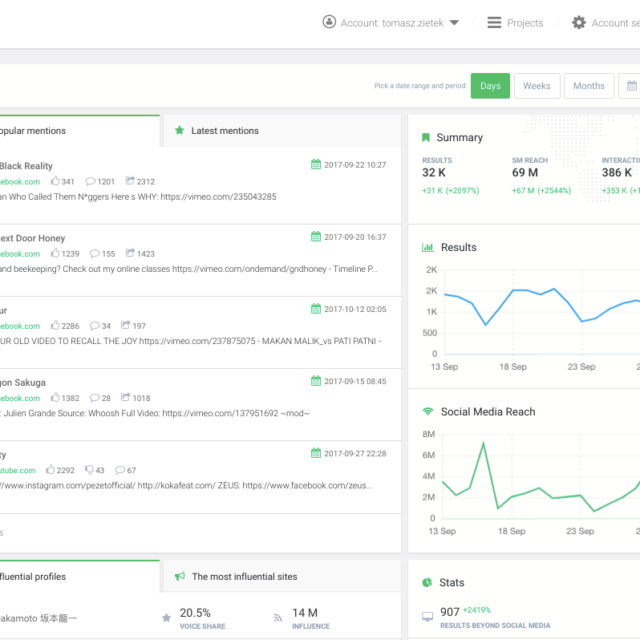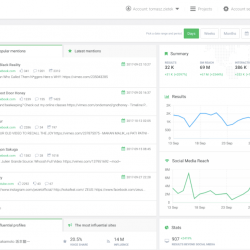 The most important information is in the Analysis tab. Check it out, it's completely free.
Conduct competitor research! Try it for free!
SE Ranking
More than 500,000 users chose the SE Ranking platform to get a comprehensive set of SEO tools to audit and improve the website's performance. Whether you want to start a new business or gain an advantage in your industry, competitor and keyword research is your starting point.
Using SE Ranking's competitor analysis tool, you can reveal your rivals' organic and paid strategies. For example, you can find competitors keywords that drive traffic, analyze recently added backlinks, and spy on Google Ads marketing campaigns.
You get instant access to SE Ranking website analysis data:
search results overview by country;
domain and page trust;
traffic cost;
traffic estimate;
backlinks;
referring domains;
the number of key phrases;
keyword rankings;
distribution of organic and paid competitors;
CPC and number of advertisers;
SERP features.
For those who need a more profound competitor analysis, SE Ranking released a historical data update that now allows analyzing domains and keywords for previous months starting from February 2020.
All you need to do is to select a month to check changes in website traffic, keywords, and backlinks.
How could you get an advantage using this feature? By analyzing competitor performance in dynamics, you'll get valuable insights about:
changes in the niche landscape;
traffic drops and reasons behind them;
effective practices of competitor's promotion strategies;
best-performing keywords in PPС campaigns.
Based on the most comprehensive SEO competitor analysis with SE Ranking, you will be ready to make more thoughtful SEO decisions, save the A/B testing budget, and promptly respond to changes in the market.
You can try SE Ranking for free.
Similar Web
One of the best competitor analysis tools our there is Similar Web.
Similar Web is a go-to tool for search traffic analysis and much more in paid version. With its help, you can gain the following competitive intelligence:
Volume of traffic: with this knowledge, you can estimate market share of your competitors, at least when it comes to website traffic
Sources of traffic: this knowledge can tell you quantities in which your competitors acquire traffic between paid acquisition, referral, and organic traffic.
Ad display: what ads and where they display them
To compare the performance of your website to your competitor's, enter your site address first: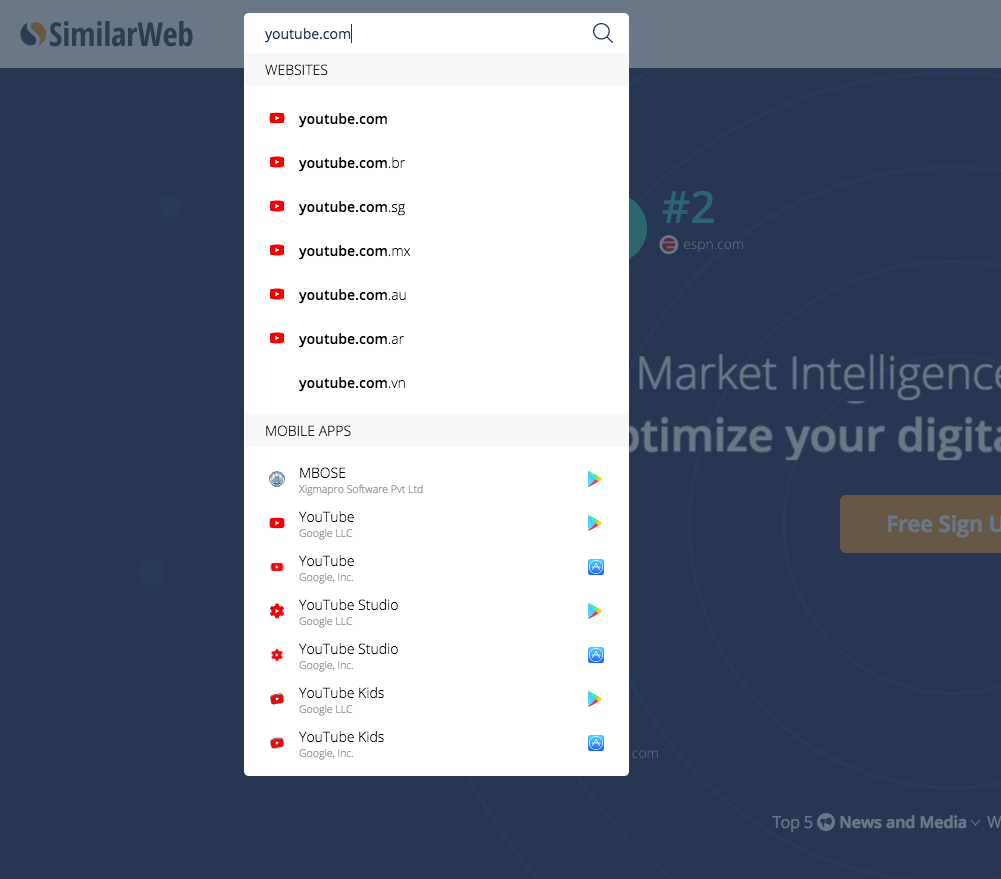 Next, provide your competitor's web address: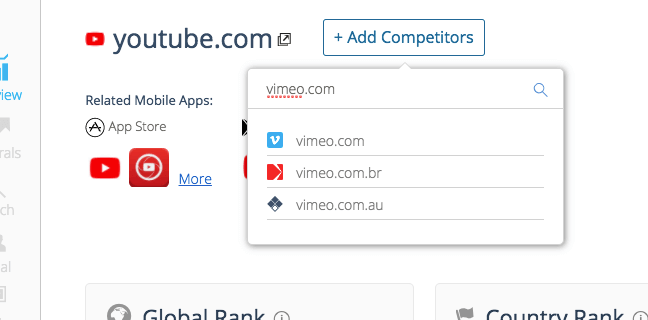 In the free version of the tool, you can see global rank, country rank and category rank:

Also, the free version of Similar Web offers traffic overview: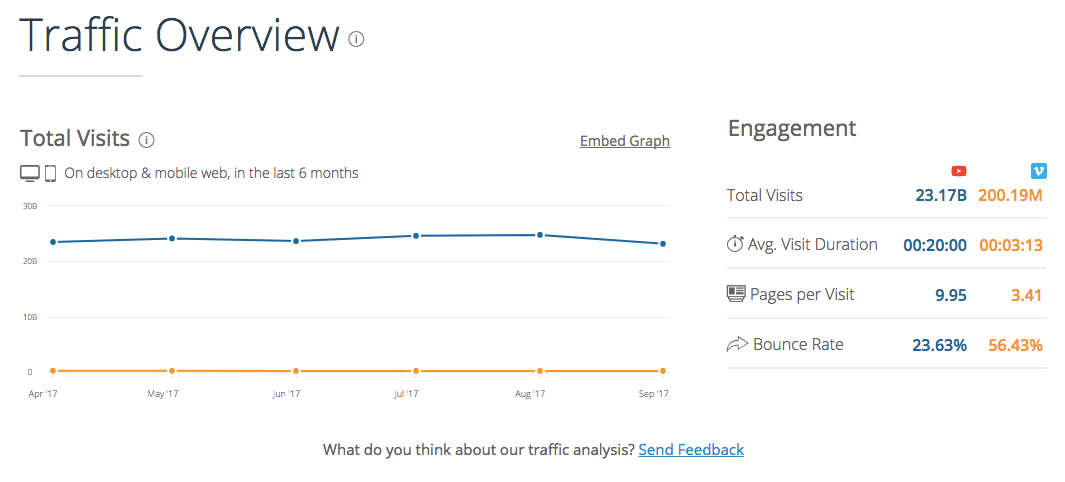 And site traffic sources:

These are features you can investigate using the free version of Similar Web.
On the basis of traffic source, you can see the differences between you and your competitors. For example, if you see that your competitor performs well in organic traffic, you can concentrate your efforts on social traffic.
How?
By addressing your audience's needs and creating highly shareable content.
At the same time, it'll boost your referral traffic, grow brand awareness, and build your expert authority. In the long run, it'll also improve your SEO reputation as Google bot likes content that engages readers.
The pro version of Similar Web offers much more in competitor analysis:
Referrals
Social
Display
Content
Audience
Competitors
Mobile apps
SEMrush
You say SEO tools, you think SEMrush.
SEMrush is another great keyword tool you can use for competitor analysis, particularly if you want to compete for users in Google search engine.
Search engine optimization is a fundamental part of marketing efforts. It's because the quality of your website's content and its technical performance determines how visible your website in search engines for potential customers is. It's an arms race to win organic users and organically promote your brand.
SEMrush is the right tool to screen the SEO performance of your competitors, for example:
Traffic
Organic keywords they rank for
Backlinks they acquire
New and lost keywords
External links to their website
Increases and decreases in rankings
Best performing sites
Paid keywords
Keyword trends
And much more!
Sources of traffic
Similarly, it's a perfect tool to look after your search engine performance, too.
One of the most valuable pieces of data about your competitor you can get from SEMrush are top organic keywords. This is where you can see the keywords your competitor ranks for particular URL's.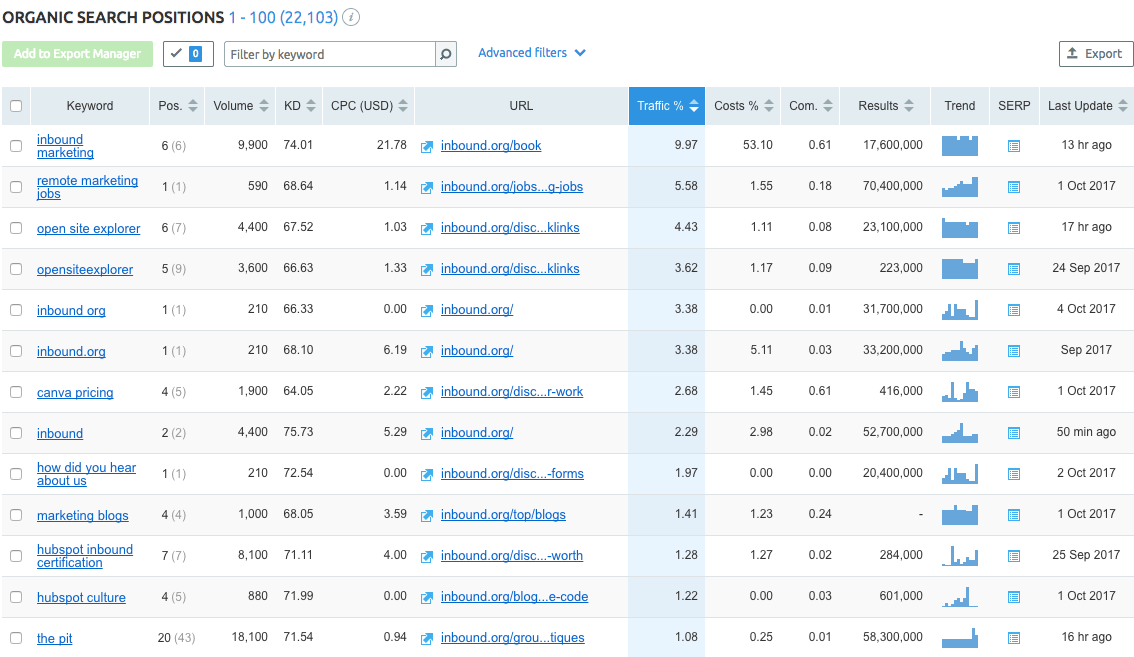 In backlinks, you can see all sites that link to your competitor's site: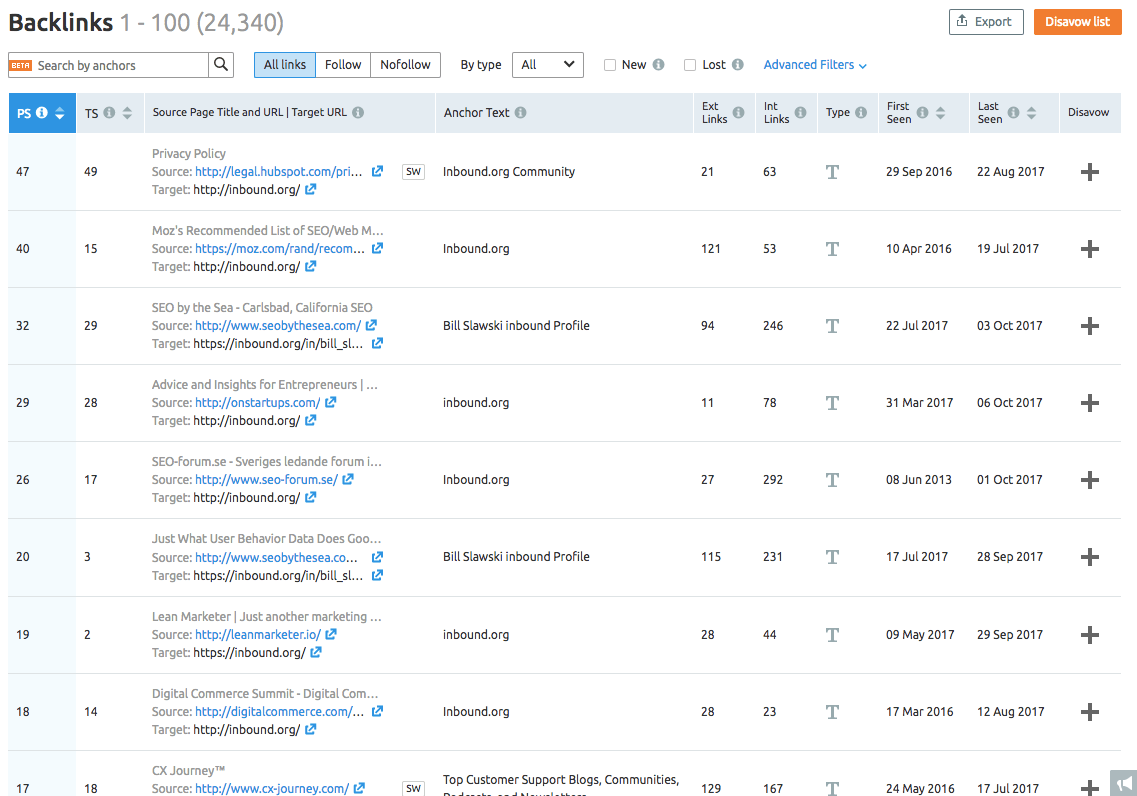 How you can use this knowledge?
For example, you can reach out to websites linking to your competitor with a message asking to mention your website, too. Backlinks give massive boost to SEO and increase visibility.
Moreover, the data can inform your SEO strategy. Based on insights and recommendations made by SEMrush you can develop a keyword planner to plan your content distribution. You will be able to build a robust domain that ranks high in any browser. That's a competitive advantage you can't pass on.
You can try SEMrush for free.
Siteliner
We cannot talk about competitor analysis tools without mentioning Siteliner. The tool offers a more technical insight into the performance of your competitor's website. Technicalities influence a website's ranking.
Using Siteliner, you can discover weaknesses in website performance of your competitors, for example, broken links, both external and internal.
With this kind of data, you can, for example link to your competition broken links.
Linking hugely influences browser rankings and without links to your content, you won't be able to rank high in Google well.
The free version of Siteliner allows analyzing up to 250 pages within one domain.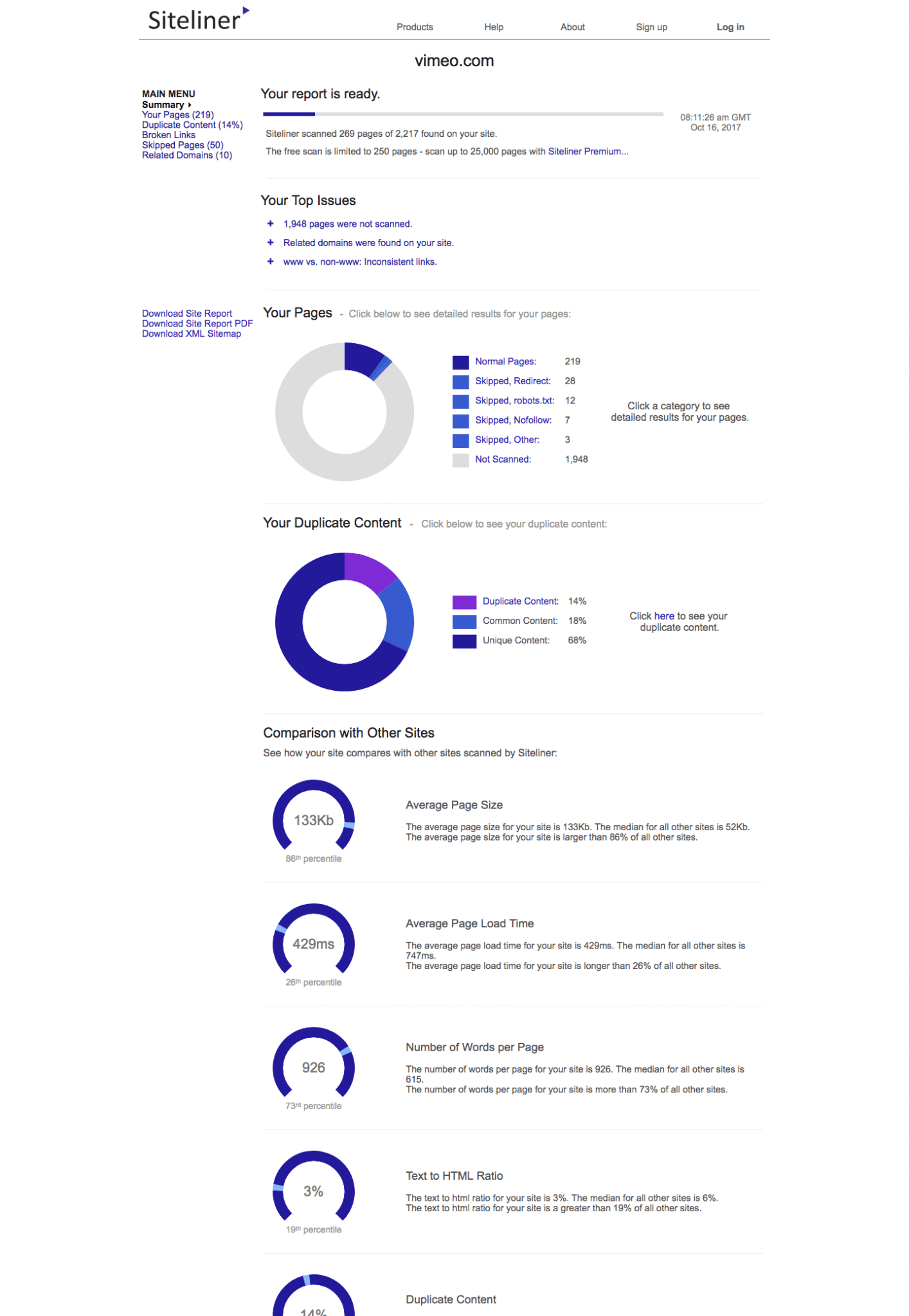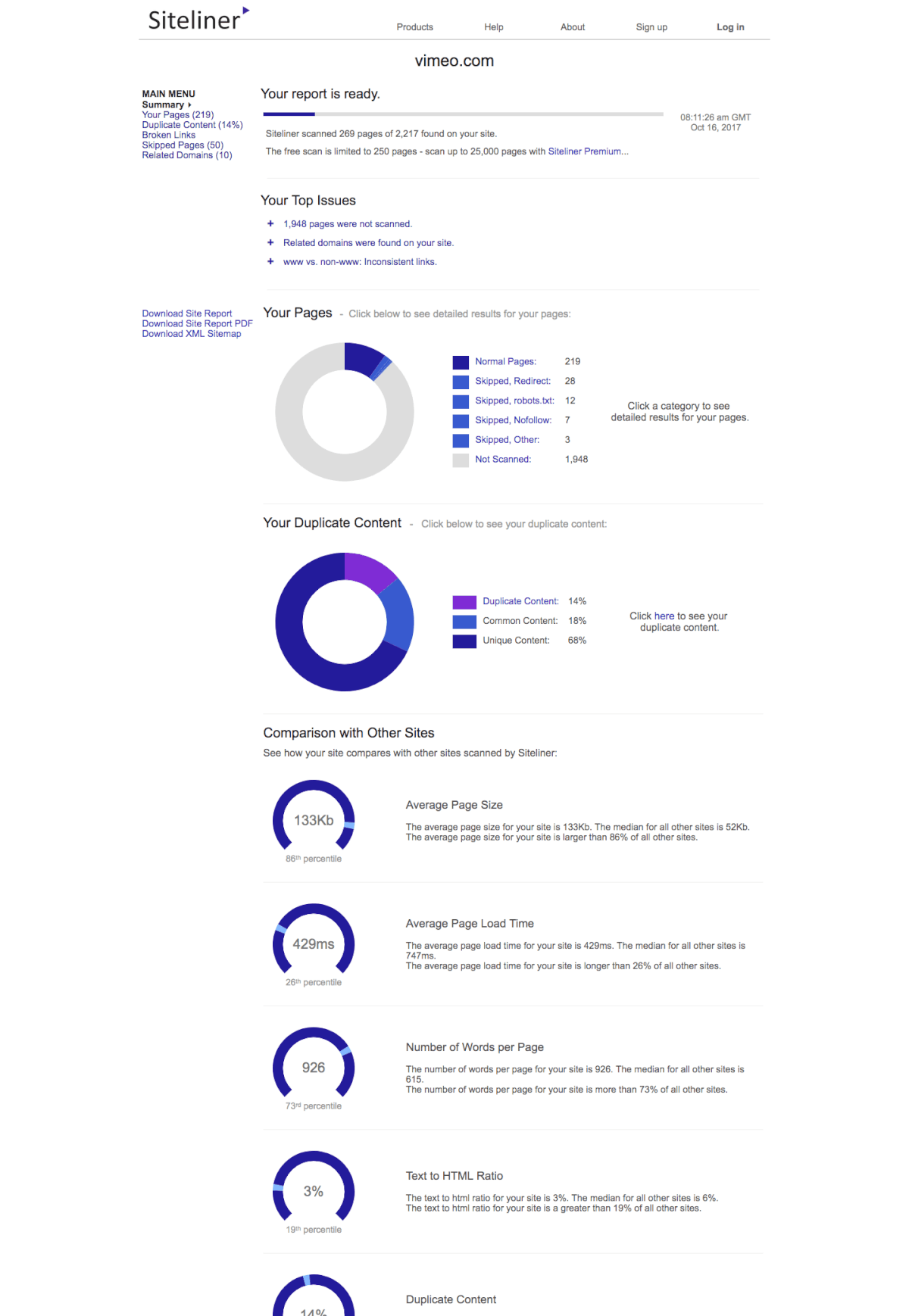 Rank Signals
It's another SEO piece of software that helps you analyze your competitors' content marketing strategy and draw actionable insights.
Using Rank Signals, you can track your competitors backlinks. This will give you an idea of sources that link to your competitor and boost your competitor's Google ranking.


Rank signals shows you title and URL, link anchor text and URL.
Backlinks add up to your website's reputation in Google's eyes. Also, it's absolutely crucial that sites linking to your site are of good quality. It's quality over quantity scenario here.
You can try Rank Signals for free.
Spyfu
Competition expands beyond organic traffic and online presence.
One of ways to acquire search engine traffic is to use GoogleAds and buy yourself exposure. Similarly to organic traffic, competition here is based on keywords. In this case, however, you pay for to display your advertising in top search results, or in other places in Google.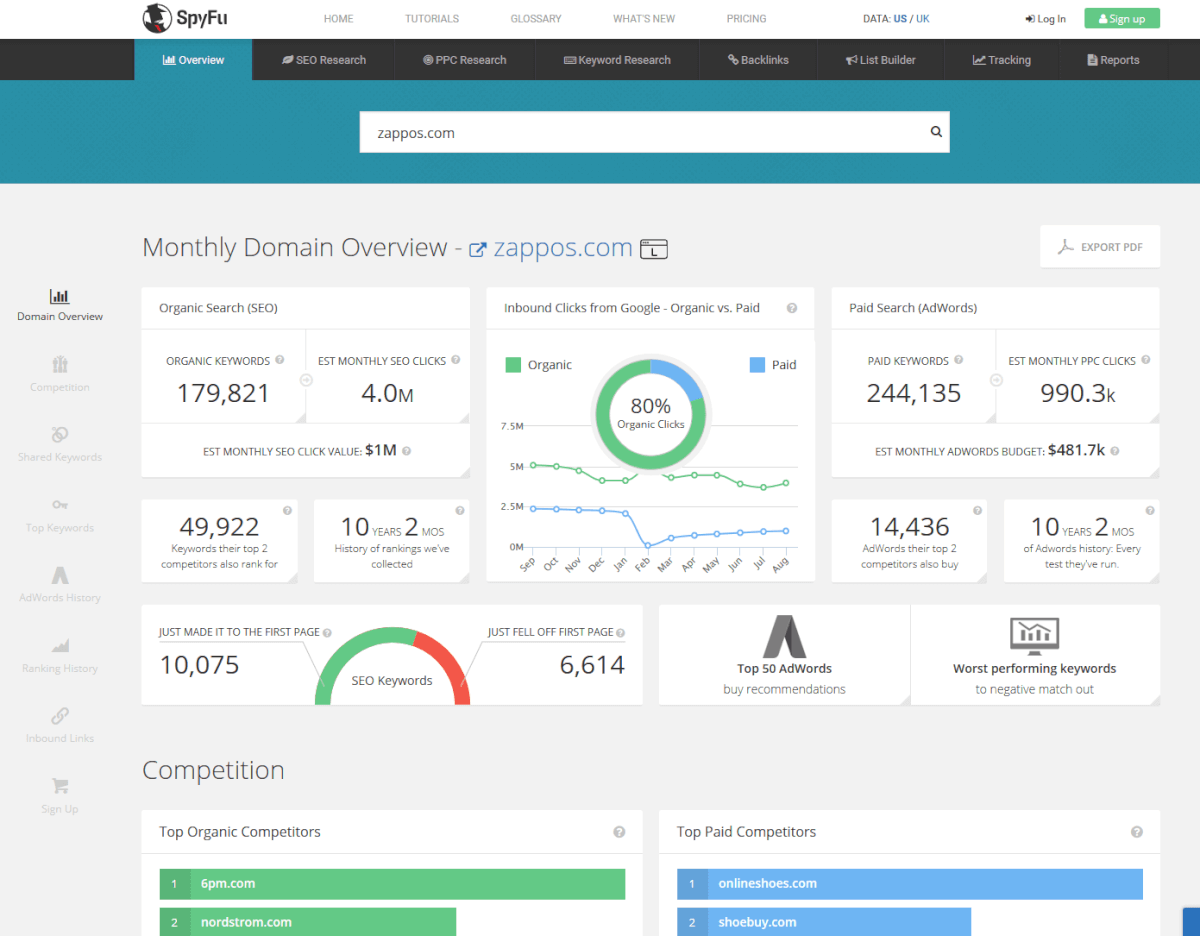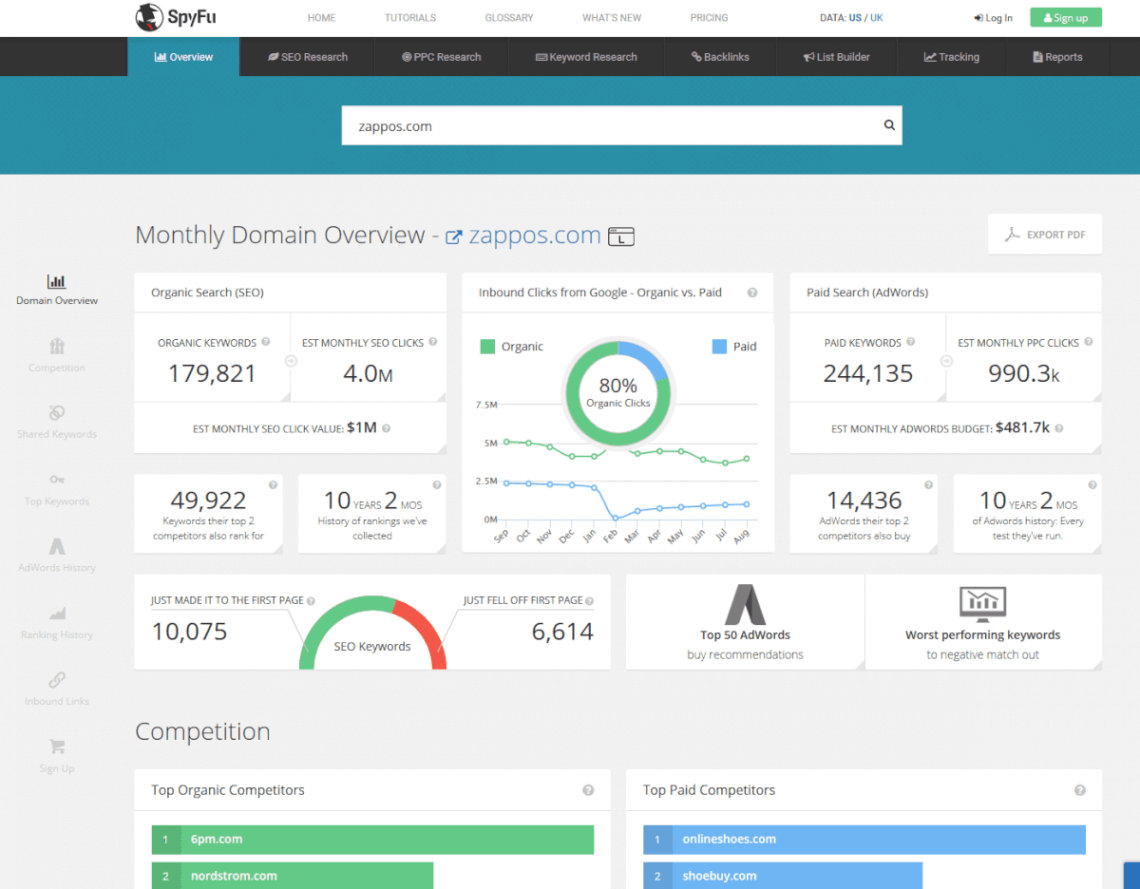 Spyfu is one of the competitor analysis tools you can use to gain insight into paid traffic of your competitors.
The tool lets you see what paid keywords your competitors rank for currently, and ranked in the past.
With Spyfu, you can do much more:
Recognize threats
Track your competitors' changes in ad spending
See what keywords you buy and your competitors don't
See suggestions for keyword groups
Sort keywords by cost per click to discover quick wins
Aaaand more!
Buzzsumo
When it comes to competitor analysis in social media and content shares, Buzzsumo is your go-to tool here. It's a social media analytics tool that handles influencer marketing, content marketing, or PR.
With its help, you can discover how social shares of your competitors perform: which networks, who shares their content, and how your content compares against theirs.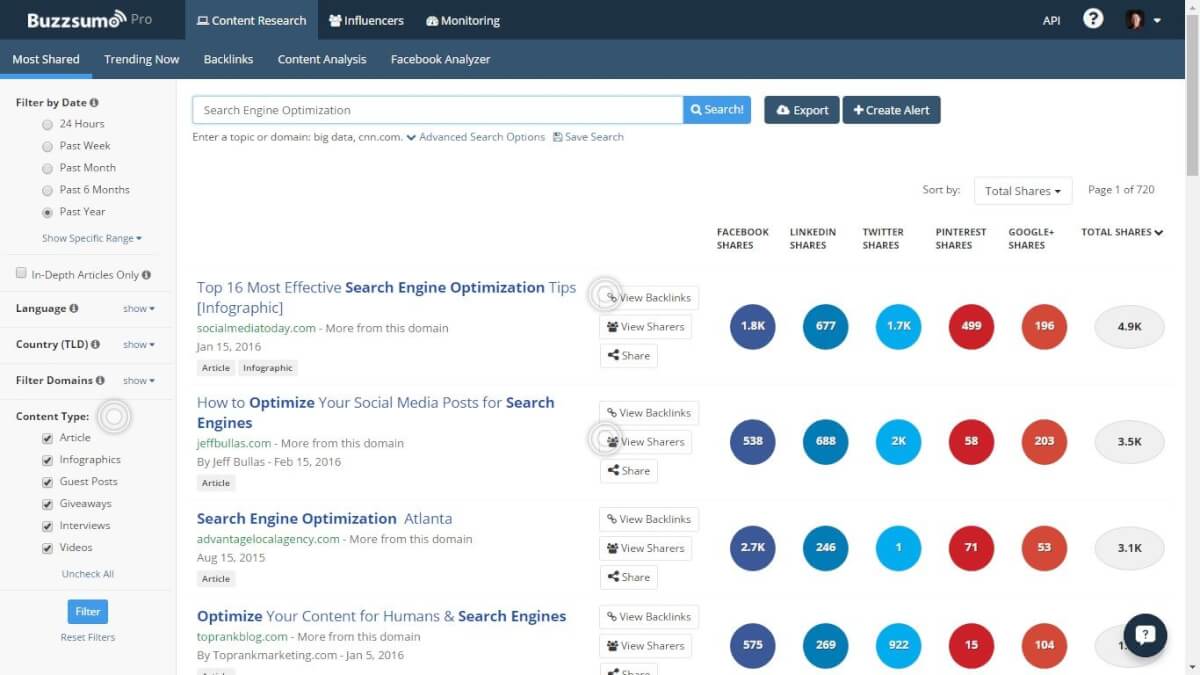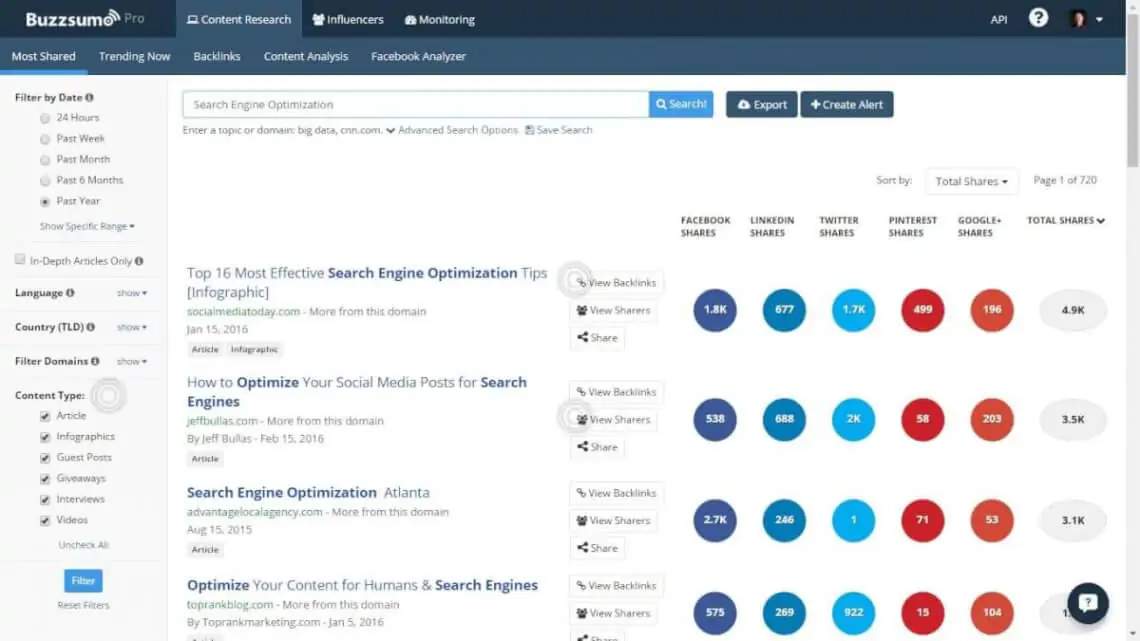 Highly shareable content in social media has a few advantages:
It increases brand awareness and helps it spread
It's a signal for Google that the content is valuable because sparks interest among readers and encourage them to share the value with others
At the same time, Buzzsumo is a sort of a media monitoring tool, because you can get alerts every time your competitor is mentioned online.
Alexa
Alexa is a SEO and competitive intelligence software.
The tool consists of a few modules: Keyword Research, Competitive Website Analysis, SEO Analysis, and Target Audience Analysis.
What's really important here is Target Audience Analysis. You can use it to discover the audience of your competitors and, at the same time, understand the competitive landscape you're entering. Target Audience Analysis is a source of demographic data which comes useful on numerous occasions: customer persona, content strategy, pid traffic targeting, and more.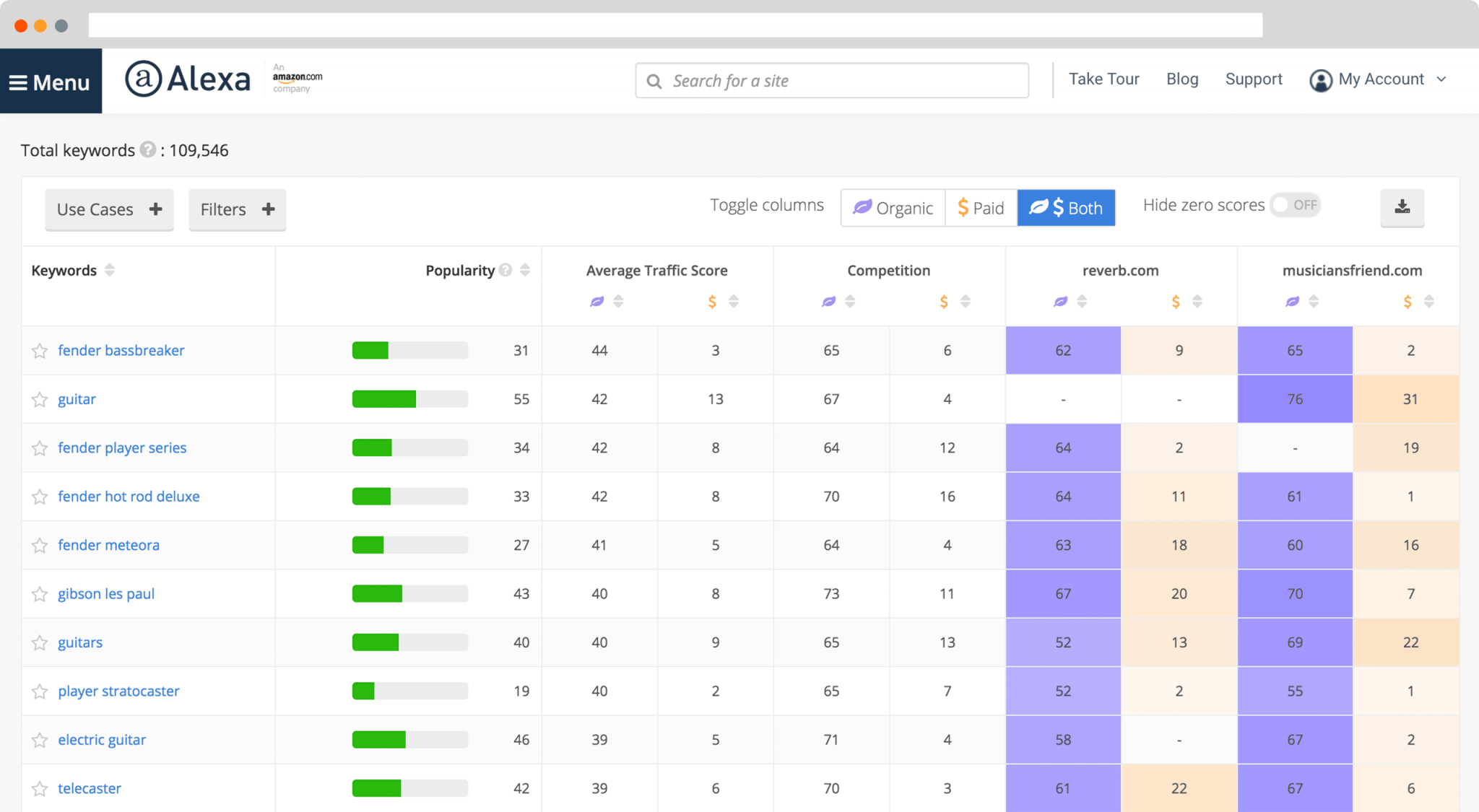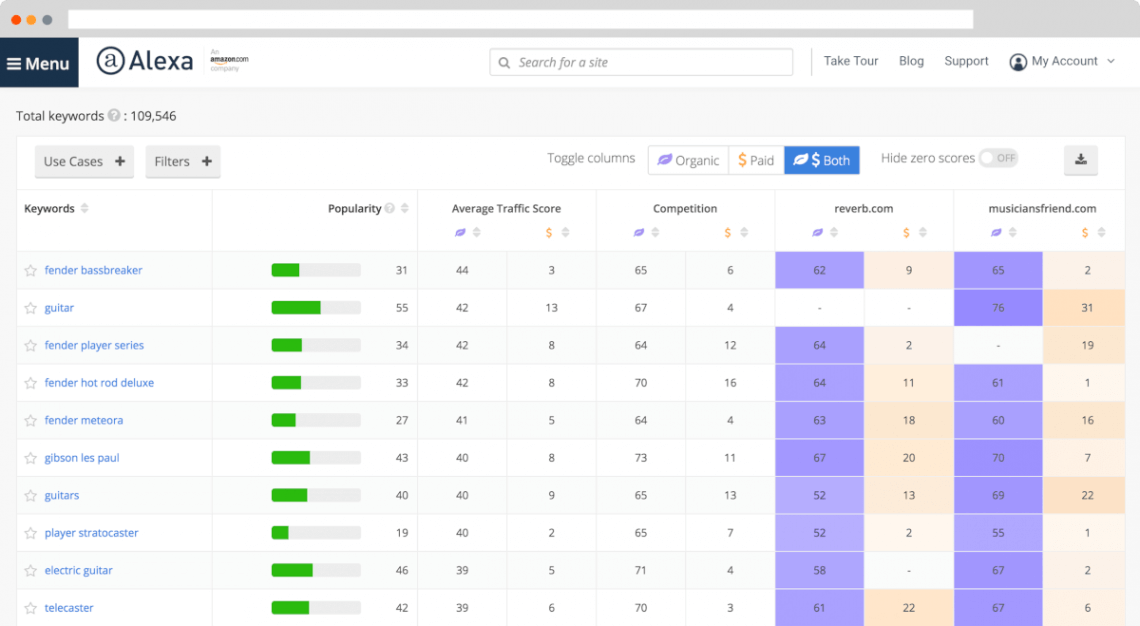 Apart than that, you can:
Discover new competitors
Benchmark your site against your competitors: compare your website popularity, traffic sources, and engagement metrics (competitive benchmarking)
Discover the share of voice of your competitors for particular keywords
Discover SEO opportunities
You can give Alexa a free try.
Hootsuite
It's one of the most respected and recognized social media analytics tools in the game. It can help you track the performance of business' profiles on 35 social media platforms.
Using Hootsuite, you can precisely keep track of social media activities of your competitors.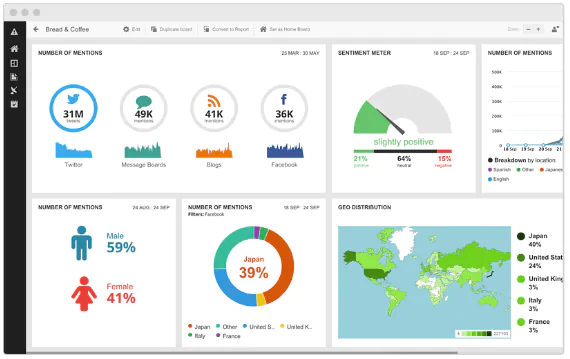 This is how you can see how they engage their communities, what type of content they post, if they run any contests, and how their marketing campaigns resonate with their audience.
Also, you can keep track of specific keywords and hashtags to be even better informed.
You can test Hootsuite in 30 days for free.
Owletter
Owletter is a competitor analysis tool you can use to discover and understand email marketing activities of your competitors.
Owletter gets insights from email messages your competitors send you. Here's what you can learn about email marketing of your competitors:
SPAM reputation
Do they follow a specific schedule
Changes in frequency
Trends developing over time
Topics they contain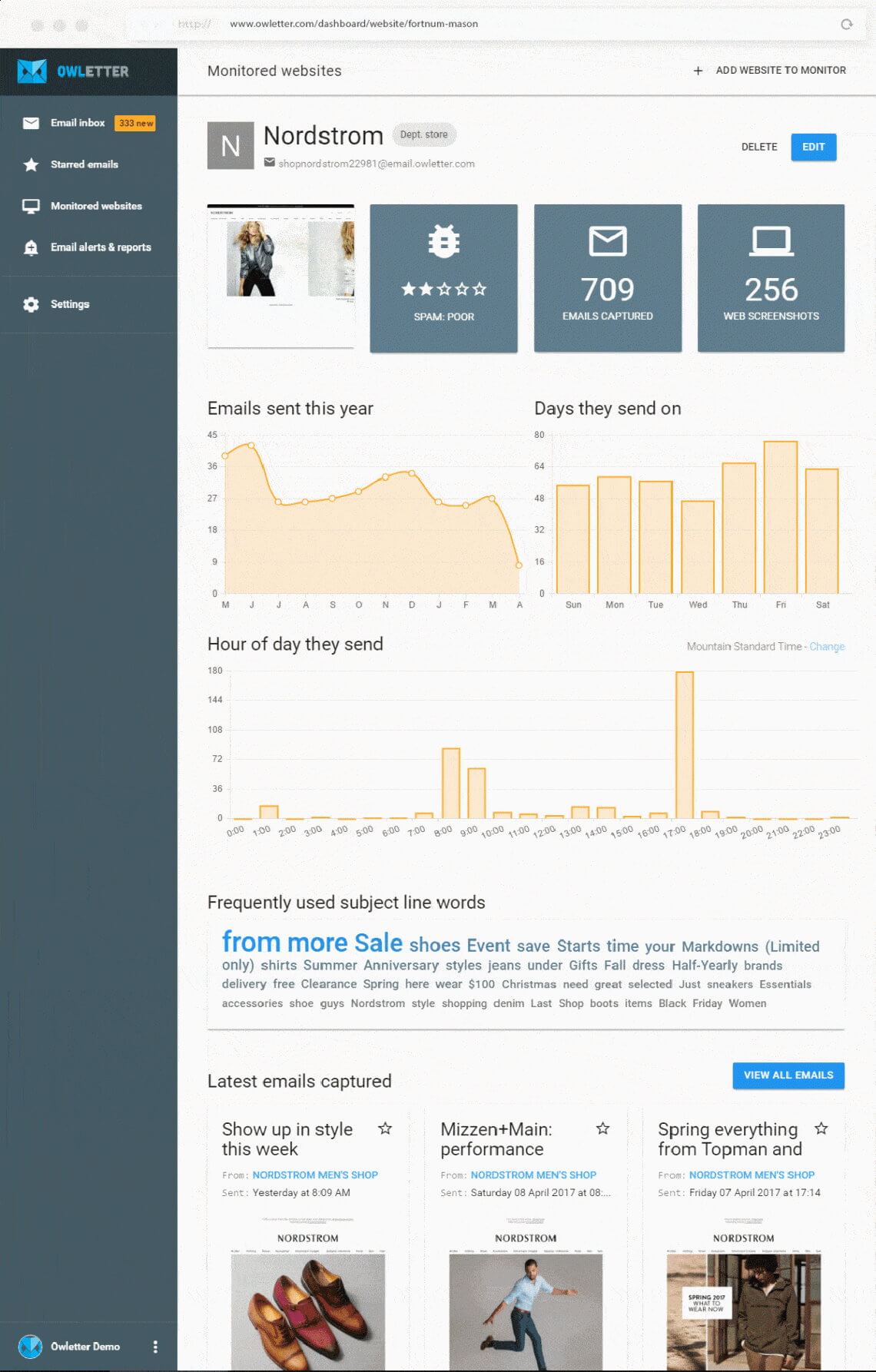 With this kind of knowledge will help you come up with your own email marketing plan that it doesn't overlap with your competitors.
You can test Owletter in 14 days for free.
How to track your competitors?
Finding the right set of tools is not enough to succeed. To implement the insights into your company, you need a robust competitor analysis plan.
Use Brand24 to track your competitors!
That's why it is so important to take a few steps back and focus on what you want to achieve first.
Why are you conducting competitors research in the first place.
If you are just entering the market and looking for your place in the competitive landscape, competitor research will give you data on positioning, marketing, and product development. You will have a clear overview of what you have to do, to become an industry leader within your market.
The process can bring valuable recommendations for companies with established position on the market. You will spot any emerging threats and will know what is going on within your business niche.
Social media competitor analysis
Social media is a goldmine of data when it comes to your industry and other brands. Social media competitor analysis tools should be a part of your marketing tool stack.
It's tempting to focus on keyword data and build your SEO rankings, but if your competitors are social media savvy, your clients will expect the same type of content from you. It's vital to track your competitors social media profiles regularly.
What competitor analysis tool should you choose?
There is no one size fits all solution. Competitive analysis will bring you data about your rivals. That data will help your business become an industry leader on many different fields, including:
search rankings and keyword rankings
display advertising
overall business strategy
market share
and much more.
Competitive analysis is a must-have these days. Whether you want to become one of the industry leaders, increase market share, or just check your competitive landscape, I strongly suggest using one of the tools to make the process easier and more effective!