What is the Online Reputation Score of Your Brand?
January 24, 2023 ・ 9 min read
Since Elon Musk took over Twitter, its online reputation score has decreased from -45 to -52. How do I know it? I checked it using a social listening tool, and so can you.
With the rise of social media, online reviews, and other forms of digital communication, companies need to monitor their online reputation.
Here's everything you need to know:
What is an online reputation score?
An online reputation score is a numerical score that reflects a brand's overall reputation on the internet. The score indicates the level of trust and credibility associated with a particular brand or person.
Use the Brand24 tool to check the online reputation score of your brand!
Good online reputation score
A good online reputation score means that people view a brand positively. It means that when someone searches for the brand online, they find reliable and accurate information.
You need to invest in strong customer service and respond to customer feedback promptly and effectively to reach a good reputation score.
Having a consistent and positive presence across multiple online platforms is also important. A positive online reputation also helps to build customer loyalty and increase customer retention.
Bad online reputation score
A bad online reputation score means that people view a brand negatively. This, in turn, suggests that when someone searches for the brand online, they find unreliable, inaccurate, or outdated information.
It also means that customers may not trust your brand and may look elsewhere for the kind of services or products that you offer. A bad reputation score can also lead to fewer customers, lower sales, and a decline in your brand's overall reputation.
How to measure reputation score?
Using social listening tools is the most effective way to measure a brand reputation score. They track and analyze mentions of a brand or individual across social media, news sites, newsletters, podcasts, and other online sources.
These tools use algorithms to detect whether mentions are positive, negative, or neutral. This information is used to generate an overall reputation score and track how it changes over time.
Such tools allow tracking reputation scores of brands, topics, businesses, influencers, and public figures.
Use the Brand24 tool to check the online reputation score of your brand!
For example, Brand24 measures reputation score based on sentiment analysis and reach analysis. The tool operates on a scale from -100 to 100, where -100 is extremely bad, and 100 is extremely good.
How does it work?
When positive mentions overweight the negative ones, the score will grow. However, when negative mentions overweight the positive ones, the score will drop.
Take a look at the example:
As you can see, in the last 30 days, Netflix noted a reputation score drop. Let's find out what happened.
On the chart, there is an increase in negative mentions on 8 and 9 January. I selected this period and looked at negative sentiment in the Summary tab.
Thanks to the context of a discussion feature, I discovered that most negative comments are related to the Royal family.
On January 8, the "Harry and Megan" documentary premiered on Netflix. It seems that it badly affected Netflix's brand image.
As you can see, thanks to social listening, you can detect the brand or personal reputation score and track its changes and causes.
You can sign up for a free 14-day trial and check your score. But the important note is that this metric is available for projects with a large amount of data. Therefore, if you can't find the reputation score metrics in your project, contact the Customer Succes Team.
Why should you monitor the reputation score?
Monitoring your online reputation is important because it can significantly impact your personal or business success.
Here are a few key reasons why it's worth monitoring your reputation score on the internet:
Online reputation management – monitoring the reputation score can help identify potential issues or negative feedback that needs to be addressed. This can help prevent small trouble from becoming a larger crisis and help the brand proactively improve its reputation.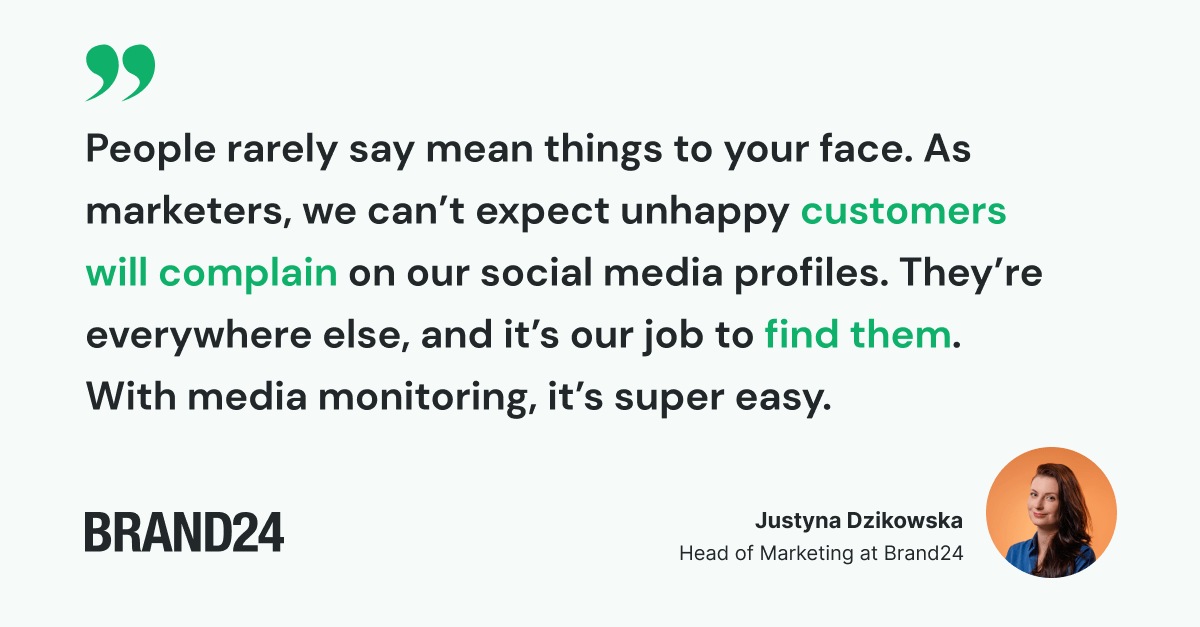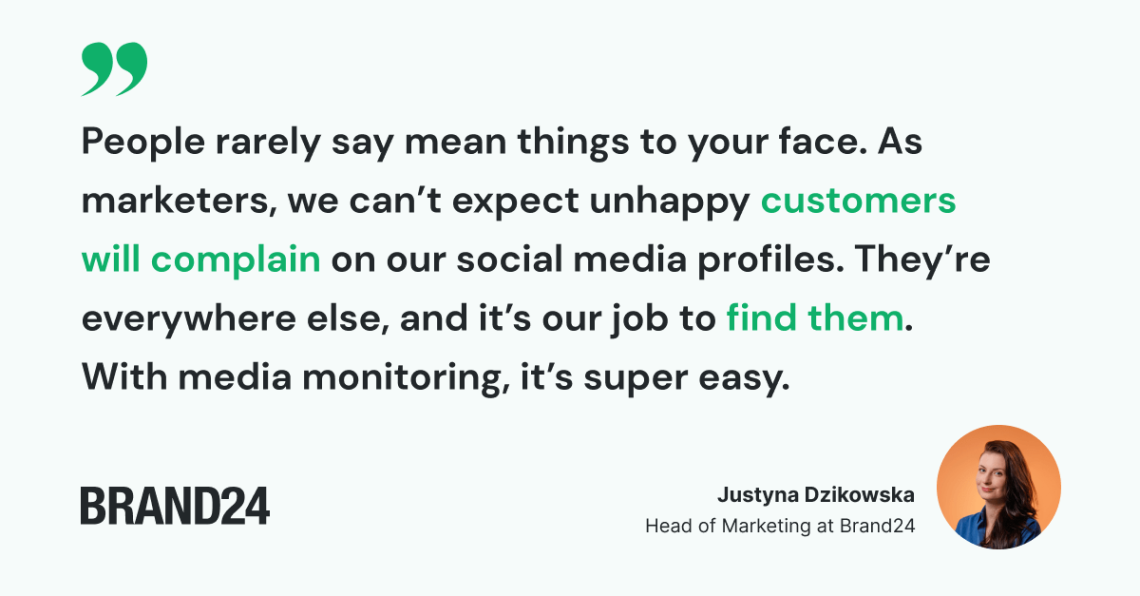 Competitive advantage – by monitoring their reputation score, brands can gain insights into how they are perceived compared to their competitors. Also, they can use this information to improve their marketing and communication strategies.
Consumer insights – online reputation management can provide valuable insights into how customers perceive the brand and its products or services. It can help the brand to make data-driven decisions that improve customer satisfaction.
Brand loyalty – a positive company's online reputation can increase brand loyalty, boosting sales and revenue.
Business decisions – reputation score can also help choose partners for collaborations with an impeccable image.
Check: The Best Online Reputation Management Software
11 tips to increase a brand's online reputation score
Here are some tips on how to increase a brand's online reputation score:
01 Monitor your online presence
The first step to improving your online reputation is knowing what people say about your brand. Use tools like Brand24 to keep track of mentions of your brand name or keywords related to your business. This way, you can address any negative comments or reviews quickly.
Use the Brand24 tool to check the online reputation score of your brand!
02 Respond to customer feedback
Responding to customer feedback is important, whether it is positive or negative. It shows that you care about your customers and are willing to listen to their concerns. Responding to negative reviews and feedback in time, with an apology or a solution, can turn a negative into a positive.
03 Encourage happy customers to leave reviews
Ask satisfied customers to leave online reviews on websites such as Yelp, Google, Capterra, G2, or TripAdvisor. Positive reviews can help boost your brand's reputation.
04 Create quality content
Creating and sharing valuable content on your website and social media accounts can improve your online reputation by demonstrating your expertise in your field. This can be in the form of blog posts, videos, or infographics. Share industry news and tips that will help your audience.
05 Improve your website's design and functionality
A well-designed website with a user-friendly interface can help improve your online reputation. Make sure your website is easy to navigate and has a professional design. Make sure your website is mobile-friendly and loads quickly to ensure a good user experience.
06 Use social media to connect with your audience
Social media is a great way to connect with your audience and improve your online reputation. Share updates about your products or services, post relevant content, and engage with your followers. Respond to comments and messages and thank your followers for their support.
07 Be consistent
Have a consistent tone and messaging across all platforms. This helps establish trust and build an overall strong image for your brand.
08 Be transparent
Be open and honest about your brand and its practices. This will show that you have nothing to hide and are trustworthy.
09 Engage your employees or CEO
Encourage them to be brand ambassadors and create a positive reputation online by promoting the brand within their personal networks.
10 Invest in SEO (Search Engine Optimization)
Investing in SEO can help improve your online reputation by making it easier for people to find your website. Make sure your website has relevant keywords and meta tags to help it rank higher in search engine results. Better visibility would get more traffic and convert them to customers.
11 Offer excellent customer service
Finally, offering excellent customer service is the most important way to improve your online reputation. Make sure your customers are satisfied with their purchases and address any concerns they may have.
Improving a brand's online reputation takes time and effort. However, by implementing these tips, your brand can start to see an improvement in its online reputation score. The most important thing is to be consistent and stay engaged with your customers.
Use the Brand24 tool to monitor the online reputation score of your brand!
Factors that can badly affect the online reputation score
Many factors can badly impact a brand's online reputation score. You need to be aware of these to take steps to protect your reputation:
One of the main factors that can negatively impact a brand's online reputation score is negative customer reviews. When customers have a bad experience with a business, they often turn to review websites to voice their complaints. Negative reviews can damage a good business's reputation score, as they can discourage other potential customers.
Another factor that can negatively impact a brand's online reputation score is negative press coverage due to a product recall, lawsuit, or scandal. You can see how Kanye West's scandals affected Adidas's online image in the chart below:
Social media crises can also severely impact brands. These crises can be caused by various issues, such as a social media post that goes viral for the wrong reasons, a customer service incident caught on camera, or a data breach. A social media crisis can quickly spiral out of control, with negative posts and comments flooding social media platforms.
Cyber attacks can also adversely affect a brand's reputation. These attacks can come in various forms, such as phishing, DDoS, or malware, and they can lead to a data breach, where customers' personal information is compromised. This can lead to a significant loss of customer trust, which is damaging to the reputation score. Additionally, hackers can use a brand's online platforms to spread misinformation or propaganda.
Poor customer service can also lower a brand's reputation. Customers expect a high level of service from brands, and when they don't receive it, they are likely to leave negative reviews and comments.
Use the Brand24 tool to monitor the online reputation score of your brand!
Conclusion
Taking care of a brand's online reputation score is a must-have nowadays. To do that, you need to use a great tool that will present you with accurate data.
How is the reputation score calculated?
Each tool has its own algorithms. For example, the Brand24 tool takes into account sentiment analysis and reach analysis.
As a result, the tool measures brand reputation in a given time:
Do you have a high or low reputation score? Start a free trial to find out!