Social media reports should be an essential part of your social media marketing strategy. Preparing a social media report and presenting it your supervisor will help you highlight the results of your work.
Social media offer a lot of benefits that can directly affect the bottom line of your business. Building a robust social media presence can help you increase brand awareness, provide better customer service, generate new sales leads… When it comes to social media, the sky is the limit!
Social media can also provide a lot of useful insights to other departments. The followers of your brand will leave many useful tips that will improve the work of your product development or customer service department.
Social media is a huge database of consumers' needs and wants that could help you get ahead of your competitors. Social media report will help you provide your customers with the service they expect. To do that, you need to analyse the social media data.
A well-structured social media report gives you the opportunity to discover social media insights.
So, let's figure out what a great social media report should include!
How to report social media analytics?
There are probably plenty of websites on the internet that will tell you precisely which metrics to include in your social media report. The key, though, for an insightful social media report is personalisation.
Followers count, social media reach, the number of interactions, likes and comments are not universal metrics and might not be useful in your case.
The truth is, there is no one-size-fits-all solution. Your social media report will answer the questions you pose. Every business deals with a different set of goals and obstacles, that's why you should start working on your social media report by setting up social media goals.
The good news is, there are some common social media metrics and frameworks you can incorporate into your social media report.
For starters, we can distinguish three categories of social media reports:
A regular social media report. It will contain the primary social media KPI, for example, engagement metrics, followers count or social media reach. It will demonstrate the progress of your social media goals;
A report after completing a particular social media campaign. It will help determine the success of a product launch, event or marketing campaign. The impact of marketing campaigns are correlated with a company's growth;
A piece of research. You take a more in-depth look at all conversations around a specific brand, product or event. Research social media report aims to uncover insights about a particular topic.
Why do you need a social media report?
If you work in social media, you probably have problems with explaining what exactly is that you do at work. A social media report won't help you explain your social media job to your grandmother, but will help with demonstrating the results of your latest social media marketing campaign to your boss.
Even if senior management understands the importance of social media, they don't have to be savvy when it comes to grasping all different social media metrics. It's your job to present them with a value that comes from social media activities.
A social media report is also a helpful tool for every social media manager, sales department, and even IT folks. A social media analytics report will:
determine the ROI of social media campaigns;
determine the growth or decline of social media channels;
identify successes and failures, so you know what to improve, tweak or delete;
present a general sentiment around a brand;
help identify the most valued new features to develop according to your audience.
Social media reporting tools
Almost every social media channel provide some sort of free social media analytics tool, like Instagram Analytics or Facebook Insights.
Although the metrics might be enough for a beginner social media manager, if you want to show the impact of social media on your bottom line, a free app won't suffice.
For a more thorough knowledge, you will need a tool that offers more in-depth metrics, for example, the volume of mentions, hashtag's reach or sentiment analysis.
Media monitoring tool will track and analyse the metrics you need for your social media report.
The data presented here are based on results from Brand24, a brand monitoring tool.
Track social media performance! Start free trial (no credit card required)
Start with creating a project. In the project creation wizard, add the keywords you would like to monitor, such as the name of your company, the name of a specific product or a branded hashtag.
Brand24 will start to gather all the mentions with your predefined keywords from the all major social media sites including Facebook, Instagram, Twitter, TikTok, and Twitch.
Because you're most interested in social media reporting, the vital pieces of information are in the Summary and Analysis tab. Let's take a deeper look and discover what gems hide inside!
The Summary tab gives you precise information about the changes in various social media metrics such as:
total number of results;
social media reach;
social media interactions;
the number of positive and negative mentions.
You can define the period you're interested in yourself.
Moreover, Brand24 offers a wide range of filters you can apply to your project. That way, you will get exactly the results you need.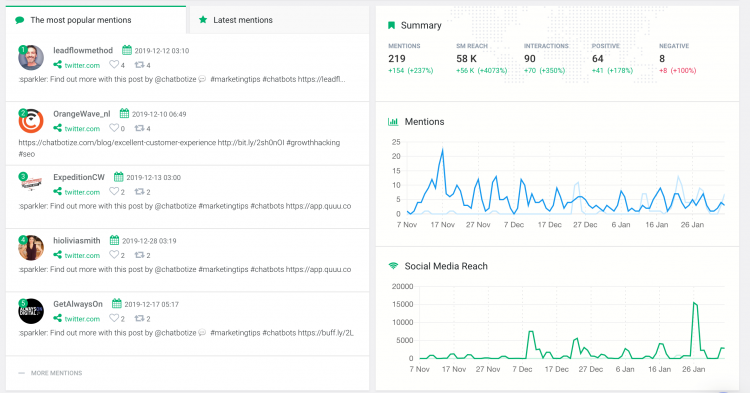 Moreover, you'll find information about the most popular mentions, the most influential profiles, and the most active locations.
The Analysis tab provides more detailed information about the sources of social media interactions. Thanks to filters, you will be able to assess the number of likes, mentions, comments, and shares from particular social media platforms.
You will also be able to see the most influential social media authors and their share of voice. The share of voice is a number that indicates what part of a conversation was created by a specific author.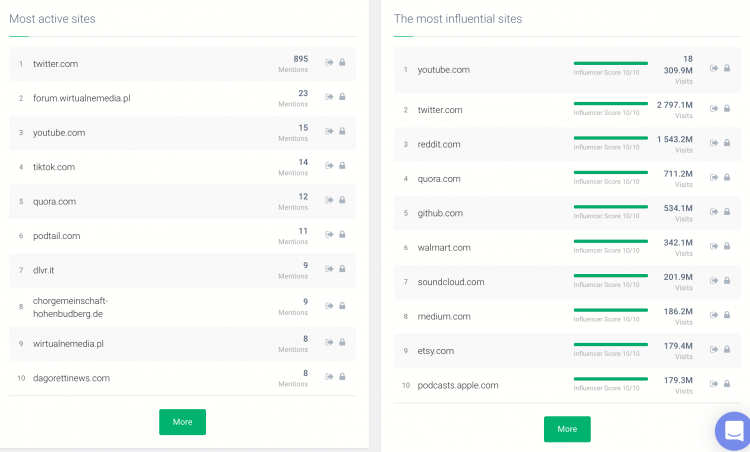 All the mentions will be categorised according to the social media platform. That way, you can easily identify the platform where your followers and potential customers are the most active. You'll find the filter menu in the upper right corner.
At the end comes the cherry on the top of your social media report — a PDF report!
Here's a quick video showing you how to create awesome PDF social media reports that your clients will love, step-by-step:
PDF report is a great way to present the finding you gathered to a broader public.
The reports are highly customisable, so you can prepare a separate report to every stakeholder interested in the results.
Every team will get the most important metrics and insights and will be able to start acting on those insights right away.
Create your social media report! Start a 14-day free trial, no credit card required!
What should a social media report include?
As I mentioned before, there's no one magical template for your social media report. Thankfully, some common guidelines will help you with creating a social media report tailored to your needs.
Like any other type of report though, preparation for social media report should start with doing thorough research.
Identify stakeholders
Who is going to read the report? Senior management, marketing and sales department, customer support or everyone in the company? Different teams require different metrics. Some of the teams prefer a more detailed analysis, while senior management would probably like to read something short and to the point.
Ask the right questions
The more specific questions you ask, the better the insights you get. That's why it's so important to define your queries right at the beginning of social media report.
I was taught the SMART technique during my Bachelor studies, and I've been using it ever since. An example of a SMART question is:
Did our Twitter marketing campaign drive engagement rates by 15%?
Let's analyse!
Specific – the question clearly defines the channel (Twitter) and the metric to measure (conversion rate);
Measurable – with little help from Brand24 you can measure conversion rate;
Achievable – with a social media strategy in place you can increase your social media engagement rates and boost brand awareness;
Relevant – the goal will help to increase your customer base, so it's extremely relevant;
Time-bound – social media marketing campaigns are usually time-bound. I'll elaborate on this in the next point.
Research questions
An example of a research question would be:
What do men in their 30s look for in a sports brand?
You probably wonder how to gather information about this topic. The question is pretty broad and requires a lot of work to answer.
There are a lot of answers to the problem, but one of them is social media monitoring.
Once again, set up a project in Brand24, but this time include keywords that focus on sports brands and healthcare. You can monitor phrases such as the names of sports disciplines, athletes brands, or sports venues.
Take a look in Mentions tab. The tool collected all the mentions with your predefined keywords. When you browse the results, you might identify some commonalities among users interactions.
Establish a timeframe
The time frame will depend on the type of report you're preparing.
A weekly, monthly or quarterly report will cover, well… one week, one month or one quarter, that's self-explanatory.
Then there's a social media report that covers the duration of a whole marketing campaign. Remember to include benchmarks from before the campaign started, so you can clearly see the results.
The broadest social media report is the research report. You can freely determine the timeframes here. It's a good idea to have a broad time range, for example, a whole year. That way no event, for example, Christmas or Black Friday, skews the data.
You may also consider a daily report. It will help you react fast to any emerging social media crisis. An issue can become a crisis in a blink of an eye. Brand24 will collect all the mentions in real-time and deliver them to your smartphone (with our mobile app) mailbox or a dedicated Slack channel.
Writing a social media report
After you gather all the intel, it's time to write down a report.
Social media marketing is all about telling a story. The same principle holds for your social media report. You're still telling a story, you're just using graphs and charts to make it more compelling.
Specify methodology and background
That sounds incredibly scientifical and boring but it's a vital part of your social media report.
The background section will determine which metrics your report is trying to measure, why you are focusing on this specific campaign or period, and include campaign details.
The methodology will include the language, timeframe, social media platform or any other relevant detail.
Be direct
A Russian playwriter, Anton Chekhov, famously said:
If in the first act you have hung a pistol on the wall, then in the following one it should be fired. Otherwise, don't put it there.
In your social media report, the pistol should fire right away. Your boss and coworkers don't have time to skim through a 70-page report, that's why it's important to grab their attention right in the beginning.
Put your key findings right after methodology, so even if your reader reads two pages of your report they immediately get the most valuable insights.
Display the data
I'm a visual person so I enjoy having graphs and charts in my reports. It just makes life so much easier. You should still explain the charts and diagrams.
Context is important. Your boss might see a few negative comments and panic. In reality, the negative mentions might just be a small percentage of the conversation.
Personalize the report
A social media monitoring tool will give access to quotes and profiles of social media accounts. Take a look at the Quotes tab. You will find quotes from the most influential authors, together with the names of the social media channels they come from and profile pictures.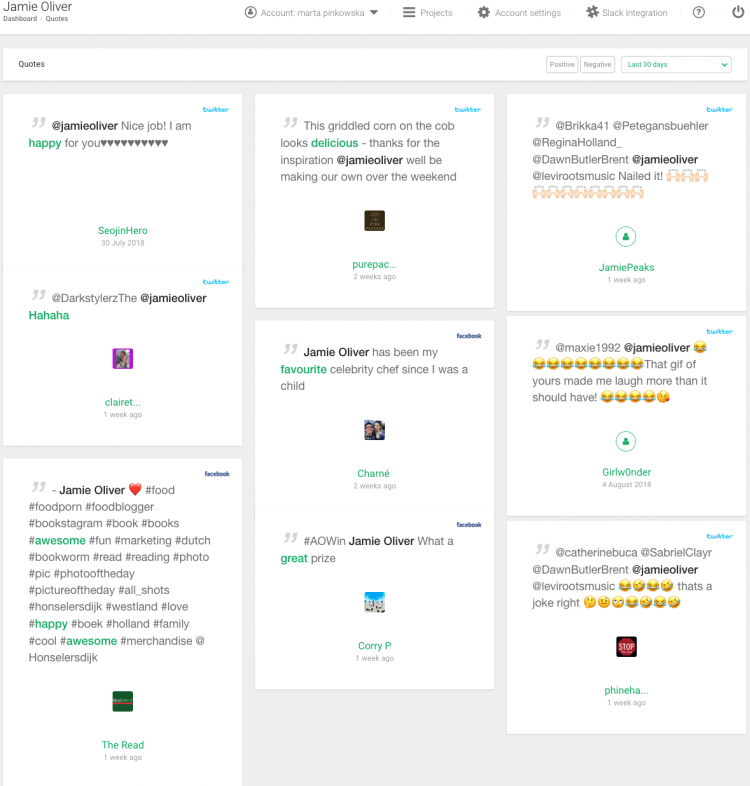 Social media report and storytelling
Your social media report should tell a story about your customers. How do they interact with your social media profiles? What do they expect from your company in terms of service and product development? The deeper you dig, the more information you uncover and, ultimately, your product will be more useful for your customers.
HANDPICKED RELATED CONTENT
A comprehensive guide to social media analysis
11 Social media KPIs that will help you succeed
---
---