⚡⚡⚡ FEATURE UPDATE: Introducing Storm Alerts ⚡⚡⚡
October 10, 2016 ・ 3 min read
According to Winterberry Group report, marketing professionals use on average 12.4 tools in support of data-driven marketing and advertising, and it takes a lot of time to analyze and act upon data gathered in these tools. Missing the most important information is a serious risk, and marketing professionals must do their best to keep up.
Luckily, Storm Alerts come to rescue (shining armour and white horse included).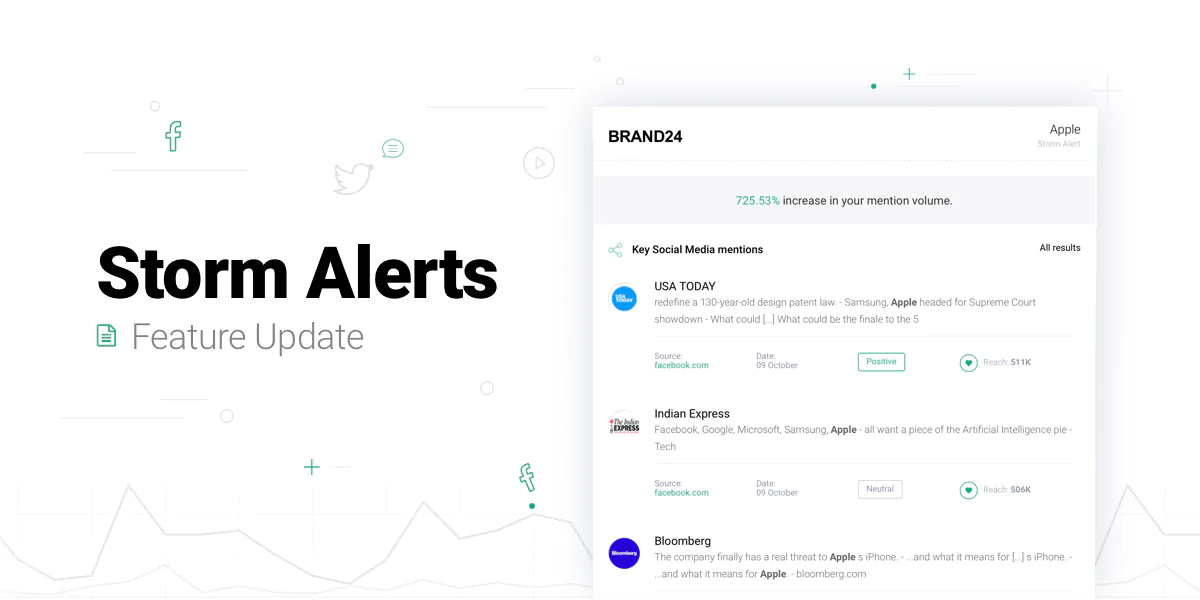 Storm Alerts = 24/7 security
Storm Alerts notify you of sudden changes in mention volume or social media reach. These reports include the most significant mentions and buzz volume stats.
When there's a change in the amount of conversation around your brand, or if more people get to see content featuring your brand, you get an alert. This can usually happen in two scenarios: either someone influential is talking about you, or a lot of people with a smaller social media following are talking about you.
The good thing about Storm Alerts is that they are delivered into your mailbox, so it's easy keep an eye on your online presence regardless of what you're doing. The data is analyzed every three hours, so you can get up to 8 reports in 24 hours.
Benefits
If you are monitoring (for which I salute you), keeping an eye on the volume of discussion about your brand has 3 major benefits:
You get to spot a potential crisis before it escalates – this is especially important for brand managers and PR professionals,
You can leverage the positive online publicity you're getting,
You can evaluate how a given marketing activity you've carried out influences online discussion about you.
Storm Alerts are available for all pricing plans, including free trials
The feature is included in your monthly suscription fee, so no need to worry about additional costs. Remember that your project must be at least 7 days old to get them.
How to switch them on in 15 seconds
Switching your alerts is supereasy and it can be done in 15 seconds. Here's how: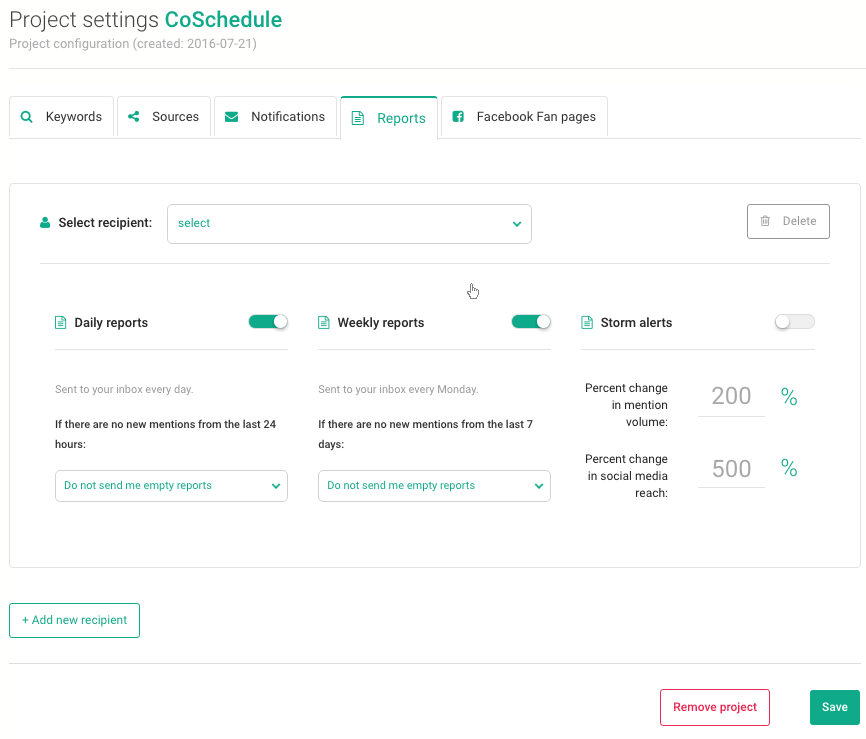 Let's walk through the process step by step.
1. Log in to your Dashboard and enter your Project Settings.

2. Click Reports. Move the slider right to switch the alerts on, and select the percentage change in mention volume and social media reach. These trigger the system to send you the report. You can always adjust them as you go, depending on how closely you want to monitor changes in your mention volume and social media reach.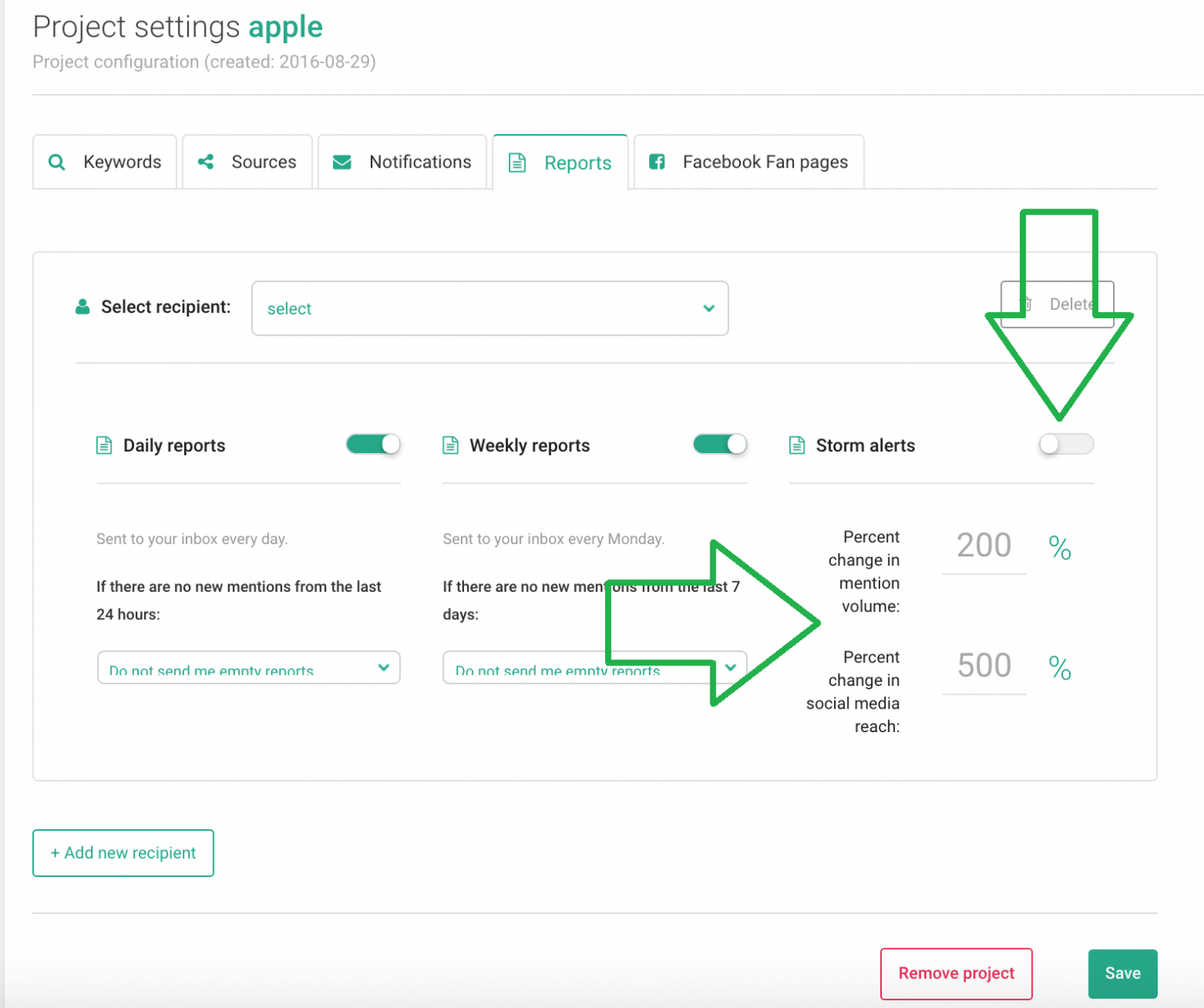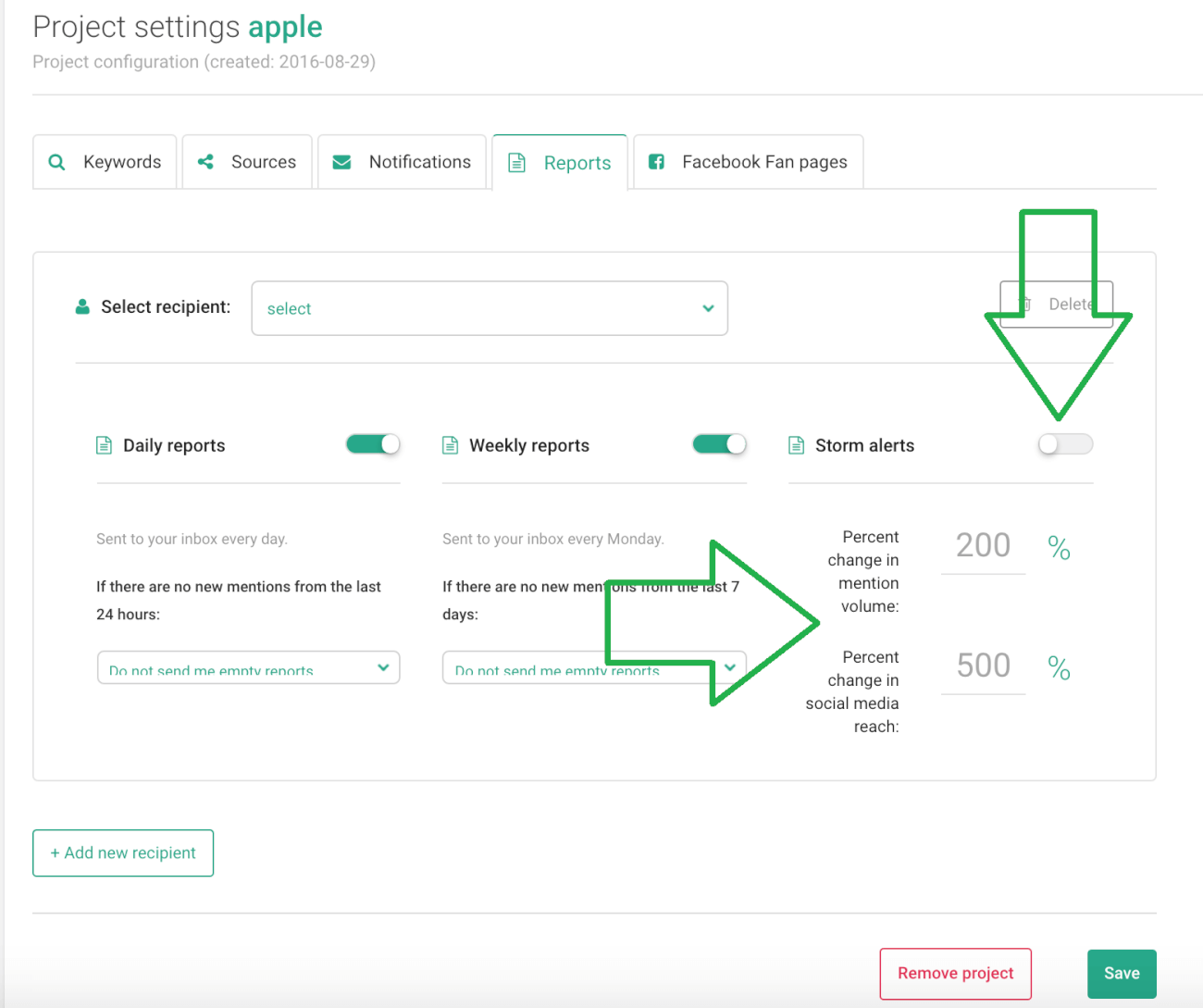 Here's what it should look like: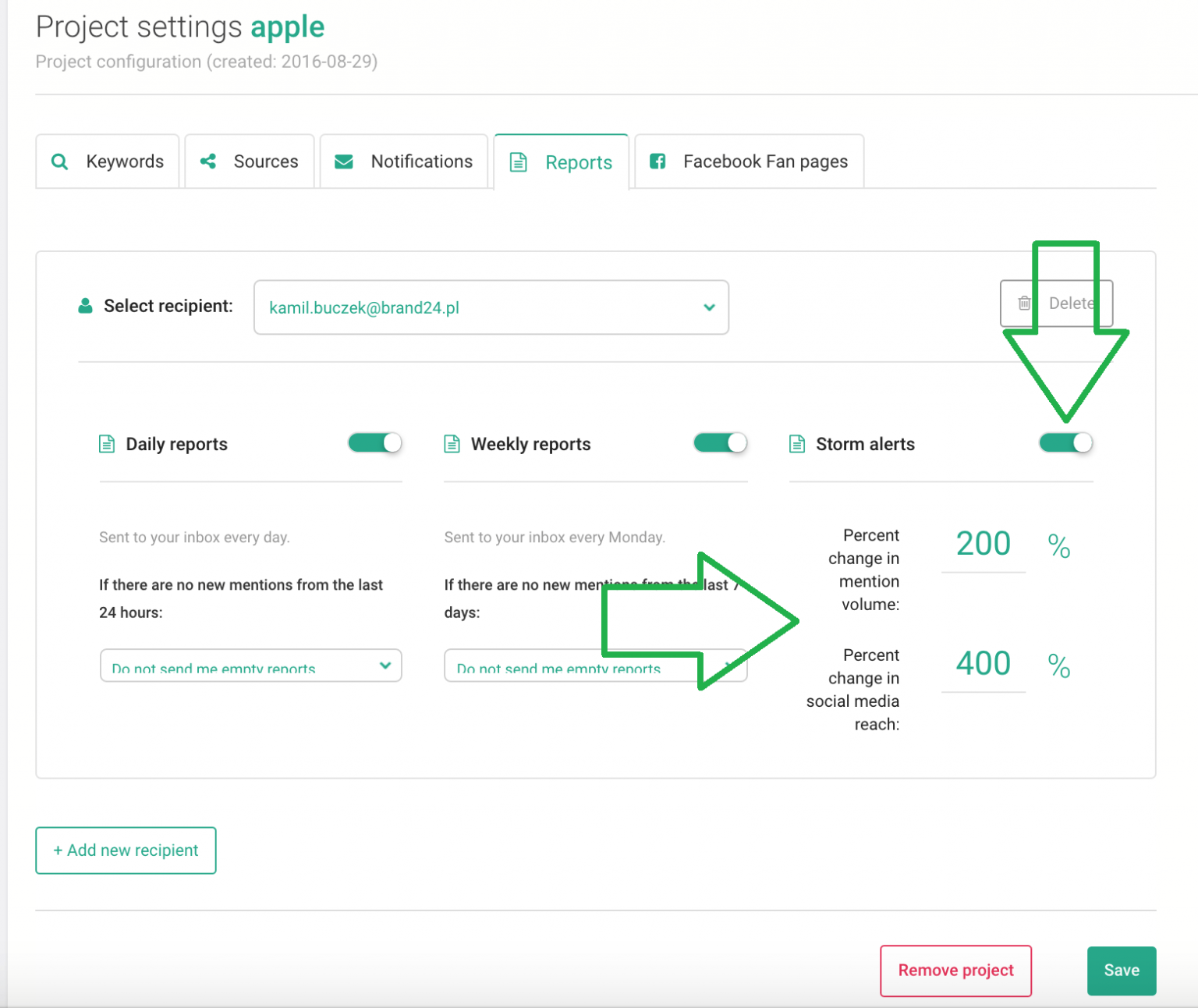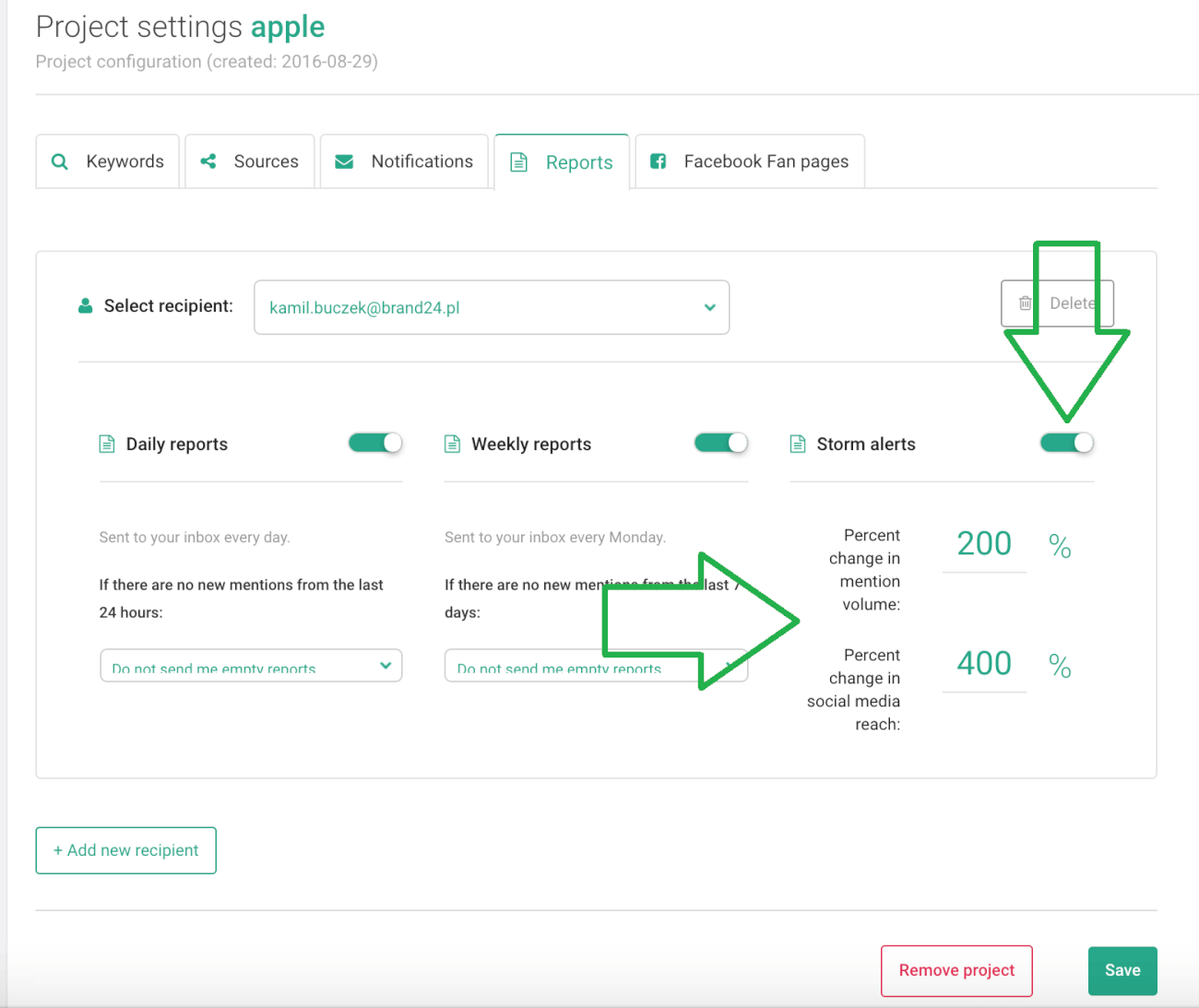 3. Make sure to click Save. You'll receive the first Storm Alert as soon as your volume changes within your specified range. Remember that you can select recipients by using the drop down menu.
Need more convincing? Here's a list of recent feature updates to rock your heart:
Related read: