How to do media monitoring?
September 26, 2019 ・ 10 min read
How does media monitoring work? Why is it important? We live in the age of information. Every hour an excessive amount of data is published on the web. A portion of the data concerns your brand. How do you sift through thousands of online reviews, blog posts, articles, and videos? That's where media monitoring comes in handy!
Today, let's focus on the technicalities and answer one essential question — how to do media monitoring?
To get a firm grip on media monitoring you should answer three, very basic questions:
Focusing on how, who, and what allows you to build a robust media monitoring project that will bring insights beneficial for your organisation.
That kind of project will help you manage your brand reputation, monitor the competitors, research the market, provide insights into your customers, help manage your customer service, monitor online reviews, and much more!
Does media monitoring sound tempting?
Let's take a closer look!
How to do media monitoring?
There are several ways to monitor your brand online. All of them have their pros and cons. Hopefully, you can find one that will help you achieve your desired results.
Media monitoring tool
I recommend Brand24 because it's one of the most affordable and robust tools on the market.
When it comes to media monitoring, it all starts with setting up a project.
In the first step, choose the type of monitoring. Of course, you can set up multiple projects for every business goal you have.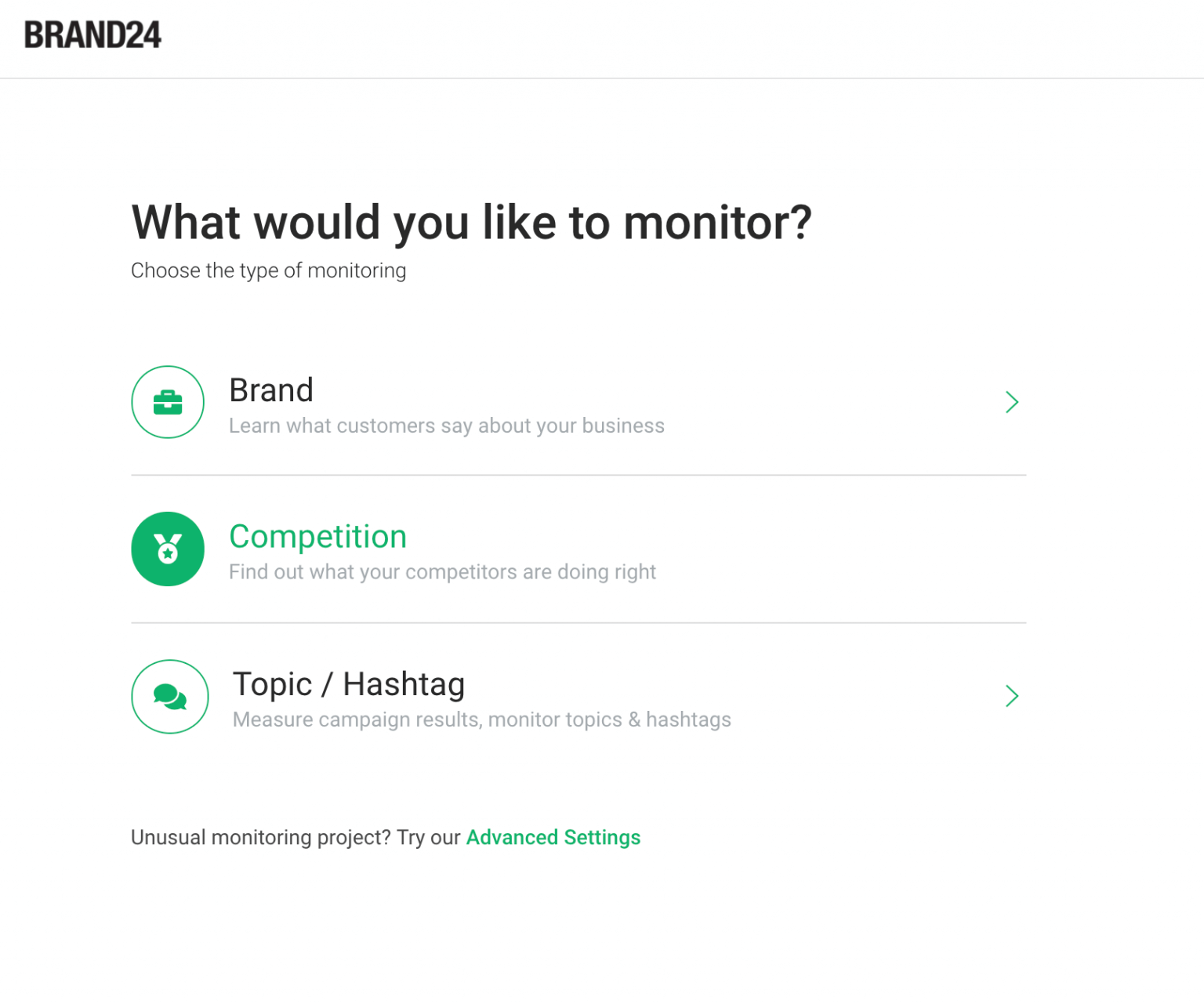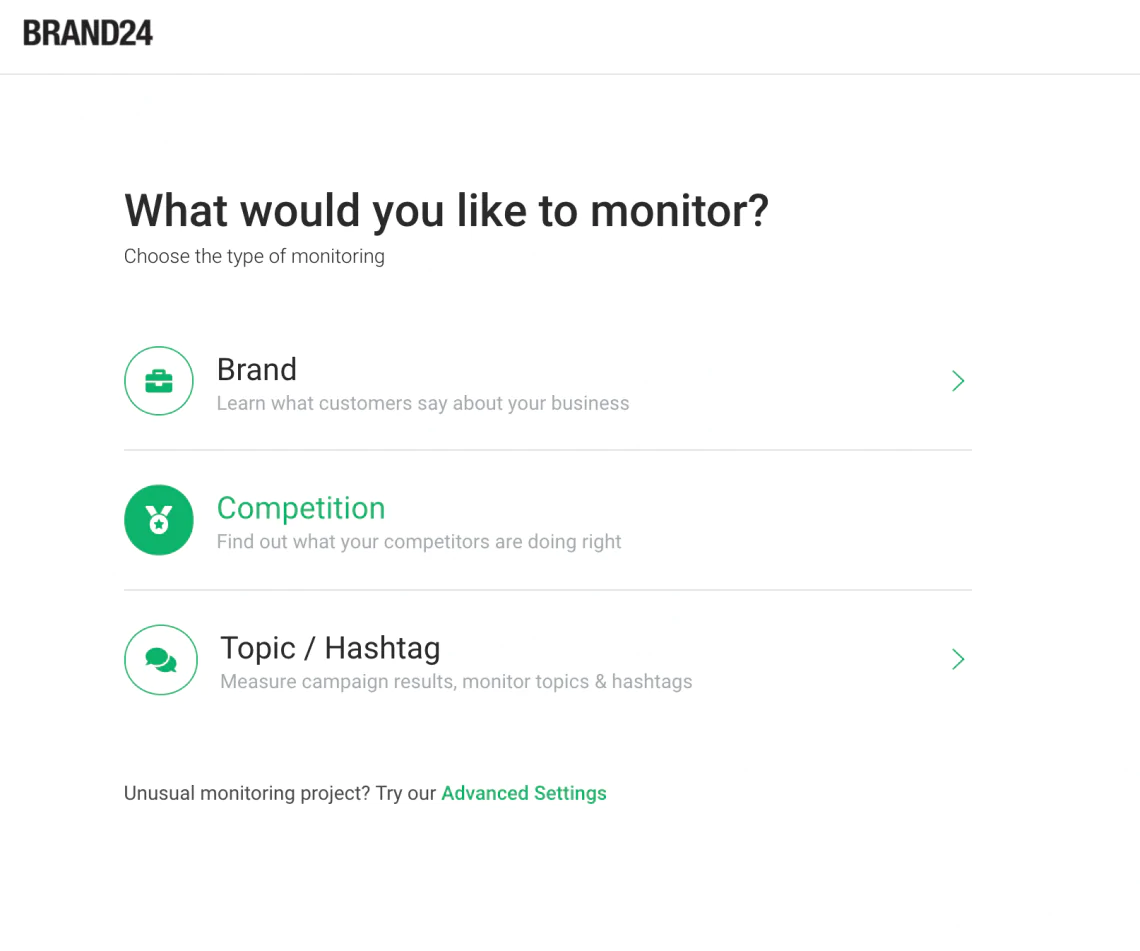 The next step is crucial. Here you should enter all the terms you'd like to monitor. Since choosing the right keywords is essential, I write a lot more about it in the next chapter.
In the last two steps, you can add some extra sources, for example a link to Yelp or TripAdvisor page, and choose the language of your project.
From that moment on, Brand24 collects online mentions containing your predefined keywords.
That's when the media monitoring magic begins.
What are the perks of media monitoring with Brand24?
For starters, an in-depth analytics section.
In the Analysis tab, you'll find detailed data that will help you made better decisions.
The tab includes metrics such as:
the most popular mentions
mentions from the most popular public profiles
estimated social media reach
the number and type of social media interactions
the number of positive and negative mentions
a list of trending hashtags
most active countries
the context of a discussion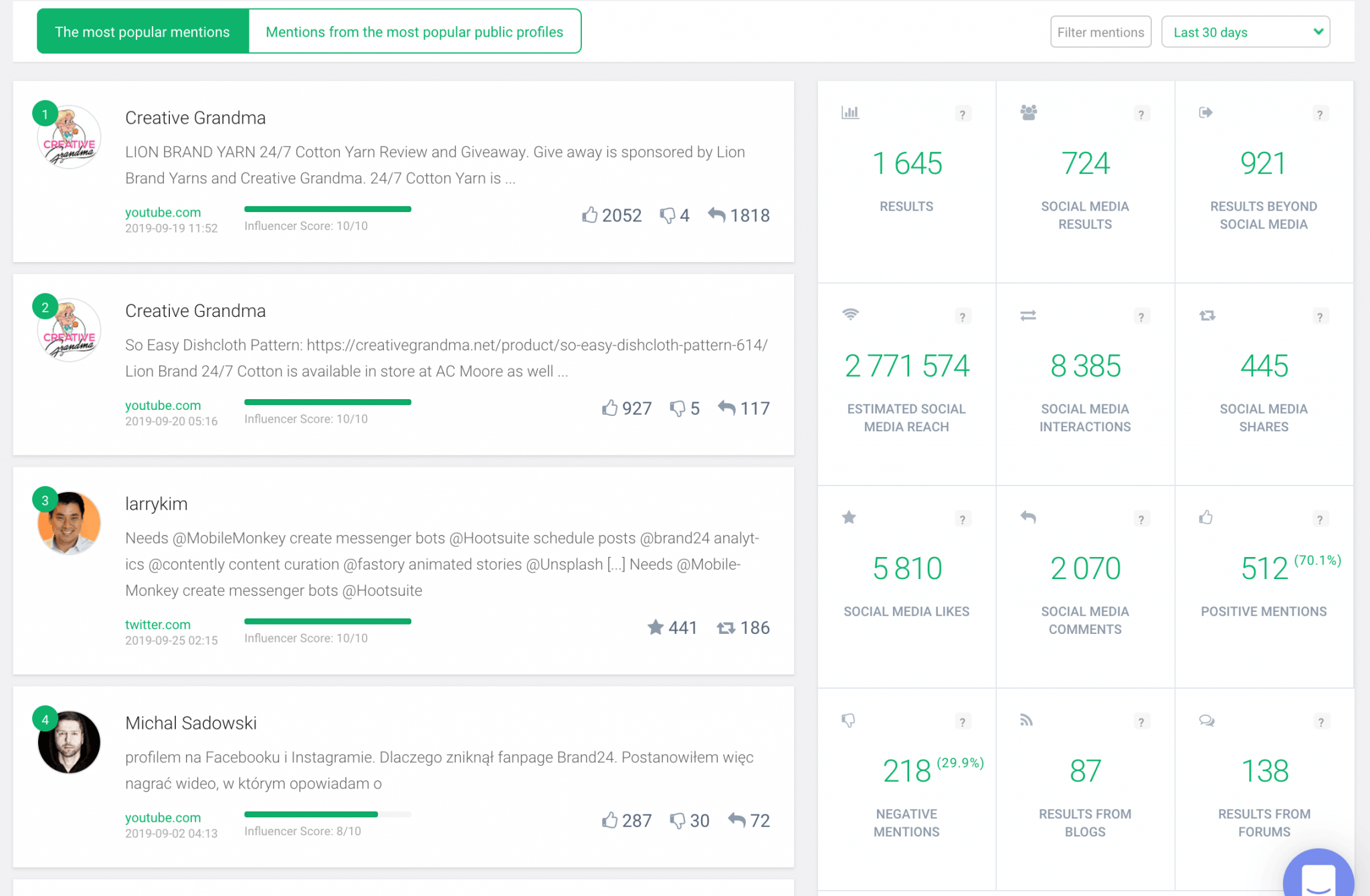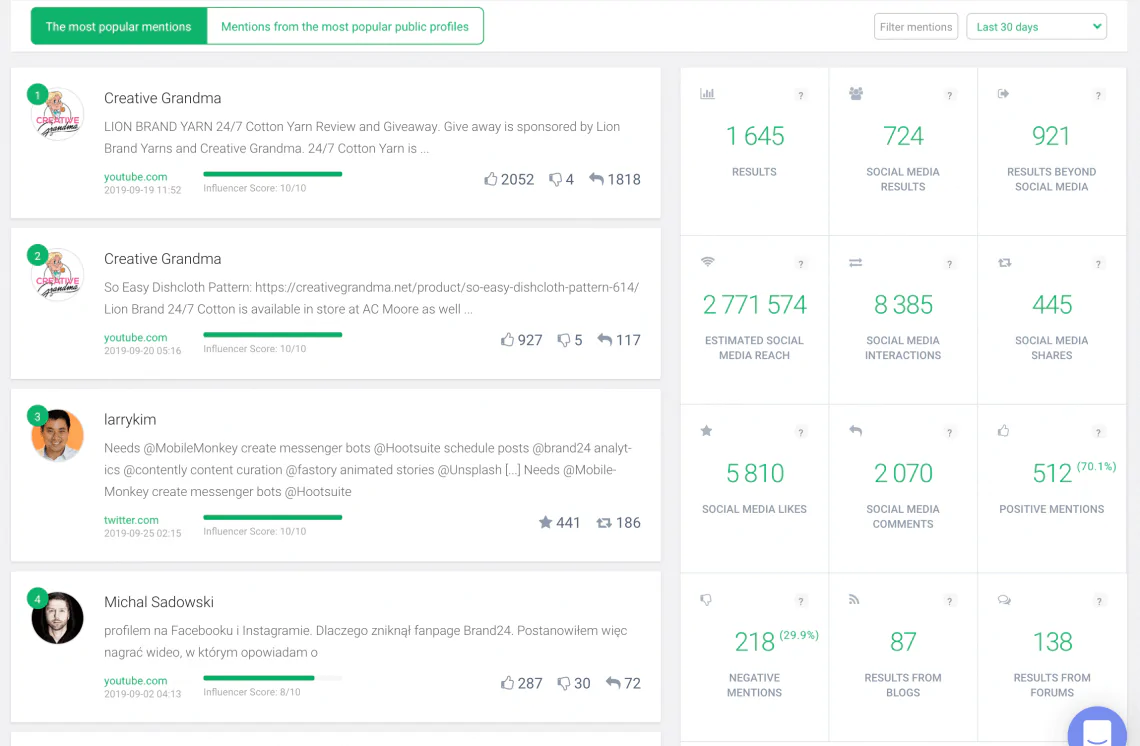 You can personalise your project with the help of filters to examine only the most crucial mentions.
Moreover, Brand24 offers PDF reports. You can export the data you find important to a separate file you can distribute among your coworkers or management.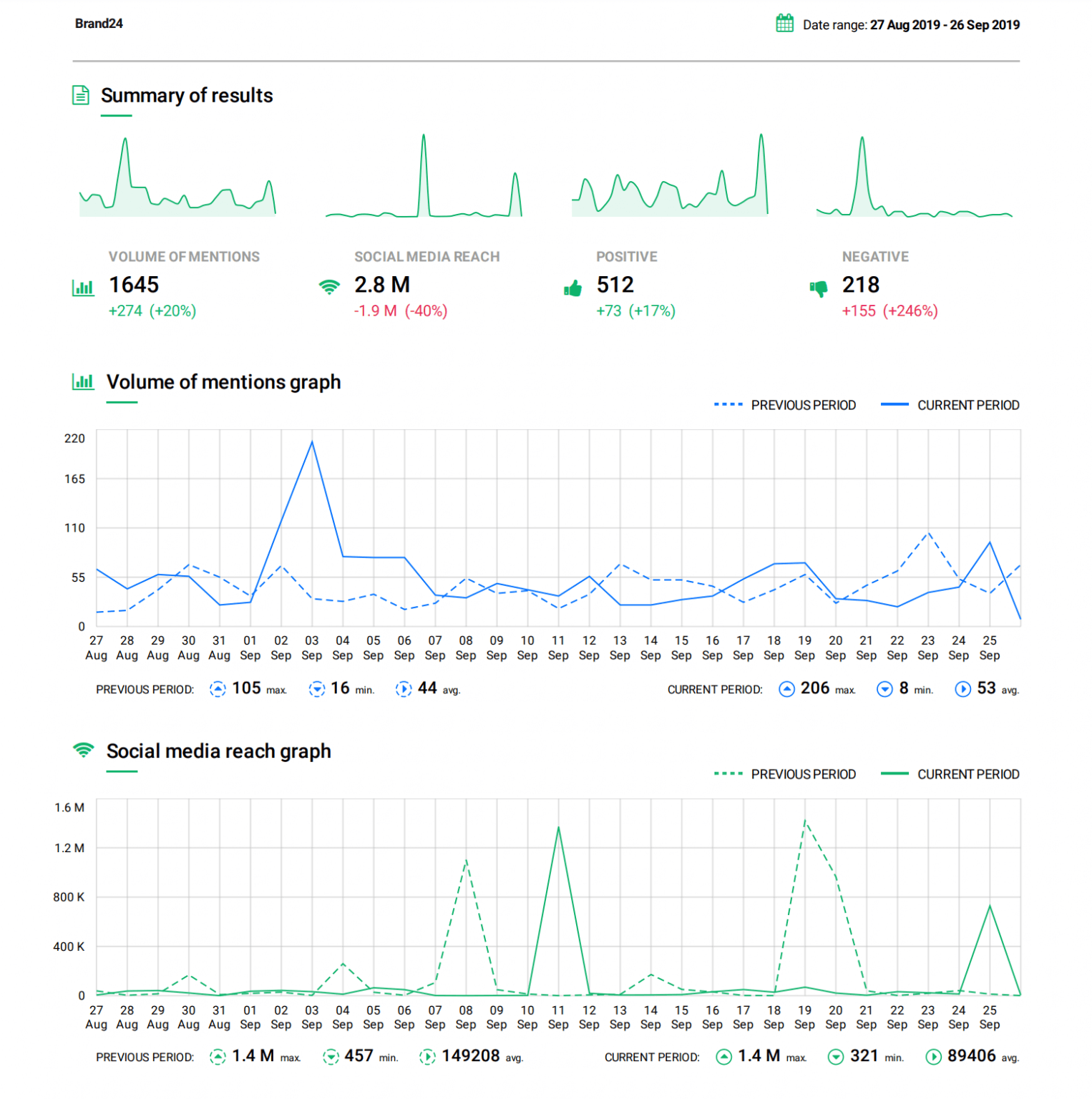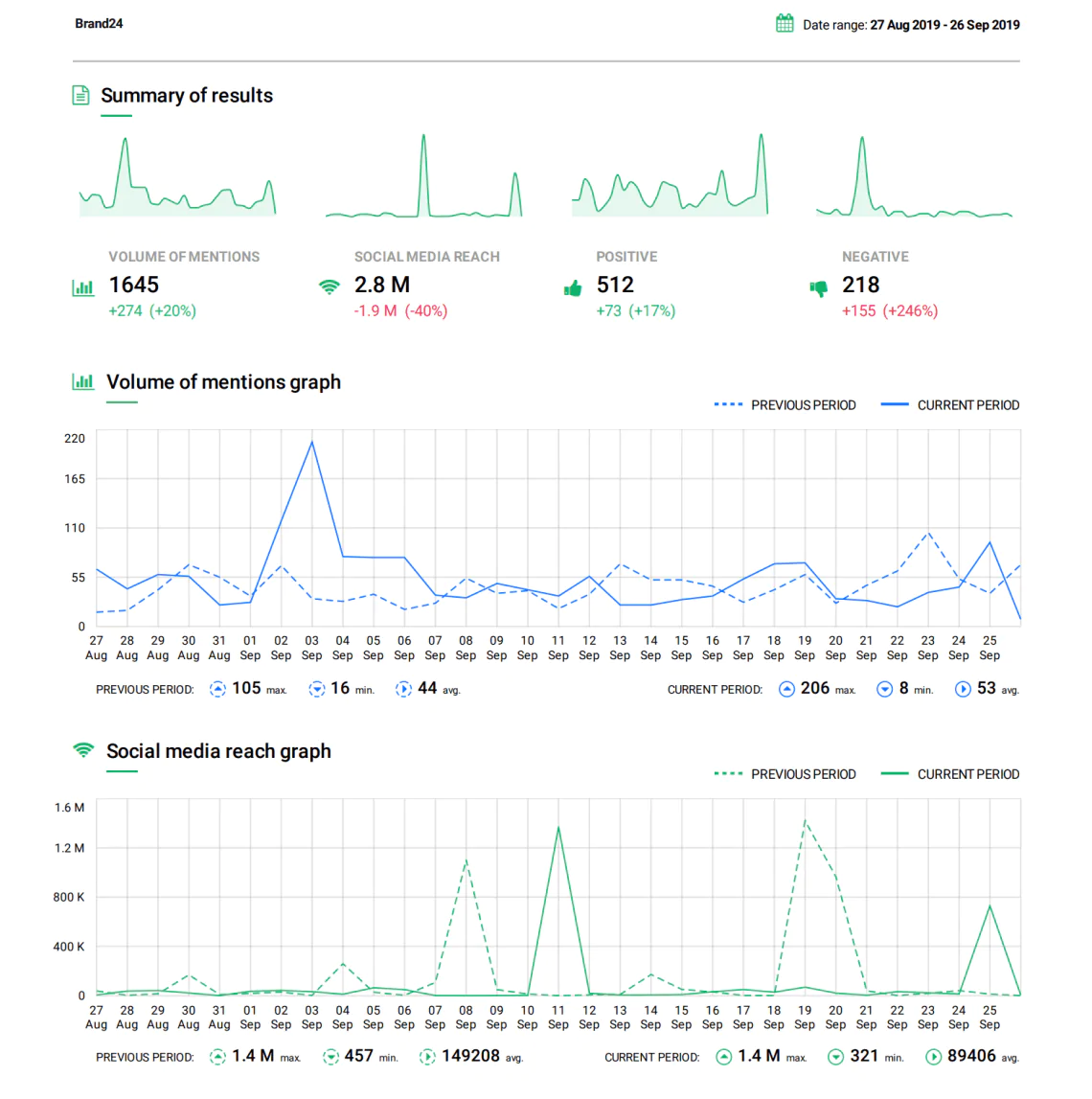 If you don't need to log in everyday, you can set up an email or Slack notification. You can receive filtered notifications (e.g., only mentions with negative sentiment or with a certain number of interactions) or get every mention with your predefined keyword.
Give it a spin yourself! Brand24 starts at $49 and offers a free trial period (no credit card required).
Google Alerts
Google Alerts is a free alternative to paid media monitoring tools. It won't give you the same level of analysis, but you'll get a good grasp on how often your keyword is mentioned online.
Since there isn't an analytics section, you won't have to set up a project. All you have to do is type in the keyword you'd like to monitor, and voila! You get a list of recent mentions.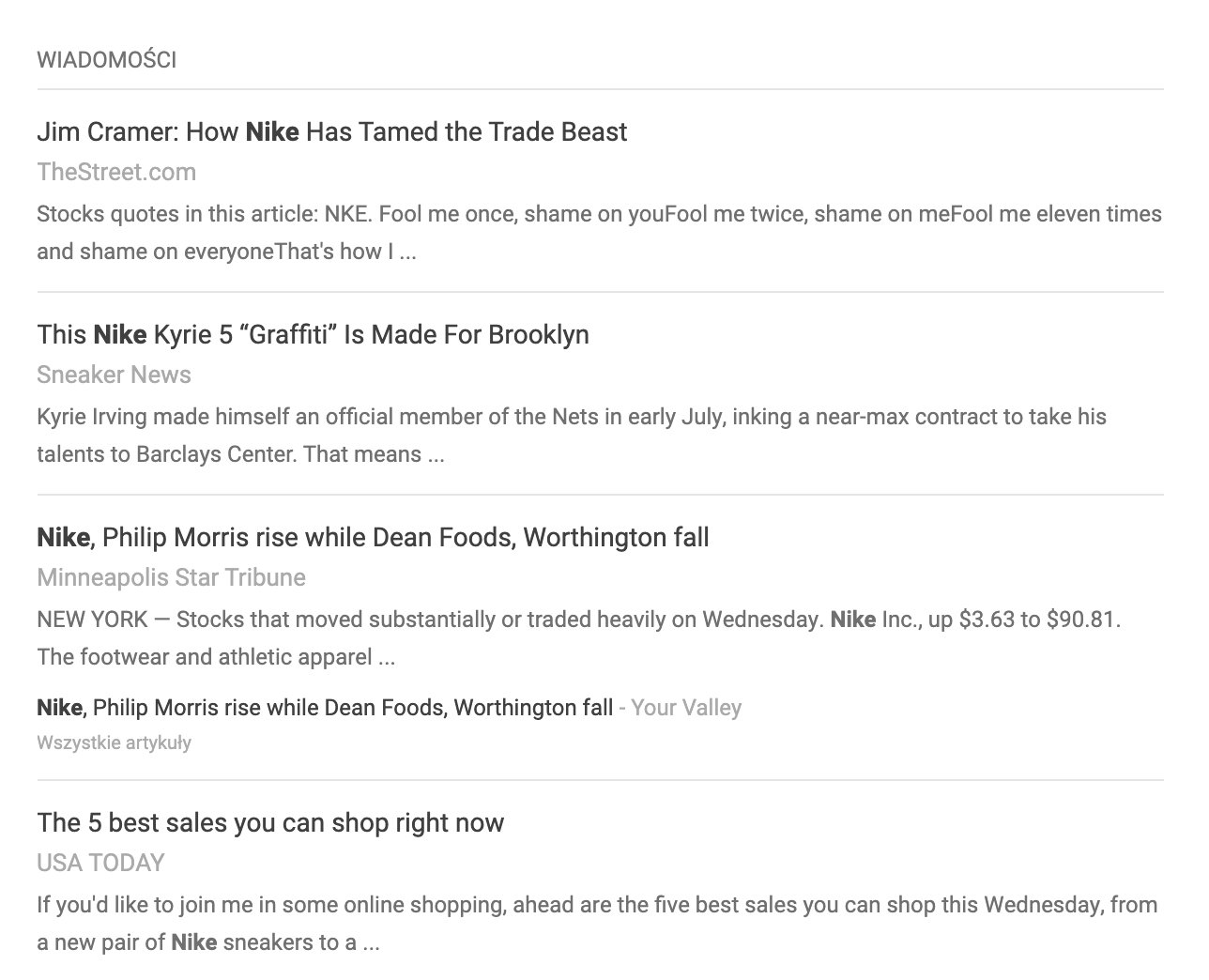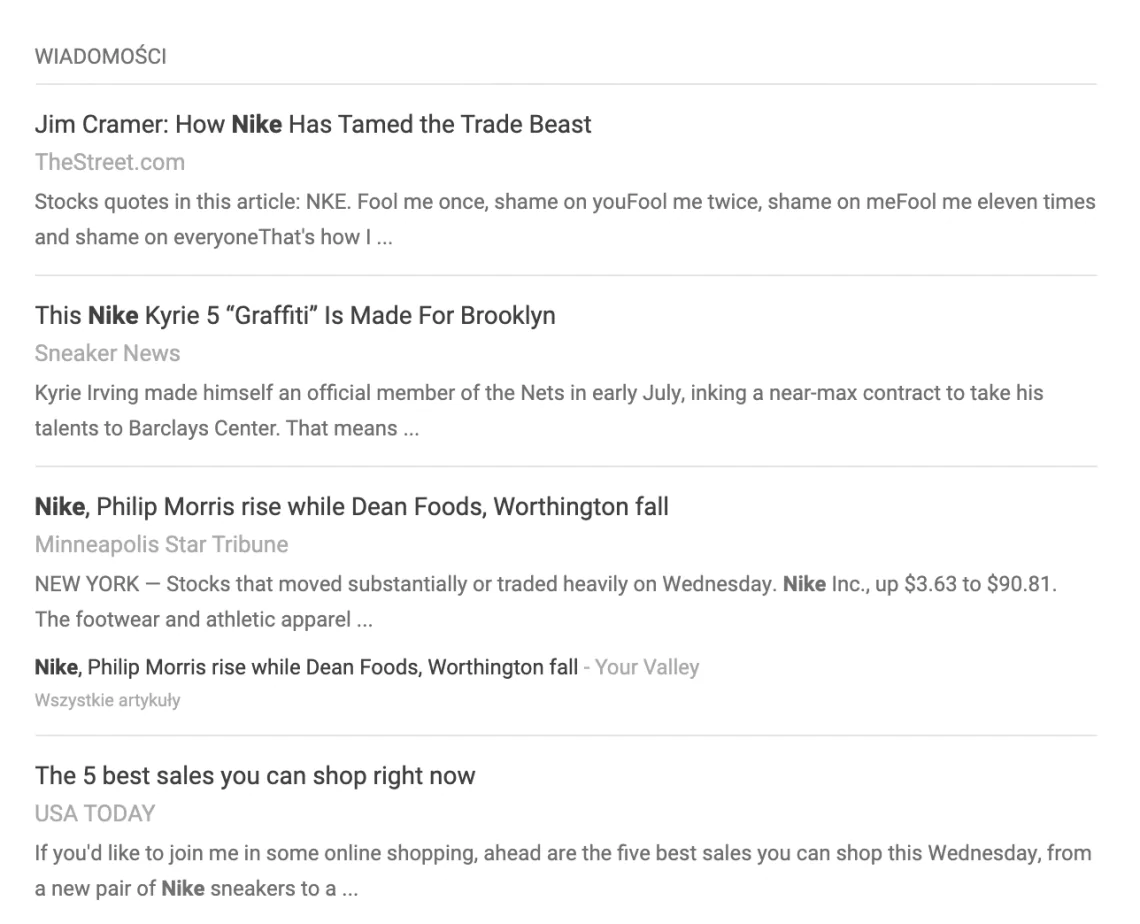 Google Alerts is a great alternative to businesses that don't want to invest in a paid monitoring tool.
You'll get a general idea on how your brand is doing online. You won't get all the insights you need to fully assess and improve your online presence. But Google Alerts is a way to start your media monitoring project.
If you'd like to learn about differences between Google Alerts and Brand24, read our article "Google Alerts alternative" – there you will find more details.
Google Alerts is a free tool.
Browsing the web
There's one more way to do the media monitoring. You can simply google the keywords you're interested in and examine the results by hand.
Web search is certainly the most cost-effective media monitoring solution, but it has its drawbacks.
Firstly, as with Google Alerts, the results of your searches won't be analysed. You won't see any spikes in searches, won't be able to analyse positive and negative mentions, won't see what content performed best… The list goes on and on.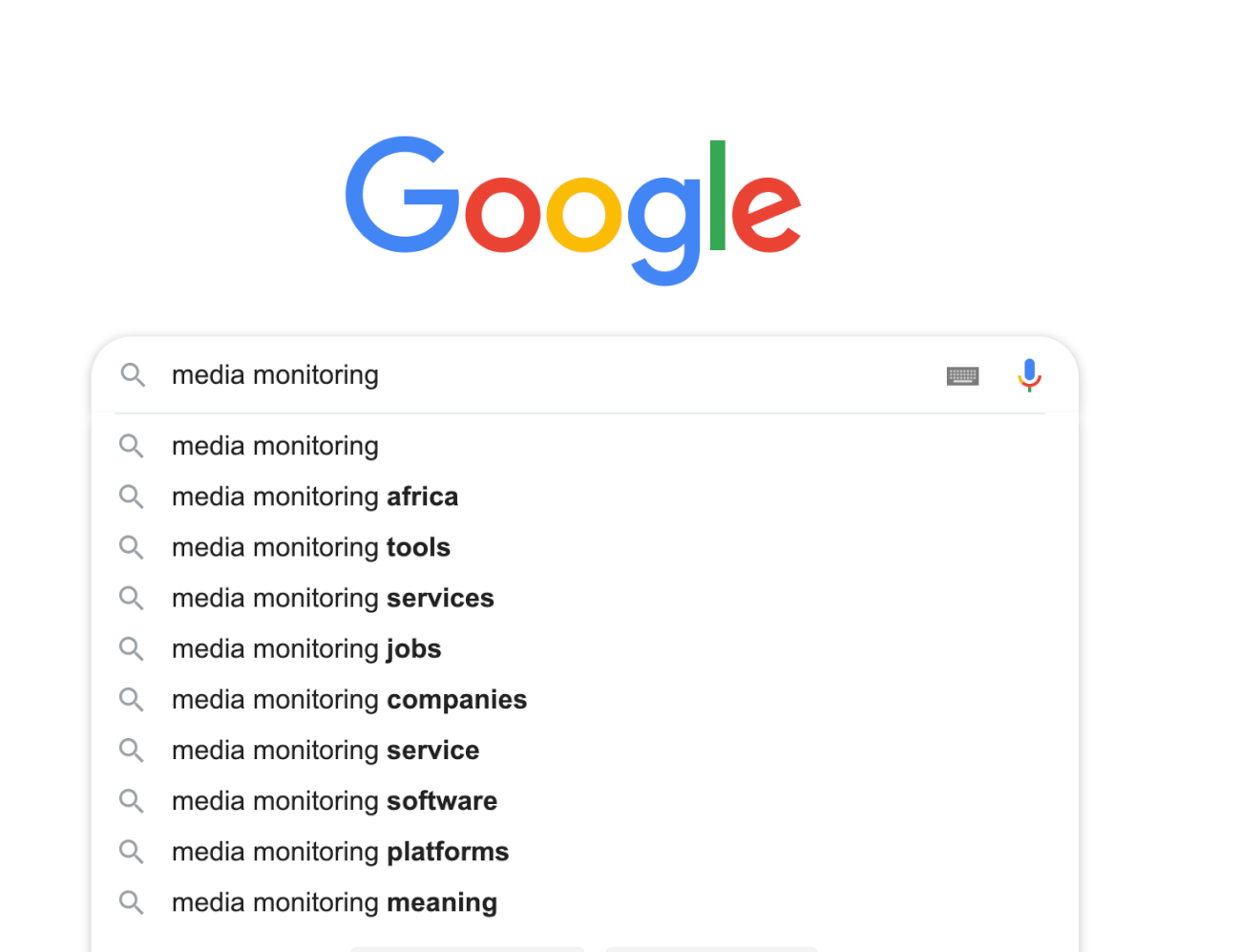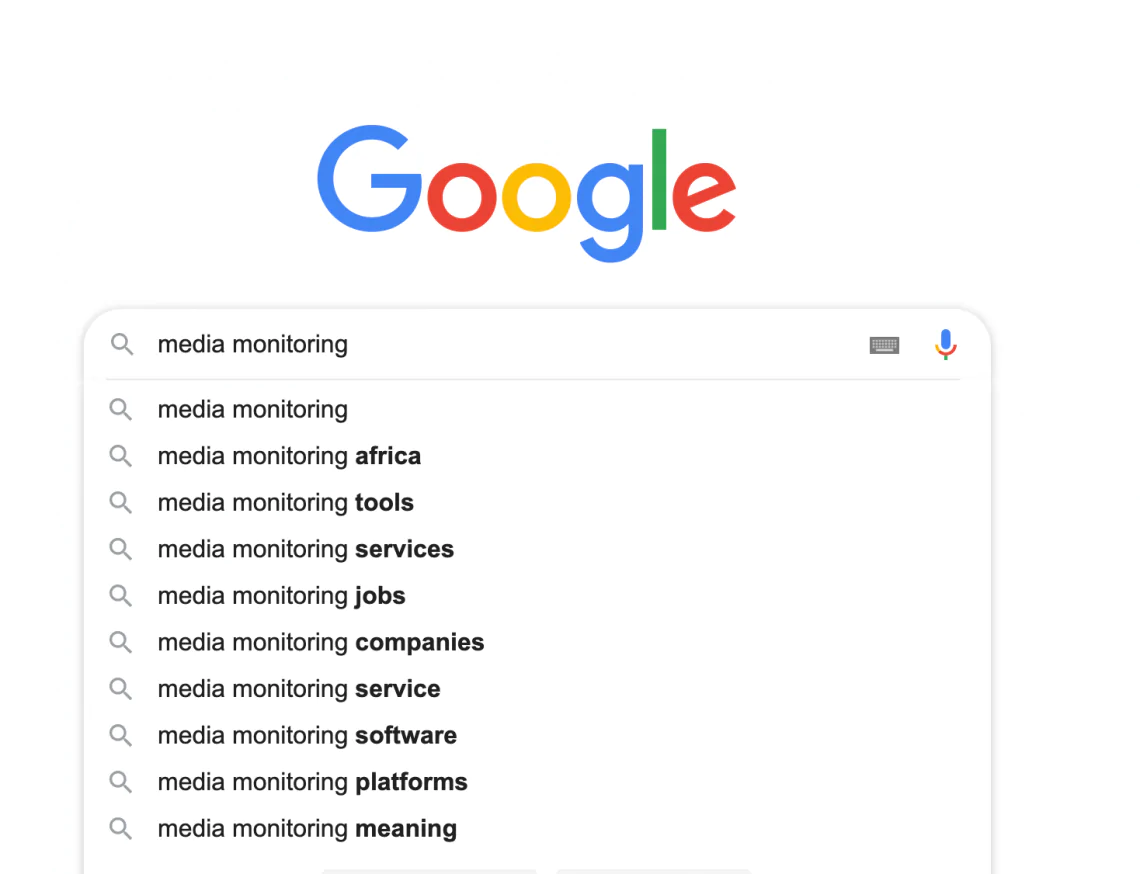 Secondly, you won't be notified about any spikes in the number of mentions. A sudden increase in the number of online mentions is usually an early indicator of a social media crisis.
Lastly, while manual search is definitely cost-effective it's definitely time-consuming, especially if you want to do it regularly.
Who can benefit from media monitoring?
Media monitoring is for every business with an online presence.
No matter the industry or size of your business, chances are people are either talking about you or looking for solution you offer.
It's part of your job to monitor what's being said about you. Depending on your business niche, you will have to draw different conclusions and implement specifically targeted actions to your company.
Media monitoring for small and medium companies
For small and medium businesses media monitoring is essential for building community around their brand.
As a small business owner, you might think that media monitoring is only for big players — companies with established position on the market and reputation.
The truth is, you can benefit from media monitoring solutions on every step of your business journey.
As a small business owner, media monitoring will help you raise brand awareness and build community around your brand.
One of the biggest struggles of new businesses is building brand recognition. Your product or service might be superior to the competitors, but if no one knows about it, you won't generate the desired results.
Media monitoring will help you find places where your potential clients are hanging out. Engage with them, offer some solution to their problems, and start building your brand recall. But first, you have to know where your customers are.
Media monitoring will help you spot the opportunities ahead of you, keep track of your competition, and build a loyal community around your brand.
Media monitoring for enterprises
It's a bit different for enterprises.
Well-established companies usually generate a fair amount of online mentions. The main challenge is to narrow down and respond only to the important ones.
Enterprises need to filter the results to the most important ones. Media monitoring tools offer some advanced filters you can use.
Besides some basic filters, for example, filtering by author, or domain, media monitoring offer some more sophisticated filtering options.
When you monitor the keywords related to your brand or industry, you want to know how people feel about certain topics, products, or services. That's where sentiment analysis filter comes to the rescue.
Sentiment analysis assigns the right feeling to the online mention — positive, negative, or neutral.
Another useful aspect of media monitoring for enterprises are automated reports.
You don't have to scroll down through thousands of mentions. Instead, you'll receive an email, a Slack message, or an in-app notification every time there's an unusual spike in the number of mentions.
The best part is that you can determine what the unusual spike is.
Media monitoring will also be useful for other aspects of your online business presence, for example:
managing online crisis
monitoring the results of your PR activities
monitoring marketing performance
providing exquisite customer care
finding influencers to boost your product.
Once you're convinced about the benefits of media monitoring, let's answer some other important questions.
What should you monitor?
Start with choosing the best keywords for your project. Without it, your media monitoring project won't generated the desired results.
If you choose the wrong keywords two things may happen.
Either you'll collect a whole bunch of irrelevant results and won't get the insights you need or you won't be able to collect enough mentions to analyse and draw conclusions.
So, what exactly do you need to monitor to collect the mentions you need for your business?
Let's see!
Your company
Monitoring your company is always a good idea.
The benefits of monitoring your brand's name across the Web will tell you who is talking about you and what they are saying.
That will tell you who is content with your offering, making them a perfect brand ambassador. A social proof, positive opinion from other social media users, can do wonders to your business.
Media monitoring will also help you find users complaining about your product.
And the best way to change someone's mind is to listen to their problems and at least try to solve them.
Moreover, the volume of mentions about your brand creates a base line for your other project. Knowing how you position yourself online will help you compare your company to your competitors.


Remember to track not only the proper spelling of your company's name, but also every misspelling you can think of. That way you make sure, you get every possible mention there is concerning your brand.
Don't limit yourself to the name of your company. You should also monitor your:
branded hashtag
campaign-specific hashtags
slogans
names of recognisable employees.
Your competition
To get the full picture of your position in your industry niche, you ought to have a thorough understanding of the landscape you operate in.
To gain this knowledge, you should monitor your competitors.
The beauty of media monitoring is that it's completely legal and ethical. Media monitoring will give you access to publicly available online mentions.
You shouldn't copy your competitors marketing tactics, but competitor analysis will indicate what's working and what doesn't in their communication, marketing, and customer service.
That's an opportunity for your company to attract new customers, provide better customer service, and become an industry leader.
Industry trends
To get a holistic view of your business niche, you should take a look at one more element of your online environment — the trends in your industry.
Monitoring industry trends will give you a general idea where your industry is heading.
Without a thorough understanding of your industry, you won't be able to make informed decisions about the future of your company or brand.
Don't get me wrong — you can swim against the current and promote your business on the premises you made. But it's important to know where your industry is headed to assess all the risks and opportunities of your decision.
Your partners
Your partners reputation can affect your business.
You don't want to be associated with company that was involved in some scandal in any way. That will damage your brand reputation and decline the level of trust you were able to build among your customers.
Media monitoring can help you stay on top of your partners reputation. All you have to do is follow the same steps as in the first paragraph. Just fill in the keywords related to your suppliers, vendors, or partners.
Brand-related terms
Monitoring brand-related terms will help you promote your business among potential customers.
You should monitor all the phrases someone would use while looking for your product or service.
Think about phrases such as:
who can recommend…
where to buy…
where to eat…
best places to stay…


To find all the brand-adjacents terms, put yourself in the shoes of your potential customers. How would search for the products like yours?
Take a look at Google Analytics and examine the keywords people type in search engine that made them land on your page.
Once you find questions you could answer, comes the hard part of the process.
You have to engage potential clients, but in a way that's not pushy. Finding a balance between selling and being helpful is key to converting the customer.
Customer insights
The world of online reviews is a goldmine of customers' insights and sentiments.
Most of your customers will tell you how they feel about your product or service, what they would like to improve, and what bothers them.
Your job is to listen to their opinions and be prepared to react.
Media monitoring will help you automatically assess the sentiment of particular mentions. This will allow to get actionable insights into almost every aspect of your offering, including product itself, pricing, customer service, the content on your earned media.
How to do monitoring – a wrap up
Media monitoring can be a piece of cake. Following these steps will certainly make it more manageable.
Choose the right media monitoring tool. Every option has its advantages and disadvantages, choose the one that works best for your business.
Take your time and go for the most suitable keywords for your industry. Getting the right keywords will assure you'll receive relevant results in your dashboard.
Get familiar with media monitoring filters. Grouping the mentions will allow you to receive the most insightful data you can quickly act upon.
Related read: