Brand24 – a Google Alerts alternative
February 23, 2017 ・ 8 min read
Do you want to know what people say about your business and products online? Track an important topic or a competitor? Track a hashtag, a marketing campaign, or just any keyword on the web and in social media? You can use Google Alerts. Well… can you?
Google Alerts is probably the most popular media monitoring tool out there.
It's free of any charge, comes from Google, and is, due to its simplicity, super easy to use. At the same time, it might be a downside as the tool doesn't provide any form of data analysis.
However, the most important question of all is: does it do the job? Apparently, looking at comments and discussions among users, it doesn't – it gives a headache for a number of reasons.
People move away from Google Alerts for various reasons, for example:
Too late or no results
Limited sources
Filters doesn't work
Loads of spam
Lack of customer care and educational resources from Google
Sometimes it doesn't find content which is already on Google
There's more reasons you can find online.
The malfunctions of Google Alerts are a considerable disappointment for these in business and marketing who need reliability and analytics. Advanced media monitoring tools crawl more online sources, provide better results and loads of in-depth data analysis.
If they brought you here and you're looking for a Google Alerts alternative, here's all about a solid substitute – Brand24.
Google Analytics vs. Brand24
I will compare Google Alerts and Brand24 on a few levels that are common to all web and media monitoring tools:
Cost
Project set-up
Data coverage
Deliverability
Volume of mentions
Data export
Data analysis
For the sake of the comparison, on April 22, I set up a project monitoring one keyword both in Google Alerts and Brand24: Tesla.
By the way, if you want to compare both tools yourself, here're links to project set-up:
Cost
99.9% of web and social media monitoring tools are paid.
Maintaining and developing such a tool comes at a cost of data maintenance wich gets expensive. Every single mention from every single project users have takes space in the cloud. It generates costs.
This 00.1% is Google Alerts – it's completely free.
Google Alerts
Google Alerts comes free of any cost.
Brand24
Just like every other web and media monitoring tool, apart from Google Alerts, Brand24 is a paid tool. It works in SaaS (software as a service) model which is a monthly subscription service. It comes in three pricing plans:
Personal Plus – $49
Professional Premium – $99
Professional Max – $399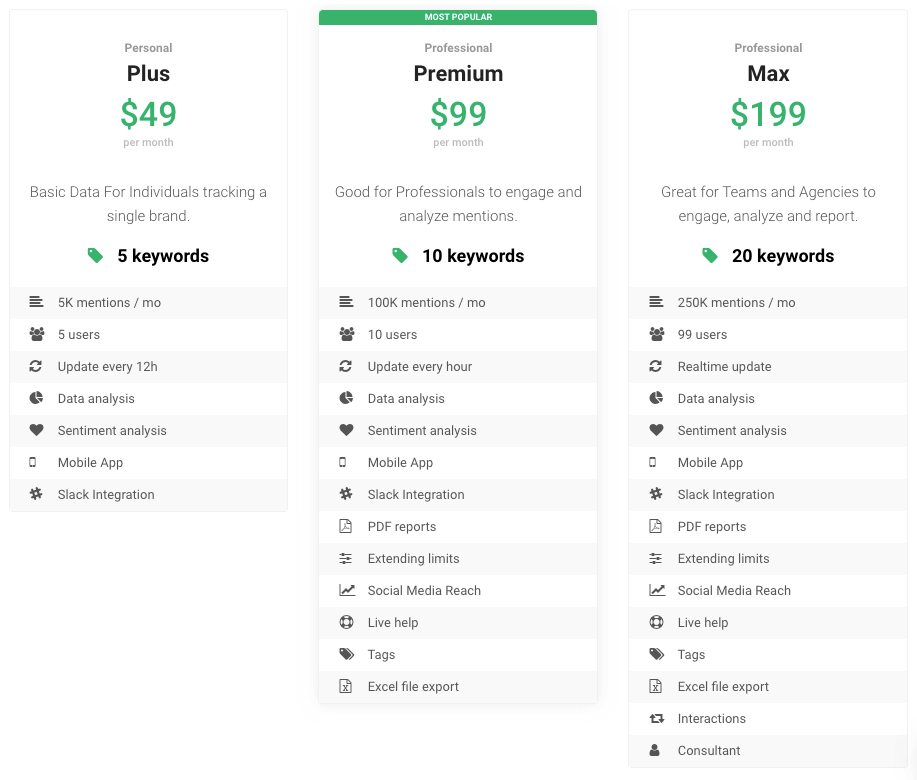 Have a closer look at prices
Project set-up options
Project set-up is important as it influences the quality of data your media monitoring tool provide.
The more options during project set-up, the more precise results you'll get.
Google Alerts
Project set-up options:
Frequency
Sources
Language
Region
Quantity
Email address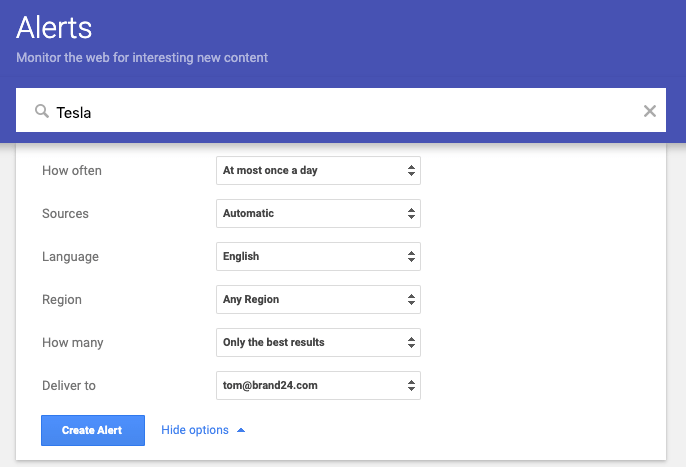 Brand24
Project set-up options:
Required keywords
Excluded keywords
Language
Email notifications
Sources
Notifications
Reports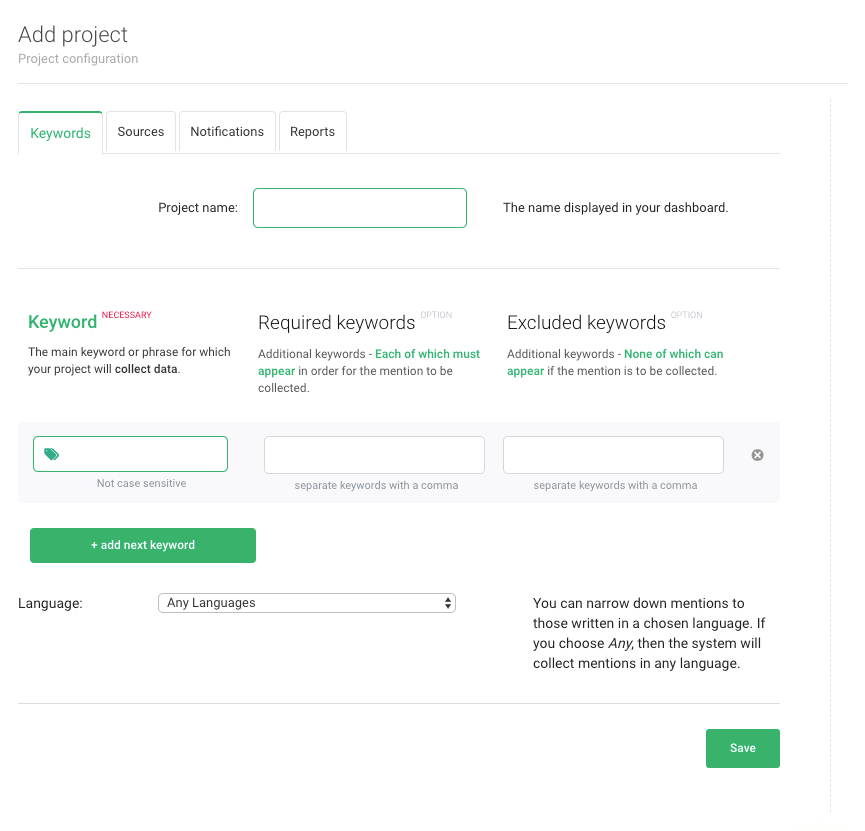 One great feature that Google Alerts misses here is required and excluded keywords.
It comes super useful if you need really precise results, or when you monitor a common word that at the same is a proper word. Just imagine that you want to collect mentions about a beer brand called Brooklyn without excluded / required keywords.
Madness.
---
Data coverage
It's where a media monitoring tool looks for mentions of your keywords.
While collecting mentions from websites is relatively easy, collecting data from social media platforms is more of a delicate matter because of privacy restrictions in the aftermath of Facebook's Cambridge Analytica scandal.
After data leakage, Facebook, seeing its users fleeing from the platform, decided to take up privacy issues as their main priority. To show the world they improve their data security standards, they blocked thousands of apps and tools that might have been gathering Facebook data in any way – both illegally and legally.
Facebook, which also owns Instagram, has now strict protocols and authentication processes to ensure that external apps such as web and social media monitoring tools collect only publicly available data.
Facebook reviews each media monitoring tool to ensure everything done in accordance with their standards and best practices.
Here are the sources both tools monitor.
Google Alerts
News
Blogs
Web
Video
Books
Discussion forums
Brand24
Facebook
Instagram
Twitter
TikTok
Twitch
YouTube
TripAdvisor
Yelp
Blogs
Discussion forums
News sites
Podcasts
The number of sources Google Alerts covers is smaller not only in comparison to Brand24 but also its other alternatives, for example, Awario, Talkwalker, or Brandwatch.
---
Frequency of alerts
This is all about your notifications: how often you get them and how timely they are.
In both cases, as-it-happens and real-time are a bit far-fetched – there's no media monitoring tool out there that collects mentions in real time no matter what the price tag is, even though they say so.
There's always a slight delay because of technical limitations.
Google Alerts
As-it-happens
At most once a day
At most once a week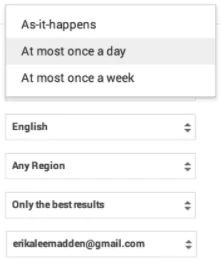 Brand24
Real-time
Every hour
Every 6 hours
Every 12 hours
Once a day
Every week
Every month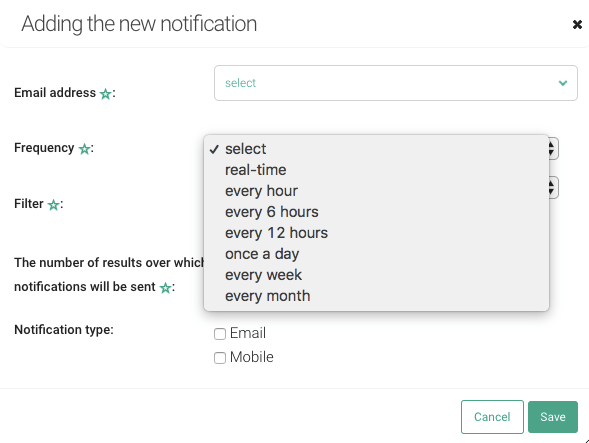 Google Alerts has less delivery times.
In the case of Brand24, you can additionally adjust notifications using filters. Your email notification can be filtered according to even more specific keywords, sentiment, influencer score, sources, and other criteria depending on your choice.
---
The look of notifications
Both in Google Alerts and Brand24 you can access collected mentions inside tools in a mentions feed, or via email notifications.
Email notifications in Google Alerts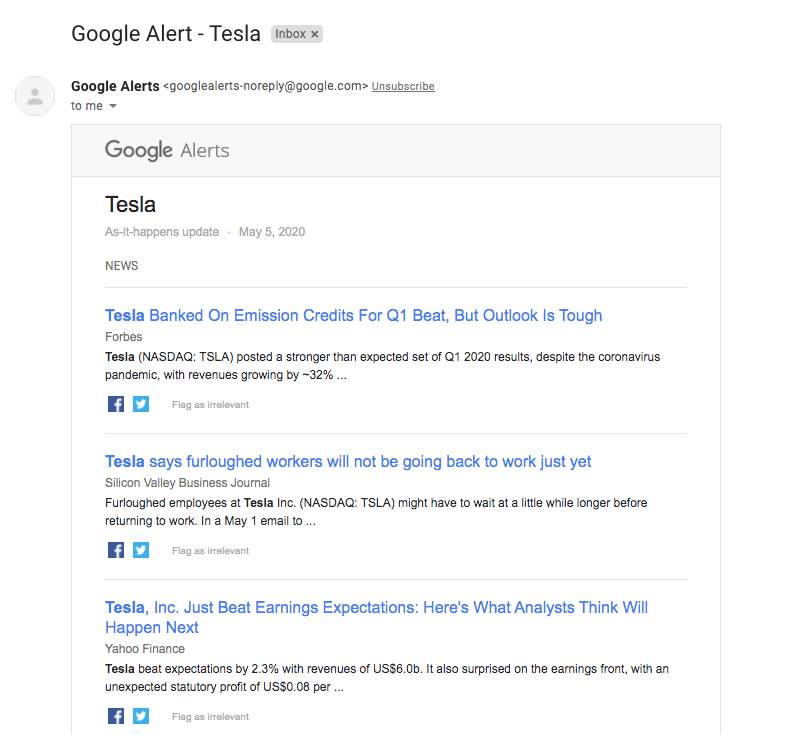 Notifications from Google Alert contain only mentions.
Email notifications in Brand24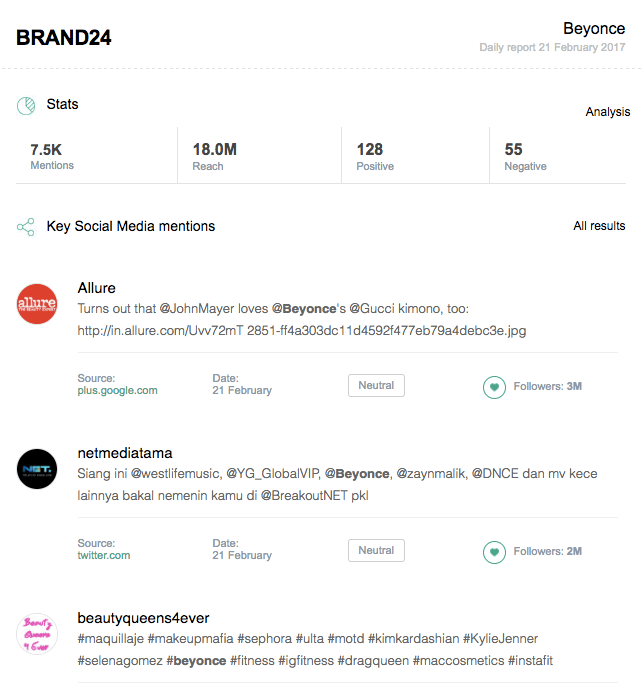 Notifications in Brand24 contain not only mentions, but also brief data summary: volume, reach, positive mentions, negative mentions, and the number of followers.
Volume of mentions
Over one day, tools collected the following numbers of mentions:
Google Alerts: 89
Brand24: 8926 results
There's a dramatic difference between Google Alerts and Brand24. It's not only because the smaller number of source both tools monitor, but also because of technicalities.
Little results from Google Alerts was one of the most common complaint about the tool.
Data export
Google Alerts: Not available
Brand24: .xlsx, PDF Reports, infographics
Without a shadow of doubt Brand24, as a Google Alerts alternative, can do more.
When it comes to data export, Brand24 gives you a couple of options. You can export your data as an Excel file, as a PDF with your company logo or as an infographic.
The Excel file contains an entire range of data regarding mentions. It lists every single mention and describes it via various parameters, such as title, source, timing, content, estimated social media reach and more.
A PDF report consists of a couple of pages filled with data, such as discussion intensity chart, the most popular social media authors and so on so forth. Also, you can customize the report visually by choosing a color of your choice and uploading your company logo.
An infographic provides you with the summary of the most important bits of data.
Sentiment analysis
Google Alerts: Not available
Brand24: Available
Brand24 provides sentiment analysis of mentions. There's a possibility to filter positive, negative and neutral mentions. Then can be displayed on a chart, too.
Influencer analysis
Google Alerts: Not available
Brand24: Source, mentions, reach, share of voice, influence score
Brand24 gives the opportunity to filter authors and sources data using numerous filters such as Source, Mentions, Reach, Voice share, Influence and Influencer Score. Combined, they can help you with identifying influencers.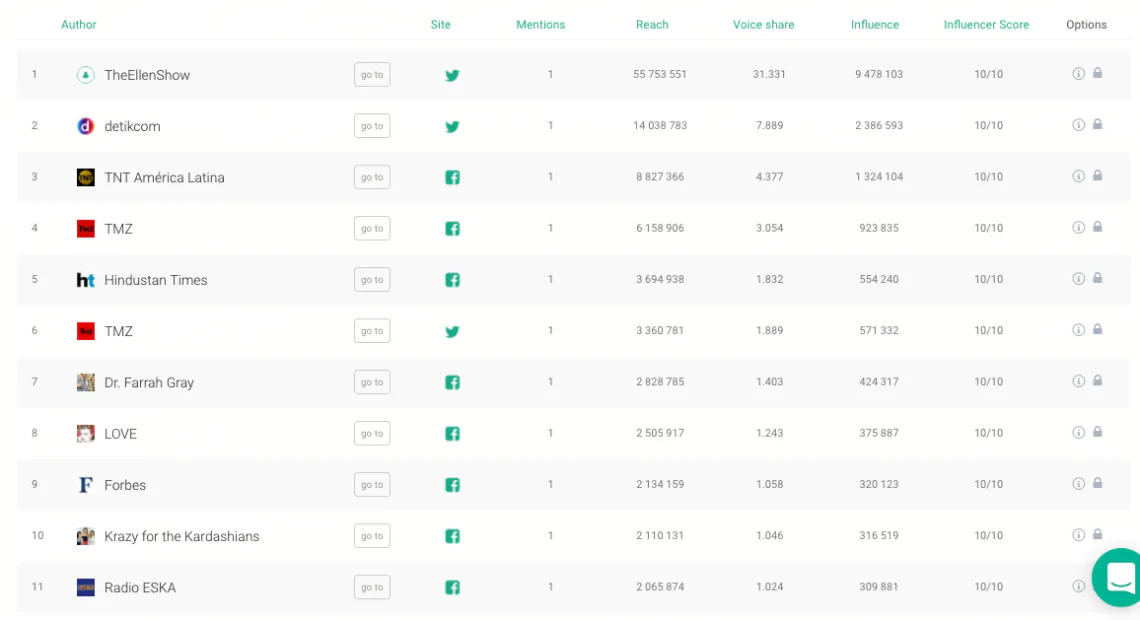 There's more inside!
Competitive Monitoring
Google Alerts: Not available
Brand24: Available
In Brand24 you can set up a project monitoring your competition and receive real-time mentions to track your competitors' marketing efforts, product launches and upgrades, pain-points, customer reviews and so on.
Also, Brand24 allows conducting a project comparison so that you can get an idea of how your online presence compares to your competitors.
Campaign Monitoring
Google Alerts: Not available
Brand24: Available


Campaign monitoring in Brand24 is as easy as pie. It also includes hashtag monitoring. You can analyze your marketing efforts and learn about its social media reach, the number of conversations, sentiment and more.


Viral Content Tracking
Google Alerts: Only the best results
Brand24: Storm Alerts
Both Google Alerts and Brand24 provide the opportunity to receive the most influential and buzzing mentions. However, in Brand24 this option is more advanced than in Google Alerts as you can more thoroughly adjust filters. This feature is called Storm Alerts. Basically, these alerts notify you about sudden changes in volume buzz.
Learn more about them in this blog post.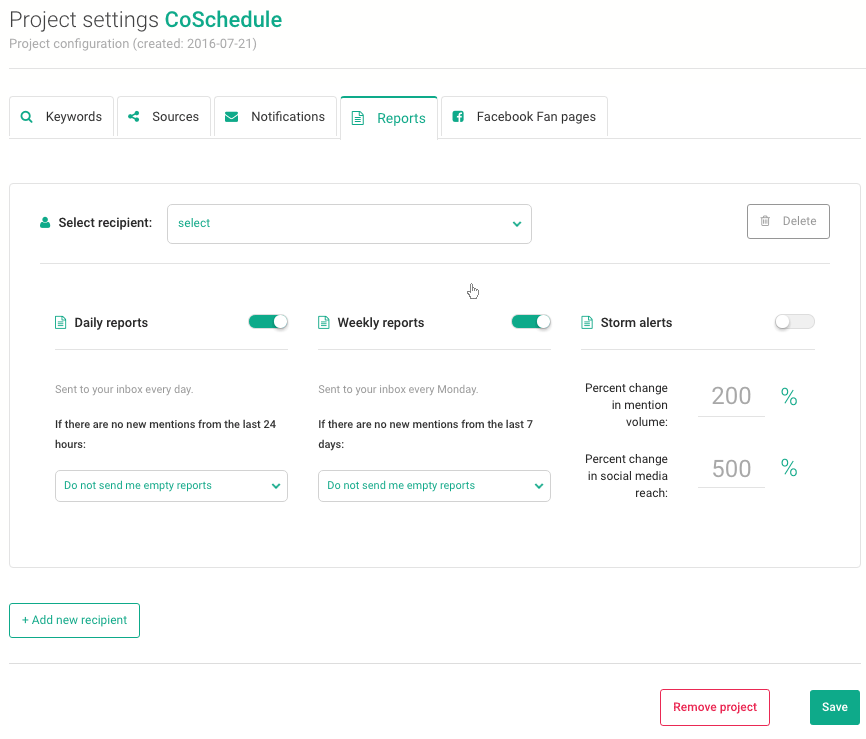 Languages
Google Alerts: Afrikaans, English, Arabic, Belarusian, Bulgarian, Chinese, Croatian, Czech, Danish, Esperanto, Estonian, Filipino, Finnish, French, Greek, Hebrew, Hindi, Spanish, Indonesian, Icelandic, Japanese, Catalan, Korean, Lithuanian, Latvian, Dutch, German, Norwegian, Armenian, Persian, Portuguese, Russian, Romanian, Serbian, Slovak, Slovenian, Swahili, Swedish, Thai, Turkish, Vietnamese, Italian.
Brand24: Czech, Danish, German, English, Spanish, Finnish, French, Hungarian, Indonesian, Italian, Dutch, Norwegian, Polish, Portuguese, Romanian, Swedish, Turkish, Vietnamese.
Conclusion
Undoubtedly, Brand24 as a Google Alerts alternative is a more complex, yet affordable tool starting at $49 per month. It works great for companies of all sizes. Also, you can use in many areas of your business, such as reputation management, social selling, customer service, research or analysis.
You can take it for a spin here. It's absolutely free.
Also, if you'd like to learn more about it, please see 12 ways social listening can help your business or drop me a message.
Related reads: