It's good to know what people think and say about your business online, right? In the past, people used to go online to complain about a product or service. These days, the Web is where people go to express their opinions on various occasions, share their feedback, post a review, recommend, discuss or simply seek help or recommendation.
They talk about your product and company, too.
You can listen to these conversations using a social media monitoring tool, for example Google Alerts – it collects real-time online mentions of predefined keywords. They can be connected to your business, industry, market, competition or basically anything.
It can be used in many areas of business ranging from reputation monitoring, acquiring feedback, customer service, sales, social media analytics, research, personal branding and more.
And, sadly, one of the most popular tools supporting social media monitoring alerts is Google Alerts.
---
Google Alerts not working?
There are various reasons why people move away from Google Alerts, for example:
Late or no results
Too restrictive filters
Google Alerts simply stopped working
Another reason why people stop using Google Alerts is because they seek a more advanced social media monitoring tool to match their needs – some social media monitoring tools offer in-depth analytics.
If you subscribe to any of these reasons, this post is for you.
---
Google Alerts alternative – Brand24
I have a good Google Alerts alternative for you – our own Brand24.
It's a web and social media monitoring tool with analytics. Not only it collects online mentions but also analyzes their performance – I'll talk about these features later.
Have a look at the comparison of these two social media monitoring tools and decide what fits you best.
---
What we compare?
We're going to make a comparison between the features that social media monitoring tools possess in general:
Quality of data
Frequency of alerts
Data coverage
Volume of mentions
Data export
Additional features
For the sake of comparison, I started monitoring exactly the same keywords in these two tools: beyonce. 
Let's get to it.
---
Frequency of alerts
Google Alerts: As-it-happens, at most once a day, at most once a week.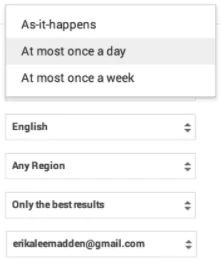 Brand24: Real-time, every hour, every 6 hours, every 12 hours, once a day, every week, every month.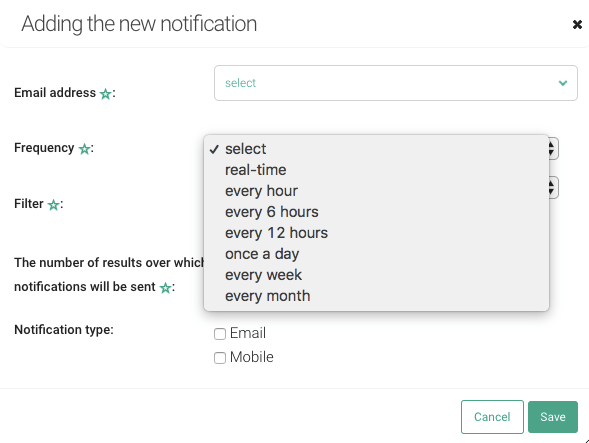 In the case of Brand24, you can additionally adjust notifications using filters. Your email notification can be filtered according to even more specific keywords, sentiment filter, influencer score, the number of visits, source (whether social media, blogs, etc.), domain, author and more.
Here's what mentions look like in email notifications.
Google Alerts: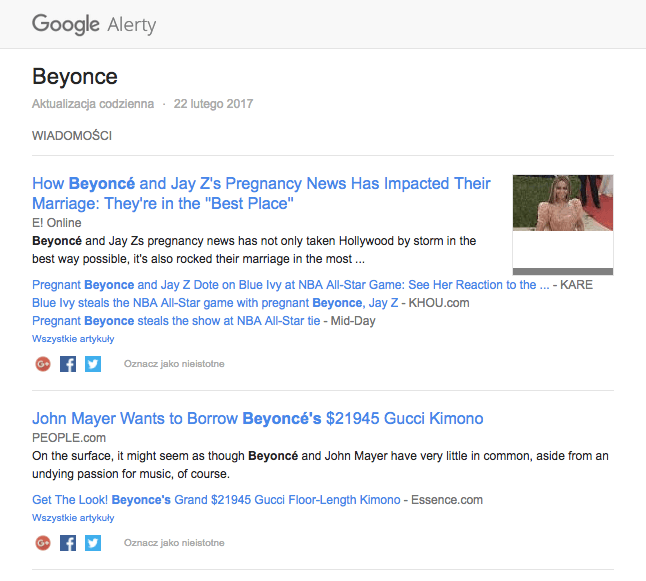 Brand24: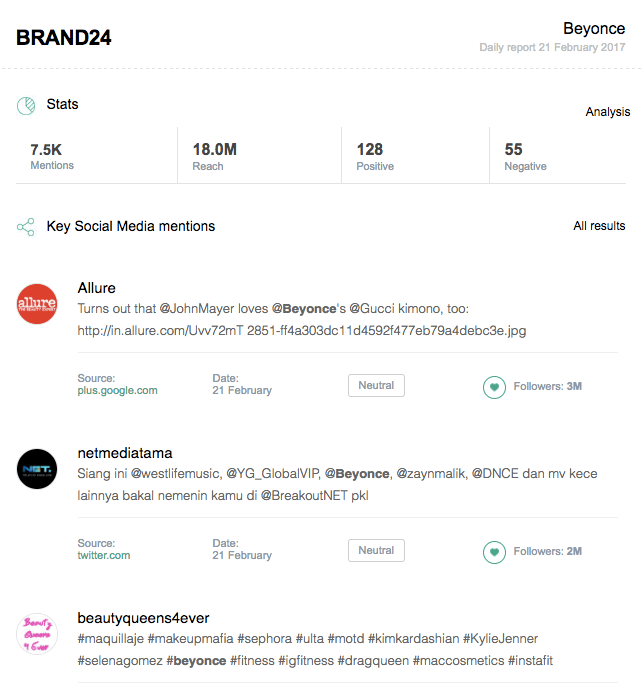 Data coverage
Google Alerts: News, blogs, web, video, books, discussions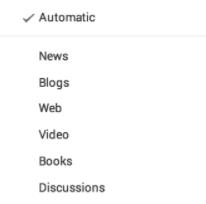 Brand24: All, Facebook, Twitter, blogs, forums, news, video, photo, other

For the sake of this comparison, I set up a project monitoring one keyword both in Google Alerts and Brand24. The results come from one day.
What's interesting, an overwhelming majority of mentions from Google Alerts came from news sites. In the case of Google Alerts alternative, the results were relatively equally divided between all types of sources including social media, websites, blogs, forums, news, videos and photos.
Volume of Mentions (News, blogs, web, video, books, discussions)
Google Alerts: 89
Brand24: 521 (8926 results including social media and photo)
Here's a dramatic difference between Google Alerts and Brand24. Over the period of one day, Google Alerts collected only 79 mentions while Brand24 pulled 521 mentions without the mentions from social media. In total, including social media, Brand24 identified 8926 mentions.
Data Export
Google Alerts: Not available
Brand24: .xlsx, PDF report, infographic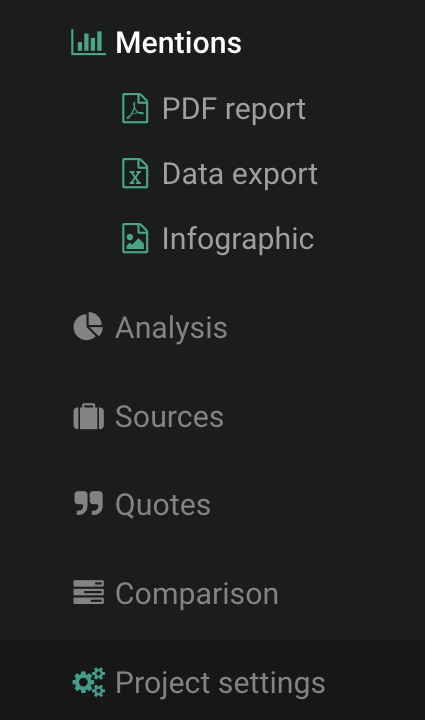 Without a shadow of doubt Brand 24, as a Google Alerts alternative, can do more. When it comes to data export, Brand24 gives you a couple of options. You can export your data as an Excel file, as a PDF with your company logo or as an infographic.
The Excel file contains an entire range of data regarding mentions. It lists every single mention and describes it via various parameters, such as title, source, timing, content, estimated social media reach and more.
A PDF report consists of a couple of pages filled with data, such as discussion intensity chart, the most popular social media authors and so on so forth. Also, you can customize the report visually by choosing a color of your choice and uploading your company logo.
An infographic provides you with the summary of the most important bits of data.
Sentiment Analysis
Google Alerts: Not available
Brand24: Available
Brand24 provides you with sentiment analysis of mentions. What's more, there's a possibility to filter positive and negative mentions.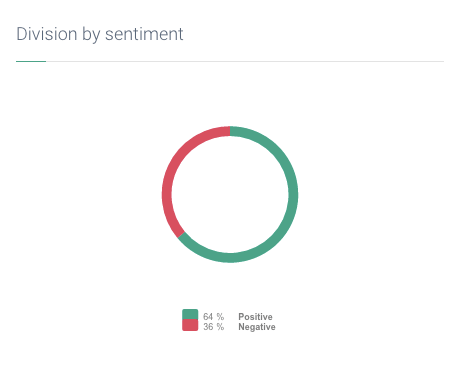 Influencer analysis
Google Alerts: Not available
Brand24: Source, Mentions, Reach, Voice share, Influence, Influencer Score
This Google Alerts alternative gives the opportunity to filter authors and sources data using numerous filters such as Source, Mentions, Reach, Voice share, Influence and Influencer Score. Combined, they can help you with identifying influencers.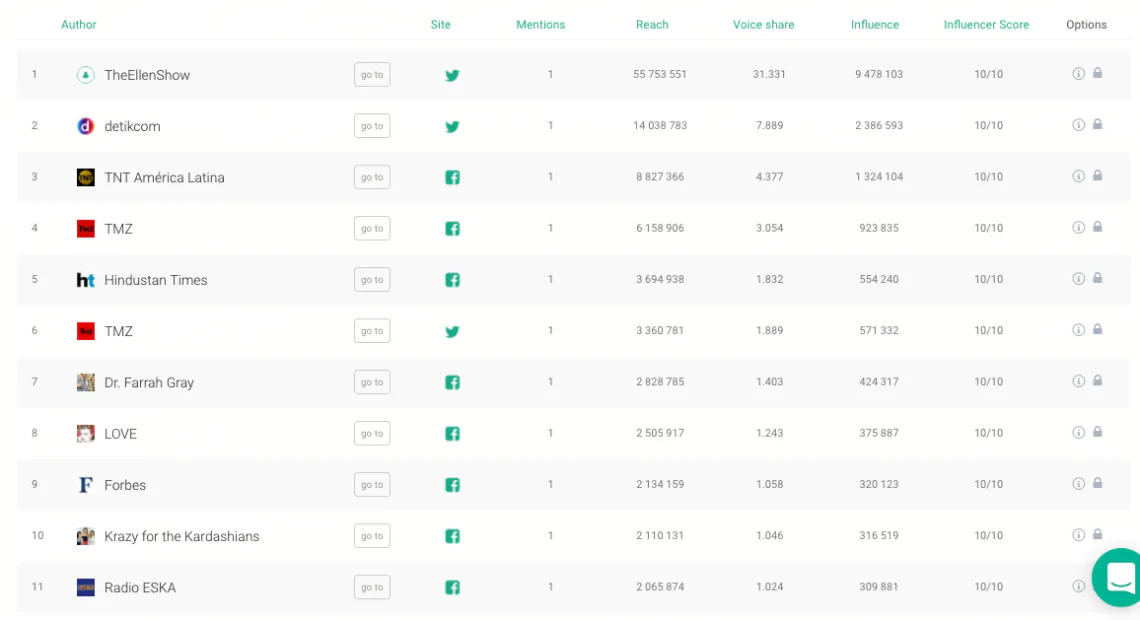 There's more inside!
Competitive Monitoring
Google Alerts: Not available
Brand24: Available
In Brand24 you can set up a project monitoring your competition and receive real-time mentions to track your competitors' marketing efforts, product launches and upgrades, pain-points, customer reviews and so on.
Also, Brand24 allows conducting a project comparison so that you can get an idea of how your online presence compares to your competitors.
Campaign Monitoring
Google Alerts: Not available
Brand24: Available
Campaign monitoring in Brand24 is as easy as pie. It also includes hashtag monitoring. You can analyze your marketing efforts and learn about its social media reach, the number of conversations, sentiment and more.




Viral Content Tracking
Google Alerts: Only the best results
Brand24: Storm Alerts
Both Google Alerts and Brand24 provide the opportunity to receive the most influential and buzzing mentions. However, in Brand24 this option is more advanced than in Google Alerts as you can more thoroughly adjust filters. This feature is called Storm Alerts. Basically, these alerts notify you about sudden changes in volume buzz.
Learn more about them in this blog post.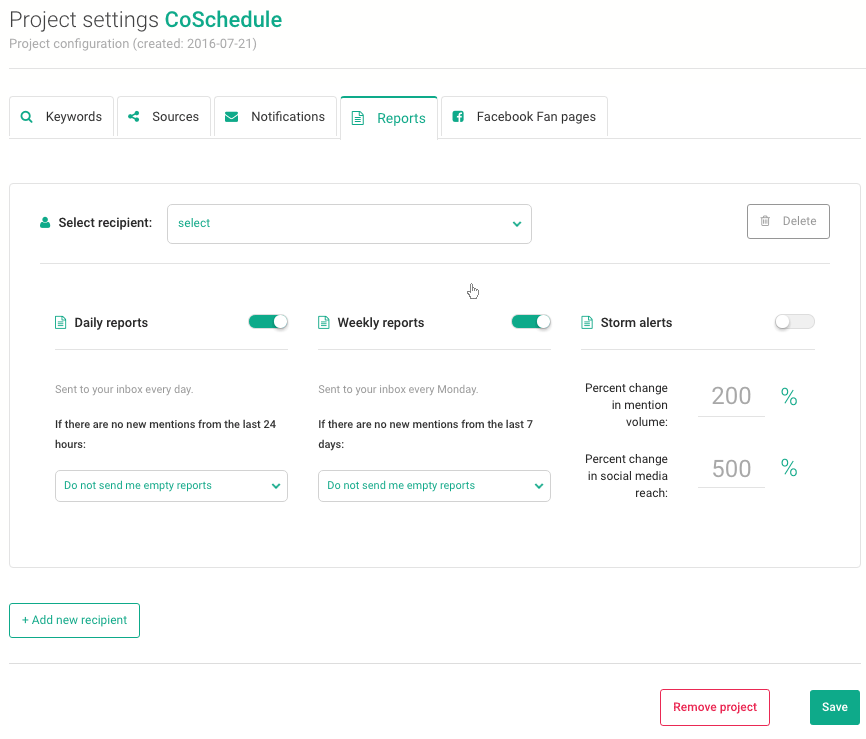 Languages
Google Alerts: Afrikaans, English, Arabic, Belarusian, Bulgarian, Chinese, Croatian, Czech, Danish, Esperanto, Estonian, Filipino, Finnish, French, Greek, Hebrew, Hindi, Spanish, Indonesian, Icelandic, Japanese, Catalan, Korean, Lithuanian, Latvian, Dutch, German, Norwegian, Armenian, Persian, Portuguese, Russian, Romanian, Serbian, Slovak, Slovenian, Swahili, Swedish, Thai, Turkish, Vietnamese, Italian.
Brand24: Czech, Danish, German, English, Spanish, Finnish, French, Hungarian, Indonesian, Italian, Dutch, Norwegian, Polish, Portuguese, Romanian, Swedish, Turkish, Vietnamese.
Conclusion
Undoubtedly, Brand24 as a Google Alerts alternative is a more complex, yet affordable tool starting at $49 per month. It works great for companies of all sizes. Also, you can use in many areas of your business, such as reputation management, social selling, customer service, research or analysis.
You can take it for a spin here. It's absolutely free.
Also, if you'd like to learn more about it, please see 12 ways social listening can help your business or drop me a message.
---
---