How to Earn Customer Loyalty Through These 5 Proven Ways
April 27, 2018 ・ 6 min read
In a world of heavy competition, businesses are working hard to stay ahead in the game. They are working rigorously in order to ensure that their consumers only buy from them and not from their competitors.
Customer retention is the process of building loyalty among existing customers for repeat business. According to Invesp, the probability of selling to existing customers is between 60-70%, whereas the probability of selling to new customers is 5-20%.
Customer retention is one of the major factors that determine the success of a business. Here are five proven ways that'll help you earn loyalty from customers.
#1. Give More Value to Your Customers
Giving more value to customers refers to offering something unique and extra that your competitors aren't currently providing. In layman's terms, it means providing something more over what you're offering to your customers. This is done to ensure that customers stay loyal to your brand and do not buy from your competitors.
Providing more value is not only limited to offering special features and benefits. Your brand can also offer unique experiences to customers. T-Mobile, for instance, has an app called T-Mobile Tuesdays, through which they thank their customers with weekly deals, free stuff, and exclusive offers.
Some of the prizes included a free Domino's pizza, a free frosty from Wendy's, etc. These aren't big rewards, but they are practical and can motivate customers to stick with the brand.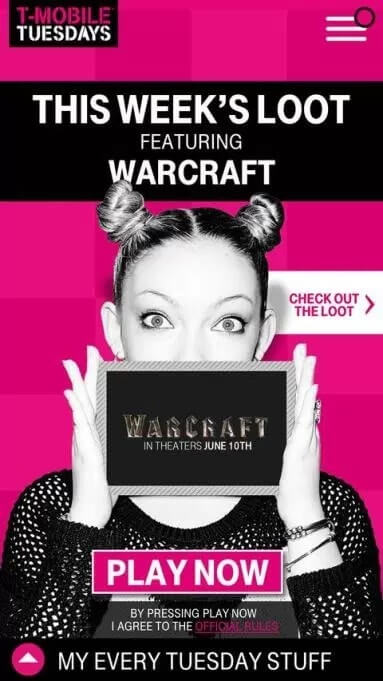 Image Source: TechCrunch
The execution of this program wasn't thoroughly successful in that customers had trouble accessing the app in the beginning. And T-Mobile wasn't quick enough to respond to these issues. However, you can still see a good example of providing added value to your customers.
#2.Write Personalized Emails
Smart marketers are aware of the fact that retaining existing customers is tougher that acquiring new customers. In order to build loyalty, it is essential that brands should focus on improving their customer retention process. One of the best ways to improve customer retention is by showing your customers how much appreciate and value them.
Targeting existing customers with personalized and relevant content is a good way to encourage your existing customers – not only will they feel connected with your brand but also will come back to your site for repeated purchases.
A simple personalized email can help you in building a long-term and meaningful relationship with your existing customers. While sending personalized emails, make sure that your email has a direct connection with the customer's currently taken action.
Here's a good example of a well-written personalized email. Check how Limeroad started their email by creating a subject line that ensures that the customer checks it out. They have used a subject line that suggests that the products in the customer's cart are quickly being sold out. This way, the company is increasing the chances of the customer opening the email.
While looking at the email's content, we see that it has been personalized intelligently. It denotes that the customer has very limited time to buy the product and added a direct link to the product. They've also added the customer service details so that the customer feels that help is just a click away. All of this combined surely increases the chances of the customer going through the email and making the transaction.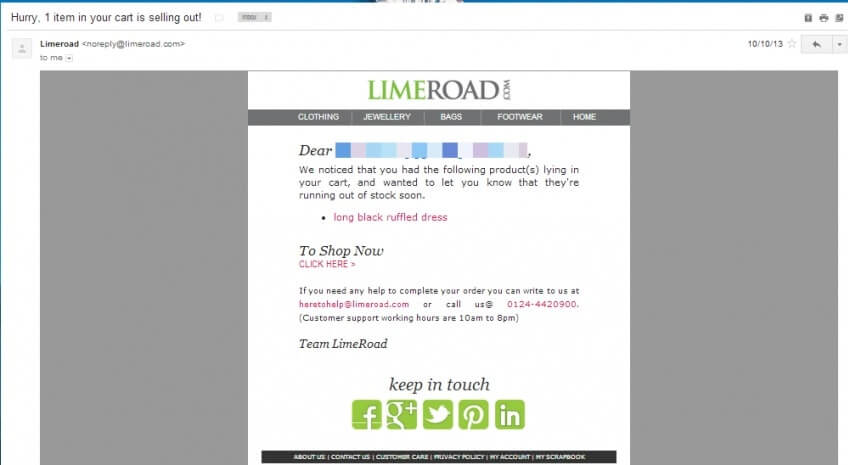 Image via Betaout
Another effective trick that you can use is to simply send out a personalized tweet. It could be as simple as a note of thanks as you can see in the example below.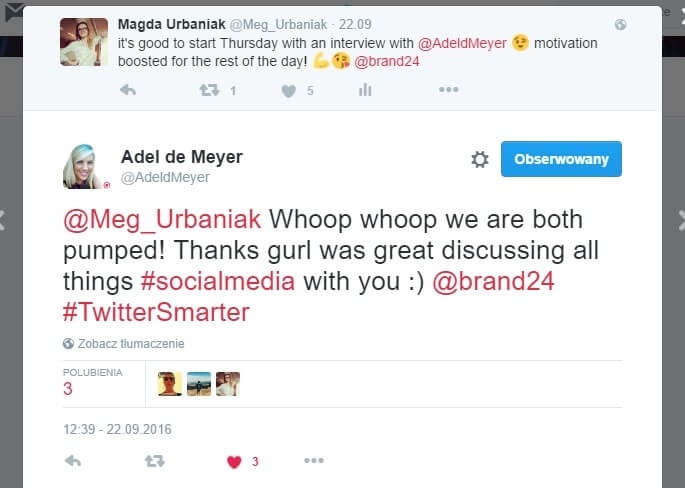 Image via Twitter
#3. Ask for Feedback
Listening to unhappy customers is extremely vital to the customer retention process. Negative experiences can be troublesome – brands should not only address the issue but also make it right for their customers. Unhappy customers tend to provide the most valuable feedback.
The benefits of reaching out to customers for feedback and advice are as follows:
You can directly ask customers for their honest opinion on their negative experience. This will make customers feel that you care about them. Honest feedback often provides brands with the most valuable insights they can use to improve the way they do business.
While asking for feedback via personalized emails and surveys, you have an opportunity to improve your relationship with your customers.
Ruby Newell-Legner has stated in her book "Understanding Customers" – it takes a total of 12 positive experiences just to make up for one single bad experience. Follow up with customers for their feedback, advice, and insights, which can all be a powerful tool for your business. Their feedback can help you keep a check on brand perception and improve the overall shopping experience.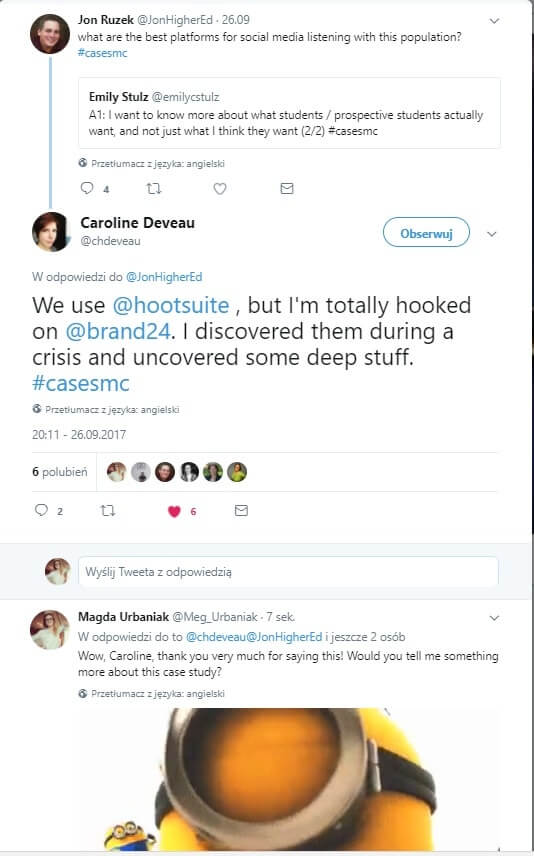 Here's an example of how Brand24 jumps in on a conversation that mentions them positively. Notice how they've utilized this opportunity to thank their customer as well as participate in the discussion. Participating in such discussions is a great way of uncovering feedback and people's perception of your brand.
Check: The Best Customer Feedback Tools
Image via Twitter
#4.Respond Immediately When Your Customers Need You
This refers to providing outstanding customer service. In the modern age of competition, it really does not matter what or how good your product or service is. If you do not offer outstanding customer service, you may find it extremely difficult to retain customers.
Do you think customers will return back to your site if their queries are not answered quickly and effectively? That's right, the answer is 'no'. No one wants to buy from brands that do not help their customers. By creating effective, quick, and responsive customer service strategies, you can boost customer loyalty.
For example, Futuramo, an SaaS company was leveraged the social listening feature of Brand24 to provide good customer service. They integrated the tool with Slack to collect all their social mentions in a single channel.
From here, the Futuramo team was able to keep track of any new mentions of their brand on social media. As a result of this effort, they have been able to provide quick resolutions to customer issues and questions.
Check out how Nike uses social listening in a brilliant way to participate in customer conversations and adds value.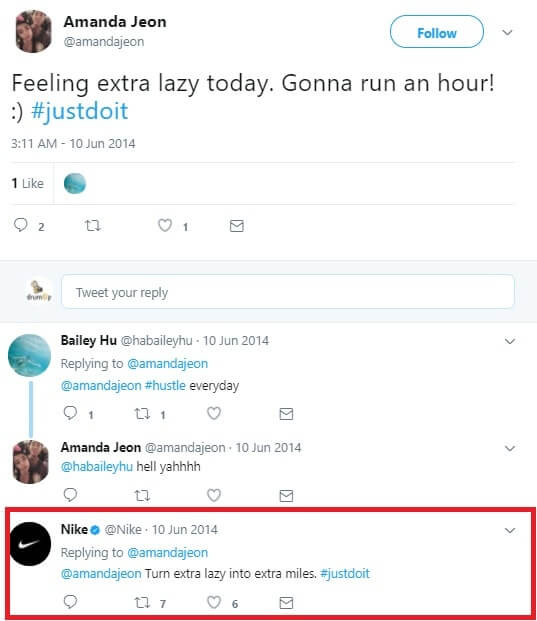 Image via Twitter
#5. Leverage Influencers

Leveraging influencers refers to partnering with influencers to promote your brand, its product and services via an influencer marketing campaign. Influencer marketing, if done right, can help your business stand out. A study by Tomoson shows that 51% of marketers affirm influencer marketing helps in acquiring better customers.Image via Thompson
By partnering with a relevant influencer, your brand amplifies its reach and builds trust, which leads to increased conversions. Hence, it is of the utmost importance that you try to find the most relevant influencers who can help you connect with your target audience. Use tools like Grin to conduct your search based on relevant factors such as location, social platform, and category.
Check out the below example to understand how an influencer is helping brands in amplifying their reach and improving customer loyalty.
Here we see celebrity model Elsa Hosk promote the growing watch brand "Daniel Wellington". As Elsa works in the fashion industry, she was the right choice for Daniel Wellington to partner with. Since Elsa has a strong fan base, partnering with her helped the company establish trust within her fan base. The company will now appeal as a trusted brand as Elsa is promoting it and the loyalty will be transferred.
Conclusion
In today's competitive market, marketers who understand customer retention stand triumph. Customer retention is also among the most cost-effective ways that impact a business' bottom line. By focusing on aspects like personalization, adding value and listening to customers, brands can build loyalty and retain customers.
Do you happen to know any more of these ways that help businesses earn customer loyalty? Feel free to let us know in the comments section below.
---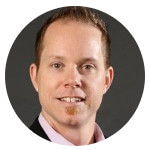 AUTHOR BIO
Shane Barker is a digital marketing consultant who specializes in sales funnels, targeted traffic, and website conversions. He has consulted with Fortune 500 companies, influencers with digital products, and a number of A-List celebrities.